These big fat snickerdoodle cookies are a wonderful combination of cinnamon and white chocolate in every bite. Over-the-top, indulgent cookie recipe perfect for gifts or for no reason at all!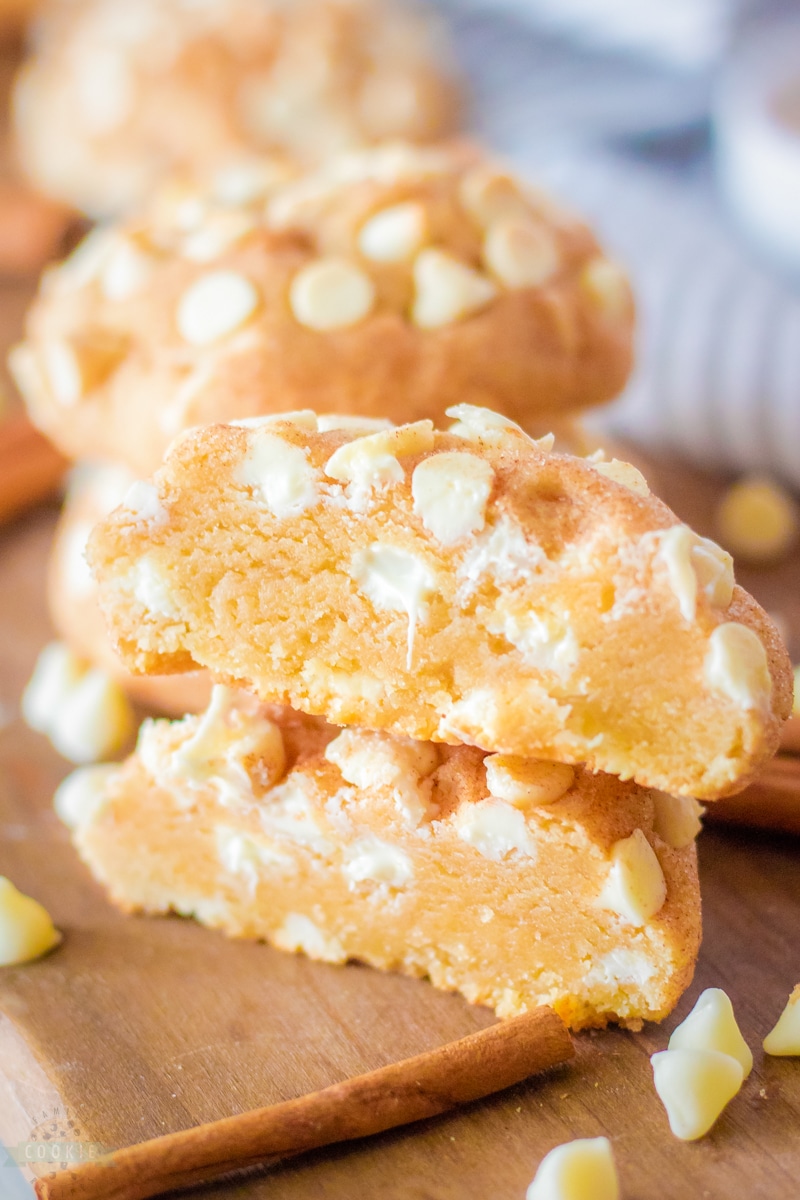 Snickerdoodle cookies with white chocolate chips are a unique and wonderful way to enjoy your favorite cookie. Made simply with a basic dough recipe that comes together quickly and easily, this sweet recipe is both fun to make and eat. Avid bakers and novice bakers alike will all enjoy the simplicity and ease of making this simple recipe and if that isn't enough to put a smile on your face, that first bite of warm cookie will be.
What Are Giant Snickerdoodle Cookies?
These cookies are unlike any other snickerdoodle cookie you've ever had. Packed with white chocolate chips in every bite. Served in a nice large size every cookie is filling and delicious but that won't stop you from wanting another. Just don't forget a glass of cold milk to serve alongside your warm cookies because that's the only thing missing.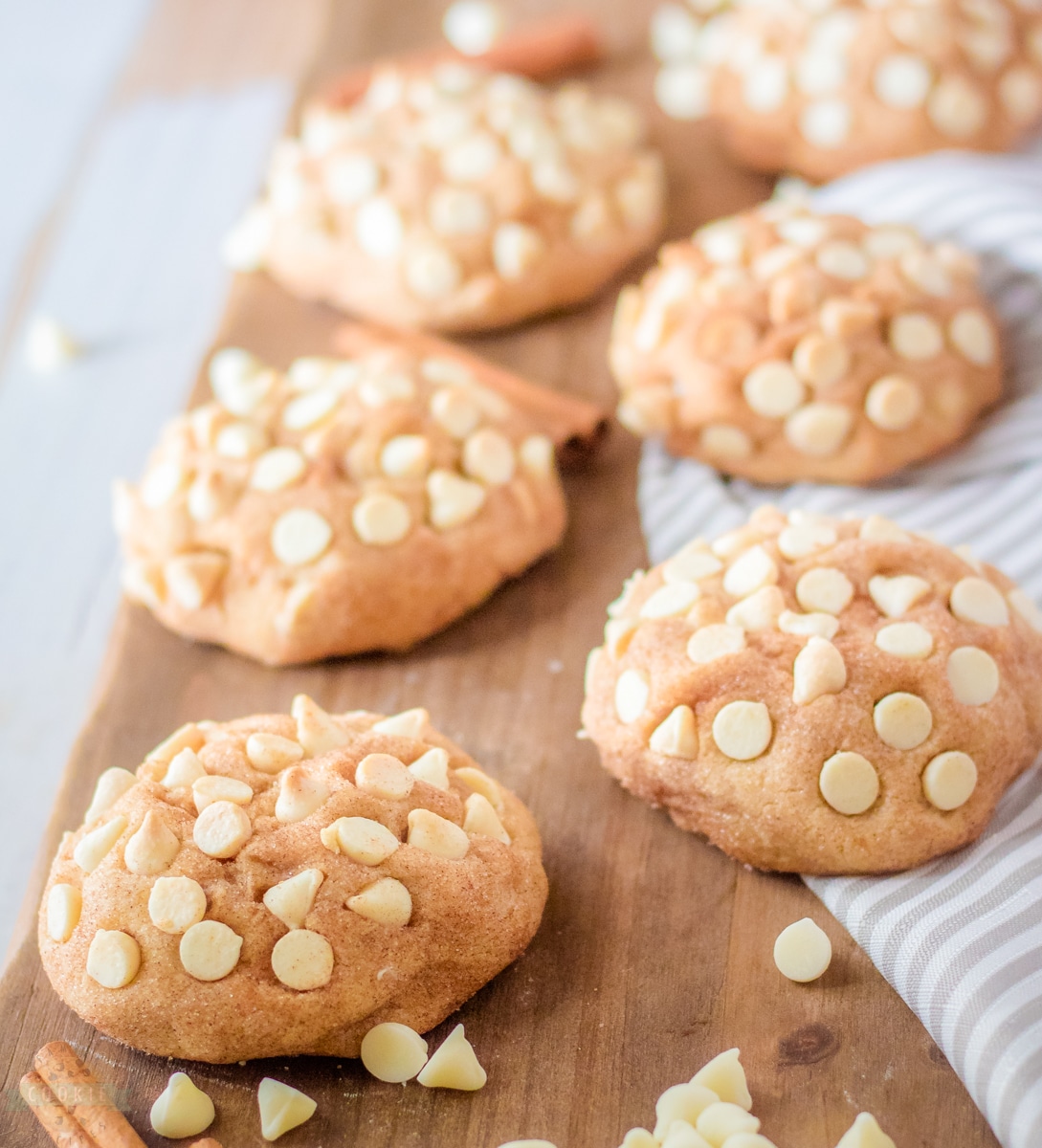 Big Snickerdoodle Cookies Ingredients
-Butter: To make the cookies moist and rich tasting we want to use ½ cup of unsalted butter that has been softened so that it's easier to incorporate.
-Sugars: Use ¾ cup of brown sugar and ¼ cup of granulated sugar to make the cookies chewy, flavorful, and sweet.
-Egg: You will need 1 large egg to help bind the ingredients together for a good consistency.
-Vanilla: To help make the cookies taste great, use 1 teaspoon of vanilla for a flavor enhancer.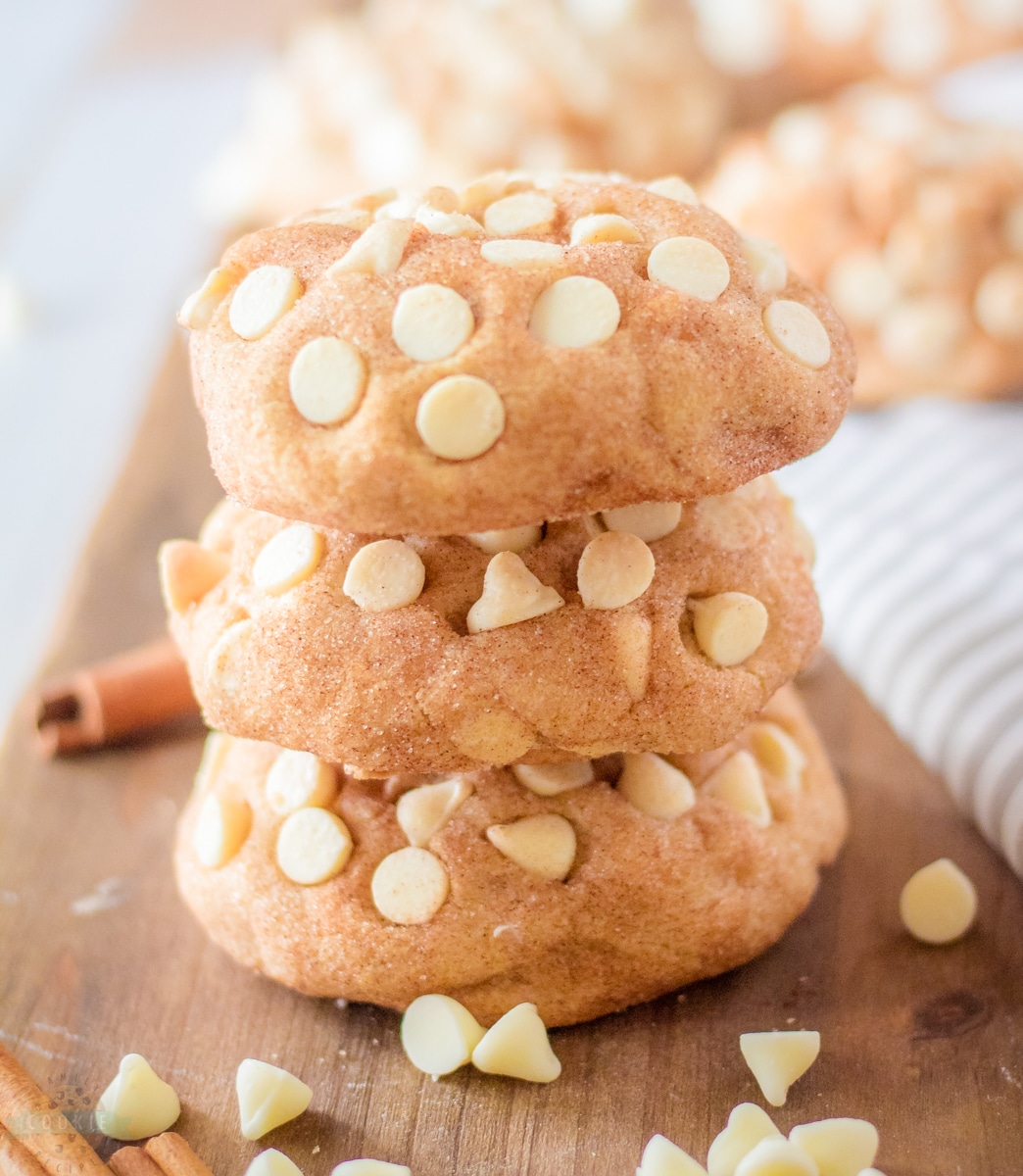 -Flour: The base of the cookie dough is 2 cups of all-purpose flour.
-Salt: You will need ½ teaspoon of salt to help enhance the flavors in this recipe.
-Baking powder: Use ½ teaspoon of baking powder to help the cookies puff up a bit as they bake or a better texture.
-White chocolate chips: To make our cookies that much more incredible, we want to use 2 cups of white chocolate chips (this is about what you find in an 8-ounce bag).
-Cinnamon sugar: For rolling the cookies in you will need a cinnamon-sugar mixture.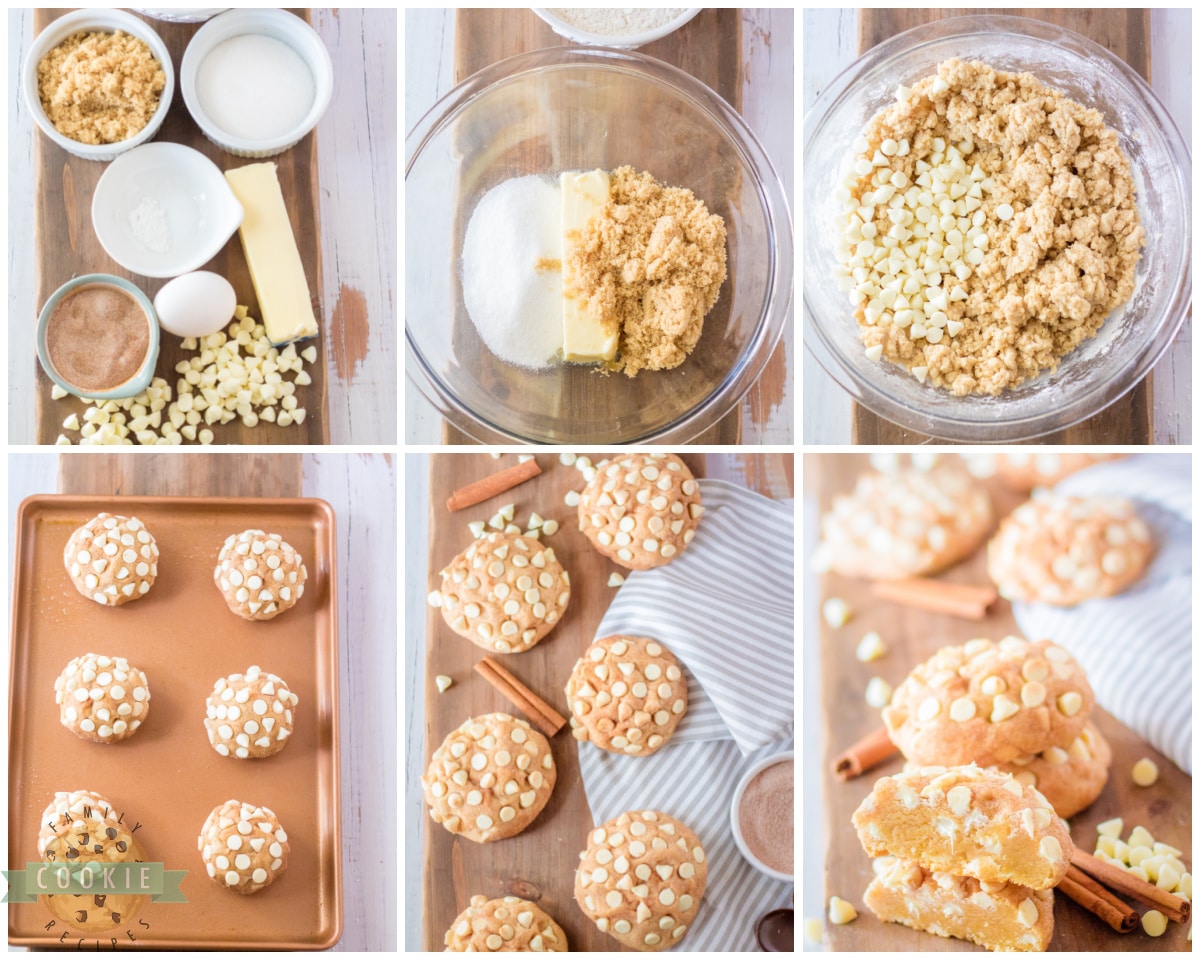 How to Make Big Fat Snickerdoodle Cookies
Cream together the butter and sugars in a large bowl until fluffy.
Beat in the egg and the vanilla extract.
Mix in the flour, baking powder, and salt until just combined. Your dough will look very crumbly.
Add in ½ cup of the chocolate chips and stir them well into the dough.
Divide the dough into 6 equal-sized portions and roll each portion into a ball just until it comes together.
Roll each dough ball into the cinnamon-sugar mixture.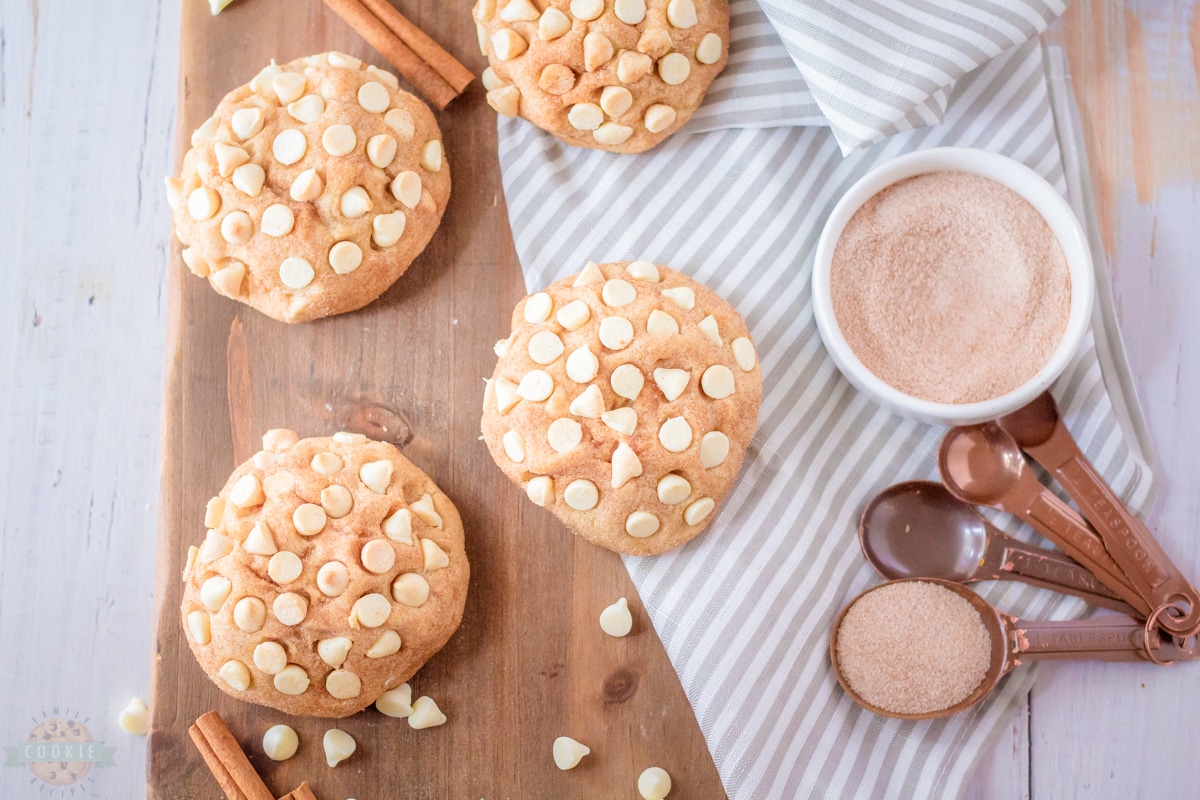 Press the remaining white chocolate chips all over the tops and sides of the cookies.
Place the cookies in the fridge to chill for at least 30 minutes.
Meanwhile, preheat your oven to 375 degrees F.
Bake in the oven for 18 minutes.
Allow the cookies to cool on the baking sheet for 5 minutes before transferring to a wire cooling rack. Enjoy!
Are snickerdoodle cookies hard or soft?
These snickerdoodle cookies should be soft when bitten into. Harder cookies may be a result of cookies being old and stale or being overbaked. As cookies bake, moisture is drawn out resulting in a drier cookie. You want to make sure that your cookies are cooked until no longer glossy on top. They may still appear slightly underdone but as they cool on the baking rack they will finish setting and become soft and set.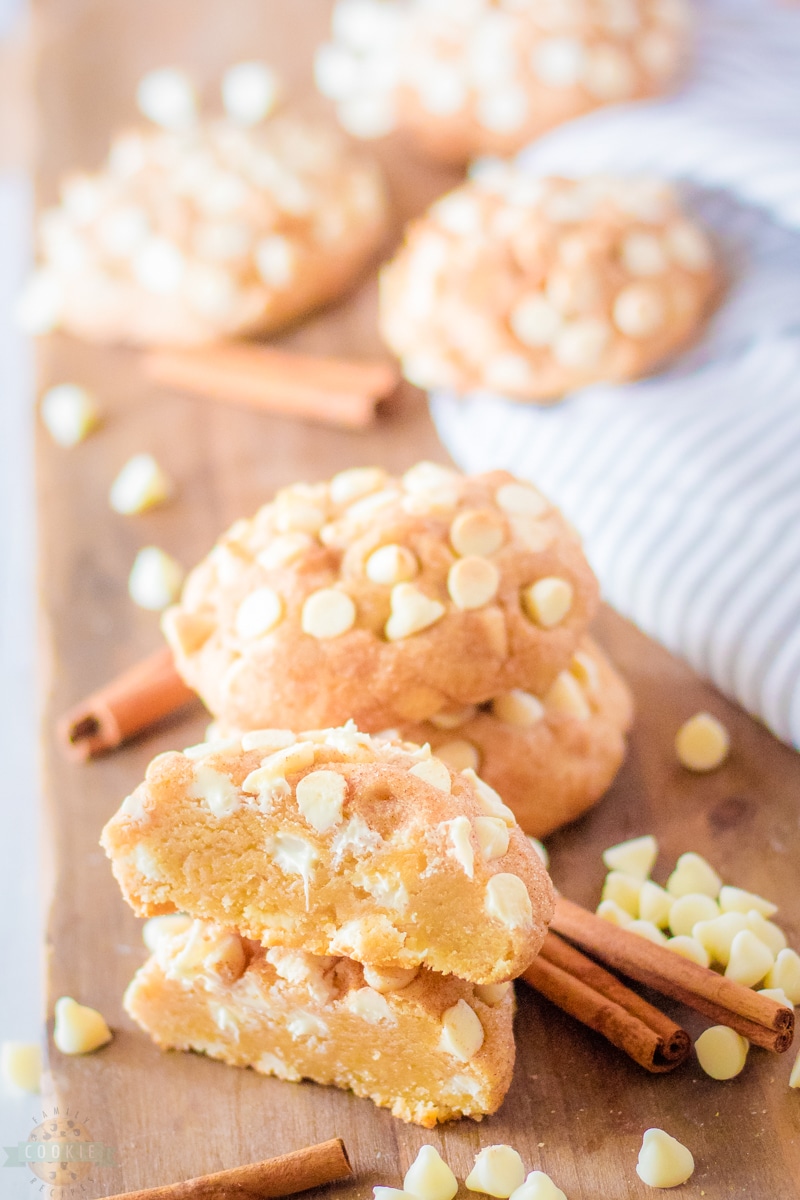 Can snickerdoodle cookies be frozen?
These cookies can be frozen in an airtight container in the freezer for up to 3 months. Thaw the cookies before eating and for a warmer taste, place a cookie on a plate and microwave for 10-30 seconds (time varies per microwave.
Enjoy More Snickerdoodle Recipes: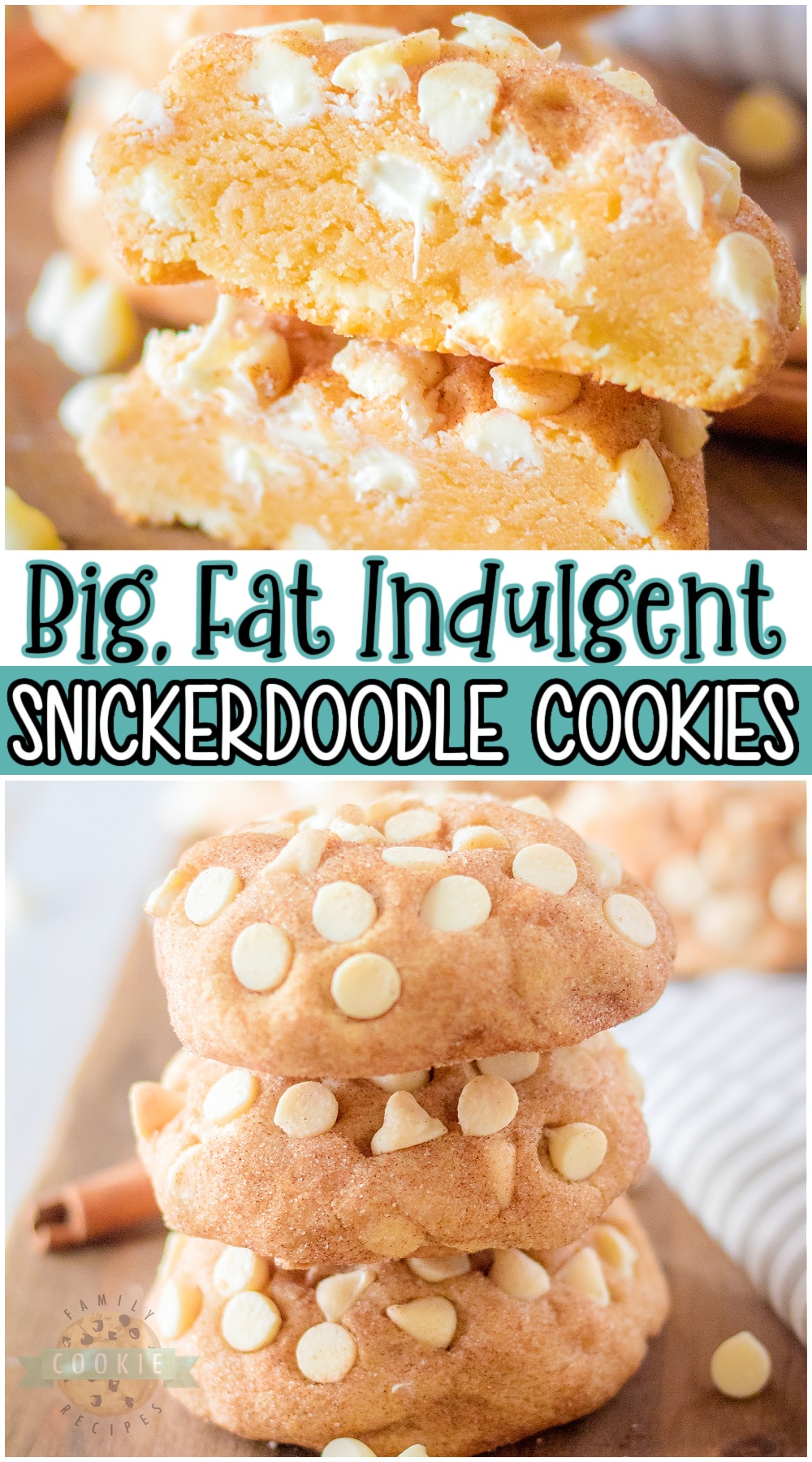 These tasty snickerdoodle cookies are a dessert you're going to look forward to every time you make a batch. With cinnamon sugar, chewy cookies, and white chocolate chips, every bite is heavenly.