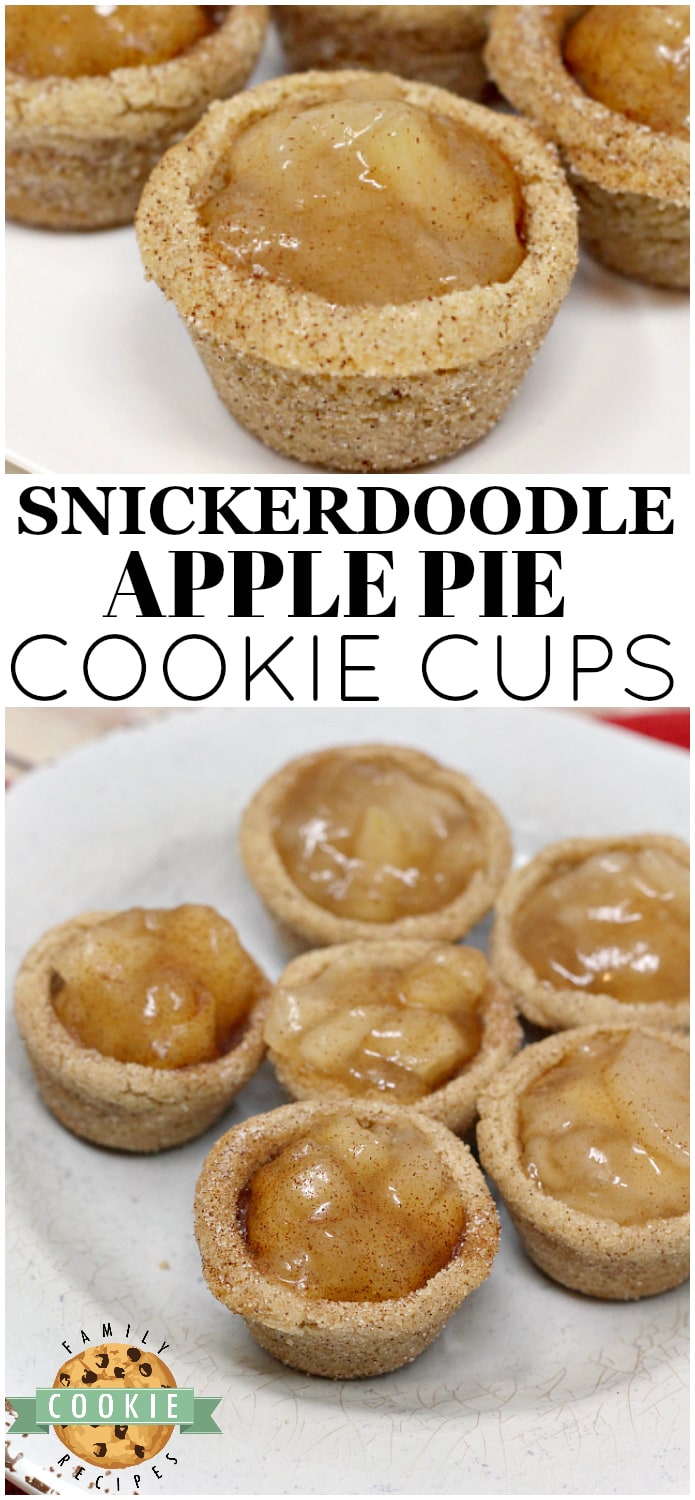 Snickerdoodle Apple Pie Cookie Cups combine two favorite desserts in a bite sized treat that is full of cinnamon and apple pie filling!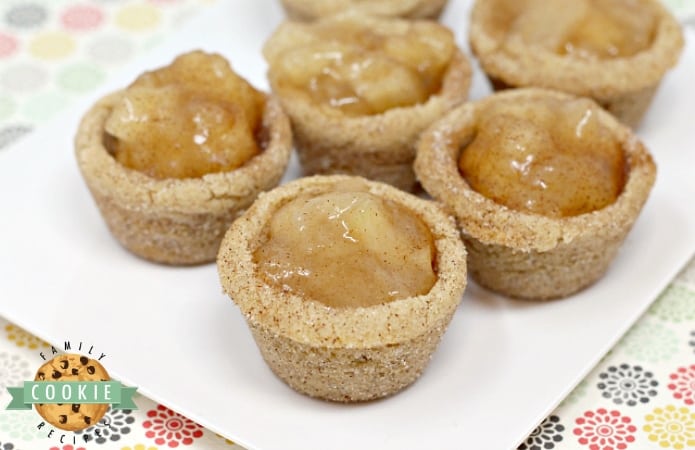 Snickerdoodle Apple Pie Cookie Cups are one of my absolute favorite fall desserts. Actually, who am I kidding? This is actually one of my favorite desserts all year long! Call them cookies, or call them pies? Either way, they are absolutely delicious and they come together so easily too! Apple Pie is such a classic dessert but I just don't really love pie crust so I decided to try something different for the "crust" of these little pies. Apples and cinnamon just go together so wonderfully so I decided to use my favorite Snickerdoodle cookie recipe as the base.
I used a can of apple pie filling from the store, but you can use a homemade variety and you could even use another flavor too! I think apple goes the best with the cinnamon, but I think a peach filling would be amazing too…hmmm, I think I'll have to try that sometime soon!
SNICKERDOODLE APPLE PIE COOKIE CUP Ingredients
— BUTTER: add 1 cup unsalted butter, softened to room temperature
— SUGAR: Adding 1 1/3 cup sugar will add just enough sweetness to the cookie dough.
— EGG: You'll add 1 egg to bind the cookie dough together.
— VANILLA: You'll need 2 tsp vanilla to add lovely sweet flavor to the cookie dough.
–DRY INGREDIENTS: You need 3 cups flour, 2 tsp cream of tartar, 1 tsp baking soda, 2 1/2 tsp cinnamon and 1/2 tsp salt.
— APPLE PIE FILLING: 1 can apple pie filling, chopped up is what you'll need to top the cookies with. You can also make your own apple pie filling if you prefer!
TOPPING: You'll also sprinkle the cookies with 1/4 cup sugar mixed with 1 tsp cinnamon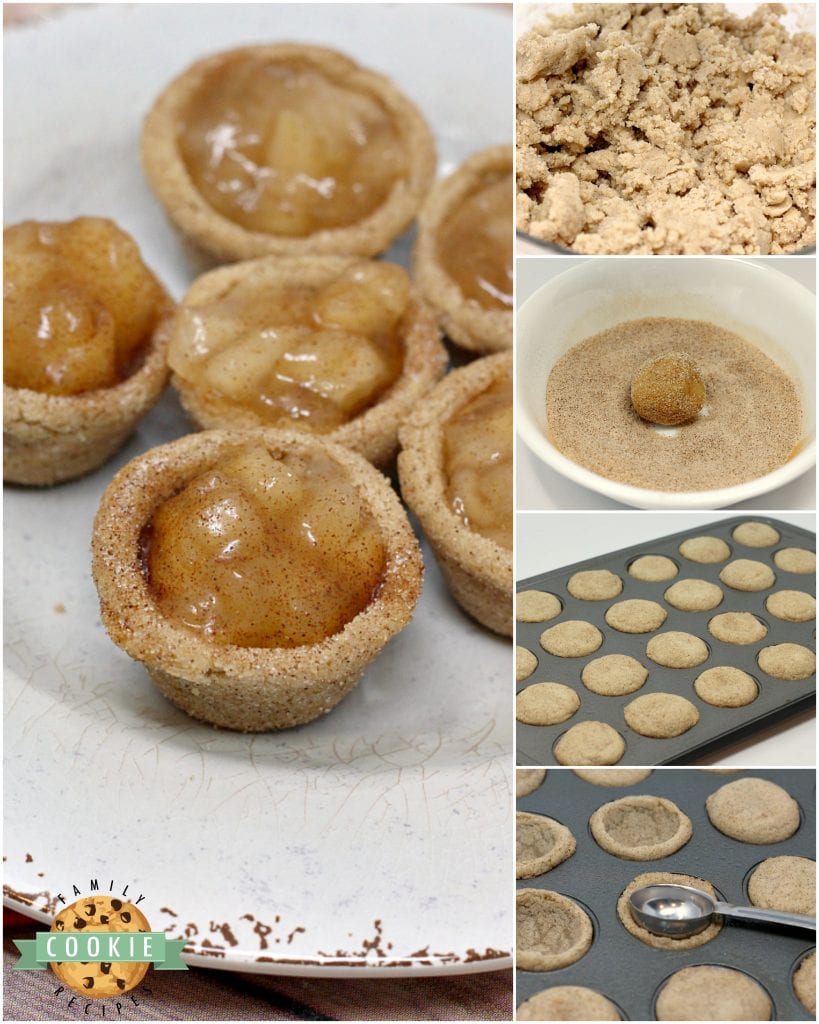 How to Make Apple Pie Cookies
Make the topping by mixing the sugar and cinnamon together. Set aside.
Cream the butter and sugar together until fluffy (1-2 minutes) with an electric mixer. Mix in the egg and vanilla and set aside.
In another bowl, whisk together the flour, cream of tartar, baking soda, cinnamon and salt. Slowly add the dry ingredients to the wet ingredients and mix together on low until well combined.
Using a tablespoon cookie scoop, scoop out the dough into 36 balls. Roll each ball in the cinnamon/sugar mixture and then place each ball into the a well-greased mini muffin pan.
Bake for about 12 minutes at 350 degrees or until the edges turn slightly golden brown. Immediately after removing from the oven, make an indention in the top of each cookie by pressing the back of a tablespoon into each cookie cup. (If a tablespoon seems too big, try a 1/2 or 3/4 tablespoon size.)
After cooling for 3-5 minutes, use a knife to gently pop out each cookie cup and then place on a wire rack to cool.
Prepare apple pie filling by chopping up the apples in the filling into small pieces. Use a tablespoon sized cookie scoop to scoop the pie filling into each of the cookie cups. If desired, sprinkle some of the remaining cinnamon/sugar mixture on the top of the pie filling.
After you enjoy these Snickerdoodle Apple Pie Cookie Cups try some of these other amazing cookie cup recipes and snickerdoodle recipes: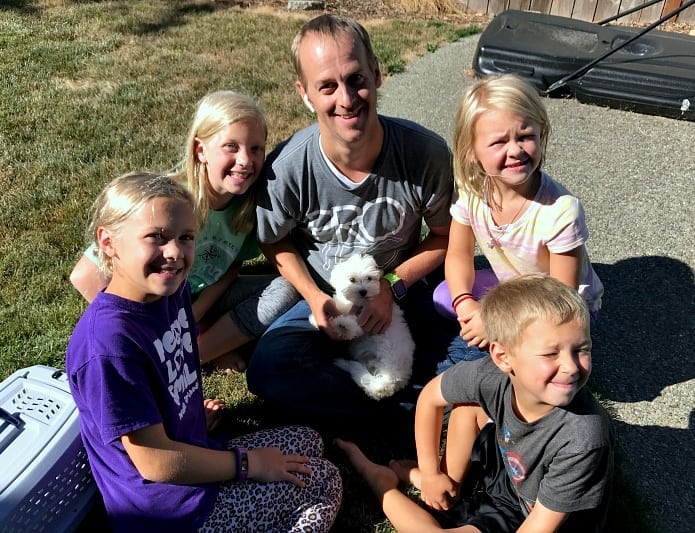 Our kids have been begging for a puppy for years now and we kept telling them that it would never happen. We just weren't sure that we loved animals quite enough to take on the responsibility of caring for one. We finally decided that the kids were old enough and responsible enough and so we surprised them with Sydney – we got her as a 12 week old Maltipoo. The kids were absolutely ecstatic and now, 9 months later, they are still absolutely in love with her.