Snickerdoodle Apple Pie Cookie Cups combine two favorite desserts in a bite sized treat that is full of cinnamon and apple pie filling!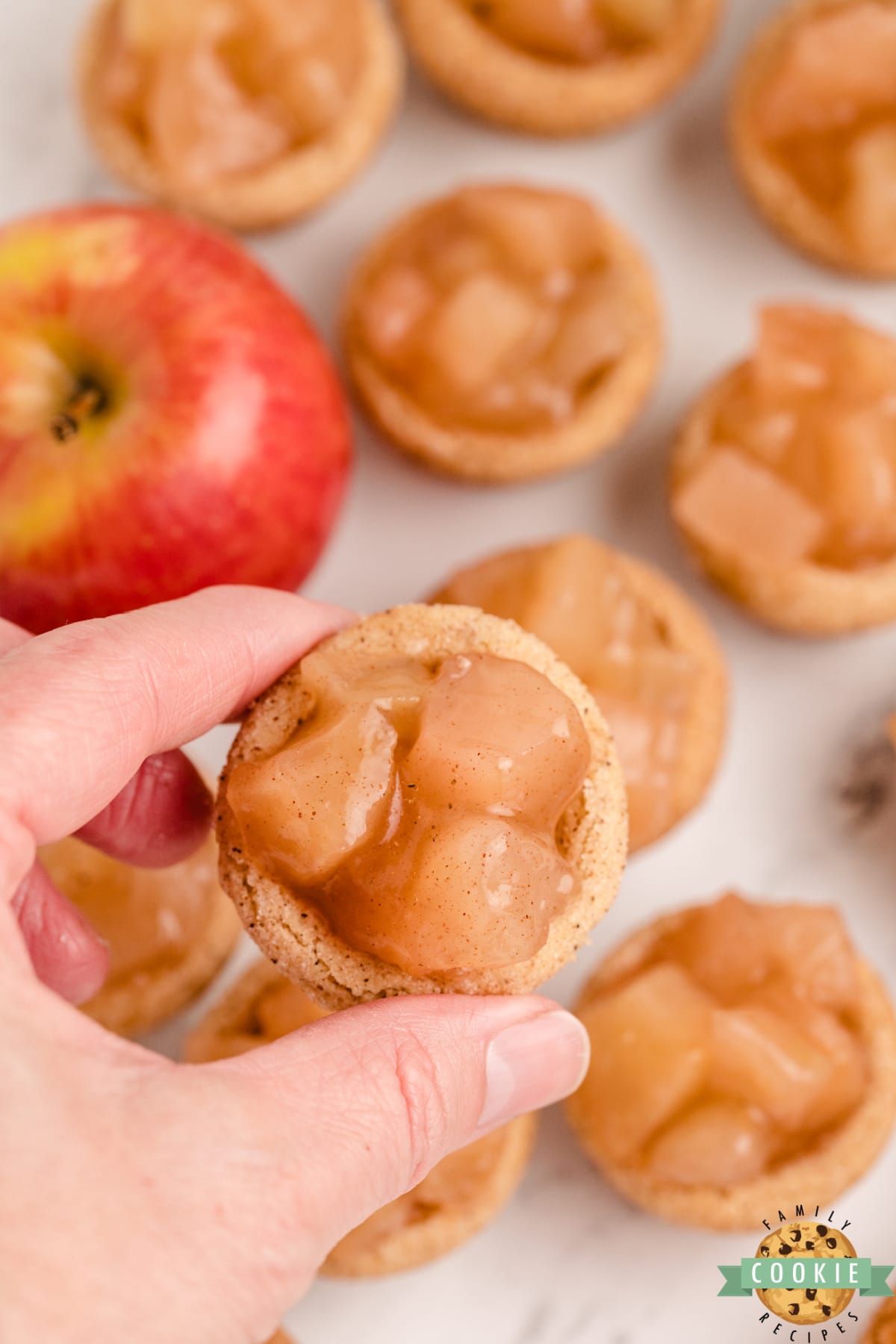 Snickerdoodle Apple Pie Cookie Cups are one of my absolute favorite desserts. Call them cookies, or call them pies? Either way, they are absolutely delicious and they come together so easily too! Apple Pie is such a classic dessert but I just don't really love pie crust so I decided to try something different for the "crust" of these little pies. Apples and cinnamon just go together so wonderfully so I decided to use my favorite Snickerdoodle cookie recipe as the base.
SNICKERDOODLE APPLE PIE COOKIE CUPS
Snickerdoodle Apple Pie Cookie Cups begin with a simple snickerdoodle cookie recipe. The dough is divided up, rolled in cinnamon and sugar and divided into a mini muffin tin. Once the cookie cups are baked and cooled, scoop some apple pie filling into each of them. I used a can of apple pie filling from the store, but you can use a homemade apple pie filling if you prefer. You could even use another flavor. I think apple goes the best with the cinnamon, but I think a peach filling would be amazing too…hmmm, I think I'll have to try that sometime soon!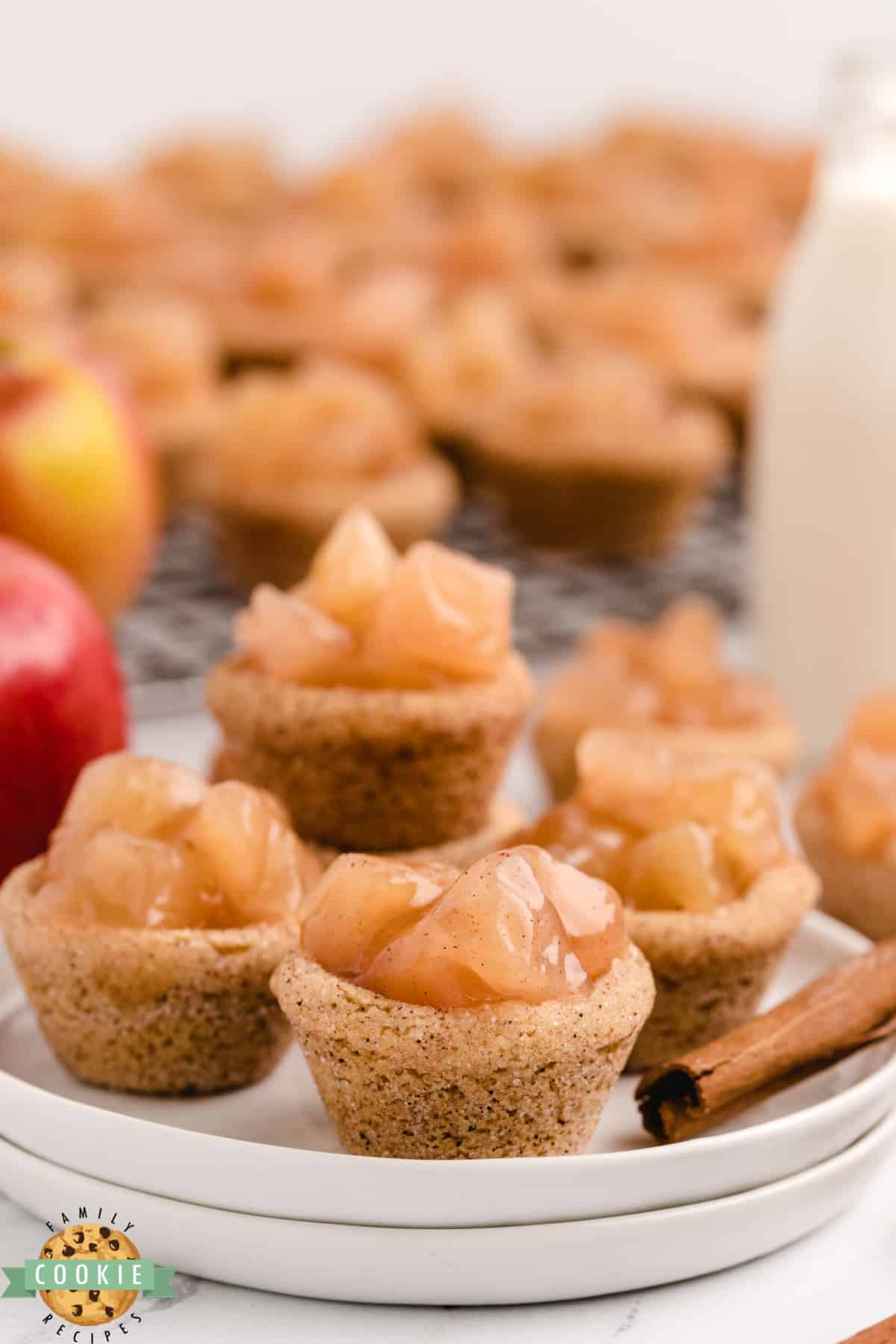 WHY WE THINK YOU'LL LOVE THIS RECIPE:
This dessert is so easy to make! The cookie cups begin with a simple snickerdoodle cookie dough. Use a small cookie scoop to place the dough in a mini muffin tin, bake and then fill each cup with a scoop of apple pie filling. Done!
The recipe is easy to change. You can use any kind of cookie dough and any kind of pie filling. Sugar cookies with cherry pie filling, snickerdoodle cookies with peach pie filling…the possibilities are endless!
These little apple pie bites are cute and easy to serve! There is something about cookie cups that just makes me so happy. They are cute and I love that they are easy to put on a platter and everyone can just serve themselves. You don't have to slice and serve when you get to the party and the treat is perfectly portioned.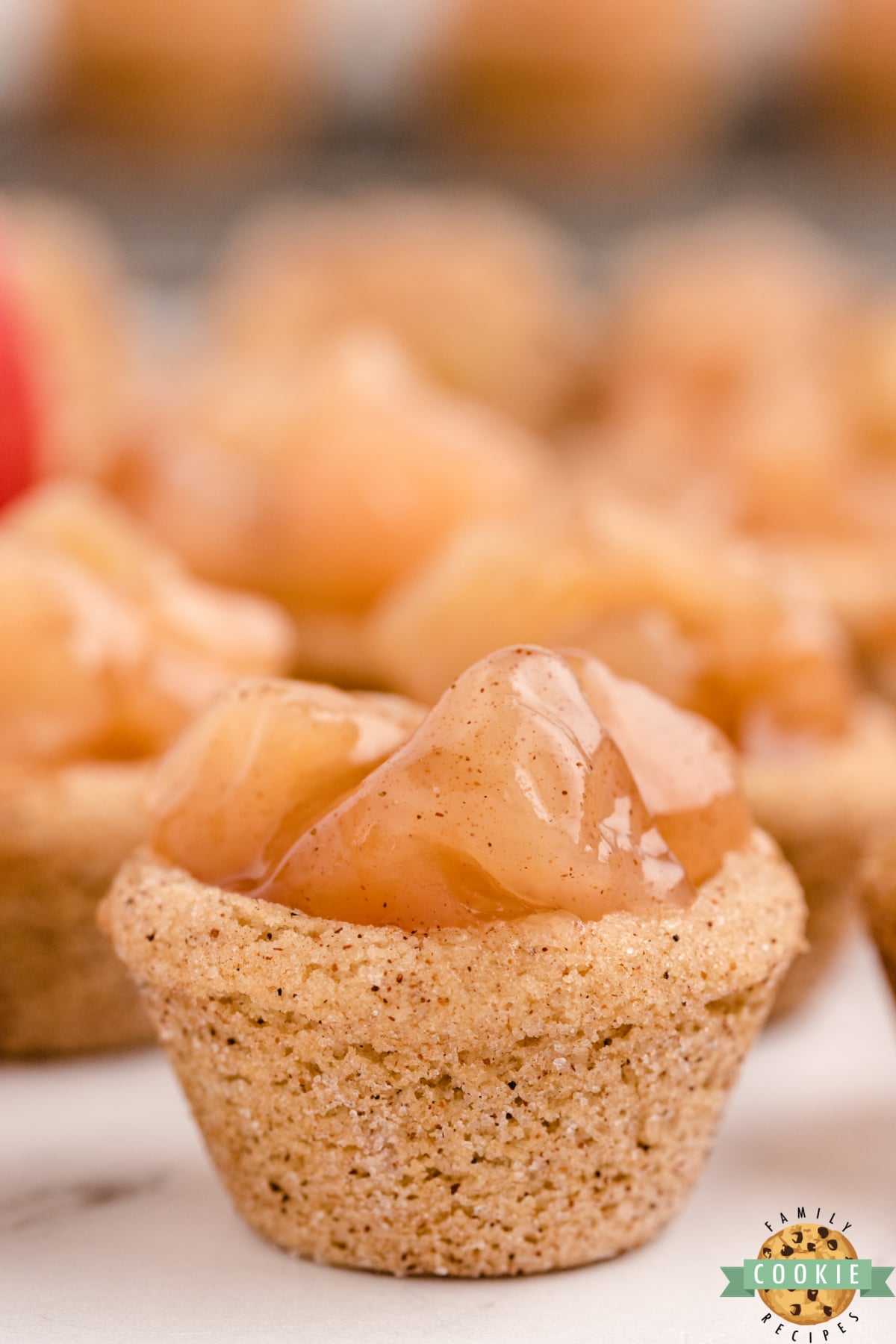 SNICKERDOODLE APPLE PIE COOKIE CUP Ingredients
Cinnamon & sugar – Mix a little bit of cinnamon and sugar together to roll the cookie dough in to give each cookie cup that classic snickerdoodle flavor.
Butter – For best results, use real butter and make sure it is softened to room temperature before adding to the dough.
Sugar – Can't have cookies without sugar! You just need granulated sugar for this recipe.
Egg – One large egg is needed to bind the cookie dough together.
Vanilla – You will need 2 teaspoons of vanilla to add just the right amount of flavor to the cookie dough.
Flour – All-purpose flour works best in most cookie recipes.
Cream of tartar – You will need cream of tartar to give these cookie cups a perfectly chewy consistency.
Baking soda – The baking soda is the leavening agent in the cookies, so make sure your baking soda isn't old or expired.
Cinnamon – Cinnamon is a key ingredient in snickerdoodles, so don't leave it out!
Salt – Just a little bit of salt helps all of the other flavors to pop.
Apple pie filling – You will need 1 can (21 ounces) of apple pie filling. Make sure to chop up the apples to better fit into the cookie cups. You can also make your own apple pie filling if you prefer!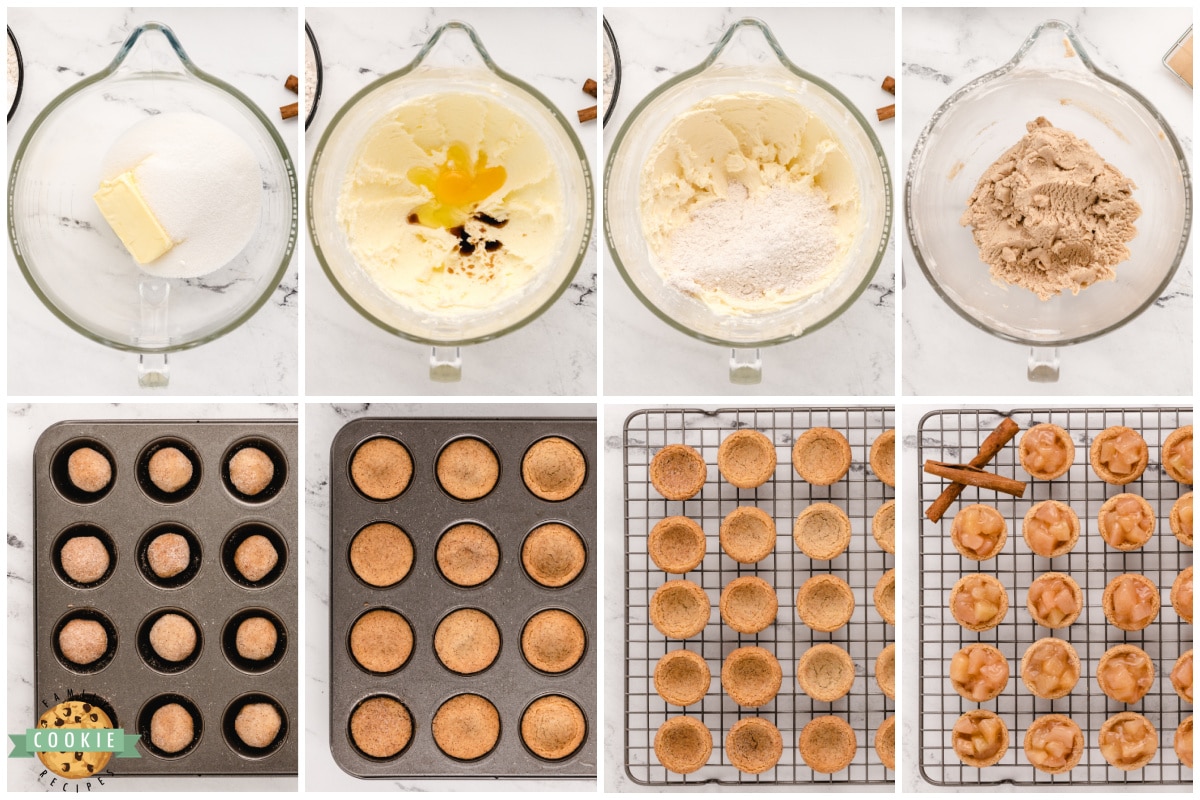 How to Make Apple Pie Cookie Cups
Preheat the oven to 350°.
Make the topping by mixing the sugar and cinnamon together. Set aside.
Cream the butter and sugar together until fluffy (1-2 minutes) with an electric mixer. Mix in the egg and vanilla and set aside.
In another bowl, whisk together the flour, cream of tartar, baking soda, cinnamon and salt. Slowly add the dry ingredients to the wet ingredients and mix together on low until well combined.
Using a tablespoon cookie scoop, scoop out the dough into 36 balls. Roll each ball in the cinnamon/sugar mixture and then place each ball into the a well-greased mini muffin pan.
Bake for about 12 minutes or until the edges turn slightly golden brown.  Immediately after removing from the oven, make an indention in the top of each cookie by pressing the back of a tablespoon into each cookie cup. (If a tablespoon seems too big, try a 1/2 or 3/4 tablespoon size.)
After cooling for 3-5 minutes, use a knife to gently pop out each cookie cup and then place on a wire rack to cool.
Prepare apple pie filling by chopping up the apples in the filling into small pieces. Use a tablespoon sized cookie scoop to scoop the pie filling into each of the cookie cups. If desired, sprinkle some of the remaining cinnamon/sugar mixture on the top of the pie filling.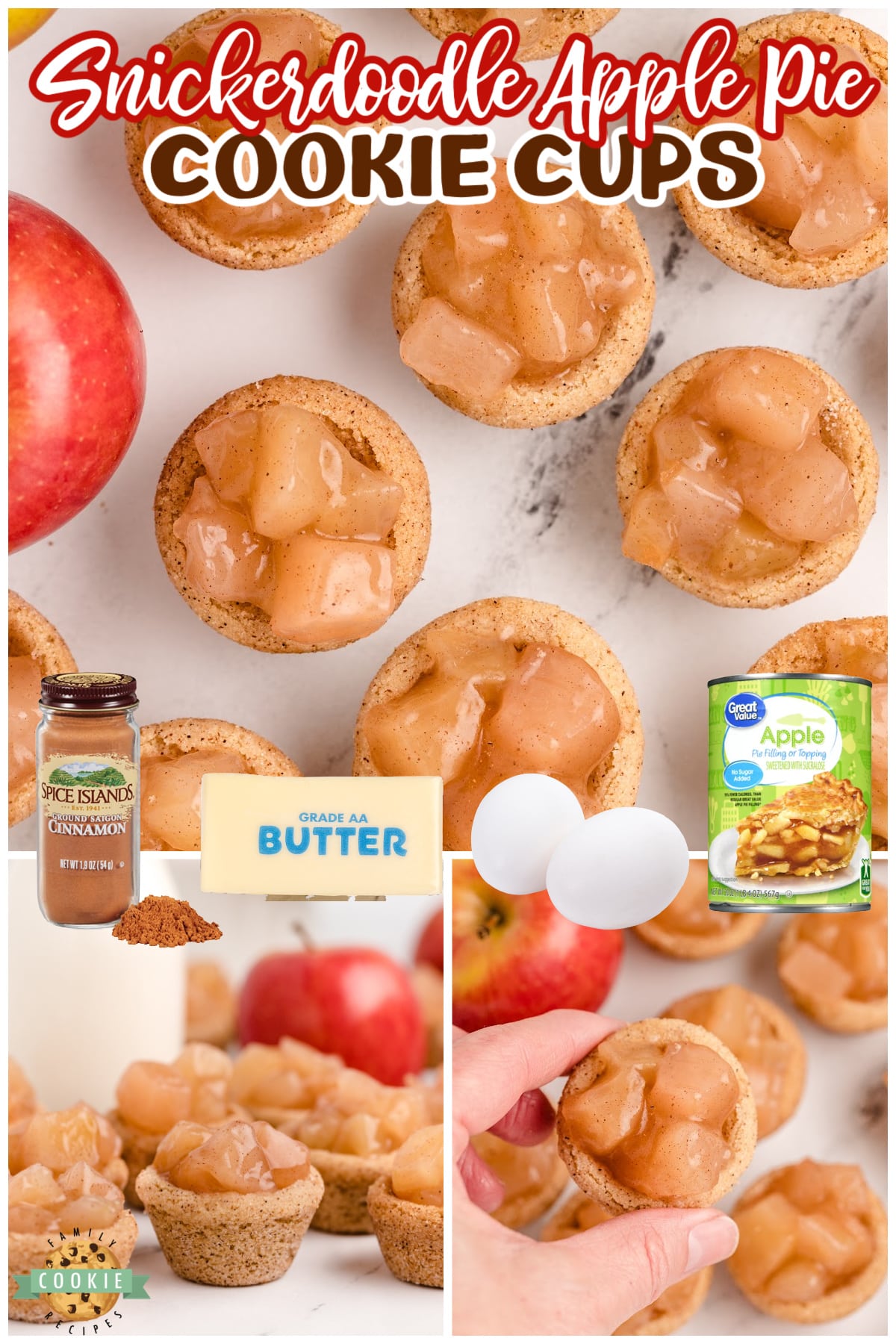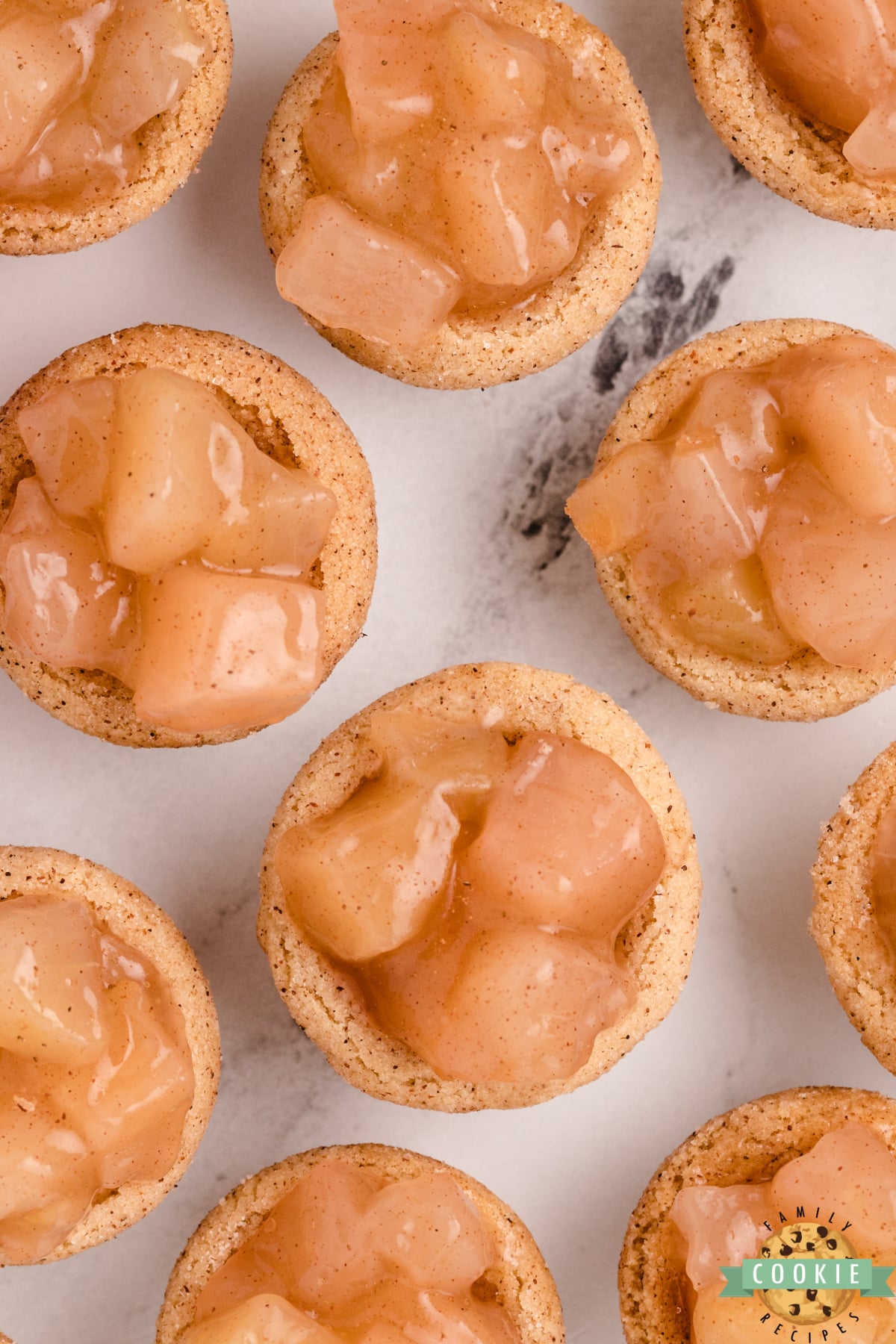 WHEN TO SERVE APPLE PIE COOKIE CUPS
Summertime and holidays are the perfect time for apple pie, and I found a way to make this traditional treat easier and yummier too! I think that the snickerdoodle cookie crust tastes even better than a regular pie crust. I've made these little treats for Thanksgiving and I've made them for the 4th of July and they work perfectly for both occasions (and everything in between). I have taken these little treats to lots of parties and everyone always wants the recipe – they are always a big hit! They are perfectly portioned and so easy to serve!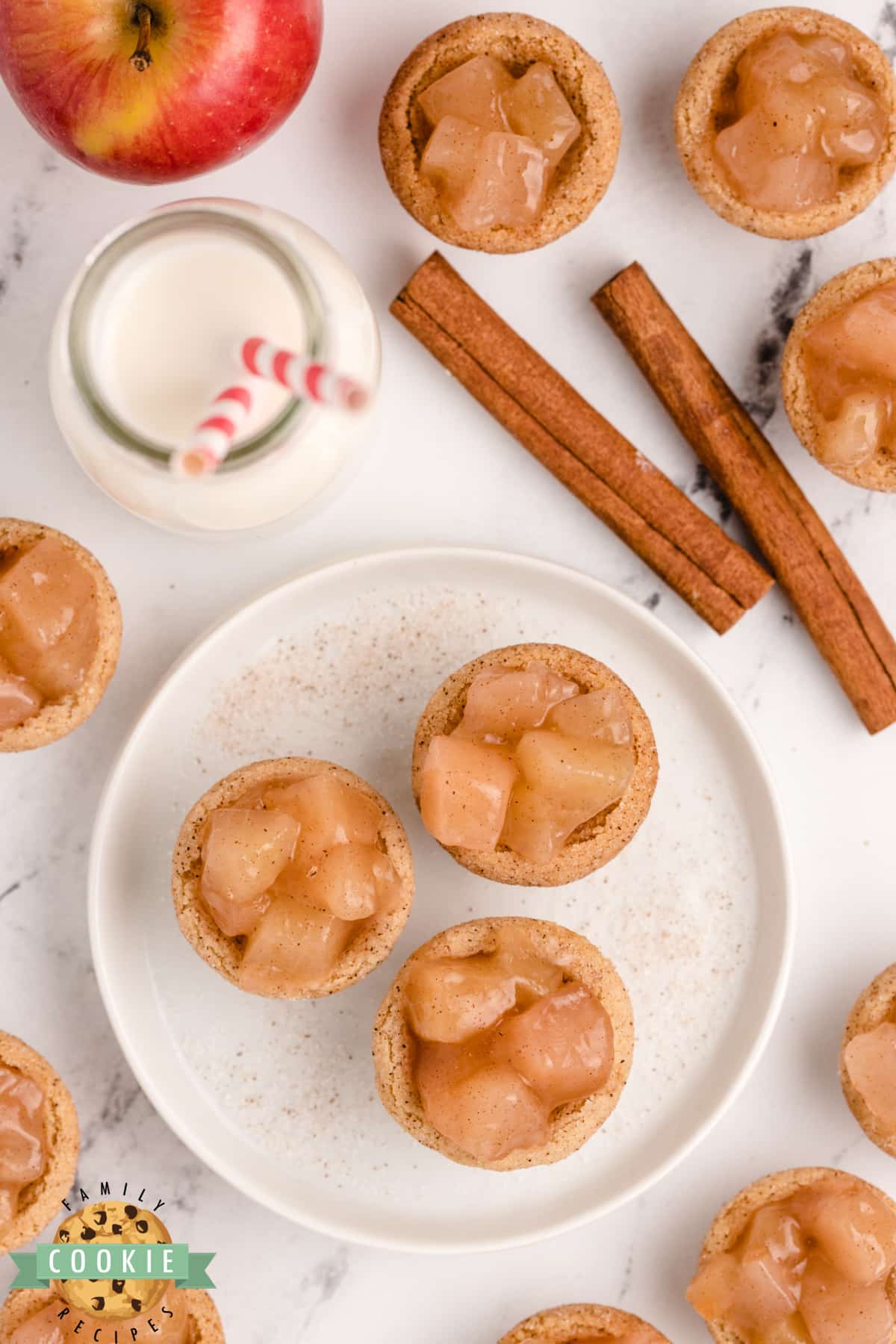 DO YOU NEED TO BAKE THE APPLE PIE FILLING?
Store-bought apple pie filling is already baked, as is homemade apple pie filling so you do not need to bake the filling after adding it to the baked cookie cup crusts. A lot of readers have asked about this! You can definitely heat the apple pie filling up if you prefer to warm it up before serving, but it is completely cooked as is. I can't be the only one that eats pie filling straight out of the can?!? Or am I?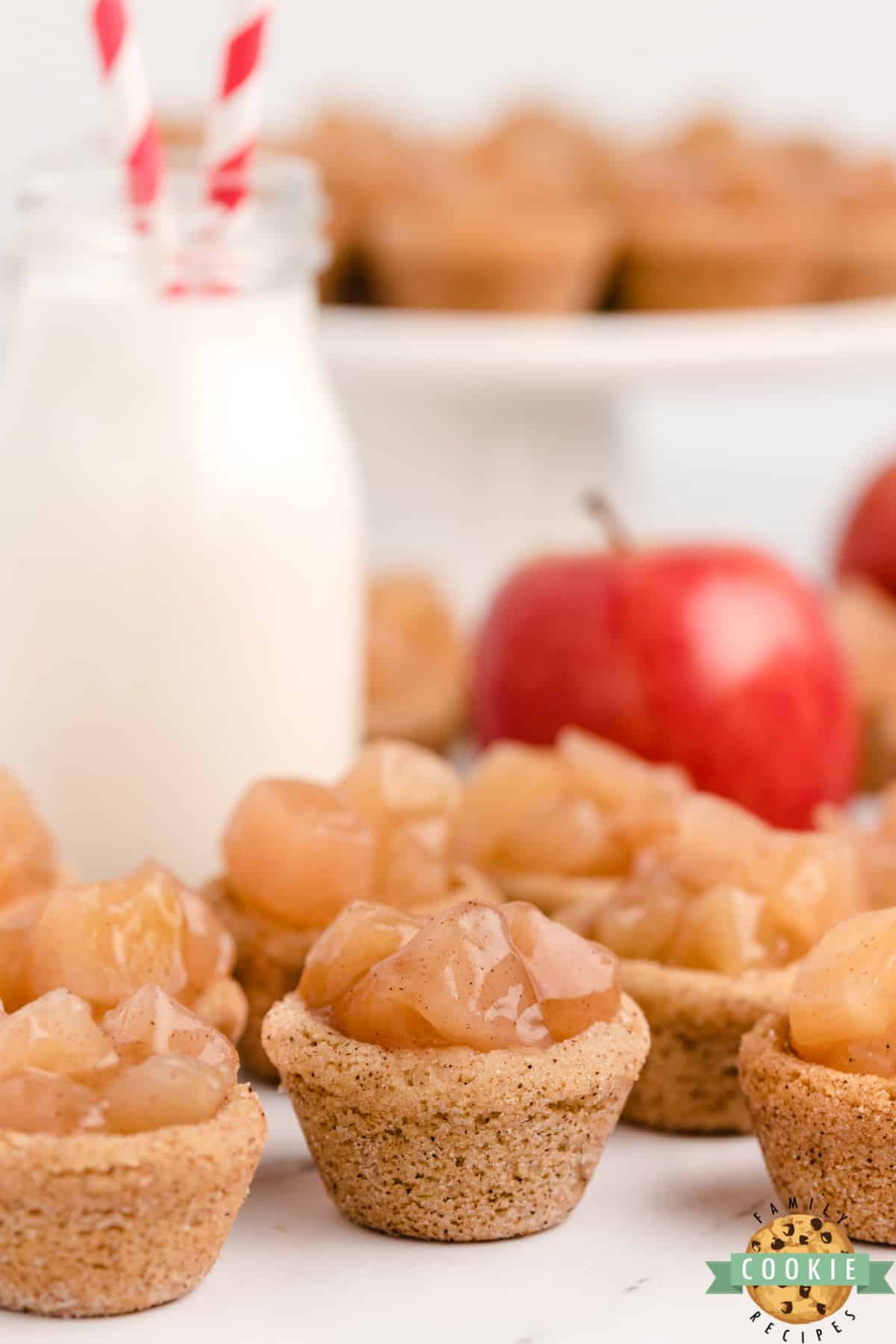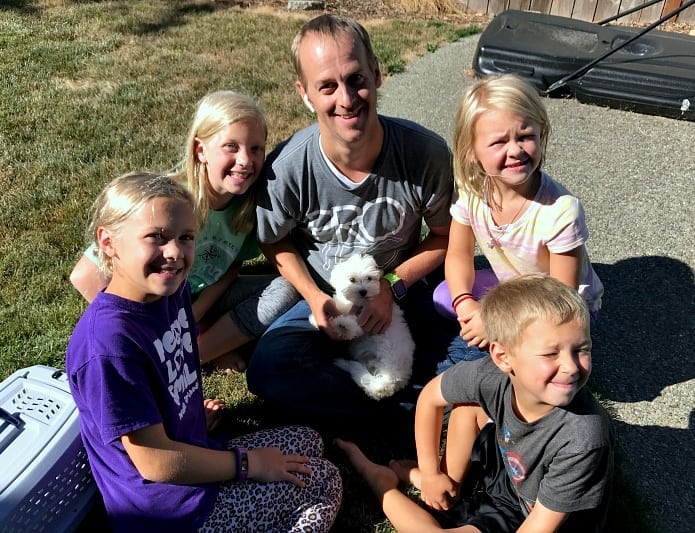 Our kids have been begging for a puppy for years now and we kept telling them that it would never happen. We just weren't sure that we loved animals quite enough to take on the responsibility of caring for one. We finally decided that the kids were old enough and responsible enough and so we surprised them with Sydney – we got her as a 12 week old Maltipoo. The kids were absolutely ecstatic and now, 9 months later, they are still absolutely in love with her.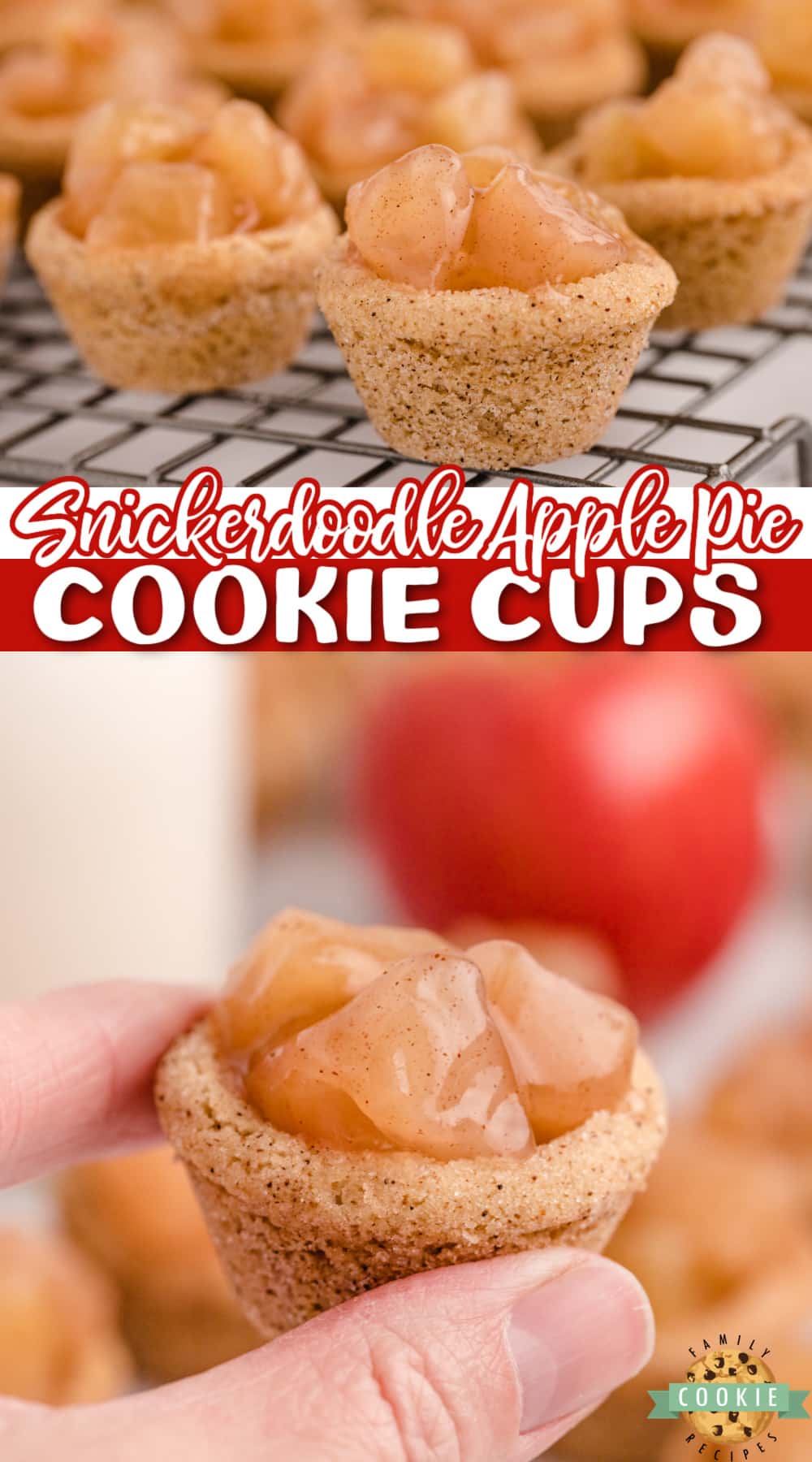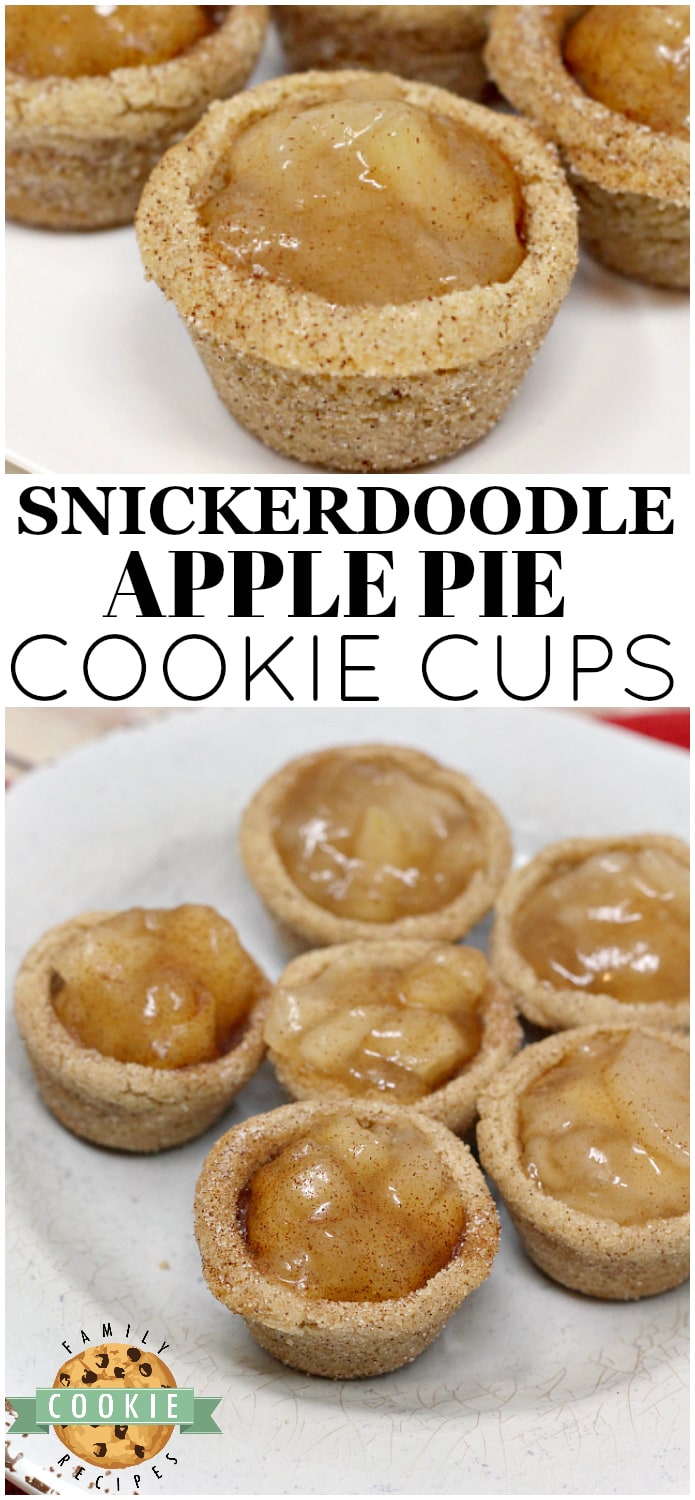 Snickerdoodle Apple Pie Cookie Cups combine two favorite desserts in a bite sized treat that is full of cinnamon and apple pie filling!