Frosted Snickerdoodles are a soft, chewy cookie rolled in cinnamon and sugar topped with homemade Buttercream Frosting. This snickerdoodle cookie with frosting is the perfect homemade cookie that tastes gourmet!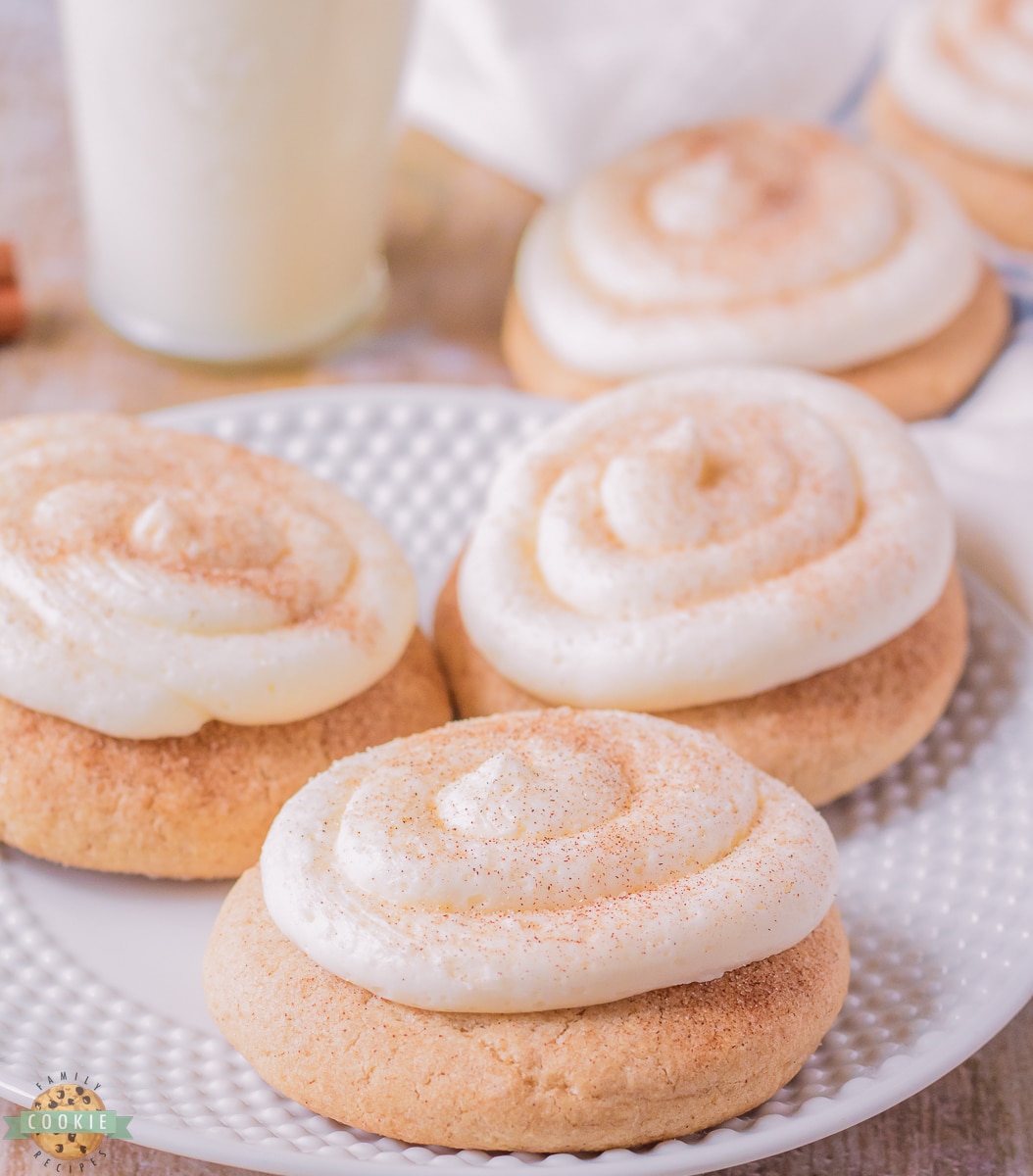 These snickerdoodle cookies are so delightful and every bite is a blend of sweetly-spiced deliciousness. The creamy buttercream frosting has 4 simple ingredients and we make the snickerdoodles without tartar so the ingredient list is minimal and easy to make.
Frosted Snickerdoodle Cookies
This soft and tender cookie is perfectly spiced with cinnamon, rolled in cinnamon sugar before baking to give it a nice and chewy edge, and is then finished off with a vanilla frosting and dusting of more sweet cinnamon sugar. Every bite is sensational and there is just the right balance of sweetness and warm spices. This cookie and frosting combo are so delicious that you will want to bake a batch for yourself and one to share!
Why you will love these Cinnamon Snickerdoodles
In case you needed any more great reasons to enjoy these cookies soon here are a few highlights on why we think you will love this recipe:
Snickerdoodles are a year-round cookie made for any occasion. There is no wrong time to enjoy a warm spiced snickerdoodle. While they are great for bringing comfort in the fall and winter, they are also incredible during spring and summer too.
You can adjust the cookie size. If you don't want 6 large cookies you can make 12 smaller ones instead. While this does mean that the cookies are less filling, there will be more to share with everybody.
They are an upgraded copycat recipe. Inspired by Crumbl's snickerdoodle cookie, this recipe is an upgraded version of the other, which simply means that it tastes even better than the original.
Frosted Snickerdoodle Ingredients
For the cookies, you will need:
Butter: Use 1 stick (½ cup) of softened unsalted butter in the cookie dough to make them rich in taste.
Sugars: You will need ¾ cups of brown sugar and ¼ cups of white sugar to make the cookies soft and sweet with a nice depth of flavor thanks to the molasses.
Egg: Use 1 egg to help bind the dough together well.
Vanilla extract: Adding 1 teaspoon of vanilla extract will help to give great flavor to these cookies.
Flour: 2 cups of all-purpose flour is needed for the base of the cookie dough.
Salt: Use ½ teaspoon of salt as a natural flavor enhancer in these cookies.
Baking powder: You will need ½ teaspoon of baking powder to help leaven these cookies and create a great texture as they bake.
Cinnamon: Use 1 teaspoon of ground cinnamon in the dough to make the cookie well spiced.
Cinnamon sugar: You will want to add some cinnamon sugar to the tops of the cookies and for rolling the cookie dough balls in.
For the frosting, you will need:
Butter: Use 4-5 tablespoons of softened butter for the frosting to be rich and flavorful.
Powdered sugar: You will need 4-5 cups of powdered sugar to make the frosting sweet and smooth.
Milk: 1-2 tablespoons of milk are needed for the frosting but the actual amount will vary based on how thick you want the frosting to be.
Vanilla extract: You will need 1 teaspoon of vanilla extract to give the frosting a subtle vanilla flavor.
How to make Frosted Snickerdoodles
Cookie Dough
Start by creaming together the softened butter and both sugars in a large bowl, until fluffy.
Then, add in the egg and vanilla extract, stir until well mixed.
Next, add in the flour, baking powder, salt, and cinnamon and mix until just combined. The dough will be very crumbly.
After that, divide the dough into 6 equal-sized portions and press them into balls.
In a separate bowl, add some cinnamon sugar to it and then roll each dough ball into it to coat the entire ball.
Place the dough onto a baking sheet and put it into the fridge to chill for at least 30 minutes before baking.
Bake
Preheat the oven to 375 degrees F and line a baking sheet with parchment paper.
Remove the dough from the fridge and place on your parchment paper lined baking sheet.
Proceed to bake the cookies for 15-18 minutes or until they are just lightly browned around the edges.
Allow the cookies to cool on the pan for 5 minutes before transferring to a wire rack to cool completely.
Make the buttercream frosting
Using an electric handheld mixer, whip the butter in a large bowl, or in the bowl of a stand mixer, until it is fluffy.
Next, add in the powdered sugar, one tablespoon of milk, and vanilla extract. Mix again to combine.
Then, add the additional milk, if needed, to thin down the frosting if it is too thick.
If you have a piping bag, transfer the frosting to it and pipe the buttercream around the top of the cookie in a swirl pattern.
Last but not least, sprinkle more cinnamon sugar on top for extra deliciousness and decoration.
Serve and enjoy!
How to frost cookies without a Piping Bag
There are a lot of different ways that you can frost the tops of these cookies and while the swirls look cool, it's not the only way. Depending on the consistency of the frosting you can easily spread the frosting over the top of these cookies using a butter knife or the backside of a spoon. Even a small rubber scraper or another flat surface could work well.
If you want to pipe the frosting to look smooth, use a pastry bag and a fitted Wilton 1A tip. If you don't have a piping bag, you can use a Ziploc bag with the corner snipped. The tip can be placed inside of the bag but even without a tip, the baggie should work well on its own.
How long are Snickerdoodles with Buttercream good for?
These cookies can last about 3 days if kept stored in an airtight container. You can keep them stored at room temperature or in the fridge.
Can I freeze frosted cookies?
Yes, These cookies can be frozen. I recommend letting the frosting set before placing the cookies onto a large baking sheet and freezing for a few hours until solid before transferring to an airtight container with wax paper between the cookie layers to prevent sticking. Then when you want a cookie, just place it on the counter for a few minutes to thaw.
Do I have to chill cookie dough?
Yes, your dough should be chilled to help keep the cookie nice and thick, and chewy. If the butter in the dough gets too soft then the cookies will spread as they bake which will make them larger and thinner instead of tall and fluffy. We want a fluffy cookie, so getting the dough balls chilled really helps to give us the optimal results.

These two cute teens have been dating for over a year now and well, let's just say I've got a whole folder of dance pictures! So when it came to Senior Prom, we all wanted to try something different. They turned out so great! 
Here Are Some More Great Snickerdoodle Cookie Recipes to Enjoy!
This frosted snickerdoodle cookies recipe is a soft and tender spiced cookie and topped with homemade buttercream, these cookie are a perfect blend of flavors and textures in every bite.