Apple Snickerdoodle Cookies are soft, chewy and full of apple flavor. Made with apple butter and rolled in cinnamon sugar for an irresistible cookie that's perfect for the fall!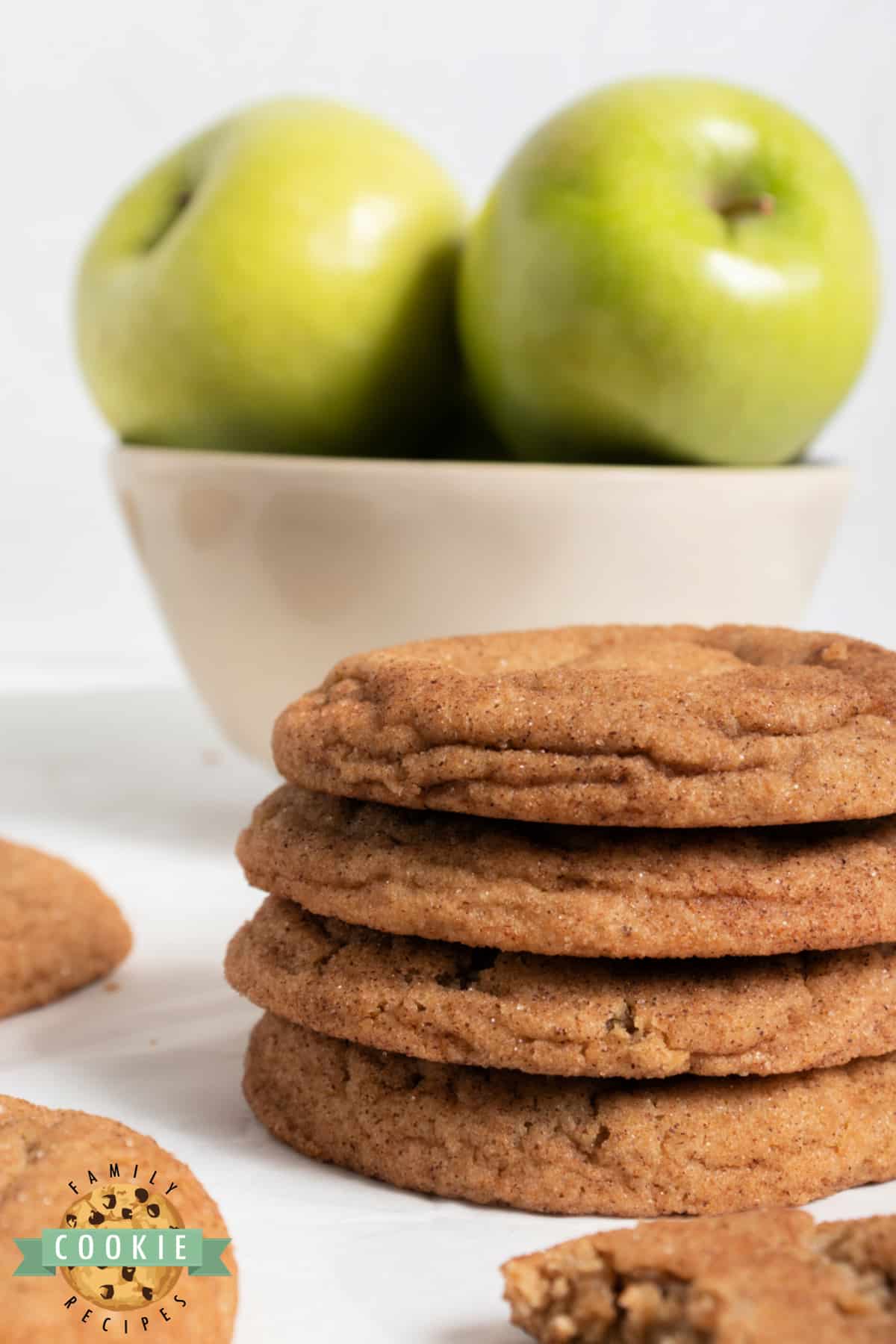 APPLE SNICKERDOODLES
Snickerdoodles are soft, chewy cookies that are rolled in cinnamon and sugar. This recipe has apple butter in it and the apple flavor pairs so well with the cinnamon. This is the perfect variation on a classic snickerdoodle cookie recipe!
This Apple Snickerdoodle recipe is simple, but does require a couple of hours of chilling. This helps to make sure that the cookies don't spread too much when baking. All of the ingredients are very basic, but a little bit of apple butter or apple puree take these cookies to the next level.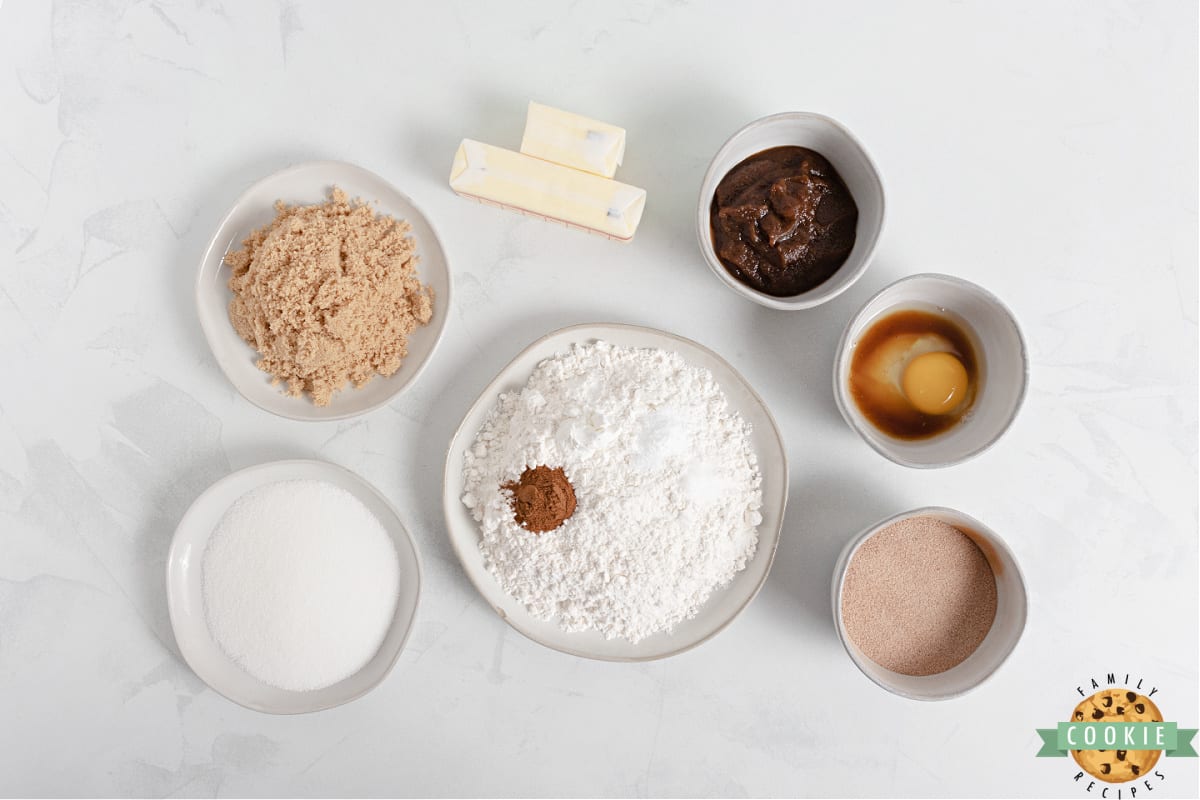 Ingredients in Apple Snickerdoodle Cookies
Butter – Make sure the butter is softened to room temperature. For best results, use real butter!
Sugar and brown sugar – Can't make cookies without sugar! Make sure your brown sugar is soft and fresh. Reserve some of the sugar to mix with the cinnamon so that you can roll the cookie dough balls in the mixture.
Egg – Just one large egg helps to bind all of the other ingredients together.
Apple butter or apple puree – I've always used apple butter in the recipe, but you can use apple puree if you'd like instead.
Vanilla extract – The higher the quality of the vanilla, the better.
Flour – All-purpose flour works best in the recipe, but you can use a gluten-free substitute if needed.
Cornstarch – Two teaspoons of cornstarch will help provide the softness to the cookies – it really makes the texture and consistency of the cookies amazing!
Baking soda – You will need 3/4 teaspoon of baking soda. The baking soda acts as the leavening agent in the cookies, so make sure it isn't old or expired.
Salt – Just a fourth of a teaspoon of salt helps to bring out all of the other flavors in the cookies.
Ground cinnamon – You only need a little bit, but the cinnamon is pretty important in snickerdoodles so don't leave it out! Save a little bit out to mix with the sugar so that you can roll the cookie dough in the mixture.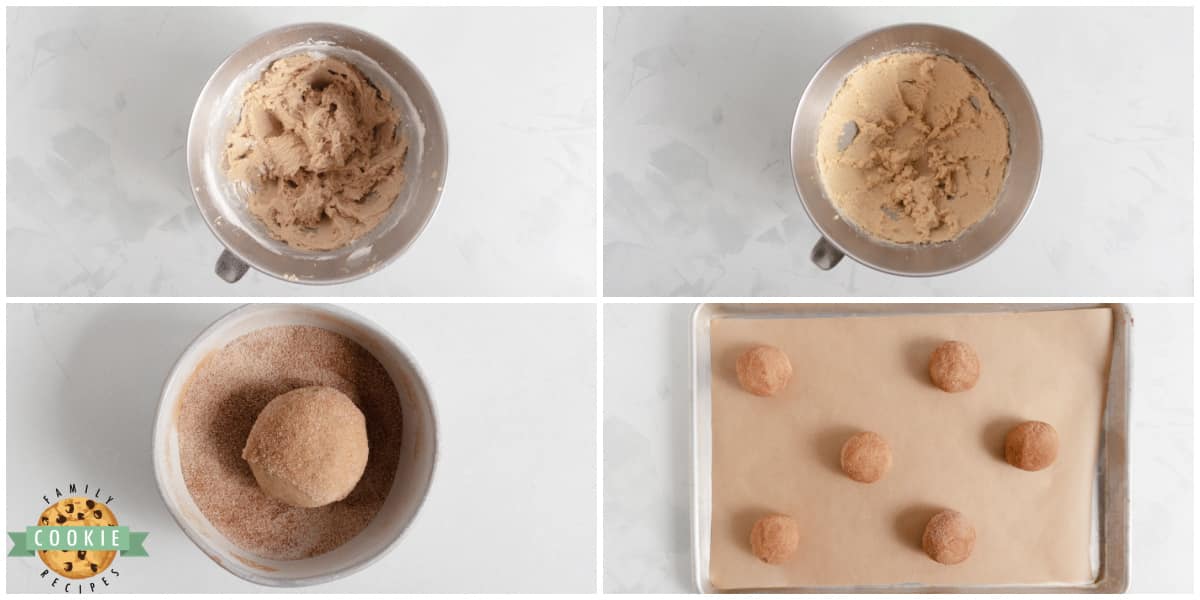 How to make Apple Snickerdoodle Cookies
Preheat the oven to 350°F. Prepare a cookie sheet with a silicone baking mat or parchment paper.
Using a hand-held mixer or stand mixer with the paddle attachment, beat the butter, ½ cup granulated sugar and light brown sugar. Beat on medium-high for 1-2 minutes until the mixture looks like wet sand. Scrape down the sides of the bowl.
Add the egg, apple butter or puree and vanilla extract and beat on medium-high for 1-2 minutes until combined. Scrape down the sides of the bowl.
Mix in the AP flour, cornstarch, baking soda, salt, and 1 tsp ground cinnamon and mix on low until combined.
Use a cookie scoop to make cookie dough balls and refrigerate for 2 hours.
Combine the remaining ¼ cup granulated sugar and 1 tbsp ground cinnamon in a small bowl.
Roll the cookie dough balls in the cinnamon sugar, then set 6 on the prepared cookie sheet making sure they are about 2 inches apart.
Bake for 10-12 minutes or until the centers are just baked.
Remove cookies from the oven and allow to sit for 5 minutes, then move to a cooling rack to finish cooling.
Store leftover cookies in an airtight container for up to 5 days.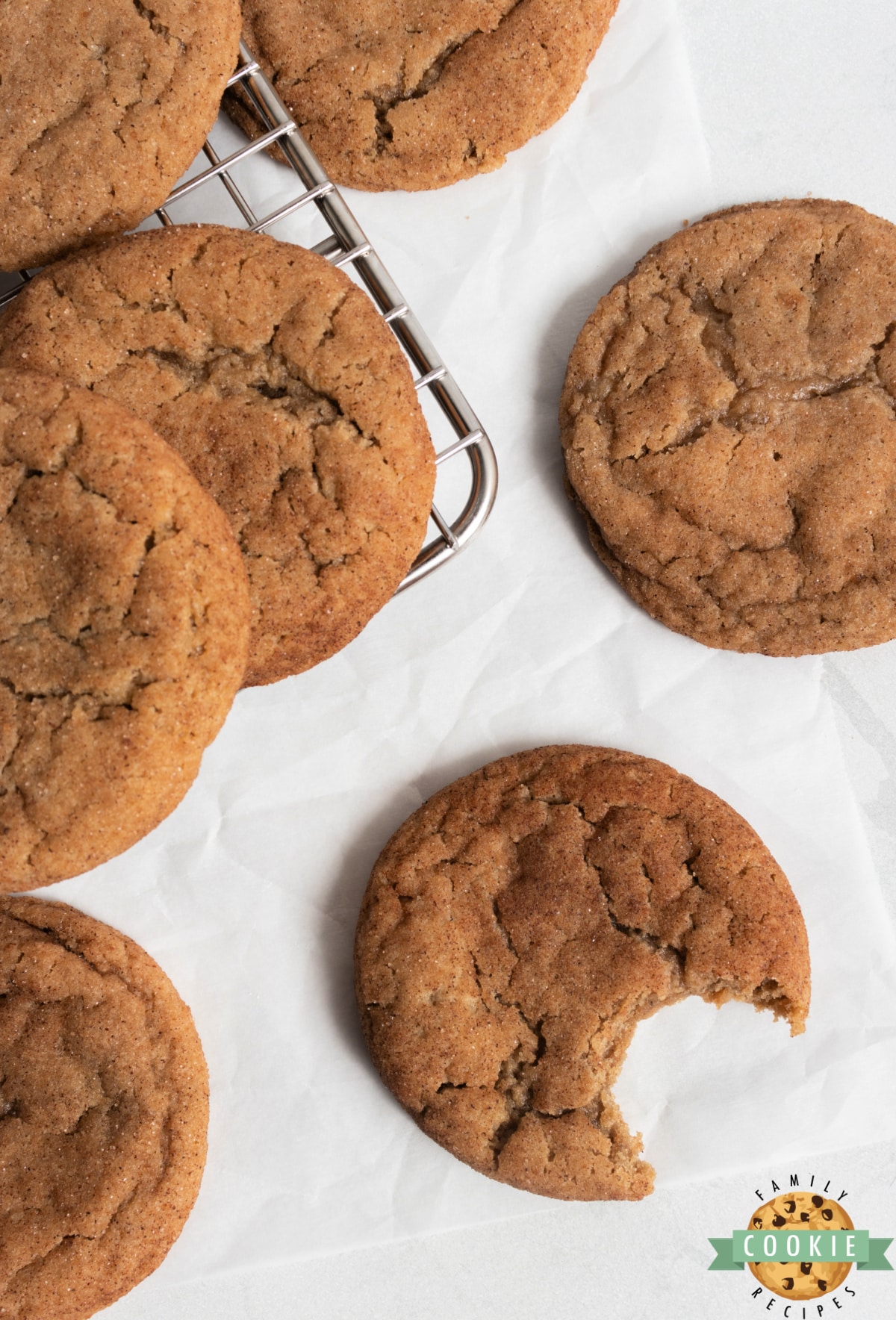 TIPS FOR MAKING AMAZING APPLE SNICKERDOODLE COOKIES
Make sure that you have enough flour in the dough. If the dough is too sticky, you may need to add a little bit of flour. The dough in this recipe is slightly sticky and may stick to your fingers slightly as you are rolling the balls, but if they are impossible to shape into balls, add a little bit more flour.
Do not melt the butter! The butter needs to be softened (at room temperature), but using melted butter will ruin these cookies.
Spend a little extra time when you mix the butter and sugars. Creaming them together for 2-3 minutes will improve the consistency of your cookies.
Preheat the oven. This will help your cookies turn out right every time!
Use a cookie scoop! If you want all your cookies to be perfectly shaped and have them all be the same size, a cookie scoop is the way to go.
Use parchment paper or a silicone baking mat. Doing this will make it really easy to remove the cookies from your cookie sheet so that you don't have to scrape them off the pan – they will just slide right off in perfect shape!
Don't overbake the cookies – when I take mine out of the oven, they still look slightly underbaked but they will continue to bake on the cookie sheet for a couple more minutes so that's ok!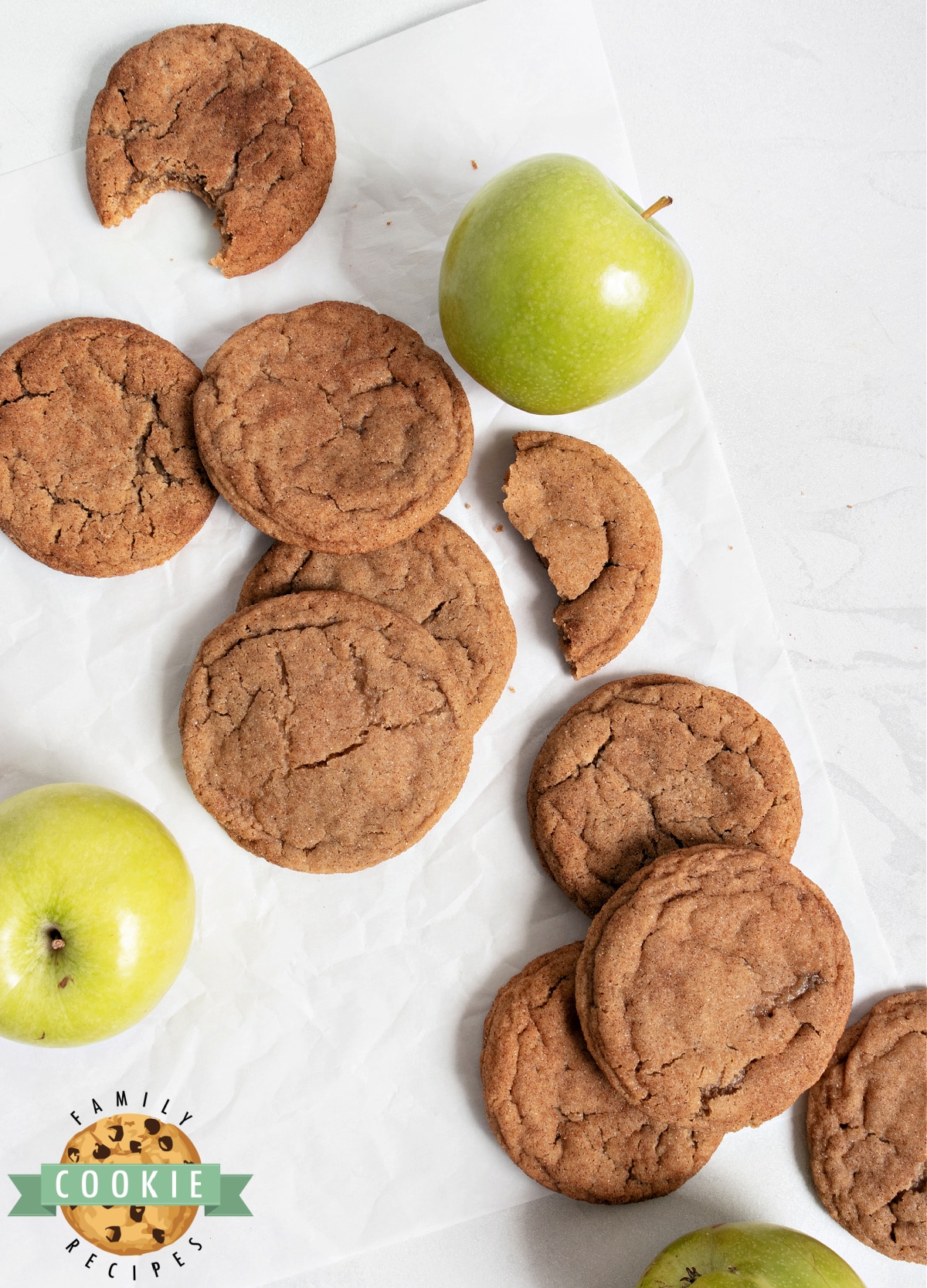 HOW DO YOU SOFTEN BUTTER?
I like to soften butter by using the defrost function on my microwave. If you need the full 1/2 cup cube of butter, you can leave it in the paper wrapper, otherwise, place the amount of butter you need in a glass or porcelain bowl. I use the lowest defrost setting on my microwave and just let it run for 20 seconds. Check the butter and see how soft it is by pressing it with a rubber scraper. If it is still not soft to the touch, meaning it doesn't indent when you press into it, let it warm for another 5-10 seconds. Watch it closely! Butter softens very quickly.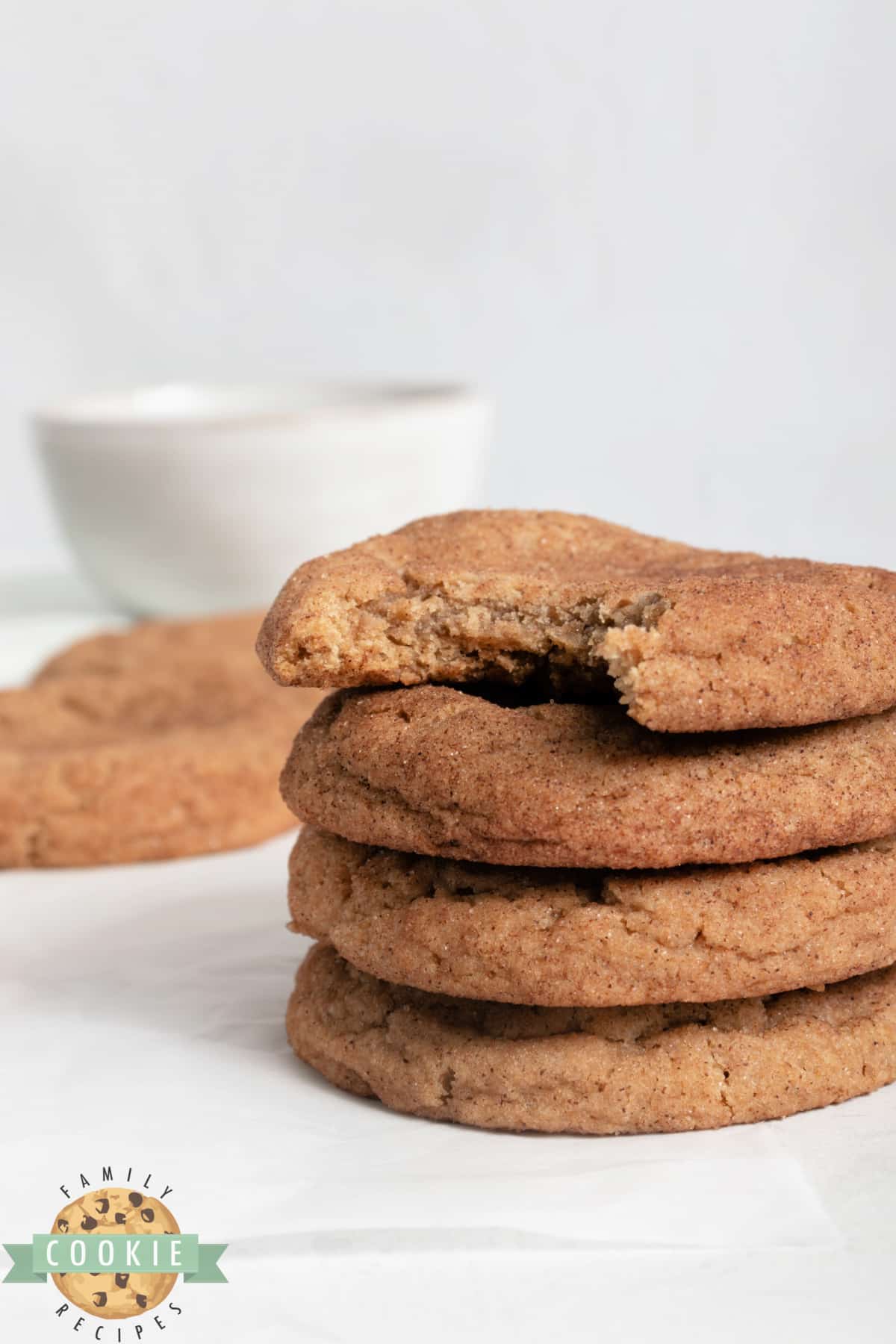 HOW LONG ARE APPLE SNICKERDOODLES GOOD FOR?
You can keep these cooled cookies in an airtight container at room temperature for up to 4 or 5 days. They are super soft and moist, so you shouldn't have any issues with them drying out, but if they start to get dry, you can throw in a piece of bread in with them and they will soften back up.
Love snickerdoodles? Here are our favorite snickerdoodle recipes: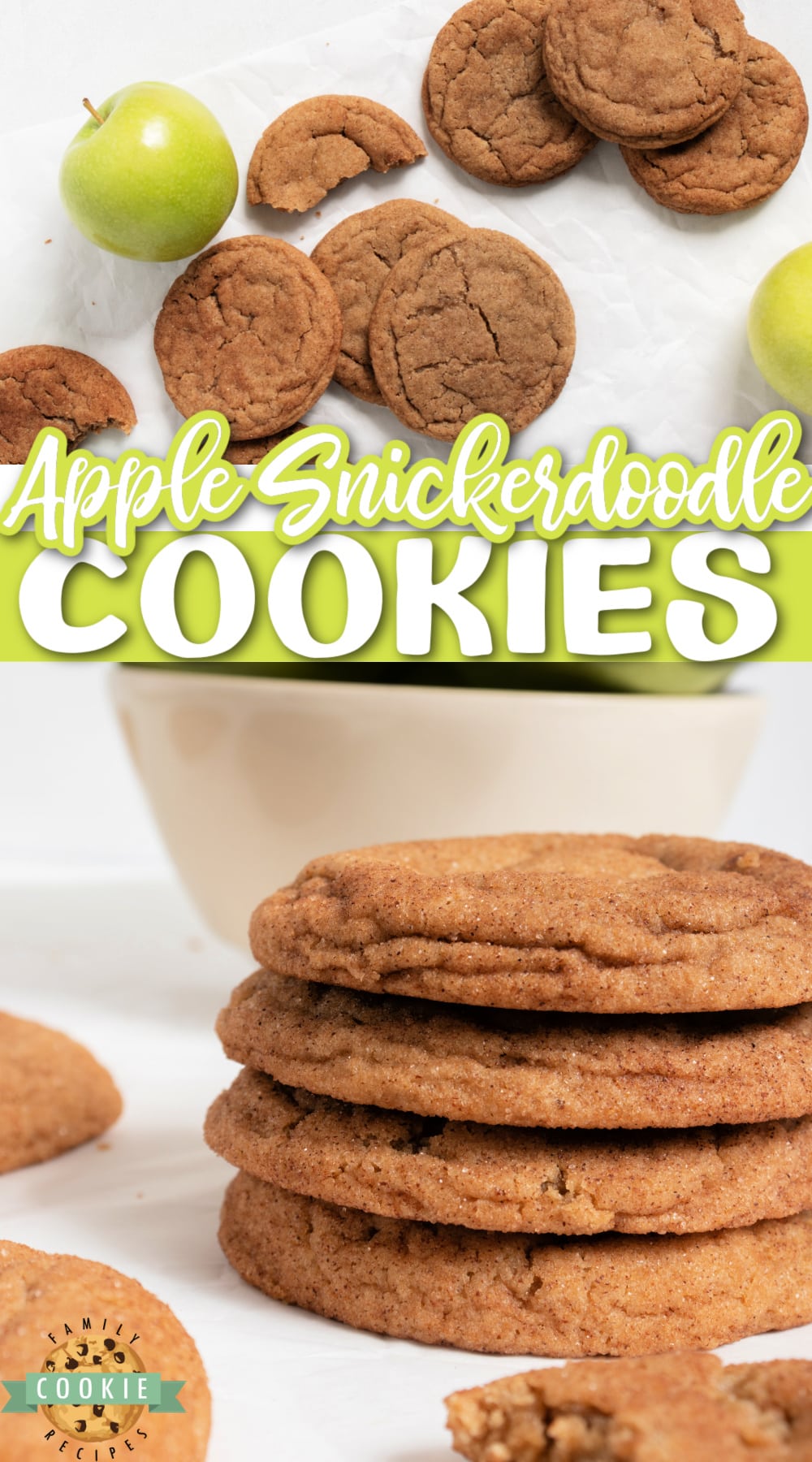 Apple Snickerdoodle Cookies are soft, chewy and full of apple flavor. Made with apple butter and rolled in cinnamon sugar for an irresistible cookie that's perfect for the fall!



I just stumbled across this picture a few days ago and had forgotten all about it! This was taken nearly 6 years ago and I just can't believe how much each of these kiddos has changed. Looking at these little faces brings back so many memories and it almost seems like this was a lifetime ago. So much has changed in the last few years and all of these kids have grown up so fast.
And let's not neglect the fact that the background in this photo is amazing. The Pacific Northwest really does have some of the most beautiful scenery I've ever seen!