Frosted Mini Sugar Cookie Bites are cute & tasty two-bite soft sugar cookies! Simple cookie recipe that's perfect for a crowd. The creamy frosting is a must!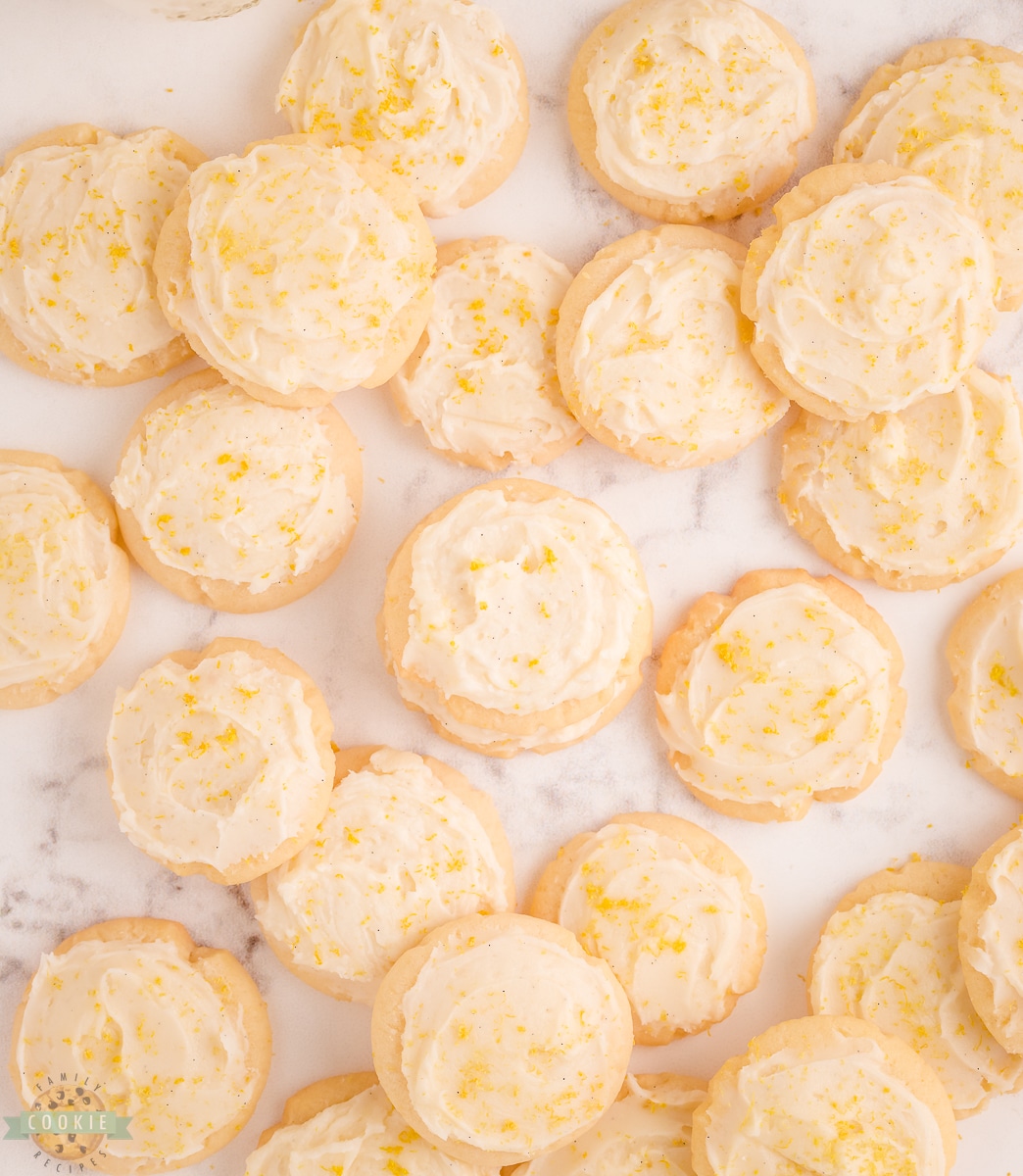 You don't have to travel to Utah to get your hands on a Swig Cookie because now you can make a batch to yourself in the convenience of your kitchen. That said if you do happen to stop by my humble state, stop in at the Swigs Soda Shop for a fresh cookie and a Raspberry Dream drink for the full experience.
Making these mini sugar cookies is fun and easy thanks to this simple copycat Swig cookie recipe. You're going to love how easy it is to make your own soft buttery cookies with frosting on top because you're going to want to do this at least a few times per year for indulging or sharing with others because it's just too good to shove this recipe away in a box somewhere.
What Are Swig Cookies?
Swig cookies are a Utah delight. A Swig N' Sweets is a Utah-based soda shop that is known for its incredible drinks and sweets. One of their most popular sweets happens to be these sugar cookies, which are like a cross between shortbread cookies and sugar cookies resulting in a flakey, buttery cookie with unique edges. With a little frosting on top, these cookies become an irresistible treat.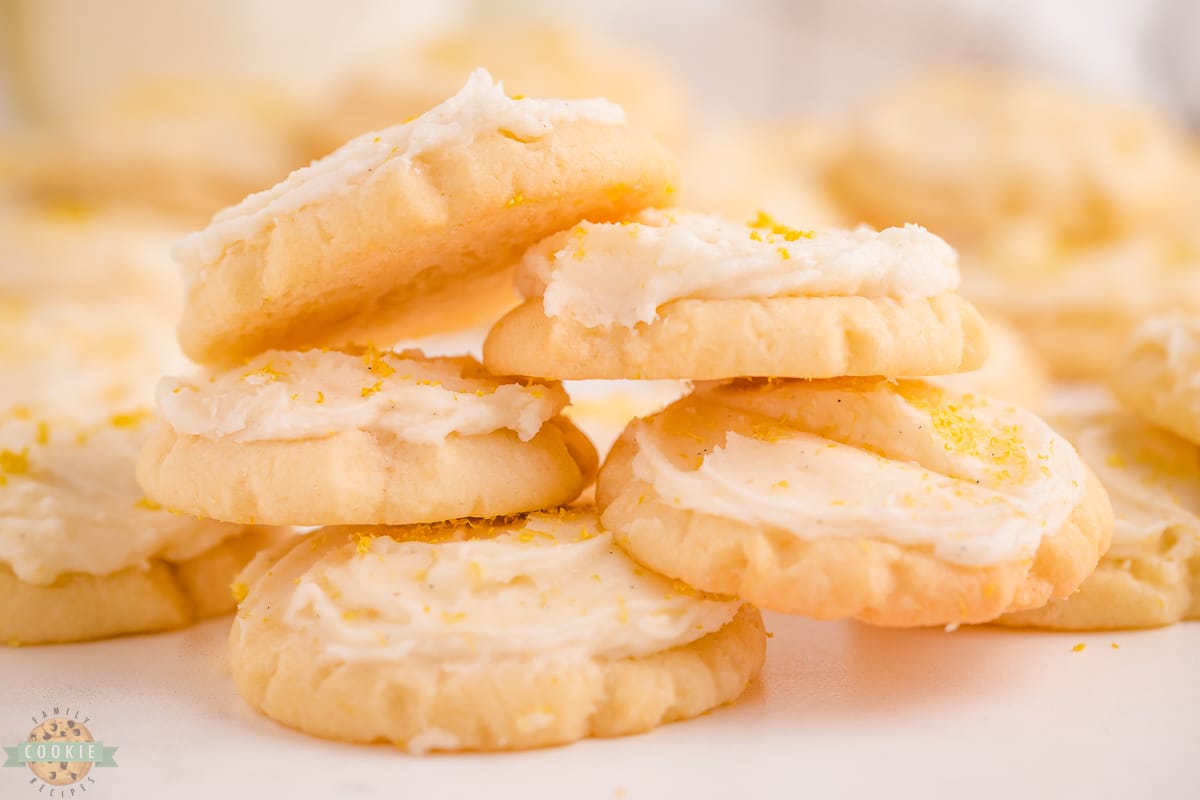 Mini Sugar Cookies Ingredients
-Butter: You will need 1 cup of softened butter to make these cookies nice and rich tasting.
-Shortening: Adding in ¾ cups of butter flavored Crisco shortening will help to add in fats for the dough to turn out flaky.
-Sugars: To make the cookies nice and sweet you will want to use 1 ¼ cups of granulated sugar and ¾ cups of powdered sugar.
-Milk: You only need 2 tablespoons of milk to help moisten the dough.
-Eggs: Using 2 eggs will help to bind the dough together well.
-Leavening agents: You will need ½ teaspoon of baking soda and ½ teaspoon of cream of tartar to help leaven the cookies and get them tasting great.
-Salt: Use 1 teaspoon of salt to naturally enhance the flavors in your cookie.
-Flour: The base of the cookie dough will be 5 ½ cups of all-purpose flour.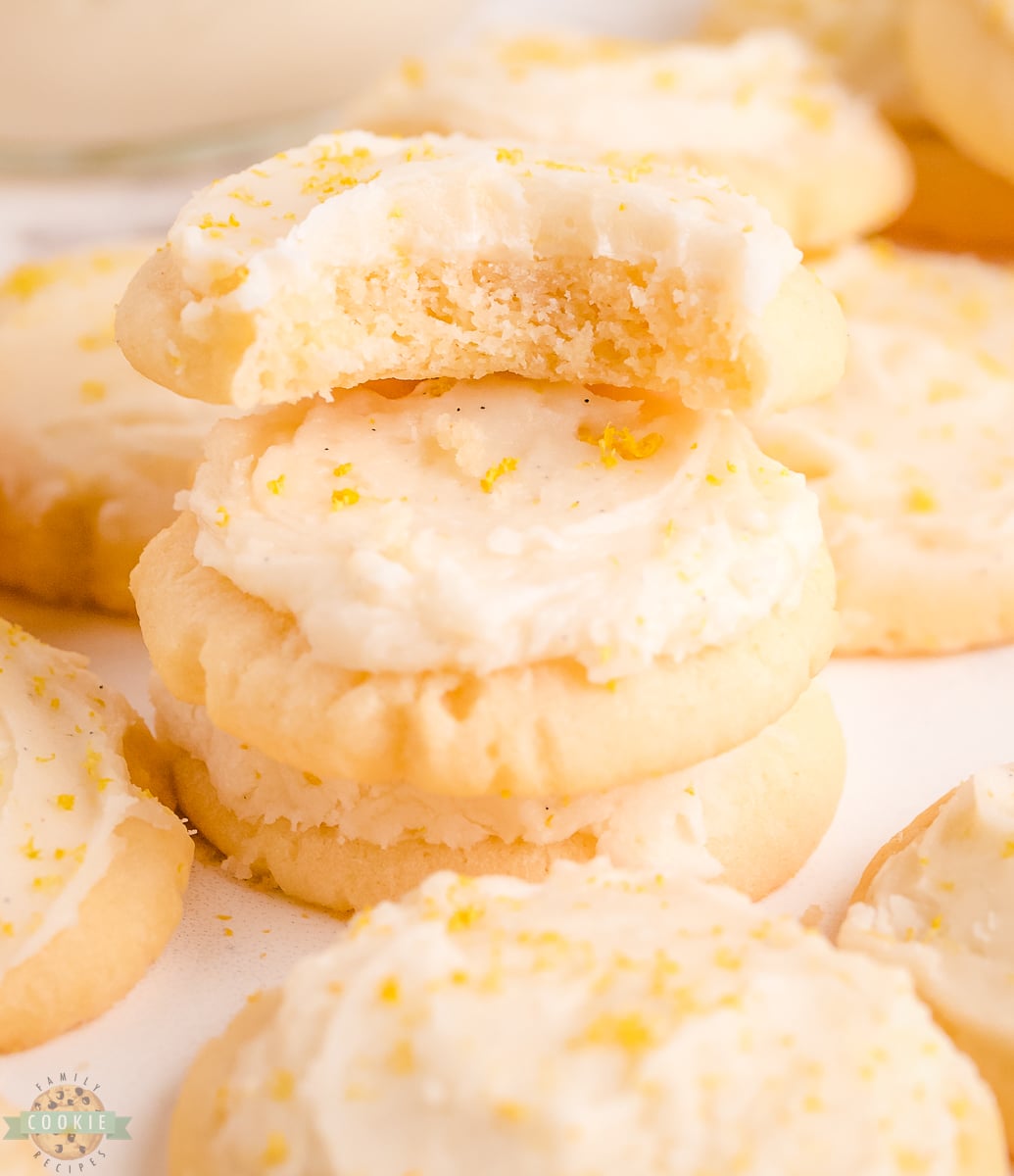 For the Frosting, You Will Need:
-Butter: You will need ½ cup (one stick) of softened butter for a rich-tasting frosting.
-Sour cream: With 2 tablespoons of sour cream we can get a creamy frosting with a slightly tangy flavor.
-Powdered sugar: Use 4 cups of powdered sugar to get a sweet smooth finish.
-Vanilla bean paste: For added flavor use 2 teaspoons of vanilla bean paste or ½ teaspoon of lemon extract.
-Food coloring: If desired, you can add food coloring to your cookie frosting for a unique hue.
-Milk: You will need about 1-2 tablespoons of milk to help get the frosting to the perfect consistency.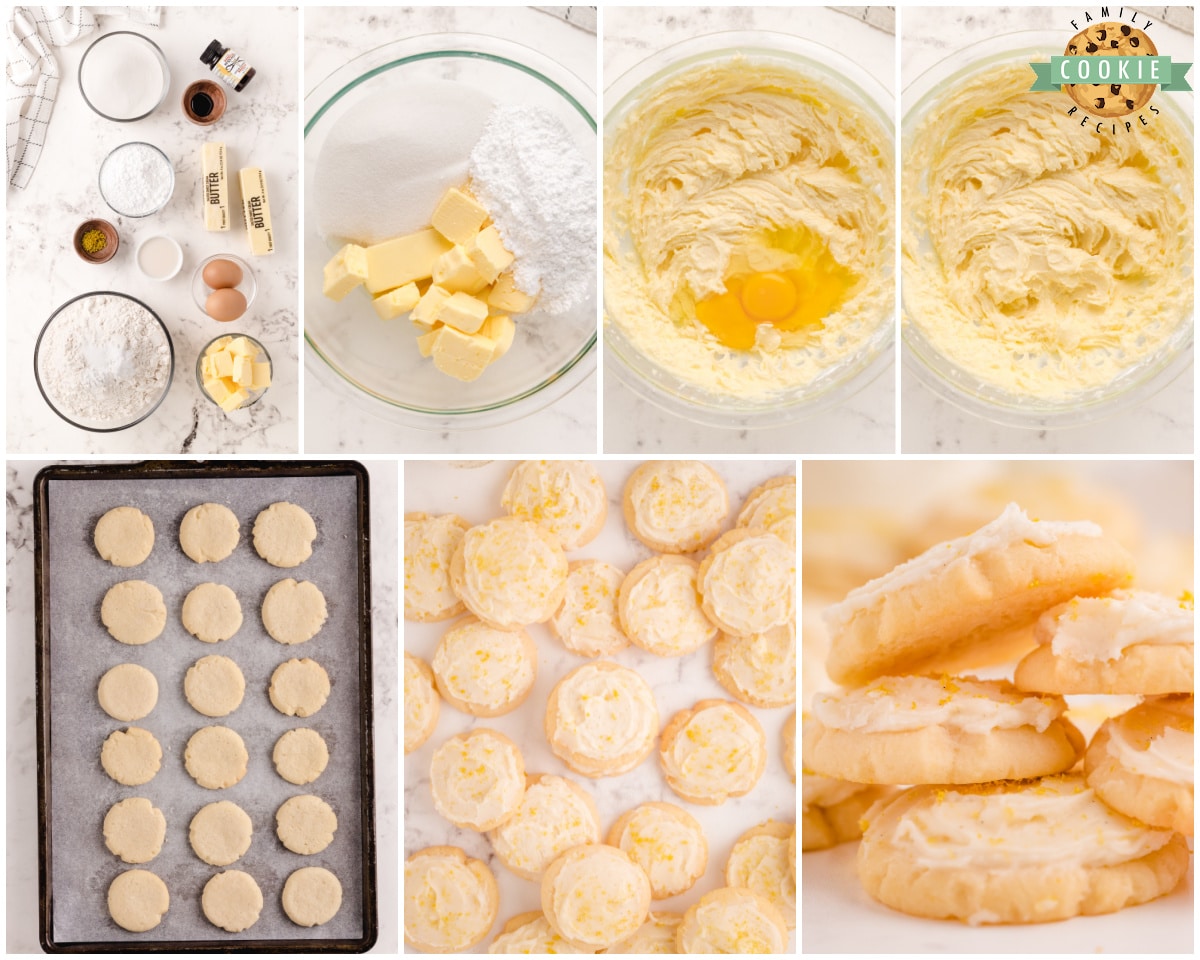 How to Make Mini Sugar Cookie Bites
Preheat your oven to 350 degrees F and line 2 cookie sheets with parchment paper.
In a large mixing bowl, cream together the butter, shortening, sugars, and milk.
Add in the eggs and then mix again until well combined.
In a separate bowl, combine the flour, baking soda, cream of tartar, and salt.
Add the flour mixture to the creamed butter mixture and mix until smooth.
Scoop the dough into balls just under 1 inch in size. I use a small cookie scoop to do this (about 2 teaspoons). Divide that dough into 2 portions and place them on your cookie sheets.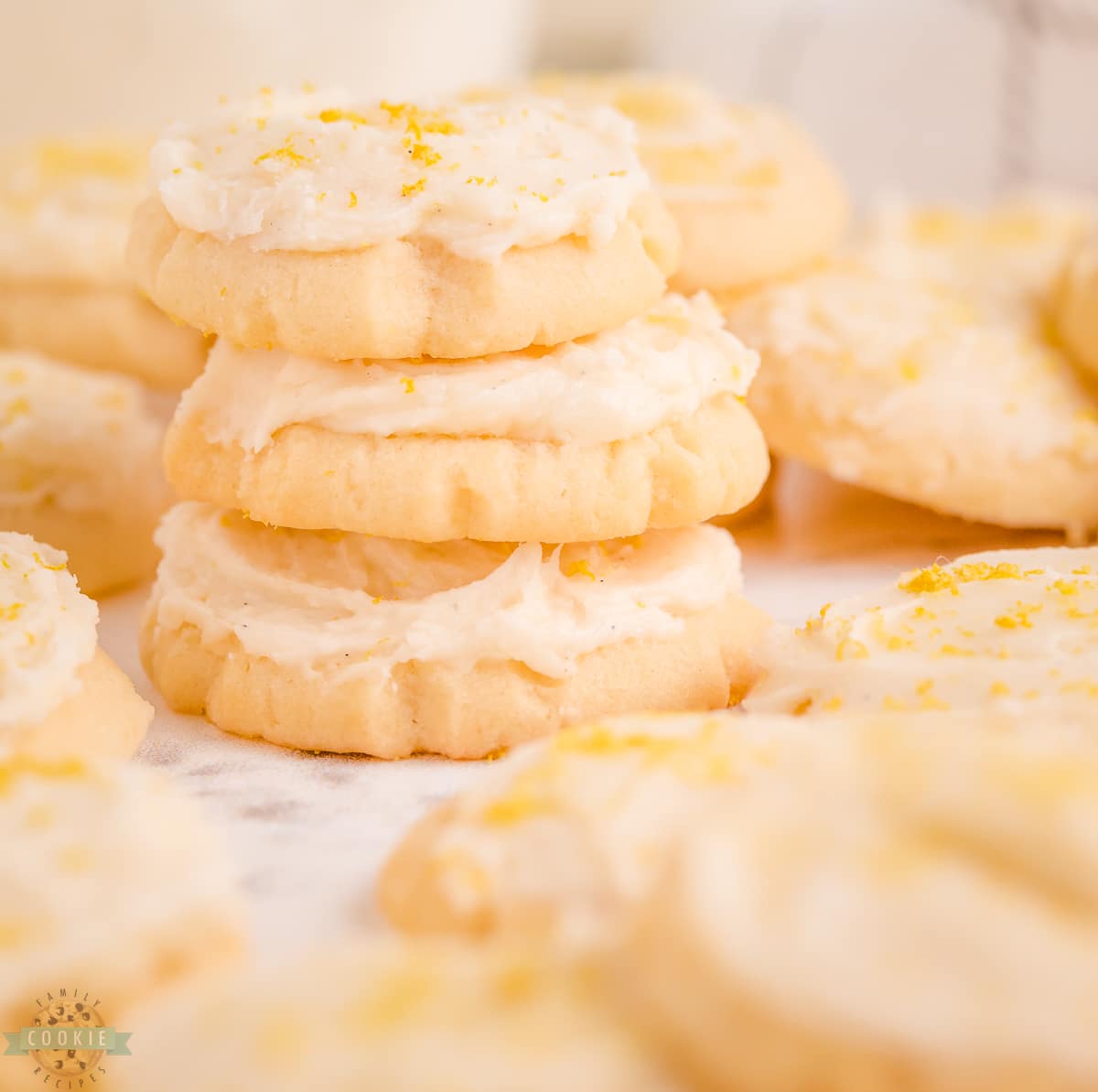 Spray the bottom of a glass measuring cup with cookie spray and then dip it into a plate covered in a thin layer of sugar. Press down on each cookie dough ball slightly, the get the rough edge that Swig cookies are known for. You don't want to smash the cookies too thin because they're best when thick and soft.
Bake for 6-8 minutes at 350 degrees F and cool on a wire rack and frost.
Prepare the frosting by mixing all of the ingredients (except for the milk) together until well combined and then add in the milk until your desired consistency has been reached.
Pipe small dollops onto the cooled cookies. Enjoy!
How to store mini frosted sugar cookies?
Keep these cookies stored in an airtight container at room temperature or in the fridge for up to a week. To prevent the frosting from sticking between cookies, allow them to set after frosting and keep layered with parchment paper or wax paper if you can't lay them in a single layer within your airtight container.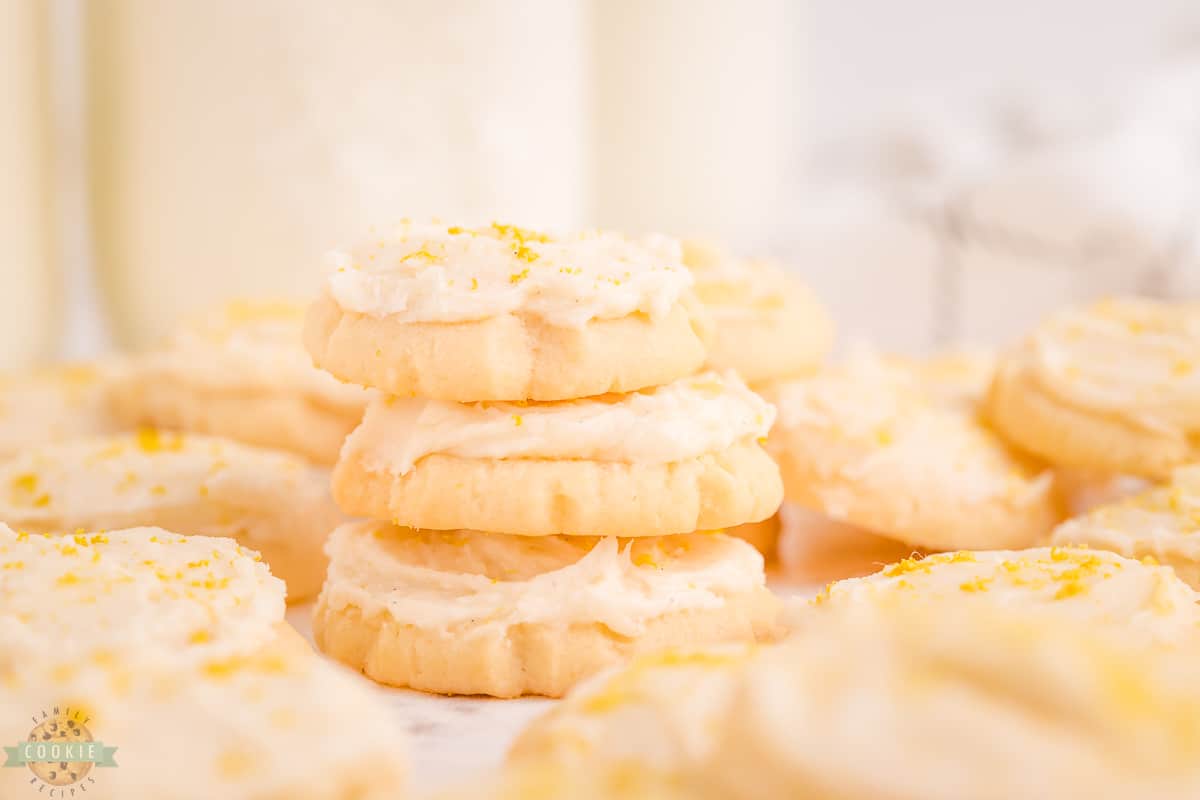 Can I make bite-sized sugar cookies in advance?
Yes, you can make and bake your cookies in advance of any event or party, and then simply freeze them (after they've cooled) for up to 3 months in an airtight container. Allow them to thaw before frosting and serve as desired. This makes them a great option for parties and holidays like Christmas!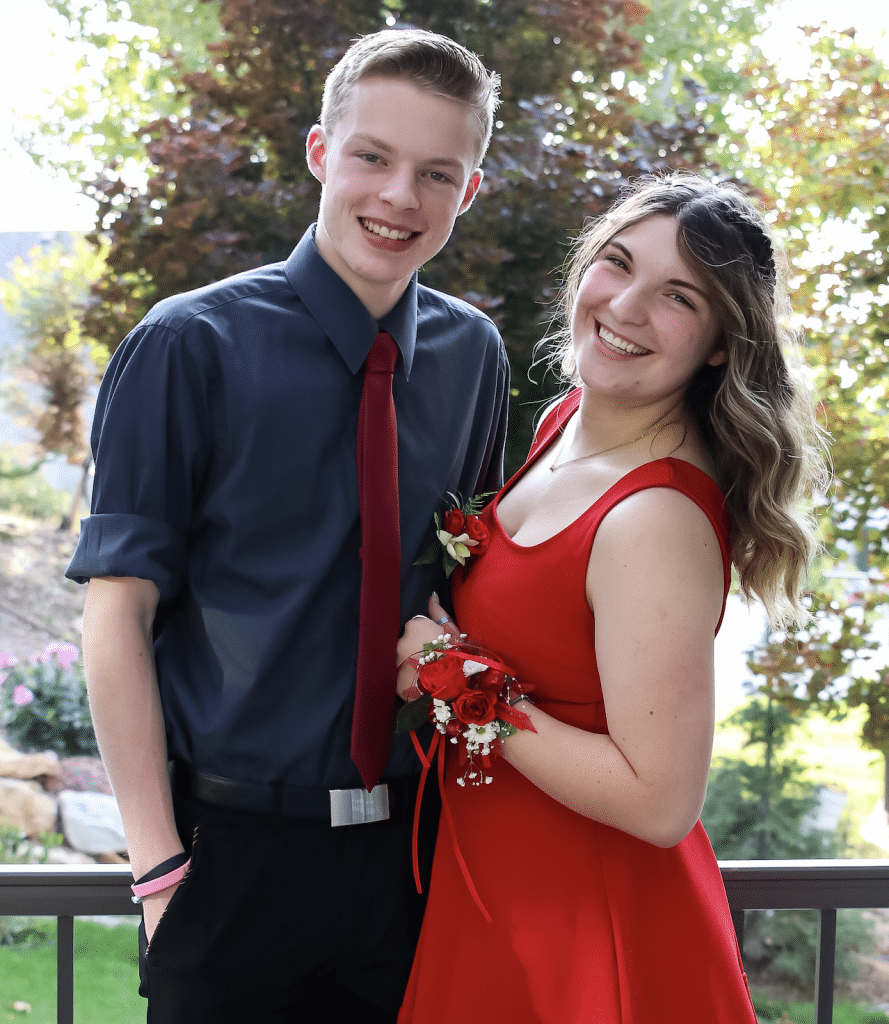 You're going to love these tiny sugar cookie bites! They're such a fun treat and one that's acceptable to eat by the handfuls.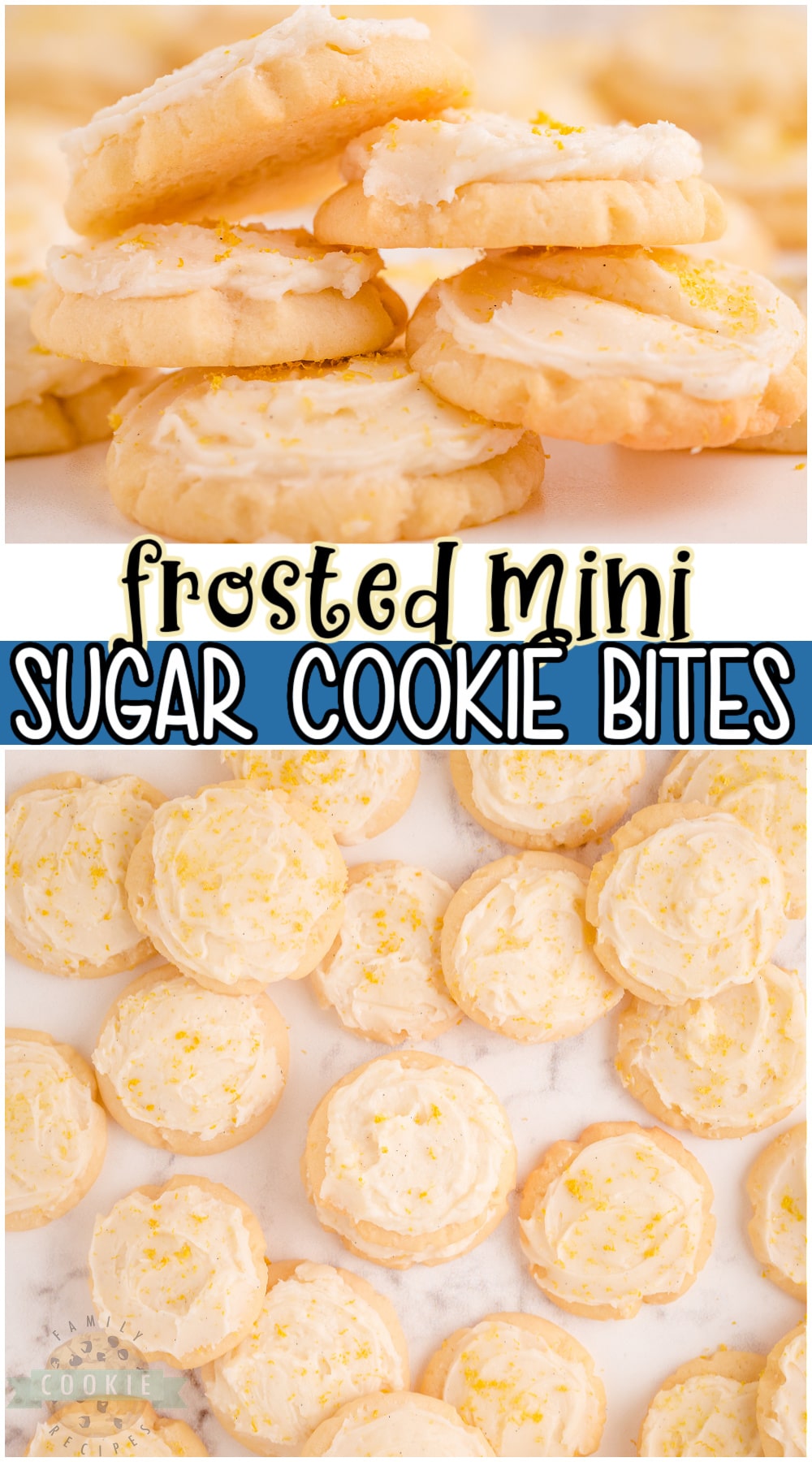 Frosted Mini Sugar Cookie Bites are cute & tasty one-bite soft sugar cookies! Simple cookie recipe that's perfect for a crowd! The creamy frosting is a must!