Watermelon Sugar Cookies made easy with sugar cookies, my favorite buttercream frosting and chocolate sprinkles. Perfect for summertime picnics when you can't get enough of watermelon in any form!
I was inspired by some cute little cupcakes at a local bakery and just knew I wanted to transform them into cookies. I used Nellie's Swig Sugar Cookie recipe, which is not only delicious but hello, super simple to make! (No rolling, no cutting, etc!) Add on some lovely buttercream frosting and sprinkles and voila, you've got yourself some easy watermelon cookies that are perfect for summer picnics!

Easy Watermelon Sugar Cookies
1/2 cup butter
6 TBSP Butter Flavored Crisco
1/2 cup granulated sugar
1/2 cup powdered sugar
1 TBSP milk
1 egg
1/4 tsp baking soda
1/4 tsp Cream of Tartar
1/2 tsp salt
2 1/4 cups flour
Amazing Buttercream Frosting
1/2 cup softened butter
1 1/2 tsp vanilla
4 cups powdered sugar
3-4 TBSP milk
red & green coloring
To make the cookies: In a large mixing bowl (or stand mixer), cream together butter, Crisco, sugar, powdered sugar and milk. Add egg and mix until well combined. In a separate bowl, combine flour, baking soda, cream of tartar and salt. Add the flour mixture to the butter mixture and mix until smooth and well combined. Roll the dough into 1-inch balls and place on a greased cookie sheet. Spray the bottom of a glass or measuring cup with cooking spray and then dip into a plate coated with a thin layer of sugar. Press each ball down slightly. You don't want to smash them too thin because these cookies are best when they are thick and soft. Bake for 8-9 minutes at 350 degrees F. Cool cookies completely.
To make the frosting: Mix butter, vanilla and milk for 30 seconds with a mixer. Add in powdered sugar 1 cup at a time until you reach your desired consistency.
Divide the frosting into two bowls with one with slightly more frosting than the other. Color the bowl with more frosting red. (I used about 1/8th tsp coloring.) Color the other bowl of frosting green. (I used 5-6 drops.) Transfer the green frosting to a piping bag with a medium sized round tip.
Frost a circle on the inner portion of each cookie with red frosting using a spreading knife. Pipe green frosting around the edges of the red frosting. Sprinkle with chocolate jimmies. I loved the cookies both as round "slices" of watermelon, and cut in half too!
Store cookies in an airtight container.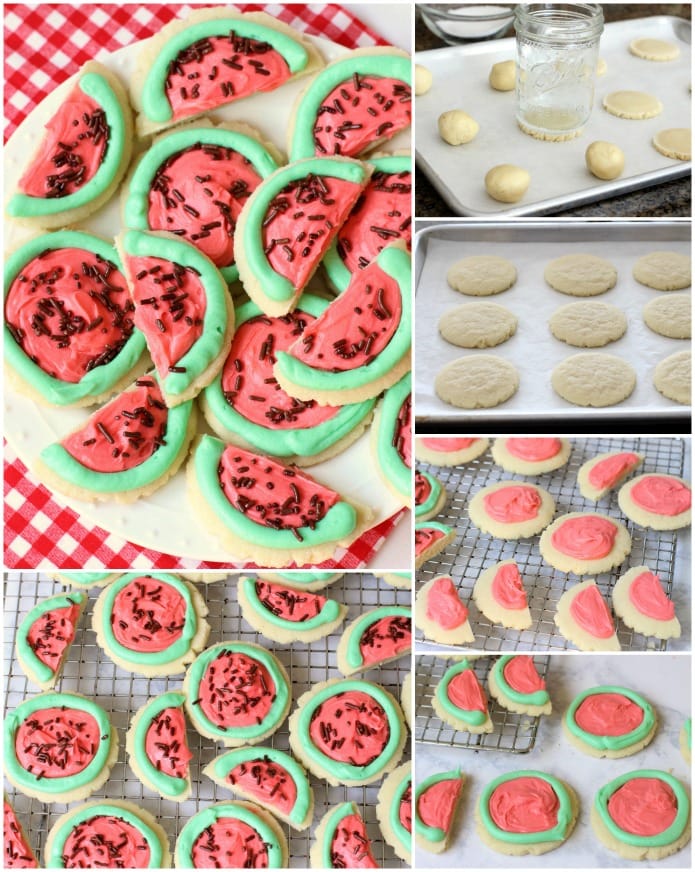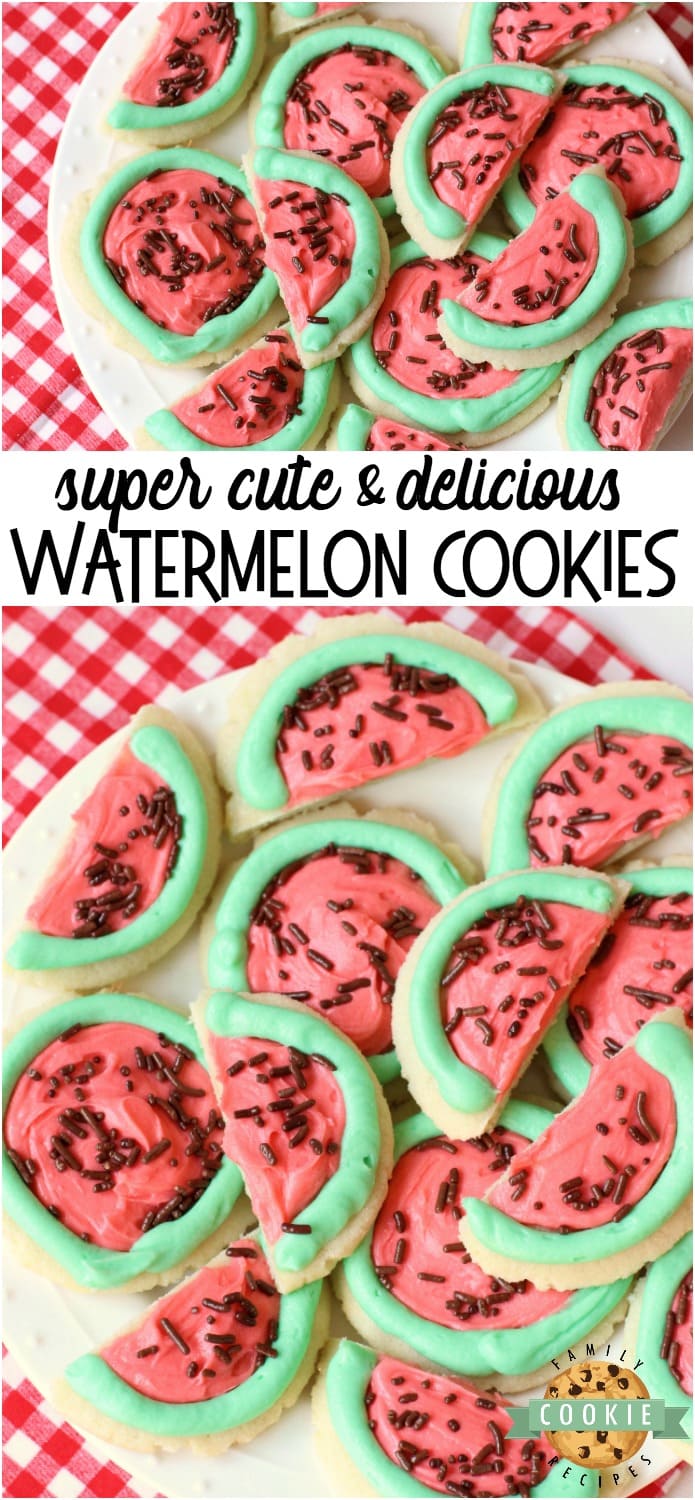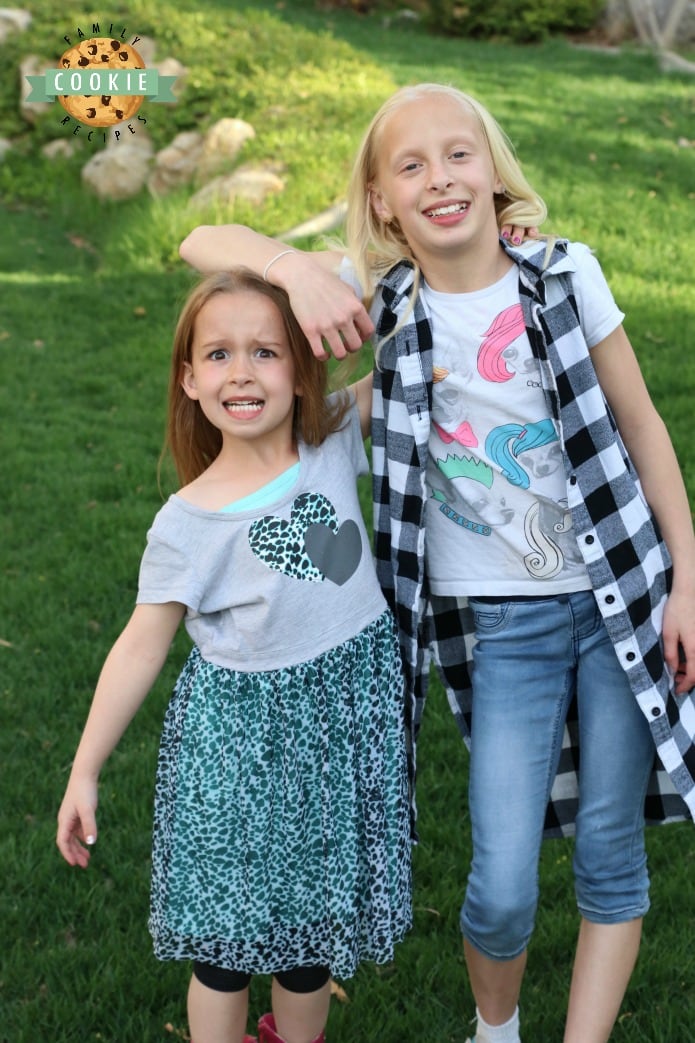 I come from a family of all girls, so when we found out our first baby was a boy, my initial thoughts were, "huh. That was unexpected." Ha! I can look back and laugh, because after that I had a girl…then another boy…then another girl! Can I tell you how thrilled I was when I found out my 4th child was another girl?! I mean, don't get me wrong, my sisters drove me crazy when I was growing up. Now though, we're really great friends and I am so thankful we're family. I have strong hopes for the future for my kids. I hope that they will all have great relationships with each other, even if life right now is a bit like what the picture above depicts… 😉