Coconut Sugar Cookies are soft cookies with a lovely coconut flavor! Frosted with a coconut buttercream & topped with toasted coconut for a delicious coconut cookie!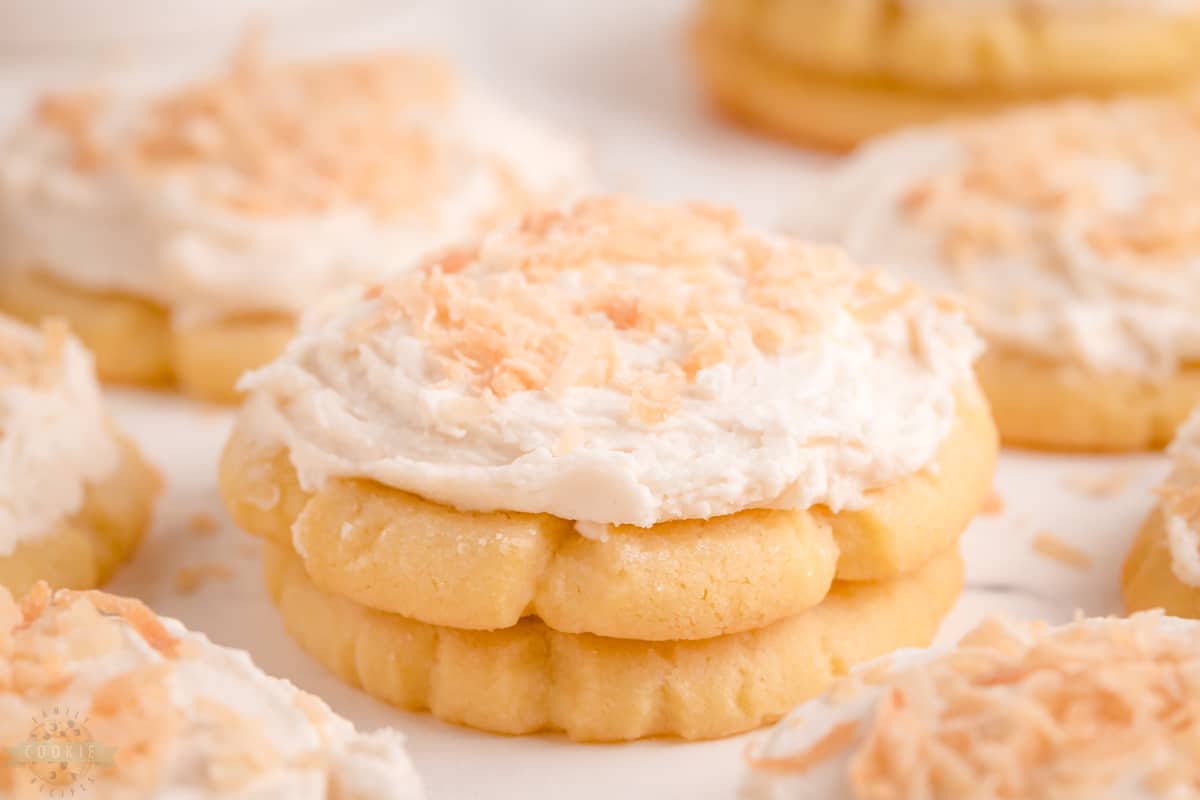 Made with coconut flavored extract and coconut oil we get a lot of great flavor without altering the texture of a soft and chewy sugar cookie. Add the coconut flavored buttercream on top and every bite is like heaven. Serve these cookies up for any occasion or make an excuse up because you'll want to try these sweets soon!
Coconut oil sugar cookies
These coconut sugar cookies are not made with coconut sugar (although you can try and let me know how that goes). Instead, it's a pretty standard recipe with a few simple adaptions to give us great tasting results. Powdered sugar and cream of tartar are both included in the dough for thickening and adding a softer texture whereas coconut oil is used as the fat instead of plain butter or shortening. These cookies are simple to make but so delicious to enjoy, you've got to try them soon.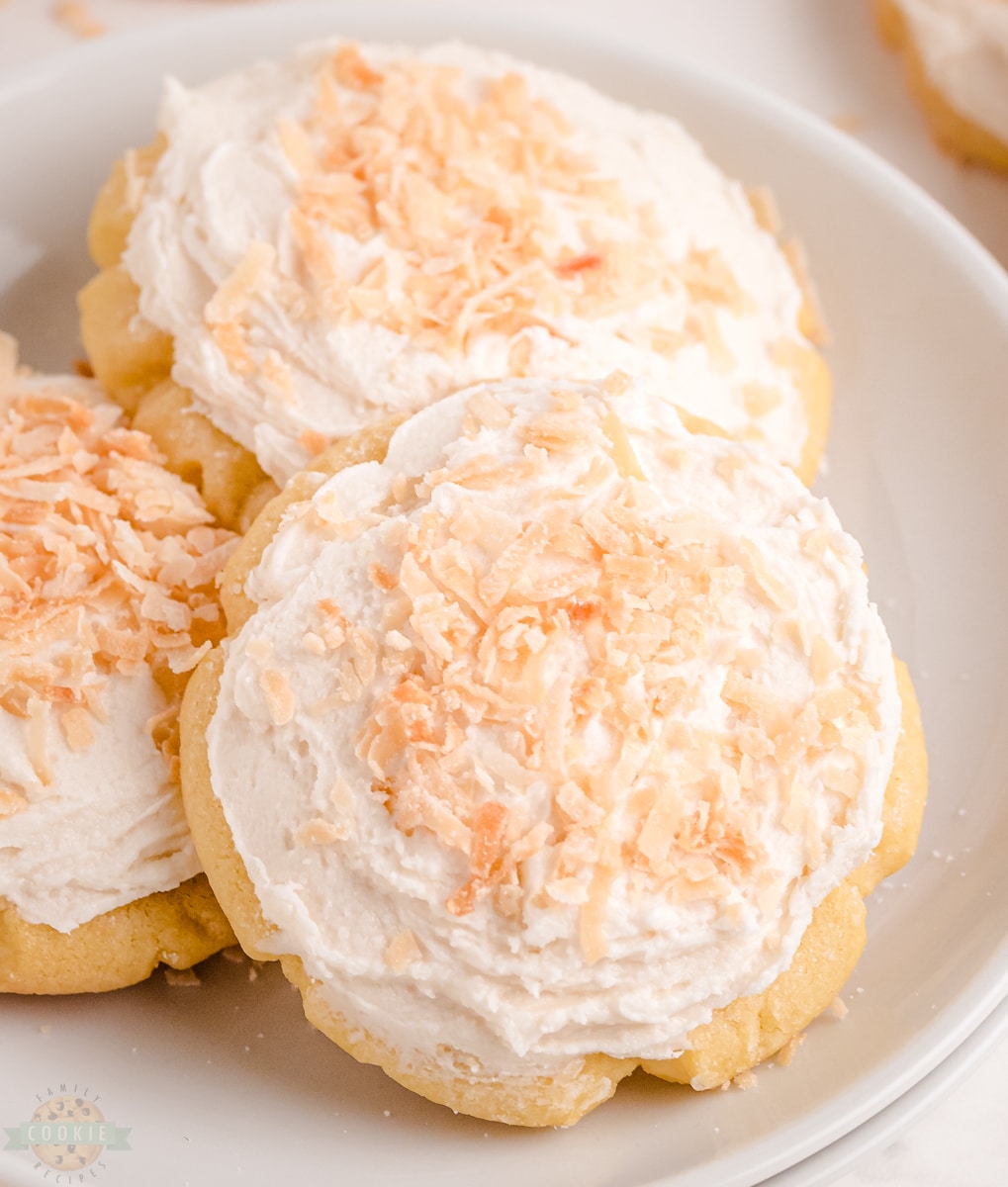 Coconut sugar cookie ingredients
-Butter: You will need 1 cup of butter that has been softened to room temperature.
-Coconut oil: Use ¾ cups of coconut oil to help add healthier fats and natural coconut flavor to our cookies.
-Sugars: You will need both 1 ¼ cup of granulated sugar as well as ¾ cups of powdered sugar for a perfectly sweet cookie.
-Milk: To help moisten the dough and get a good consistency, use 2 tablespoons of milk.
-Coconut extract: You will need 2 teaspoons of coconut extract or emulsion for giving us a stronger coconut flavor.
-Eggs: Using 2 eggs will help us to get a better texture as well as help to bind the cookies together well.
-Leavening agents: You will need both ½ teaspoon of baking soda as well as ½ teaspoon of cream of tartar for a perfectly leavened batch of cookies.
-Salt: Adding in 1 teaspoon of salt will help to enhance the flavors in your cookies.
-Flour: The base of the cookie dough is 5 ½ cups of all-purpose flour.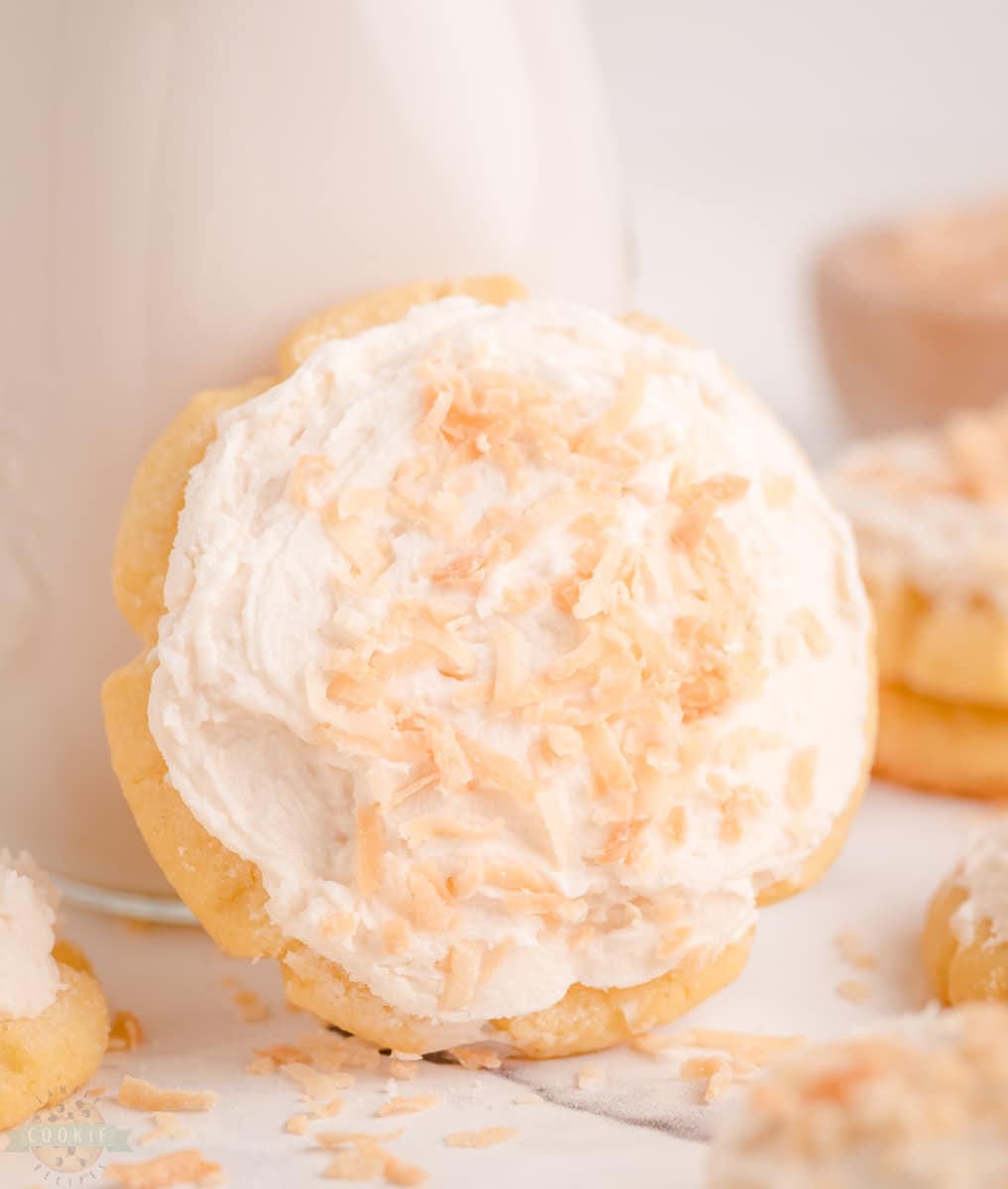 Coconut frosting ingredients
-Butter: You will need ½ cup of softened butter for the frosting mixture because it will help the frosting to taste richer.
-Sour cream: Adding in 2 tablespoons of sour cream will give the frosting a little tangy flavor that works wonderfully with the cookies.
-Powdered sugar: For the base of the frosting mixture you will need 4 cups of powdered sugar, giving us a sweet, smooth finish.
-Vanilla: Use 1 teaspoon of vanilla extract to help flavor the frosting.
-Coconut extract: To give us a coconut flavor in the frosting use 1 teaspoon of coconut extract or coconut emulsion.
-Food coloring: If desired, you can make the frosting any color you want by adding in a little food coloring.
-Toasted coconut: For fun, you can top the frosted cookies with some toasted coconut.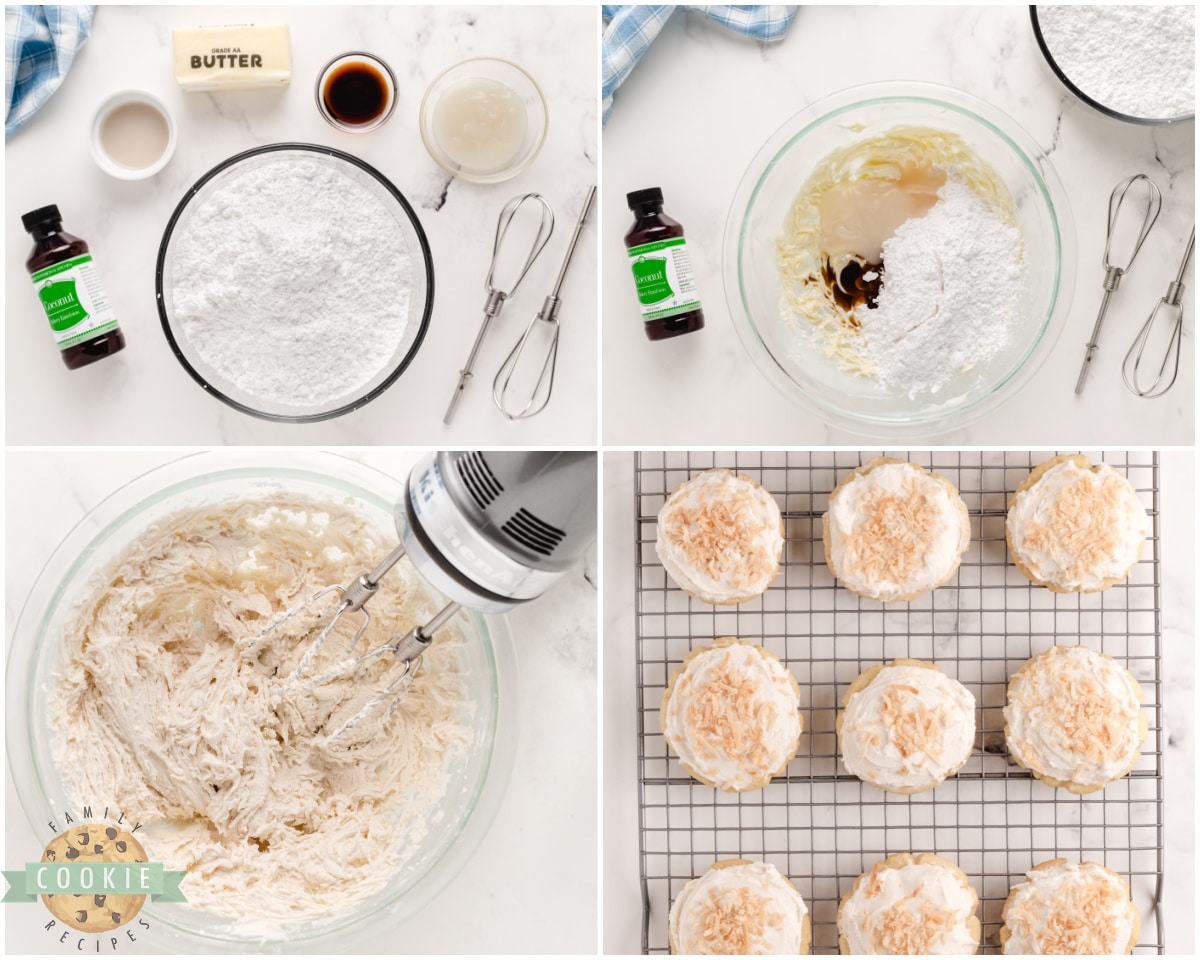 How to make coconut sugar cookies
Cream together the butter, coconut oil, sugars, milk, and coconut extract in a large mixing bowl or in the bowl of a stand mixer.
Add in the eggs and mix until they are well combined.
In another bowl, combine the flour, baking soda, cream of tartar, and salt.
Add that flour mixture to the butter mixture and mix together until smooth and well combined.
Roll the dough out into 1 inch sized balls and place onto a greased baking sheet.
Spray the bottom of a glass cup with cooking spray and dip in sugar. Lightly press down on the cookie dough balls to create a rough edge. Don't press too hard, you want the cookies thick.
Bake in the oven for 8-9 minutes at 350 degrees F and cool completely on a wire rack before frosting.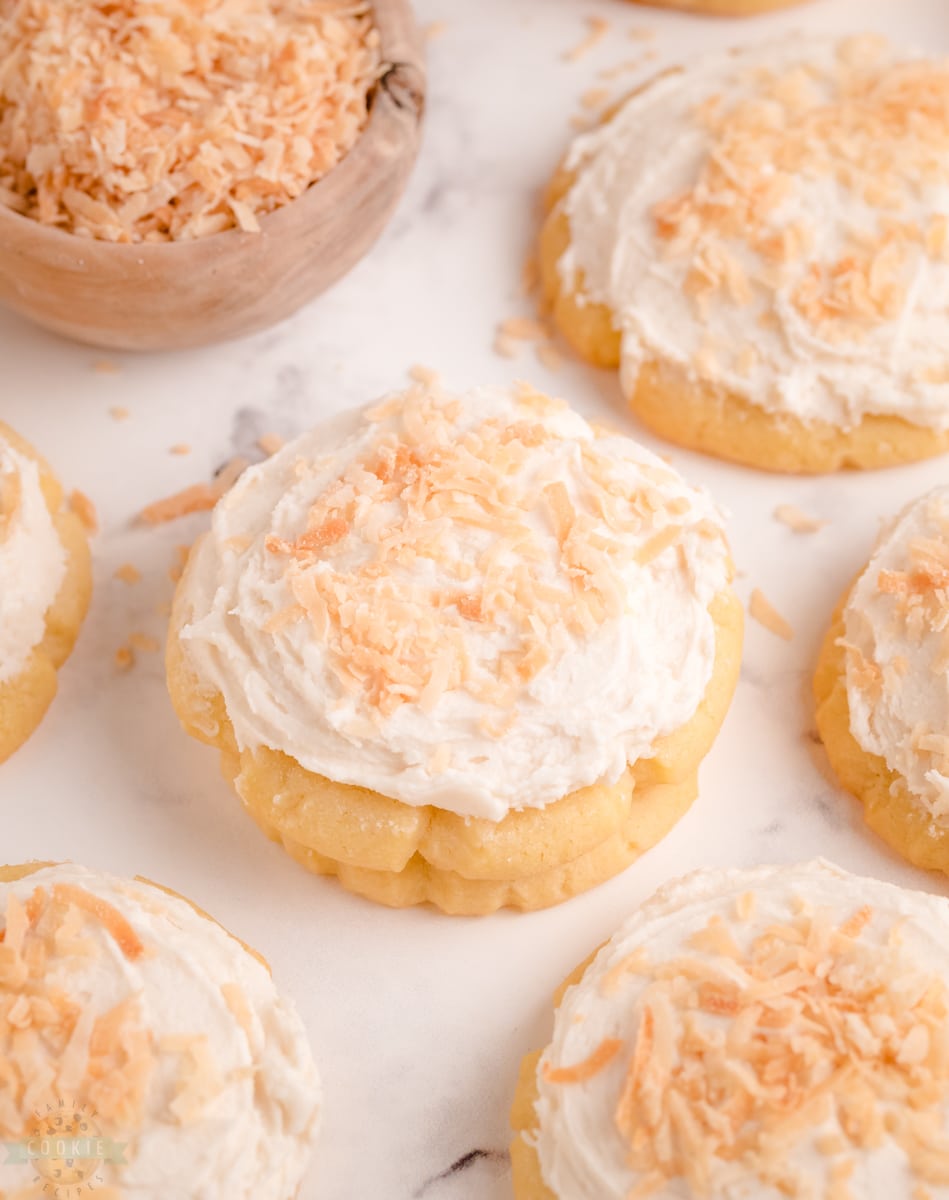 Prepare the frosting
Cream together the butter, sour cream, powdered sugar, and extract together with an electric mixer until smooth. Add in food coloring if desired.
Add in the milk, a little at a time until you get your desired consistency.
Spread the frosting over the top of the cookies and then sprinkle some toasted coconut over the top (if using).
Enjoy!
Do I have to make these cookies small?
If you make the cookie dough into 1 inch sized balls as specified in the recipe you will end up with about 48 cookies. For larger cookie scoops you can get about 24-28 cookies. The larger cookies do take about an extra minute of bake time as a result of the added dough, but they turn out just as great.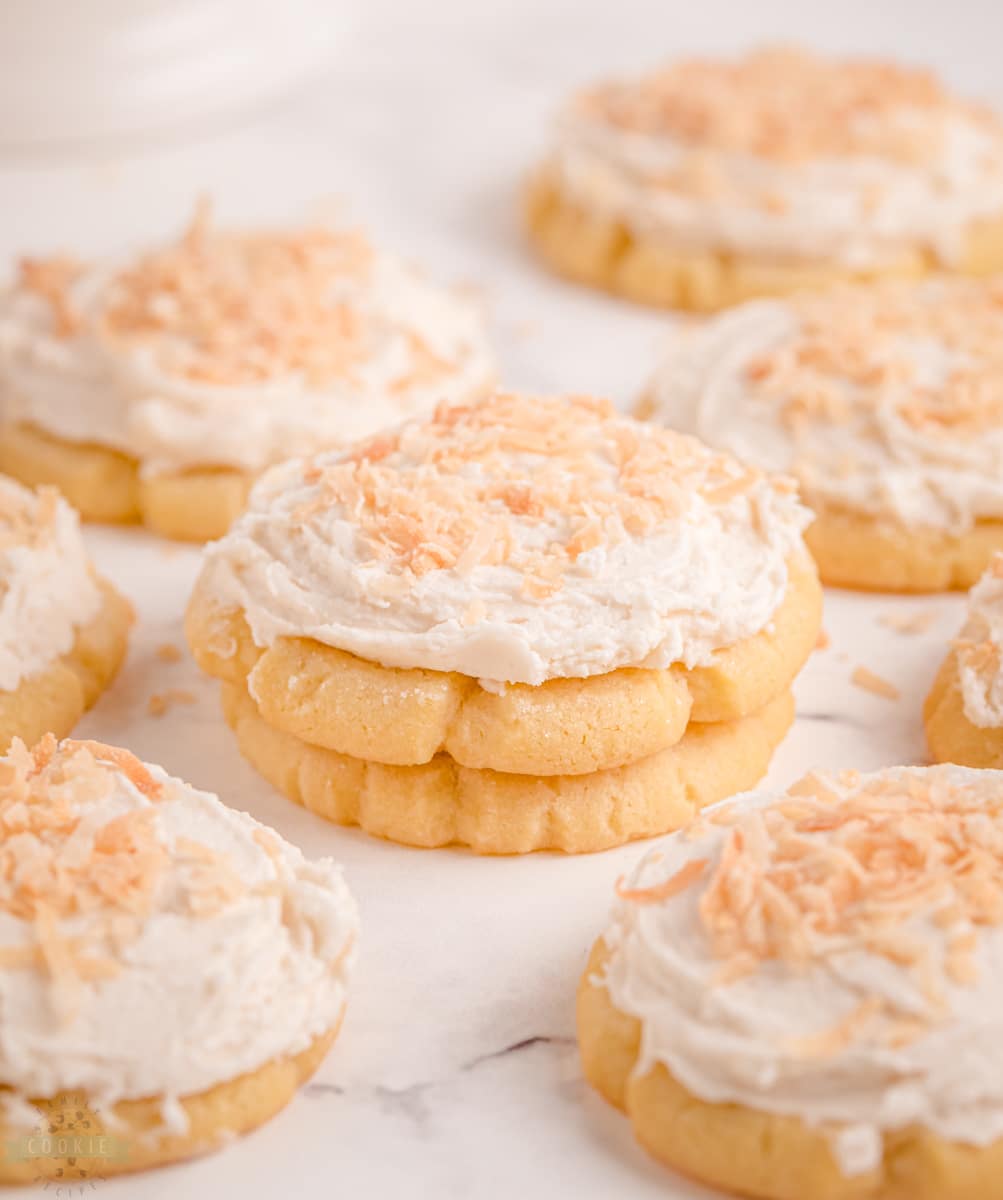 How to store coconut sugar cookies
Keep these frosted cookies stored in an airtight container at room temperature or in the fridge for up to a week. These cookies are great for freezing too but I recommend flash freezing them on a baking sheet before transferring to a container with wax paper separating the layer of cookies as this helps to prevent the frosting from sticking the cookies together.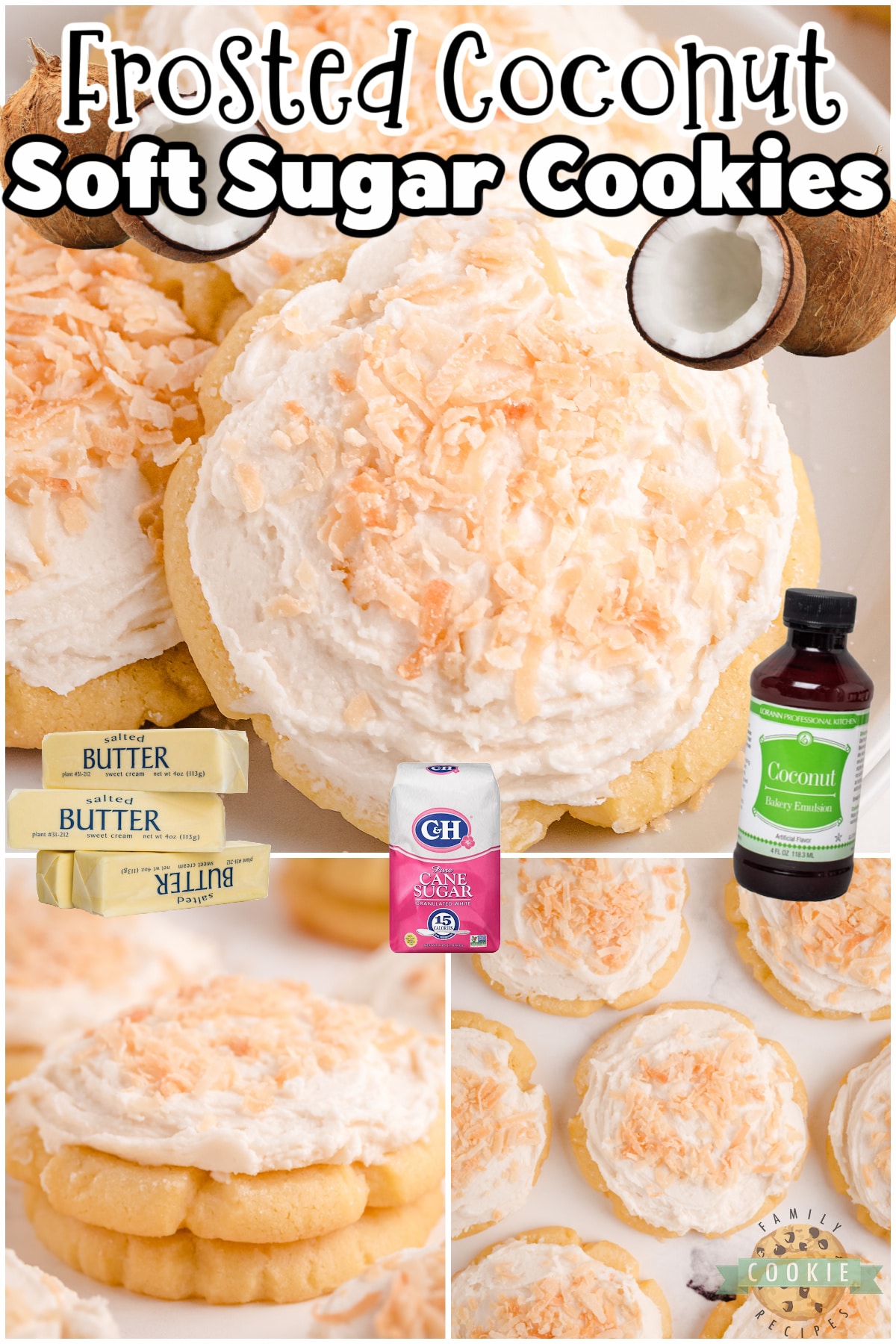 This is Grandpa Bill! He passed away a couple years ago and we all miss his terribly. He served in both WWII and the Korean War in the Air Force. About a year before he passed away he presented at a local church about his time in the service. I was able to attend and record the entire event- it was so amazing! He told stories I'd never heard before. I quickly came home and transcribed the event and shared it with extended family members. I'm so grateful that I got to know Bill so well as we lived so close for the last decade of his life. It's just amazing to me that my kids were able to know their great-grandfather so well. We miss you Grandpa!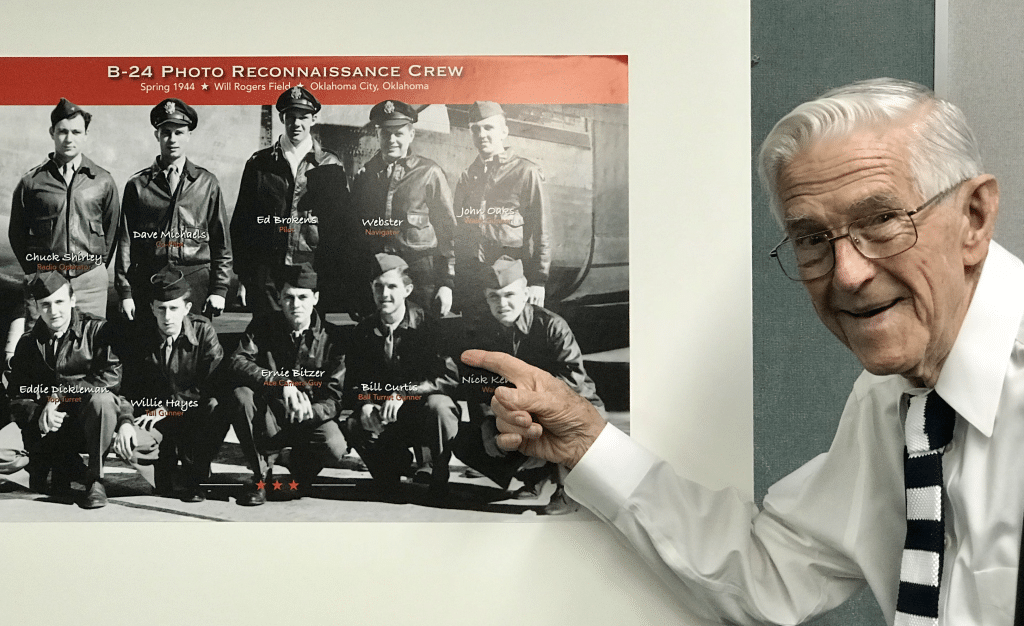 You're going to love these coconut sugar cookies! They're a perfect blend of tropical sweetness in a sweet cookie. Every bite is like a heaven!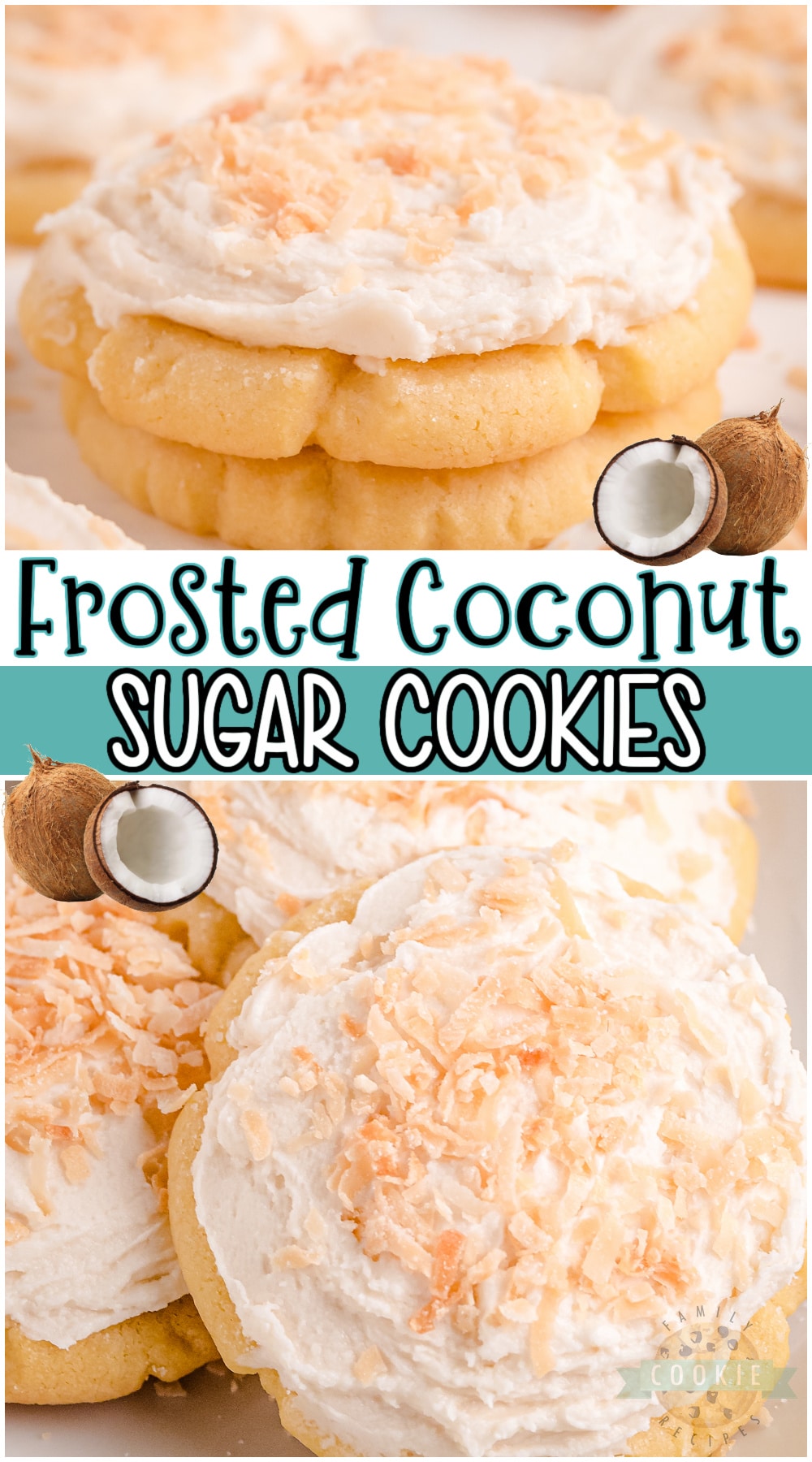 Coconut Sugar Cookies are soft cookies with a lovely coconut flavor! Frosted with a coconut buttercream & topped with toasted coconut for a delicious coconut cookie!