Frosted Rose Sugar Cookies are buttery, soft sugar cookies with a delicious swirled rosette on top! This sugar cookie recipe doesn't require any chilling and you don't have to roll them out either! Elegant Sugar Cookies that look like roses that are perfect as gifts!
Tips for making the best sugar cookies
Do not melt the butter! The butter needs to be softened (at room temperature), but using melted butter will ruin the cookies.
Spend a little extra time when you mix the butter/shortening and sugars. Creaming them together for 2-3 minutes will improve the consistency of your cookies.
Make sure that you don't press the cookies too thin! You want them to be about 1/4 of an inch thick. If the cookies are too thin, they will get crispy and not be the deliciously thick and soft cookies that you are hoping for!
Preheat the oven. This will help your cookies turn out right every time!
Make sure not to over bake your cookies.  They may not even look totally done on the tops, but if the bottoms start to brown, I take mine out and they are perfect!
Use parchment paper or a silicone baking mat. Doing this will make it really easy to remove the cookies from your cookie sheet so that you don't have to scrape them off the pan – they will just slide right off in perfect shape!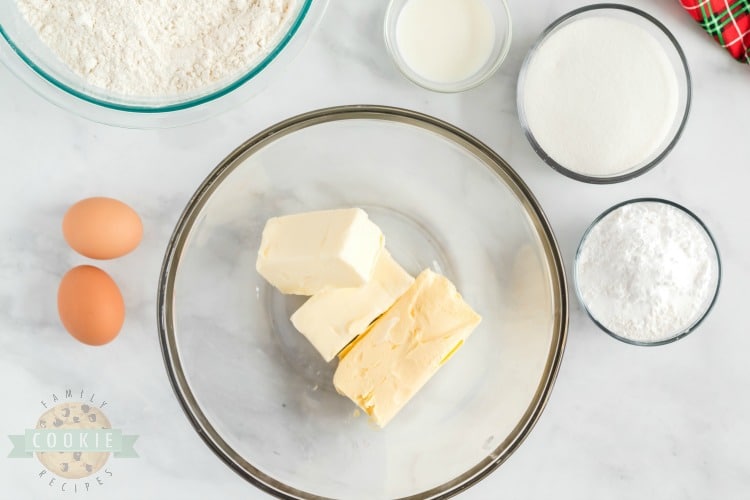 Ingredients in Frosted Sugar Cookies
Here's what you'll need to make these cookies:
— 2 sticks of butter, softened to room temperature (I use salted butter)
— Butter Flavored Crisco (I also used coconut oil once and it worked amazingly – it does add a slight coconut flavor though)
— granulated sugar
— powdered sugar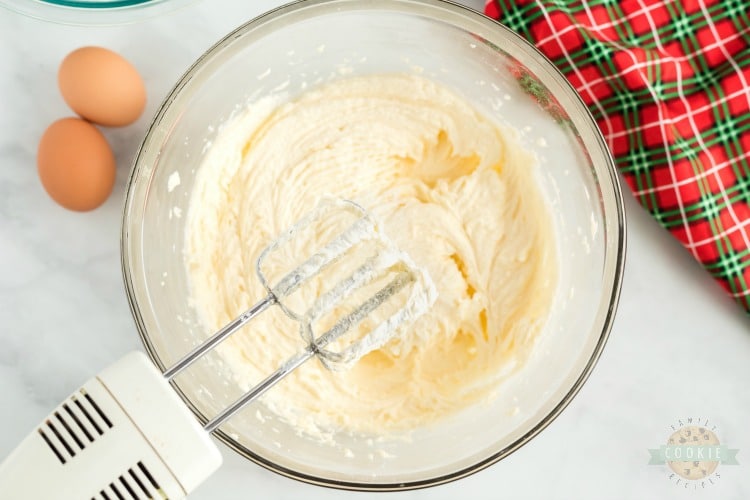 — milk
–2 eggs
— baking soda, Cream of Tartar & salt
— all purpose flour
How to make Christmas Rose Sugar Cookies
In a large mixing bowl (or stand mixer), cream together butter, Crisco, sugar, powdered sugar and milk.
Add eggs and mix until well combined.
In a separate bowl, combine flour, baking soda, cream of tartar and salt.  Add the flour mixture to the butter mixture and mix until smooth and well combined.
Roll the dough into *1-inch balls and place on a greased cookie sheet. Spray the bottom of a glass or measuring cup with cooking spray and then dip into a plate coated with a thin layer of sugar. Press each ball down slightly to get the rough edge that Swig cookies are known for.  You don't want to smash them too thin because these cookies are best when they are thick and soft.
Bake for 8-9 minutes at 350°.  Cool completely on wire racks and then frost.
*If you make 1-inch balls, you should get closer to 48 cookies from one batch. Sometimes I use a larger cookie scoop and make 24-28 cookies. If you make them larger, the cook time will be closer to 9 minutes, the smaller cookies will be done closer to 8.
Ingredients in sour cream frosting
The frosting on these cookies perfectly complements the flavor of the cookie so don't be tempted to try a different kind of frosting! I know it seems a little strange to put sour cream in the frosting, but I promise you will love it. Trust me!
Here's what you'll need:
1/2 cup butter, softened
2 Tbsp sour cream
4 cups powdered sugar
2 tsp vanilla
food coloring (if desired)
1-2 Tbsp of milk, to consistency
How to make Sugar Cookie frosting
To make the frosting, just mix the butter, sour cream, powdered sugar and vanilla together with an electric mixer until well combined. Add food coloring if desired and then add the milk, just a little bit at a time to get the consistency that you want.
How to Make Frosting Roses on Cookies
Transfer frosting to a piping bag with a closed star tip- I used a Wilton 2D. Begin piping in a tight circle in the middle of the cookie. Continue piping frosting in a circular motion until you reach the outside of the cookie. Now you have a rosette! Frosting will set but I recommend not stacking cookies that have been frosted with a rosette so that you don't squish them.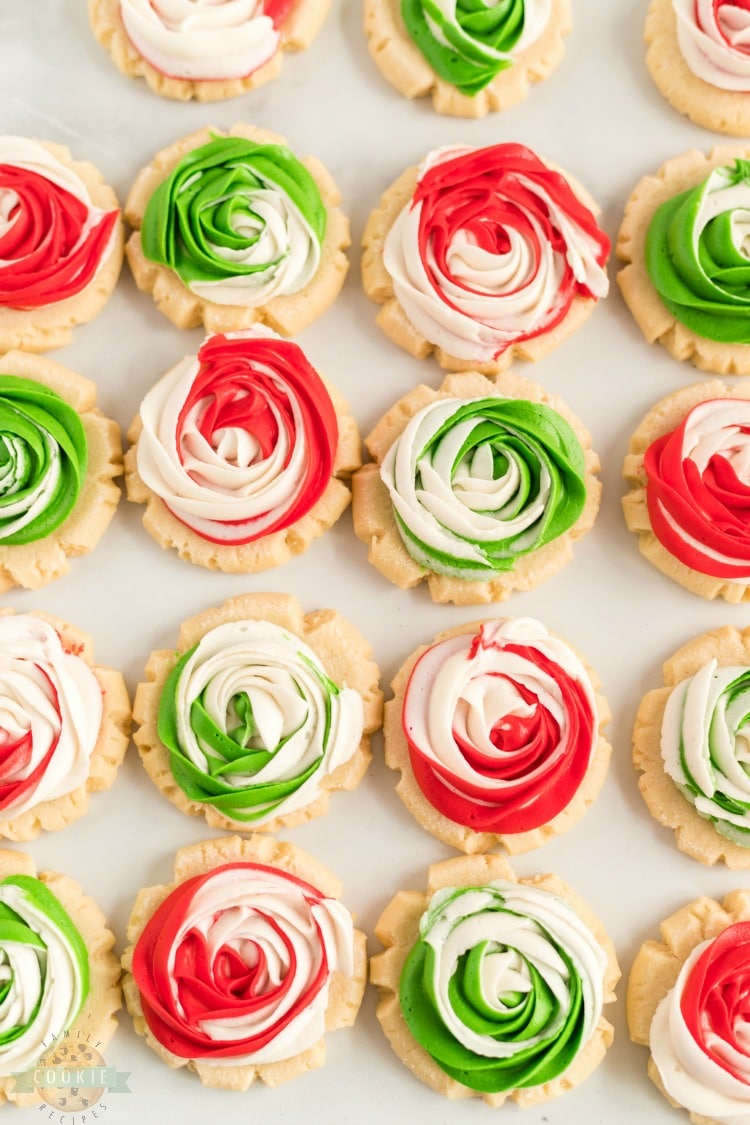 If you are swirling 2 colors of frosting, just divide the white frosting into separate bowls, add food coloring as desired, then fill the piping bag, alternating dollops of white frosting and red, green, or any other colored frosting you'd like. Then, when you begin swirling the rosettes on the cookies, the colors will swirl and look lovely!
Can you freeze sugar cookies?
I have made these cookies many times and have had the best luck with baking the cookies and then freezing them without the frosting. Just place the completely cooled cookies in an airtight container or ziplock freezer bag and they can be frozen for up to a couple of months. A few hours before serving, pull them out of the freezer and lay them out to thaw. Make the frosting and then frost the thawed cookies.
You can also freeze the dough once it has been formed into balls. Lay the balls out onto a baking sheet and freeze them individually for about an hour and then place all of the frozen balls into a ziplock freezer bag. When you are ready to bake them, lay the balls out on a baking sheet and let them thaw so that you can press them down. Bake like normal, cool and then frost.
How do you soften butter?
Here are 3 ways to soften butter:
The best way to soften butter is to set it out for a few hours before you make your cookies. Just take the cube out and set it on the countertop. If you know you're going to make cookies, you can take the butter out the night before.
2. My favorite way to soften butter is in the microwave. It's definitely fast, but you do have to be very careful not to melt it. Just put the whole stick of butter in the microwave (as long as it isn't wrapped in foil!) and microwave for about 6-7 seconds. If the butter is still really cold, try another 5-7 seconds and check it again. You may need a few intervals, and if the butter is starting to feel soft, you can shorten the final interval to just a few seconds to make sure it doesn't start melting.
3. I actually prefer to use the defrost setting on my microwave – I don't know exactly what that mode does differently, and it takes a little bit longer (closer to 30 seconds), but it seems to be easier to get the butter to soften without melting.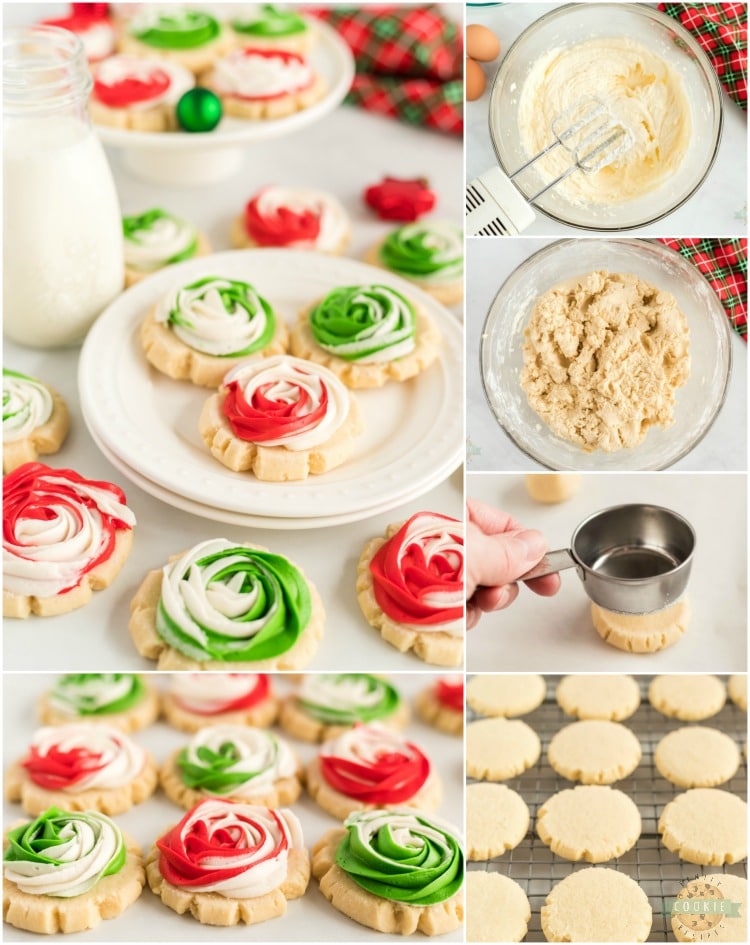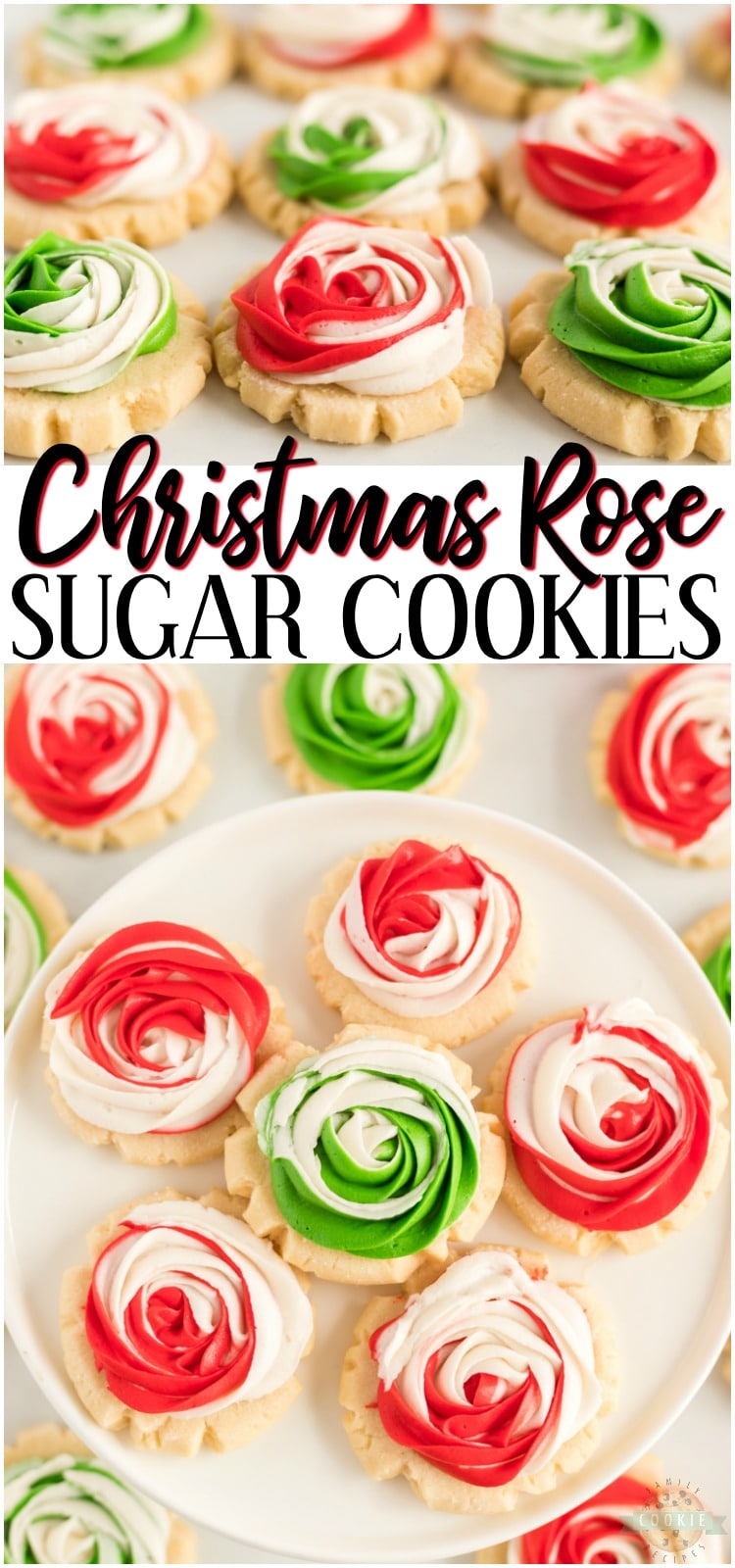 My youngest daughter was just baptized! Isn't she lovely? She is quite the girly-girl so we looked for her dress for MONTHS beforehand. It was SO important to her. We had to compromise on a few things- I finally drew the line at having a petticoat and a train, which is just hilarious to me. My oldest daughter wanted a very simple dress without frills or anything but not this girl! I thought we did well. The dress was perfect and her day was incredibly special.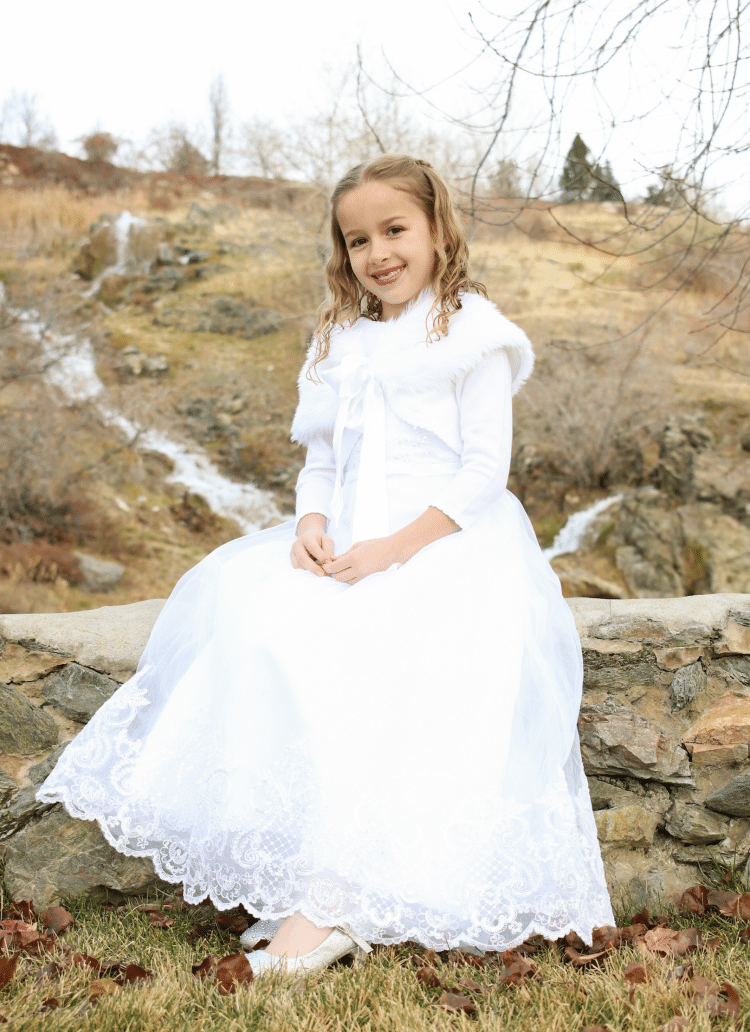 Frosted Rose Sugar Cookies are buttery, soft & have a delicious swirled rosette on top! No chilling or rolling needed in this elegant sugar cookie recipe that are perfect as gifts!