Lemon Poppyseed Cookies are easily made with a lemon cake mix, lemon zest, poppy seeds, eggs and butter. The lemon glaze on top is simple and delicious too!
Spring is the time for all things lemon and these Lemon Poppyseed Cookies are absolutely perfect. I love cookies that start with a cake mix because they are just so easy. Adding lemon zest to the cookies and the lemon glaze adds just the right amount of lemon flavor. I've never even thought about adding poppy seeds to cookies before, but I love lemon poppyseed bread and muffins, so why not?! The poppy seeds add a little bit of flavor and a wonderful texture to the cookies.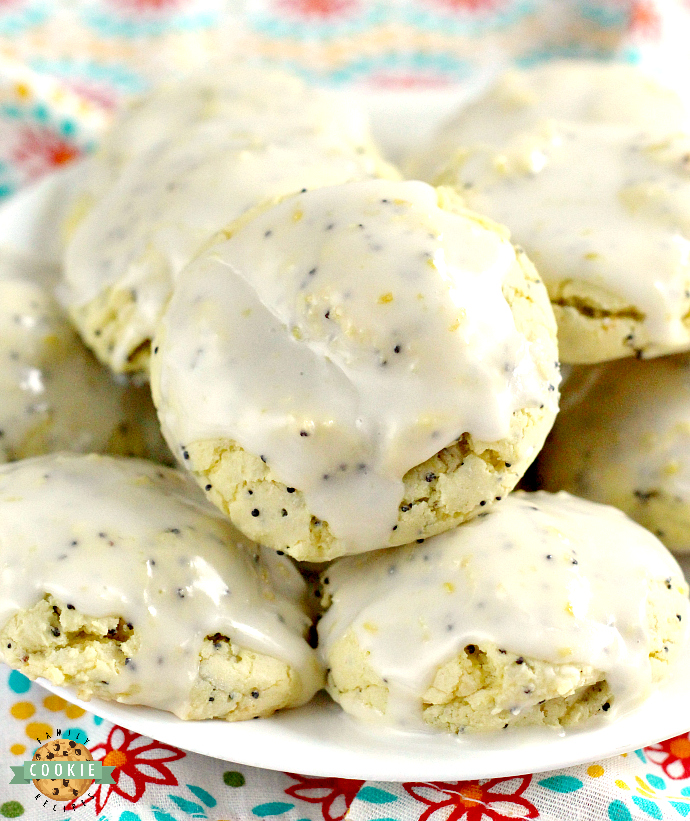 I actually really like the cookies without the glaze too, so try it both ways and see what you prefer. The glaze has a very strong lemon flavor – if you don't want the flavor to be that strong, substitute some milk for some of the lemon juice to tone it down a little bit.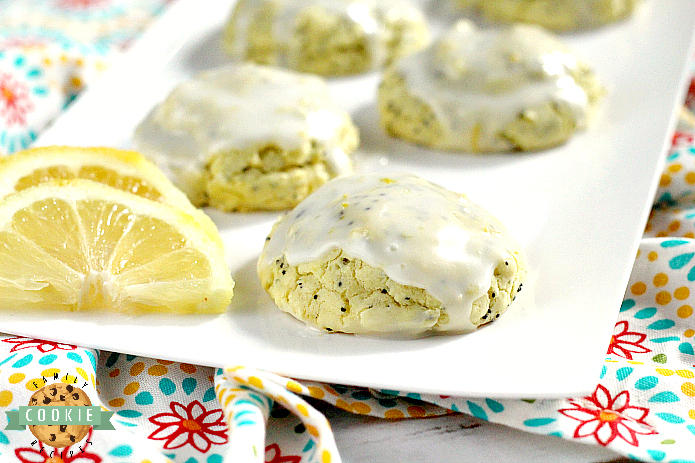 What are cake mix cookies?
Cake mix cookies are cookies that are made with a box of cake mix as the base ingredient. Because many of the dry ingredients used in cookies are also the same ingredients you find in a boxed cake mix, you usually only have to add a few more basic ingredients to make soft and chewy cookies!
How to zest a lemon
Don't be intimidated about getting the zest from a lemon – it's really easy! And fresh lemon zest adds such an amazing lemon flavor to recipes! The taste is a lot more natural than that of lemon extract.
Lemon zest is just tiny pieces of the outside of the peel of a lemon. I just use the small side of a regular cheese grater – as long as the holes are tiny, it will work just fine. You can also use a citrus zester like this one if you prefer! Either way, make sure to just grate the darker yellow outer layer of the lime peel. Once you have revealed the lighter part of the peel underneath, rotate the lemon and start grating another part of the outer layer.
How to get the juice out of a lemon
To get the juice from a lemon, I just cut the lemon in half and squeeze it really hard. You can also use a citrus press like this one to get all the juice out of the lemon. You can also use bottled lemon juice if you don't have any fresh lemons on hand.
Ingredients in Lemon Poppyseed Cookies
-1 box lemon cake mix
-1/3 cup butter, melted
-2 eggs
-1-2 tablespoons lemon zest (I just used all of the zest from one large lemon)
-3 tablespoons poppy seeds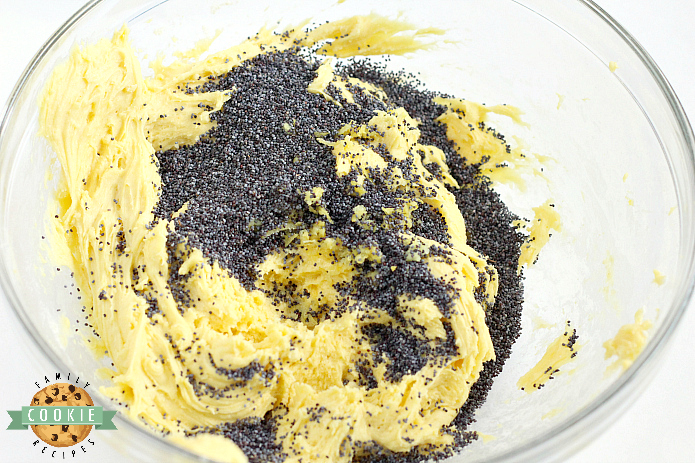 How to make Lemon Poppyseed Cookies
In a mixing bowl, add the lemon cake mix, the butter and the eggs. Mix together until well combined. Add the lemon zest and poppy seeds and mix.
Scoop out the cookies with a cookie scoop and place about 2″ apart on a prepared cookie sheet. I prefer to use silicone baking mats because the cookies don't stick at all which makes clean up so easy!
Bake cookies at 350° for about 10 minutes, just until the centers look to be completely set. Once cookies are done, wait 2-3 minutes and then transfer them to wire racks to cool. Once the cookies are cooled, you can frost them with a lemon glaze if desired, or you can just eat them as is!
How to make a simple lemon glaze
To make a lemon glaze, you will need the following ingredients:
1 1/2 cups powdered sugar
1 tsp lemon zest
2-3 tablespoons lemon juice
Use a fork to mix the powdered sugar, lemon zest and lemon juice together. Add a little bit more lemon juice if you want a runnier consistency, less if you prefer the glaze to be thicker. If you want a more subtle lemon flavor, replace some of the lemon juice with milk.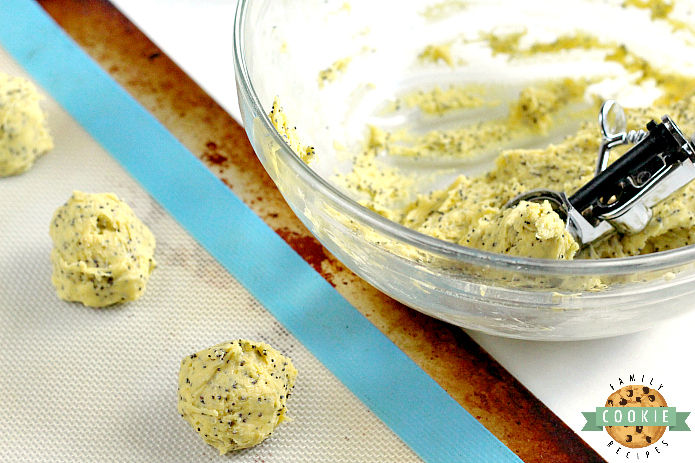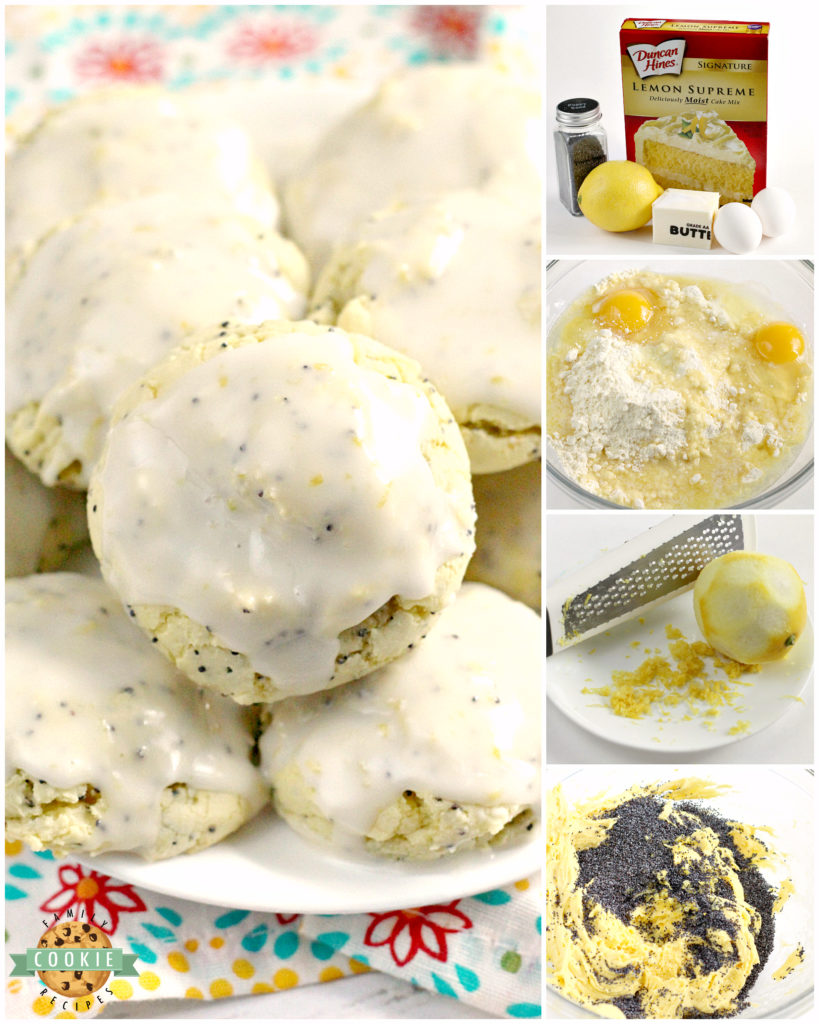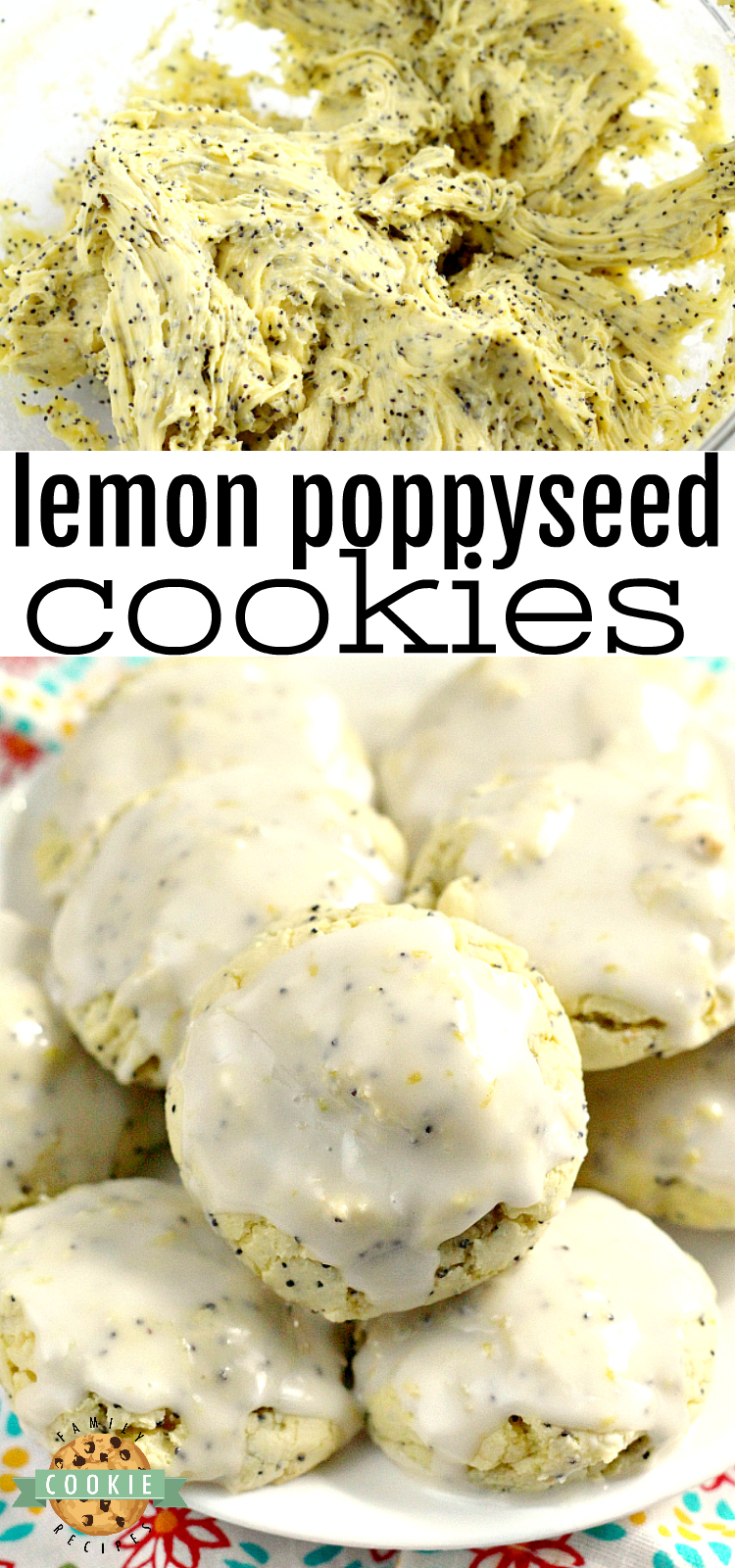 Some tips for making the best cookies:
Preheat the oven. This will help your cookies turn out right every time!
Use a cookie scoop! If you want all your cookies to be perfectly shaped and have them all be the same size, a cookie scoop is the way to go.
Use parchment paper or a silicone baking mat. Doing this will make it really easy to remove the cookies from your cookie sheet so that you don't have to scrape them off the pan – they will just slide right off in perfect shape!
Don't over bake the cookies – when I take mine out of the oven, they still look slightly under baked but they will continue to bake on the cookie sheet for a couple more minutes so that's ok!
Love cookies with fruit in them? Try these other lemon favorites:


This picture is from almost 5 years ago – it's crazy to see how fast my kids have grown since then! This was our first time to Great Wolf Lodge and we all loved it. Loved it so much we've been back several times since then! It helps that there is one that is only about an hour away from our home, which makes it a very easy vacation getaway for our family.
My kids love swimming there – I just wish that the water was a little bit warmer. Am I the only one that is really wimpy when it comes to water temperature for swimming? Other people look like they are comfortable in the water, but I am ALWAYS freezing. Unless it's a hot tub. Why can't swimming pools just be a few degrees warmer?!? But it's still a fun time when we go – I love that the rooms can accommodate our family of 7 and that everything we need is contained under one roof! It's one of those family vacations that is actually not very stressful!