Frosted Lemonade Cookies made with lemonade concentrate in both the cookies and the frosting! Simple lemon cookie recipe packed with lemon flavor!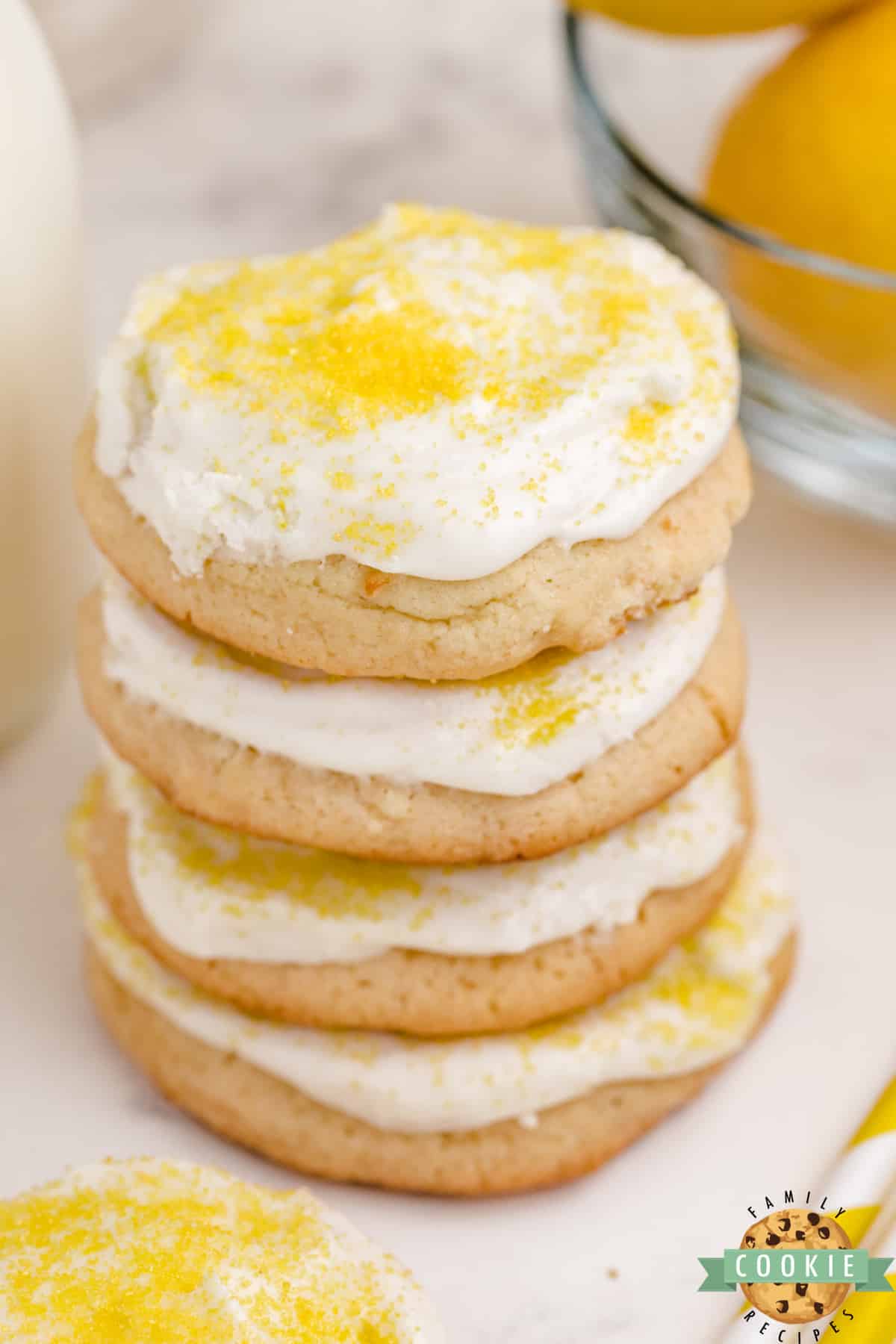 Lemonade is so refreshing and it's even better in cookie form! These cookies are perfect for summer, but they are fantastic year-round or any time you are needing a bit of a lemonade fix.
These cookies are so easy to make too. Only 6 ingredients in the cookie part of the recipe, and just a few more are needed for the frosting. No chilling required!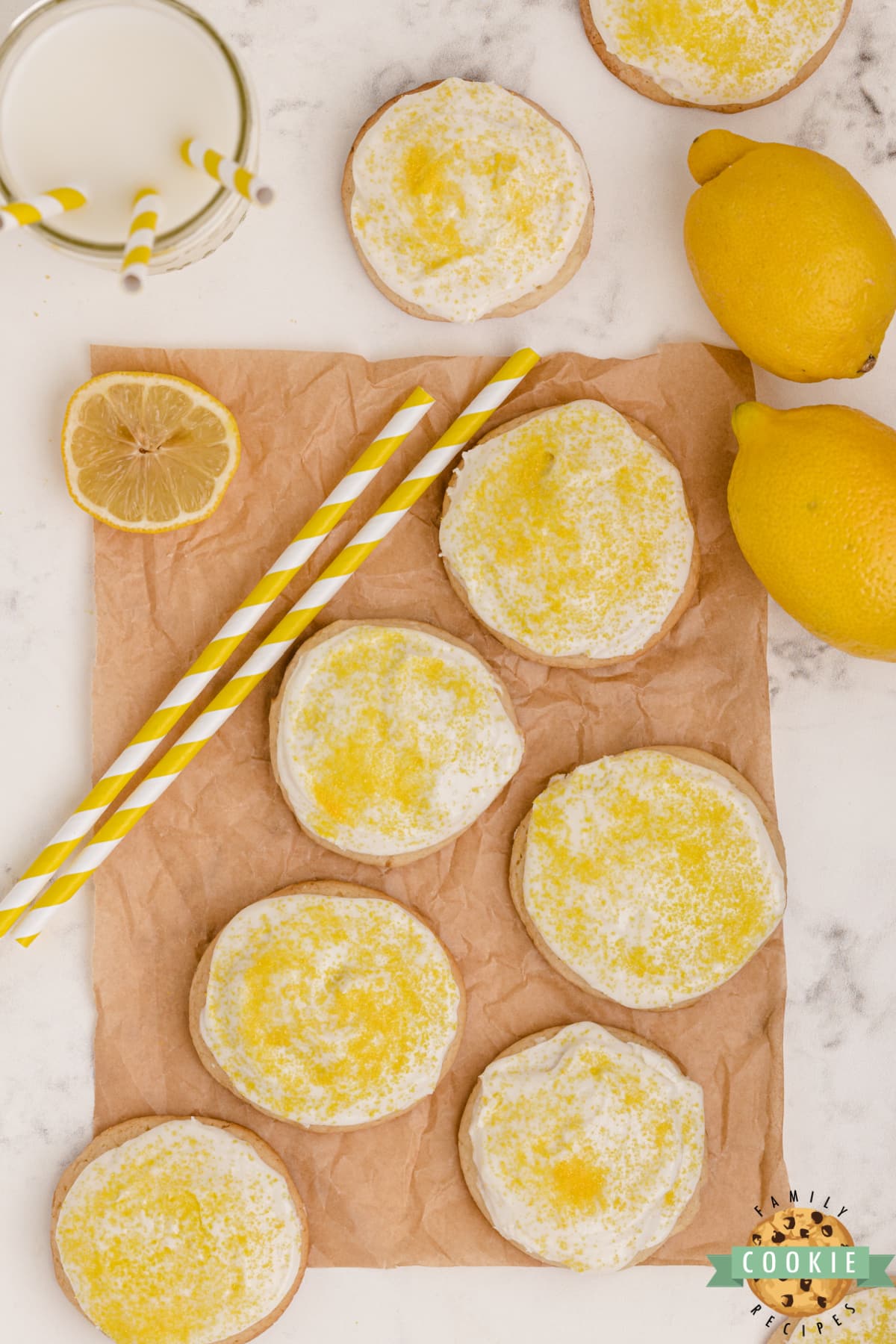 Frosted Lemonade Cookies
Cookies made with sugar, butter, eggs, flour, baking soda and frozen lemonade concentrate. That's it! The frosting is made with butter, powdered sugar, more lemonade concentrate and a little bit of milk and vanilla. The lemonade concentrate adds so much flavor to these cookies!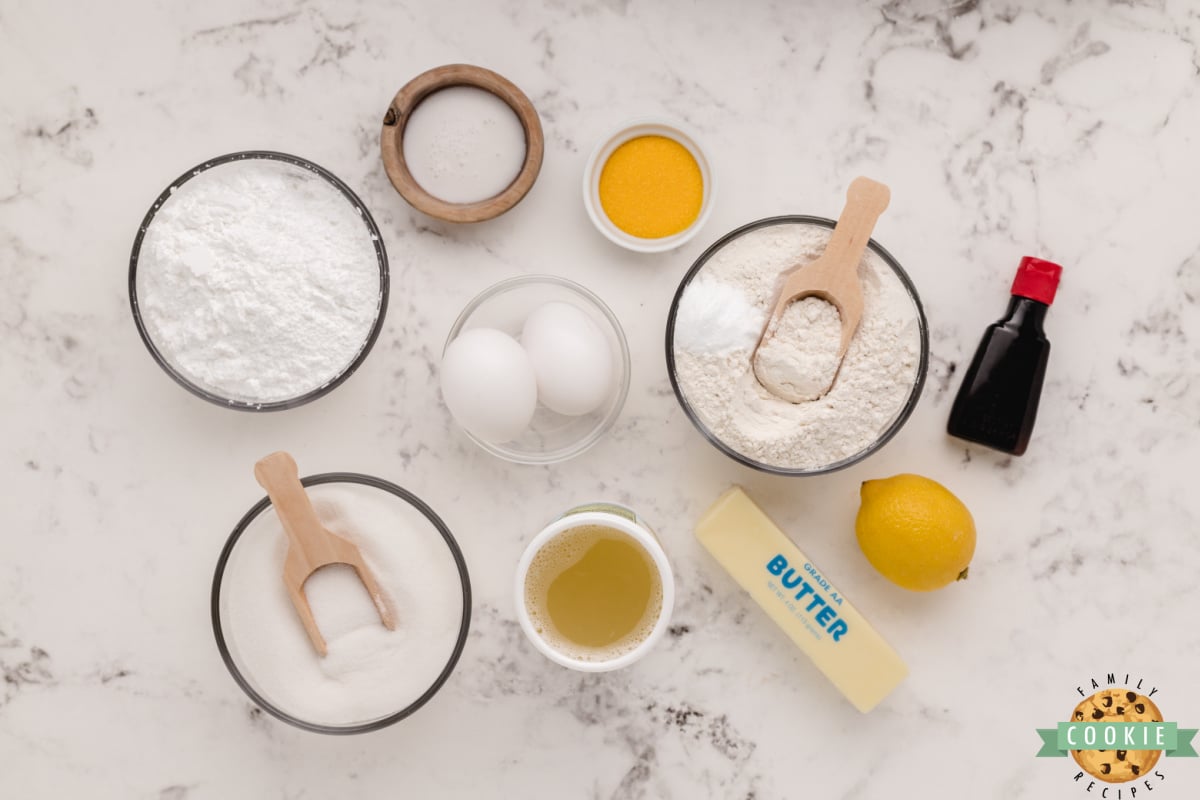 Ingredients in Frosted Lemonade Cookies
Sugar – Can't have cookies without sugar! Many cookie recipes call for granulated sugar and brown sugar, but this cookie recipe only calls for regular granulated sugar.
Butter – You will need 2 1/2 sticks of butter to make these cookies. Real butter works best. Make sure that the butter is softened to room temperature before adding to the sugar.
Eggs – 2 large eggs will help bind everything together and bake properly.
Flour – All-purpose flour works best for cookies.
Frozen lemonade concentrate – For the cookie recipe, you will need a 6 ounce can of frozen lemonade concentrate. You will use all of it in the cookie dough except for 2 tablespoons that you will need to remove and reserve to use for the frosting. I just put it in the dough frozen, but you can let it thaw for a few minutes if you'd like.
Baking soda – The baking soda acts as the leavening agent in the cookies, so for best results, make sure your baking soda isn't old or expired.
LEMONADE FROSTING INGREDIENTS
Powdered sugar – 3 cups of powdered sugar provide all the sweetness you'll need and help to make the frosting smooth.
Butter – Again, real butter works best. Soften completely to room temperature before adding to the powdered sugar.
Reserved frozen lemonade concentrate – Use the reserved 2 tablespoons of lemonade concentrate to add that delicious lemonade flavor to the frosting.
Vanilla – A little bit of vanilla extract adds a delicious flavor to the frosting. The higher the quality of the vanilla, the better!
Milk – You only need 1-2 tablespoons of milk to get the frosting to the perfect, spreadable consistency. Any type of milk will work just fine!
Yellow sugar – If you want to add a little bit of decoration, use a little bit of yellow sugar or sprinkles to sprinkle on top of the frosting!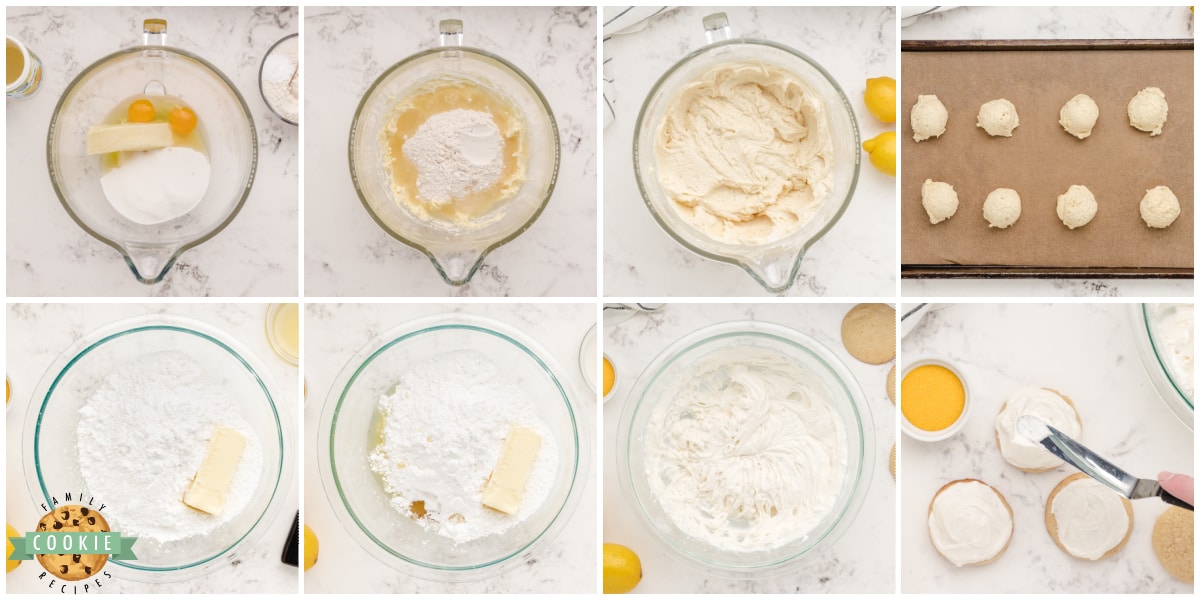 How to make Frosted Lemonade Cookies
Preheat oven to 400°. In a large bowl, combine sugar, butter and eggs and beat for 3-4 minutes. Add flour, lemonade and baking soda and mix for another 1-2 minutes.
Use a cookie scoop to scoop the dough onto cookie sheets lined with parchment paper or silicone baking sheets.
Bake for 9-12 minutes or until the edges begin to barely turn a light golden brown.
Cool completely and then frost.
To make the frosting, combine all of the ingredients except the milk. Beat together and then add milk to bring the frosting to the desired consistency. Frost cookies and sprinkle with colored sugar.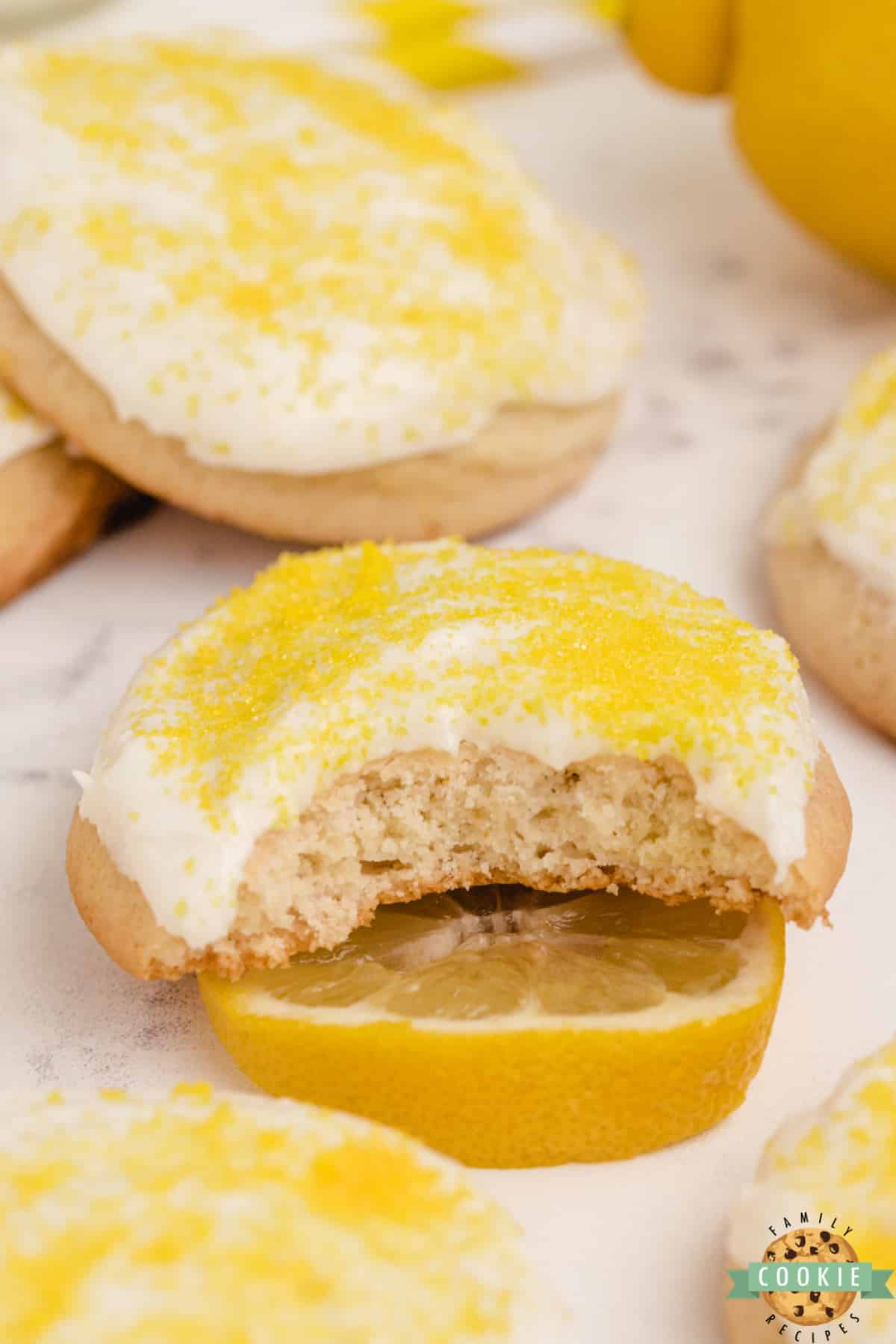 TIPS FOR MAKING THE BEST LEMONADE COOKIES
Make sure that you have enough flour in the dough. If the dough is too sticky, you may need to add a little bit of flour.
Do not melt the butter! The butter needs to be softened (at room temperature), but using melted butter will ruin the cookies.
Spend a little extra time when you mix the butter, sugar and eggs. Creaming them together for at least 2-3 minutes will improve the consistency of your cookies.
Preheat the oven. This will help your cookies turn out right every time!
Use a cookie scoop! If you want all your cookies to be perfectly shaped and have them all be the same size, a cookie scoop is the way to go.
Use parchment paper or a silicone baking mat. Doing this will make it really easy to remove the cookies from your cookie sheet so that you don't have to scrape them off the pan – they will just slide right off in perfect shape!
Don't overbake the cookies – when I take mine out of the oven, they still look slightly underbaked but they will continue to bake on the cookie sheet for a couple more minutes so that's ok!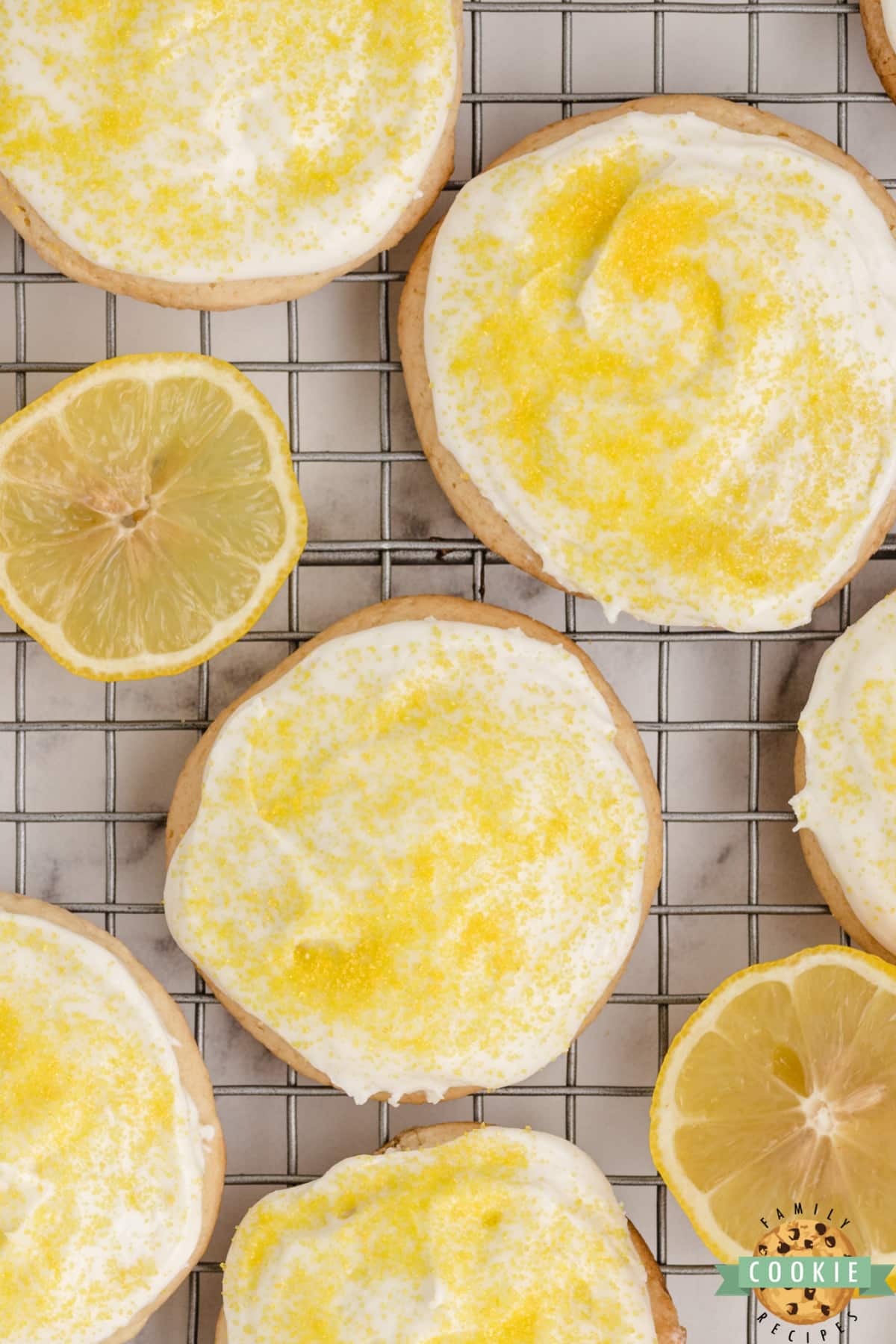 HOW DO YOU SOFTEN BUTTER?
I like to soften butter by using the defrost function on my microwave. If you need the full 1/2 cup cube of butter, you can leave it in the paper wrapper, otherwise, place the amount of butter you need in a glass or porcelain bowl. I use the lowest defrost setting on my microwave and just let it run for 20 seconds. Check the butter and see how soft it is by pressing it with a rubber scraper. If it is still not soft to the touch, meaning it doesn't indent when you press into it, let it warm for another 5-10 seconds. Watch it closely! Butter softens very quickly.
HOW LONG ARE FROSTED LEMONADE COOKIES GOOD FOR?
These cookies will be good for about 3-4 days if kept stored in an airtight container at room temperature.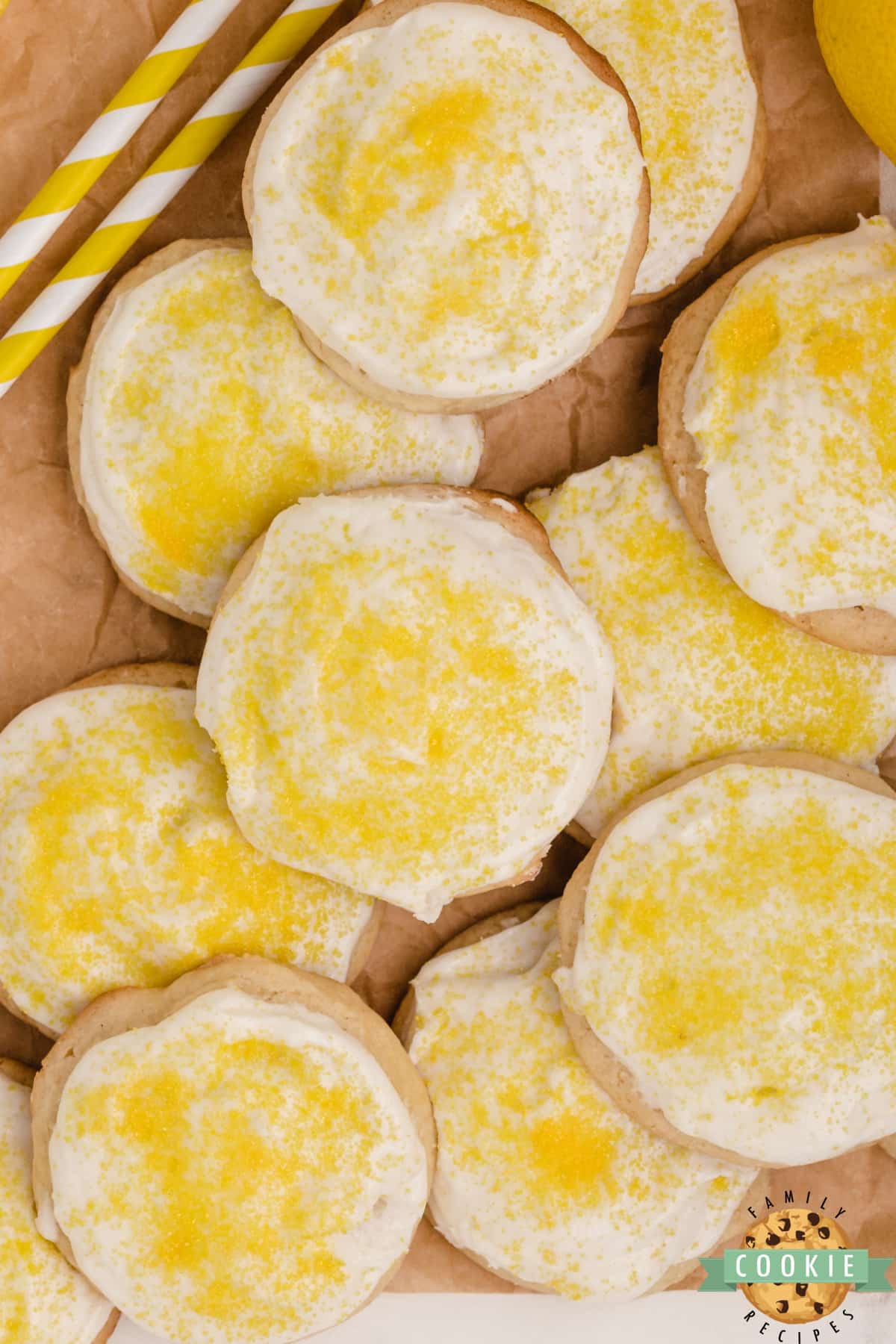 Can you freeze Frosted Lemonade Cookies?
These cookies freeze beautifully, but I prefer to freeze them before frosting and then make the frosting fresh right before serving. To freeze the cookies, let them cool completely and then place in Ziplock freezer bags. They should be fine in the freezer for up to 2-3 months.
If you know you'll be serving them within a week, you can make up the frosting and keep it in an airtight container in the refrigerator. I like to take the frosting out of the fridge about 30 minutes before frosting the cookies so that it can warm up to room temperature – it's much easier to spread that way!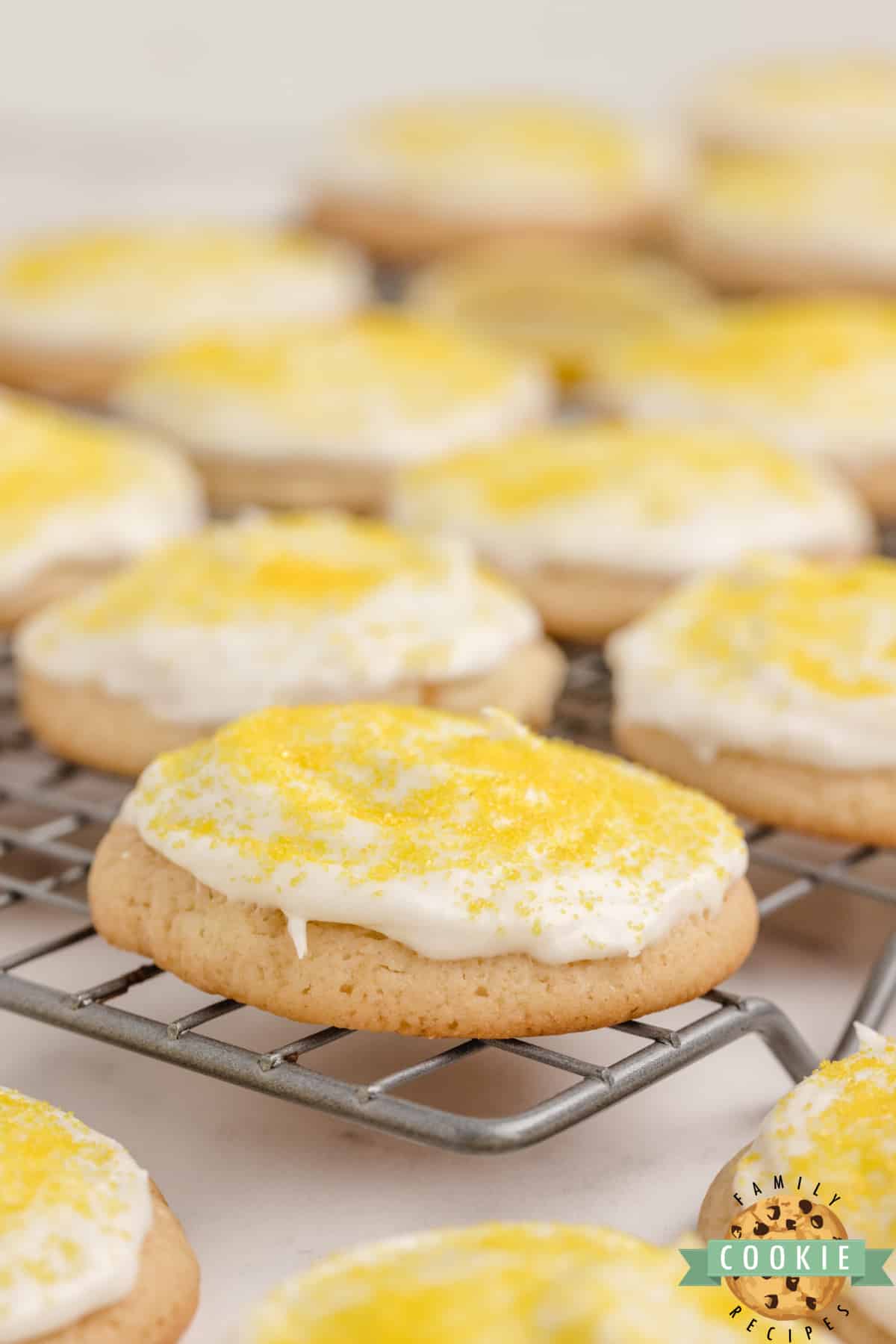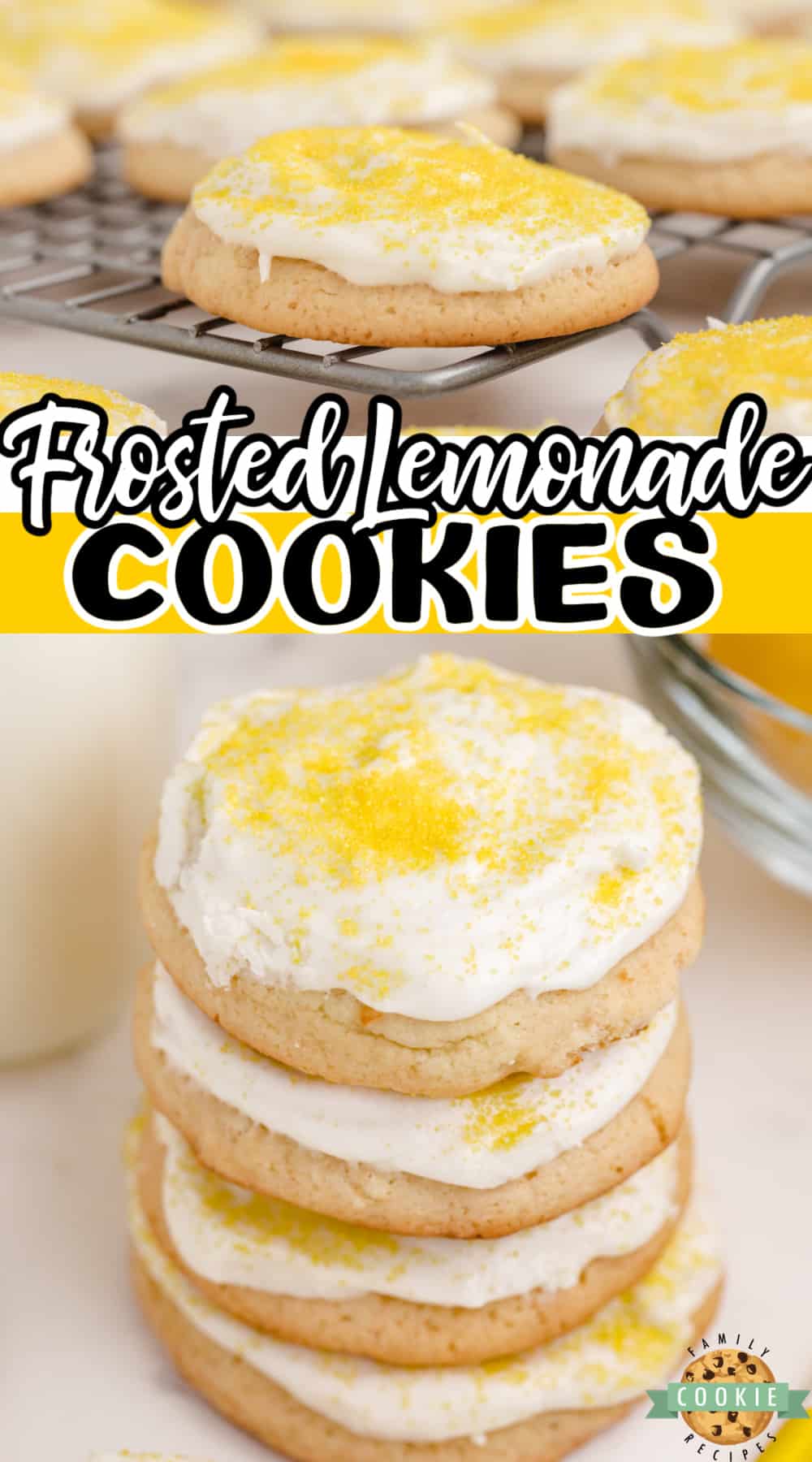 Frosted Lemonade Cookies made with lemonade concentrate in both the cookies and the frosting! Simple lemon cookie recipe packed with lemon flavor!



We lived in the Tacoma, WA area for about 7 years before we moved to Southern Utah a couple of years ago. My kids really wanted to go back up there and visit some friends, so we just made a 10-day, 2750 mile road trip to visit lots of friends and family.
The weather was fantastic (about 20-30 degrees cooler than what we've been experiencing!) and we had such a fun time going and visiting all of our favorite places, including the Point Defiance Zoo. Little Miss B was only 18 months old the last time we went to the zoo, but this time she was the perfect age and she absolutely loved it!