Spring Lemon Crinkle Cookies are packed with amazing lemon flavor and have vibrant and festive colors! Made to be sweet and crisp on the outside and soft and chewy on the inside, these lemon crinkle cookies are perfect for the Spring season.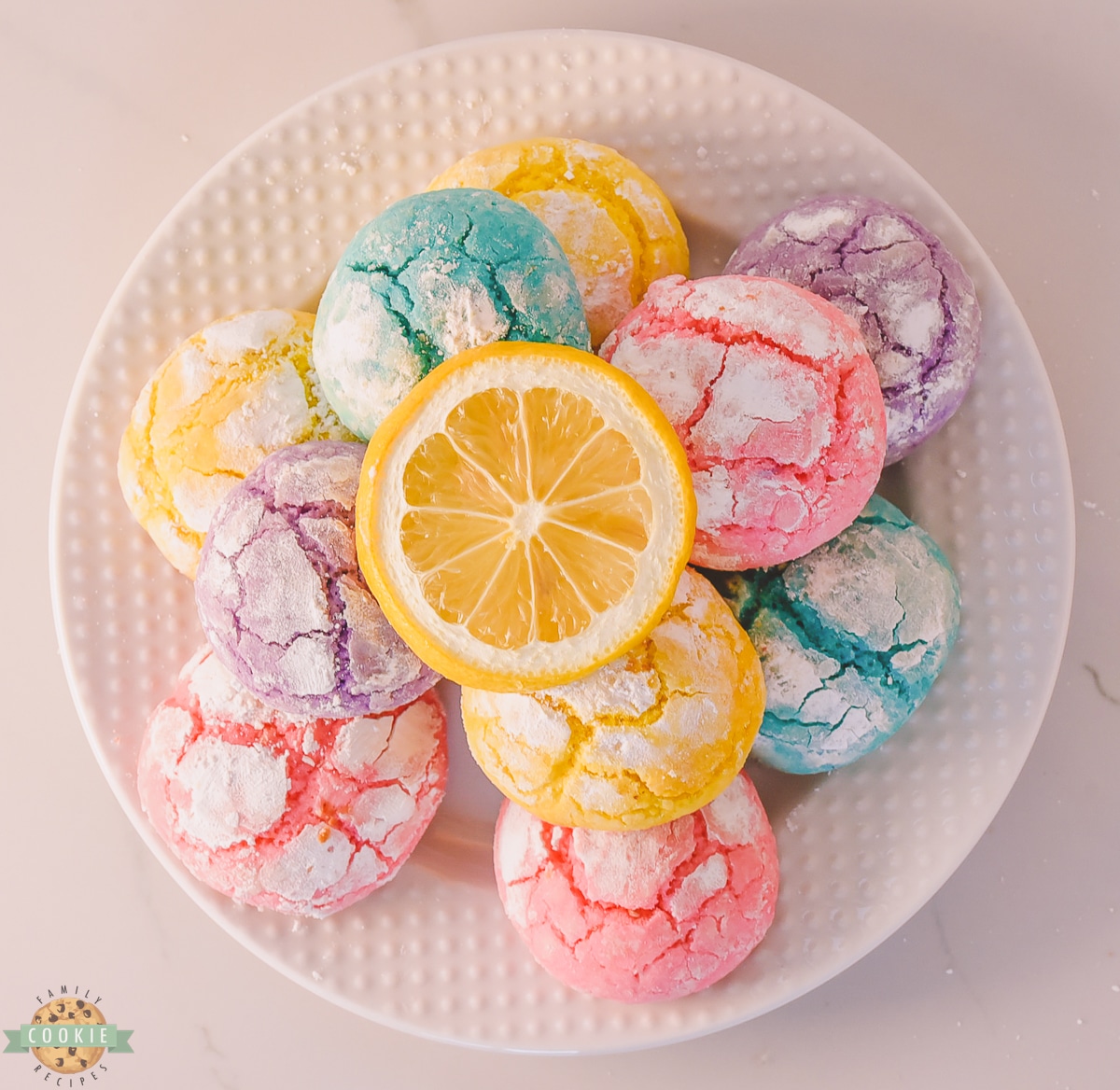 From the tangy and zesty lemon, to the sweet powdered sugar in every bite, these spring crinkle cookies are so delicious. While you can serve up this lemon crinkle cookie recipe for any occasion, the pink, blue, purple, and yellow colors have us thinking this treat is perfect for Easter or Mother's Day.
Lemon Crinkle Cookies
We love crinkle cookies but making lemon crinkle cookies from scratch is always rewarding and making them is so easy! You need less than 10 ingredients and just a few minutes of time to whip the dough together. There is a little wait time needed for the dough to chill before baking, but it is well worth it. Letting the dough chill gives us soft and fluffy cookies and lets the flavors develop so that they taste even more incredible.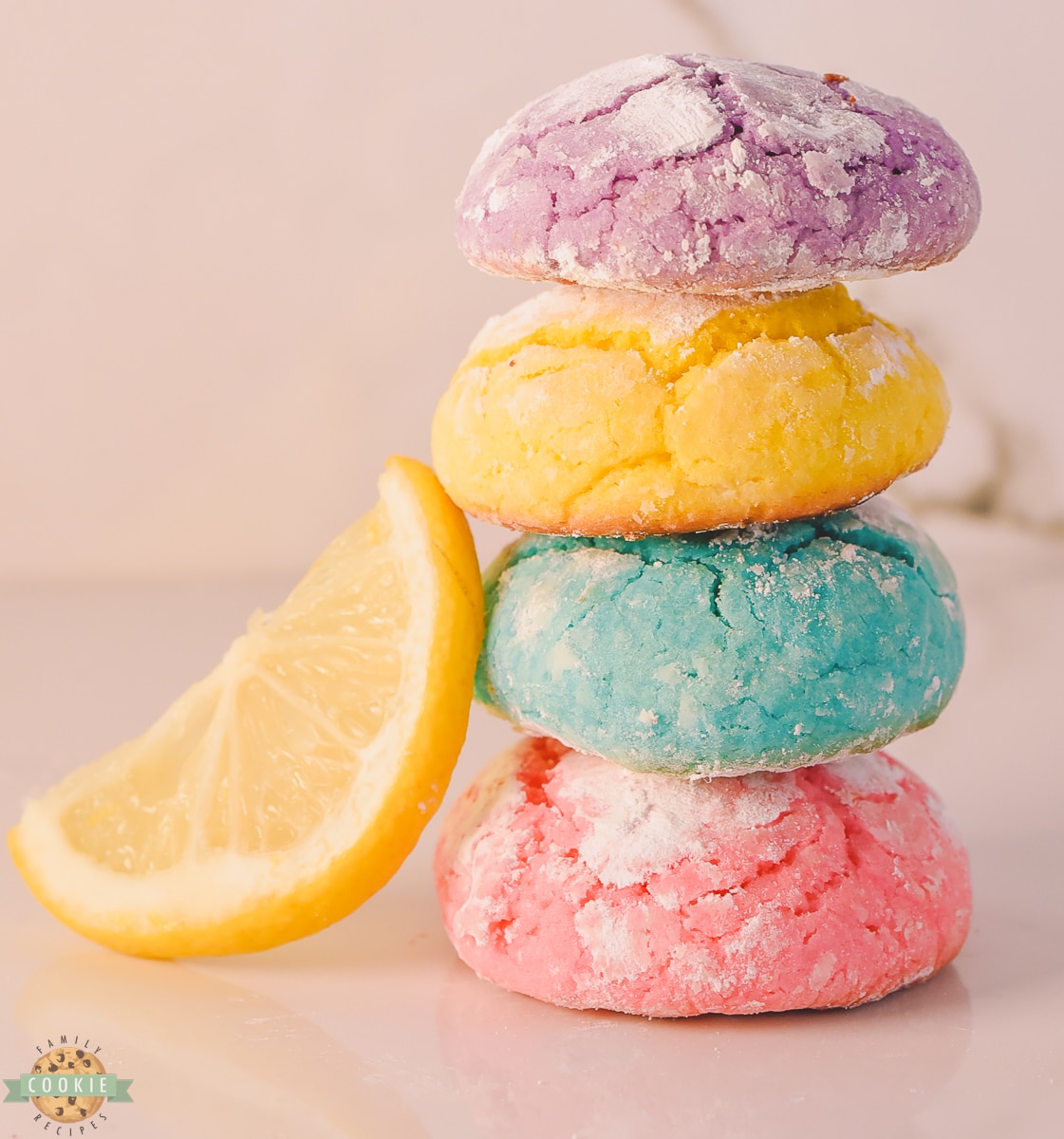 Why you should try these Springtime Crinkle Cookies!
There are many reasons to love these cookies, but here are three main reasons that we think convince you to try these today!
They are great for many occasions. This cookie is perfect for Easter lunch, Mother's Day brunch, a spring bake sale, any type of party, backyard BBQs, and more! Have an occasion that needs some sweets? This cookie recipe is perfect for it!
Minimal ingredients. We have already mentioned that it takes less than 10 ingredients to make this recipe but we didn't say just how basic those ingredients were. To clarify, you probably already have most (if not all) of the ingredients in your pantry right now.
They are fun for the kids! The steps are simple enough that you can get the kids involved in the dough-making process. You can even divide the coloring tasks so each kid or person gets a different color and makes the pink crinkle cookies, blue crinkle cookies, etc.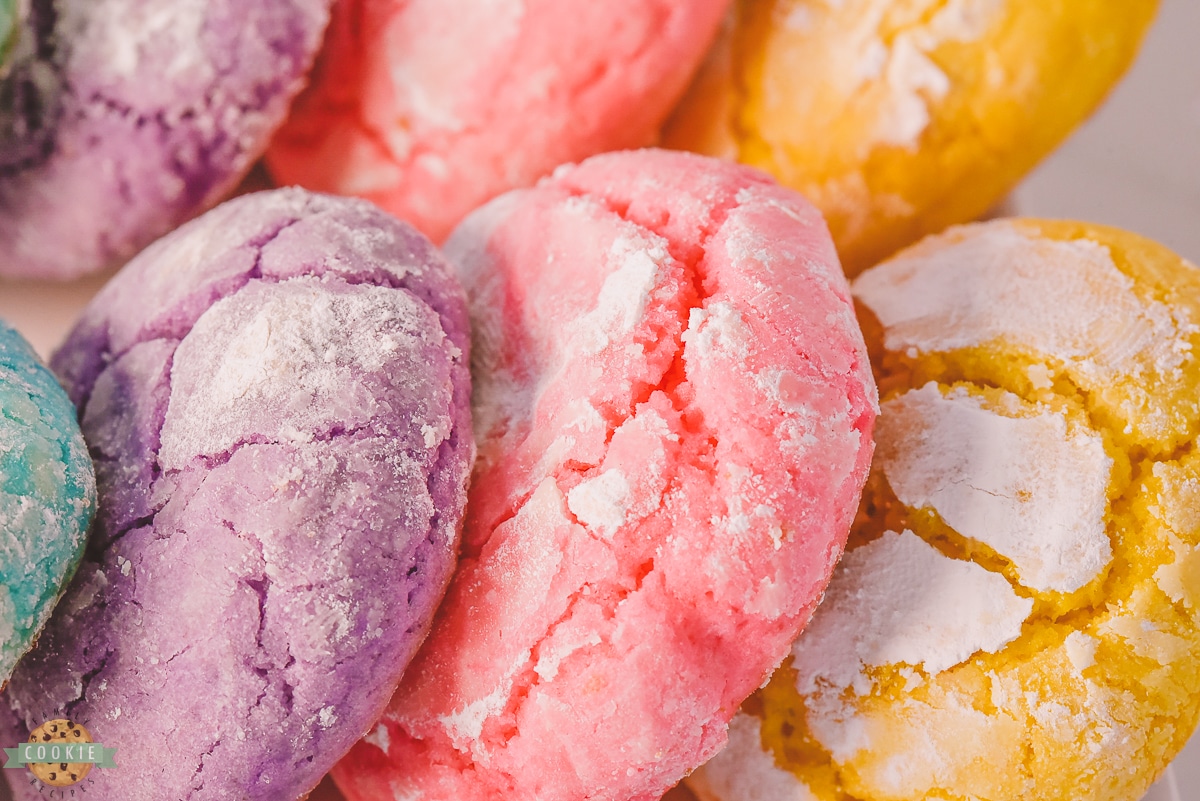 Lemon Crinkle Cookies Ingredients
Butter: You will need 1 cup of softened salted butter, this is equal to two sticks.
Sugar: To make the cookies nice and sweet, you will need 2 cups of granulated sugar for the dough.
Eggs: Use 4 large eggs to make the cookies rich and soft.
Lemon Juice: You will need 4 tablespoons of lemon juice from fresh lemons, but you can switch it out for lemon extract if desired. Start with ½ teaspoon and add a little more if a stronger lemon flavor is desired.
Lemon Zest: Use 4 tablespoons of lemon zest to really pack a lot of lemon flavor into every bite.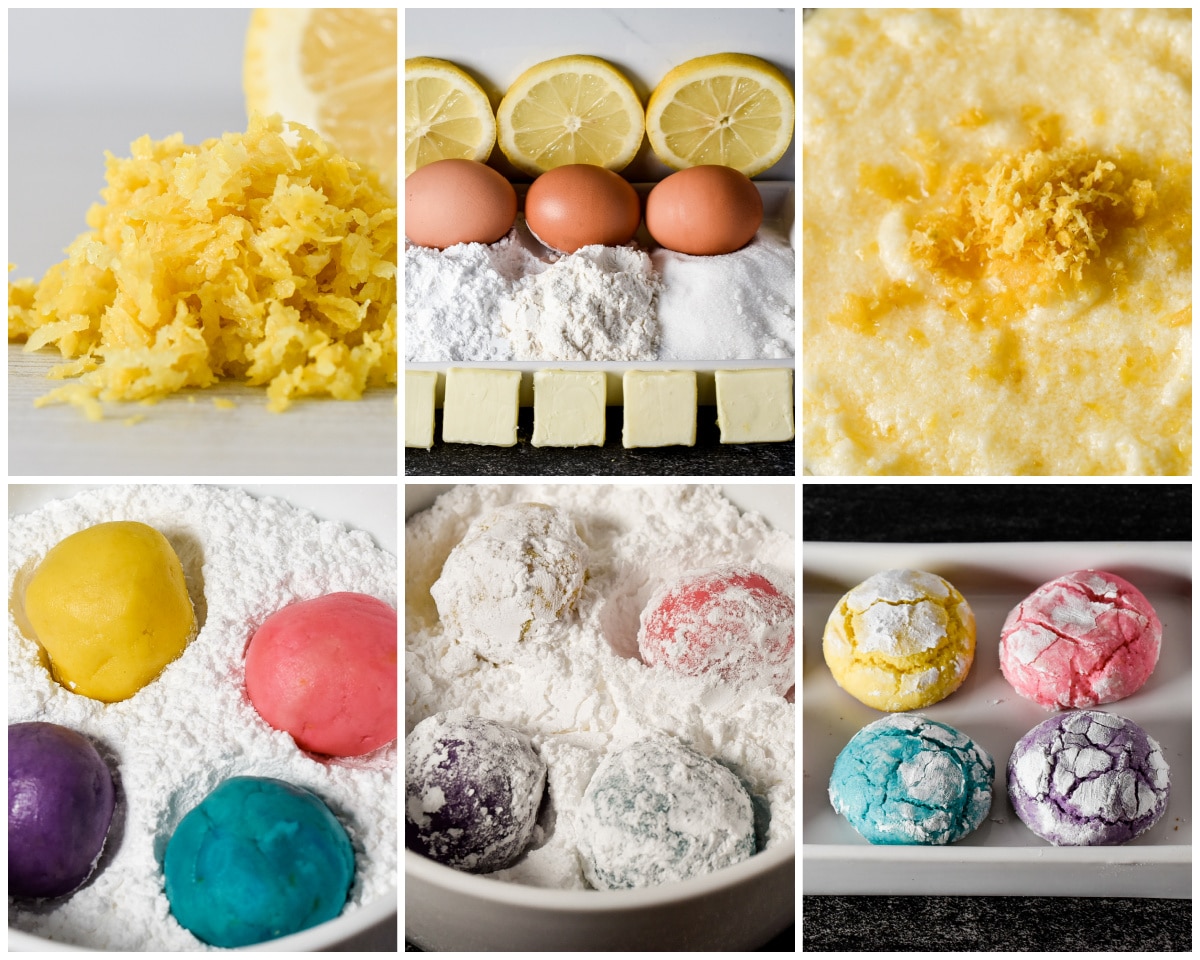 Baking Powder: Using 1 tablespoon of baking powder will make your cookies puff up wonderfully as they bake.
Flour: You will need 4 ½ cups of all-purpose flour for the base of this cookie dough.
Food Coloring: For added fun and color, use pink, blue, purple, and yellow. This will make your cookies look perfect for spring!
Powdered Sugar: You will need about ½ cup to 1 whole cup of powdered sugar for rolling the cookie dough balls in.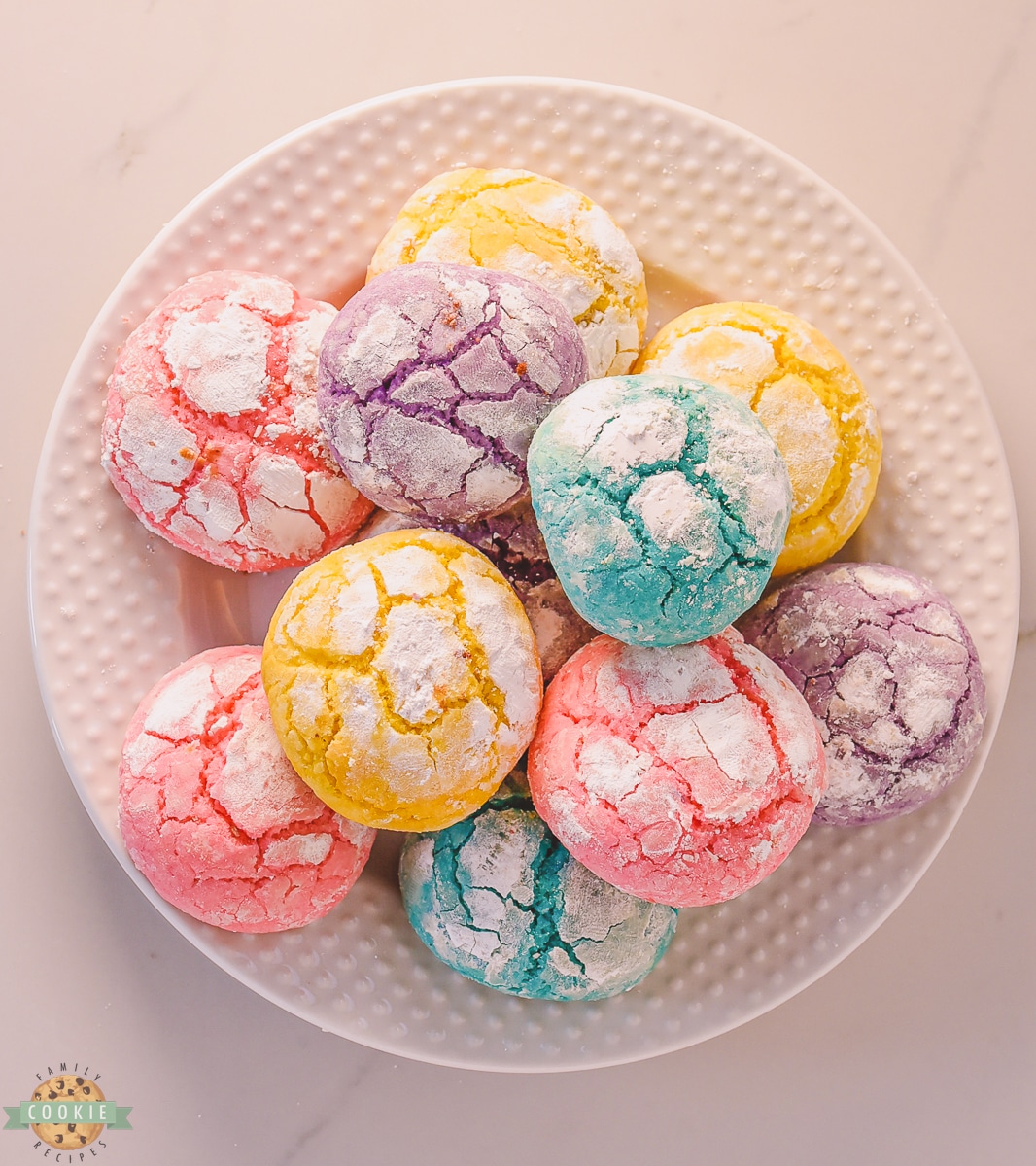 How to make Spring Lemon Crinkle Cookies
Cookie Dough
In a large mixing bowl, combine and cream together the butter and granulated sugar.
Then, add in the eggs and mix together until fluffy.
Next, add the lemon juice and lemon zest and stir until fully incorporated.
After that, stir in the baking powder until well mixed.
Now it is time to mix in the flour, complete this in three batches, mixing well between each until fully combined.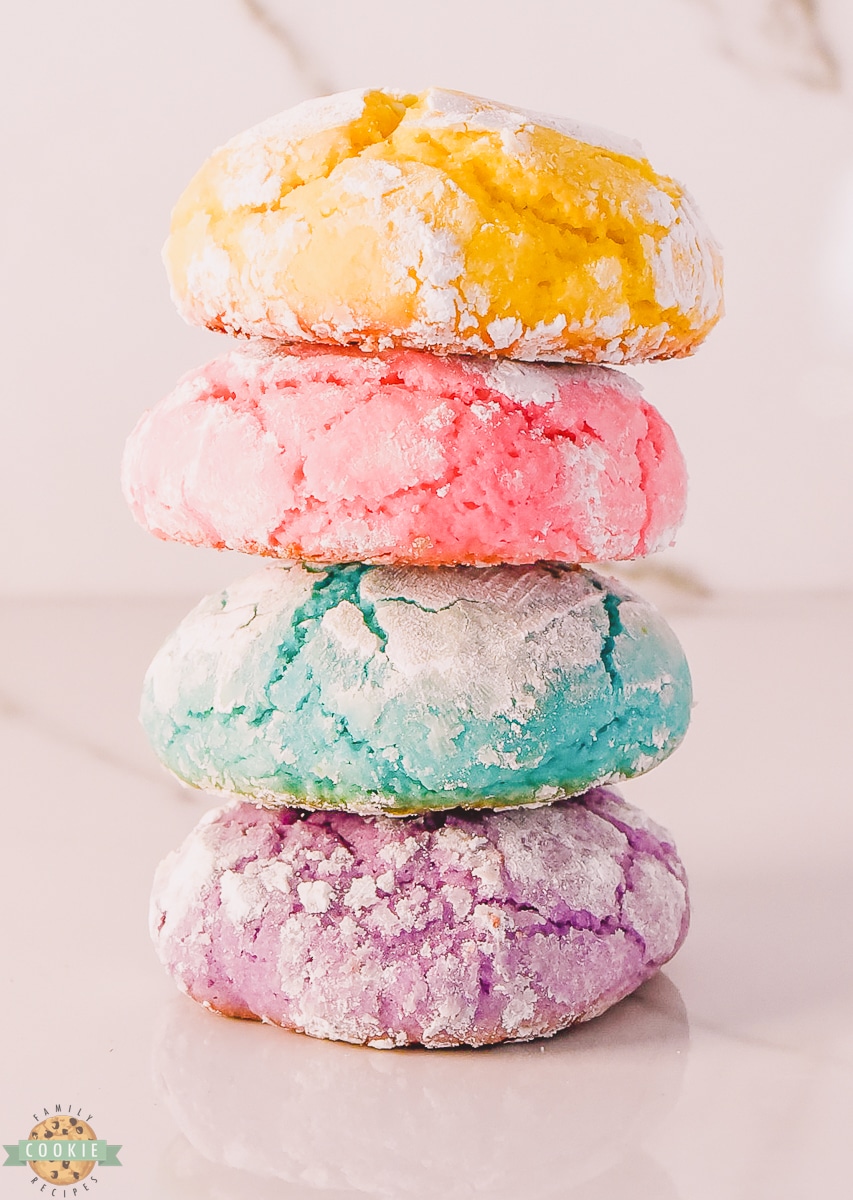 Coloring
Proceed to divide the dough into 4 equal sized portions.
Then, using food coloring, tint each portion a different shade. Make one pink, one yellow, one blue, and one purple, perfect spring colors!
Chill Time
To achieve the best and tastiest results, place all the dough balls into the fridge to chill for 2 hours.
Bake
Begin preheating the oven to 350 degrees F and line a baking sheet with parchment paper.
In a small bowl, pour the powder sugar to prepare for rolling the dough in.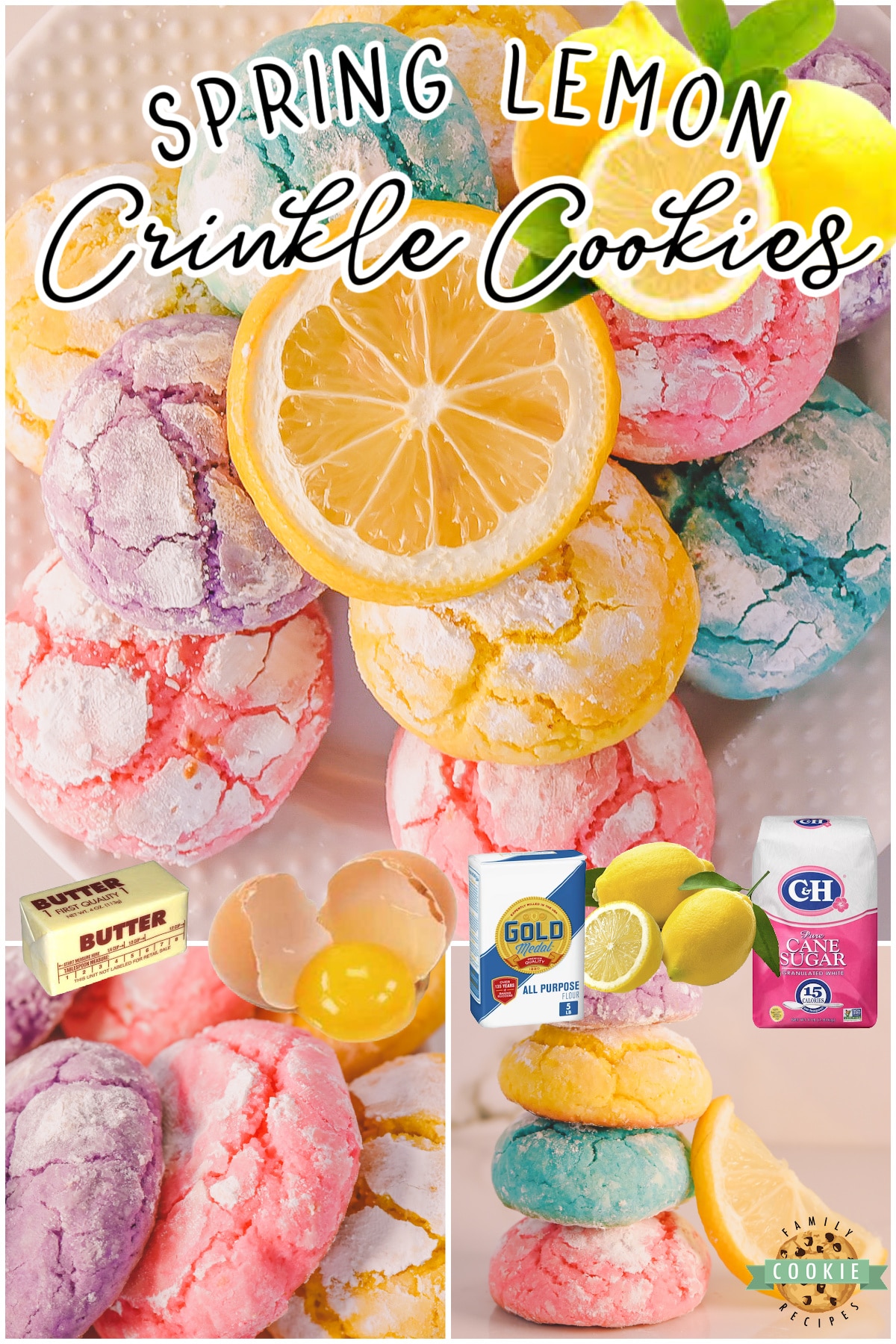 Then, pull your cookie dough from the fridge and scoop your into 1-inch sized balls and roll them into powdered sugar until well coated.
Place each ball onto the parchment-lined baking sheet.
Bake in the preheated oven for 8-10 minutes.
Let the cookies cool for 5 minutes, serve and enjoy!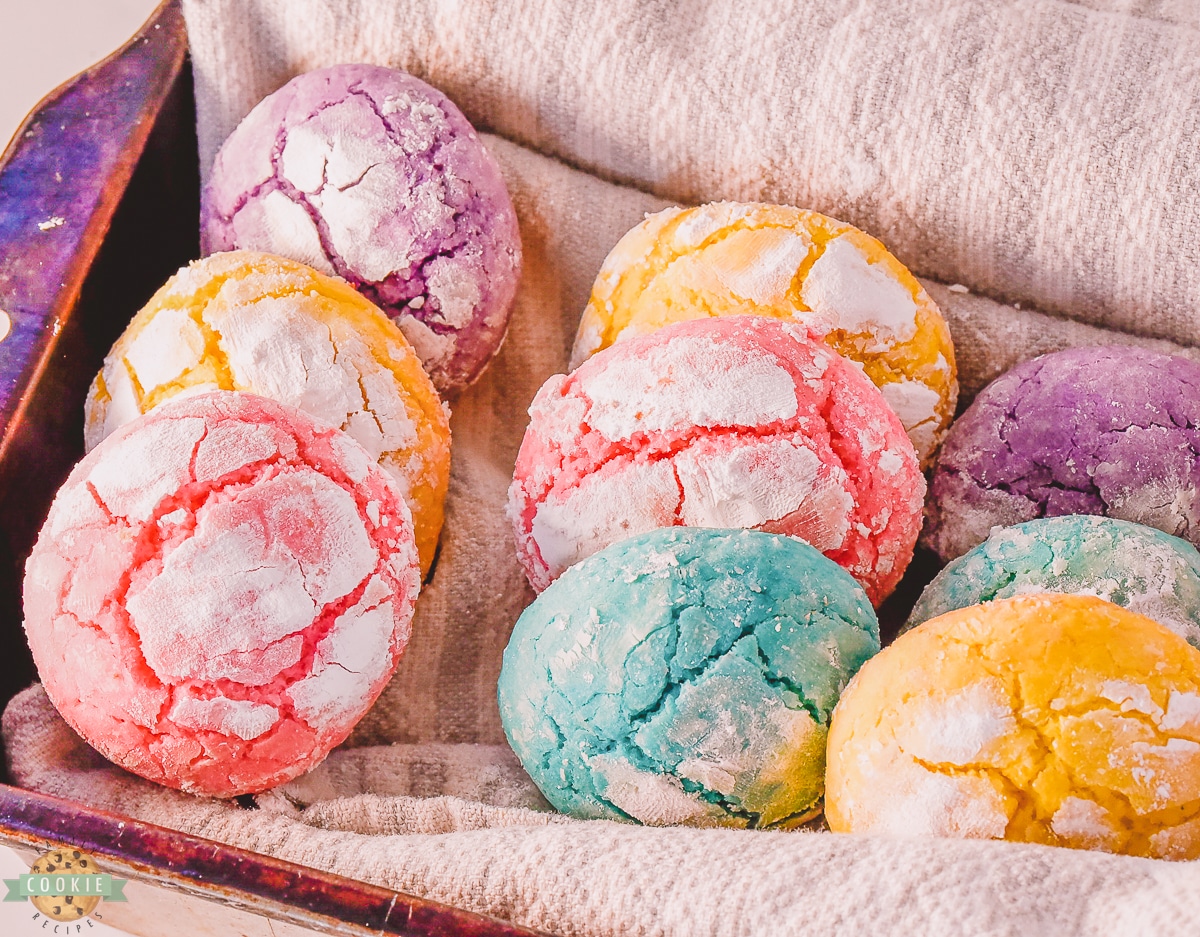 When to serve this Lemon Crinkle Cookie recipe
Crinkle cookies are a timeless classic and always do well during the holidays (like Christmas) but these Easter crinkle cookies are perfect for spring. Filled with fun pastel colors and tangy fresh lemon flavor in every sweet bite, these cookies are a perfect treat for any occasion this season. Bring a batch to your next event or fill up that cookie jar in the kitchen and watch how fast they disappear!
How long are lemon crinkle cookies good for?
These cookies can stay fresh in an airtight container for up to 3-4 days. After the cookies have baked, let them cool completely before storing them in an airtight container. Any warmth from the cookies will cause condensation in the container which will cause the powdered sugar to dissolve.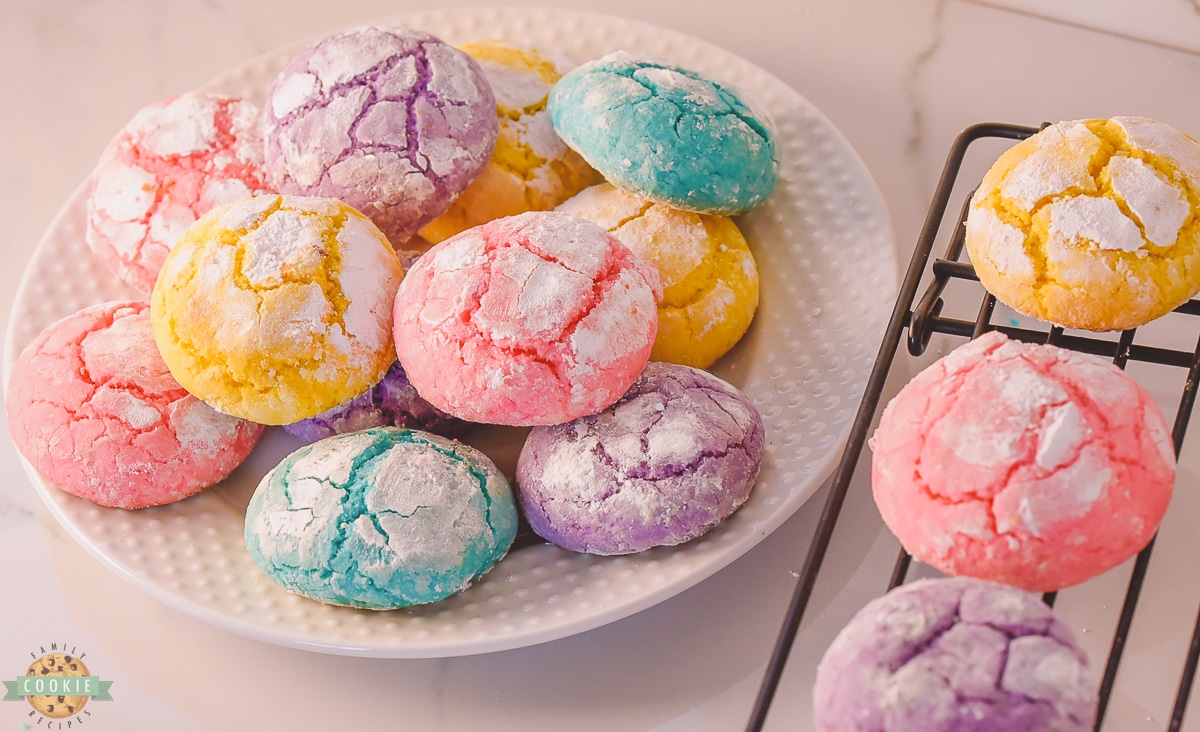 Can I freeze crinkle cookies?
Yes, you can freeze these cookies! After they have cooled completely store them in an airtight container with a piece of parchment paper between the layers of cookies and freeze for up to 3 months. If after thawing the cookies no longer look crinkly, roll them in powdered sugar again before serving.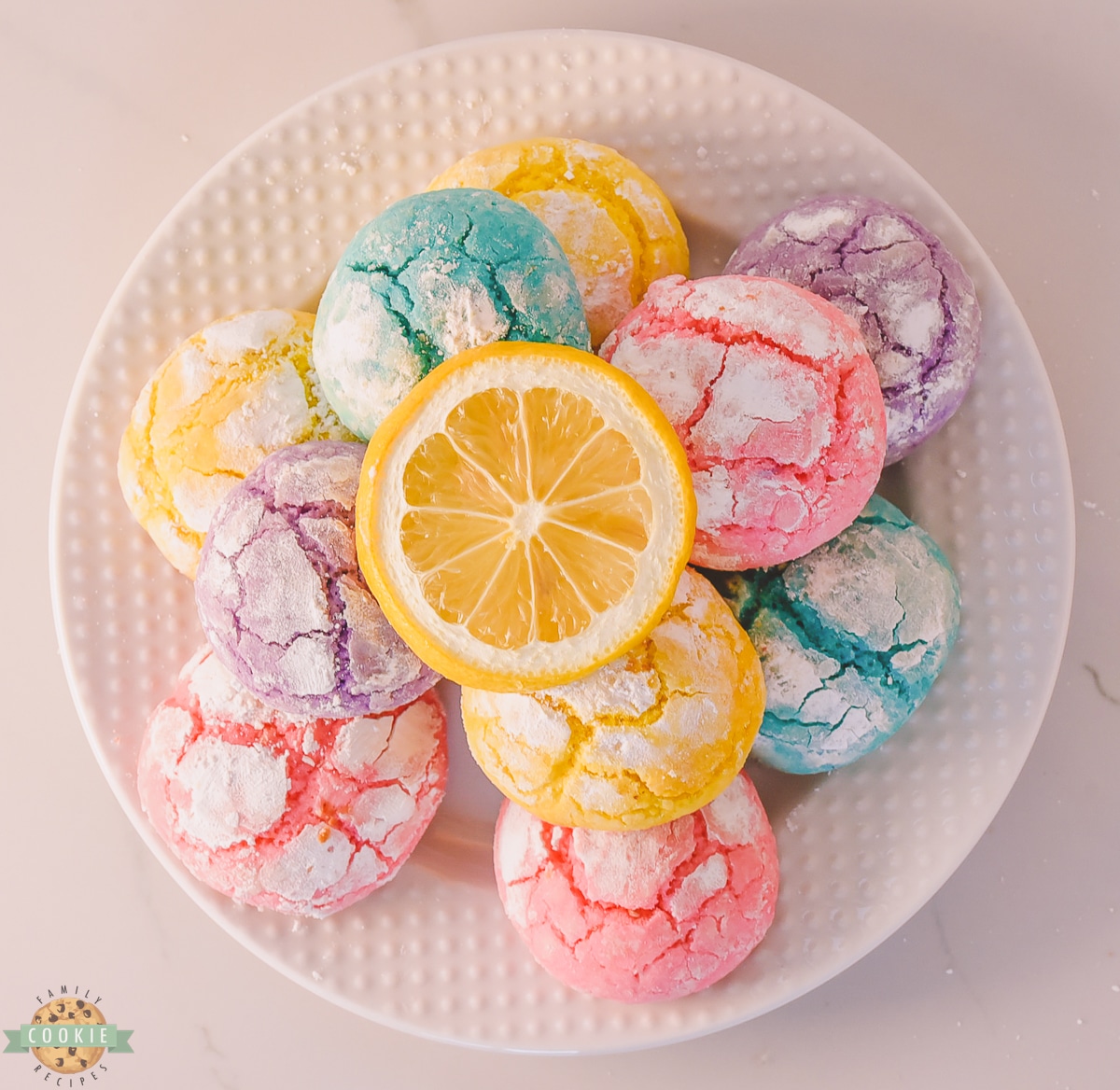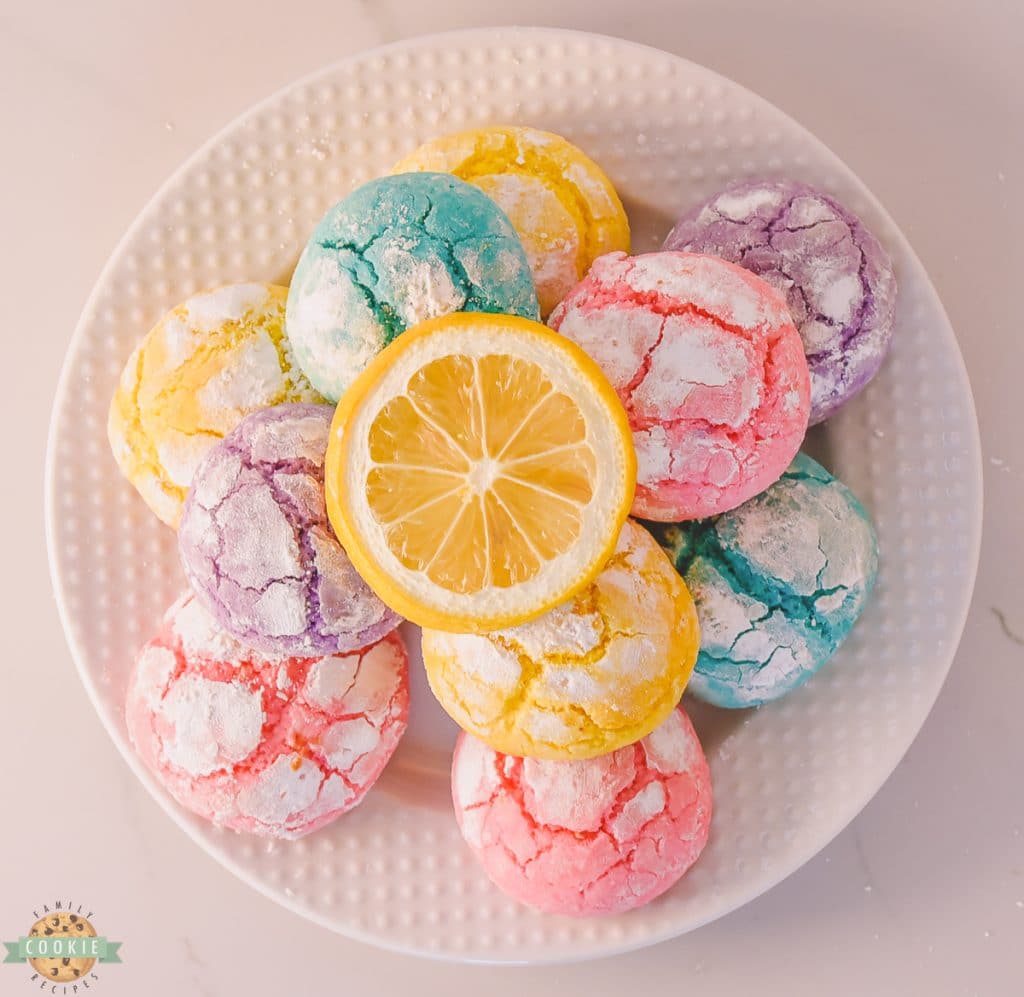 HOW TO ZEST A LEMON
The easiest way to zest a lemon is to use a citrus zester. By rubbing the peel of a washed lemon along the grated edges we get tiny shredded pieces perfect for your baked goods and recipes. If you do not have a citrus zester you can use a vegetable peeler to remove the outermost layer of peel (not the white part under the colored peel). Then chop the peel into very tiny pieces, like minced garlic, and use as desired.

It's not easy taking pictures of all 5 kids at once! Thankfully, it gets a bit easier as they get older. Kind of. Did you know teenagers and toddlers have a lot in common?!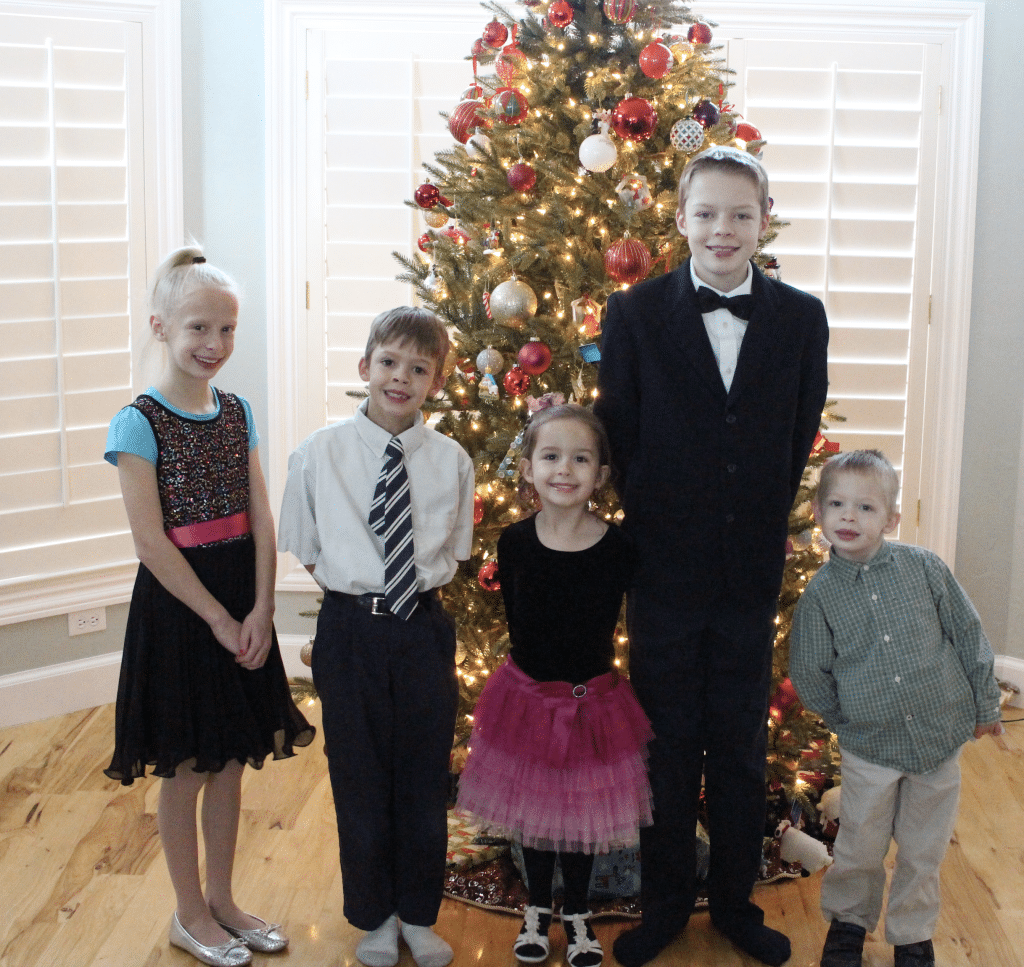 Packed full of lemon flavor and colored with pink, blue, purple, and yellow hues, these crinkle cookies are the perfect spring lemon crinkle cookie recipe. Try it soon for a sweet and chewy treat you can't wait to sink your teeth into.