Strawberry Cool Whip Cookies made with cake mix, Cool Whip and 1 egg! This simple cake mix cookie recipe has lovely strawberry flavor and a tender texture that is heavenly.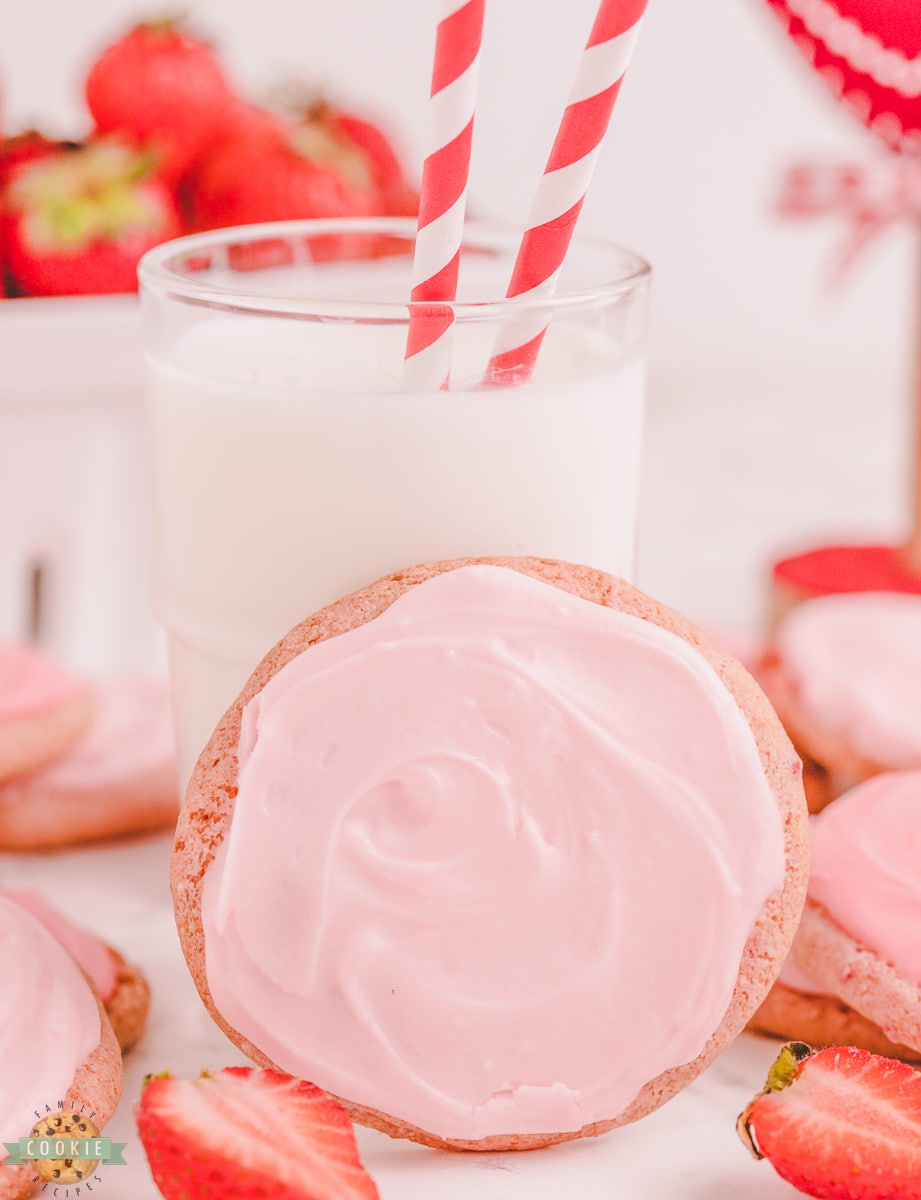 These Strawberry Cake Mix Cookies are a light and chewy treat to enjoy when you want something sweet and simple. Making Cool Whip Cookies with cake mix is super simple, the dough comes together quickly and easily!
What are Cool Whip Cookies?
These cake mix Cool Whip cookies are a one bowl cookie recipe that uses actual cool whip (thawed), plus a box of cake mix and an egg. Most recipes featuring cool whip have the cookies rolled in powdered sugar for crinkle-like appearance. Our version of these enticing cookies is made with strawberry cake mix and cool whip, then topped with a lovely simple powdered sugar glaze. With a fun pink color they are great for special occasions like baby showers or valentines day. They are perfect for whipping up a batch whenever your sweet tooth mood strikes. 
Why you'll love this cake mix cookie recipe
Amazing flavor. The strawberry cake, fluffy Cool Whip and sweet glaze topping makes for an absolutely delicious cookie experience.   
Simple to make. This recipe is so easy to make, just mix a few ingredients together, scoop, bake and add a lovely icing to the top. A super quick treat to whip up!
Glaze is optional. These cookies taste incredible without the glaze and you can easily eat them without it. That said, adding the glaze does give them a little something extra and we do recommend giving it a try.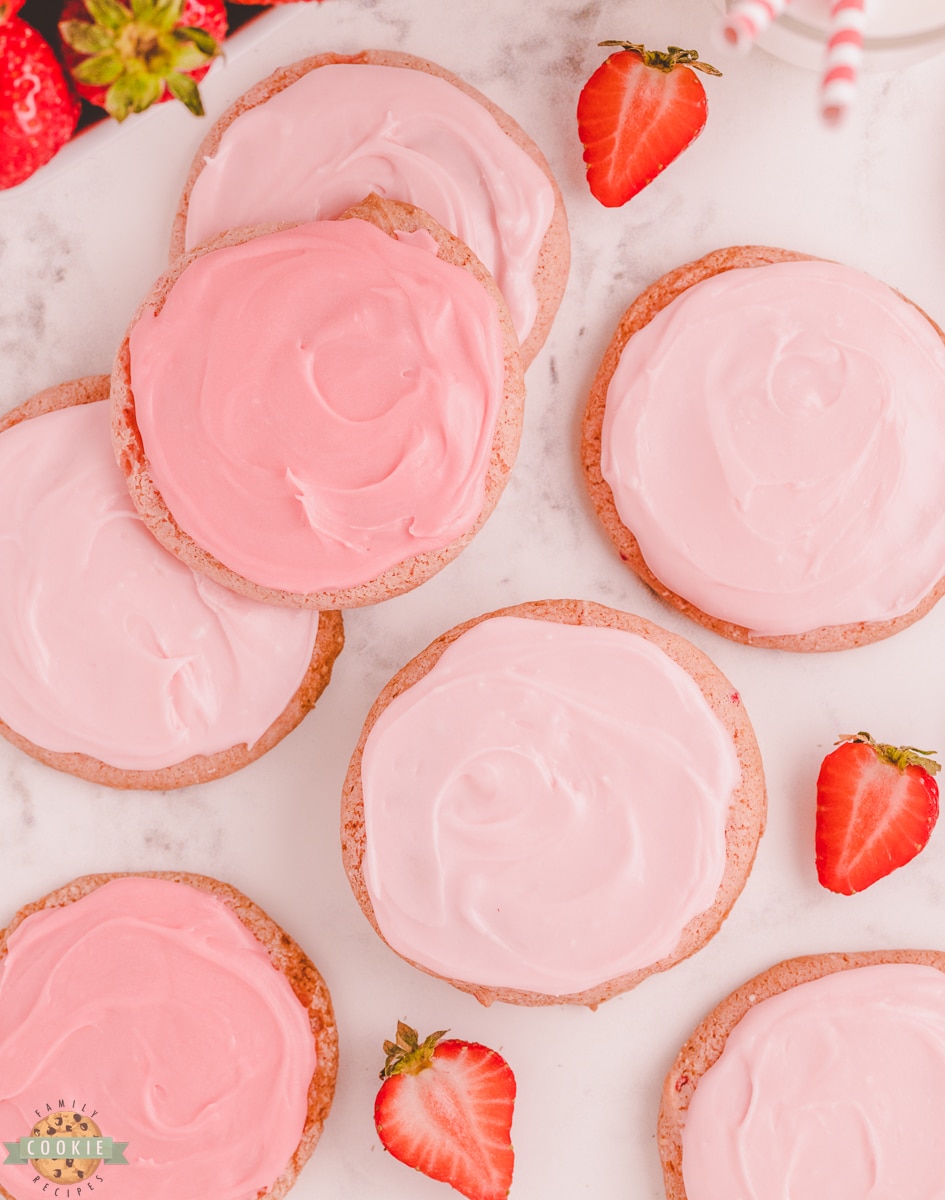 Strawberry Cool Whip Cookie ingredients
Cake mix: You need one standard sized (15.25 ounce) box of strawberry flavored cake mix. Pick your favorite brand, any one will do.
Cool whip: Use one thawed 8-ounce tub of Cool Whip. It doesn't have to be the Cool Whip brand name, an off brand or even vegan whipped topping also works great.
Egg: Just add in 1 large egg to help bind together the ingredients in this cookie dough.
Glaze
Powdered sugar: You will need 1 cup of powdered sugar to make the glaze perfectly smooth and sweet.
Butter: Use 1 tablespoon of melted butter to add a wonderful rich flavor to the glaze.
Almond extract: Add in ½ teaspoon of almond extract to enhance the frosting flavor. Vanilla extract will work too if you only have that in your pantry.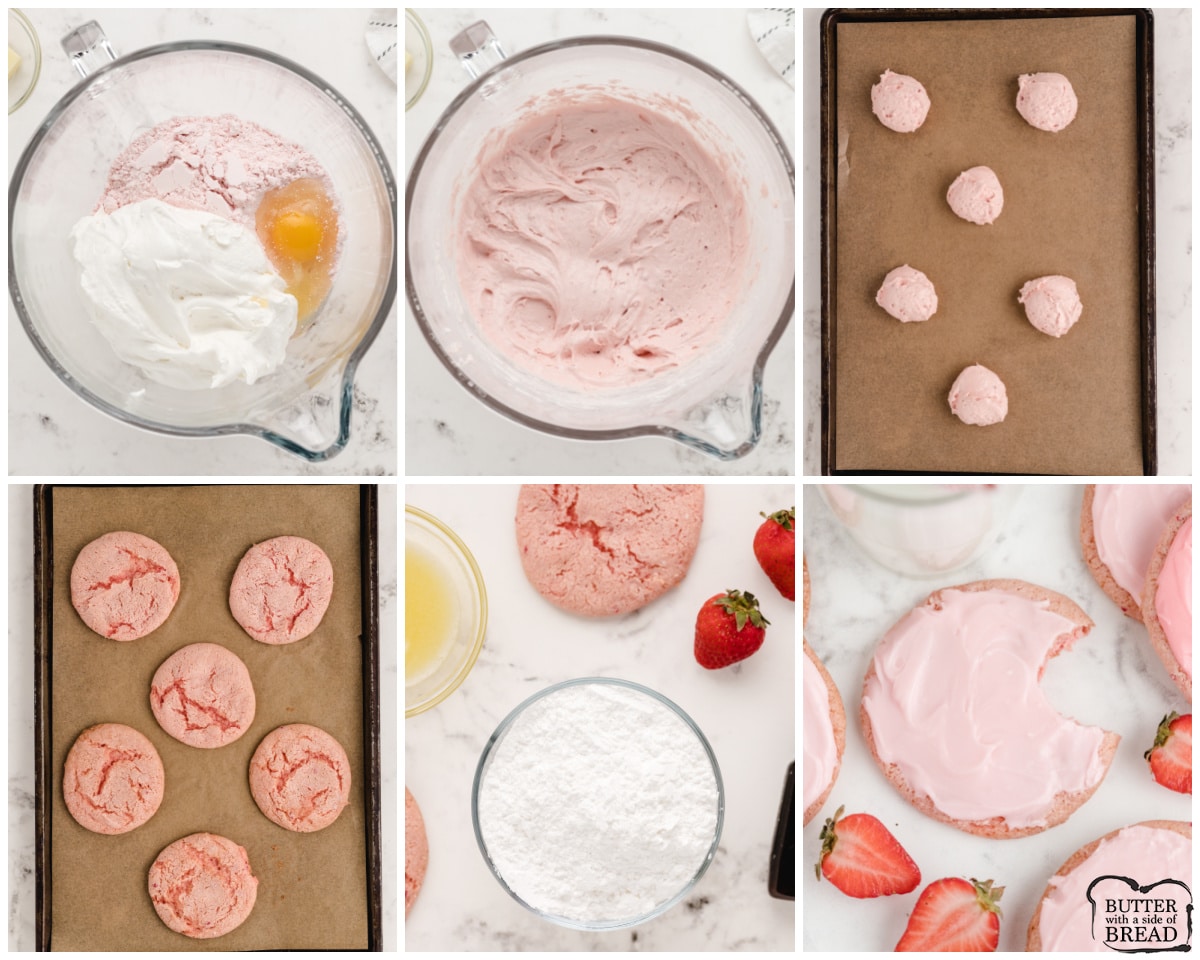 Step by step on how to make Strawberry Cool Whip Cookies
Prep
Start by preheating your oven to 350 degrees F. Then, line a baking sheet with parchment paper and set it aside.
Cookie Dough
In a large mixing bowl combine the cake mix with the cool whip and egg, stir until well mixed.
Next, use a cookie scoop to scoop out the dough and place it onto your prepared baking sheet.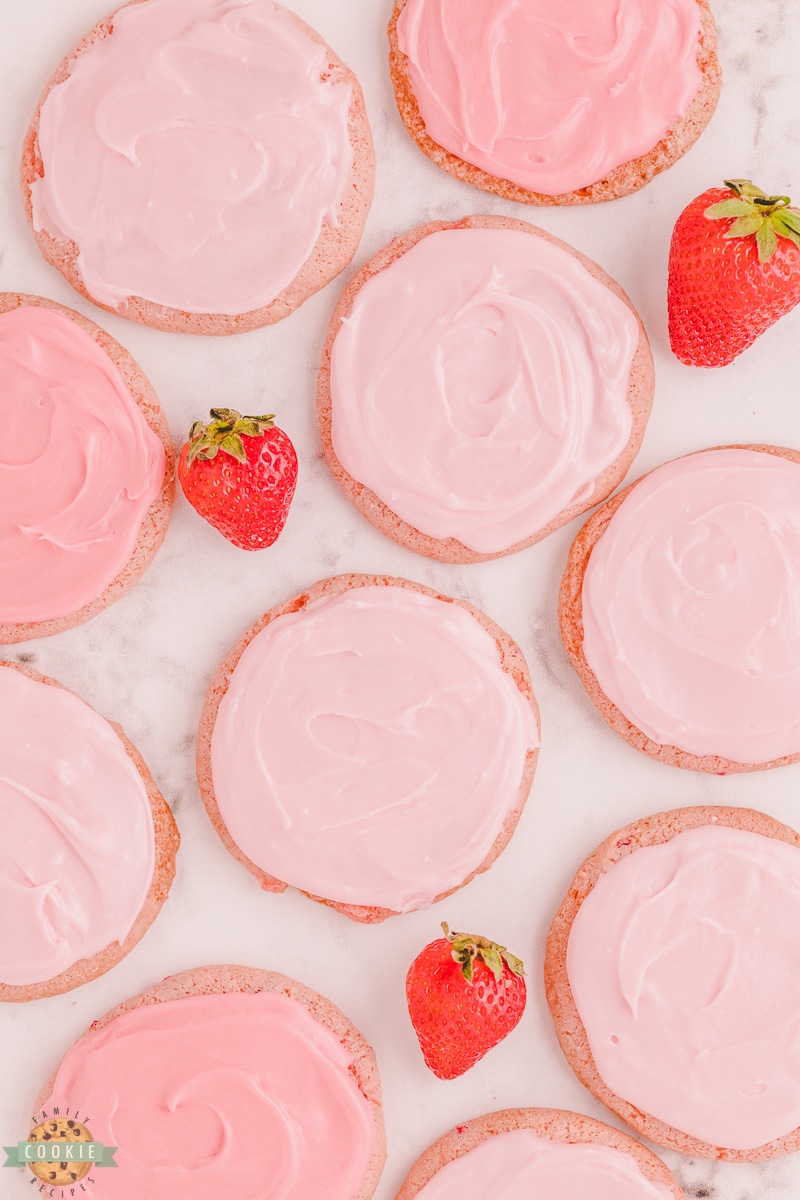 Bake
Bake the cookies for 10-12 minutes or until the cookies are lightly brown on top.
When done, remove cookies from the oven and allow to rest on the baking sheet for 5 minutes. Then you can transfer them to a wire rack to cool completely. If you do not have a wire rack, leaving them on the baking sheet is fine too.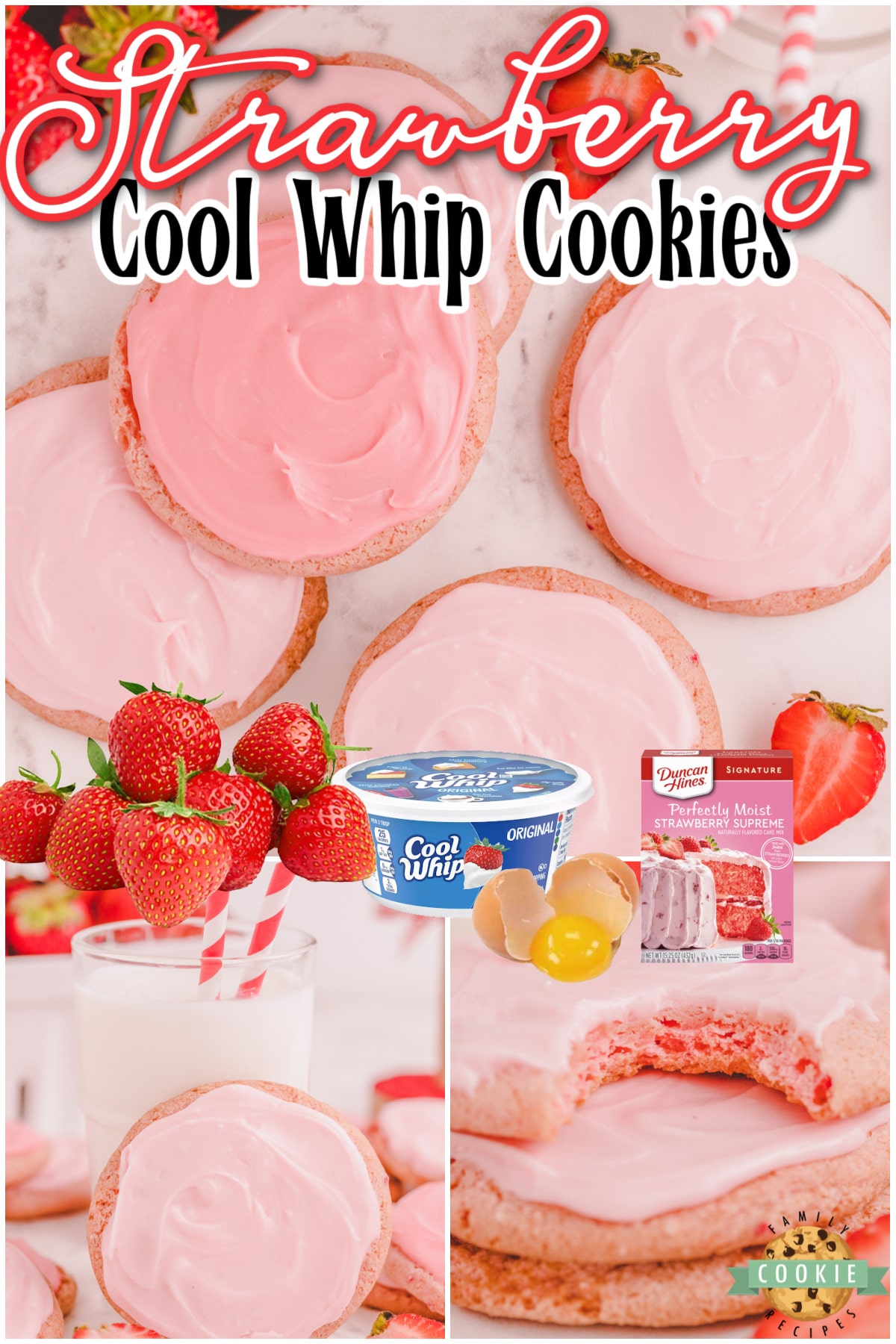 Make the glaze
In a small bowl whisk together all the glaze ingredients, powder sugar, melted butter and your chosen extract, until the mixture is smooth.
Proceed to spoon about 1 teaspoon of glaze onto the top of each cookie. Gently spread the glaze around to cover the cookie, allow to set for 10-15 minutes.
Serve fresh and enjoy!
How long are cool whip cookies good for?
You can keep these cookies stored in an airtight container at room temperature for up to 5 days. This should give you plenty of time to enjoy these tasty treats.
Can I freeze strawberry cool whip cookies?
These cookies could be placed into an airtight container and frozen for up to 3 months if desired. I recommend placing a layer of parchment paper between the cookies to prevent the glaze from sticking to other cookies in the container. Thaw before eating.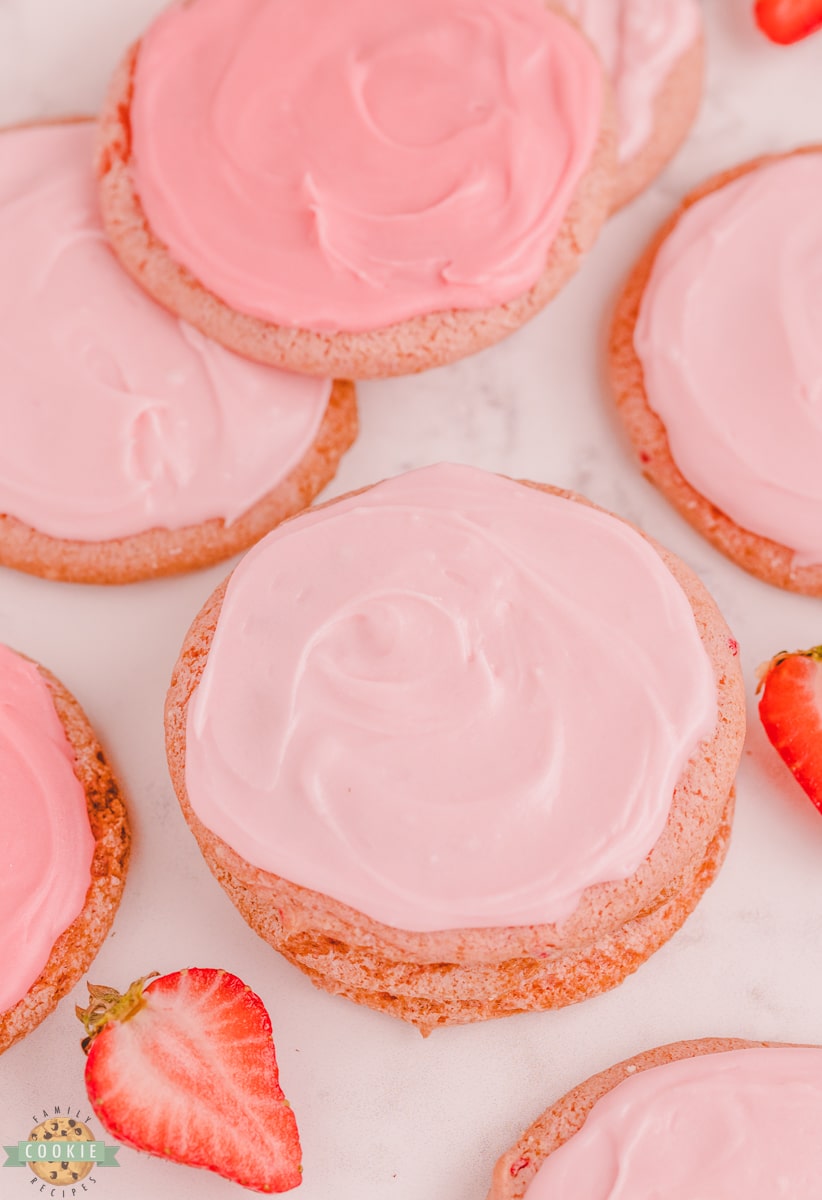 Can I use homemade whipped cream?
I have not tried this recipe using homemade whipped cream so I cannot say for certain but 3 cups of homemade whipped cream (about 1.5 cups of heavy cream) should be a good replacement for 8 ounces of whipped topping. Stabilized whipped cream should work better than just regular whipped cream because it's more like Cool Whip and should hold up better.
How to Get a Perfectly Round Cookie Shape
Want to know a neat little trick? After your cookies have been baked, while they are still hot and cooling on the pan, take a medium-sized round cookie cutter or a round glass/drinking mug and place it over the top of the cookie. The round shape should be slightly bigger than the cookie for this trick to work.
Swirl the round cutter/object around the cookie, knocking it into the sides a bit as you go. The more you swirl, the smaller and thicker the cookie will become. Then let the cookies cool. This is how you can get homemade cookies to look perfectly rounded. This trick won't work with cutout cookies, but it works fine with drop cookies and rolled cookies.

Kids are hilarious! I mean, who else would decide on a whim to make a face out of a tortilla?! I love her!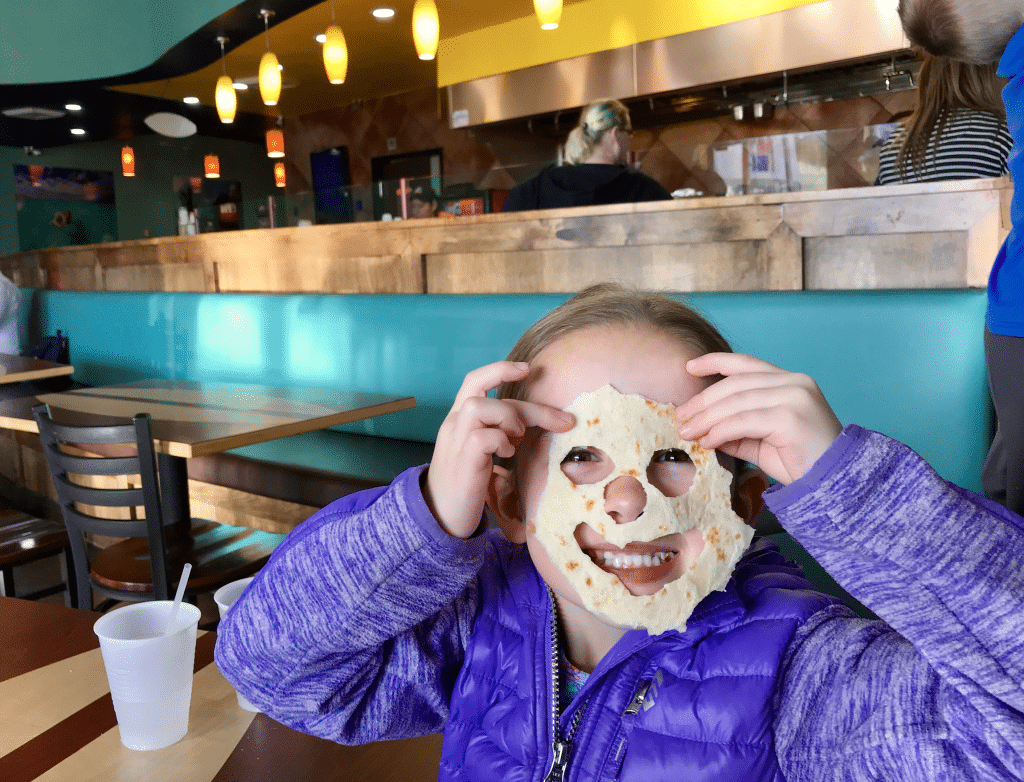 Looking for more cake mix cookie recipes? Try more here:
You're going to love this simple and easy strawberry cool whip cookies recipe. Made with just a few basic ingredients this recipe is fast and perfect for any occasion.