Caramel Apple Cake Mix Cookies are easily made with a cake mix, chopped apples and Rolo candies for a delicious flavor combination that comes together in just a few minutes. Cake mix cookies are so simple to make and these ones have the delicious taste of caramel apples!
[adthrive-in-post-video-player video-id="gsIvFuPc" upload-date="2018-10-25T21:37:57.000Z" name="Caramel Apple Cake Mix Cookies " description="Caramel Apple Cake Mix Cookies are easily made with chopped apples and Rolo candies for a delicious flavor combination that comes together in just a few minutes."]
Cake Mix Cookies are so easy to make because all of the basic ingredients (sugar, flour, etc.) are already in the cake mix so you only need to add a couple of ingredients to make the cookies. These particular cookies do have some brown sugar added to them which adds the perfect flavor to make the cookies taste as though you made them from scratch! And who doesn't love Rolos? The original recipe that I found called for dried apples, but I prefer to use a fresh apple – the choice is totally up to you!
Caramel and chocolate just go so well together – if you love that combination also, you should try our Caramel Chocolate Chip cookies! Or our Chocolate Caramel Cake Mix cookies – those have Rolos in them too!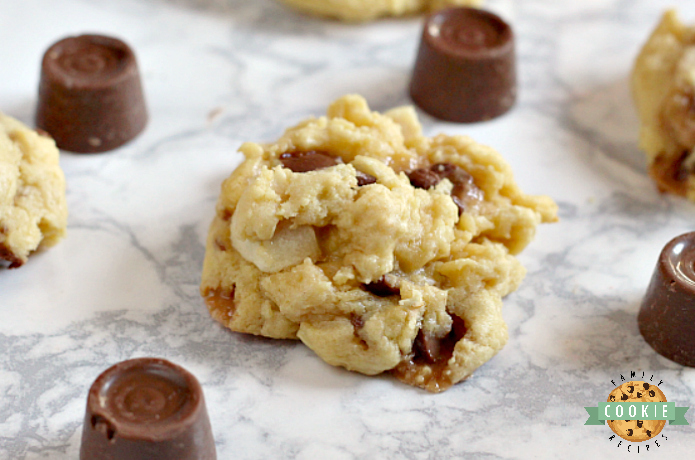 What are cake mix cookies?
Cake mix cookies are cookies that are made with a box of cake mix as the base ingredient. Because many of the dry ingredients used in cookies are also the same ingredients you find in a boxed cake mix, you usually only have to add a few more basic ingredients to make soft and chewy cookies! One of the things that I love about cake mix cookies is that it is so easy to change up the flavors a little bit, just by swapping out the cake mix that you use. For example, this recipe for Caramel Apple Cake Mix Cookies asks for a yellow cake mix, but you could easily swap in a white cake mix, a spice cake mix or even a chocolate cake mix and the results would all be delicious!
Some tips for making the best Cake Mix Cookies:
Make sure your butter is softened, NOT melted! One of the most common errors in cookie making is using butter that is either really cold and hard, or using butter that is too warm and melted. If you have time, just leave butter out on the counter for about 1-2 hours before making your cookies. If you are like me and don't plan your cookie cravings that far in advance, just place the butter in your microwave and soften in 5 second intervals, being very careful to pull it out before it melts. I actually like to use the defrost setting on my microwave to soften butter- I don't know the technical reasons behind it, but it seems to soften the butter more evenly and takes a little bit longer so I'm less likely to start melting it! 
Preheat the oven. This will help your cookies turn out right every time!
Use a cookie scoop! If you want all your cookies to be perfectly shaped and have them all be the same size, a cookie scoop is the way to go.
Use parchment paper or a silicone baking mat. Doing this will make it really easy to remove the cookies from your cookie sheet so that you don't have to scrape them off the pan – they will just slide right off in perfect shape!
Don't over bake the cookies – when I take mine out of the oven, they still look slightly under baked but they will continue to bake on the cookie sheet for a couple more minutes so that's ok!
What ingredients do you need to make Caramel Apple Cake Mix Cookies?
2-3 (1.7 oz) pkgs. Rolo candies, unwrapped and quartered
1 (18.25 oz) pkg. yellow cake mix
1/2 cup butter, softened to room temperature
1/4 cup light brown sugar
1 egg
1 tsp vanilla extract
1 apple, peeled and chopped into small pieces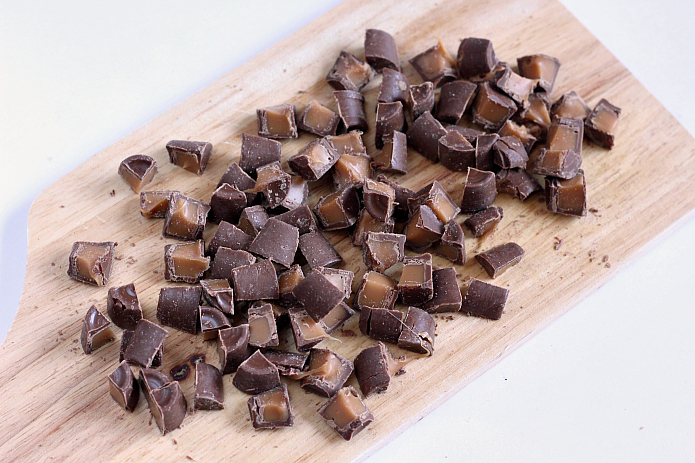 How do you make Caramel Apple Cake Mix Cookies?
In a small bowl, toss the chopped Rolos with 2 tablespoons of the cake mix to prevent them from sticking together.
In a large mixing bowl, use an electric mixer to combine the rest of the cake mix with the butter, brown sugar, eggs and vanilla extract. Fold in the chopped apples and the chopped Rolos until all ingredients all well combined.
Use a cookie scoop to drop tablespoons of dough onto a prepared cookie sheet. Bake at 350° for 11-13 minutes or until just barely set in the center. Enjoy!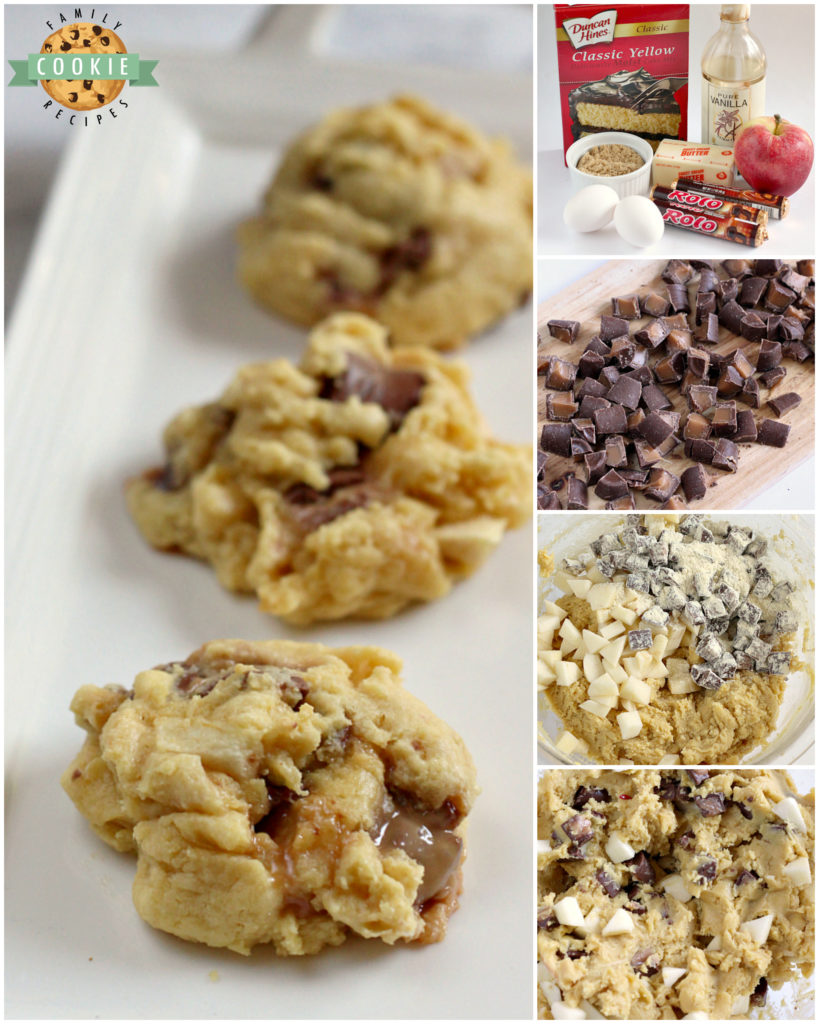 What kinds of apples do you use to make Caramel Apple Cake Mix Cookies?
My favorite type of apple for baking (and eating!) is the Honeycrisp variety. These apples are very crunchy and they hold up well during the baking process. Sometimes the Honeycrisp apples are really expensive, but Fuji apples work really well too so that is a great alternative. You just don't want to use a soft apple (like Red Delicious) because generally the flavor isn't as strong and the softer apples tend to get mushier when baked. You could also use pieces of dried apples in these cookies, but I definitely prefer using fresh ones!
Can you freeze cake mix cookies?
Yes, you can freeze cake mix cookies! You can freeze the baked cookies by cooling them completely and then wrapping in plastic and placing in a Ziplock bag in the freezer. When I freeze cookies, I prefer to freeze the dough in ready-to-bake balls, so that I can enjoy my cookies "freshly baked" when I am ready to make them. In order to do this, you will:
Scoop the cookie dough into balls (cake mix cookies tend to be a little sticky in dough form so you may want to chill the dough for about an hour to make this step easier).
Place the cookie dough balls on a piece of wax paper on a cookie sheet and place in the freezer for about an hour, until cookie dough balls are frozen.
Take all of the frozen cookie dough balls and place in a Ziplock bag or an airtight freezer safe container. Put them back into the freezer until ready to bake.
When you are ready, place the cookie dough balls on a prepared cookie sheet, 2 inches apart. I like to let the balls thaw for about 10-15 minutes and then bake according to normal instructions. Enjoy!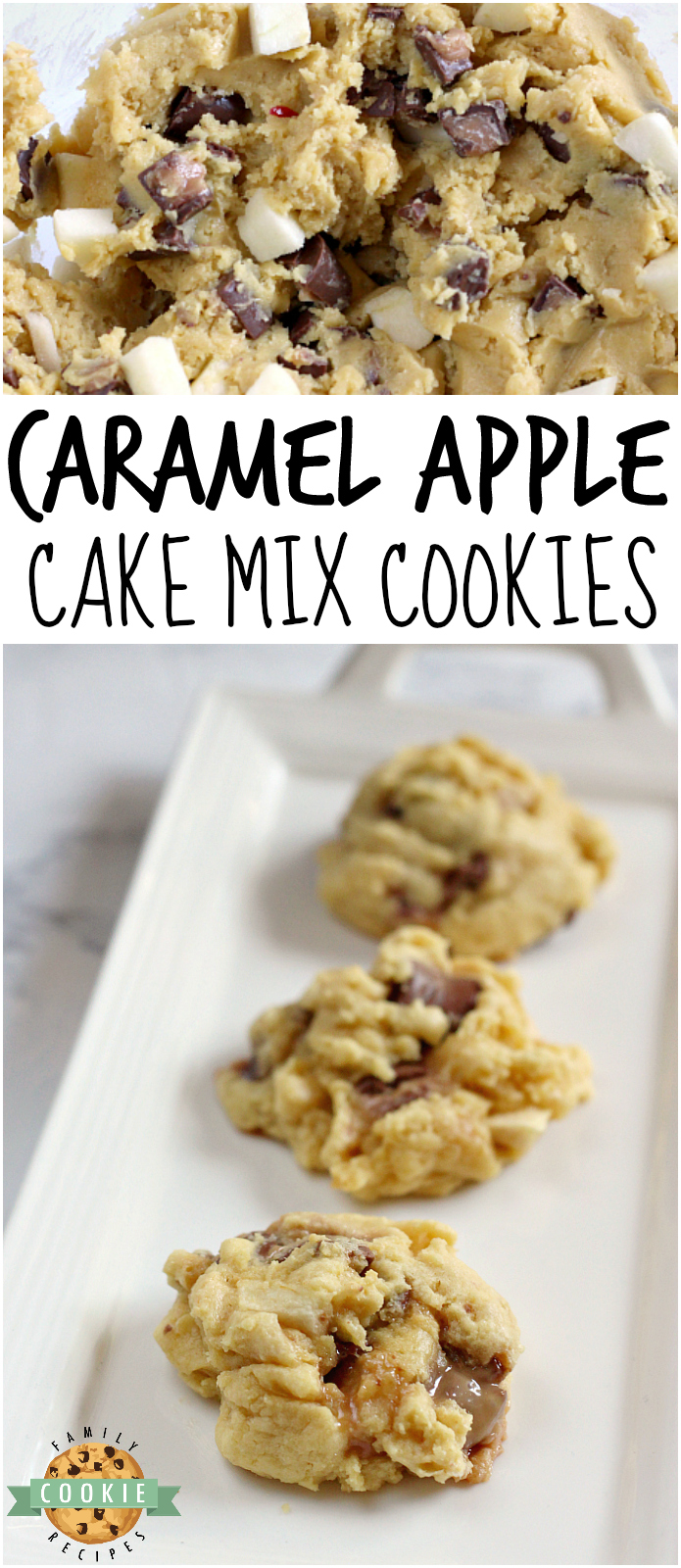 I'm terrified of snakes, but for some reason that fear did not pass down to my kids! Just recently, we must have had a batch/herd/litter? of snakes delivered in our yard because we hardly ever see them here, but all of the sudden they are everywhere! They are just little, but they are all over the place and my kids are in heaven. They keep finding more when they go outside and they have spent hours playing with them. I'm grateful for the free entertainment, but seriously. What is WRONG with my kids?!?