Apple Cinnamon Oatmeal Cookies made with a cake mix, fresh apples, applesauce and a few other basic ingredients. Delicious cake mix cookie recipe that tastes like apple pie!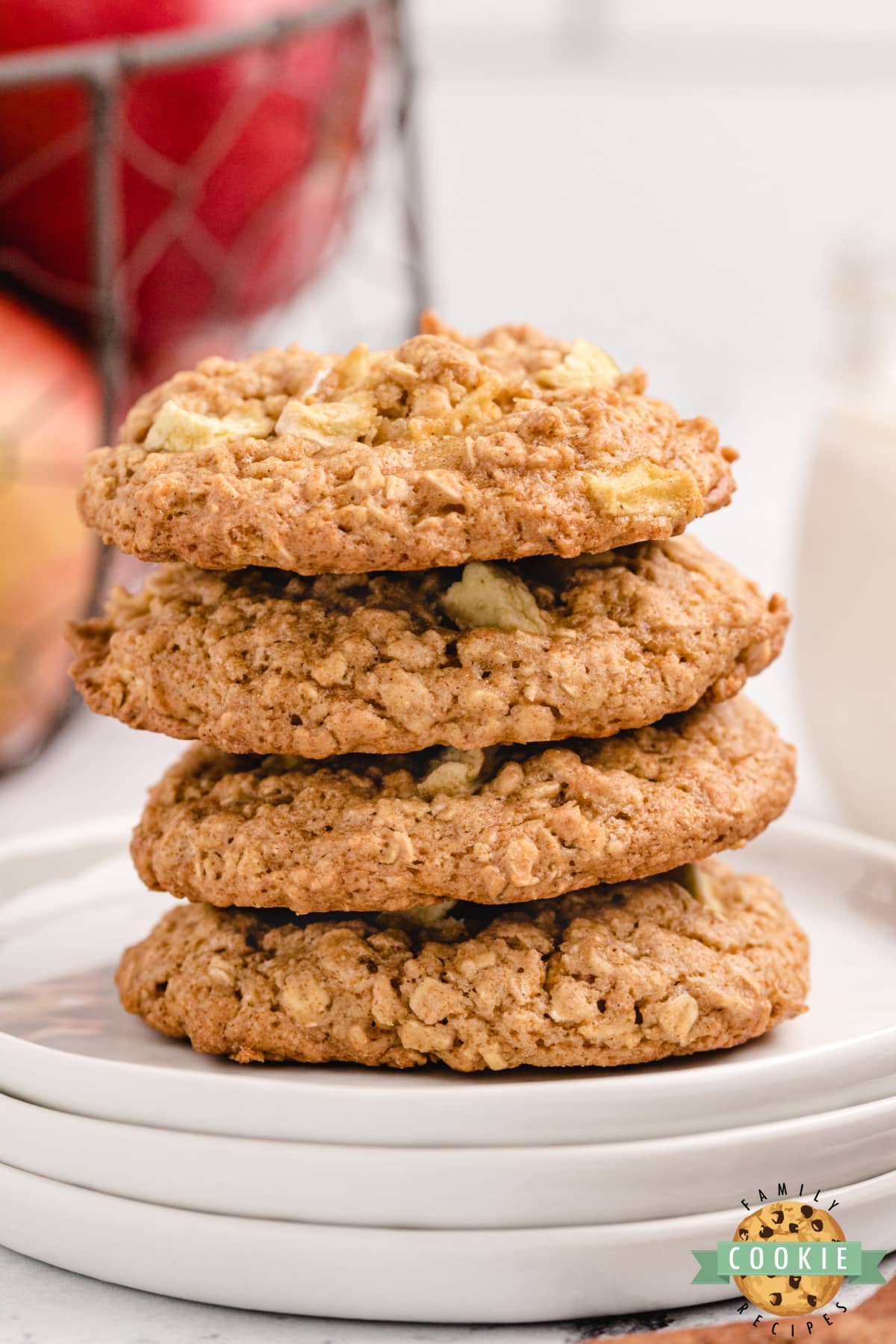 We love cookies made with a cake mix because they are just so easy to make! They are so versatile because you can change out the flavor of cake mix and come up with all kinds of different cookies. Just add a couple of ingredients and your cookie dough is ready to bake in just a few minutes.
Apple Cinnamon Oatmeal Cookies
Add oats, brown sugar, cinnamon, applesauce, diced apple and an egg to a yellow cake mix to make these delicious cookies. You can leave the apples out if you'd like, but they add the most delicious flavors and texture. You can add some raisins if you'd like, or even some butterscotch chips for some extra flavor. Cake mix cookies are so easy to change up a little bit!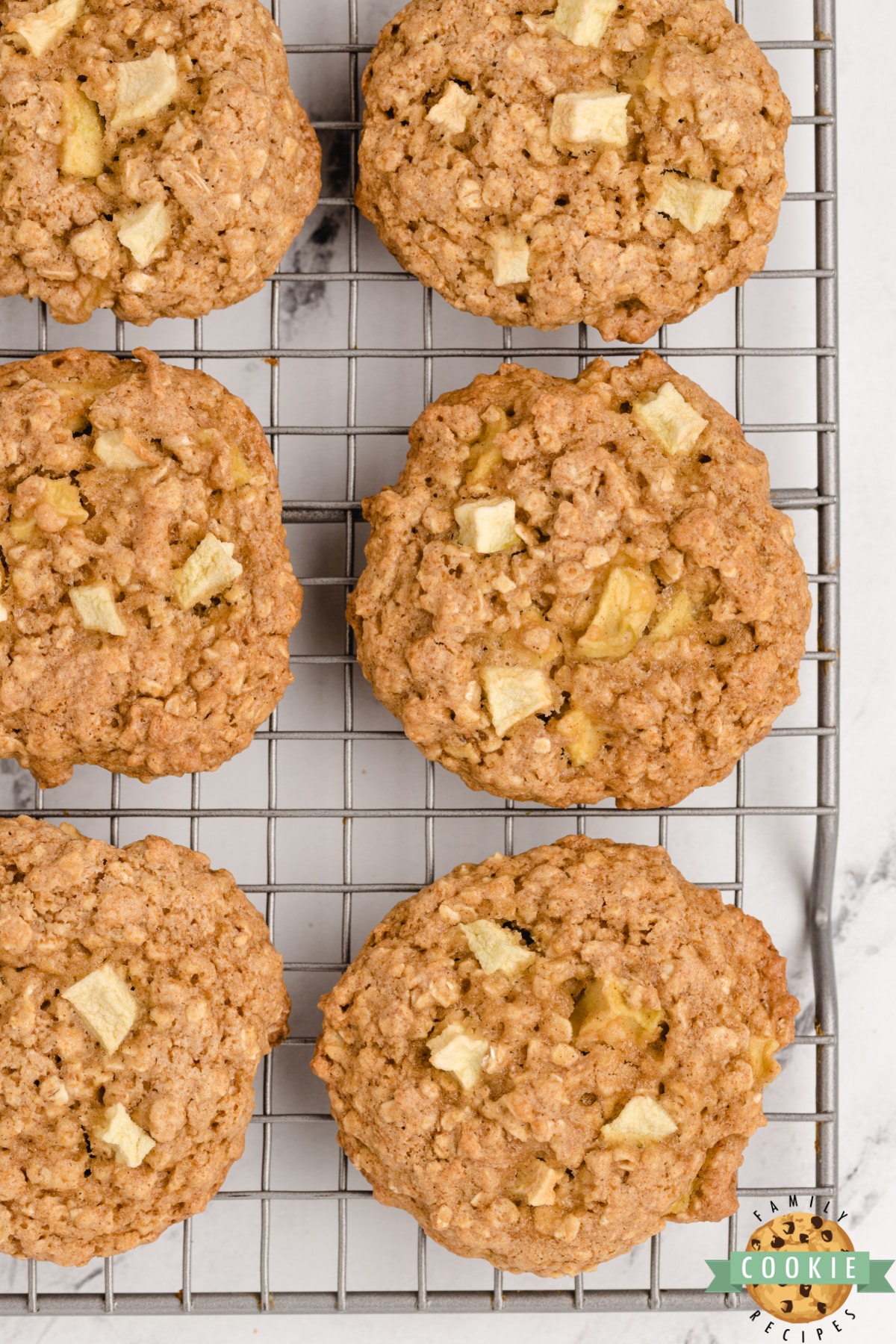 Are Apple Cinnamon Oatmeal cookies healthy?
These cookies are sweet enough to be delicious, but are a little healthier than most cookies. All of the liquid comes from the egg and the applesauce, so you don't need to add any butter or oil. And the greatest part is that you can't even tell! The cookies also have fresh apples and oats…so I feel totally justified in counting these cookies as a balanced breakfast option.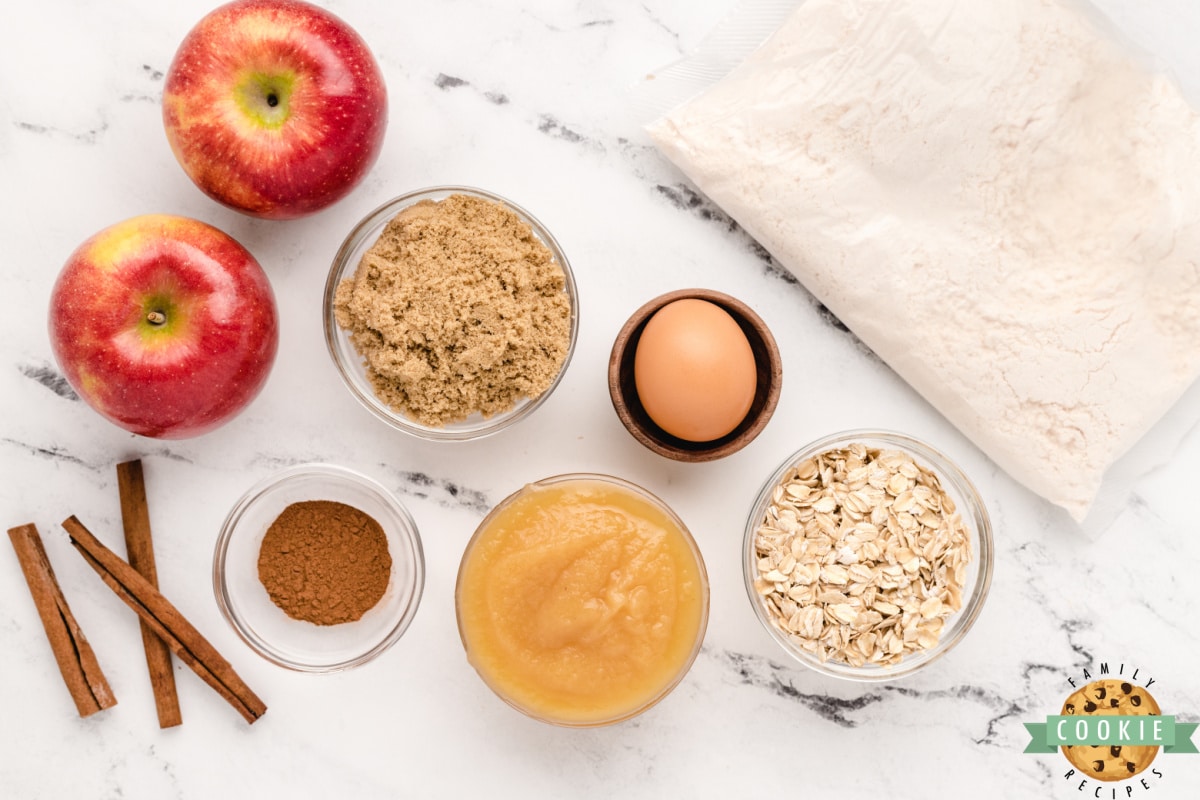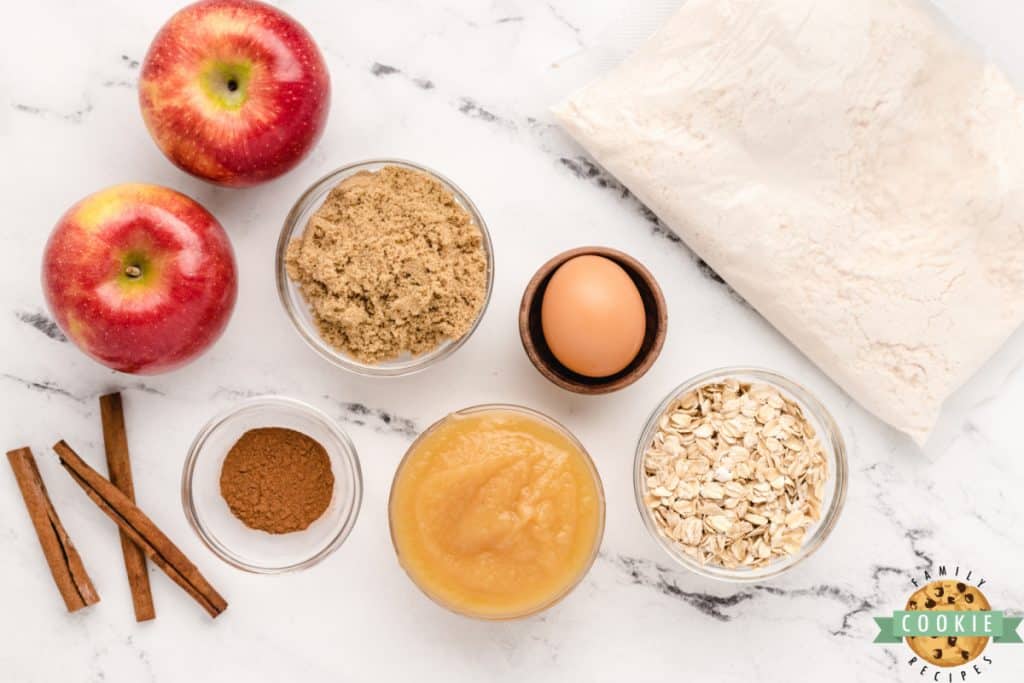 INGREDIENTS IN APPLE CINNAMON OATMEAL COOKIES
Yellow cake mix – A box of yellow cake mix (about 16-18 oz) is the base ingredient of the cookies. You can use a white cake mix or a spice cake mix if you don't have a yellow one on hand.
Oats – Quick oats work best in these cookies, but if you like a chewier cookie, you can use old-fashioned oats instead.
Brown sugar – A little bit of brown sugar adds the perfect amount of sweetness and flavor to the cookies. The brown sugar pairs so well with the apples. For best results, make sure the brown sugar is fresh and soft.
Cinnamon – Two teaspoons of ground cinnamon really add a lot of flavor and cinnamon is just one of those things that you have to have when you are using apples in a recipe.
Egg – One large egg will help to bind everything together.
Applesauce – You will need 3/4 cup of applesauce to provide most of the moisture in the cookies. I usually use unsweetened applesauce since there is enough sweetness in the other ingredients, but you can use sweetened applesauce if you prefer. Either will work great!
Apple – You will need one large apple so that you can add about 1 cup of diced apples to the cookies. Make sure to peel the apple first.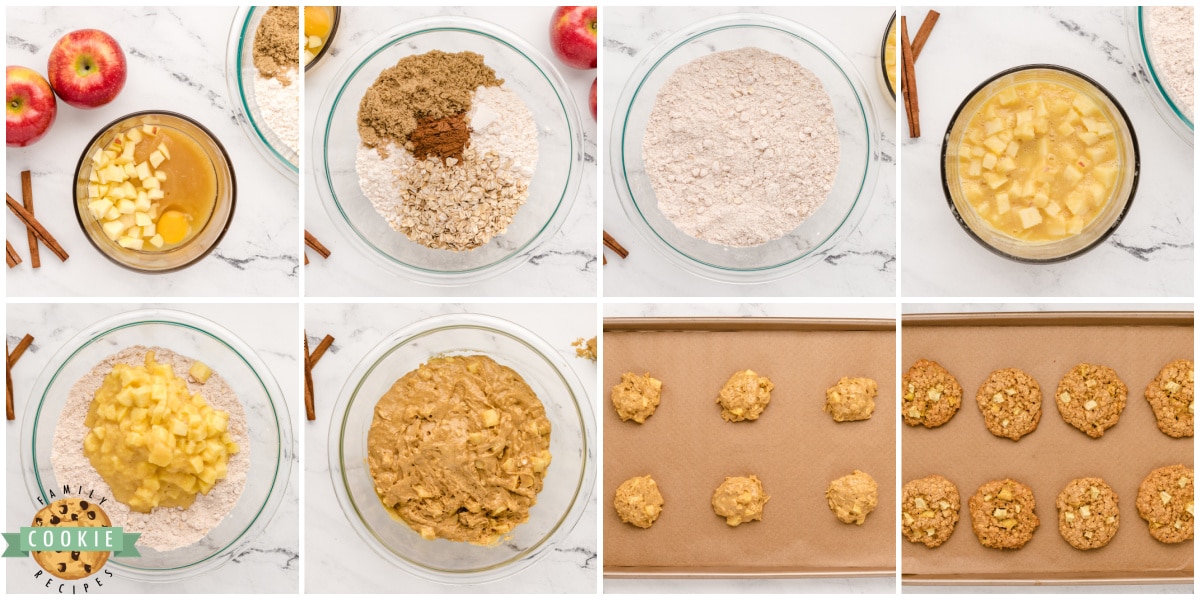 How to make Apple Cinnamon Oatmeal Cookies
Preheat oven to 350°.
In a large bowl, combine the cake mix, oats, brown sugar and cinnamon.  In another bowl, combine the egg, applesauce and chopped apple.
Combine the two mixtures and mix well.
Drop by heaping teaspoonfuls onto a baking sheet and bake for 10-12 minutes or until slightly golden brown.  Let cool on the cookie sheets for a few minutes before transferring to wire racks to cool completely.
What kind of apples work best in cookies?
You can use any apples, but apples that are firm and tart like Granny Smith, Honeycrisp or Pink Lady will work the best. They will add a nice flavor of tang to offset the sweetness of everything else and will taste incredible!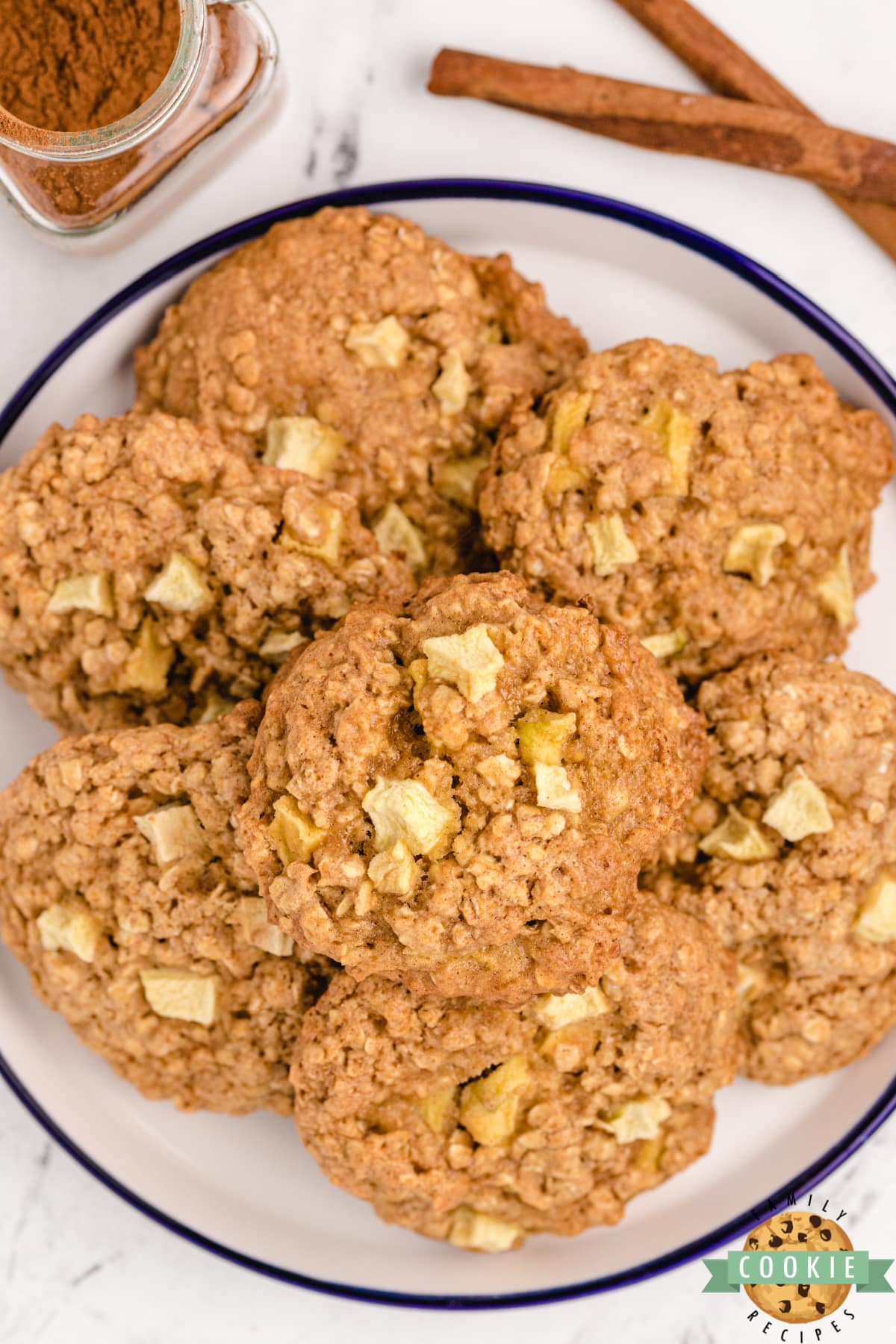 HOW LONG ARE COOKIES GOOD FOR?
You can keep these cooled cookies in an airtight container at room temperature for up to 3 or 4 days. A trick my mother in law taught me is to put a piece of bread in the cookie container, the cookies absorb the moisture from the bread and stay soft for a couple days longer.
CAN I FREEZE COOKIES MADE WITH A CAKE MIX?
Yes, these cookies freeze wonderfully. Simply place the cookies into an airtight container and freeze for up to three months. Let the cookies thaw on the counter before eating so that they are softer enough to bite into. This only takes a few minutes for a single cookie or two.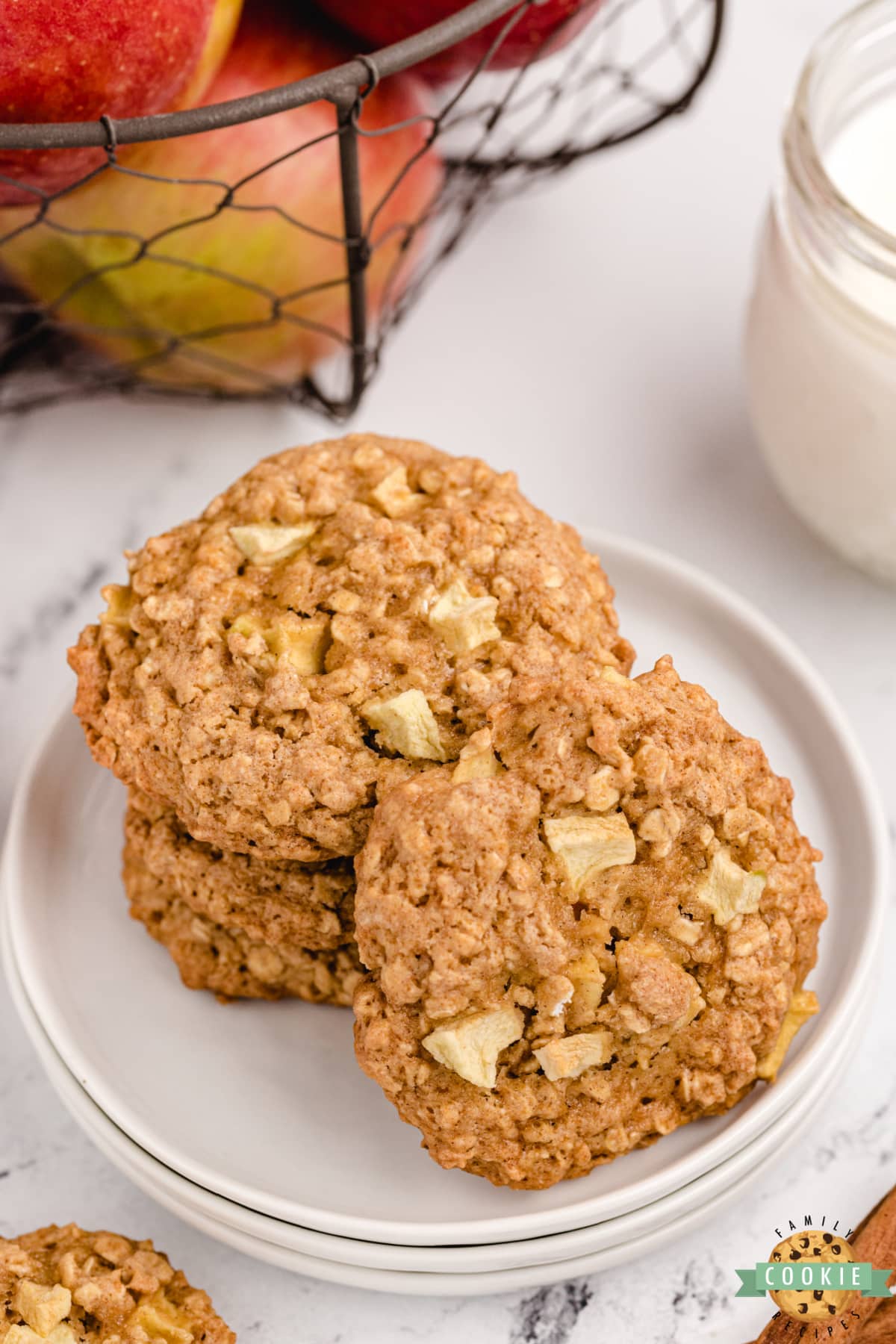 HOW DO YOU MAKE PERFECT CAKE MIX COOKIES?
Making Cake Mix cookies is easy! Here are a few tips to getting perfect cookies every time!
Preheat the oven. This will help your cookies turn out right every time!
Use a cookie scoop! If you want all your cookies to be perfectly shaped and have them all be the same size, a cookie scoop is the way to go.
Use parchment paper or a silicone baking mat. Doing this will make it really easy to remove the cookies from your cookie sheet so that you don't have to scrape them off the pan – they will just slide right off in perfect shape! Do not grease the parchment!
Don't over bake the cookies – when I take mine out of the oven, they still look slightly under baked but they will continue to bake on the cookie sheet for a couple more minutes so that's ok!
Be careful not to over mix. Just mix enough to combine the ingredients.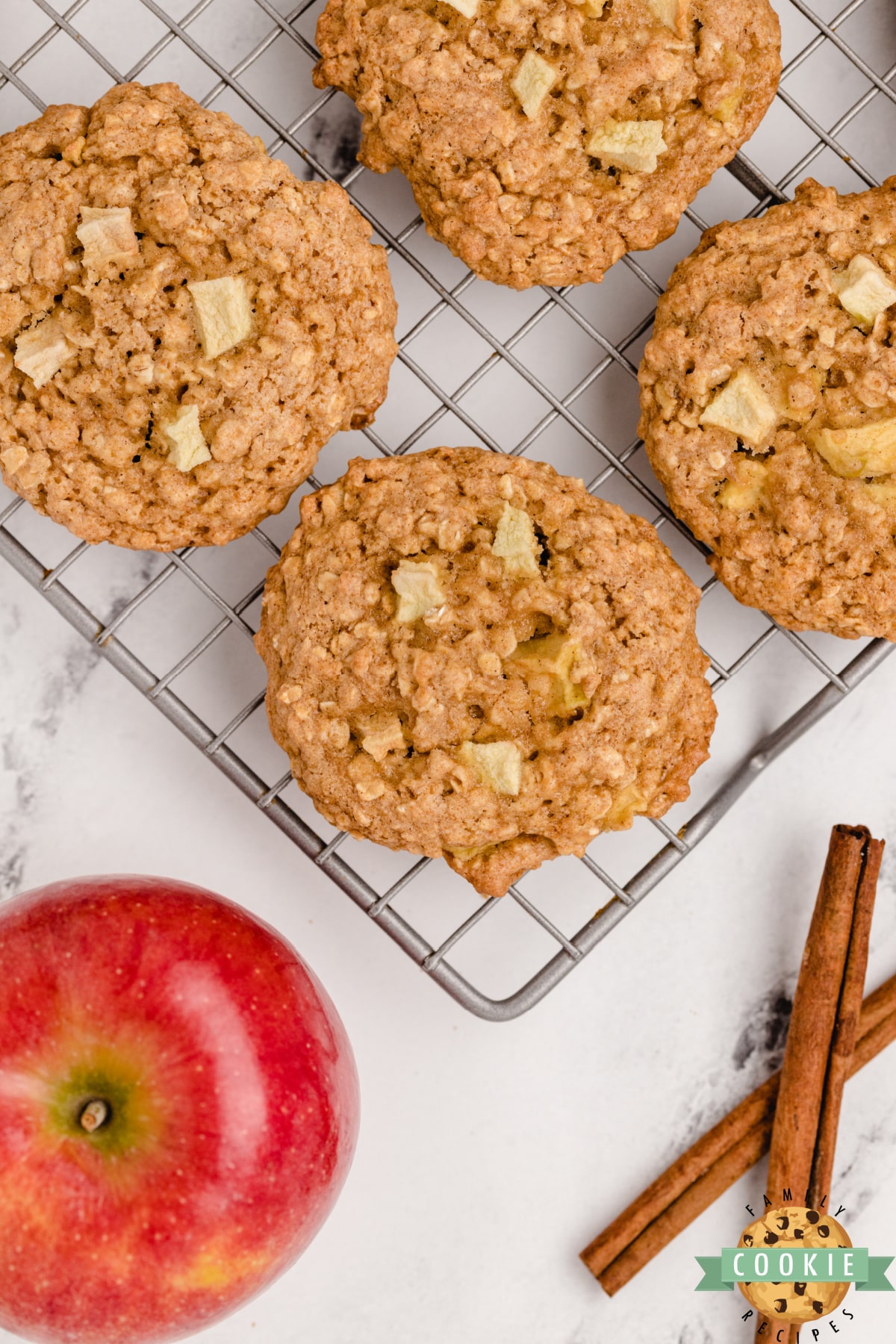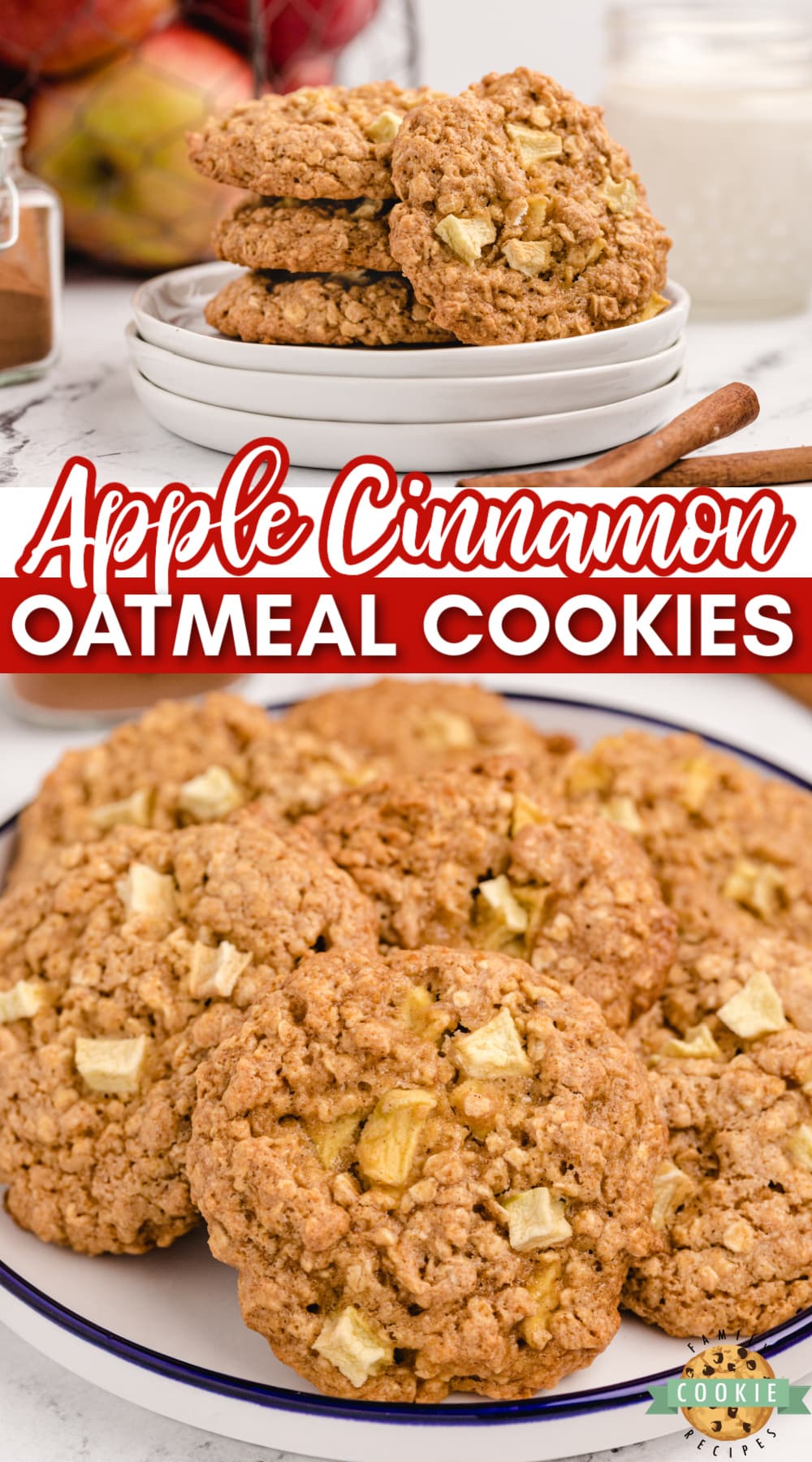 Apple Cinnamon Oatmeal Cookies made with a cake mix, fresh apples, applesauce and a few other basic ingredients. Delicious cake mix cookie recipe that tastes like apple pie!



I can't believe this little one started preschool today. It shouldn't be that big of a surprise…I mean, I have had 4 other kids start and finish preschool. But for some reason, it just seems like such a big deal. It's going to take a little time to get used to having six whole hours of peace and quiet to myself every week! Ok, so that actually sounds pretty nice. But just after a couple of hours, I'm already missing my little sidekick. She is so full of life and energy and songs and chatter that it is extremely noticeable when she isn't around.