Lemon Cake Mix Cool Whip Cookies are a fun & tasty 3 ingredient, soft lemony cookie recipe that everyone loves! Cake mix, Cool Whip and an egg combine for a super simple lemon cookie that tastes delicious.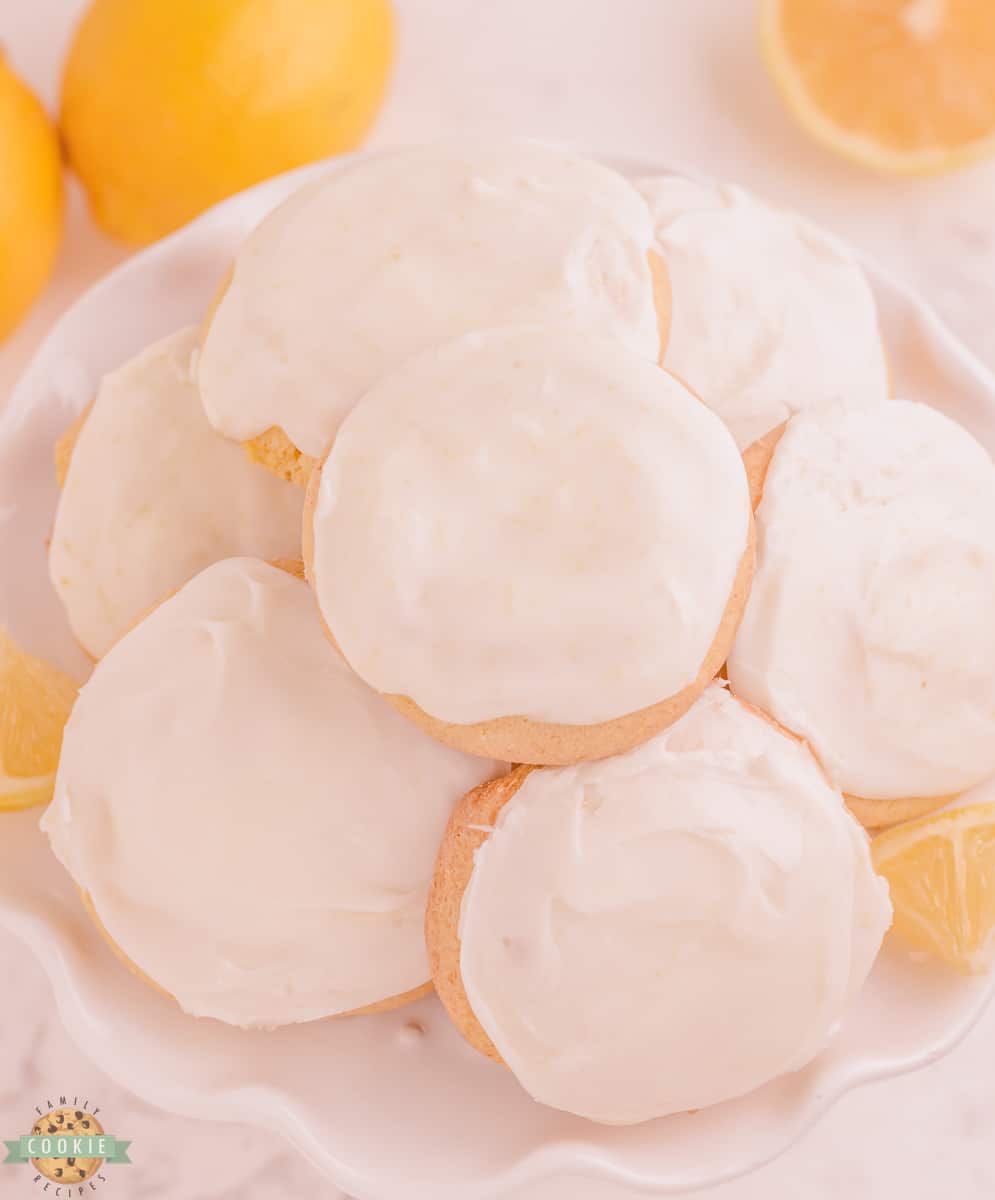 Making these lemon cake mix cookies is so simple that you can have fresh baked cookies ready to eat in under 30 minutes! Being able to serve up cookies on the fly is always great, especially when it is a low maintenance recipe like this one. Simple and delicious treats, what is not to love about these Cool Whip Cookies??
What are Cool Whip Cookies?
Cool whip cookies are a super simple, one bowl cookie recipe that uses whipped topping, cake mix, and an egg to create a wonderful flavored dough that is perfectly sweet. Most recipes featuring cool whip have the cookies rolled in powdered sugar for crinkle-like appearance.
We have modified the recipe and are making these easy cake mix and cool whip cookies with a simple lemon glaze on top. The results are cookies packed with tangy, sweet flavors you are going to love!
Why you'll love these Cake Mix Lemon Cookies
Easy recipe. I know I'm not the only one who loves a simple recipe that involves the least amount of effort as possible. With these cake mix cool whip cookies you can have a fantastic treat with very little work.
Simple ingredients. There is nothing better than a recipe with very few and very simple ingredients. With only 7 total ingredients and some of them being staple kitchen and pantry items, the chances are strong you can whip up this recipe fast.
Tastes amazing. Who would have known that a boxed cake mix, cool whip and and egg could create such a tasty and delicious treat? The wonderful combination of flavors and texture in these frosted cookies is simply heavenly.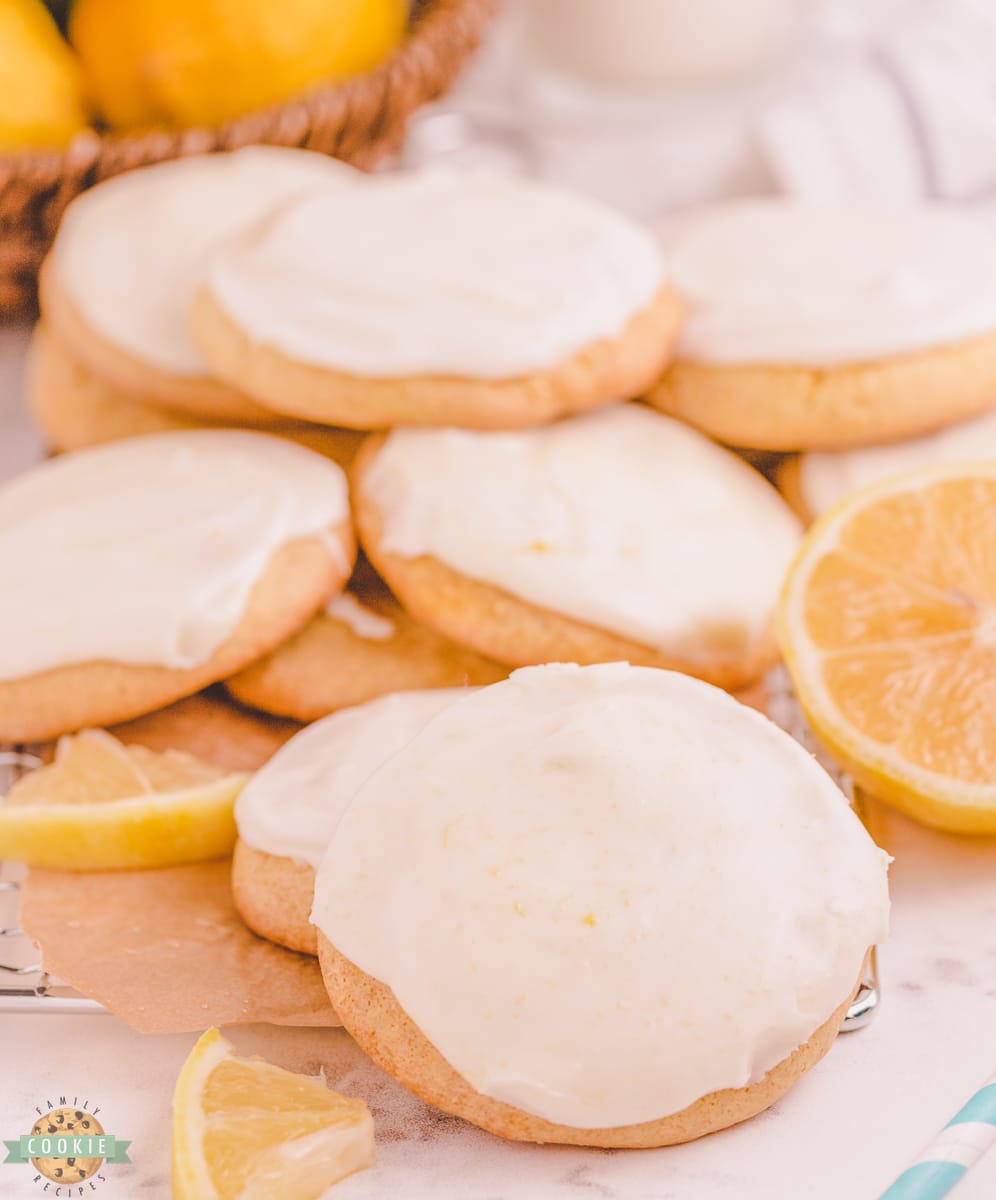 Lemon Cool Whip Cookies Ingredients
Cake mix: You will need 1 standard sized (15.25ounce) box of lemon flavored cake mix. Pick your favorite kind, any brand will work great.
Cool whip: You need to use one 8-ounce tub of thawed cool whip topping to give the cookies a lovely soft and light texture.
Egg: You will need 1 large egg to bind the cookie dough together well.
Glaze
Powdered sugar: Use 1 cup of powdered sugar to make the glaze smooth and sweet.
Butter: You will need 2 tablespoons of butter, melted, to help make a creamy and rich tasting glaze.
Lemon juice: Use 1 tablespoon of lemon juice for a nice tangy flavor.
Lemon zest: Using 1 teaspoon of lemon zest can really add a punch of fresh lemon flavor to the cookies.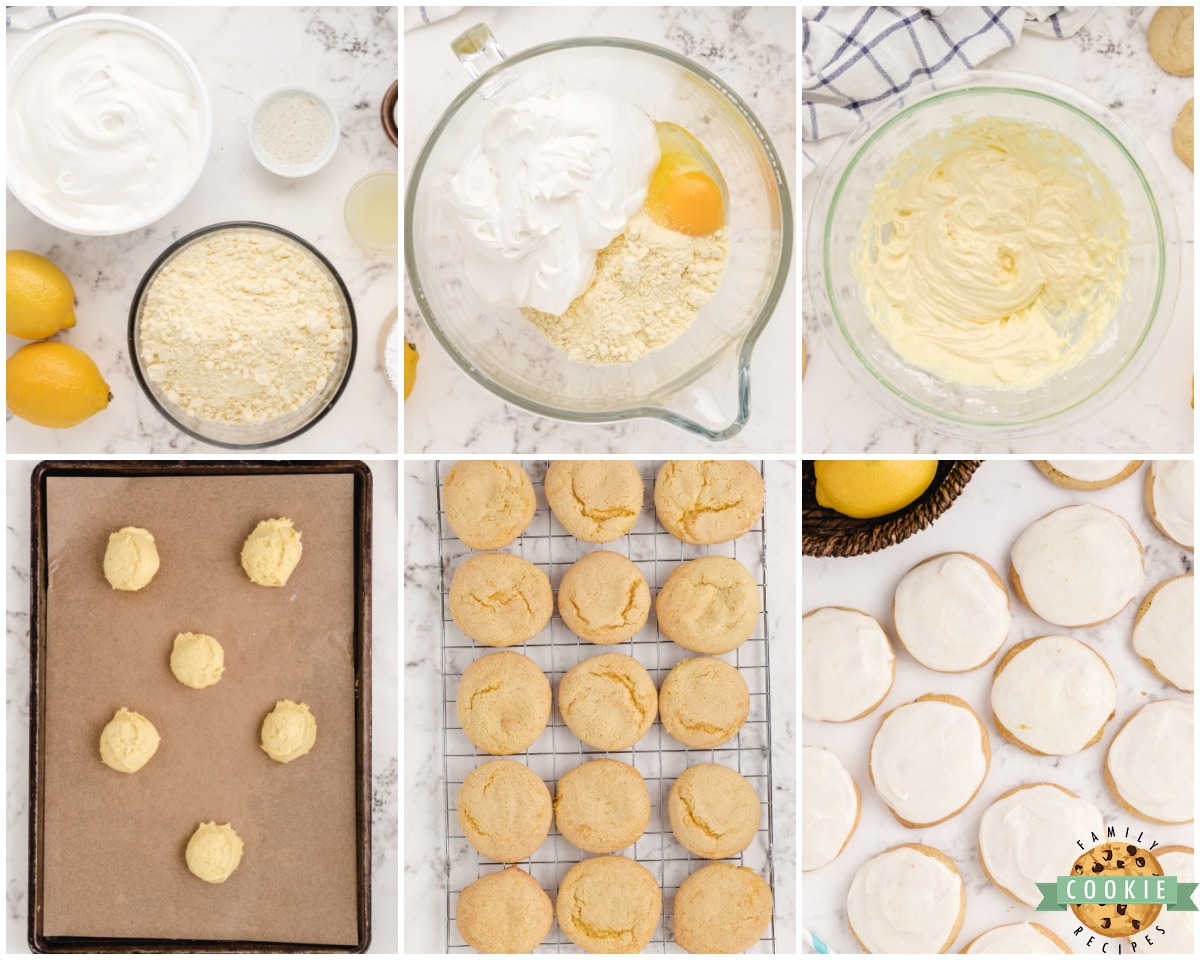 How to make Lemon Cake Mix Cool Whip Cookies
Prep
Get started by preheating your oven to 350 degrees F. Then, line a baking sheet with parchment paper and set it aside.
Make dough
In a medium size mixing bowl, combine the cake mix, cool whip and egg, stir until well mixed.
Then, using a cookie scoop, scoop the dough and place it onto your prepared baking sheets. Keep each ball of dough about 2 inches apart, give them room to spread out without touching too much.
Bake
Proceed to bake in the preheated oven for 10-12 minutes or until the cookies are lightly browned on top.
Next, remove the cookies from the oven and allow them to rest on the baking sheet for 5 minutes before transferring to a wire rack to cool completely. The cookies will appear puffy out of the oven, as they cool, they will flatten as they rest.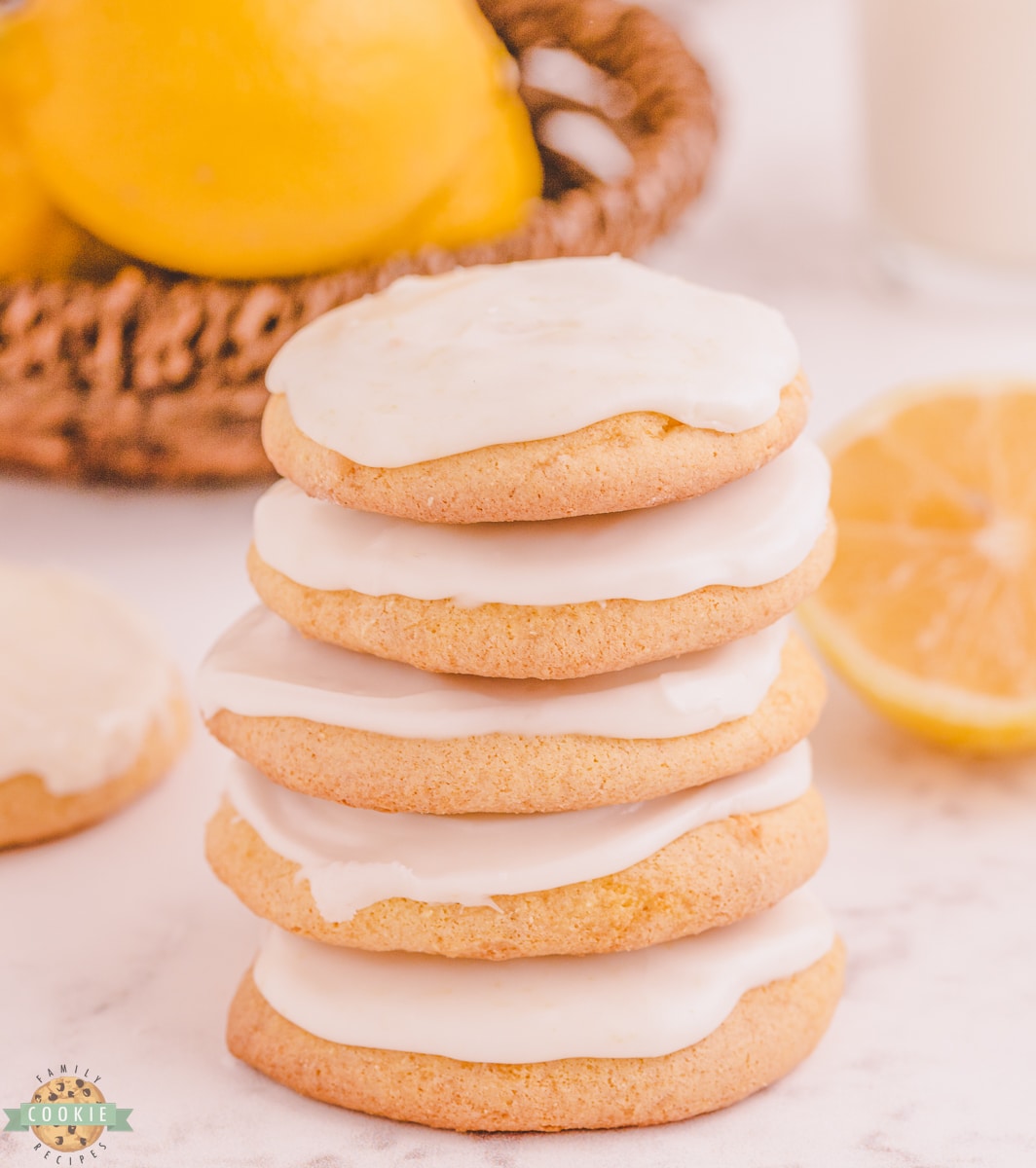 Making the glaze
Now, in a small bowl combine the powder sugar, melted butter, lemon juice and lemon zest. Whisk until well combined and smooth.
Continue to spoon the glaze onto each cookie, about 1 teaspoon at a time. Gently spread the glaze around to coat the tops. Let set for a few minutes, serve fresh and enjoy!
How long are cool whip cookies good for?
These cookies can be stored in an airtight container for up to 5 days. For best tasting results eat within 3 days. I do not recommend storing these lemon cookies made with cake mix and cool whip in the fridge as the cold air can cause the cookies to dry out more quickly.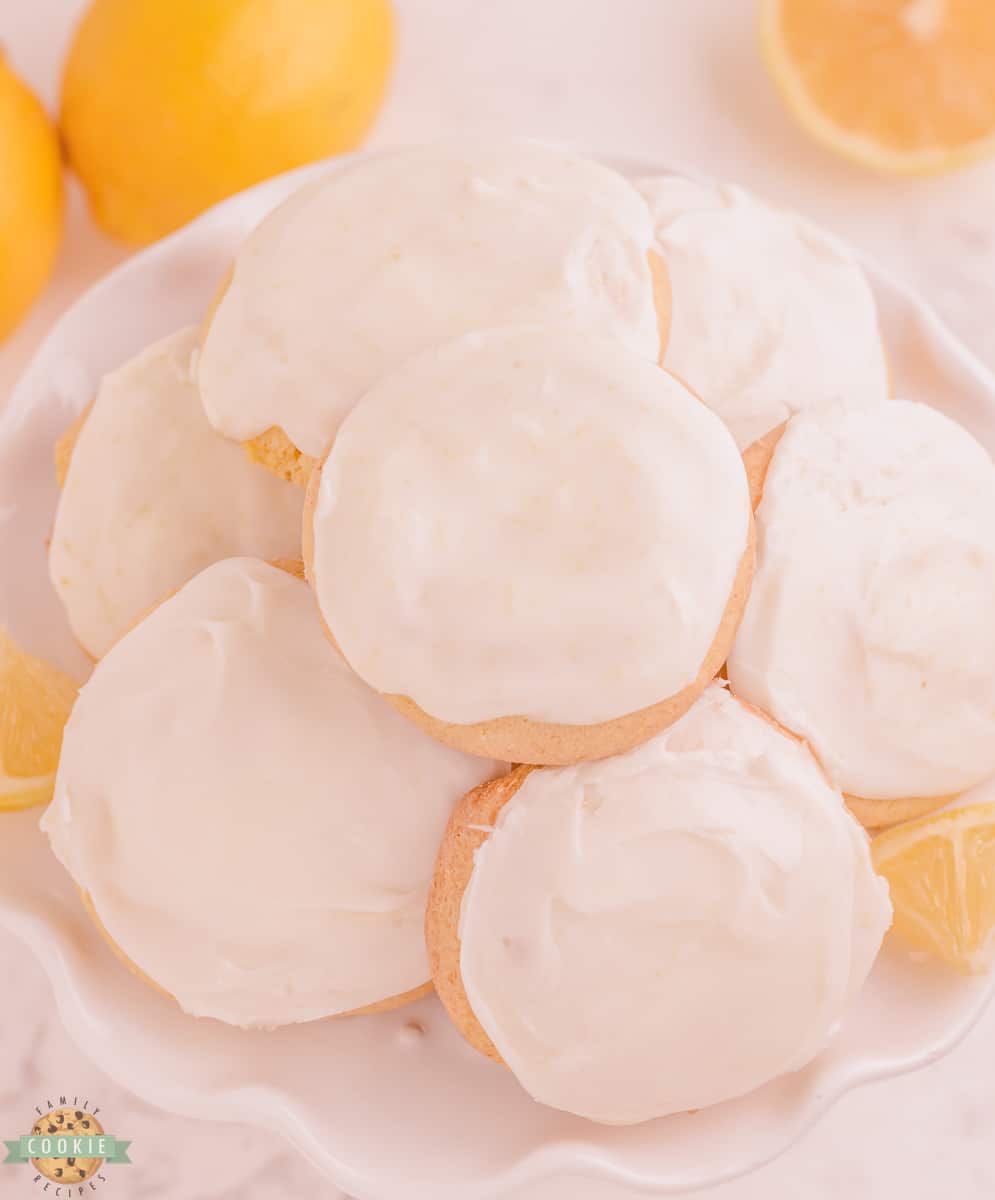 Can I freeze lemon cool whip cookies?
These lemon cake cookies with cool whip are great for freezing if you want to make them last longer. Simply place the cookies in an airtight container in the freezer for up to 3 months. Thaw before eating. For easier storage, I recommend placing a piece of parchment paper between the cookie layers so that the glaze doesn't stick cookies together.


As my kids get older, I rejoice when I see them delighting in simple play! My two youngest quickly saw the potential in a large box we got from a furniture purchase. Aren't those the best?! A big ole box can equal hours of play!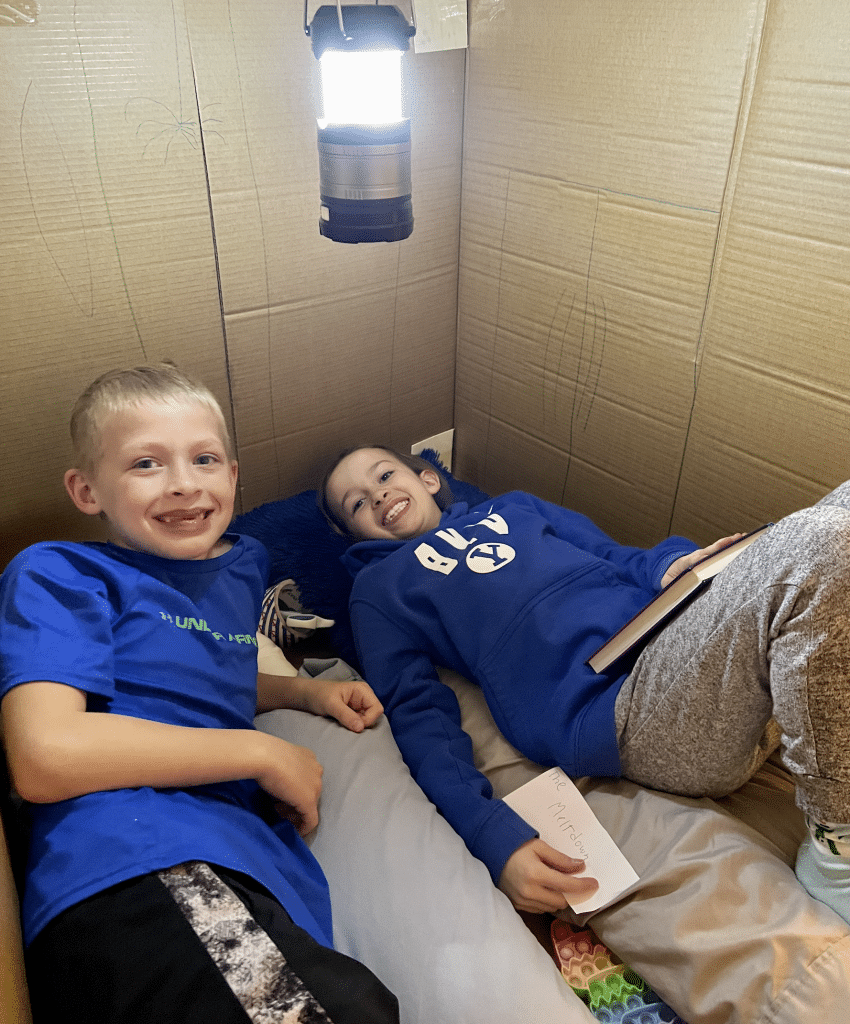 Lemon cake mix cool whip cookies are wonderful 3 ingredient cookies perfect for any occasion. Topped off with a lemony glaze these simple lemon cookies are the perfect blend of tangy and sweet.