White Chocolate Strawberry Cake Mix Cookies are soft & chewy cookies that need just 4 ingredients! Lovely pink Strawberry Cake Mix cookie recipe that needs a cake mix, 2 eggs, oil and white chocolate chips!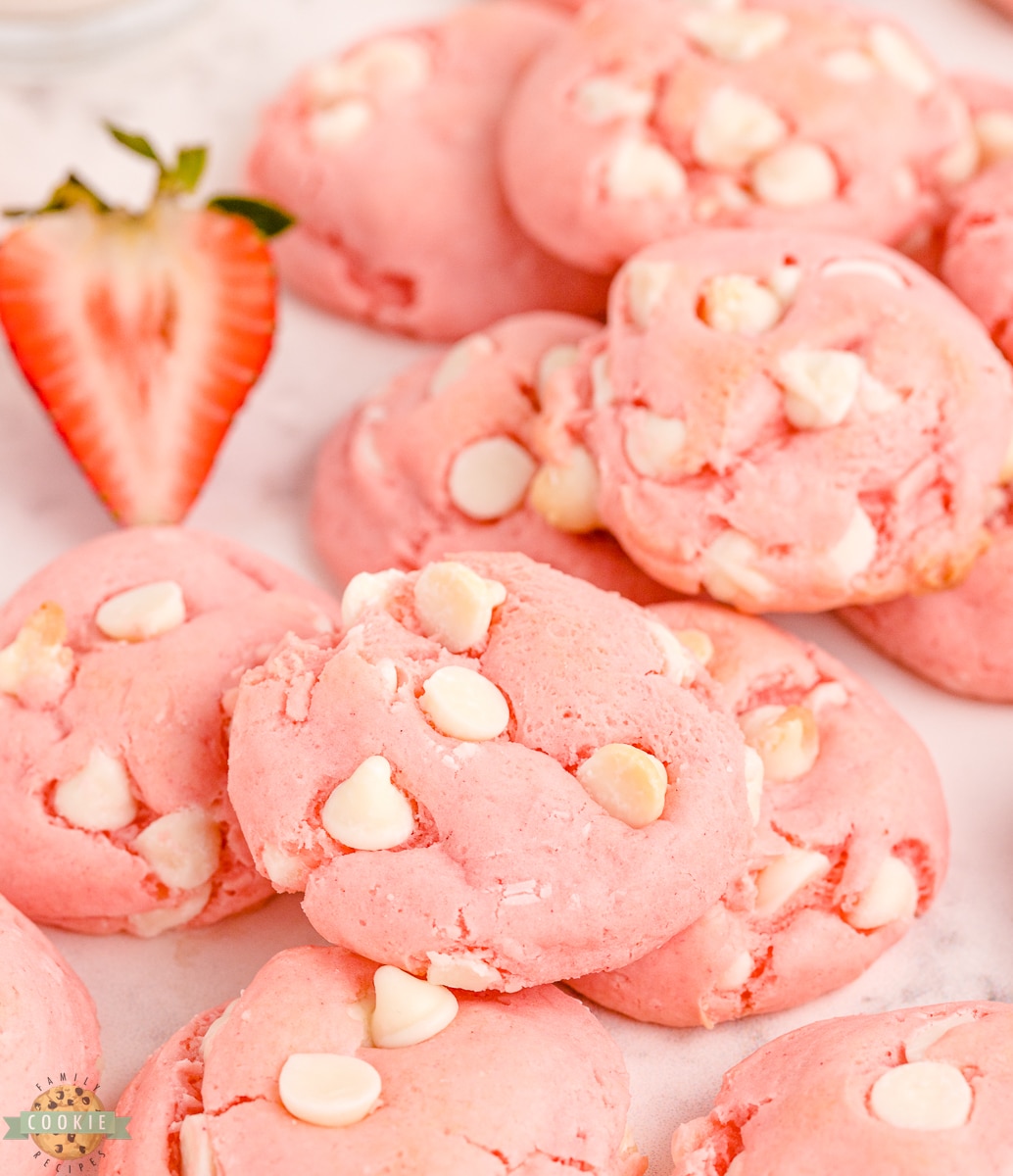 You are going to love these strawberry cake mix cookies with white chocolate chips almost as much as we do. They are packed with flavor, super easy to make, and only take about 5 minutes of actual prep to become the best cookies you have ever eaten. This cake mix cookie recipe is great for many occasions, a fun Valentine's Day treat for your kids, or a baby shower, really there is no wrong occasion for these sweet strawberry cookies. You do not need an excuse to whip up a tasty batch of deliciousness to enjoy these cookies. Happy Baking!
What are strawberry cake mix cookies?
Cake mix cookies are a wonderful way of getting your favorite cookie texture and boxed cake flavor without all of the work. They start with three easy ingredients. Then choose your favorite special ingredient, like M&M's or white chocolate chips, to make them even better and more unique. In our recipe, we are using a box of strawberry cake mix and white chocolate chips to get a sweet combination of spring in every chewy cookie bite.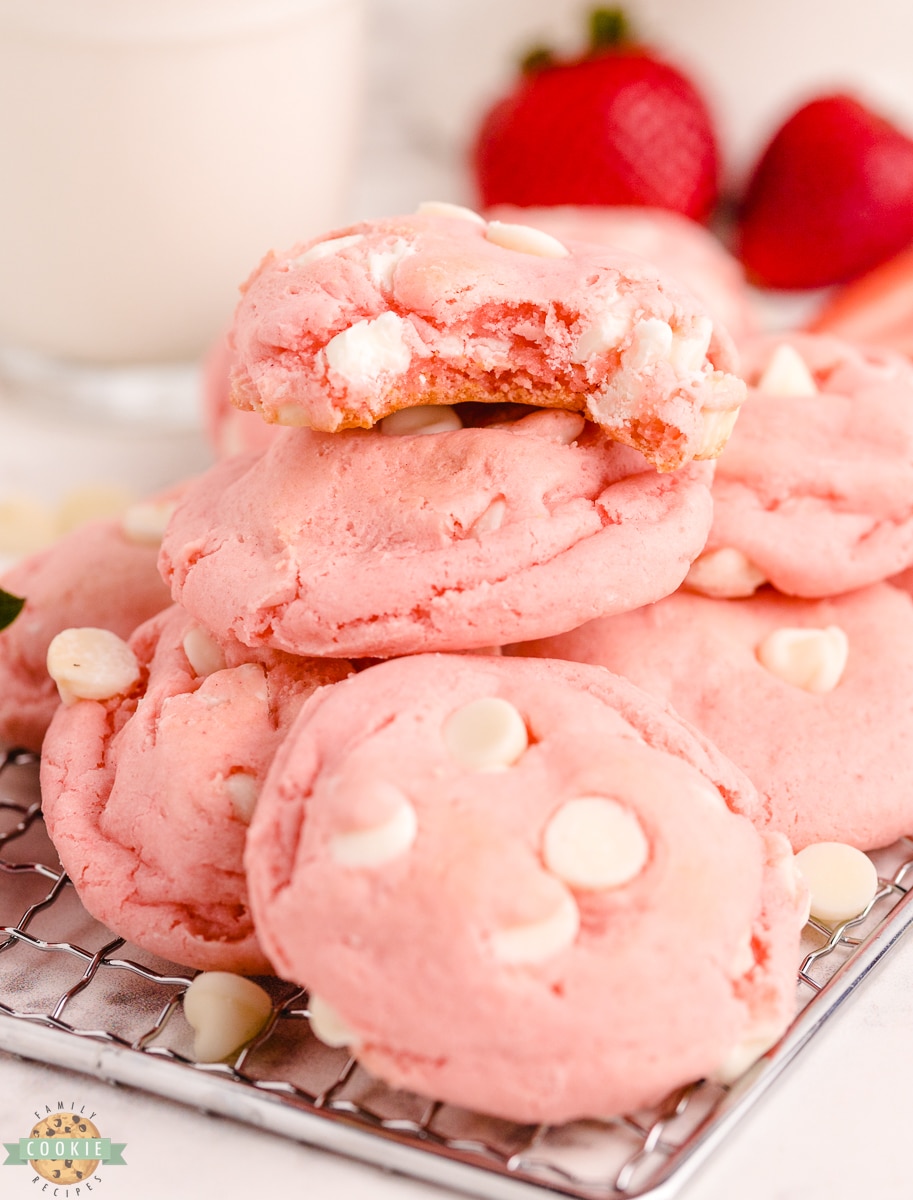 Strawberry White Chocolate Cookie ingredients
-Boxed cake mix: You will need 1 15.25 ounce box of strawberry cake mix to achieve a wonderful strawberry flavor. I love the Betty Crocker super moist cake options, they never disappoint!
-Egg: Use 2 eggs to help bind the mix together to form perfect cookies.
-Oil: You will need ⅓ cup of melted butter to give these cookies the needed fats and rich taste. Vegetable oil can be used in its place but butter gives so much more flavor to this recipe.
-White chocolate chips: Use 1 ½ cups of white chocolate chips to make the cookies taste incredible.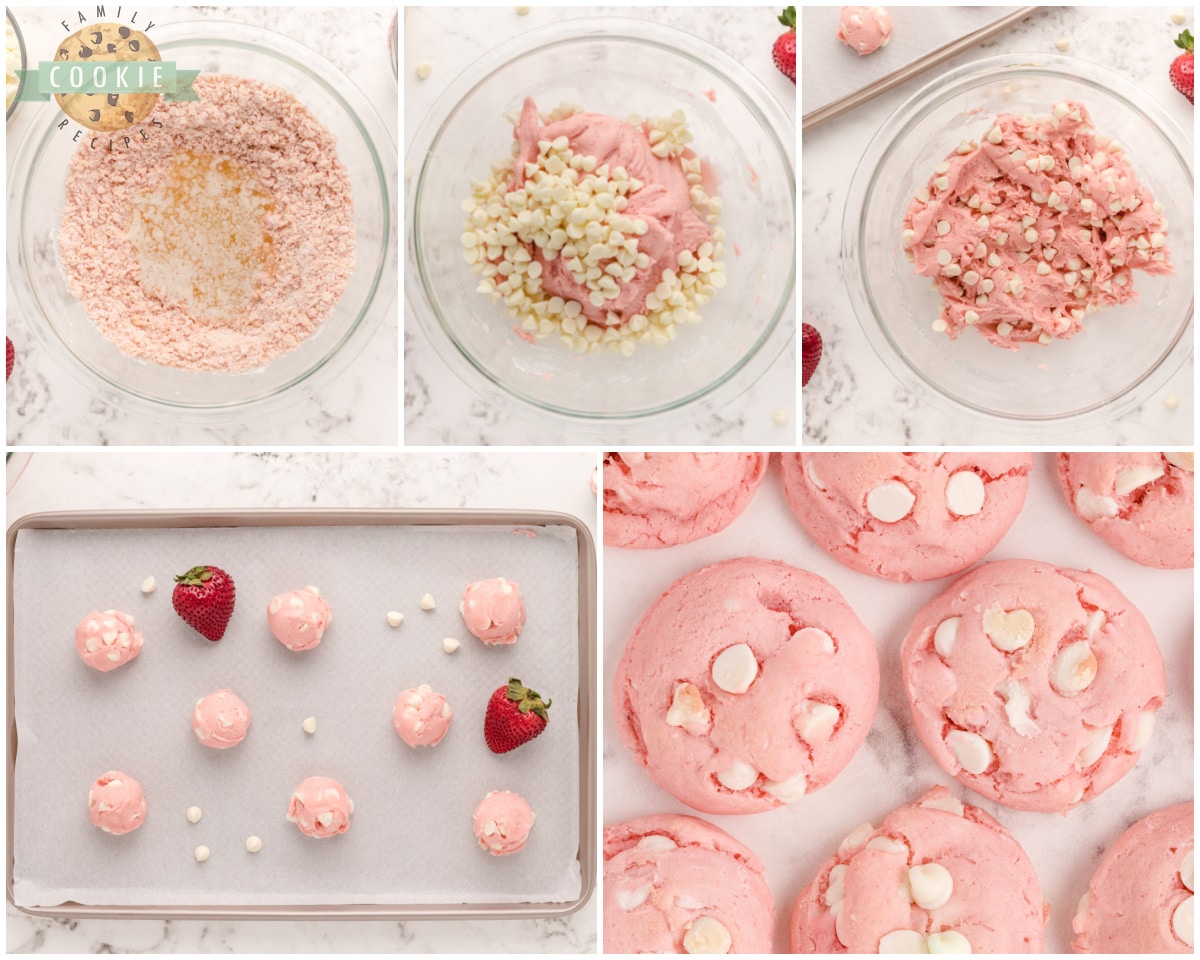 Easy step by step on how to make White Chocolate Strawberry Cake Mix Cookies
Preheat your oven to 350 degrees F. Then line a cookie sheet with parchment paper. Set aside.
Prepare the dough
In a medium-size mixing bowl combine the cake mix and eggs. Mix thoroughly.
Next, add in the melted butter and then mix again.
Lastly, add in your white chocolate chips and stir to combine. This is where you can use whatever special ingredient you chose, M&M's always have fun holiday special options that would make these cookies extra fun!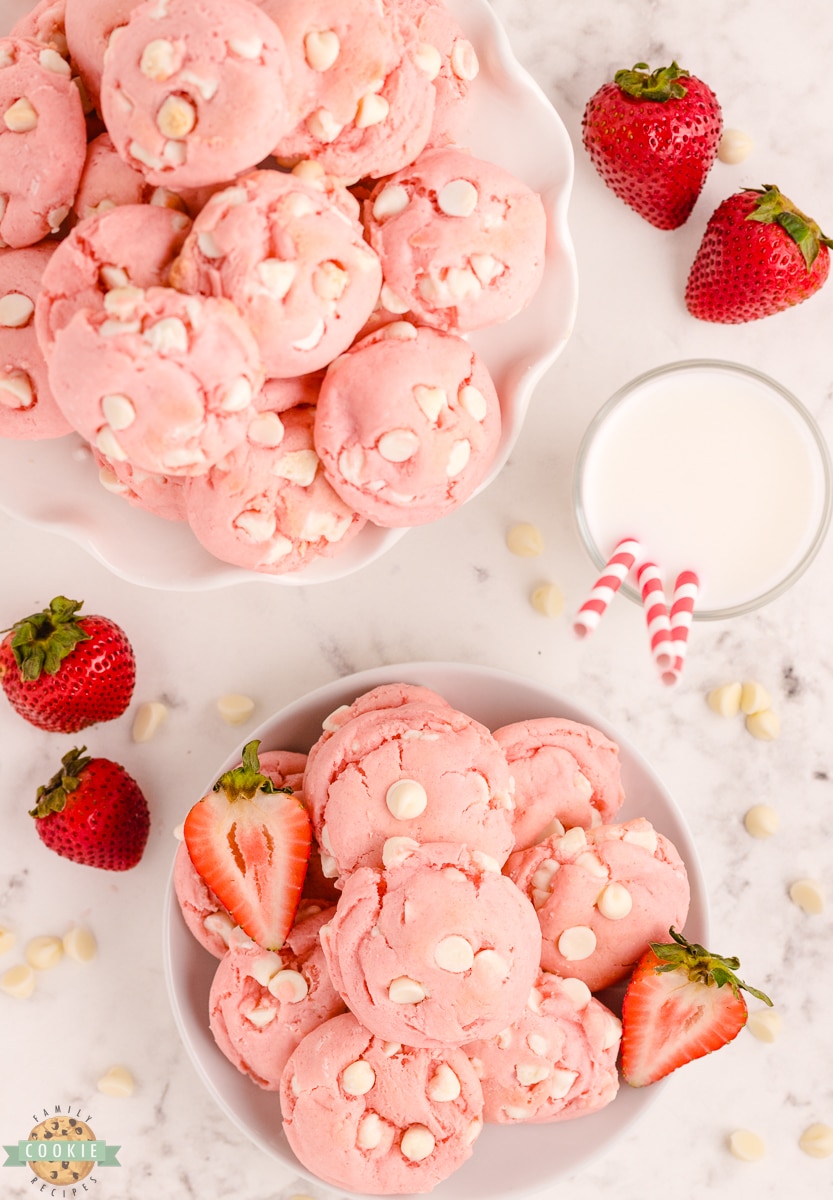 Roll the cookies
Using a medium-size cookie scoop, scoop the dough into 1.5 tablespoon-sized balls and place them onto the prepared cookie sheet. Do not be shy about adding a few more chocolate chips on top if desired. More chocolate equals more yumminess!
Bake
Place cookie sheet in the oven and bake for 8-10 minutes. Then let rest for 3-5 minutes on the baking sheet before transferring to a wire cooling rack.
Cool completely before serving. Enjoy!
How to store chocolate chip cake mix cookies?
These cookies will last up to 2 weeks when stored in an airtight container at room temperature. You could keep them stored in the fridge if you are afraid that the chocolate will melt due to hot weather but it is not recommended or needed because the fridge could cause the cookies to dry out and not taste as great.
Can I alter this cookie recipe by using a different cake flavor?
You bet you can! That is what I love about this recipe, it is so easy to change it up and create new fun cookie flavors. A yellow cake mix would be great for a baby shower or Easter celebration. Using a chocolate cake mix for the chocolate lovers in your life would always be a welcomed treat. This recipe is great to test out different cake flavors and candy combinations to decide what you love best. Let your creativity run wild!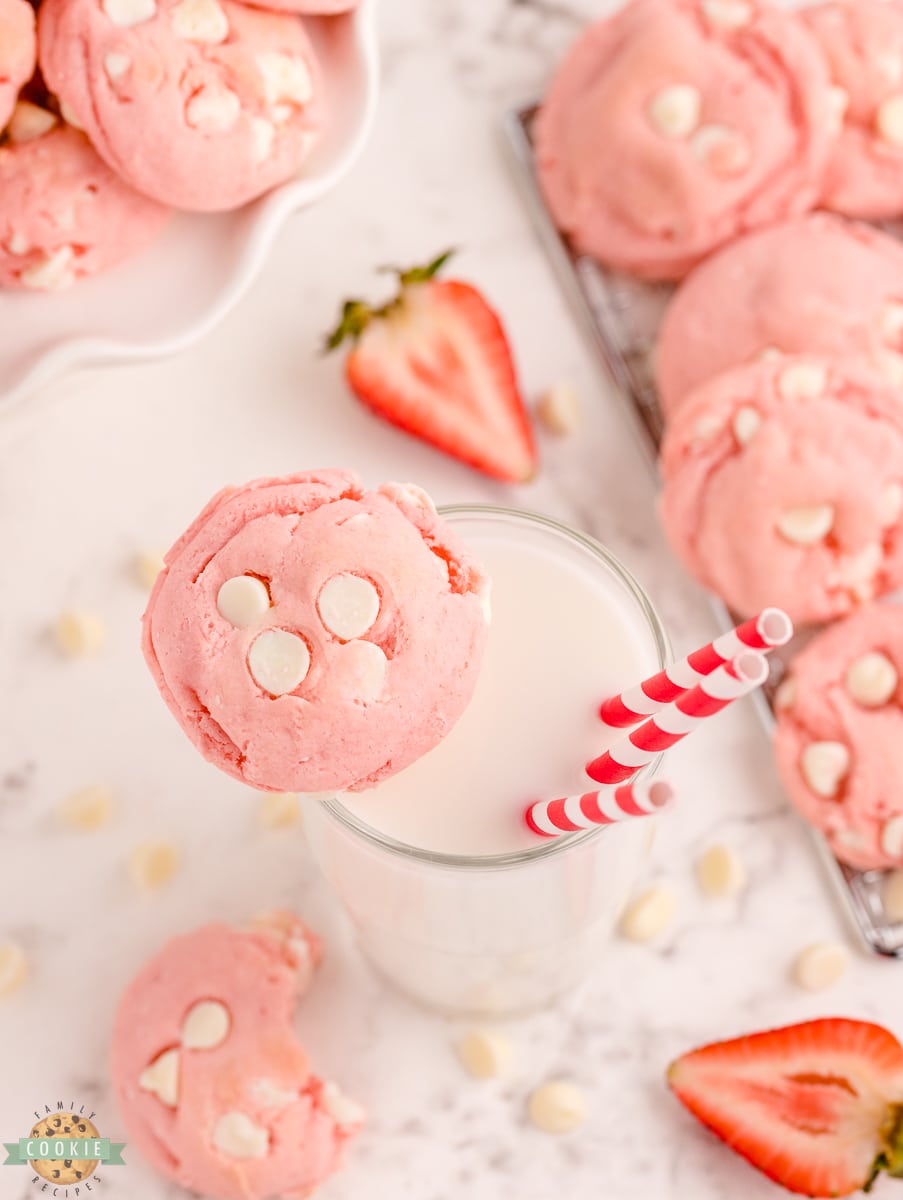 Can you Freeze Cookies?
I love freezing cookies! There are 2 ways I prefer to freeze them. The first is by freezing the unbaked cookie dough balls. I scoop & shape the balls round with my hands, then freeze them in 1 layer on a cookie sheet. You can position them as close together as possible without touching. Freeze, then once solid, transfer them to a ziplock freezer bag. Then you can pull them out and bake them whenever you want! You'll want to either let them thaw on a cookie sheet while preheating the oven, or add a couple minutes to the bake time to compensate for frozen cookie dough.
The second way is to just freeze the baked cookies. My mother in law does this ALL the time. They turn out pretty well, albeit a tiny bit drier and more crumbly once thawed. Oh and you've got to make sure you thaw them. Frozen cookies are pretty hard to eat. Thankfully, they only take about 20 minutes or so to thaw out.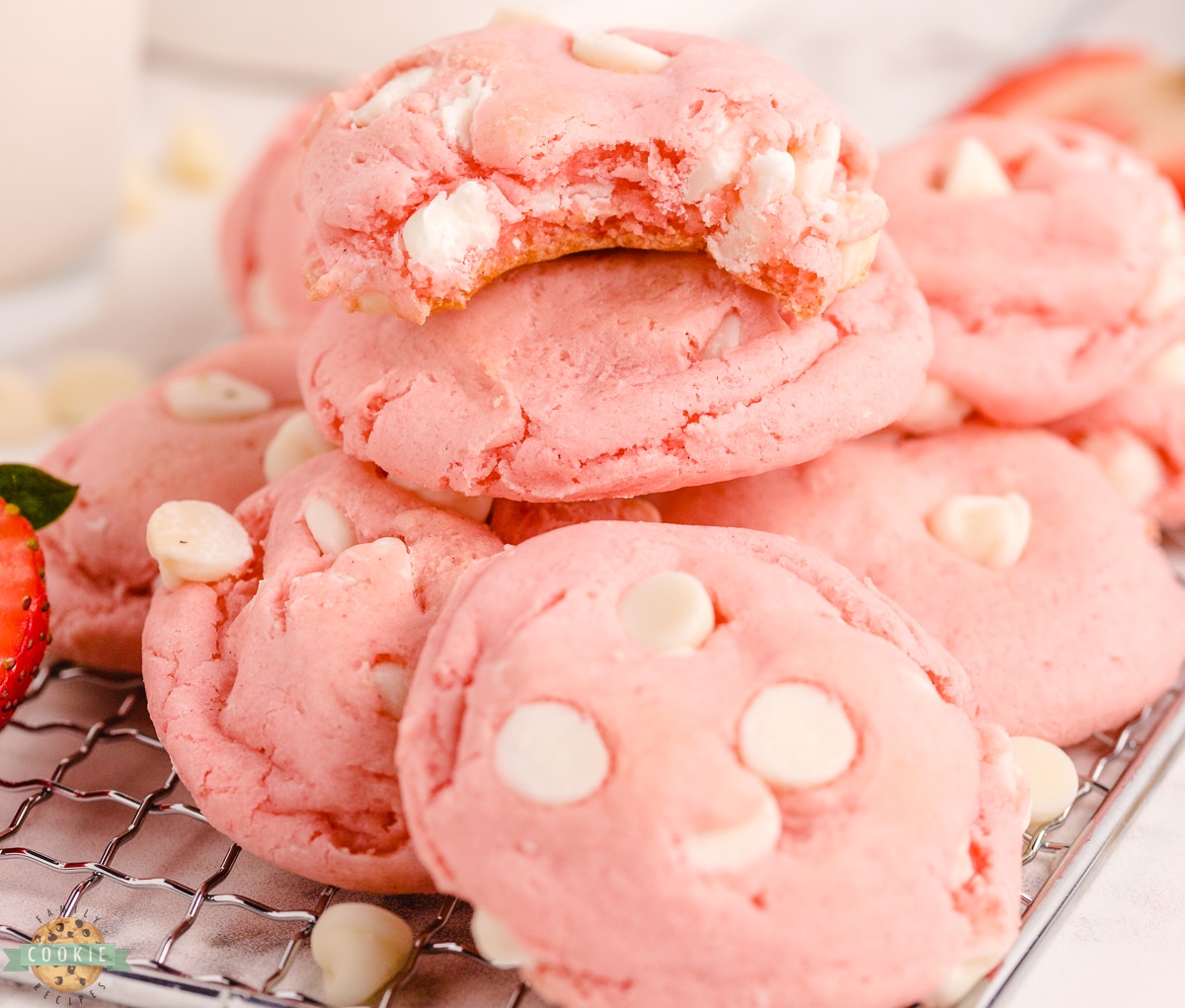 Check out these other easy cake mix cookie recipes soon!

I picked up this wild looking birthday candle on a whim and oh my word, it ended up being amazing! So fun and so worth the $5 to see the look of surprise and wonder on everyone's face when it opened up and began spinning!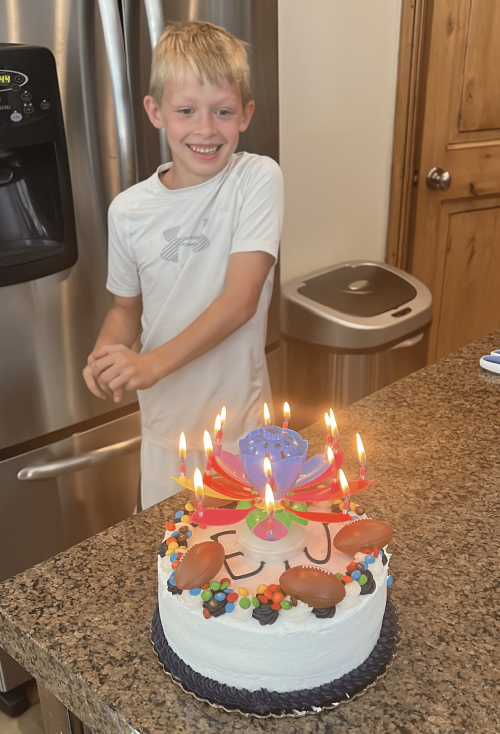 This crowd-pleasing recipe only takes 4 ingredients to make and a few minutes of prep. You're going to love this white chocolate strawberry cake mix cookies recipe!