Easy Unicorn Cookies with their bright colors and cute designs, are sure to delight both children and adults alike! This cake mix cookie recipe creates colorful and whimsical treats are perfect for any occasion, whether it's a birthday party, a baby shower, or just a fun afternoon snack.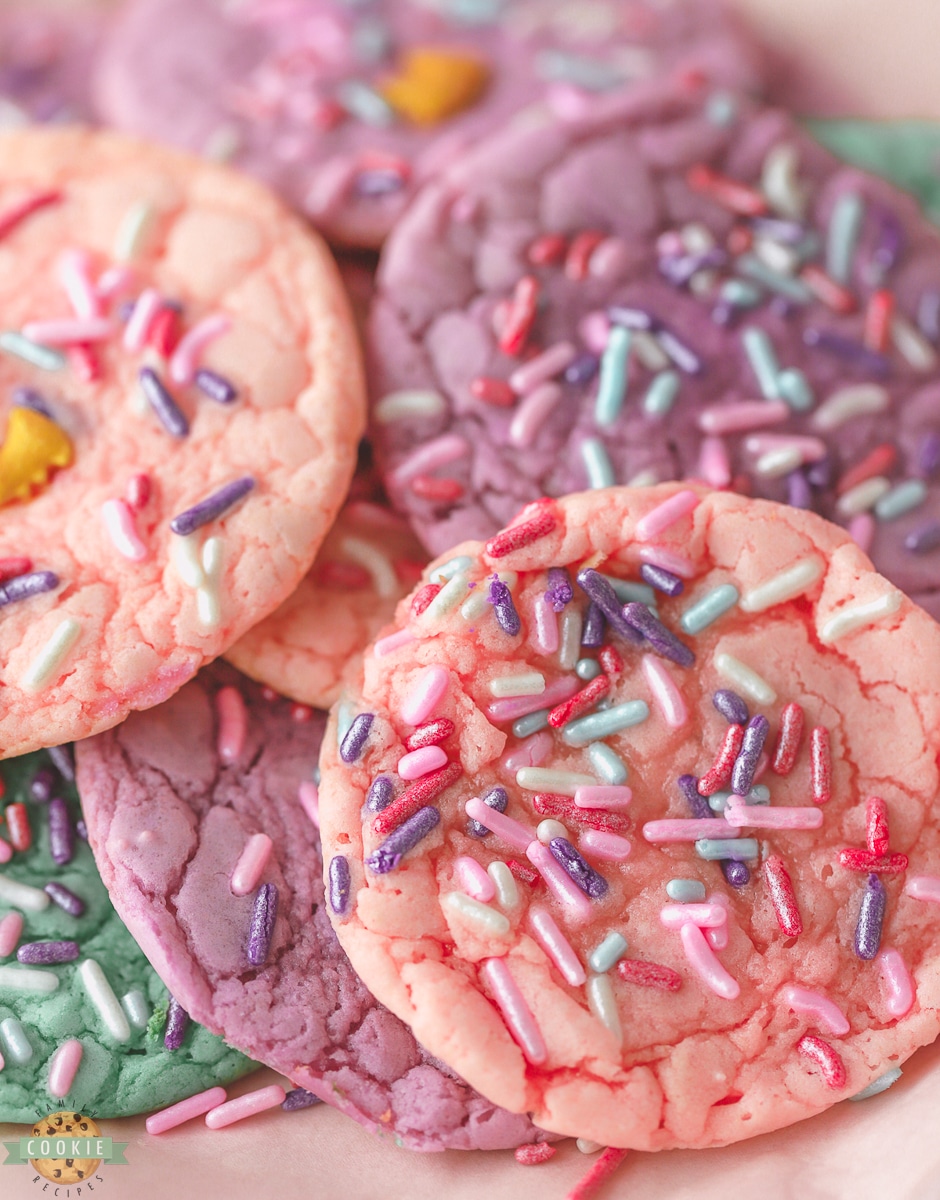 These festive unicorn cookies are easy to make, they come together quickly and taste just as magical as you would think by looking at them. When you make these wonderfully delicious soft sugar cookies, you get colorful sprinkle-covered treats that the unicorn lovers in your life are sure to enjoy!
What are Unicorn Cookies?
Making Easy Unicorn Cookies is a fun and easy activity that anyone can do. All you need is some basic ingredients, such as eggs, oil and a box of cake mix, as well as some food coloring and decorating supplies. The dough is easy to make and can be customized with your favorite colors and flavors. Once the cookies are baked and cooled, you can decorate them with frosting, sprinkles, and other fun toppings to create your own unique designs. Whether you're a beginner baker or an experienced pro, Easy Unicorn Cookies are a fun and creative way to express your love of all things unicorn.
Tips & Tricks for making fun & delicious cookies
Use Gel food coloring: When making unicorn cookies, it is important to use gel food coloring instead of liquid food coloring. Gel food coloring is thicker and more concentrated, which means you need less of it to achieve the desired color. It also won't water down the dough or icing, which can affect the texture and consistency of the cookies.
To use gel food coloring, start with a small amount and mix it into the dough or icing thoroughly before adding more. This will help you achieve the exact shade you want without going overboard. You can also mix different colors together to create custom shades for your unicorn cookies.
Adding edible glitter: Edible glitter is a fun and festive way to add some sparkle to your unicorn cookies. It comes in a variety of colors and sizes, so you can choose the perfect glitter for your cookies.
To add edible glitter, simply sprinkle it over the dough or icing after you've piped it onto the cookies. You can also mix it into the dough or icing before piping it for a more subtle effect. Just be sure to use edible glitter, as regular glitter is not safe to eat.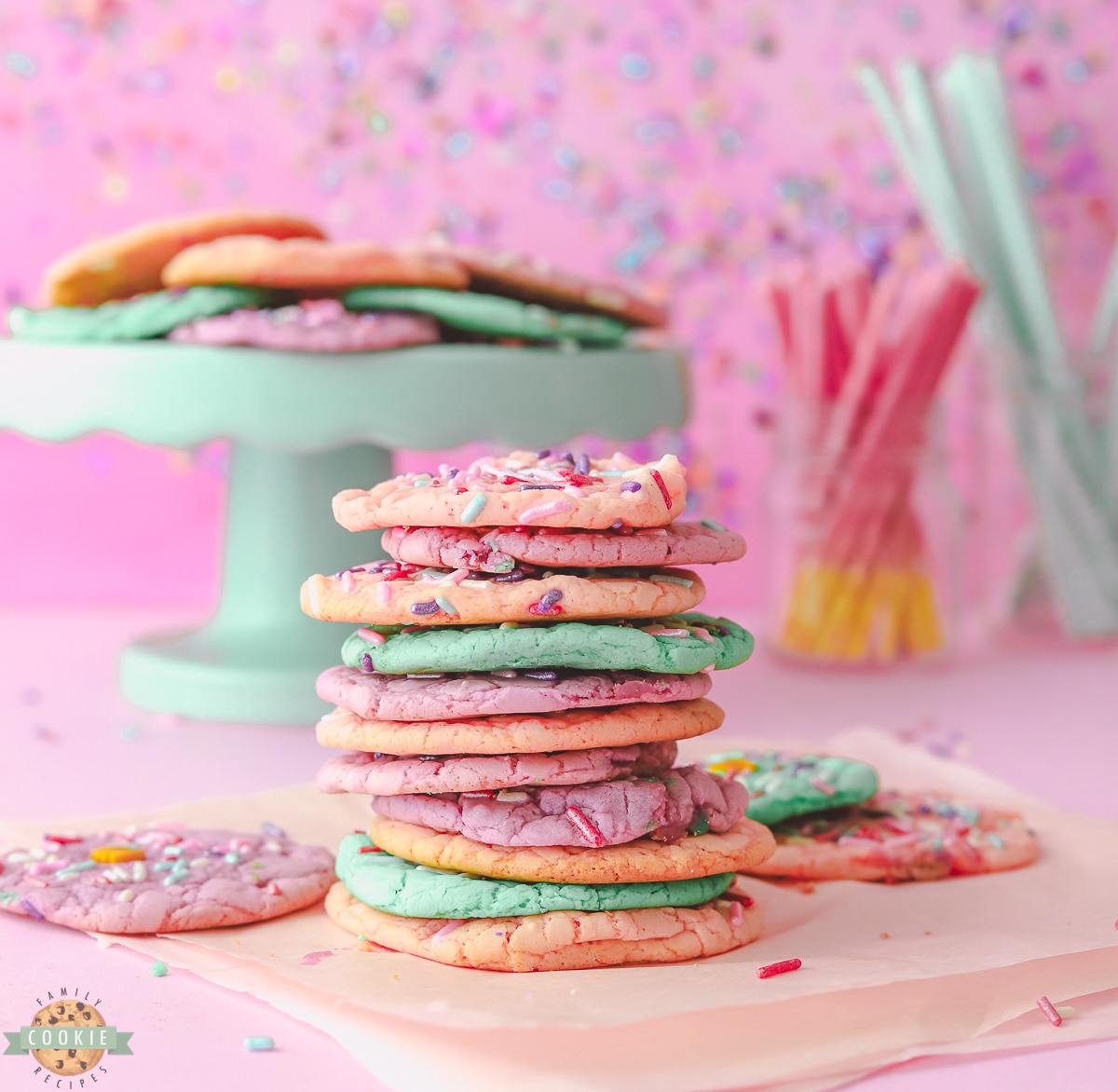 Ingredients for Easy Unicorn Cookies
Cake mix: You will need one 15 ounce box of white cake mix for the base of these cookies. We will just be using the dry mix, nice and easy.
Eggs: Using 2 eggs will help to bind the dough together well and create a great cookie texture.
Oil: Use ⅓ cup of vegetable oil to help make these cookies moist and tender. Instead of cooking oil, you could use melted butter as well. I find that the cake mix cookies tend to turn out a bit fluffier with oil and a bit flatter with butter.
Food dye: We used neon pink, neon purple, and neon blue but you can use any colors that you feel represent the unicorn lover in your life.
Sprinkles: Use a unicorn sprinkle mix (we used Wiltons' unicorn sprinkles) for an added touch of magic. Again, any fun sprinkle you have on hand will also work, just try to stick with the unicorn color scheme.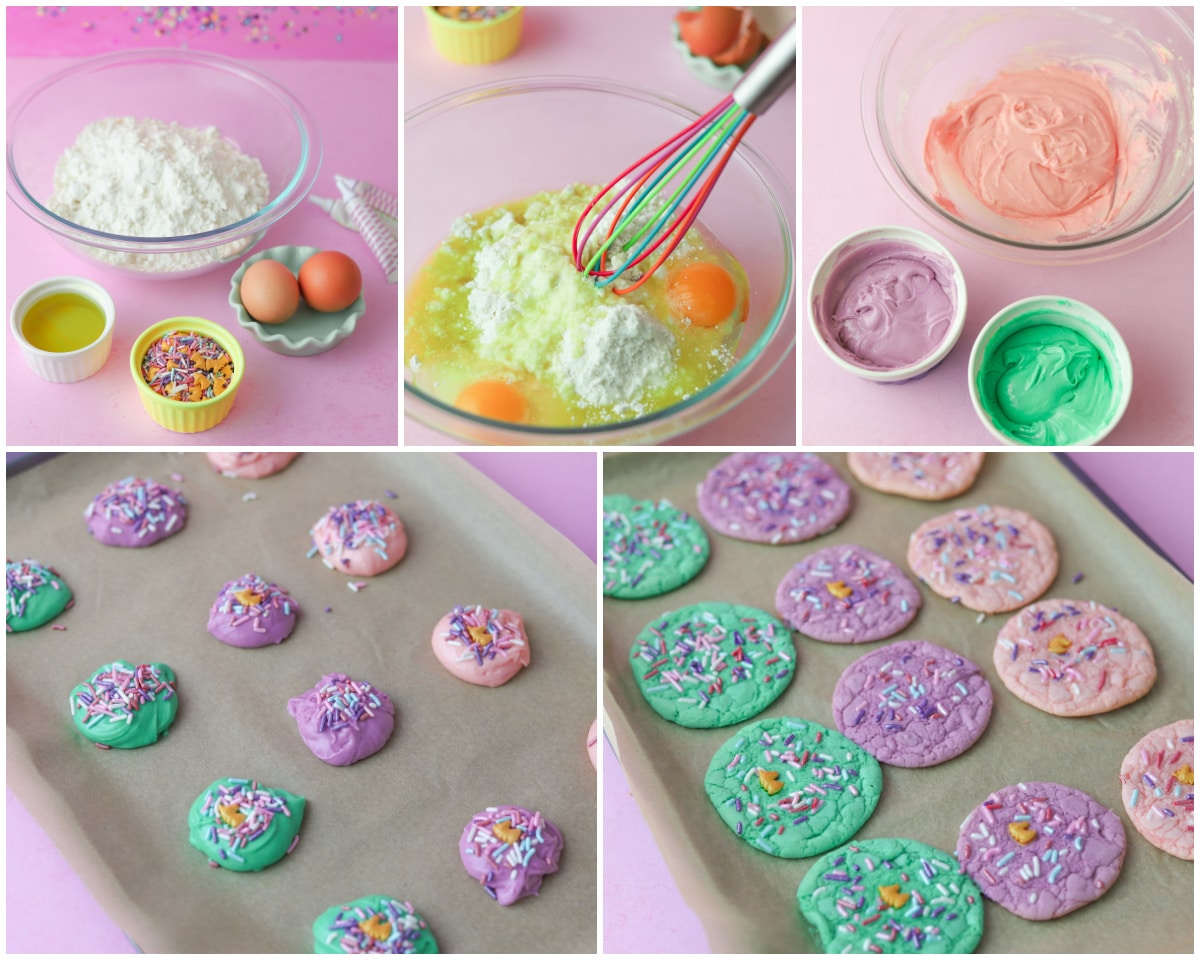 How to Make Unicorn Cookies
Prep
Begin with preheating then oven to 350 degrees F.
Then, line a cookie sheet with parchment paper or a silicon mat and then set it aside.
Make cookie dough
In a large mixing bowl, combine the dry cake mix, eggs, and oil and mix well.
Next, split the cookie dough into 3 separate bowls for the different colors.
Then, add pink dye to one bowl, purple to another, and blue to the last one. Mix each bowl of dough until the dye is fully incorporated.
Using a cookie scoop or spoon, form a tablespoon-sized ball of dough and place it onto the prepared baking sheet. Keep the cookies about 2 inches apart.
Proceed to add the sprinkles to the top of each cookie dough ball. I like to put the sprinkles in a bowl, then press the ball into the sprinkles to accomplish this. Less mess and the sprinkles stick better.
Bake
Place the cookies in the preheated oven and bake for 10-12 minutes.
Once baking is complete, remove the cookies from the oven and allow them to rest for 3-4 minutes before transferring to a cooling rack.
Serve fresh and enjoy!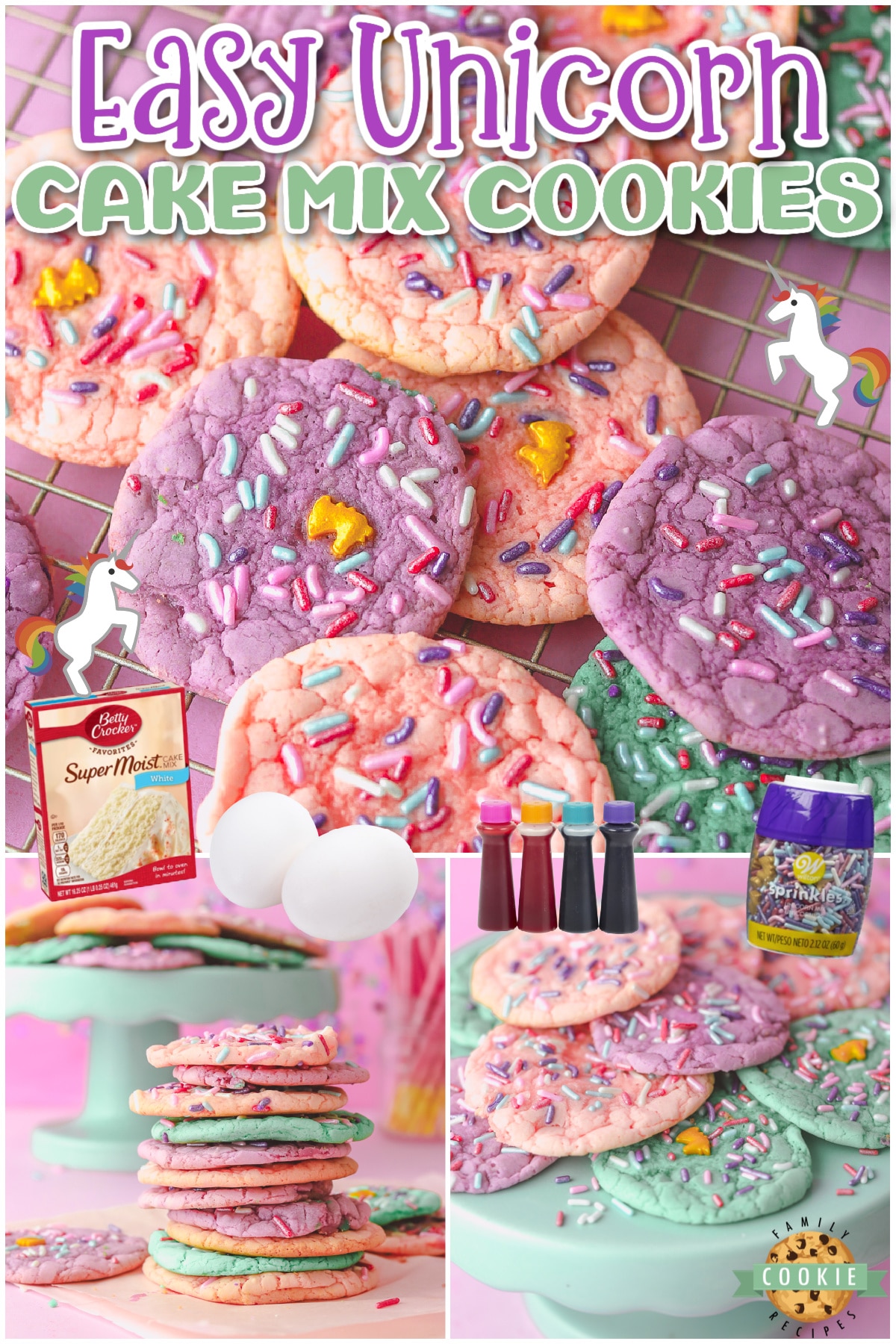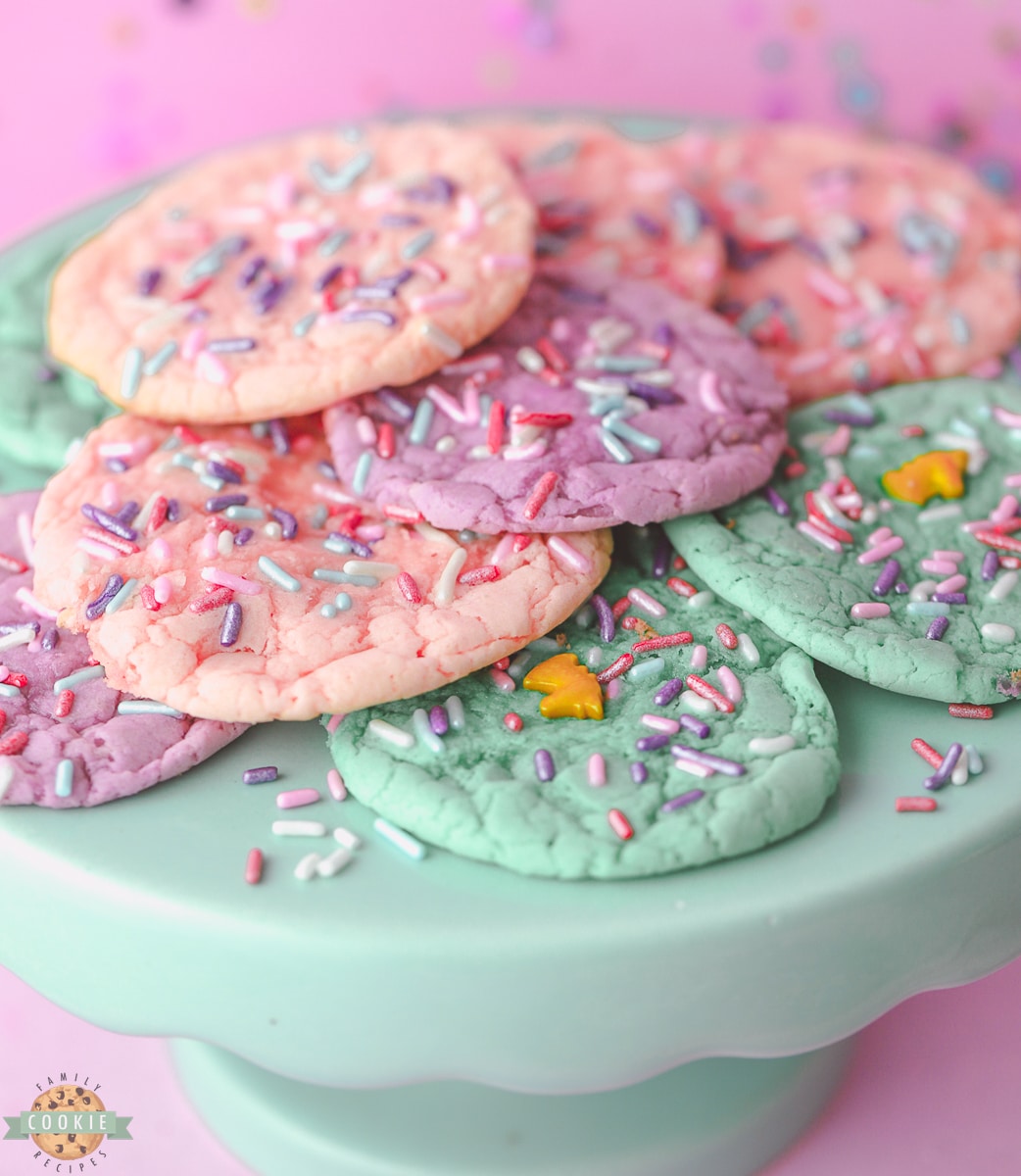 Can I use different cake mixes?
This recipe works with any 15 oz cake mix, but the white mix helps the colors pop. You could use any color combo you choose of both food dye and sprinkles or candy add-ins.
How long are unicorn cookies good for?
One of the most important things you can do to keep your unicorn cookies fresh is to store them in an airtight container. This will help prevent air and moisture from getting in, which can cause the cookies to become stale or even moldy.
While it might be tempting to store your cookies in the fridge or freezer, this can actually do more harm than good. The cold temperatures can cause the cookies to become hard and dry, which is not what you want. Instead, store your cookies at room temperature, ideally in a cool, dry place.
What food coloring should I use?
When making these cookies, it is important to use gel food coloring instead of liquid food coloring. Gel food coloring is thicker and more concentrated, which means you need less of it to achieve the desired color. It also won't water down the dough or icing, which can affect the texture and consistency of the cookies.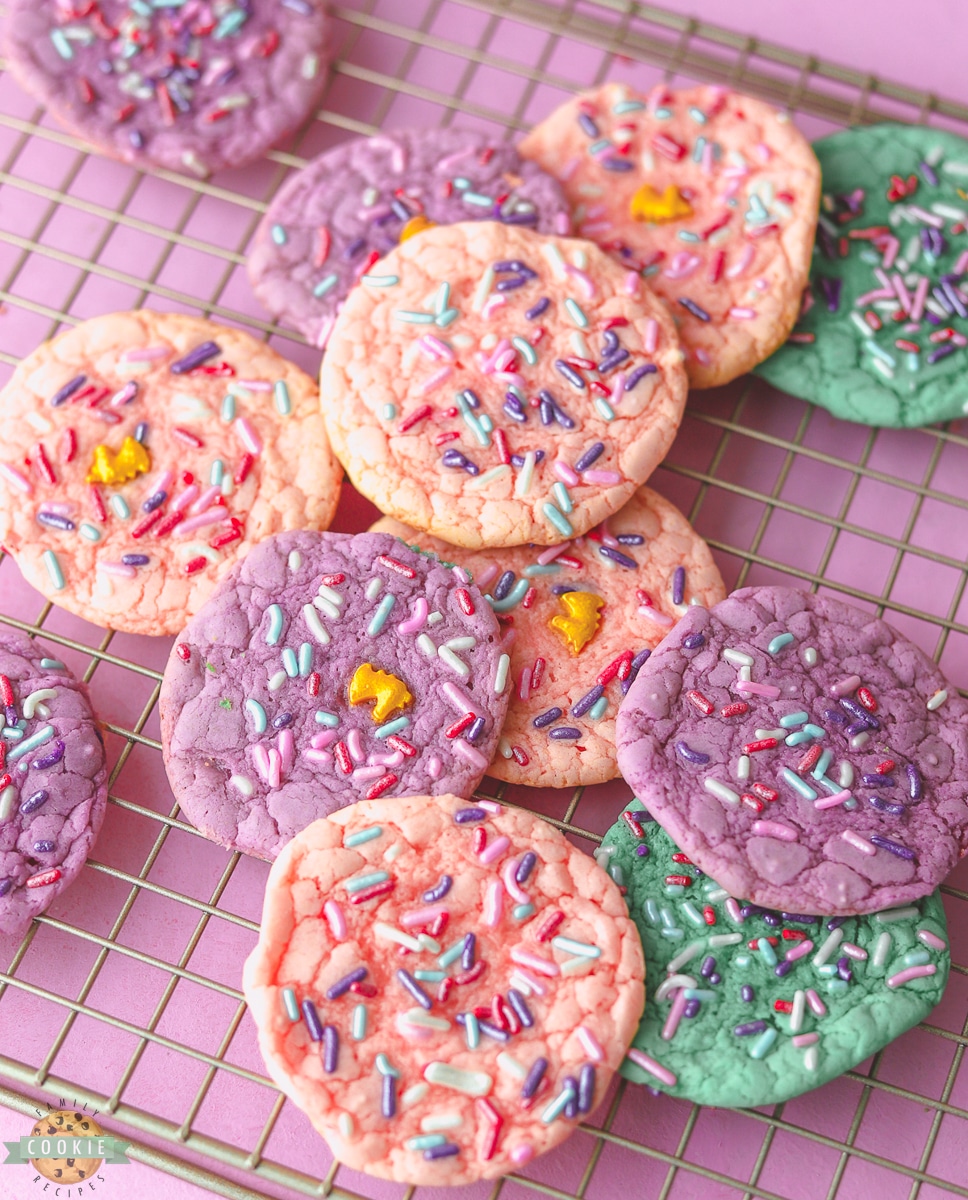 For more great cake mix cookies, check out these recipes:
Easy Unicorn Cookies are soft, chewy, and fabulous for any unicorn-lover making them a magical treat everyone can enjoy.! This cake mix cookie recipe is made with just 4 simple ingredients, the dough comes together fast and the results are incredible tasty treats!

With each of my children, I always helped in the classrooms on the day they made candy trains. Seriously, can you imagine 25 kids each armed with a bag of frosting and about 12 lbs of candy? The teachers don't have a chance! They need me simply to even the field a bit! I always had a blast. This cute kid of mine sat with an entire energetic table of boys and I just laughed the whole time!