Red Velvet Valentines Cake Mix Cookies have never been easier to make thanks to the box cake mix. These Valentine's Cookies are rich, sweet, and only call for 4 simple ingredients!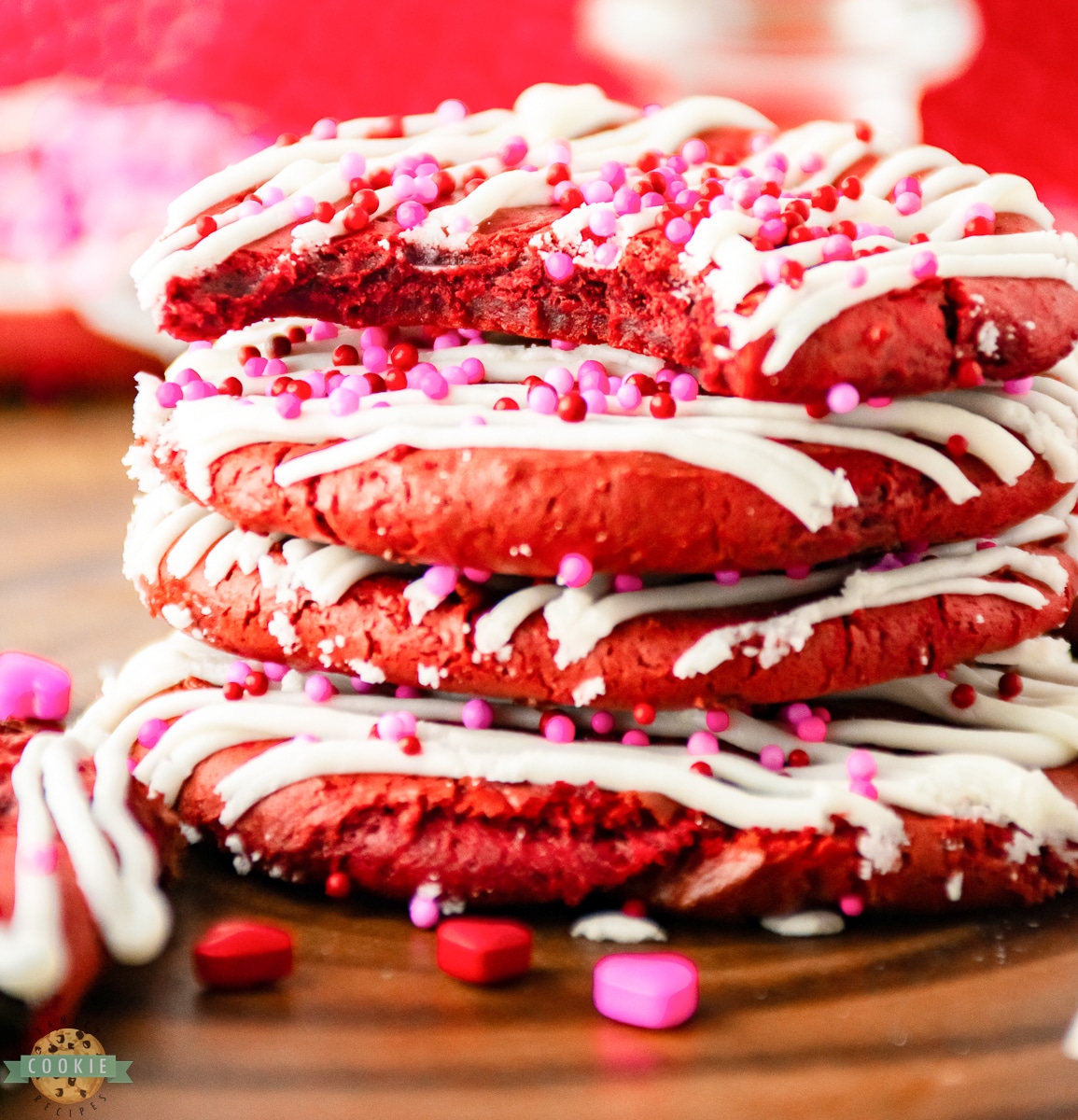 You are going to really enjoy these cookies from cake mix red velvet, they are so easy to make and pack a ton of delicious flavor. The cookies are made with just 4 simple ingredients and then topped off with an easy homemade cream cheese frosting.
Red Velvet Cookies
These red velvet cookies come together simply, thanks to a cake box mix. When you combine the cake mix with a few basic pantry staples like eggs, milk, and butter, it really helps to create a great dough without a lot of effort. Also, baked in just minutes flat you will have Valentines Day cookies ready in no time. Share them with family and friends to spread the love this Valentine's Day!
Why you'll love these Valentine's Cookies
Only 4 ingredients for the cookies. Whip up a batch of these cookies with only 4 simple ingredients. You may have most, if not all, of the ingredients needed to make these cookies already in your home. The cream cheese frosting calls for very basic ingredients that I am sure you have most of too!
Easy to make. These incredibly delicious cookies are as easy to make, as they are to eat. The dough comes together fast and they bake in about 10 minutes. Give these a try, see for yourself how easy it is to make a batch of these sweet treats.
Fun & Festive! You and your family can enjoy a great Valentine's dessert with this simple boxed cake cookie recipe.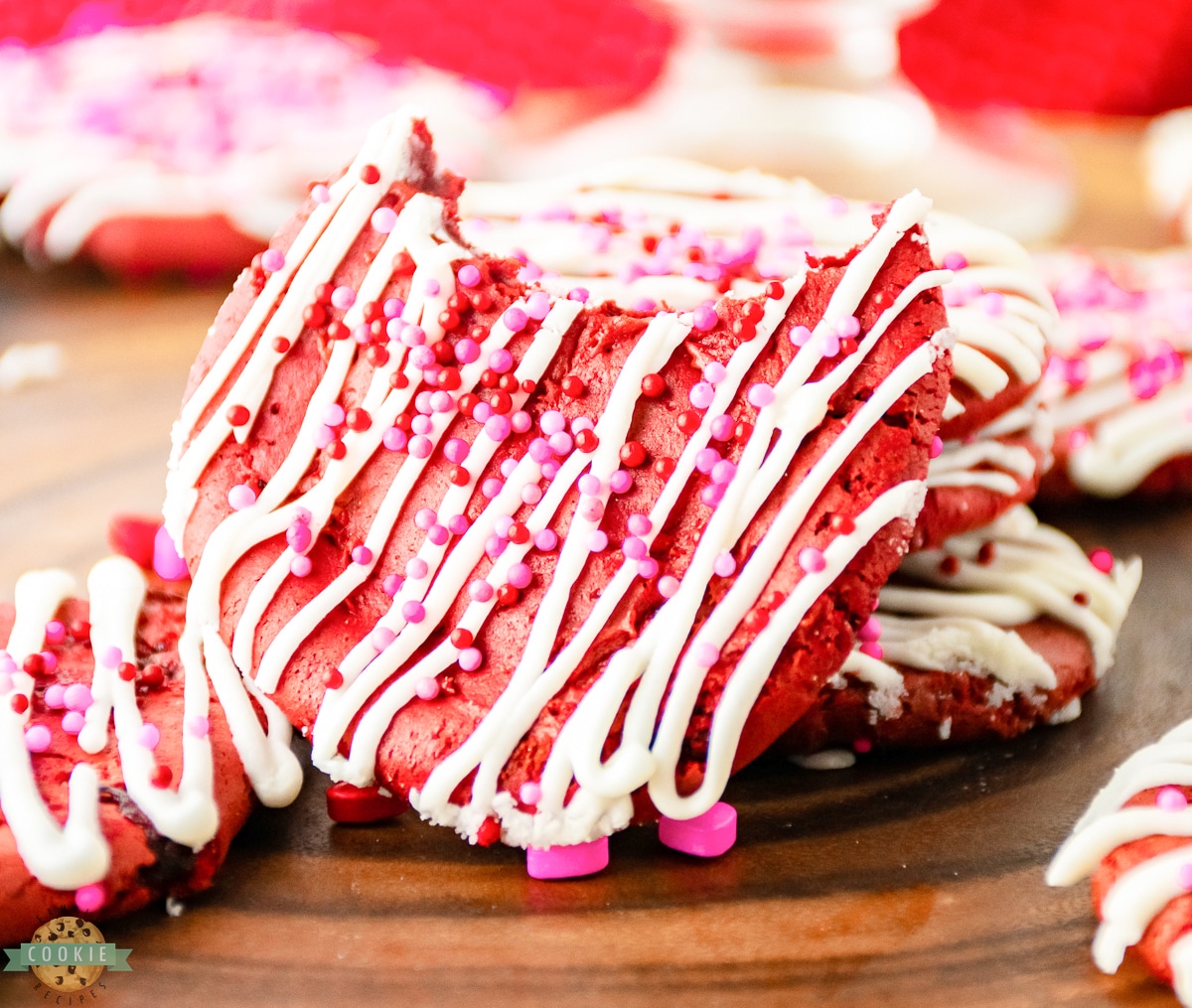 Red Velvet Valentines Cake Mix Cookies Ingredients
Cake mix: You will need one standard size box (15.25 ounces) of Red Velvet flavored cake mix. Any brand will be fine, choose your favorite and create these beautiful cookies.
Buttermilk: Use ½ cup of buttermilk to help add more moisture and flavor to the cookie dough.
Egg: You need 1 beaten egg to help bind the dough together well.
Butter: You will need 2 tablespoons of unsalted butter that has been melted and cooled. This will add a nice rich flavor to the cookies.
Buttercream Frosting
Butter: Using 2 tablespoons of unsalted butter, at room temperature, to make the frosting rich and tasty.
Cream cheese: You need 2 ounces of cream cheese, room temperature, for a lovely creamy texture and taste.
Vanilla extract: Adding in ¼ teaspoon of vanilla extract will help enhance the flavors well.
Heavy cream: Use 2 tablespoons of heavy whipping cream to help get the frosting to the right consistency.
Powdered sugar: Using ¾ cups of powdered sugar will make the frosting smooth and sweet.
Sprinkles: For added fun, decorate your frosted cookies with some festive red or pink sprinkles for Valentine's Day themed cookies.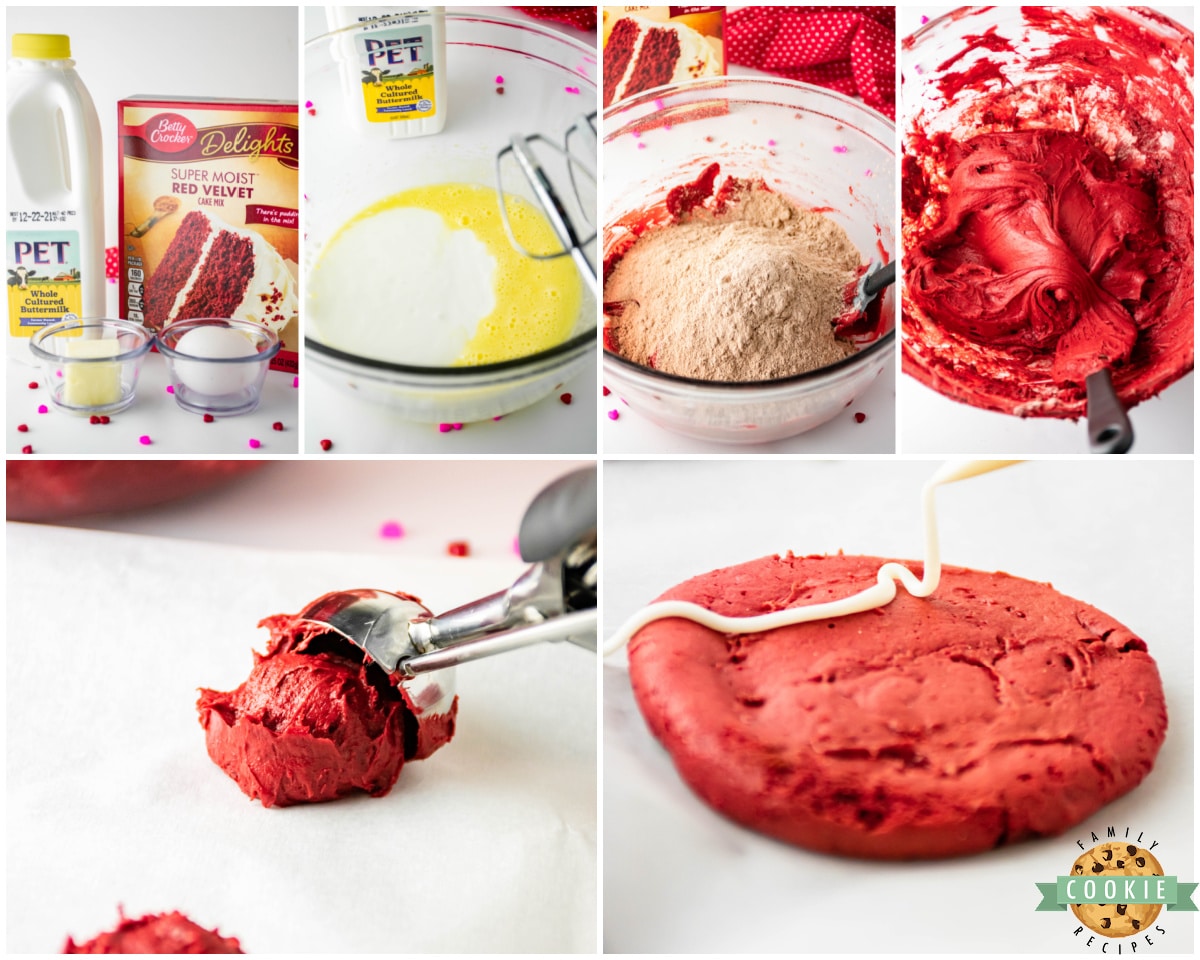 How to Make Red Velvet Valentines Cake Mix Cookies
Prep
Get started by preheating your oven to 350 degrees F. Then, line a baking sheet with parchment paper and set it aside.
Dough
Next, in a large mixing bowl, pour in the dry cake mix. Then, add in the buttermilk, egg, and melted butter. Use a hand mixer to combine well.
Scoop and Bake
Proceed to use a large cookie scoop and scoop the dough into balls, placing them onto a parchment-lined baking sheet as you go.
Bake in the preheated oven for 9 to 11 minutes or until the edges of the cookies are golden brown in color.
Once the cookies come out of the oven, they will be fluffy and look like a ball. Use the back of a spoon to press down on the cookies to help flatten them a bit.
Allow the cookies to cool for 10-15 minutes while you prepare the icing.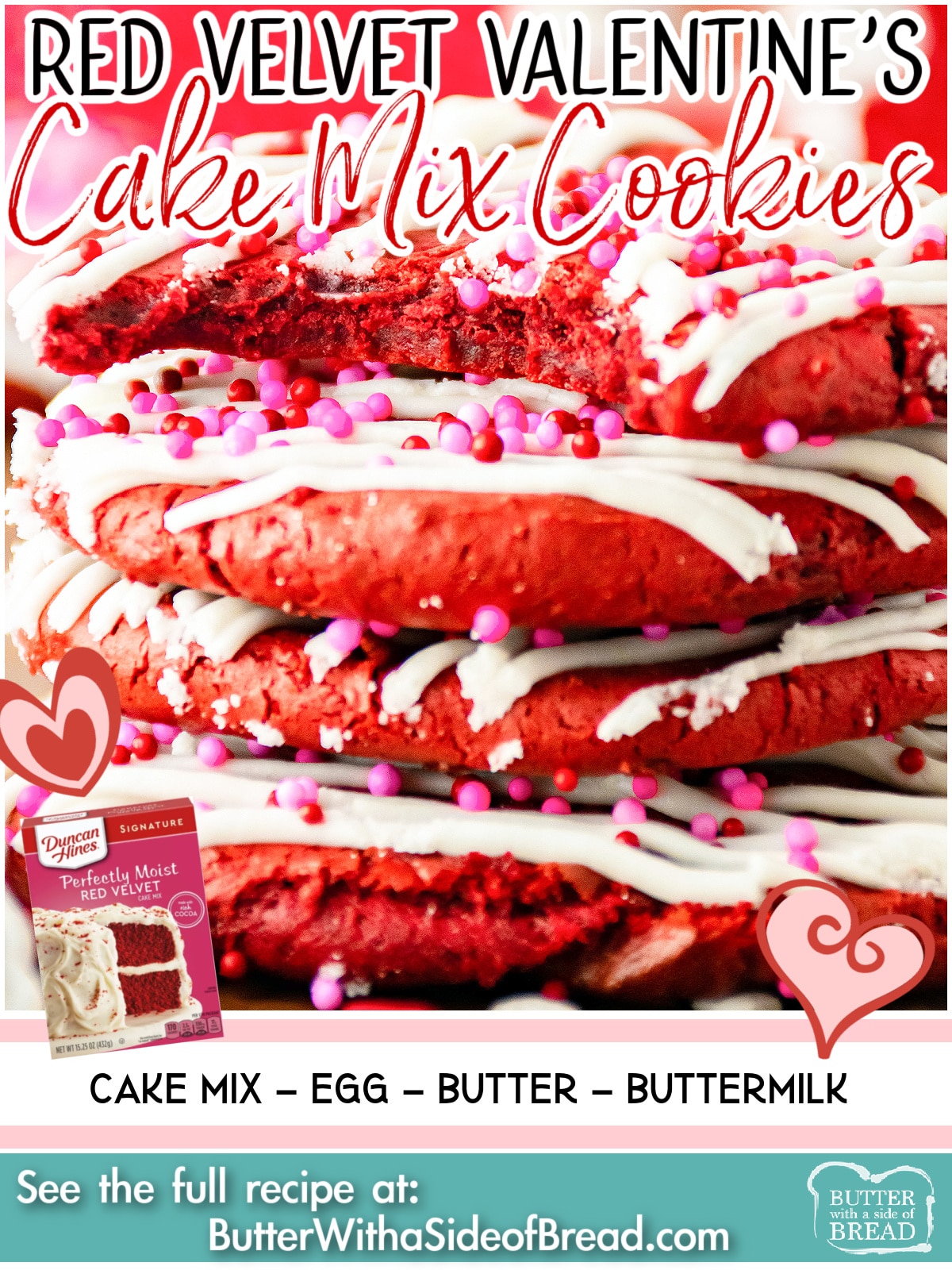 Icing
Start by creaming the butter and cream cheese together in a medium-sized mixing bowl. Beat until smooth.
Next, add in the vanilla extract and heavy whipping cream, mix until fully incorporated.
Lastly, add in the powdered sugar, ¼ cup at a time. Mix until well combined and the icing is a thick but creamy consistency.
Decorate
Once the icing is fully mixed, place the frosting into a piping bag and drizzle over the cookies. If you do not have a piping bag you can also just drizzle the icing over the cookies using a spoon.
Top with valentines colored sprinkles and allow to set. Serve and enjoy!
How long will my red velvet cookies be good for?
These cake mix cookies are going to be good for up to 5 days if kept stored in an airtight container at room temperature.
How to Get a Perfectly Round Cookie Shape
Want to know a neat little trick? After your cookies have been baked, while they are still hot and cooling on the pan, take a medium-sized round cookie cutter or a round glass/drinking mug and place it over the top of the cookie. The round shape should be slightly bigger than the cookie for this trick to work.
Swirl the round cutter/object around the cookie, knocking it into the sides a bit as you go. The more you swirl, the smaller and thicker the cookie will become. Then let the cookies cool. This is how you can get homemade cookies to look perfectly rounded. This trick won't work with cutout cookies, but it works fine with drop cookies and rolled cookies.
Can I use store bought frosting instead?
If you would rather use store-bought frosting for the icing, add in 2 Tbsp. of heavy whipping cream into the frosting and microwave for 30 seconds being sure to mix the frosting well. You can even add a little red or pink food coloring to the frosting to make them extra special for Valentine's Day!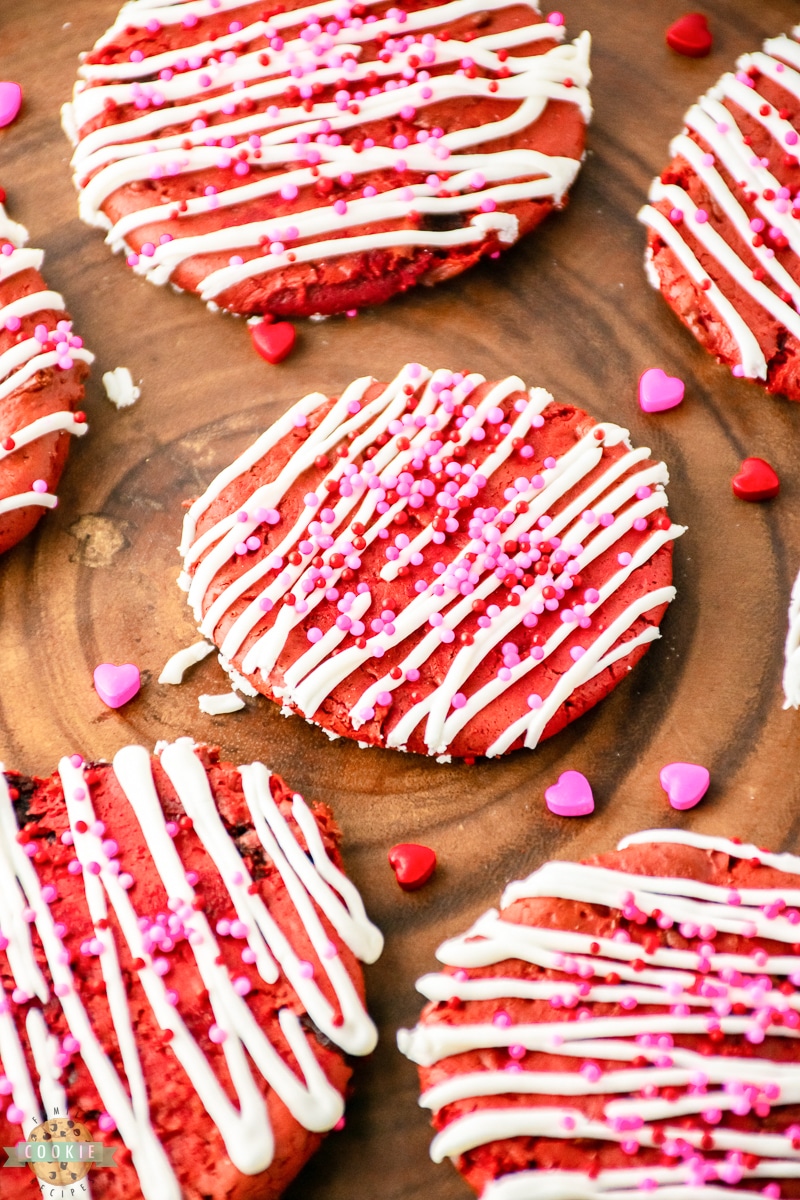 Why are my cookies flat?
The first culprit behind flat cookies is there the butter could have been too soft or even melted. This will make the cookies spread and have a flat appearance. You could consider adding an extra tablespoon of flour to the dough to absorb some of the butter issues. Also, if you placed your cookie dough on a hot cookie sheet that could be the issue too.

Kids crack me up! This little one was ALWAYS happy in the water. Even if it was cold, she was hungry, or her brothers were picking on her. She's still happy in water! I should put her on the swim team… maybe it'd still work now in her tween years…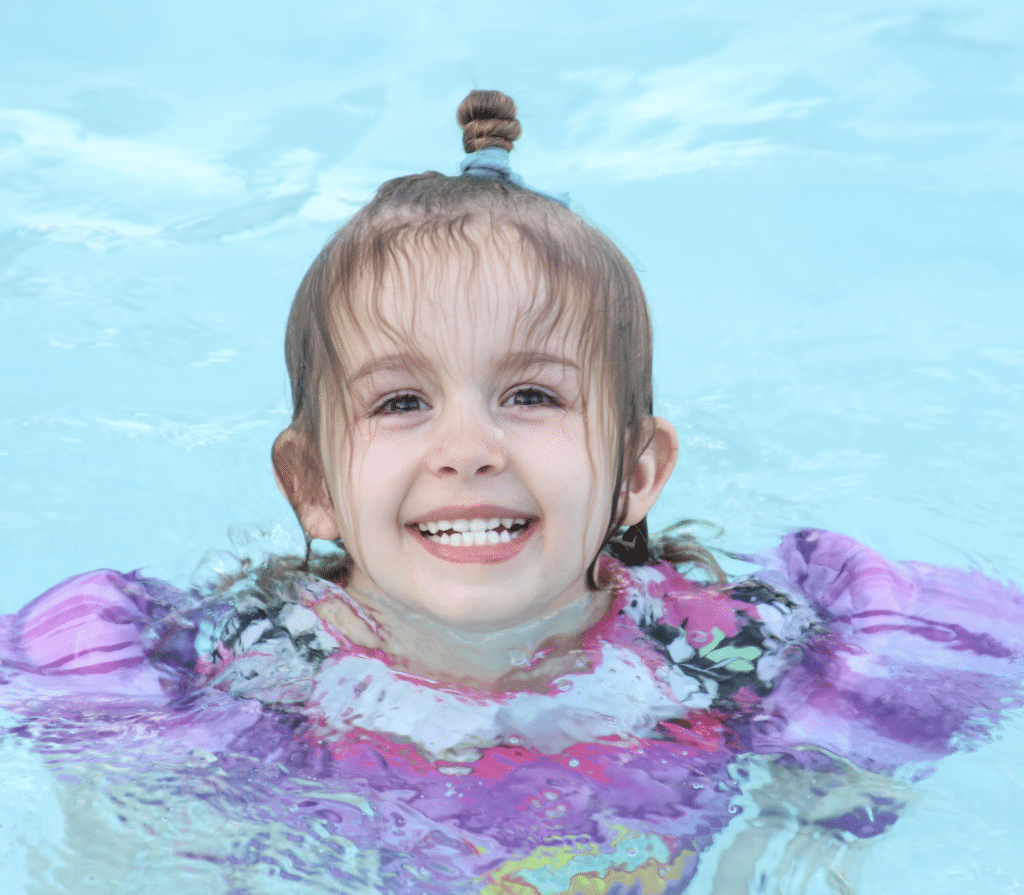 Check out these other great cake mix cookie recipes!
Red Velvet Valentines Cake Mix Cookies are extremely simple to make thanks to the box cake mix. These Valentine's Cookies are decadent, soft, and have only 4 simple ingredients!