Strawberry Cake Mix Cookies are soft and sweet treat, best of all they are made with just simple 4 ingredients! This cake mix cookie recipe is super easy to make and the result is fun festive cookies. They look as amazing as they taste, everyone will enjoy a batch of these!
[adthrive-in-post-video-player video-id="gb5sRpUw" upload-date="2018-03-21T15:08:40.000Z" name="Strawberry Cake Mix Cookies" description="Strawberry Cake Mix Cookies are soft & sweet and made with just 4 ingredients! Super simple to make these cute, festive cake mix cookies. The strawberry flavor is just perfect."]
This Strawberry Cake Mix Cookie recipe is a simple and delicious cookie recipe that is perfect for so many occasions. I tend to keep a variety of cake mixes on hand and strawberry is one of my kid's favorites. I personally love to make these around Valentine's Day as a fun goody for my kids to take to their friends at school. I added pink, white and red chocolate candies to the cookies to make them even more festive.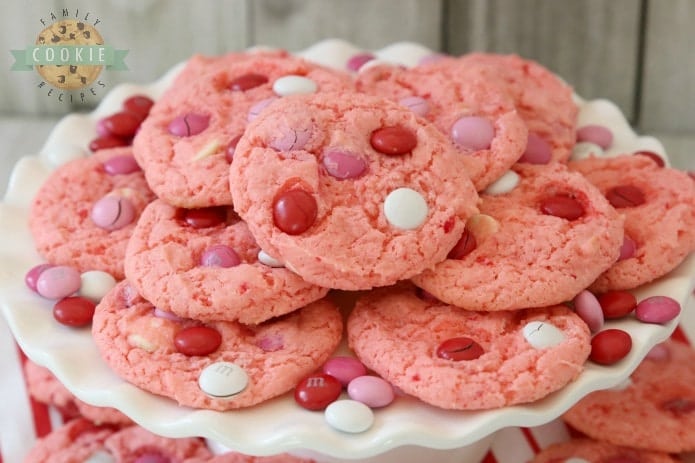 Tips to get the PERFECT Cake mix cookies:
There are three kitchen items make these cookies come together really fast. I actually use these items in nearly every cookie recipe I make, so they are quite versatile. First, I line my cookie sheets with a piece of parchment paper. They are sold in sizes that fit a 12×16 cookie sheet perfectly and enable to cookies to bake well without sticking- and no mess from spraying oil on the cookie sheets!
The second item is a KitchenAid mixer. I am obsessed with mine! I have a Bosch as well but I find I use my KitchenAid for cookies. There is a cookie paddle that comes with every mixer that you attach to the top of the mixer. They are easy to use and help you mix the ingredients uniformly. Add this to your wish list because it is one of my all-time used small appliances ever!
The third and final key item is a cookie scoop! Years and years ago I used to use 2 spoons to measure and scrape cookie dough onto the pans. It was not a perfect process and I often ended up with oblong cookies in various sizes. A friend of mine brought cookies to a party and I noticed each and every one of her cookies looked PERFECT. Her secret? A cookie scoop! They come in three sizes- ½ tablespoon, 1 ½ tablespoon and 3 tablespoon scoops. I used the middle size- 1 ½ tablespoon for these, and most other cookies. Although when I am serving a large crowd, I use the small cookie scoop. People love having a smaller cookie, especially at an event with several other desserts.
Strawberry Cake Mix Cookies Ingredients
Cake mix: 1 box 15.25 oz Strawberry Cake Mix. I am partial to any super moist cake mix, whatever you prefer is good!
Eggs: You will need 2 eggs for this recipe.
Butter: Use ⅓ cup of melted butter for a lovely rich flavor.
White Chocolate chips: You need 1 ½ cups for extra chocolatey goodness. The recipe calls for 1 ½ cups white chocolate chips, but I like to use half white chocolate chips and half M&M candies. It is just fun!
Step by step instructions on how to make Strawberry Cake Mix Cookies
Start by preheating oven to 350 degrees F. Line a cookie sheet with parchment paper.
Next you will combine cake mix and eggs in a medium mixing bowl. Then you add the melted butter. Mix the cake batter well.
Proceed to add in your choice of white chocolate chips or candies and stir to combine. I prefer to stir the candy in by hand so that they don't get crushed.
Using a medium 1.5 TBSP cookie scoop , measure out the dough and place on the cookie sheet. Feel free to top  with a few more chocolate candies, if you like.
Place cookies in the preheated over and bake for 8-10 minutes. Once they are done, remove from oven and let them rest for 3-5 minutes on the hot cookie sheet. Then you can transfer to baking racks to cool completely.
Scroll down to the bottom to PRINT a copy of this recipe!
If you love our Strawberry Cake Mix Cookies you'll definitely enjoy a few of our other favorite cookie recipes: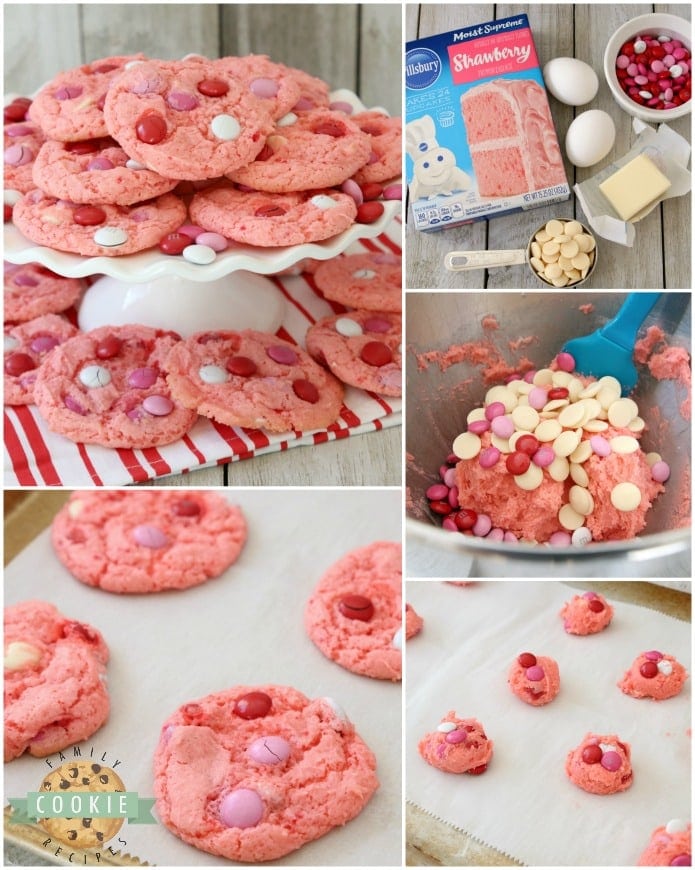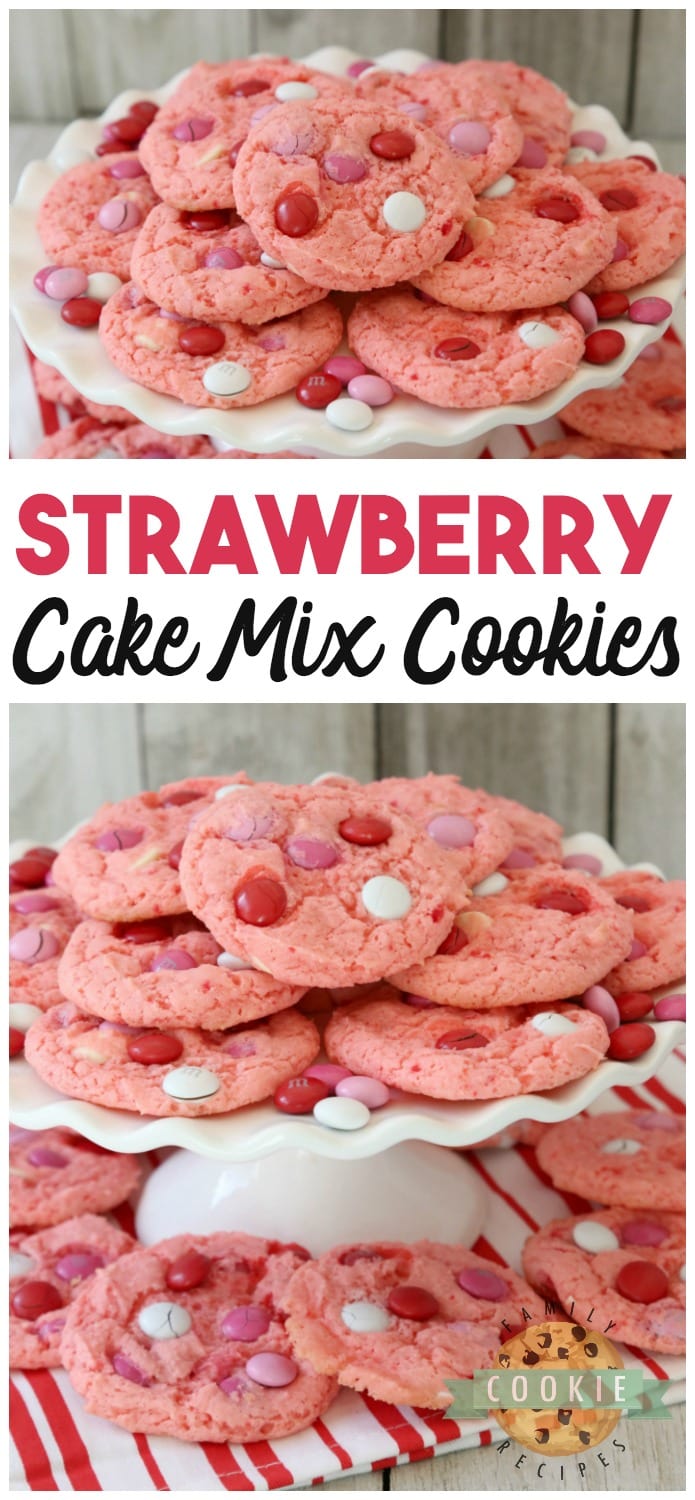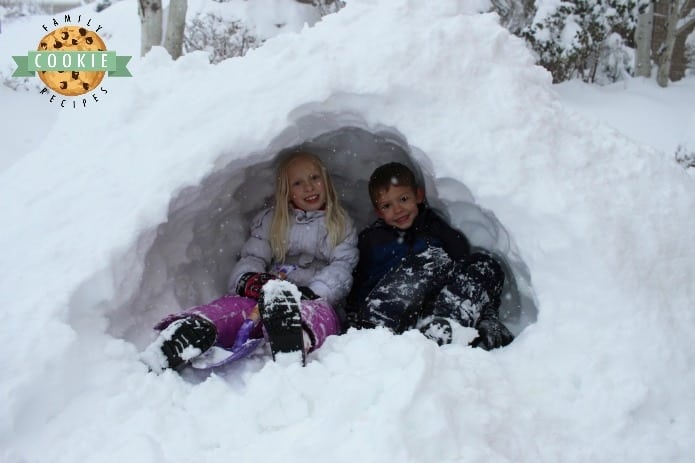 Sometimes you just have to make a snow cave. Am I right?! C and H sure think so! We got over 2 feet of snow from this quick storm and for anyone wondering, NOPE, our schools did not declare it a snow day. CRAZY. I pulled the Mama card and called our own Snow Day. Fun!
Can I use different flavor cake mix for this recipe?
You sure can! My family and I are partial to strawberry cake, but you can switch up the cake flavor based on your tastes. Also, you can switch up the cake flavor and turn these cookies into several different holiday cookies. Do a white cake and add red/white/blue candies and you've got a festive 4th of July treat. The sky is the limit!
How do I stop my cookies from spreading so much?
This is a common cookie problem, but totally fixable! If you have a silicone baking mat that would be a perfect solution. This type of baking mat grips the bottom of the cookie dough and prevents them from spreading too much. You also can use parchment paper, one of our tips above, this will also help prevent the cookies from spreading.
How do I store my cookies to keep them fresh longer?
When stored properly cookies can stay fresh for 1-2 weeks. If you have a favorite cookie jar with an air tight container that would be great. I also was taught a trick by my mother-in-law that has been a game changer. I add a piece of bread to my cookie container, the moisture from the bread keep the cookies moist a bit longer. I know, it sounds crazy but I promise it works!