Cherry Chocolate Chip Cookies are soft, chewy and packed with cherry flavor, bits of maraschino cherries and chocolate chips! A fun and flavorful twist on traditional chocolate chip cookies.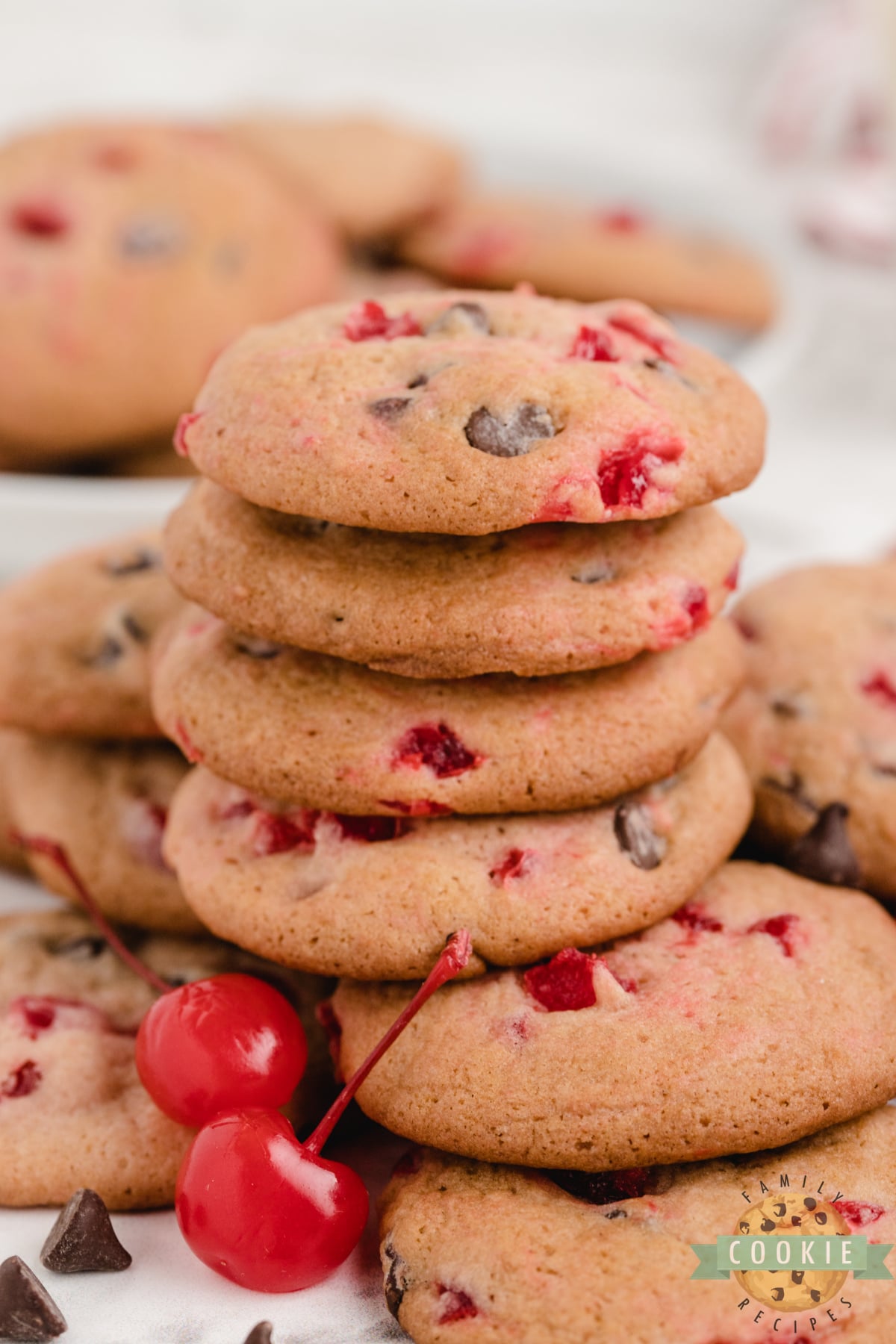 I have always loved anything cherry, especially when combined with anything chocolate. I absolutely love the little pieces of maraschino cherries in these cookies and the cherry extract in the dough adds just the right amount of cherry flavor to perfectly complement the chocolate chips.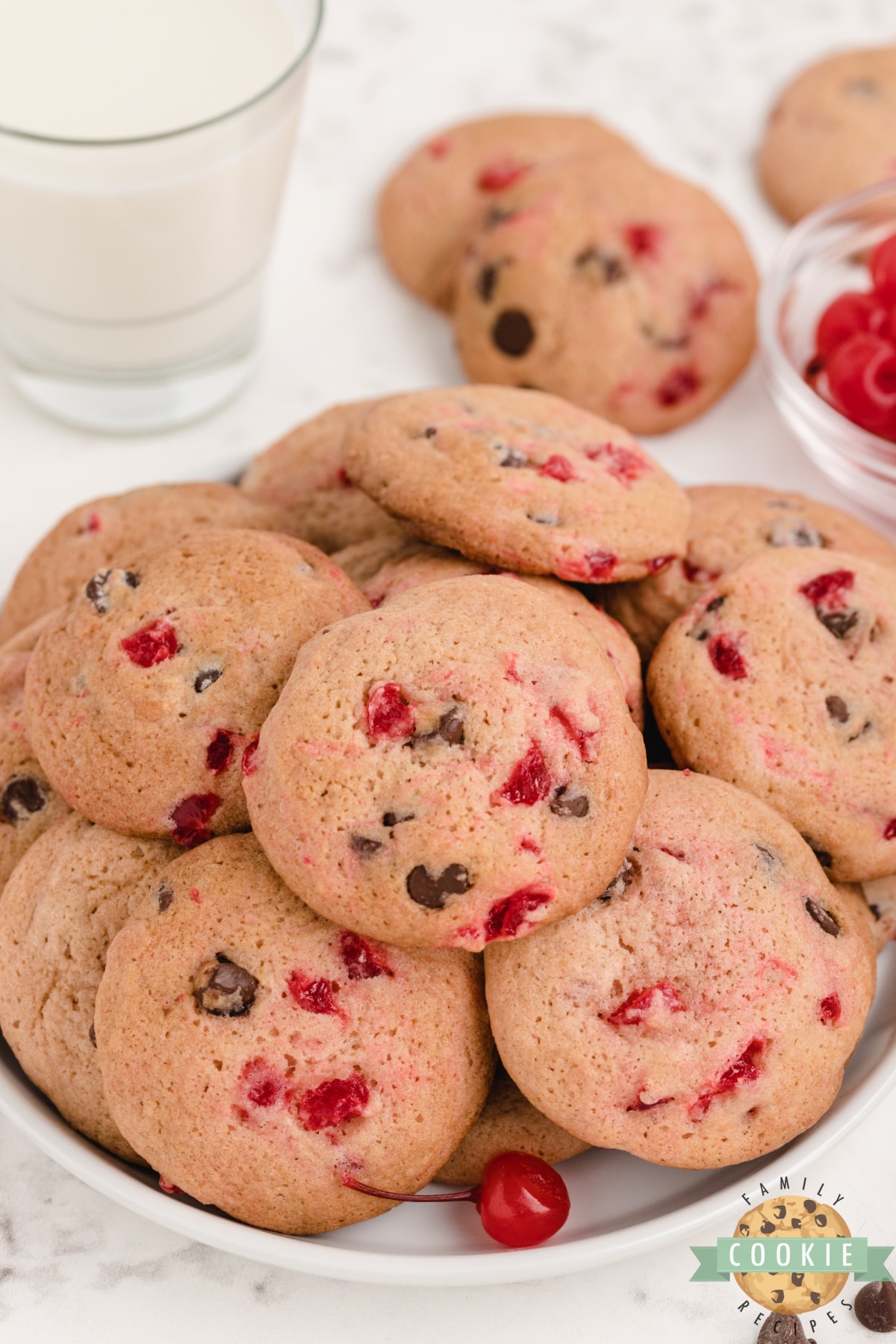 Tips for amazing Cherry Chocolate Chip Cookies
Make sure that you have enough flour in the dough. If the dough is too sticky, you may need to add a little bit of flour. (This especially applies to this recipe because you are adding fruit. As long as your cherries are well-drained and patted with a paper towel, there shouldn't be too much extra moisture, but if you find that your first batch of cookies are spreading more than you prefer, just add a few more tablespoons of flour to the dough before baking the rest.)
Do not melt the butter! The butter needs to be softened (at room temperature), but using melted butter will ruin the cookies.
Spend a little extra time when you mix the butter and sugars. Creaming them together for 2-3 minutes will improve the consistency of your cookies.
Preheat the oven. This will help your cookies turn out right every time!
Use a cookie scoop! If you want all your cookies to be perfectly shaped and have them all be the same size, a cookie scoop is the way to go.
Use parchment paper or a silicone baking mat. Doing this will make it really easy to remove the cookies from your cookie sheet so that you don't have to scrape them off the pan – they will just slide right off in perfect shape!
Don't overbake the cookies – when I take mine out of the oven, they still look slightly underbaked but they will continue to bake on the cookie sheet for a couple more minutes so that's ok!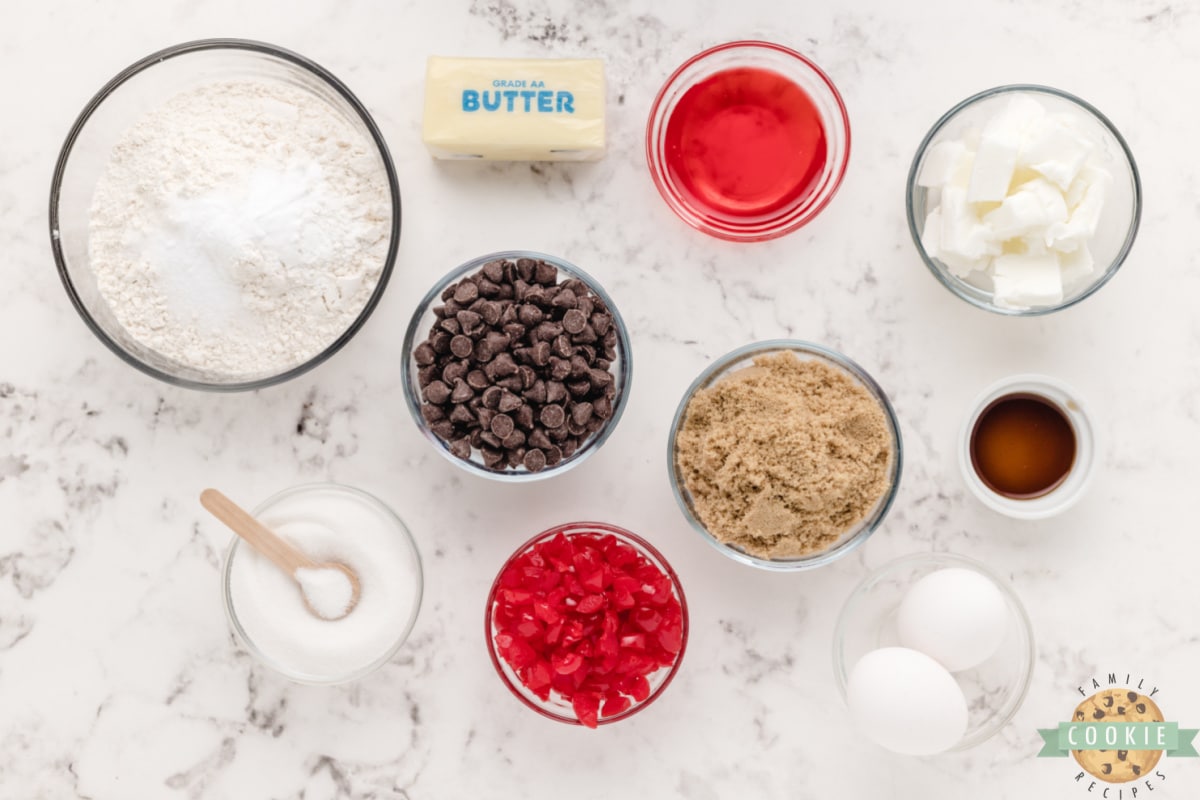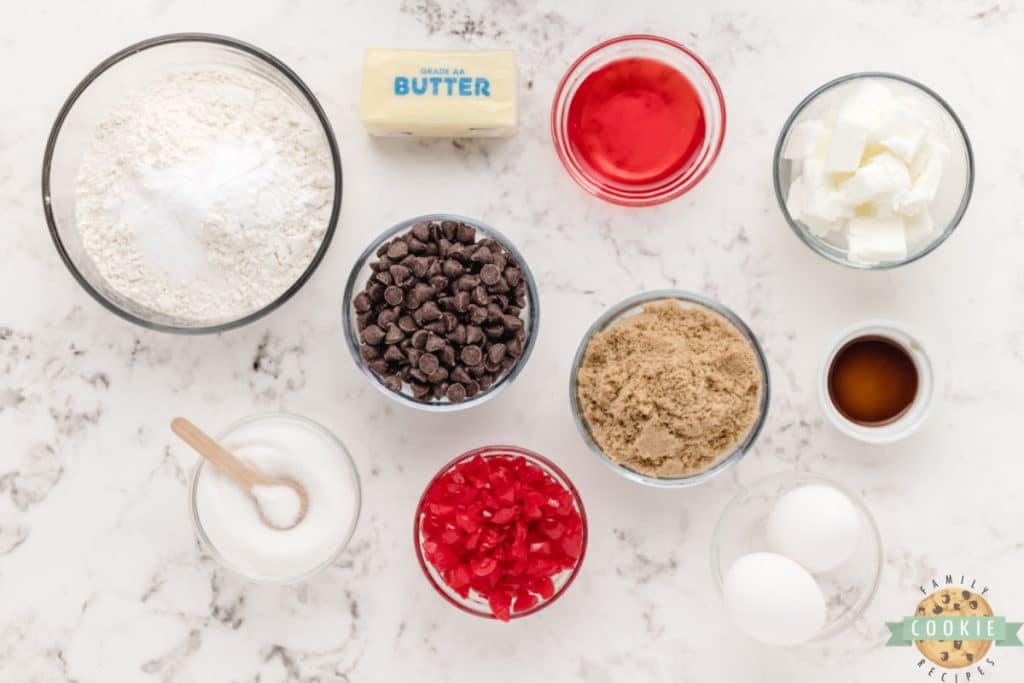 INGREDIENTS IN CHERRY CHOCOLATE CHIP COOKIES
Butter – You will need two sticks of butter to make these cookies. Make sure it is softened to room temperature before adding to the recipe.
Brown sugar – For best results, you'll want to make sure that your brown sugar is fresh and soft.
Sugar – Just 1 cup of granulated sugar is needed for these cookies.
Vanilla pudding mix – You will need one small box (3 oz) of vanilla pudding mix. Make sure you use the instant kind. No need to make the pudding before adding to the mix, just add the dry powder right into the dough.
Egg – Just two large eggs will help bind everything together.
Vanilla: I suggest using a good quality vanilla extract or a Vanilla Bean Paste.
Cherry extract – You will only need 1/2 teaspoon because flavor extracts are pretty strong!
Salt – Just 1 teaspoon of salt helps to bring out all of the other flavors in the cookies.
Baking soda and baking powder – You'll need one teaspoon each of baking soda and baking powder to act as the leavening agents in these cookies. For best results, make sure they aren't expired.
Flour – All-purpose flour works best in these cookies.
Red food coloring – This is entirely optional but will add a deeper color to the cookies if you'd like.
Maraschino cherries – You will need one 10-ounce jar of maraschino cherries. Make sure to drain them well and then pat them dry with paper towels to remove extra moisture. Cut them into fourths before adding to the cookies.
Chocolate chips – One bag of chocolate chips (about 2 cups) is just the right amount of chocolate for these cookies, although you can definitely add more! I prefer semi-sweet, but milk chocolate or dark chocolate work great too!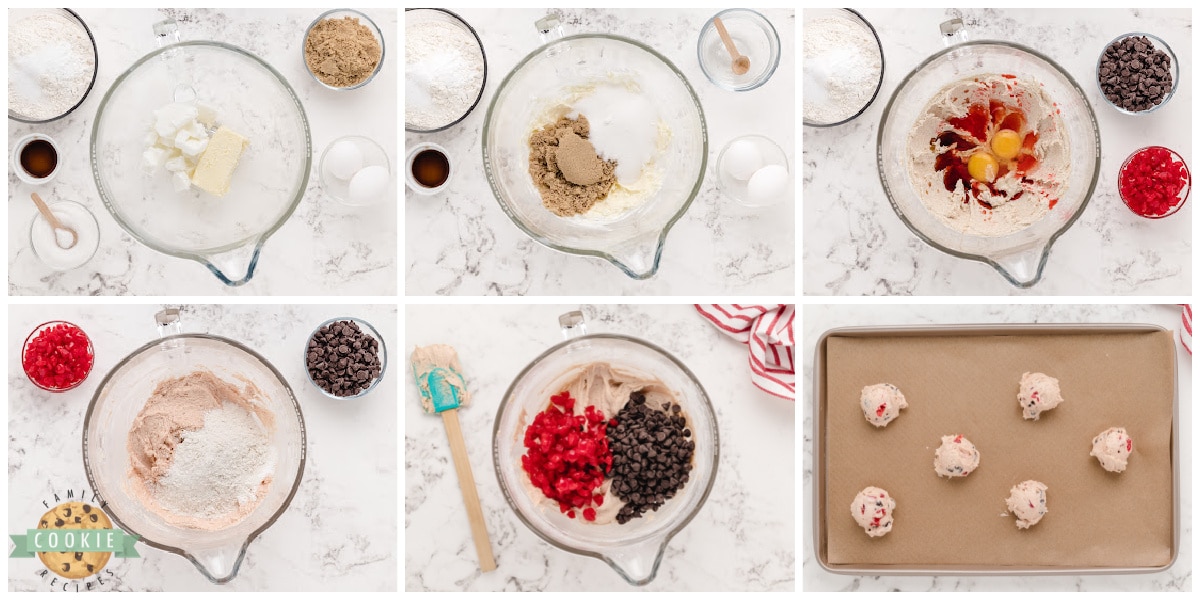 How to make Cherry Chocolate Chip Cookies
Preheat oven to 350°.
Cream butter and sugar well (about 2-3 minutes).
Add dry pudding mix, eggs, vanilla and cherry extract and mix for another 1-2 minutes.
Then add the salt, baking soda, baking powder and flour. Mix until well combined.
If you want your cookies to have a pinkish tint, add the red food coloring at this point and mix well.
Fold in the chopped cherries and chocolate chips until fully combined.
Use a cookie scoop to scoop out dough onto a prepared cookie sheet (or a silicone baking mat). Bake for 10-11 minutes or until very lightly golden brown on top.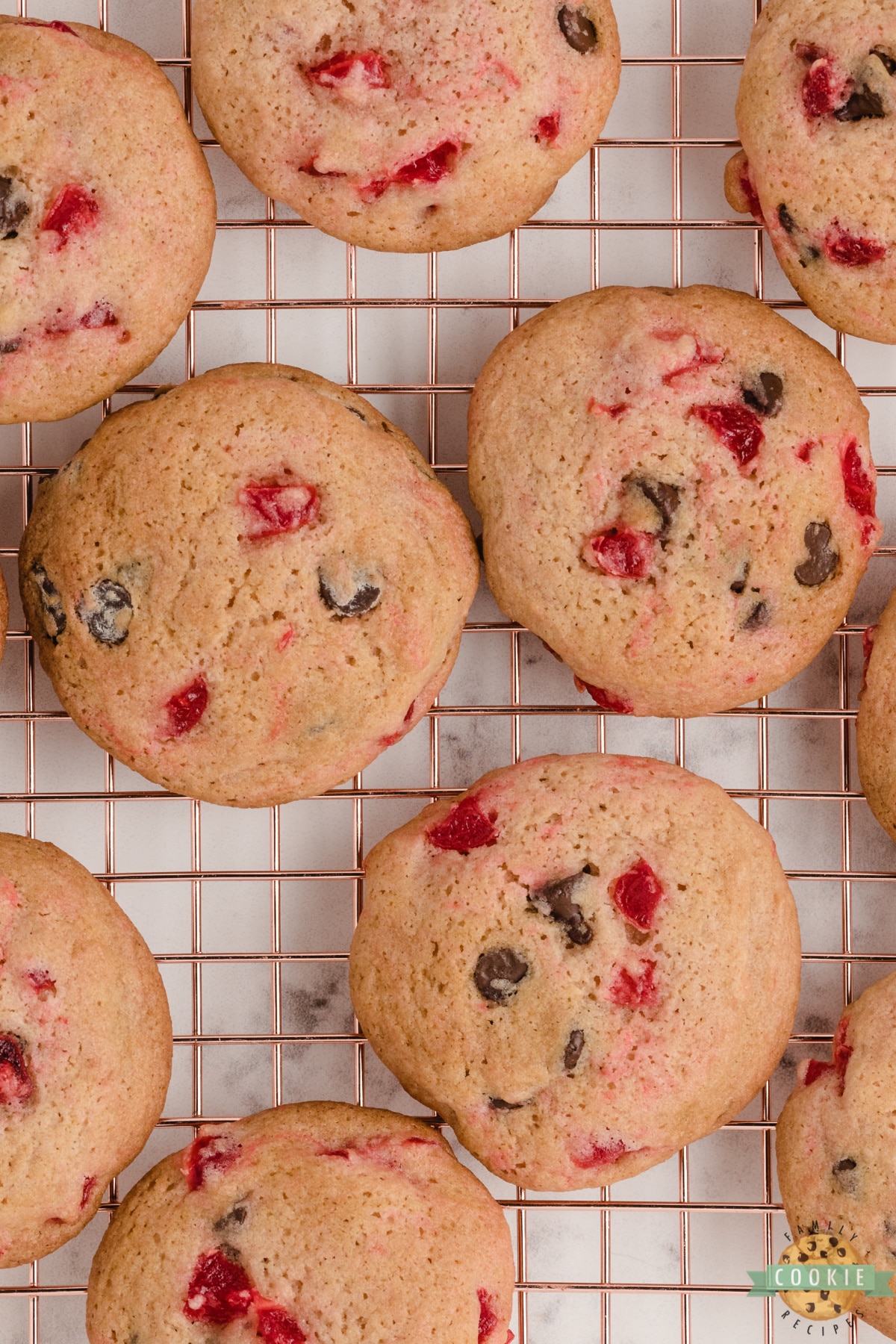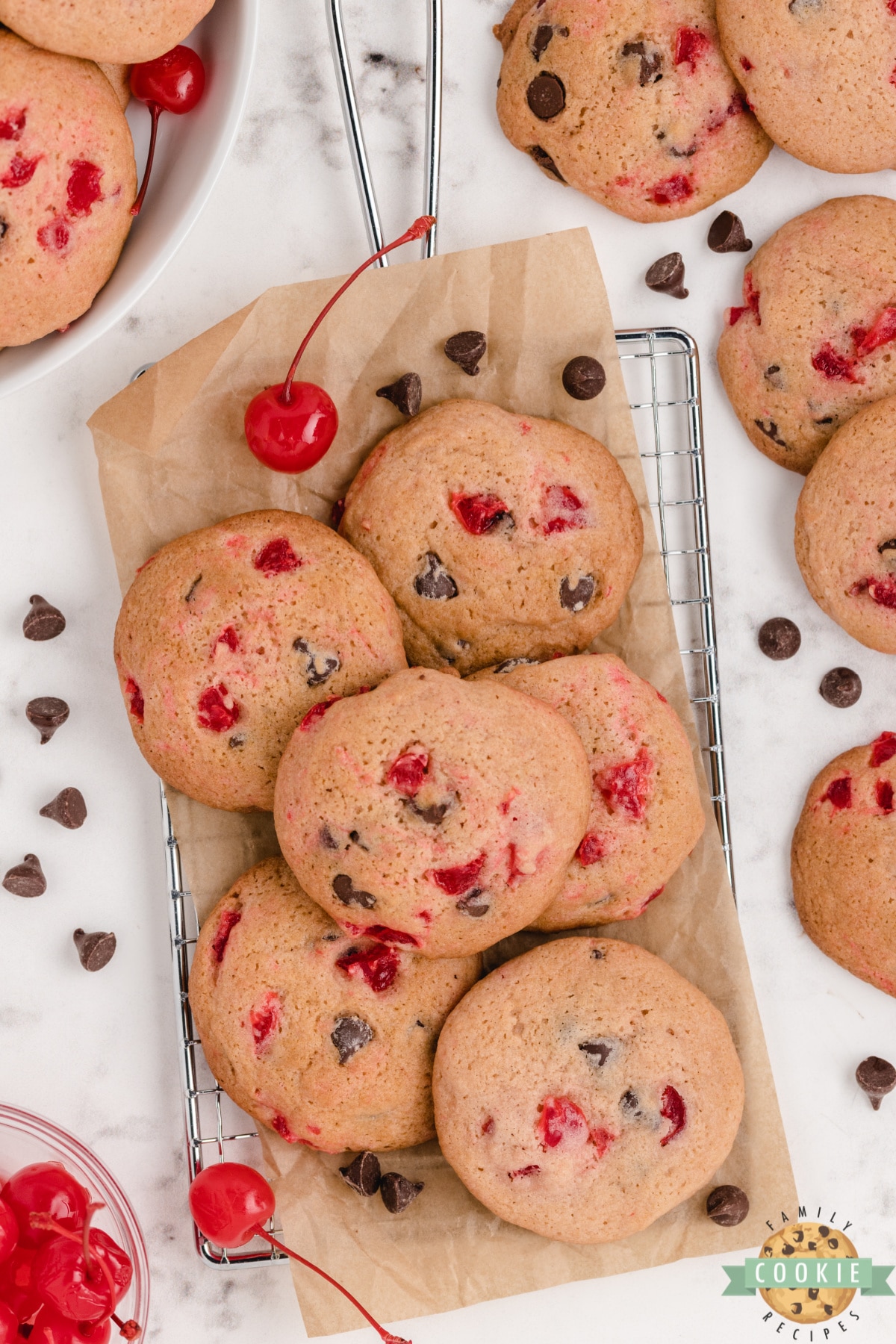 HOW DO YOU SOFTEN BUTTER?
I like to soften butter by using the defrost function on my microwave. If you need the full 1/2 cup cube of butter, you can leave it in the paper wrapper, otherwise, place the amount of butter you need in a glass or porcelain bowl. I use the lowest defrost setting on my microwave and just let it run for 20 seconds. Check the butter and see how soft it is by pressing it with a rubber scraper. If it is still not soft to the touch, meaning it doesn't indent when you press into it, let it warm for another 5-10 seconds. Watch it closely! Butter softens very quickly.
DO I HAVE TO CHILL COOKIE DOUGH?
This cookie dough does not require any chilling because the mixture is a great consistency as-is. While you can chill the dough if desired (like making ahead for a nice occasion or something) you'll want the dough closer to room temperature before actually baking. So take out the chilled dough 30 minutes prior to baking. The dough can chill for up to 24 hours in a covered bowl in the fridge.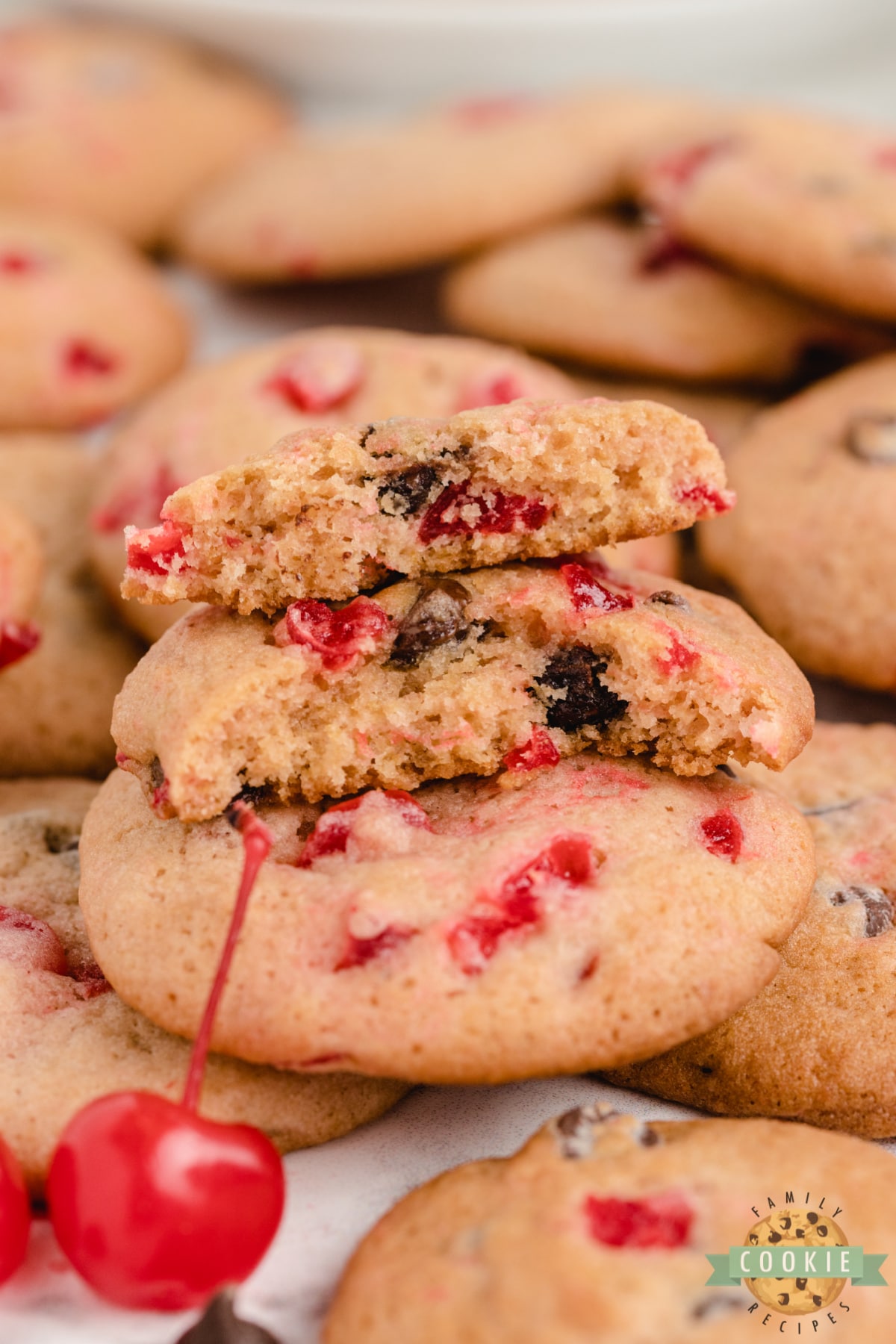 HOW LONG ARE CHERRY CHOCOLATE CHIP COOKIES GOOD FOR?
These chocolate chip cookies will be good for about 4-5 days if kept stored in an airtight container at room temperature.
CAN YOU FREEZE CHERRY CHOCOLATE CHIP COOKIES?
Absolutely! You can keep your cookies frozen for up to 6 months in the freezer. Make sure to keep them stored in an airtight container to keep them fresh. If you freeze them flat on a baking sheet before putting them into the container, it will keep them from sticking together.
I prefer to freeze the dough so that I can bake a batch (or just one or two cookies) whenever I want warm, fresh cookies straight out of the oven! Just scoop the dough into balls and then place them on a baking sheet in the freezer for about an hour. Place the frozen balls into an airtight container or Ziplock bag in the freezer and pull out however many cookie dough balls you need when you are ready to bake. No need to thaw them before baking, but you may need to add 1-2 minutes on to the baking time.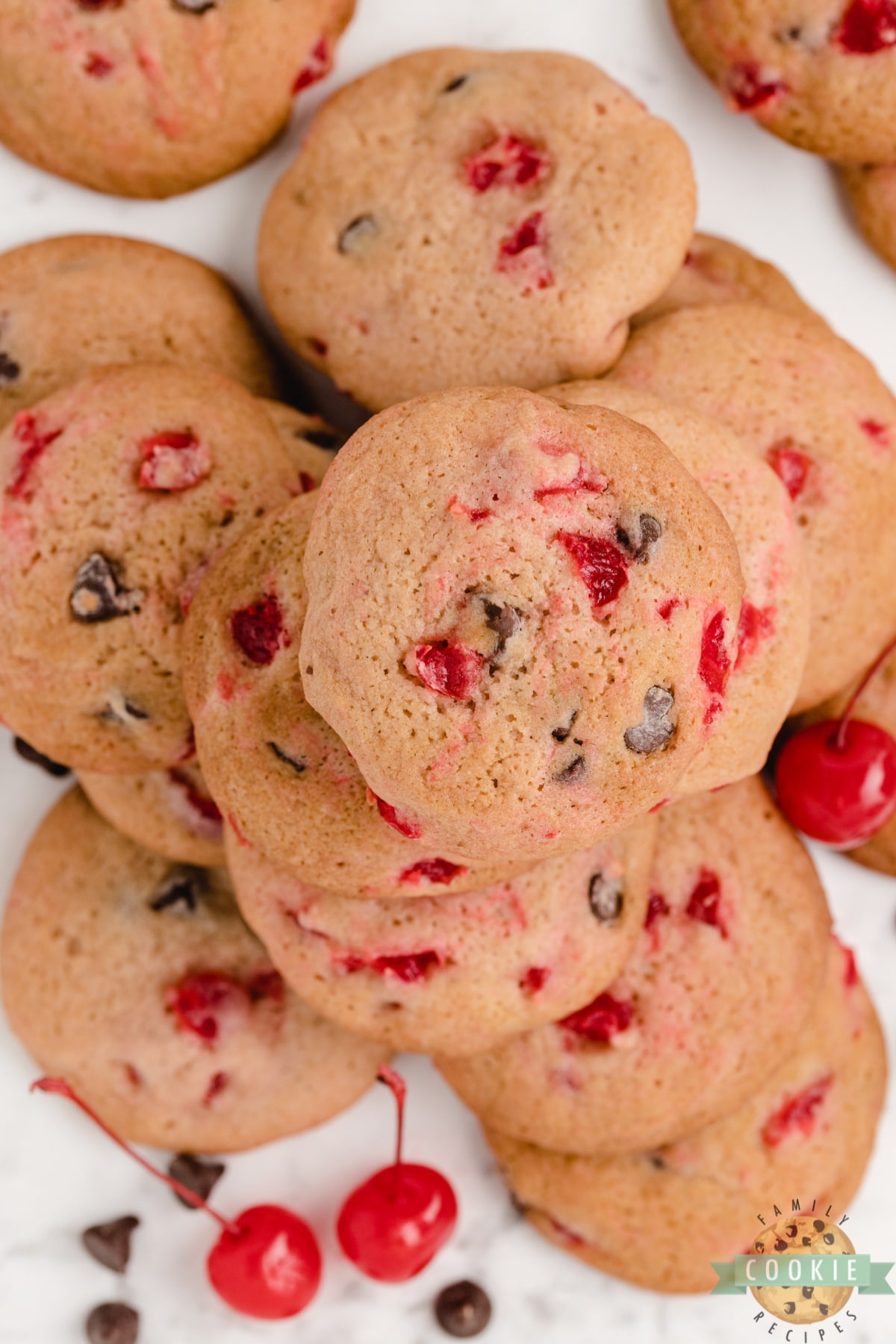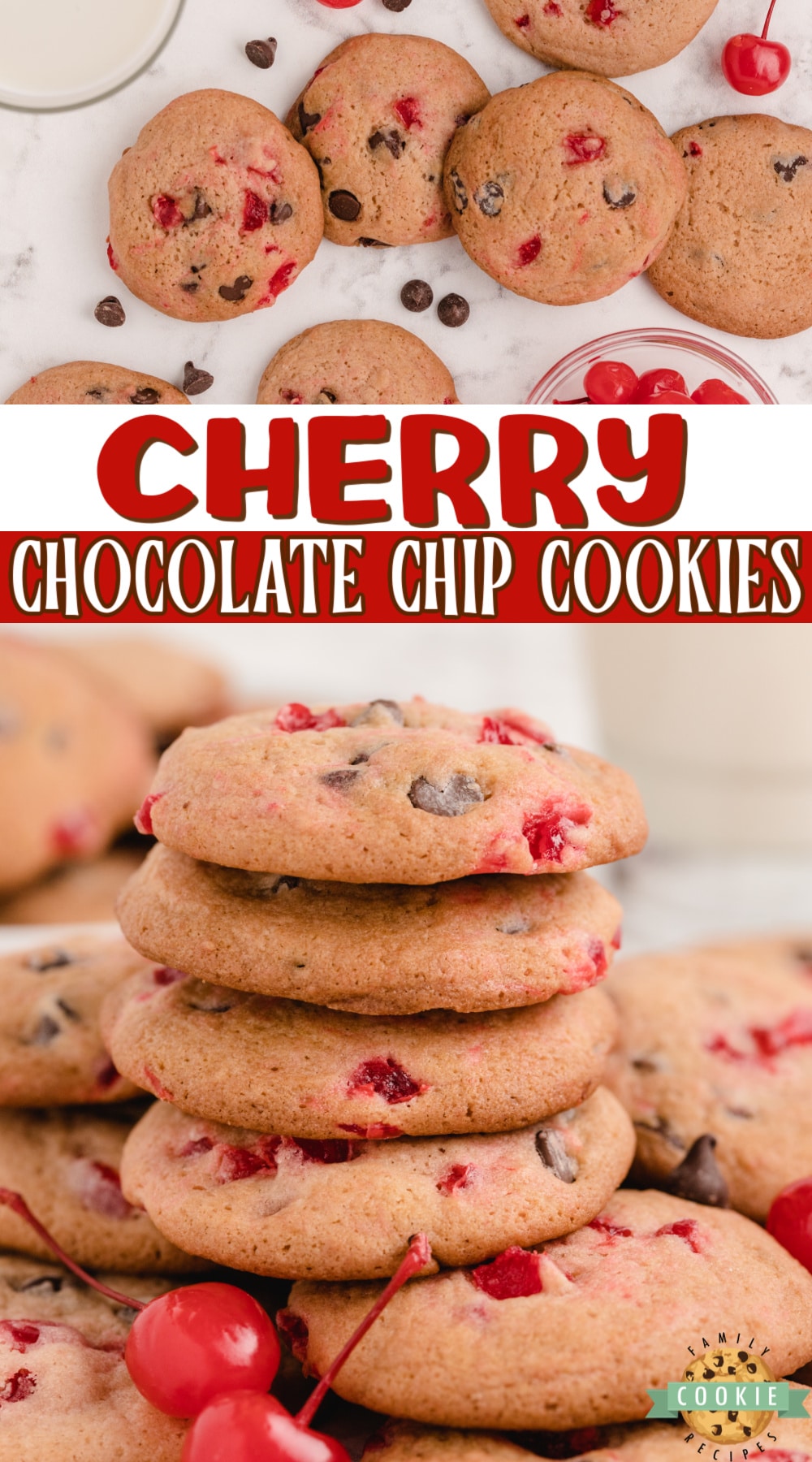 Cherry Chocolate Chip Cookies are soft, chewy and packed with cherry flavor, bits of maraschino cherries and chocolate chips! A fun and flavorful twist on traditional chocolate chip cookies.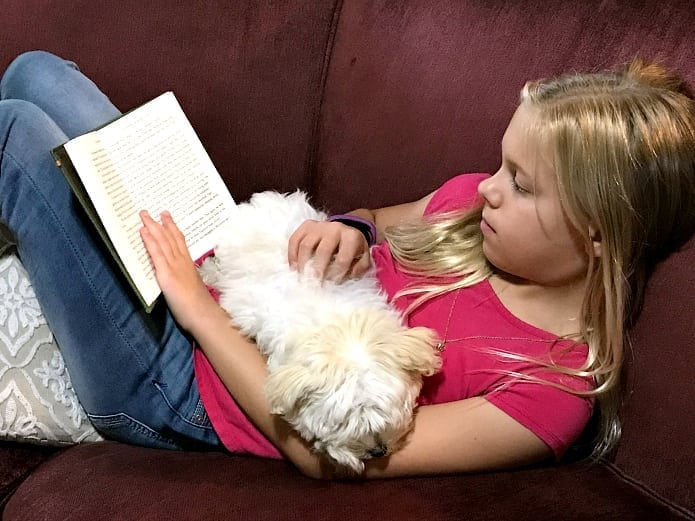 P is my second oldest and is my reader. My favorite thing to do is read and I really hoped that at least one of my kids would love it as much as I do. Although all 4 of my kids have turned out to be great readers, P is the one that ALWAYS has a book in her hand. She tries to sneak it under her leg at the dinner table, she has to take a book in the car with her even if it's only a 3-minute drive, and she is constantly trying to find long series with large books to read. I love it!