Blueberry Banana Cookies are like blueberry muffin tops but in cookie form! Great flavor from the blueberries & bananas, with a wonderful melt-in-your-mouth texture. Everyone goes crazy over these iced banana cookies!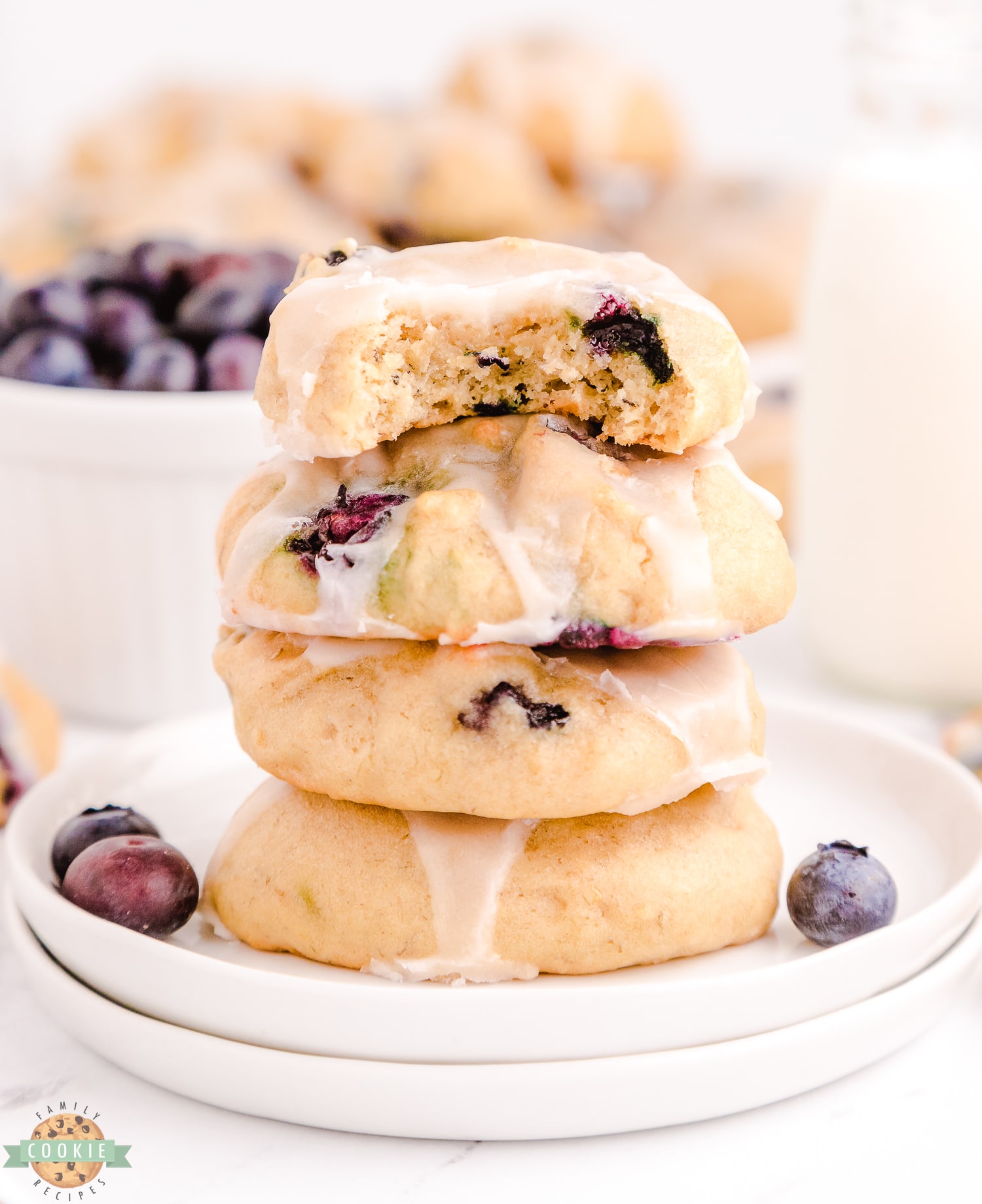 Made with real bananas and topped with a simple glaze, these blueberry cookies are a sweet treat you can't get enough of. This banana cookies recipe comes together quick, just mix ingredients, scoop, bake and finish with a sweet glaze!
Banana Cookies with Blueberries
This recipe for Blueberry Banana Cookies is a result of me modifying my recipe for Banana Chocolate Chip Cookies. I love this variation as did my family, these cookies literally disappeared. They are soft with great flavor and the glaze on top is like icing on the cake…or cookie. For a fun variation, substitute the vanilla extract in the glaze with 2 tsp lemon juice instead. It's subtle, but the lemon flavor combined with the banana blueberry flavors is simply amazing.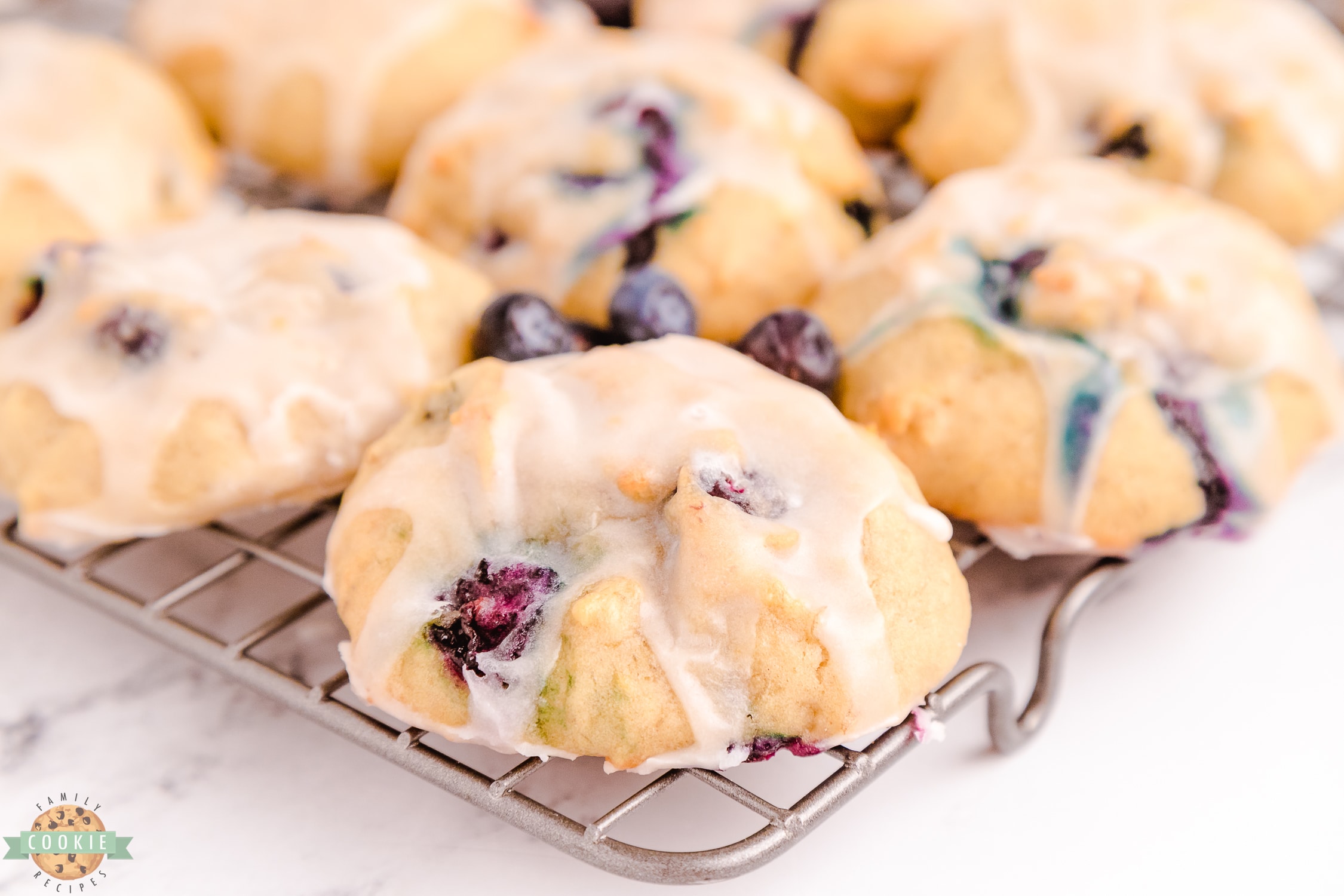 Tips to get the PERFECT Blueberry Banana Cookies:
Three kitchen items make these cookies come together quickly and easily. I actually use these items in nearly every cookie recipe I make, so they're quite versatile.
First, I line my cookie sheets with a piece of parchment paper. They're sold in sizes that fit a 12×16 cookie sheet perfectly and enable to cookies to bake well without sticking- and no mess from spraying oil on the cookie sheets! Parchment is especially useful for this recipe as the dough is quite soft. It makes clean up a breeze!
The second item is a KitchenAid mixer. I love mine! I have a Bosch as well but I find I use my KitchenAid for cookies. There is a cookie paddle that comes with every mixer that you attach to the top of the mixer. They're easy to use and help you mix the ingredients uniformly. I also use the metal whisk attachment in this recipe to make the frosting. It whips it up super fast! Add this to your wish list because it's one of my all-time used small appliances ever!
The third item is a cookie scoop! Years and years ago I used to use 2 spoons to measure and scrape cookie dough onto the pans. It wasn't a perfect process and I often ended up with oblong cookies in various sizes. A friend of mine brought cookies to a party and I noticed each and every one of her cookies looked PERFECT. Her secret? A cookie scoop! They come in three sizes- 1/2 tablespoon, 1.5 tablespoon and 3 tablespoon scoops. I used the middle size- 1.5 tablespoon for these, and most other cookies. (Although when I'm serving a large crowd, I use the small cookie scoop. People love having a smaller cookie, especially at an event with several other desserts.)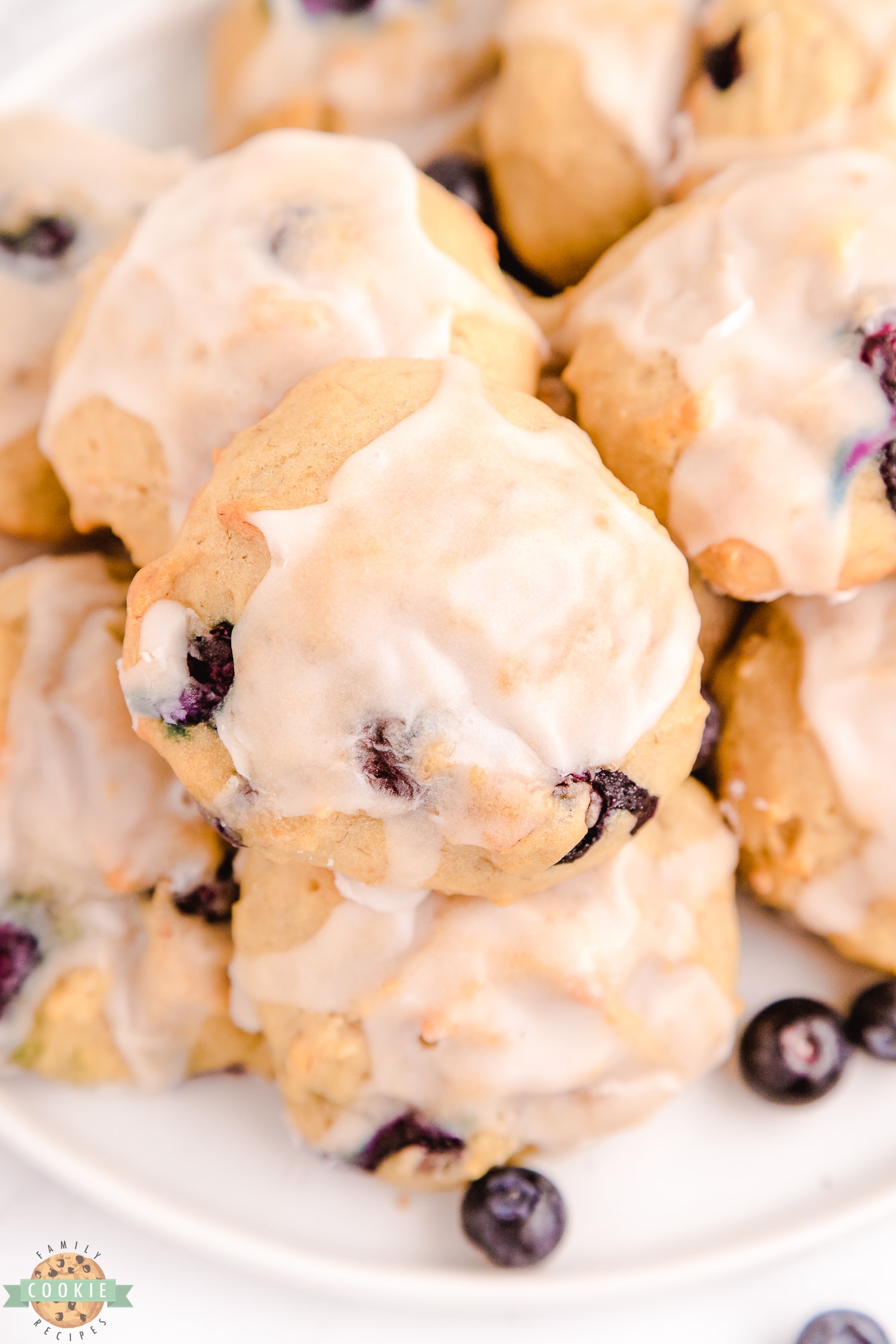 Blueberry Banana Cookie Ingredients
Banana: You will need 1 cup of ripe banana, smashed (2-3 bananas), to create amazing flavor in this cookie dough.
Sugar: Add in ¾ cup of white sugar to make the cookies sweet and chewy.
Vegetable oil: Using ½ cup of vegetable oil will give the dough some great moisture.
Egg: Create amazing dough texture by adding in 1 egg to the batter.
Vanilla extract: To help enhance all the wonderful flavors, use 1 tsp of vanilla extract.
Flour: You need 2 ½ cups of all-purpose flour for the structural base of this cookie recipe.
Baking powder: Help the cookies rise as they base by adding in 2 tsp of baking powder.
Salt: Add in ¾ tsp of salt to balance the flavors in this cookie recipe.
Baking soda: The additional leavening agent in this recipe is 1 tsp of baking soda.
Blueberries: You will want to add in ¾ cups of fresh or frozen blueberries, wash/dried and/or defrosted.
Vanilla Glaze
Butter: To create a nice rich tasting glaze, use 1 TBSP of butter, melted.
Powder sugar: You need 1 cup of powdered sugar for the base of this glaze recipe.
Vanilla extract: Adding in 1 tsp of vanilla extract will give the glaze amazing flavor.
Milk: To help create the perfect consistency, add in 1-2 TBSP of milk, until you've reached the desired consistency.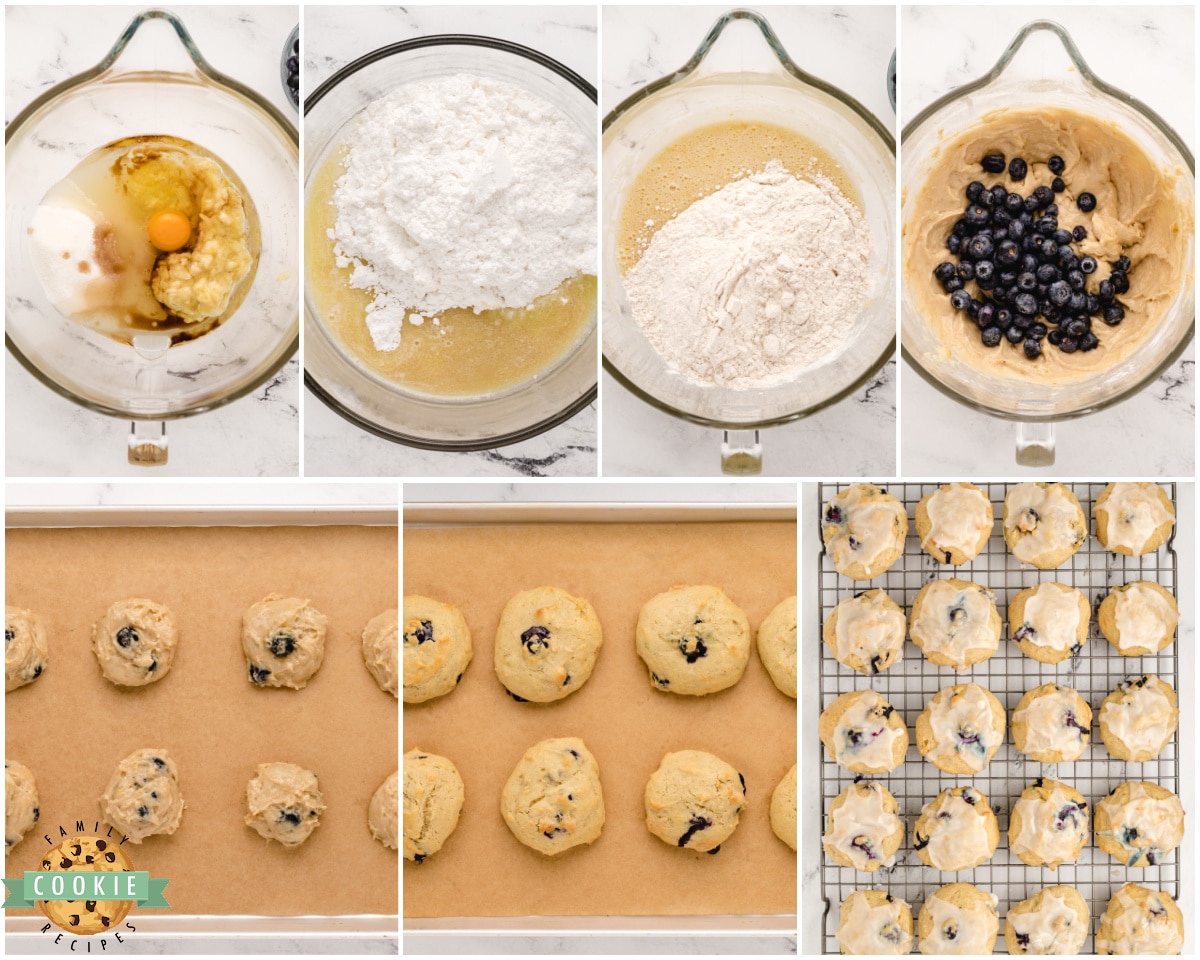 How to make Easy Blueberry Banana Cookies
Prep
Start by preheating the oven to 365 degrees F. Then, line a cookie sheet with parchment paper or a silicon mat, set aside.
Glaze
Next, whisk together the melted butter, powder sugar, vanilla extract, and milk until well combined and smooth. Set aside.
Dough
In a large bowl, cream together the mashed bananas, sugar, vegetable oil, egg, and vanilla extract, using an electric hand mixer.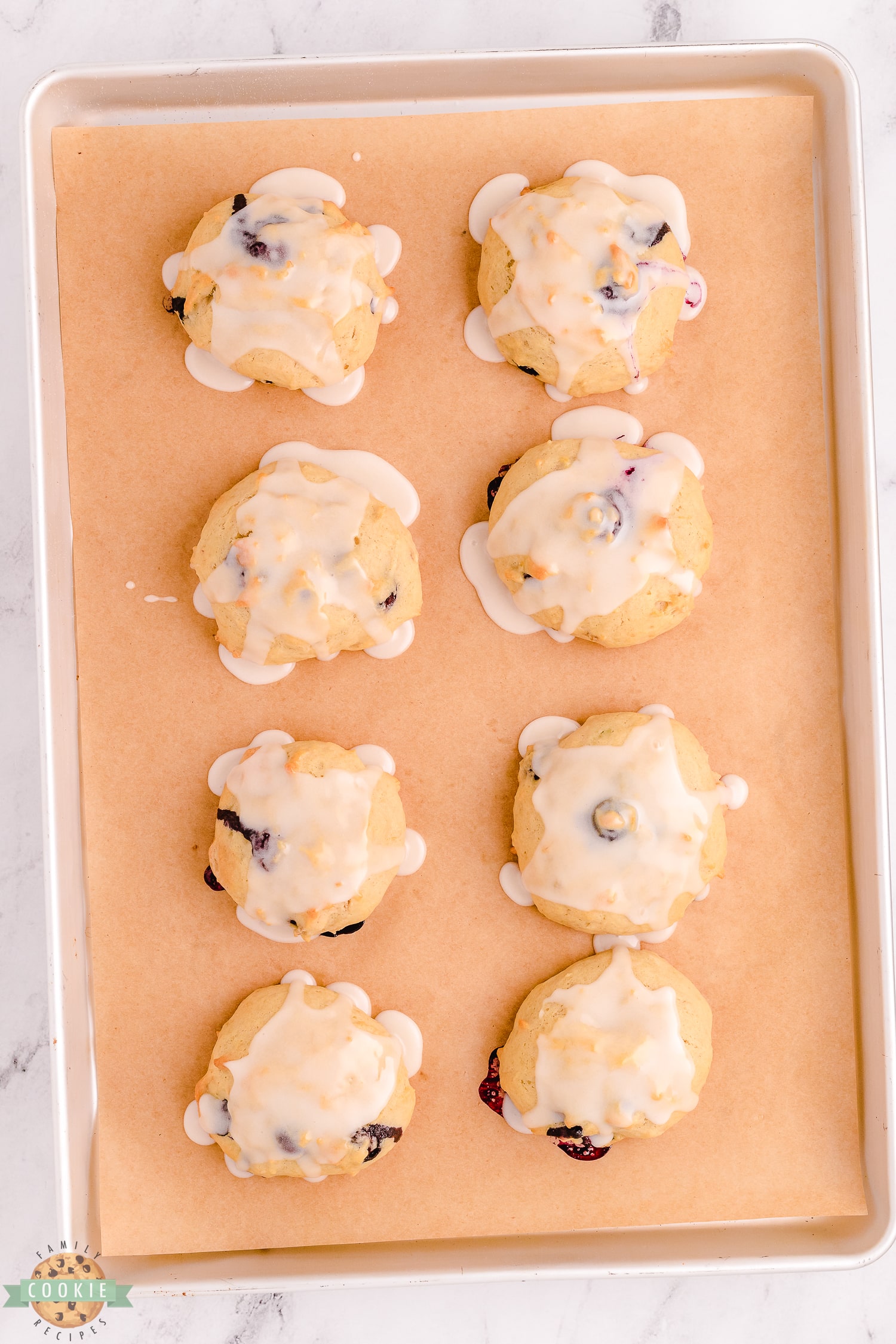 After that, in a separate small bowl, whisk together the flour, baking powder, salt, and baking soda. Proceed to add the dry ingredients to the wet ingredients and mix until smooth. Continue to fold in the washed and dried blueberries.
*You can use either fresh or frozen blueberries for this recipe. If you're using frozen berries, there's no need to defrost them. Simply rinse quickly with cool water and set in a mesh strainer until you're ready to stir them into the dough.
Bake
Now, using a 1.5 TBSP cookie scoop, drop balls of dough onto the prepared baking sheet about 1-2″ apart.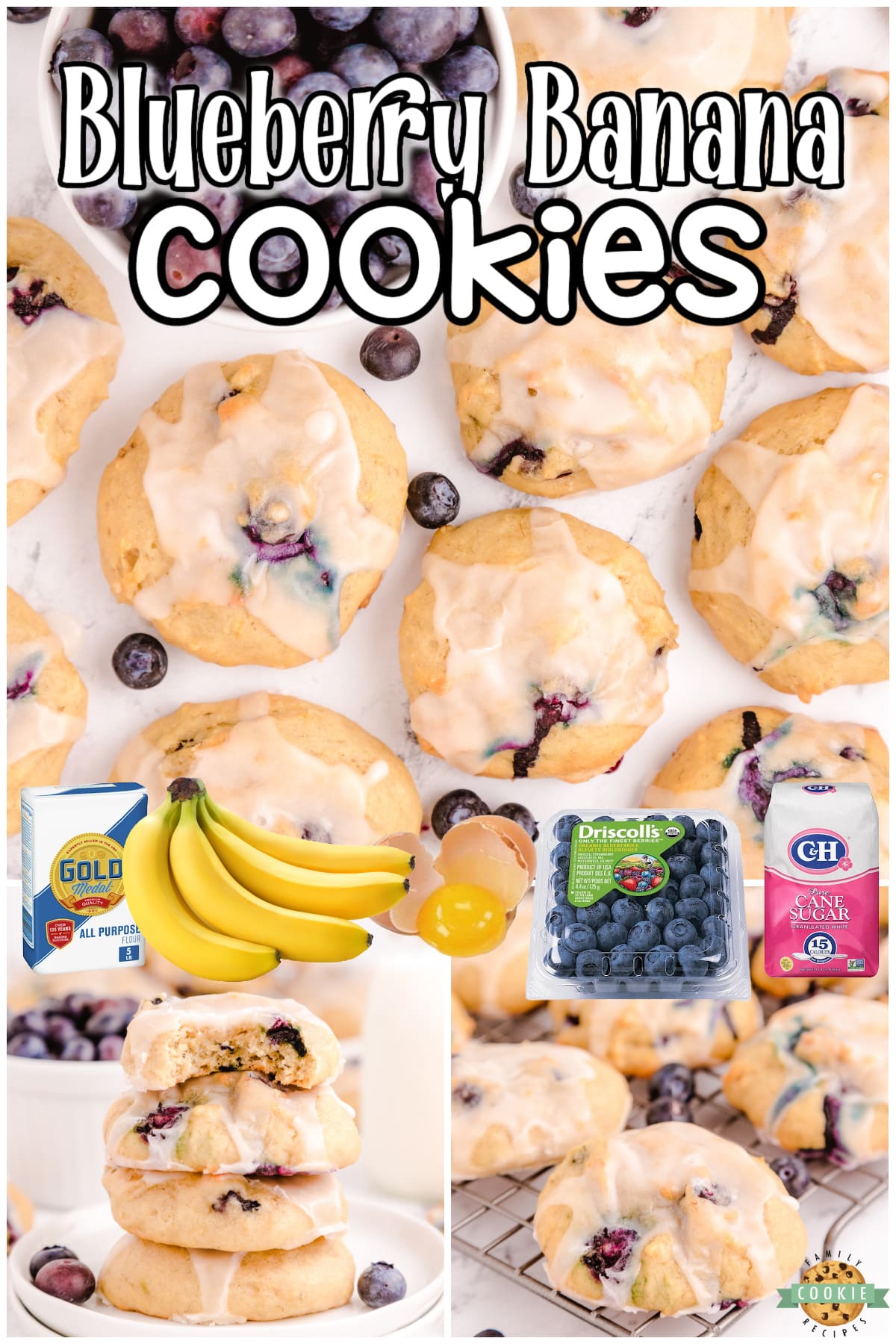 Place in the preheated oven and bake for 11-13 minutes. Let the cookies cool for 5 minutes on the baking sheet, then transfer to a cooling rack to cool completely.
Glaze cookies
Once the cookies have cooled, brush each one with the glaze. If the glaze has hardened up, microwave for 20 seconds, then whisk again.
Serve and enjoy!
HOW TO KNOW BANANAS ARE RIPE ENOUGH FOR BAKING:
You want your banana to be nice and deep yellow in color, possibly with brown spots or even mostly brown. The darker the banana is in color, the sweeter it will naturally be. Not only that, but it will be easier to mash and have a stronger banana flavor as well. Green and firm bananas will not work well for baking recipes as they are not nearly ripe enough to be used and can be a bit bitter as well.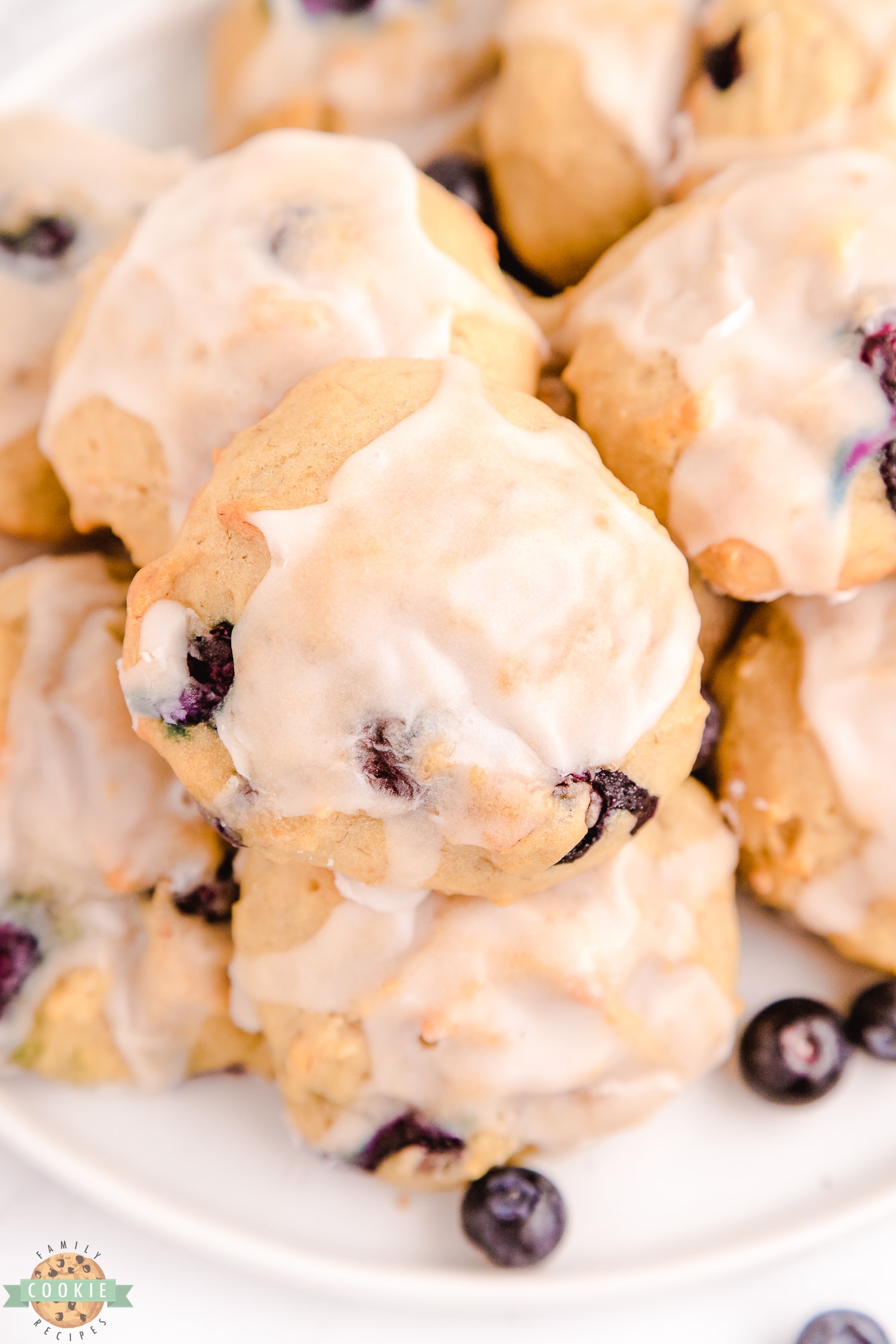 HOW LONG ARE BANANA COOKIES GOOD FOR?
These cookie are good for up to 3-5 days if stored in an airtight or well-covered container in the fridge. I recommend eating within a day or two for the best tasting results as the cookies will become softer as they age thanks to the moisture from the glaze.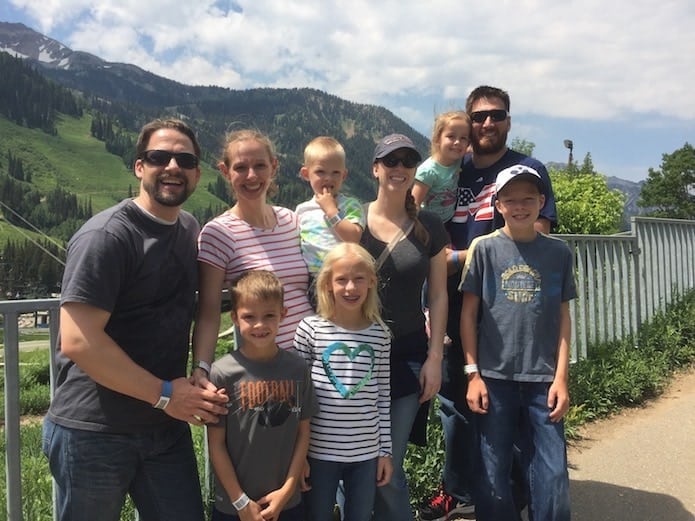 None of my family lives in the same state as us so when someone comes to visit, it's a big deal. My sister and her fiancée are pictured here with us- this was a couple years ago when they came for the 4th of July. We all have such wonderful memories of this trip because spending time in each other's company was amazing and we had so much fun! Honestly, ski resorts in Utah are incredible in both the wintertime AND summertime. Here we were enjoying a day at Snowbird. We already want to go back!
Loved these Blueberry Cookies? Try more of our fruit cookies:
Blueberry Banana Cookies are like blueberry muffin tops but in cookie form! Great flavor from the blueberries & bananas, with a wonderful melt-in-your-mouth texture.