Blueberry sugar cookies made with a soft, vanilla cookie dough & an absolutely delightful blueberry buttercream frosting on top! Frosted sugar cookie with blueberries perfect for any occasion!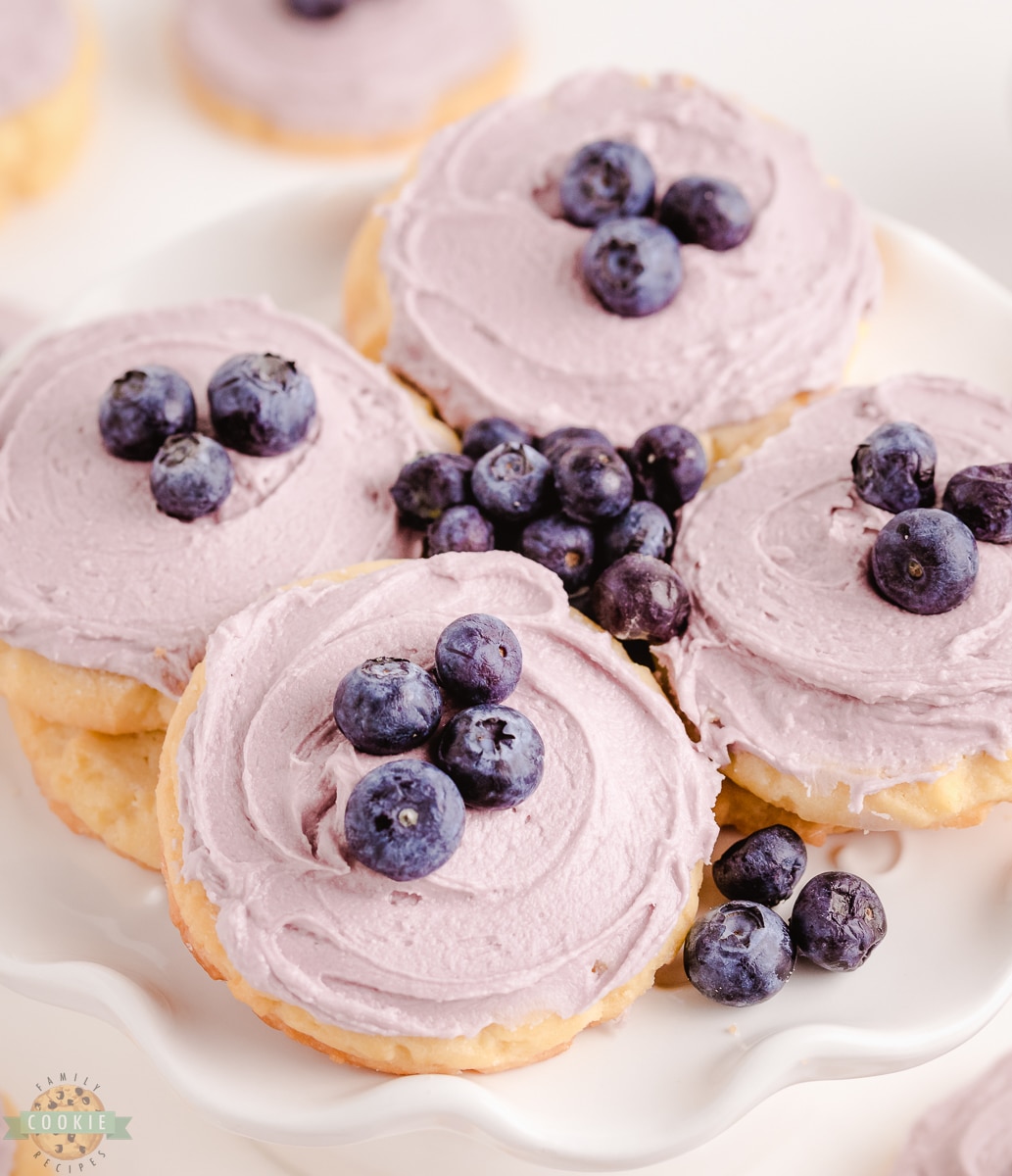 You're going to love these blueberry frosted cookies! We have been making sugar cookies like crazy over here this summer, and these blueberry ones taste perfect on a sunny day. So bring the wonderful flavor of summer berries into your treats and enjoy them all year long.
What are blueberry sugar cookies?
These are cookies made with a twist. Using cream of tartar in the cookie dough, they have a lovely light texture. Every cookie is topped with a sugar-coated drinking glass for a fun, unique shape and rough edges that can't help but grab your attention. It's that first bite though that will grab your heart.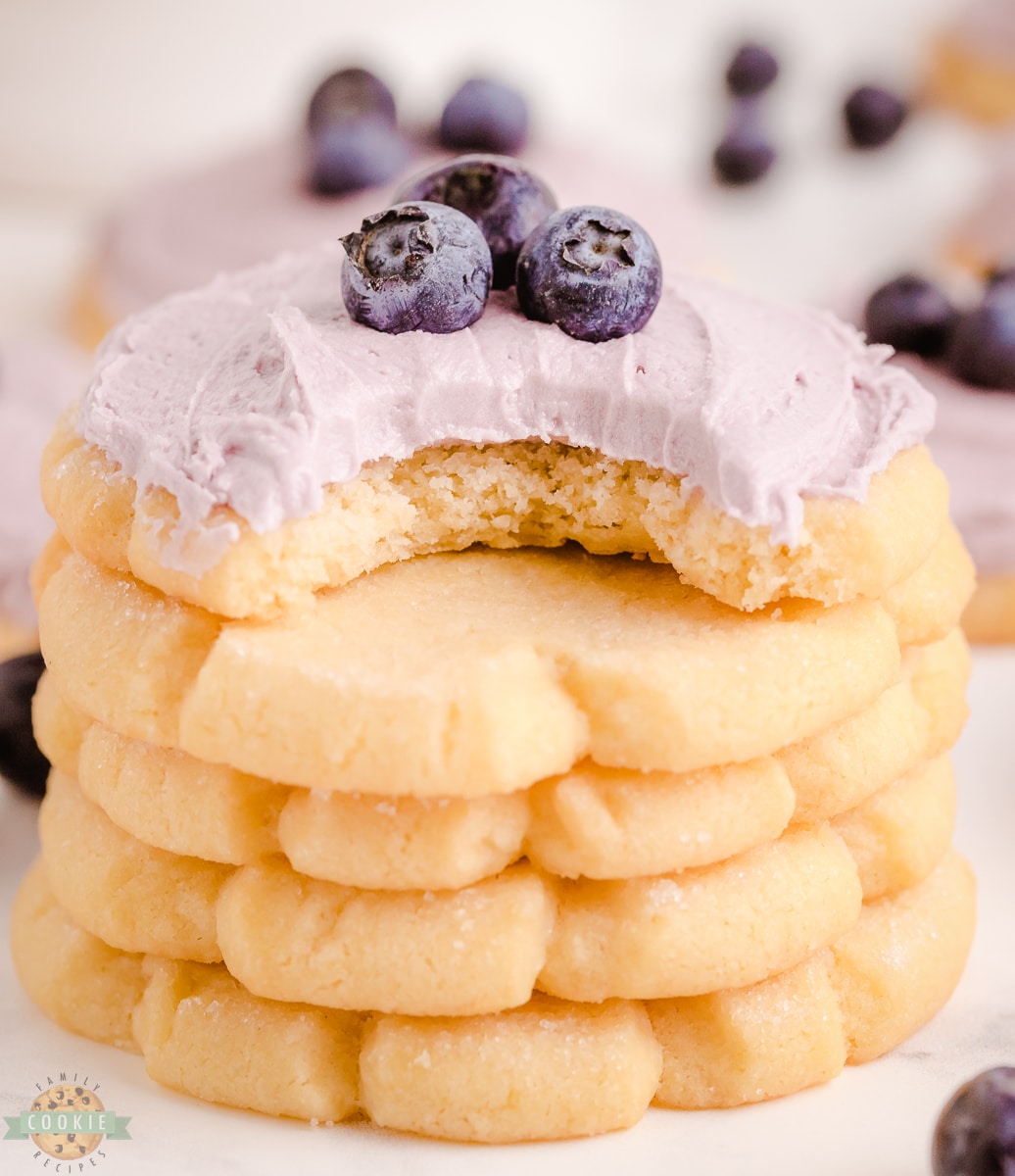 Blueberry sugar cookie ingredients
For the cookies you will need:
-Butter: You will need 1 cup of softened butter (this is two sticks).
-Crisco: Use ¾ cups of butter flavored Crisco for these cookies because it adds to the buttery texture and rich flavors.
-Sugars: You will need 1 ¼ cups of granulated sugar and ¾ cups of powdered sugar for a perfectly sweet cookie.
-Milk: You'll need 2 tablespoons of milk to help moisten the dough.
-Eggs: Adding 2 large eggs into the mix will help to bind the cookies together while giving a richer flavor.
-Leavening agents: You will need ½ teaspoon of baking soda and ½ teaspoon of cream of tartar for cookies with a nice puffy texture.
-Salt: Use1 teaspoon of salt to help naturally enhance the flavors in your cookie dough.
-Flour: The base of the cookie dough is 5 ½ cups of all-purpose flour.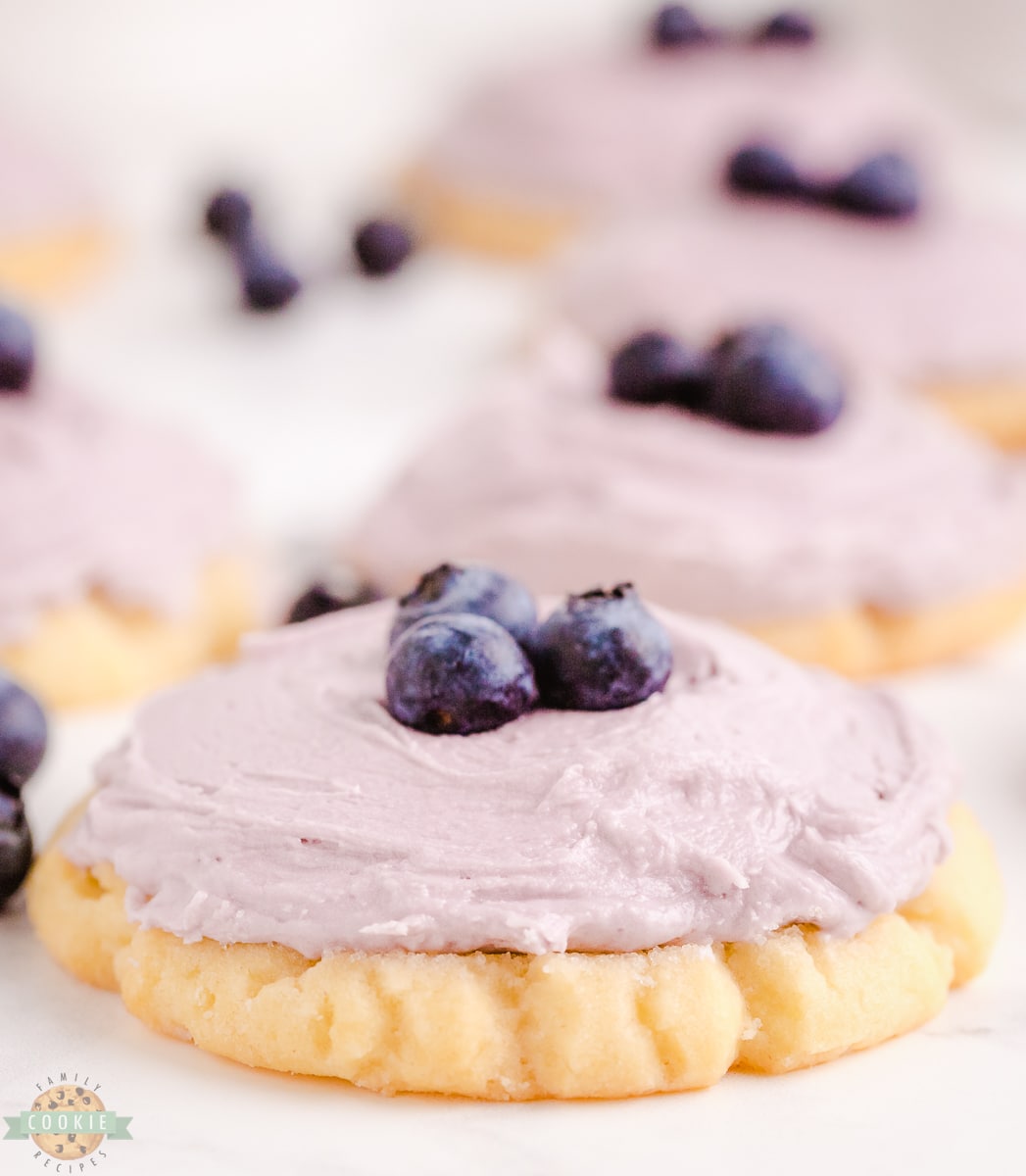 For the frosting you will need:
-Butter: You will need ½ cup (one stick) of softened butter for a rich tasting frosting.
-Sour cream: Adding in 2 tablespoons of sour cream will give us a fluffier texture with a nice flavor.
-Powdered sugar: Make the frosting sweet and smooth with 4 cups of powdered sugar.
-Vanilla: Use 1 teaspoon of vanilla extract for enhancing the flavors in this frosting.
-Blueberry extract: You will need 1 ½ teaspoons of blueberry flavored extract or emulsion.
-Food coloring: If desired you can add in a little food coloring to give your frosting the perfect shade of blue (or another color of choice).
-Milk: Use 1-2 tablespoons of milk to help get the frosting to a good spreadable consistency.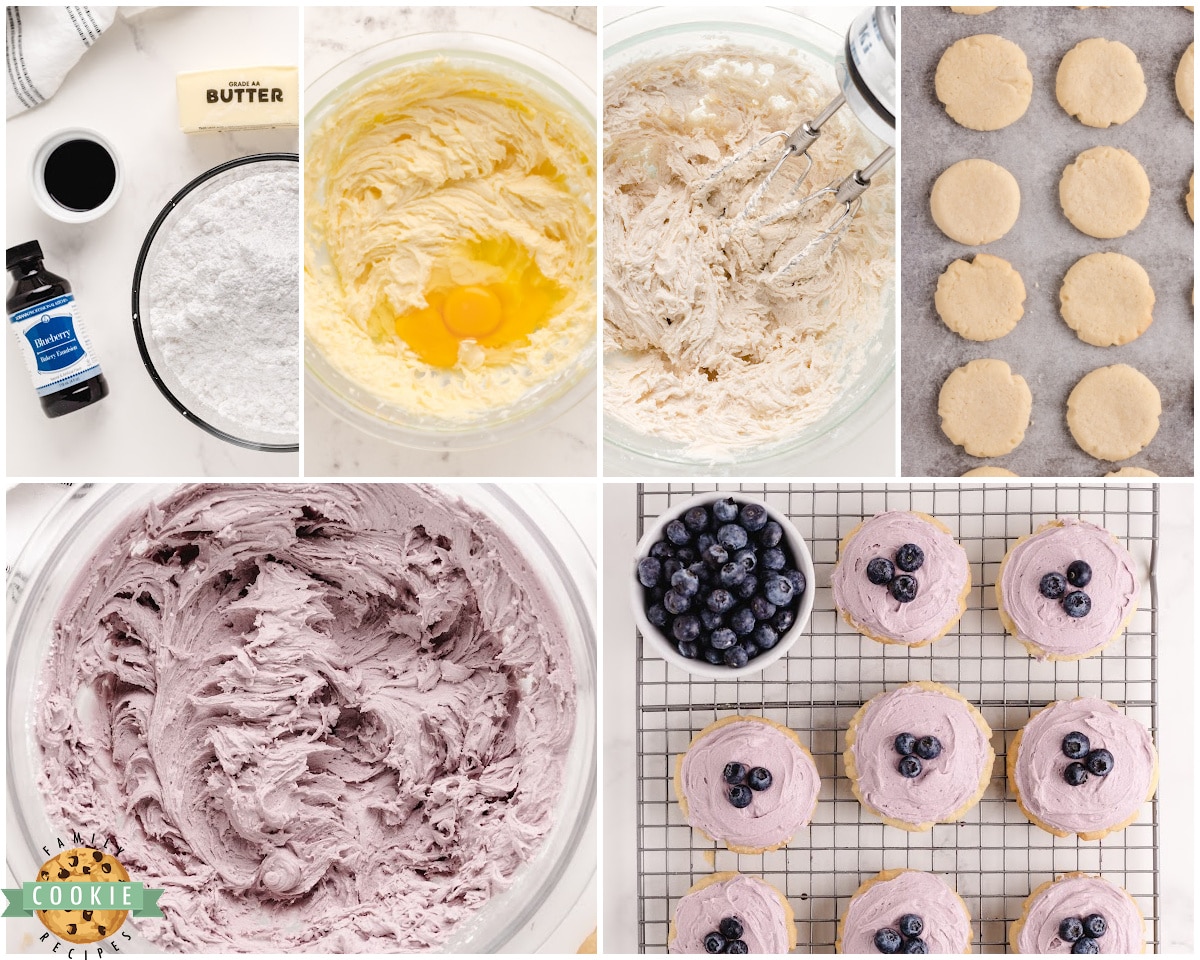 How to make frosted blueberry sugar cookies
To make the cookies:
Cream together the butter, Crisco, sugars, and milk in a large bowl or in the bowl of your stand mixer.
Add in the eggs and mix until well combined.
In another bowl, combine the flour, baking soda, cream of tartar, and salt.
Add your flour mixture to the butter mixture and then mix until well combined.
Roll your dough out into 1 inch sized balls and place onto a greased cookie sheet.
Spray the bottom of a glass with nonstick cooking spray and then dip it into granulated sugar.
Press down lightly on top of each cookie to get a rough edge look but don't press down too hard because these cookies are best when thick.
Bake in the oven for 8-9 minutes at 350 degrees F and allow to cool completely on a wire rack before frosting.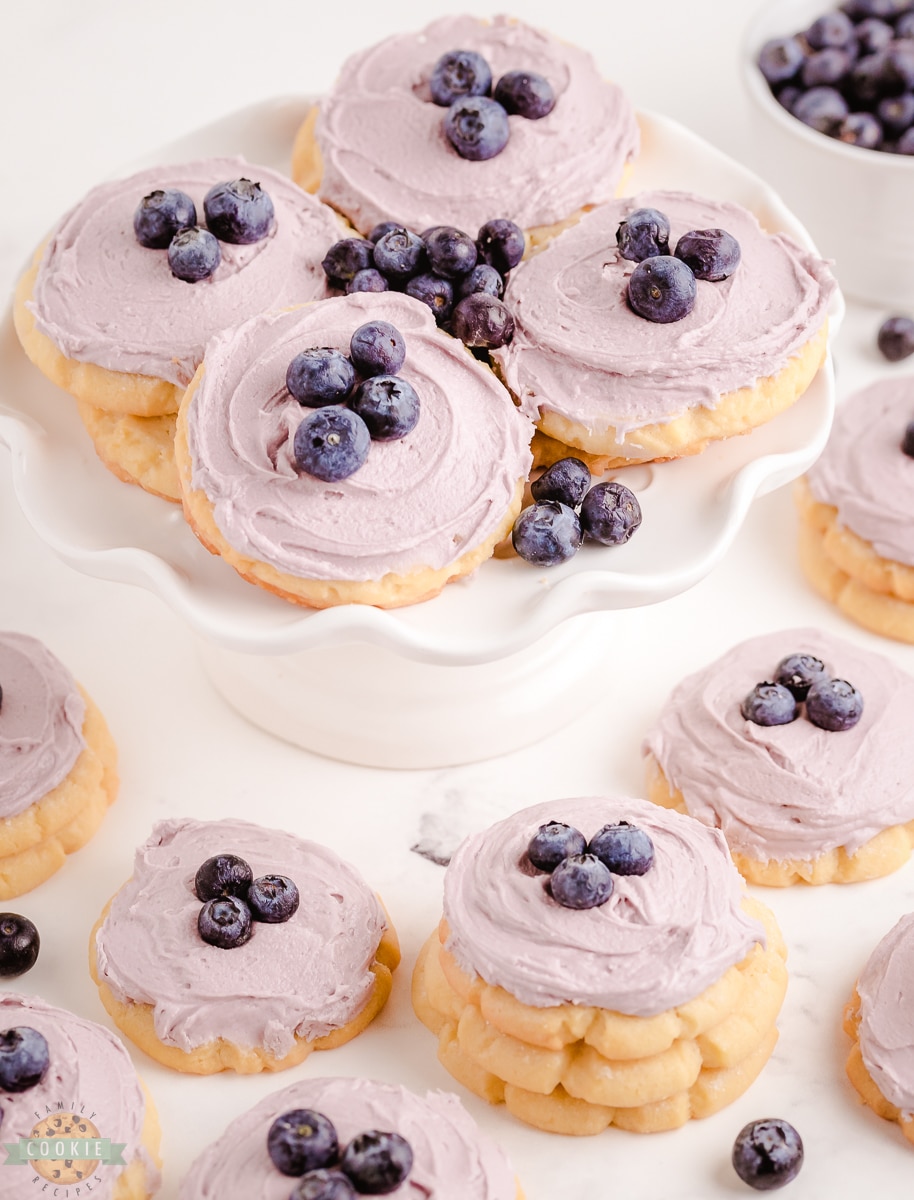 To make the frosting:
Mix together the butter, powdered sugar, sour cream, vanilla, and blueberry extract with an electric mixer until smooth.
Add in food coloring if desired and the milk ( a little bit at a time) and mix again until smooth and spreadable.
Spread over the tops of your cookies. Enjoy!
Can I make these cookies larger?
Yes! I often make these cookies with a larger cookie scoop so that every cookie has a few more bites to love. If you do this, you will make about 24 cookies (depending on the size of your scooper). The cookies will take an extra minute or two to bake, so keep an eye on them and adjust accordingly.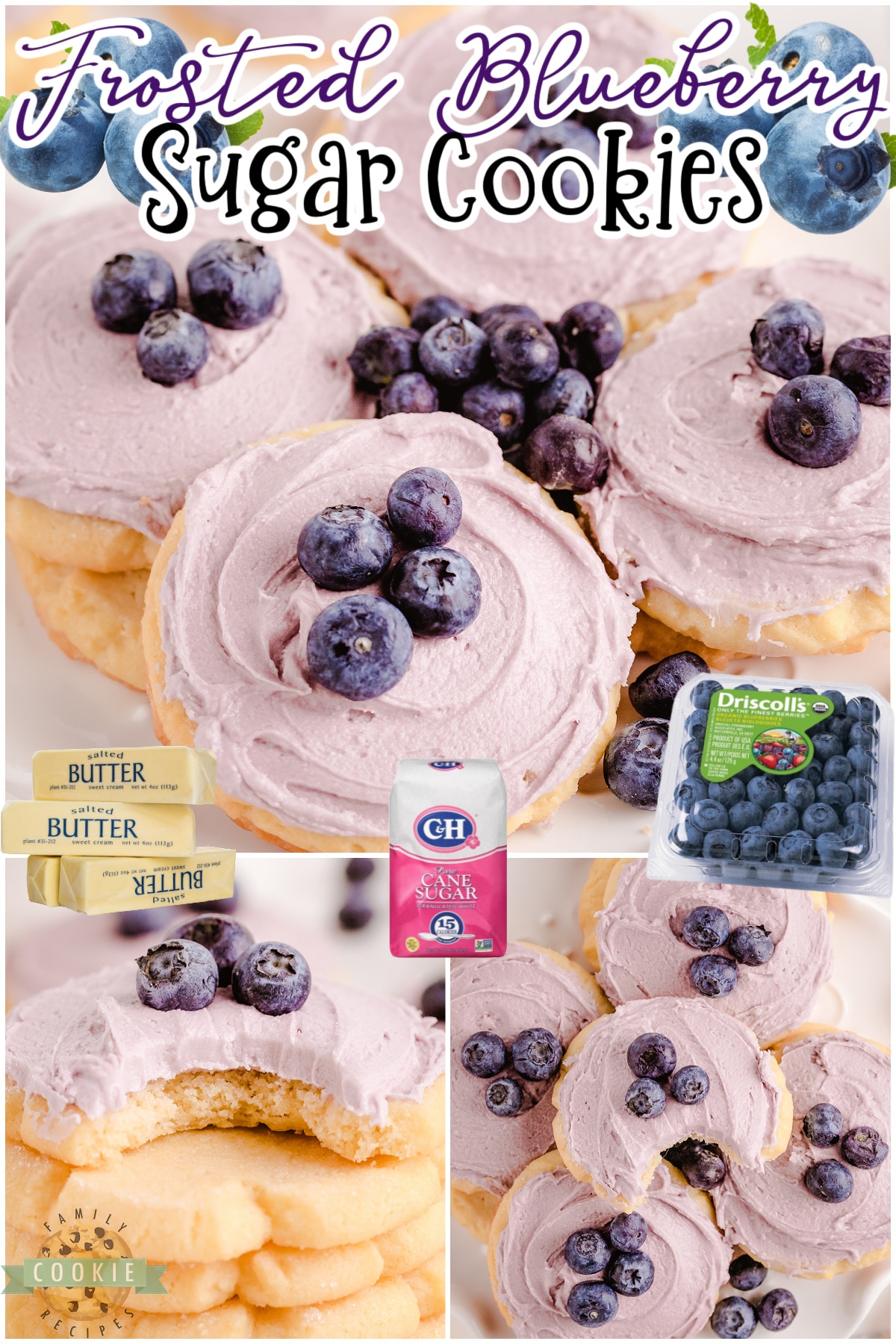 If I can't find blueberry extract can I use another flavor?
Absolutely! These cookies can be modified to use any flavored extract of choice. Some great options include (but aren't limited to) maple syrup, lemon, strawberry, and orange. So go ahead and try something new or convenient and watch how quickly these cookies jump up on your favorite's list.


Flashback to several years ago… aren't these kids CUTE?! Oh man, I have mixed feelings about carving pumpkins. When the kids were really young it was TERRIBLE. Ha! I did most of the work and by the end I was sweating, exhausted and just needed a nap. I remember one year I got this drill attachment that was supposed to make carving easier. Only my husband didn't quite think the process through… and he splattered pumpkin guts ALL OVER MY KITCHEN. Oh man, we were cleaning that up for months. Fun memories, right?!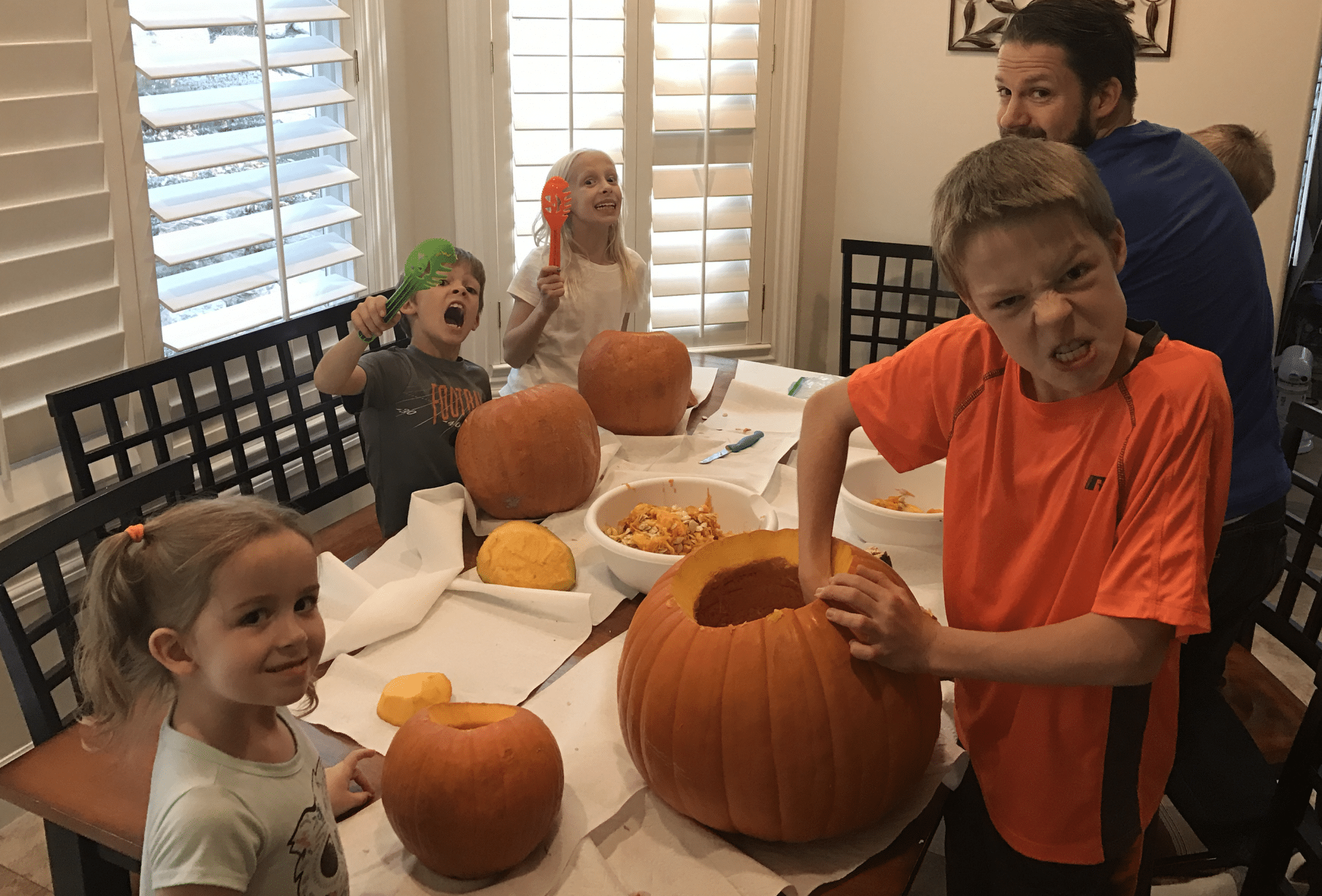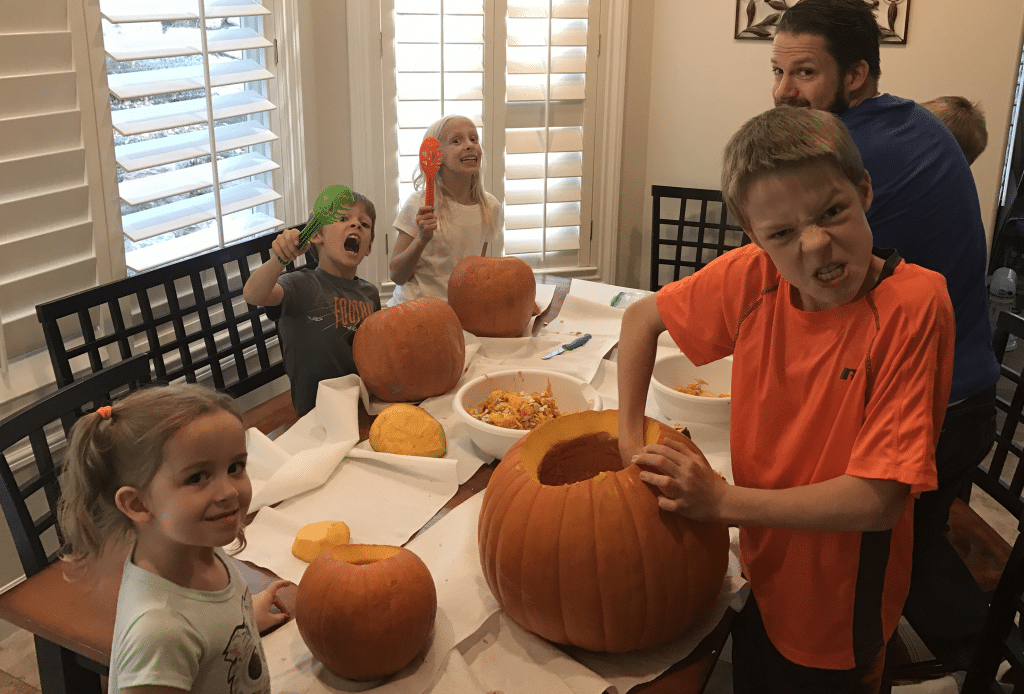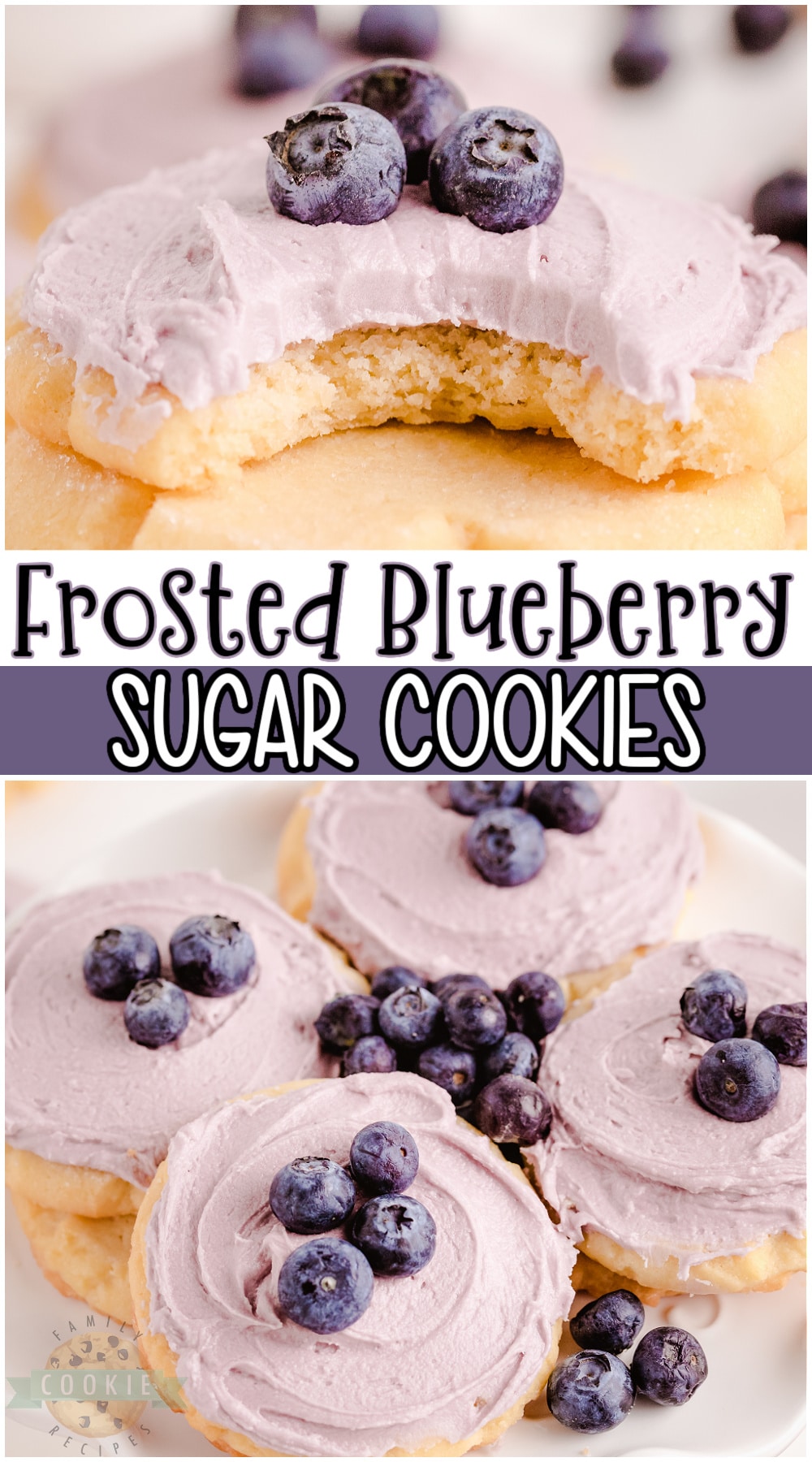 Frosted blueberry sugar cookies are a treat that everyone will love and enjoy. Made with an easy cookie dough, no chill times, and a delicious blueberry frosting, every cookie is simple and fabulous.