Peppermint Fudge Sugar Cookies are two favorites in one! Soft sugar cookies topped with a chocolate peppermint fudge & crushed candy canes for an over-the-top Christmas treat!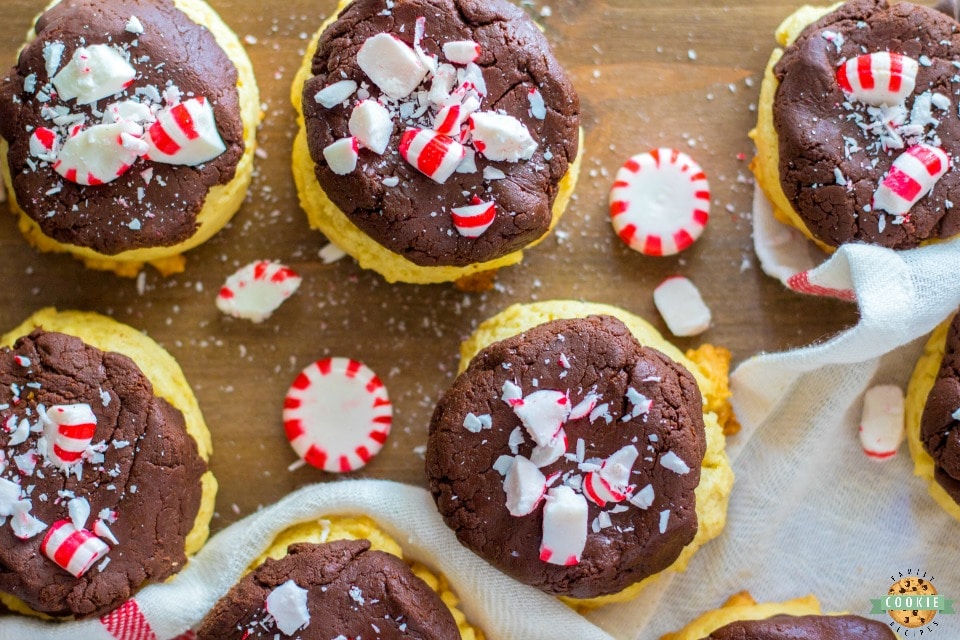 Peppermint Fudge Sugar Cookies are going to be the hit of the party this year. With delicious crushed peppermint, rich fudgy frosting, and a sugar cookie base, these Christmas cookies are simply amazing! This recipe makes 2 dozen large cookies but be prepared for a second or third batch because you'll need backups after this first one disappears. It's too good to resist!
What Are Peppermint Fudge Sugar Cookies?
These buttery sugar cookies are simple and easy to make. The dough is scooped (not cut into shapes) and requires a little chilling time (thankfully, not much). After the cookies have baked and cooled, a peppermint flavored chocolate fudge frosting is made and added over the tops. Then with a sprinkling of crushed peppermints, these cookies are complete and looking beautiful.
Peppermint Fudge Sugar Cookies Ingredients
For Cookies, you will need:
-Butter: We need 1 cup of softened butter to get a good buttery filled taste. This will help the cookies to want to melt in your mouth and hold a better shape after they've been chilled so they don't melt too much while baking.
-Sugar: We need 1 cup of granulated sugar to add sweetness and a slight crispness to the cookies.
-Eggs: Using 2 large eggs and 3 large egg yolks, we can get a great binder for this cookie dough. You can use the remaining three egg whites to make any other recipe or cook them into a healthy omelet while you wait for these cookies to get finished.
-Vanilla: We will need 1 ½ teaspoons of vanilla extract to get a good flavor base for these cookies and make them taste great. You can make them taste even better by using higher-quality vanilla as I do.
-Flour: The base of this cookie dough is 3 ½ cups of all-purpose flour.
-Baking powder: This is the leavening agent that makes the cookies puff up while baking and helps them to get a nice crumb. We need 1 ½ teaspoons of baking powder to do this.
-Salt: Enhancing all of the flavors in this dough is ¼ teaspoons of salt that helps to make the other flavors stand out and taste amazing.
For Fudge Frosting, you will need:
-Chocolate chips: 1 bag (12 ounces) of semi-sweet chocolate chips will give us a rich chocolate depth and great consistency for this frosting.
-Sweetened condensed milk: A 14 ounce can of sweetened condensed milk will add sweetness and thickness to the frosting and make it more fudge-like.
-Cocoa powder: Adding yet another source of chocolate is ¼ cup of unsweetened cocoa powder.
-Powdered sugar: 1 cup of powdered sugar adds more sweetness with a smooth texture.
-Vanilla extract: We need 1 tablespoon of vanilla extract to get a great flavor base.
-Peppermint extract: This extract is strong in taste and we only need 1 teaspoon's worth to give the frosting the perfect amount of peppermint flavor in every bite.
-Peppermint candies: Adding color, crunch and fun is some crushed peppermint candies to be sprinkled on the cookies when all is said and done. You can use peppermint baking chips if you prefer.
How to Make Peppermint Fudge Sugar Cookies
Cookies
Cream together the butter and sugar in a large bowl until light and fluffy.
Beat in the eggs, egg yolks, and vanilla extract until well mixed.
In another bowl, whisk together the flour, baking powder, and salt.
Beat the dry ingredients into the wet ones until well incorporated and then place it in the fridge.
Chill the dough for 1 hour.
Preheat your oven to 375 degrees F.
Scoop the dough into large scoops and place them on an ungreased baking sheet, at least 1 inch apart.
Bake in the oven for 10-12 minutes or until the edges begin to brown.
Let the cookies cool on the sheet for at least 5 minutes before transferring to a wire rack to finish cooling completely.
Fudge Topping
Place the chocolate chips and condensed milk in a large microwave safe bowl and melt in 30 second intervals until melted, stirring between each.
Add in the cocoa powder, powdered sugar, and extracts.
Beat with a mixer until everything is combined and smooth.
The frosting will be thick. Spoon it on to the cookies and spread it around as you'd like.
Top with crushed peppermints. Enjoy!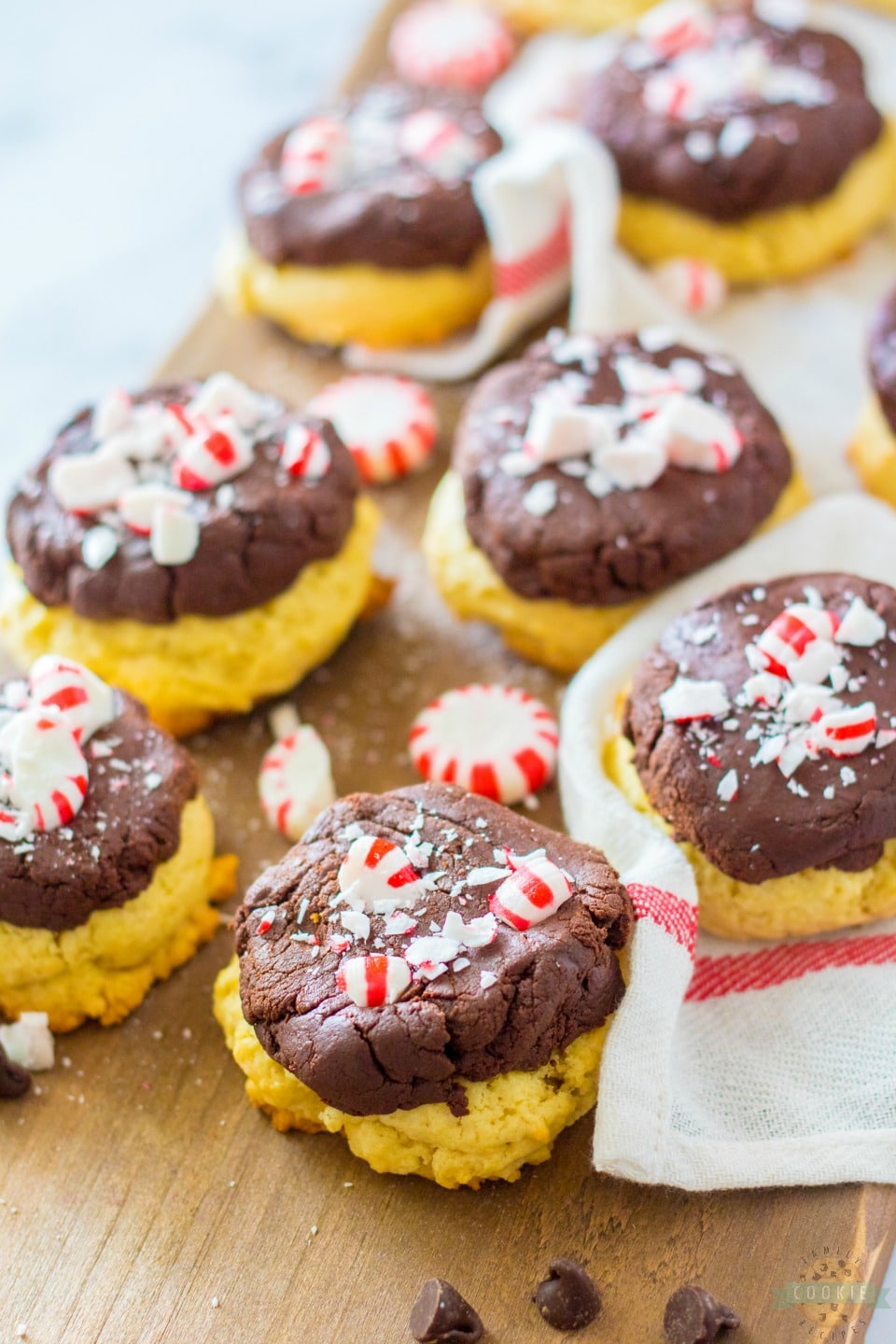 Can I freeze fudge frosted sugar cookies?
Yes! To freeze these cookies, let the frosting set before transferring to an airtight container. Lay the cookies in a flat layer and place a sheet of wax paper on top before adding more cookies, to avoid them touching. Freeze for up to 4 weeks and let thaw before eating.
How long will these cookies stay fresh?
If properly stored in an airtight container, these cookies can remain fresh for up to a week. For longer storage consider freezing.
Can I use colored melting chocolate instead of chocolate chips?
Yes. If you would like to get a little splash of color on these cookies to help fit a theme or holiday, feel free to swap out the chocolate for colored chocolates. Just keep in mind that the cocoa powder will change the color slightly and the richness of the chocolate will not be the same either due to the different types of chocolate used.
Check out these delicious chocolate cookie recipes!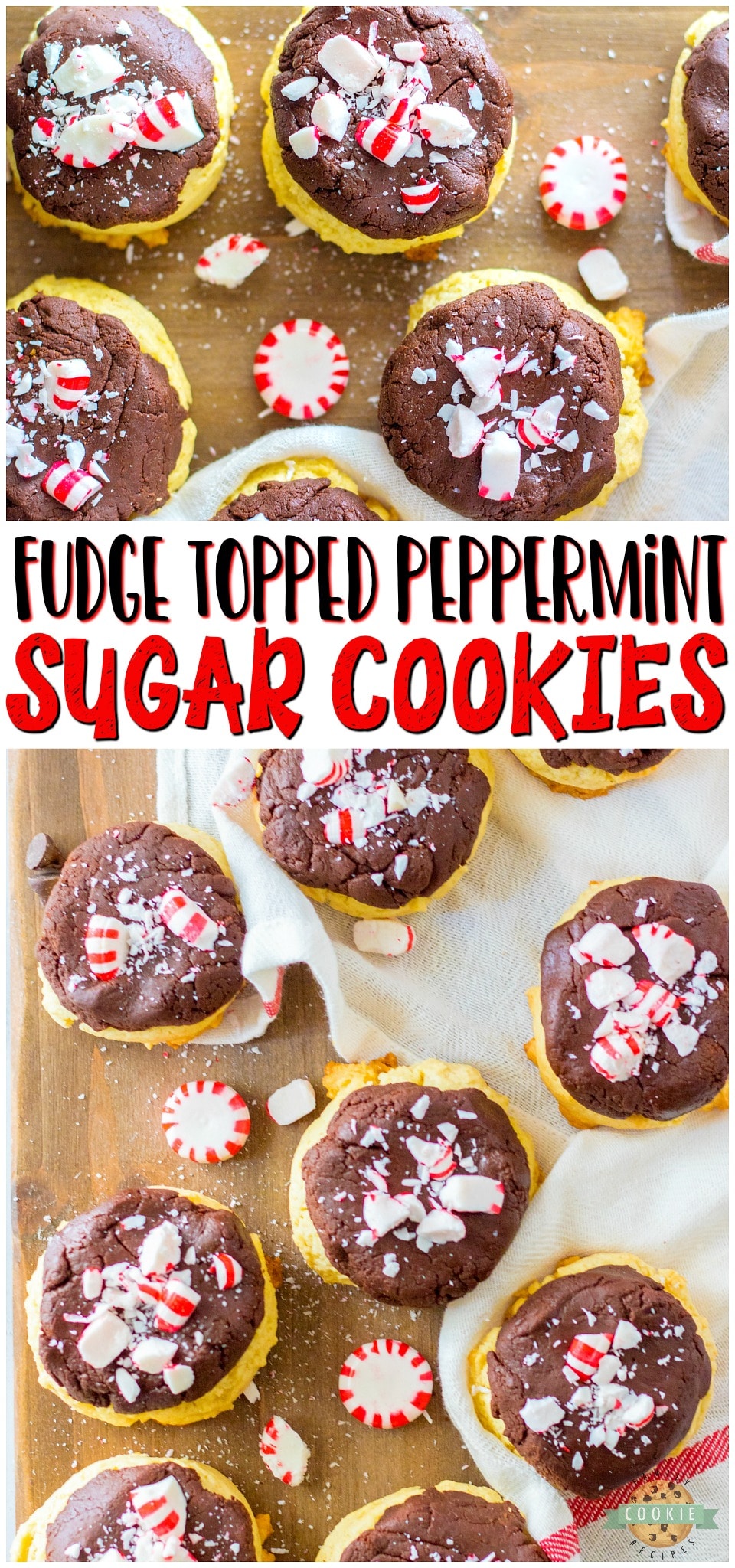 Peppermint Fudge Sugar Cookies are two favorites in one! Soft sugar cookies topped with a chocolate peppermint fudge & crushed candy canes for an over-the-top Christmas treat!  With a peppermint fudge frosting and a delicious sugar cookie underneath these cookies pack a lot of flavor into every sweet bite.