Delicious Pumpkin Chocolate Chip Cookies are incredible pillows of soft and chewy cookie goodness! Pillowy soft chocolate chip cookies straight from the oven are made even better with the addition of pumpkin.
If you're looking for a cookie that tastes like autumn, these are definitely the cookies you're looking for. While chocolate chip cookies are seen as a more traditional cookie, pumpkin chocolate chip cookies aren't. Most people associate pumpkin flavors with fall and as summer draws to a close they look forward to pumpkin flavors becoming more abundant for a few months.

How to make these pumpkin chocolate chip cookies
Using canned pumpkin, you can enjoy these delicious cookies at any time during the year! Don't feel forced to wait until the later end of the year.
After mixing all of the ingredients together, scoop it onto a baking sheet. I recommend having the sheet lined with parchment paper for easy cleanup. I also recommend using a scooper for the dough so that every cookie is uniform in size. This helps you to get the most cookies per batch and have the cookies all bake the same.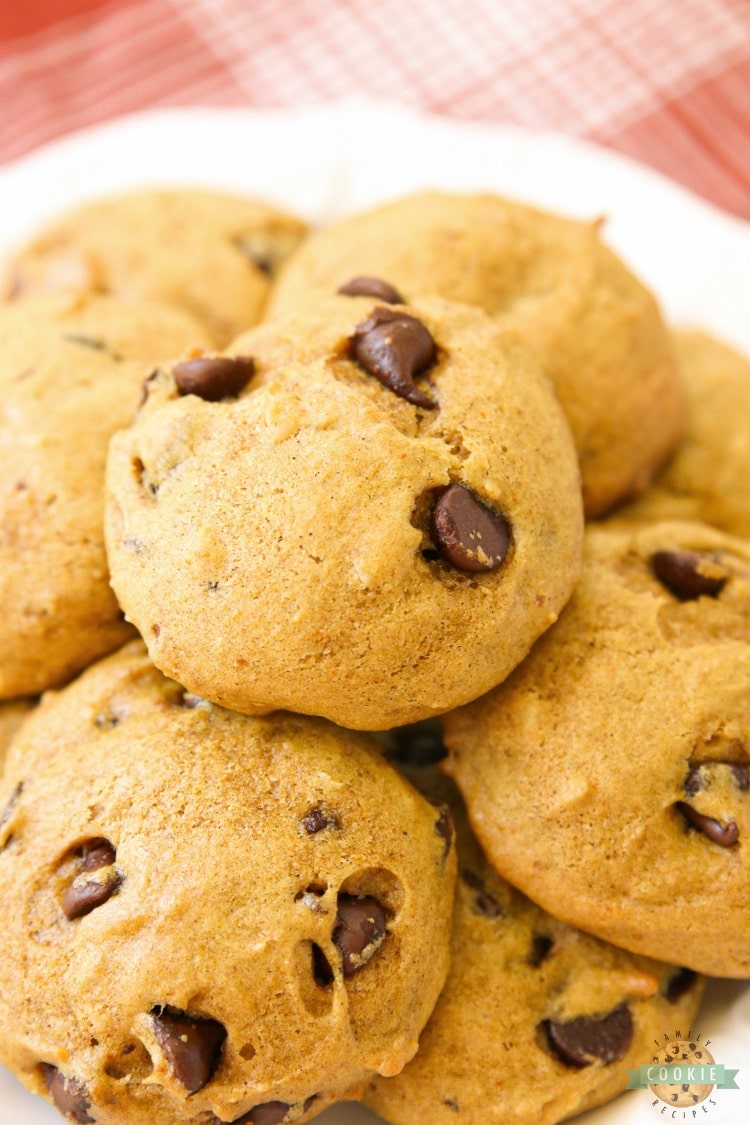 How long are pumpkin cookies good for?
Homemade cookies do well being stored in an airtight container or Ziploc bag at normal room temperature for up to 3 weeks. You may notice that the cookies become a little staler as they age, so it's best to enjoy them when they are as fresh as possible for the best tasting results.
Can you freeze pumpkin cookies?
If you're looking for a longer storage solution, freezing your cookies can be a great way to do just that! To freeze them, lay each cookie on a flat baking sheet and place it in the freezer for a few hours until the cookies are solid. Then transfer the cookies to a Ziploc baggie and freezer for up to 3 months. Allowing the cookies to freeze solid helps to prevent them from freezing together once inside the bag.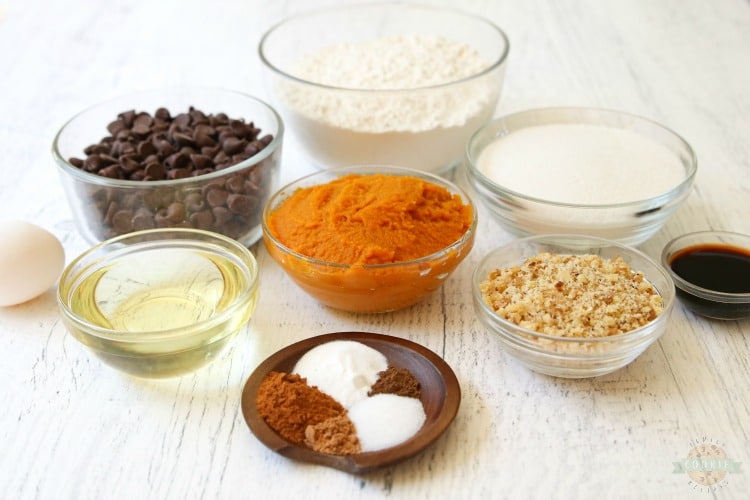 What Ingredients are in Pumpkin Chocolate Chip Cookies?
Canned pumpkin
White sugar
Vegetable oil
Egg
Flour
Baking powder
Spices- I use a delightful blend of Cinnamon, Allspice, Nutmeg
Salt
Baking soda
Vanilla extract
Semisweet chocolate chips
Chopped walnuts

How do you make Pumpkin Chocolate Chip Cookies?
First, preheat the oven to 365ºF and grease a cookie sheet.
Then, start by mixing the pumpkin, sugar, oil, and egg together until they're well blended. Mix in the baking powder, cinnamon, allspice, nutmeg, salt, and baking soda.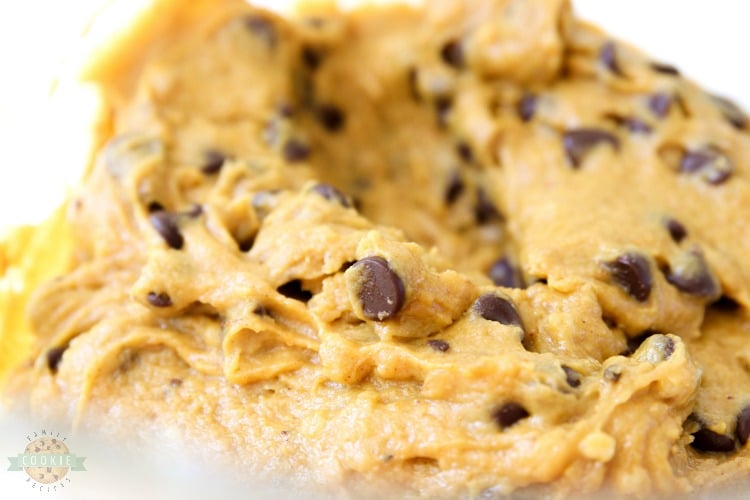 After that, slowly mix in flour, vanilla extract, semisweet chocolate, and chopped walnuts.  The dough should be very soft and sticky.
Using a cookie scoop, drop the dough on the greased cookie sheet.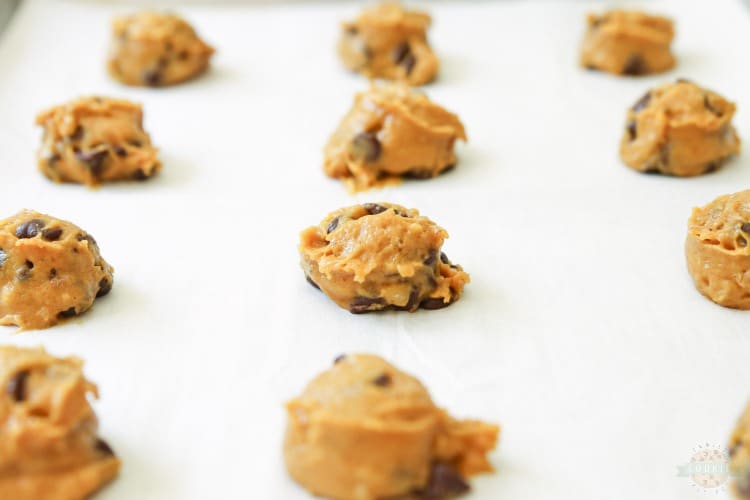 Don't bother making them look pretty- the cookies will puff up a bit and even out any rough edges.
If you don't have a cookie scoop, you can go buy one now or use two spoons. You might also want to stick the dough in the freezer for 10-15 minutes to make it easier to work with, however, it's not really necessary.
Bake the cookies for 11-13 minutes, depending on the size of your cookies. Less time is usually better. Pumpkin cookies are best when they are as soft as possible!
When the cookies are done they'll still look soft, but they'll be bigger and paler.
Let the cookies cool and enjoy!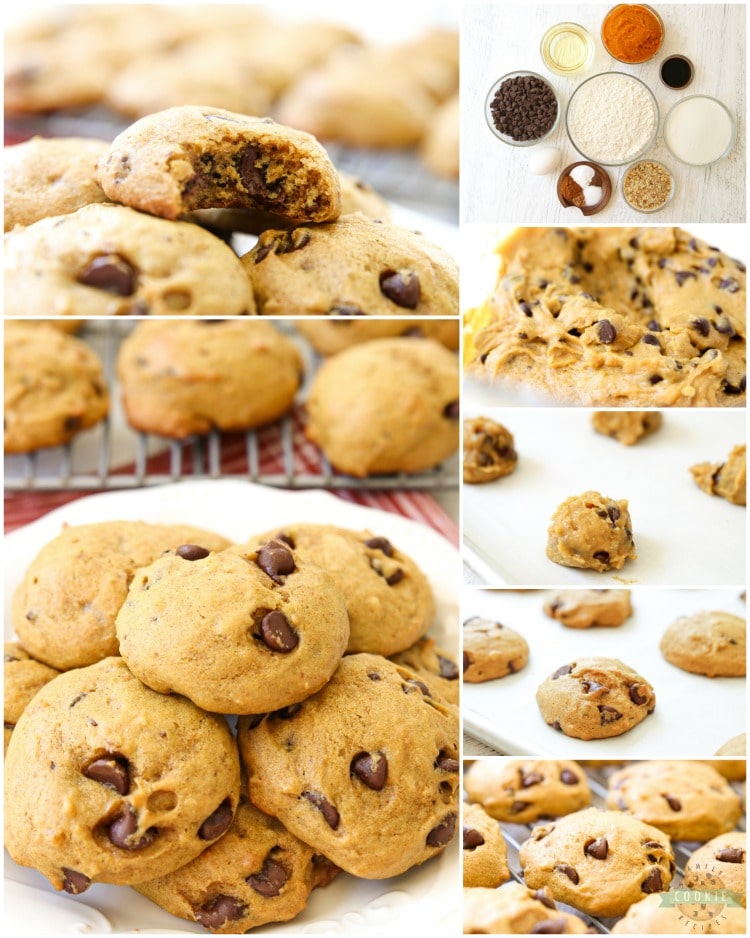 Should I chill cookie dough before baking?
If you want to get the best results from your cookie dough, it's best to make sure that the dough isn't too warm before scooping. Chilling the dough helps to solidify the fats (butter) in the recipe and that is what helps cookies to hold shape better when baking. Too warm of dough will cause a runny mess. Use your judgment on whether or not you'd like to chill your dough. Chilling won't hurt the cookies, but it will cause you to wait even longer before getting to enjoy a delicious pumpkin chocolate chip cookie.
Do you need to refrigerate chocolate chip cookies?
After making the cookies, give them time to cool before putting them in any sort of storage solution. You want them to be in an airtight container, but cookies do just fine at room temperature. If you'd like to place them in the fridge or freezer, the option is there, but it's not necessary.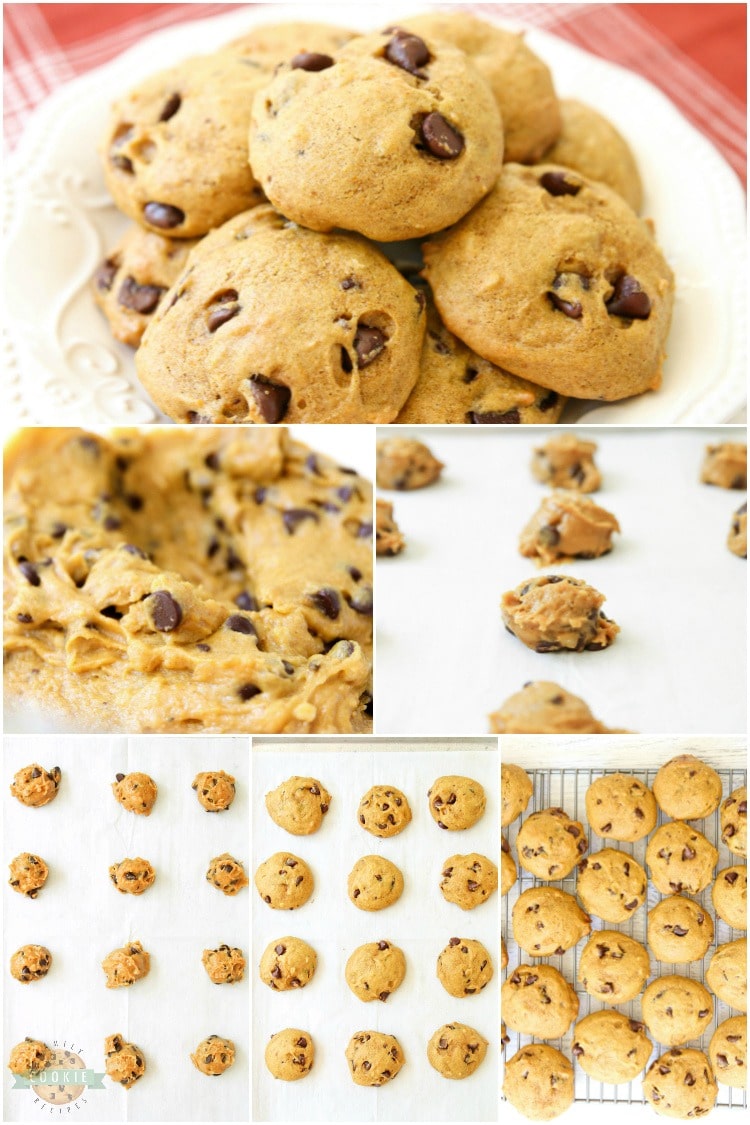 More pumpkin cookie recipes like this one!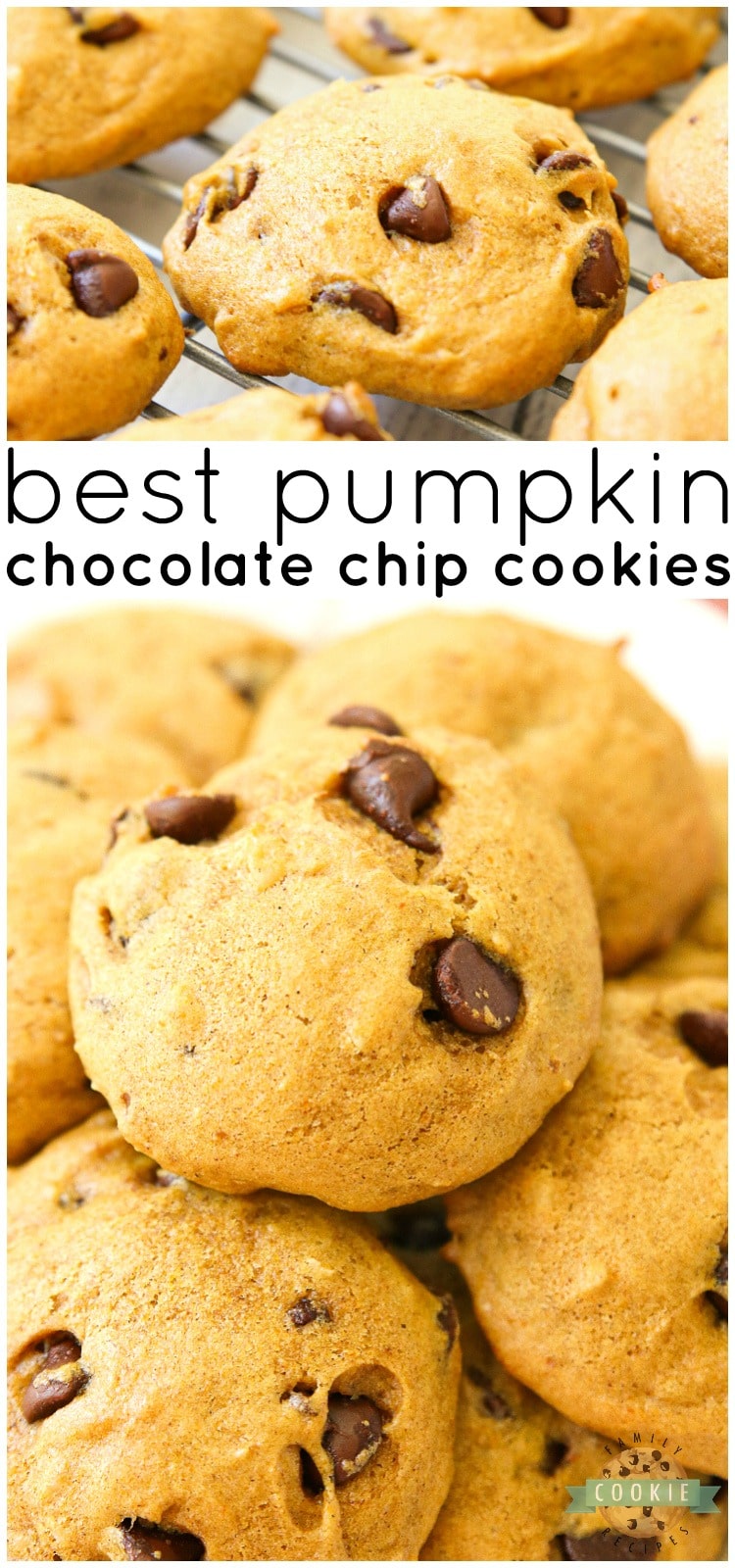 We had some new family pictures taken not long ago. This is US! Here we were (attempting) to recreate a picture we took years ago. Back then it was a lot easier to hold hands with all 4 kids between us! Now we have 5- nearly 2 teenagers and my baby isn't a baby anymore! Time sure does fly.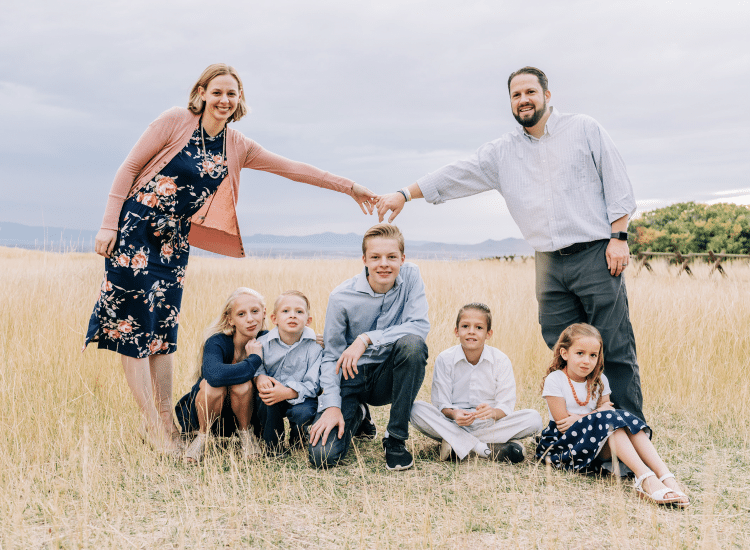 Delicious Pumpkin Chocolate Chip Cookies are incredible pillows of soft and chewy cookie goodness! Pillowy soft chocolate chip cookies straight from the oven are made even better with the addition of pumpkin.