Glazed Pumpkin Cookies are soft and chewy and packed with pumpkin, nutmeg and cinnamon. This delicious pumpkin cookie recipe is easy to make and is even more delicious with the simple vanilla glaze drizzled on top.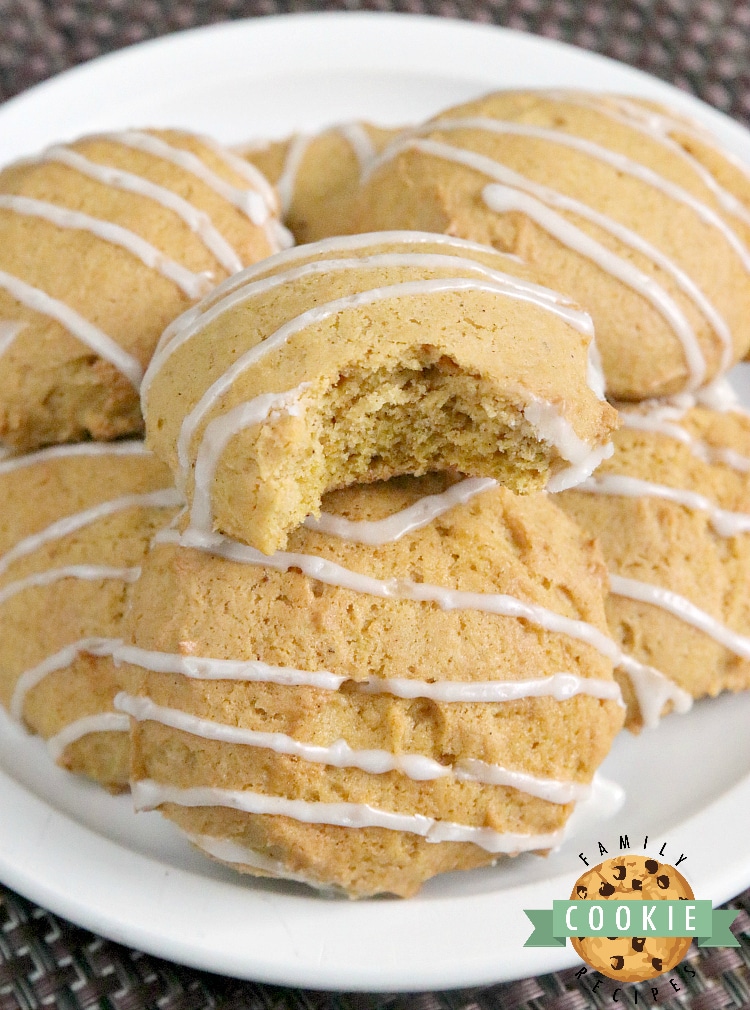 Glazed Pumpkin Cookies are one of my favorite fall cookie recipes to make. Soft cookies are kind of my thing and I just love how thick and chewy these cookies are. The glaze on top adds the perfect amount of sweetness and pairs so well with the flavor in these cookies. Most of the ingredients are basic and you probably have all of them already on hand.

Tips for amazing Pumpkin Cookies
Make sure that you have enough flour in the dough. If the dough is too sticky, you may need to add a little bit of flour. This dough is a little bit stickier than most cookie dough though so you probably don't need to add any additional flour to this recipe. You should be able to scoop the cookies pretty easily, but the dough will stick a little bit to the cookie scoop and that's ok!
Do not melt the butter! The butter needs to be softened (at room temperature), but using melted butter will ruin the cookies.
Spend a little extra time when you mix the butter and sugar. Creaming them together for 2-3 minutes will improve the consistency of your cookies.
Preheat the oven. This will help your cookies turn out right every time!
Use a cookie scoop! If you want all your cookies to be perfectly shaped and have them all be the same size, a cookie scoop is the way to go.
Use parchment paper or a silicone baking mat. Doing this will make it really easy to remove the cookies from your cookie sheet so that you don't have to scrape them off the pan – they will just slide right off in perfect shape!
Don't overbake the cookies – when I take mine out of the oven, they still look slightly underbaked but they will continue to bake on the cookie sheet for a couple more minutes so that's ok!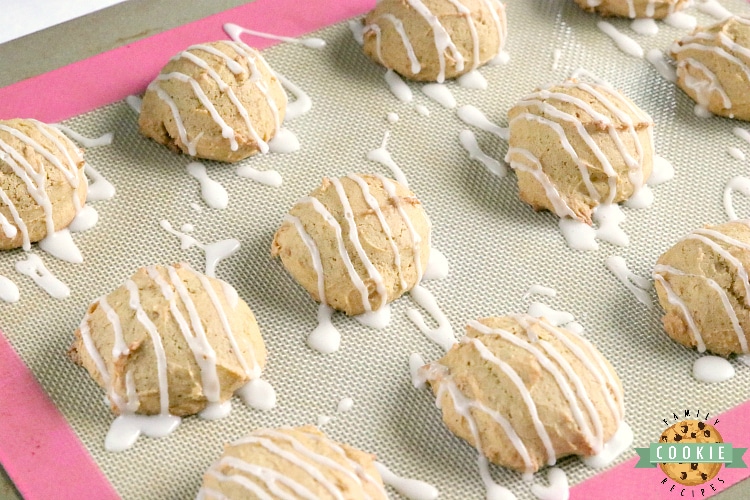 Ingredients in Pumpkin Cookies
2 1/2 cups flour
1 tsp baking powder
1 tsp baking soda
1/2 tsp salt
1 tsp cinnamon
1/2 tsp nutmeg
1/2 cup butter, softened
1 1/2 cups sugar
1 cup pumpkin
1 egg
1 tsp vanilla
GLAZE
3-4 Tbsp milk
1 tsp vanilla
2 cups powdered sugar
1 Tbsp butter, melted

How to make Glazed Pumpkin Cookies
Preheat oven to 350°.
In a large mixing bowl, combine the flour, baking powder, baking soda, salt, cinnamon and nutmeg.
In a separate mixing bowl, cream the butter and sugar together for 2-3 minutes. Add pumpkin, egg and vanilla and mix until well combined.
Add the dry ingredients and mix just until combined.
Use a cookie scoop to drop cookies onto a greased cookie sheet. Bake for 13-15 minutes or until the edges begin to turn a light golden brown.
Once cookies have cooled for at least 10-15 minutes, drizzle the glaze on top of the cookies.

How to make a simple vanilla glaze
Mix the milk, vanilla, powdered sugar and butter together with a fork until smooth. Add a little bit more milk if you want it a little bit runnier. I like to place the glaze in an empty condiment container – so much easier to get the perfect drizzle that way!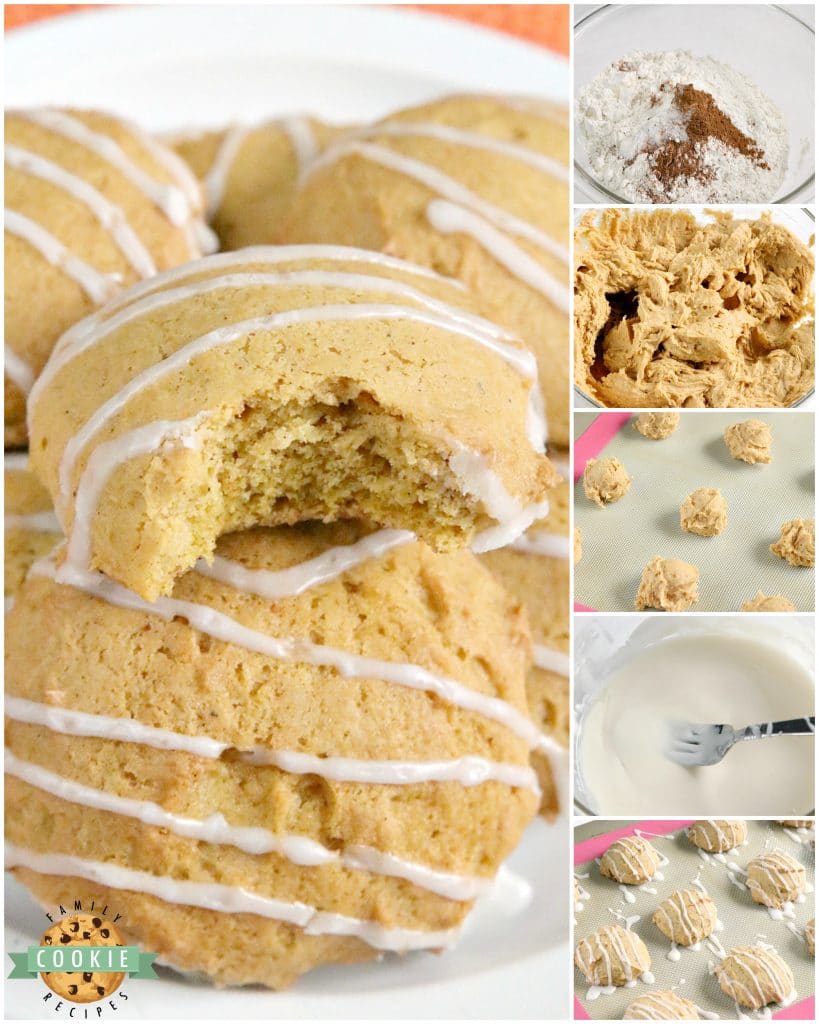 How do you soften butter to room temperature?
The best way to soften butter is to set it out for a few hours before you make your cookies. Since most of us (or maybe just me!) aren't that prepared or don't think that far in advance, there are a few tricks to softening butter perfectly in just a matter of minutes. My favorite way to soften butter is in the microwave. It's definitely fast, but you do have to be very careful not to melt it. Just put the whole stick of butter in the microwave (as long as it isn't wrapped in foil!) and microwave for about 6-7 seconds. If the butter is still really cold, try another 5-7 seconds and check it again. You may need a few intervals, and if the butter is starting to feel soft, you can shorten the final interval to just a few seconds to make sure it doesn't start melting.
I actually prefer to use the defrost setting on my microwave – I don't know exactly what that mode does differently, and it takes a little bit longer (closer to 30 seconds), but it seems to be easier to get the butter to soften without melting.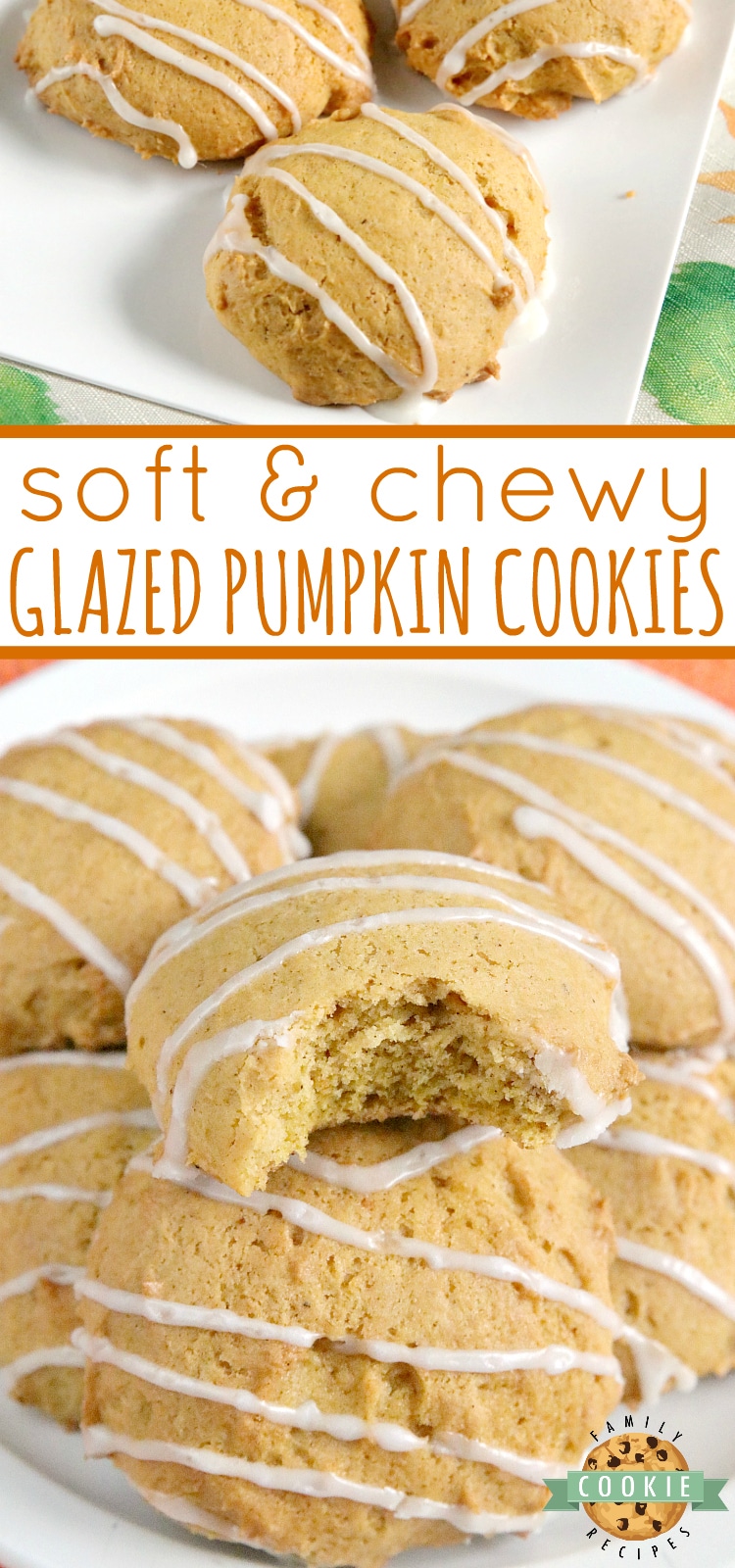 Love fall? So do we! Here are some other delicious fall cookie recipes!

Haven't had a chance to take any fall pictures this year, but I started looking through some of my "pumpkin" pictures from years past and came across this one of my little man from 3 years ago. He seems so little in this picture! This was from a kindergarten field trip to the pumpkin patch and now my little guy is in 3rd grade and this seems like forever ago. For those of you new to the site, I have five kids, but only one boy. I love my girls, but there is just something special about my little guy and I absolutely adore this little boy, even if he isn't quite so little anymore!