Soft Pumpkin Gingersnap Cookies are wonderfully spiced pumpkin cookies with amazing ginger flavor! Making these pumpkin ginger cookies is simple & everyone loves the soft, chewy texture.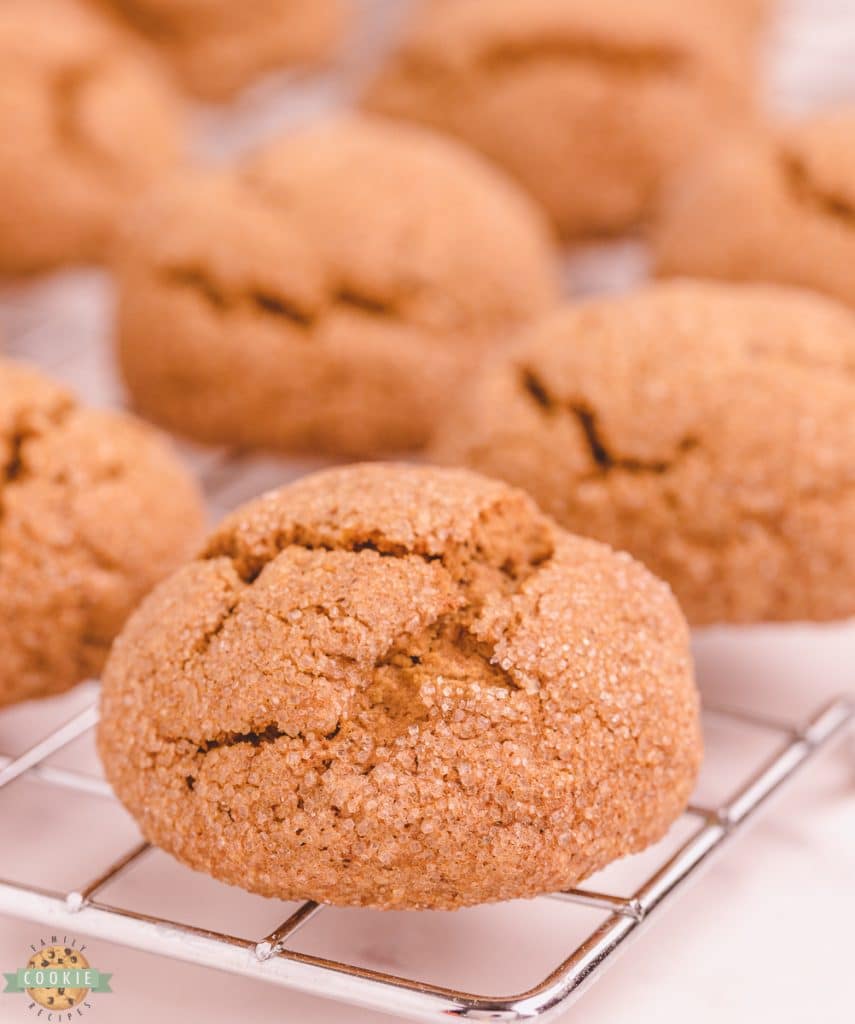 These ginger snap cookies are packed with your favorite holiday spices, great to serve at family gatherings or when hosting a holiday event. This pumpkin cookie recipe is a fun twist on a classic treat, perfect for holiday baking.
Gingersnap Pumpkin Cookies
Pumpkin Gingersnap Cookies, with just the name, can't you just smell these cookies baking? I sure can! I adore traditional gingersnap cookies, they evoke the taste of the holidays for me. My husband, he is not much of a fan of them, but it is more because of the crisp-chewy texture of most gingersnaps. But when he took one bite of these Pumpkin Gingersnap Cookies, where the pumpkin changes the texture, he was hooked! They have all the flavor of a classic gingersnap but with a lovely soft texture. They have become my family's new favorite holiday cookie! We hope you enjoy them as much as we do.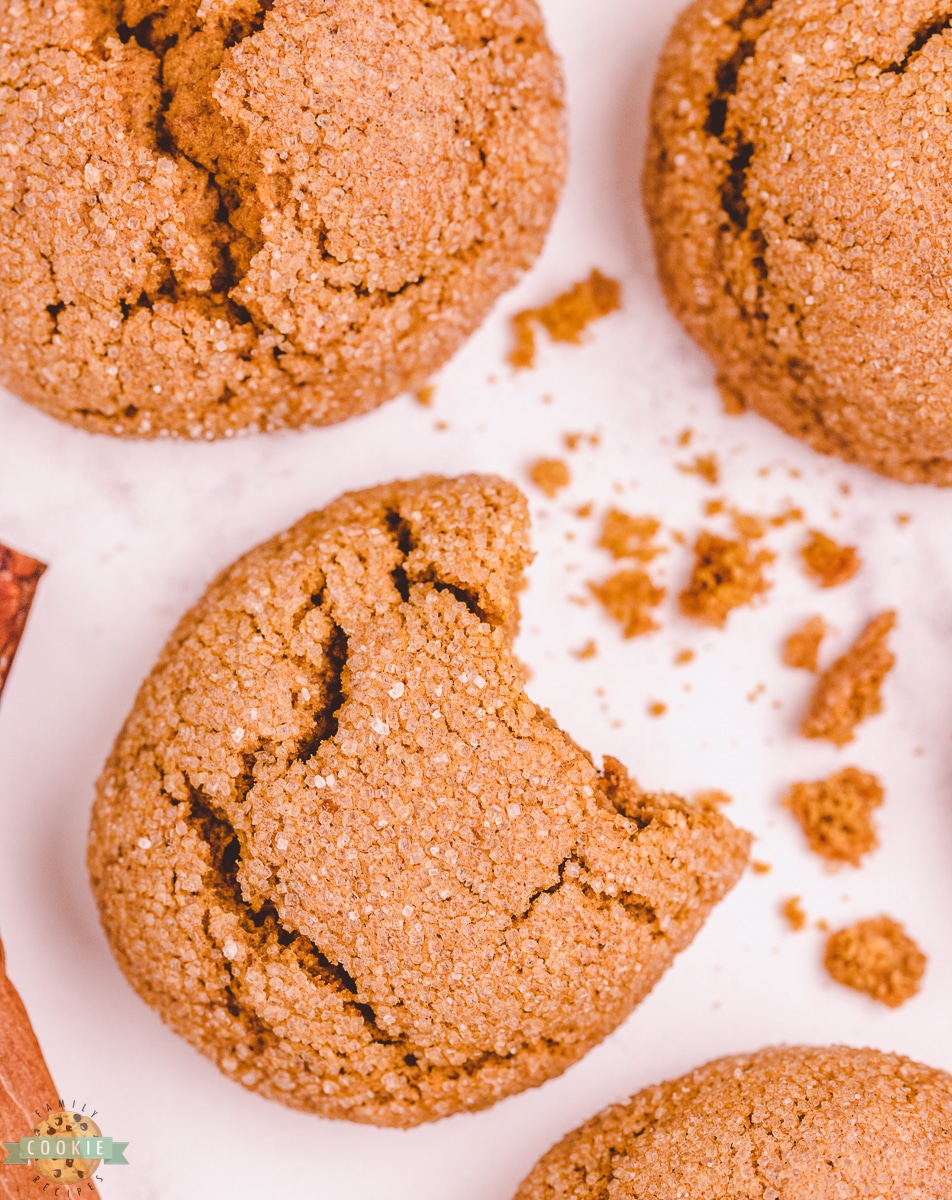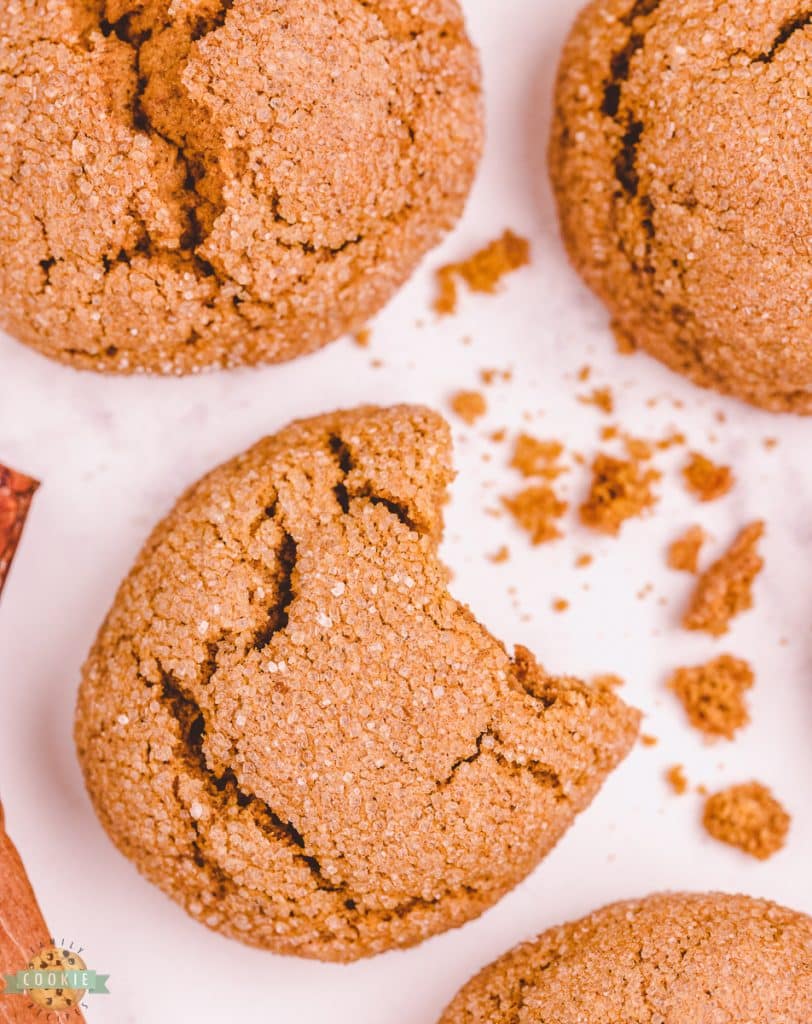 WHY WE THINK YOU WILL LOVE THIS GINGERSNAP RECIPE
If you were not already gathering the ingredients to give this delightful recipe a try, here are a few more reasons why you should!
Simple ingredients. What I love about this recipe is that it is highly likely that some of the ingredients are already in your kitchen. You can easily whip up a batch without having to buy a bunch of ingredients to do so, that is a win in my book!
Best of two classics! If you love the classic fall flavors like I do, you will love this cookie recipe. Pumpkin spice is a super popular fall flavor. Then adding in the amazing ginger spice and you have a winning combination.
Fairly Quick and easy. To make this incredible pumpkin and ginger cookie you need just a little over 1 hour from start to finish. We do call for a dough chilling period because these flavors deserve it, but it is worth the wait. You can still create an amazing dessert in a short amount of time that will impress anyone who tries it.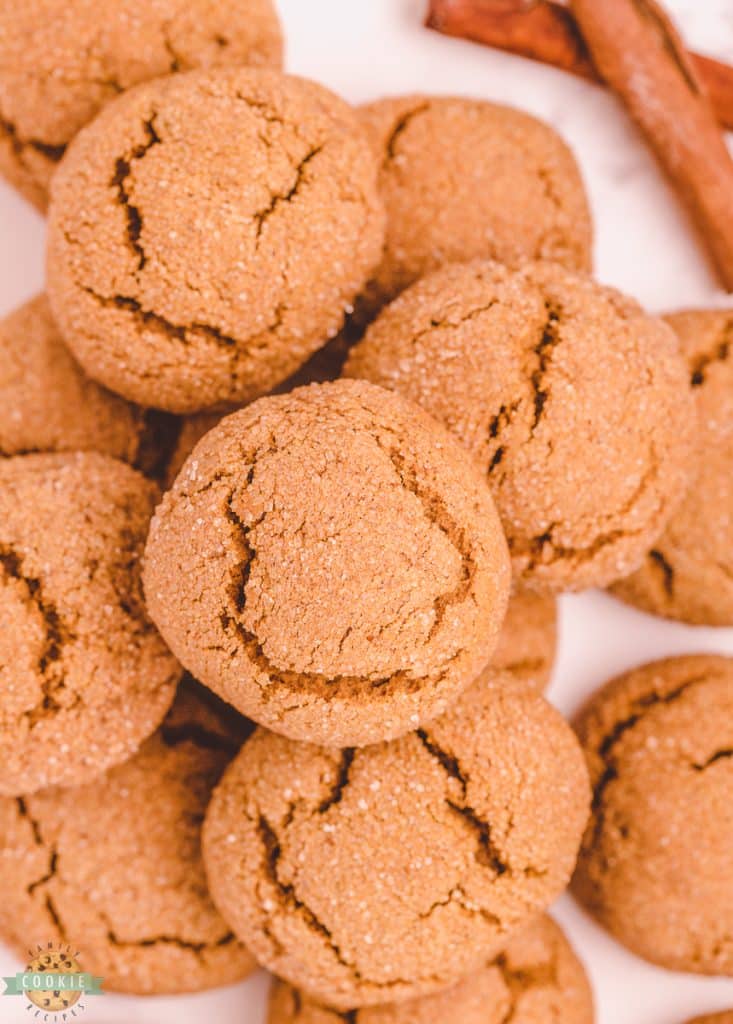 Pumpkin Gingersnap Cookie Ingredients
Butter: Use ½ cup of butter, room temperature, to help create a wonderfully rich cookie.
Sugar: Add 1 cup of granulated sugar, plus more for rolling the cookies, to give these cookies just the right amount of sweetness.
Pumpkin: You need ½ cup of pure pumpkin for amazing flavor and great soft texture.
Molasses: Adding in ¼ cup of molasses gives amazing depth of flavor.
Egg: For more great taste and texture, use 1 large egg.
Vanilla Extract: Help enhance all the wonderful flavors in this cookie recipe by adding 1 teaspoon of vanilla extract.
Flour: You will need 2 ⅓ cups of all-purpose flour for the base of this cookie dough.
Baking soda: For the cookies to rise as they bake, add in 2 teaspoons of baking soda.
Cinnamon: For incredible warm spice taste, use 2 teaspoons of cinnamon.
Ginger: Using 1 ½ teaspoons of ground ginger helps to create the amazing cookie flavor we desire.
Cloves: Adding in 1 teaspoon of ground cloves adds more earthy taste to these fantastic treats.
Salt: To help balance all the great taste in these cookies, add in ½ teaspoon of salt.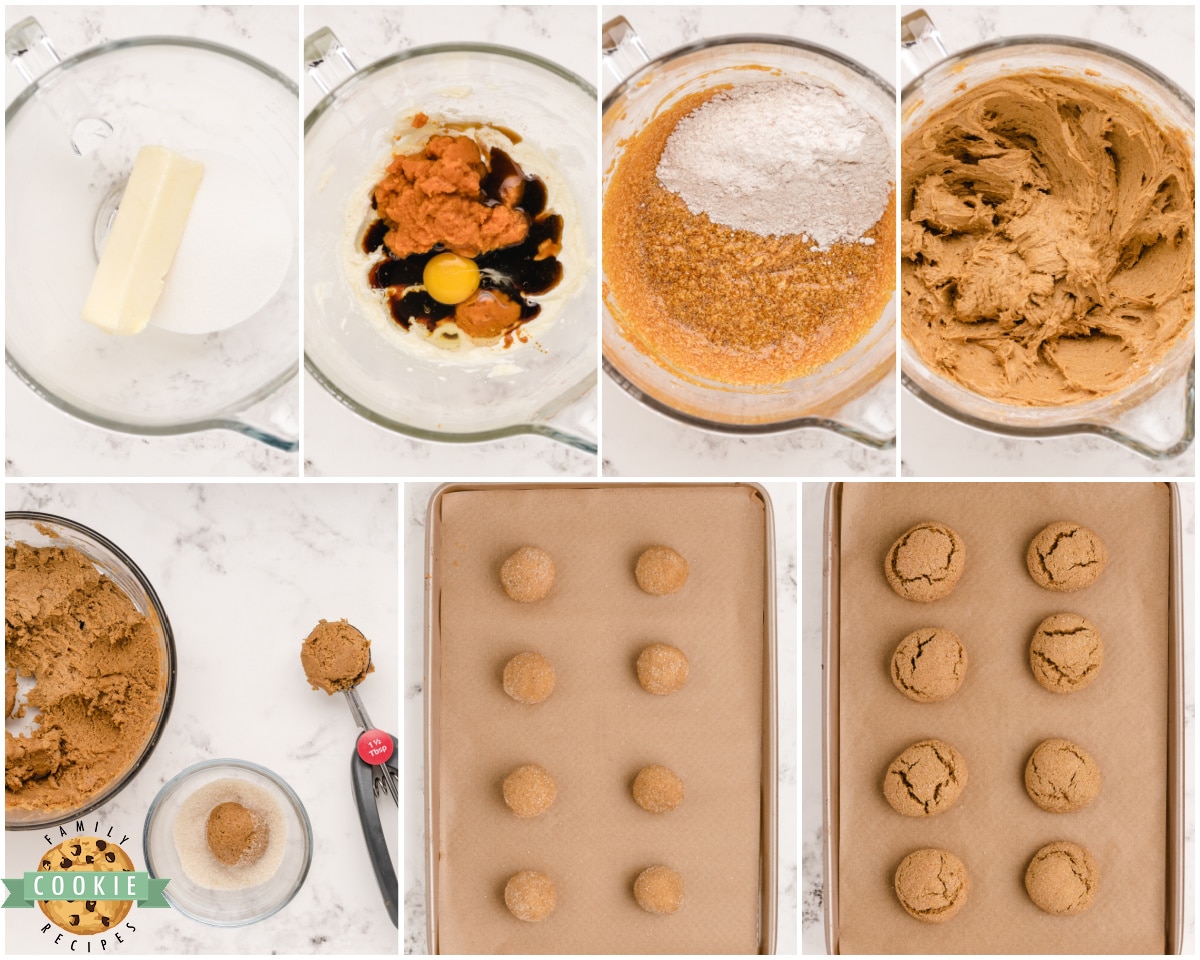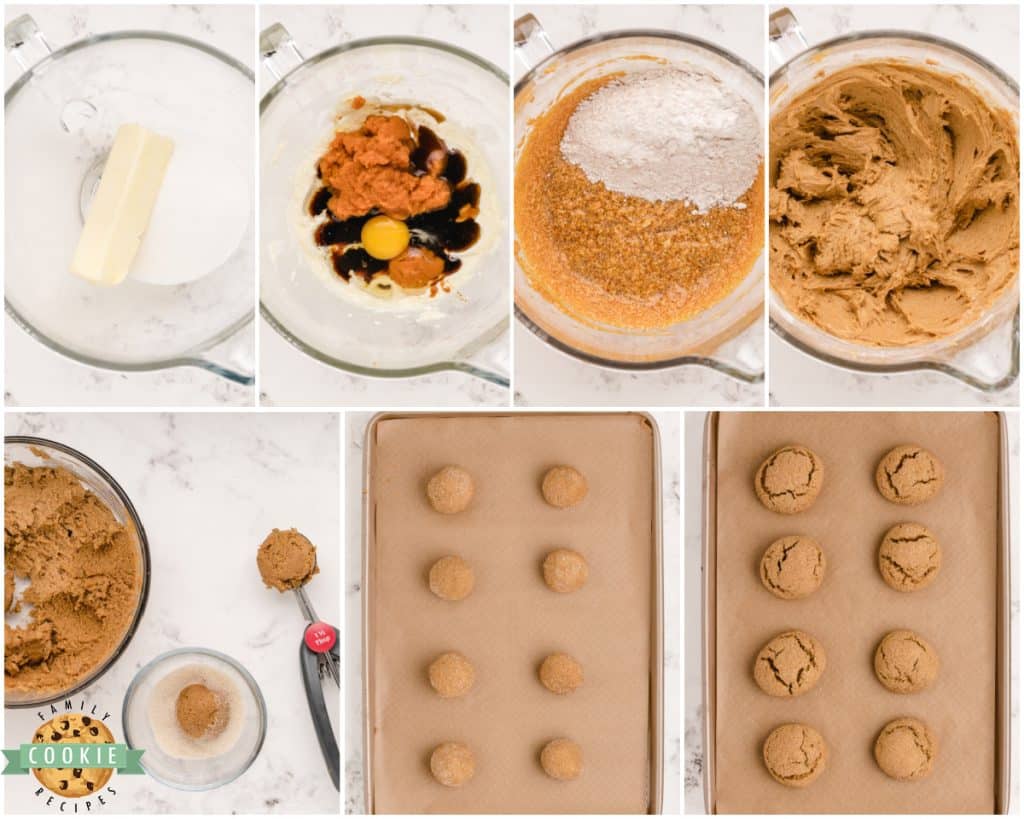 HOW TO MAKE SOFT PUMPKIN GINGERSNAP COOKIES
Cookie dough
In the bowl of a stand mixer or using a large bowl and electric handheld mixer, beat the softened butter and sugar together until light and smooth.
Next, add in the pure pumpkin, molasses, egg, and vanilla extract, mix until combined.
Then, in a separate bowl, whisk together the flour, baking soda, cinnamon, ginger, ground cloves and salt. After that, add the dry ingredients to the bowl of wet ingredients and mix until combined.
Chill
The dough will be pretty sticky, so proceed to REFRIGERATE the cookie dough for at least 1 hour. The dough can be chilled for 2-3 days. I personally think these cookies taste better after the dough has sat in the fridge for a day to allow the flavors to meld!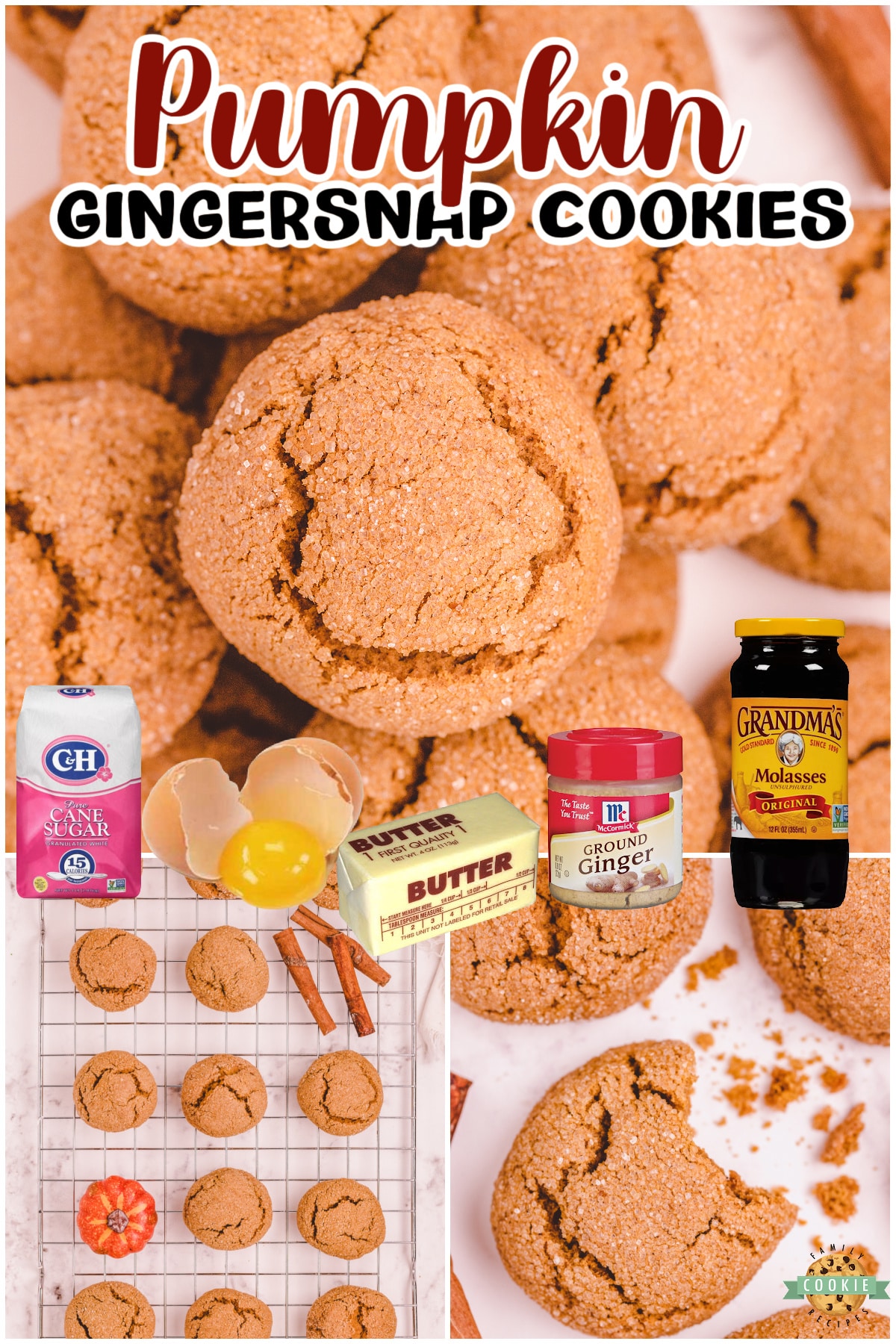 Bake
After the dough has chilled and you are ready to bake the cookies, get the oven preheating to 350 degrees F. Next, line a baking sheet with a silicon mat or parchment paper. Also, place some sugar in a small bowl.
Proceed to roll tablespoon-sized balls of dough and then roll them in the bowl of sugar until well coated, place them on the prepared baking sheet, about 2 inches apart. For this step I sometimes like to use Turbinado sugar, it is coarse so the granules of the sugar stand out more. But regular sugar also works just as well too.
Place the cookie sheet in the preheated oven and bake for 10-12 minutes, or until cookies look cracked and set at the edges. The cookies will still be soft so let them cool on the baking sheet for 2-3 minutes after removing them from the oven, then transfer to a wire rack to cool completely.
Serve and enjoy!

CAN I FREEZE PUMPKIN GINGER COOKIES?
Yes. After the cookies have cooled completely you can transfer to an airtight container and freeze for up to 3 months. When you are ready to enjoy the cookies let them sit on the counter for an hour to come to room temperature.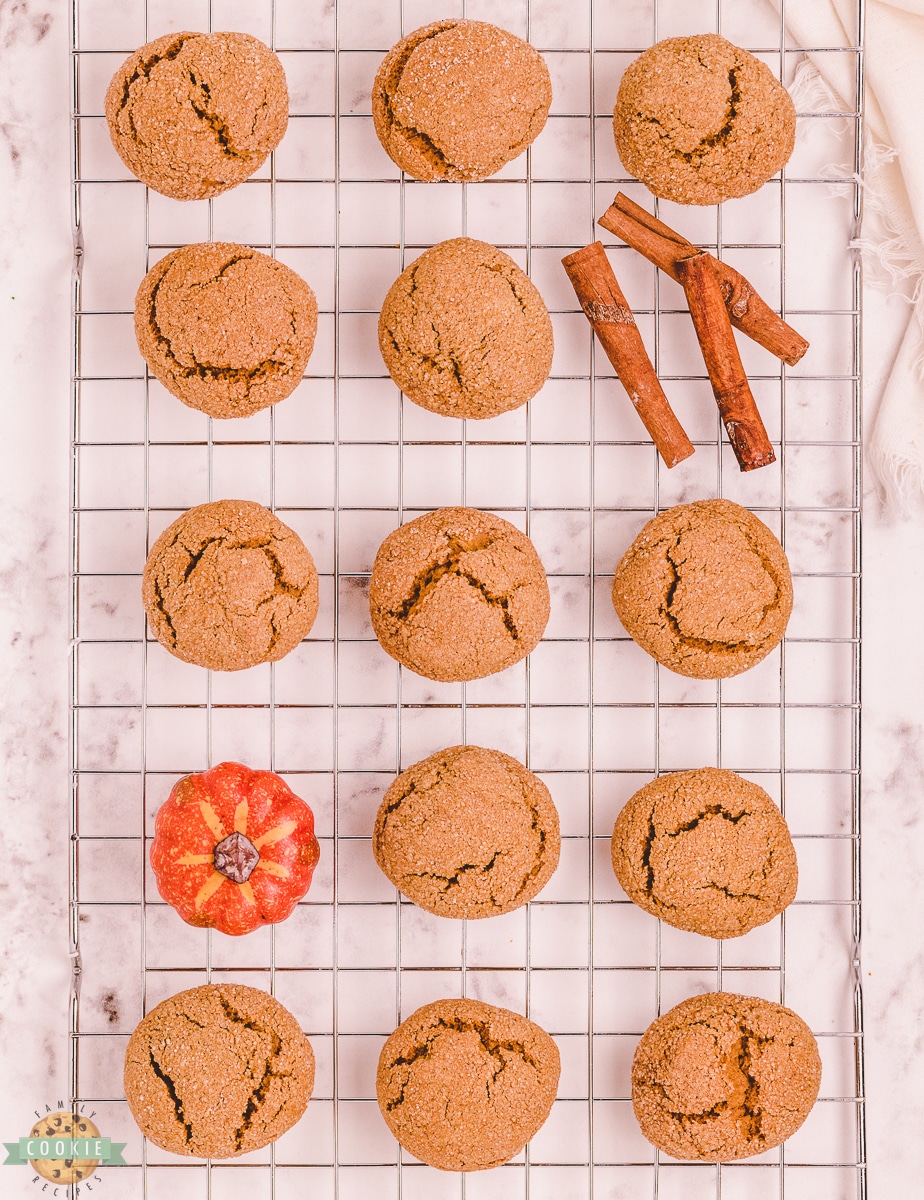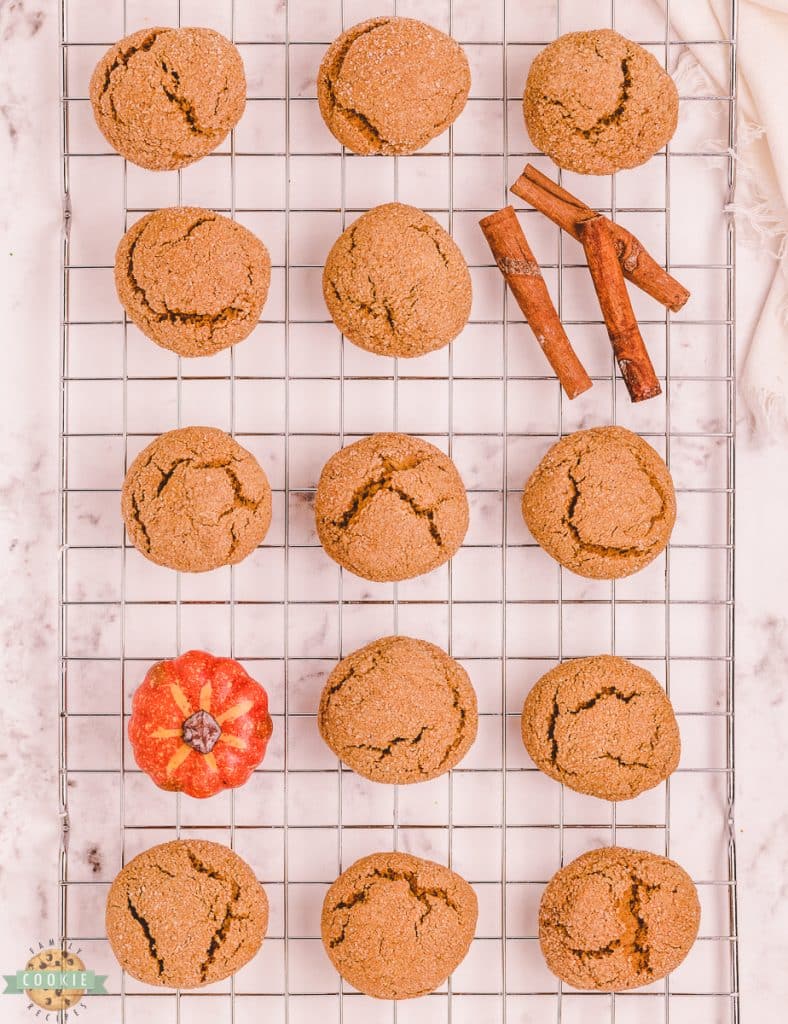 HOW DO I STORE GINGER PUMPKIN COOKIES?
You can store these cookies in an airtight container for up to 1 week. That is, if there are any left!
DO I HAVE TO USE THE GINGER SPICE IN THIS COOKIE RECIPE?
No, you do not have to use this spice if you do not want to. If you want to create just a spiced pumpkin cookie you can omit the ginger and you will still have a wonderful and delicious cookie treat!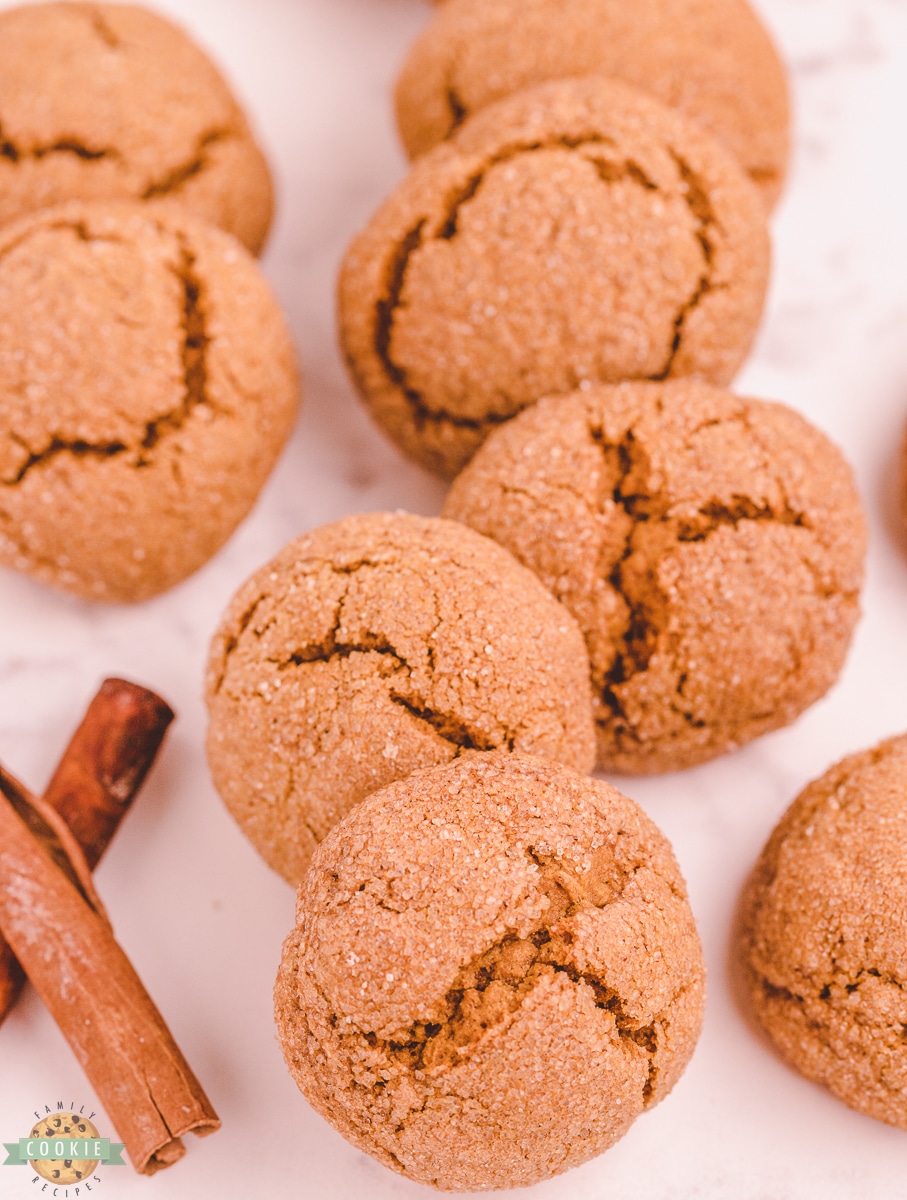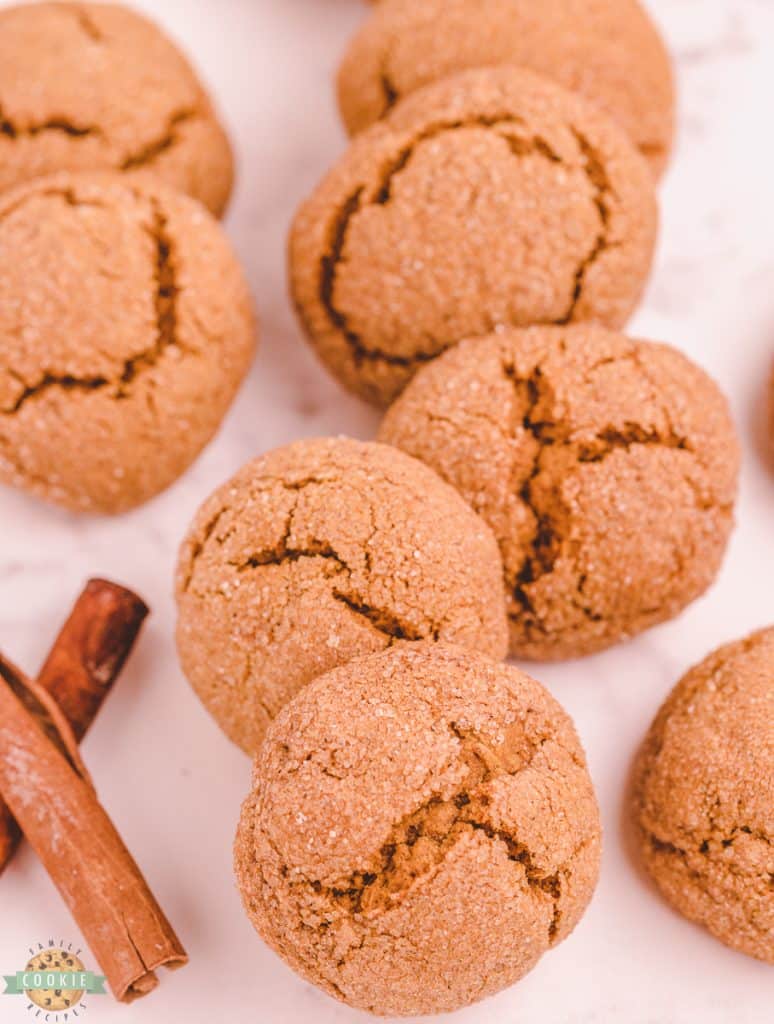 TRY A FEW OF OUR OTHER FAVORITE HOLIDAY RECIPES HERE!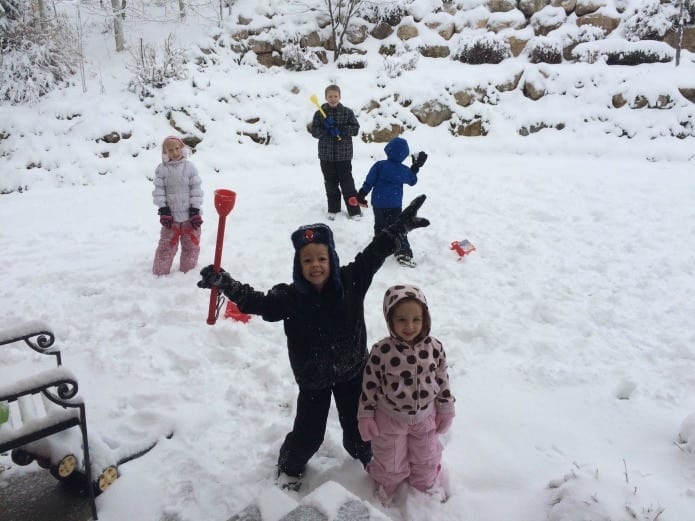 I didn't grow up in a place where it snowed much. I'd heard various grumblings from others over the years about how freezing cold it was, how annoying it was to drive in and how much of a pain it is to shovel. I agree, sometimes it's all those things. But you know what? I love the snow. Love it. My kids love it too and we all cheer when it starts piling up outside each winter. It's so quiet and peaceful outside when it's snowing. Except when my kids are also outside playing in it. Then quiet and peaceful get tossed in a tree and they just have fun. I admit, I like to play in it too. Until I get too cold, then I come inside and am on hot chocolate and cookie duty. I'm okay with that too!
Soft Pumpkin Gingersnap Cookies are perfectly spiced and delicate cookies, made with pure pumpkin and loaded with great flavor. Making these pumpkin ginger cookies is easy too, you most likely already have most of the ingredients in your kitchen!