Fun & festive Christmas Tree Cookies are 3D Christmas trees in cookie form! Stacked layers of soft sugar cookies and green frosting, complete with sprinkles for ornaments complete the look of these cute holiday trees.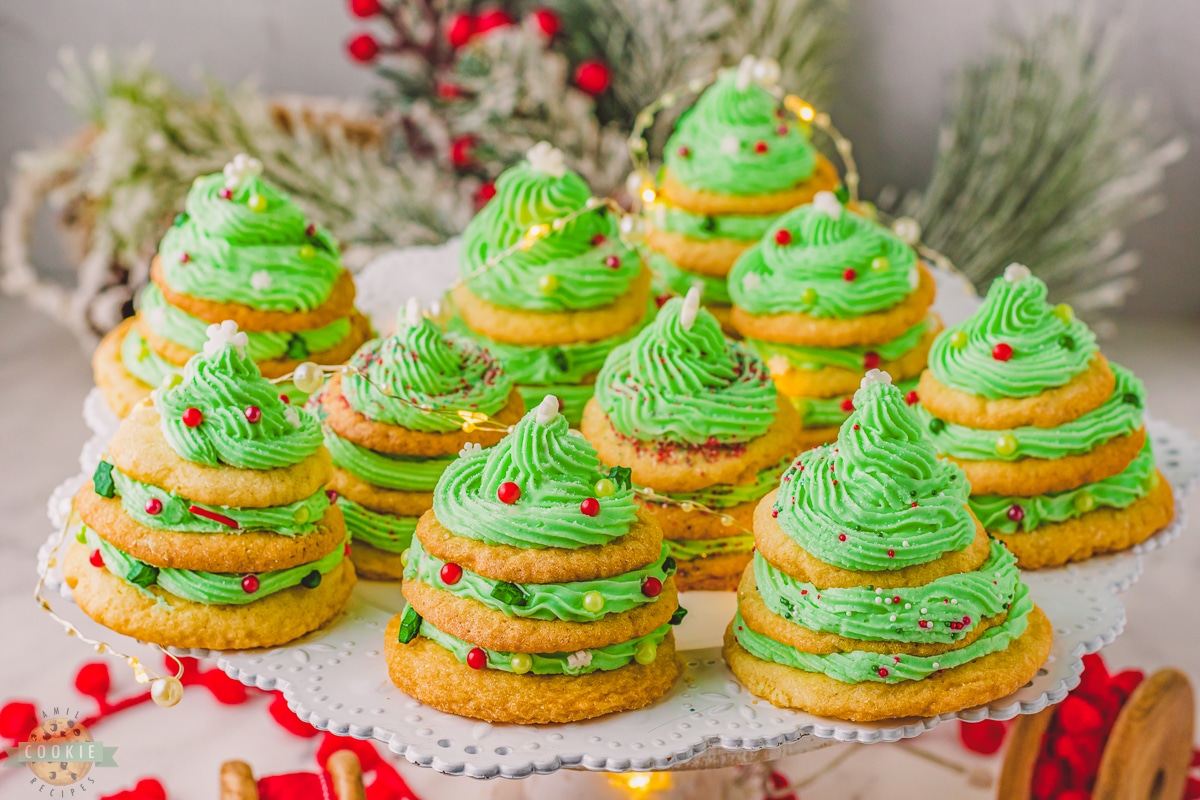 If you love cookies (and we're guessing you do 😉 ) then you are going to enjoy this wonderful recipe for Stacked Christmas tree cookies. Decorating a tree has never tasted this good, but we're guessing that because we've never actually tasted a tree. You can however eat these green ones and trust me, you're going to want to.
What are Cookie stacks?
A Christmas tree is a huge part of the iconic things you think of when you think about Christmas and what better way to showcase it than through a cookie? Cookies and Christmas go together like they were made for each other. These cookie stacks are made to look like 3D trees.
Make these stacked sugar cookies with the kids and let them decorate their own. But be prepared because kids often eat and sample things along the way so you may have an odd number of toppings and little icing before the cookies have all been finished. Doubling the icing is advised.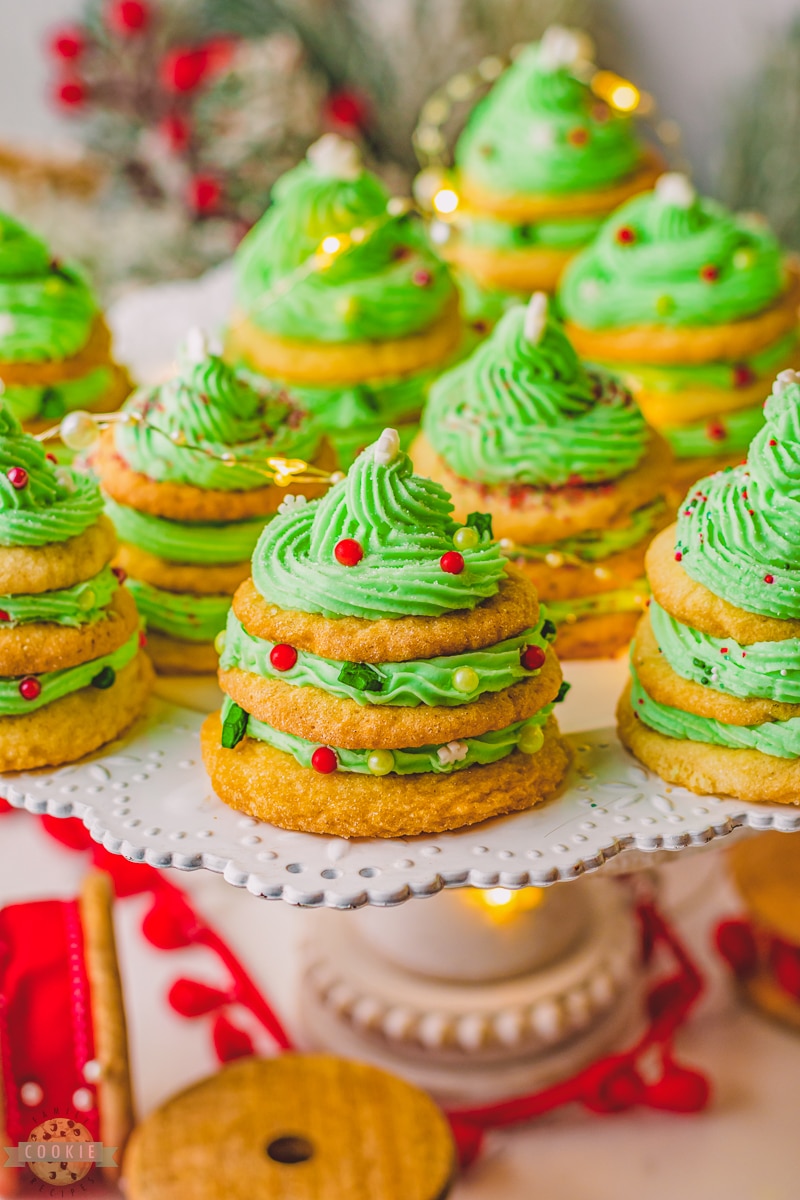 Christmas cookie ingredients
For the sugar cookies, you will need:
-Flour: For the base of the cookie dough you will need 2 ¾ cups of all-purpose flour that has been sifted.
-Leavening agents: You will need 1 teaspoon of baking soda and ½ teaspoon of baking powder. This will help the cookies to rise and widen as they bake.
-Salt: Adding in ½ teaspoon of salt will help to naturally enhance the flavors in this cookie.
-Sugars: Use ¼ cup of granulated sugar and 1 cup of brown sugar or use all of either.
-Butter: This cookie recipe does best with real butter, not margarine so use 1 cup of softened butter.
-Eggs: Use 2 eggs to help bind the cookie together so that it doesn't become too crumbly.
-Extracts: Add in 1 teaspoon of vanilla extract and 1 teaspoon of almond extract to help make the sugar cookies taste better.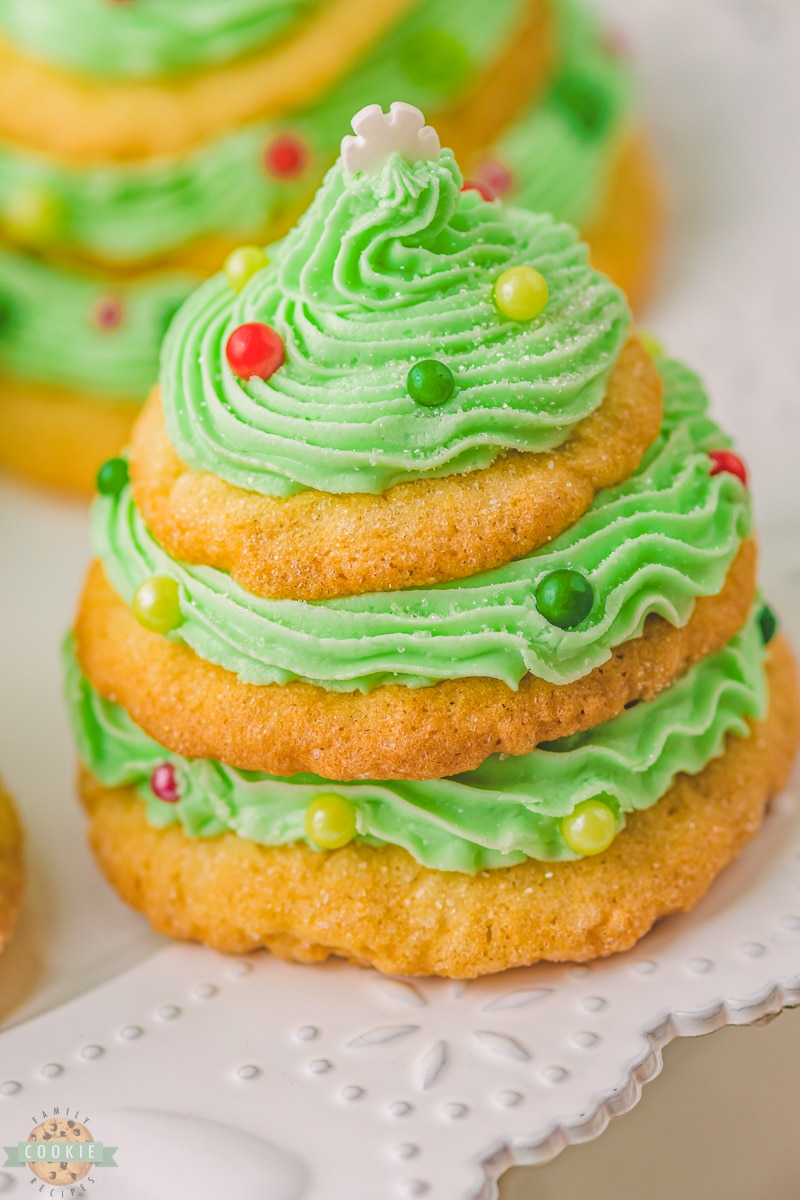 For the frosting, you will need:
-Butter: Make the icing taste rich and look shiny with 1 cup of room temperature butter.
-Powdered sugar: 4 cups of powdered sugar that has been sifted smooth will give you a sweet base for the icing.
-Heavy cream: You'll need 2 tablespoons of heavy cream to help moisten the icing to the perfect consistency.
-Vanilla: Using 1 teaspoon of clear vanilla extract will make the frosting hold color better because normally vanilla gives a yellow/brown tint.
-Food coloring: You will need green food coloring so that your trees look beautiful like pines.
-Sprinkles: Use fun and festive Christmas-themed sprinkles to decorate your trees.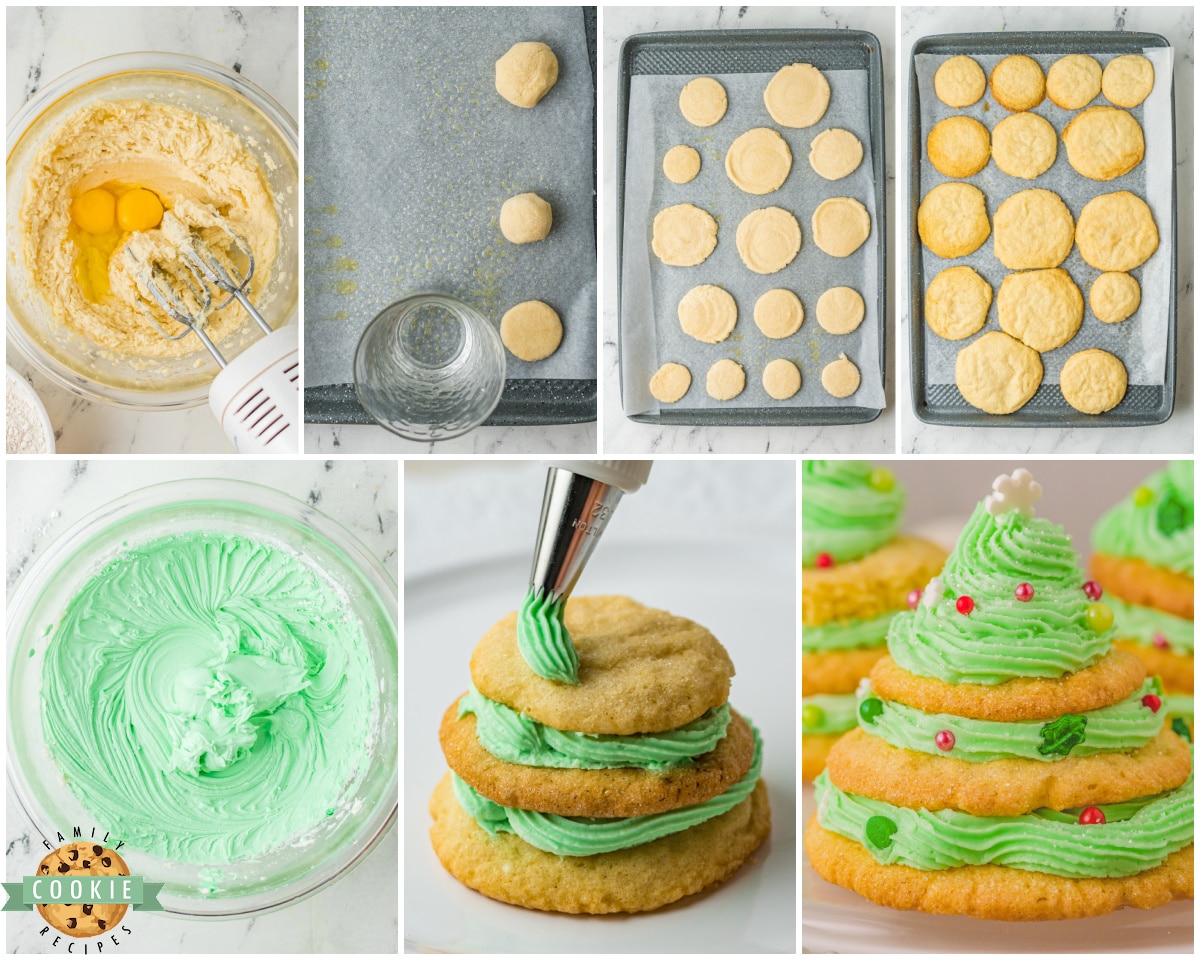 How to make Stacked Christmas tree cookies
Sugar Cookies:
Preheat your oven to 350 degrees F and line a cookie sheet with parchment paper and spray with nonstick cooking spray.
In a small bowl combine the flour, baking soda, baking powder, and salt together.
Add the sugar and butter to a large mixing bowl and beat well with an electric mixer to combine.
Add the eggs, vanilla, and almond extract to the butter mixture and beat well again.
Gradually add in the flour mixture while beating until just combined.
Roll out 24 cookies in each size- 1 teaspoon, 2 teaspoons, and 3 teaspoon-sized balls. If needed, make them slightly smaller instead of bigger so that you can make sure to have plenty of cookies.
Roll each cookie in sugar and place it on the baking sheet. Use the bottom of a cup to gently press down onto the dough but do not press it too flat.
Place the sheet in the oven and bake for 7-8 minutes.
Remove from the oven and allow the cookies to cool on the pan for 5 minutes before placing them onto a cooling rack to cool completely.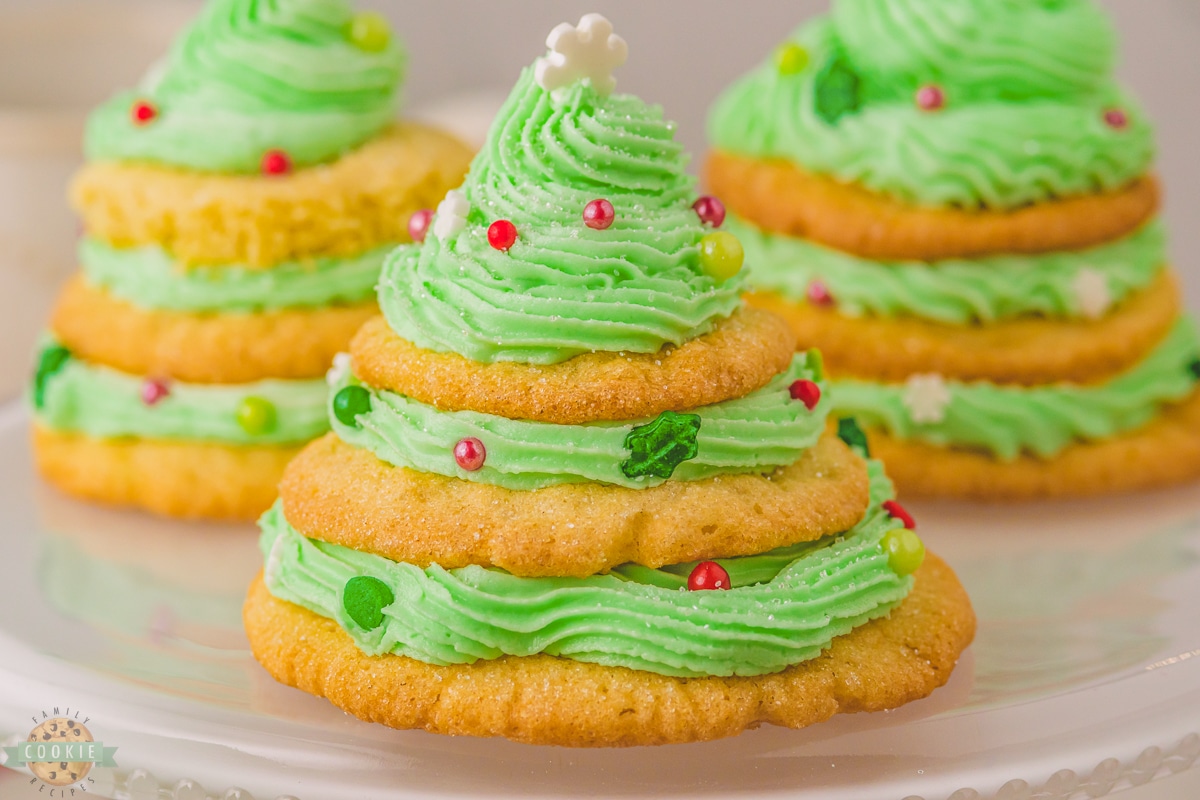 Frosting:
Beat the butter and powdered sugar together in a mixing bowl.
Add in the heavy cream and vanilla and then beat well.
Add in 4 drops of green food coloring and beat again to combine. Gradually add in a drop or two more until the color is as desired.
Use a piping bag with a stir top or a Ziploc bag with a small corner snipped off and fill it 2/3s of the way full.
When the cookies have cooled completely, pipe a thick circle around the outer edge of a large cookie.
Place a medium sized-cookie on top of the icing and then pipe the icing around the cookie and place the smaller cookie on top. Pipe a circle and then lift up in the middle to make a treetop.
Finish by decorating the trees with tree-topped and little balls or other sprinkles. You can sprinkle fine sanding sugar over the tress for a snowy look too.
Enjoy!
How long are iced cookies good for?
These cookies will still taste great for days if stored at room temperature in an airtight container. For best tasting results eat within a week.
How far in advance can I make Christmas cookies?
With these iced cookies, I don't recommend making them more than a few days in advance of the big holiday as they are best within a week and will not do well to freezing for longer storage.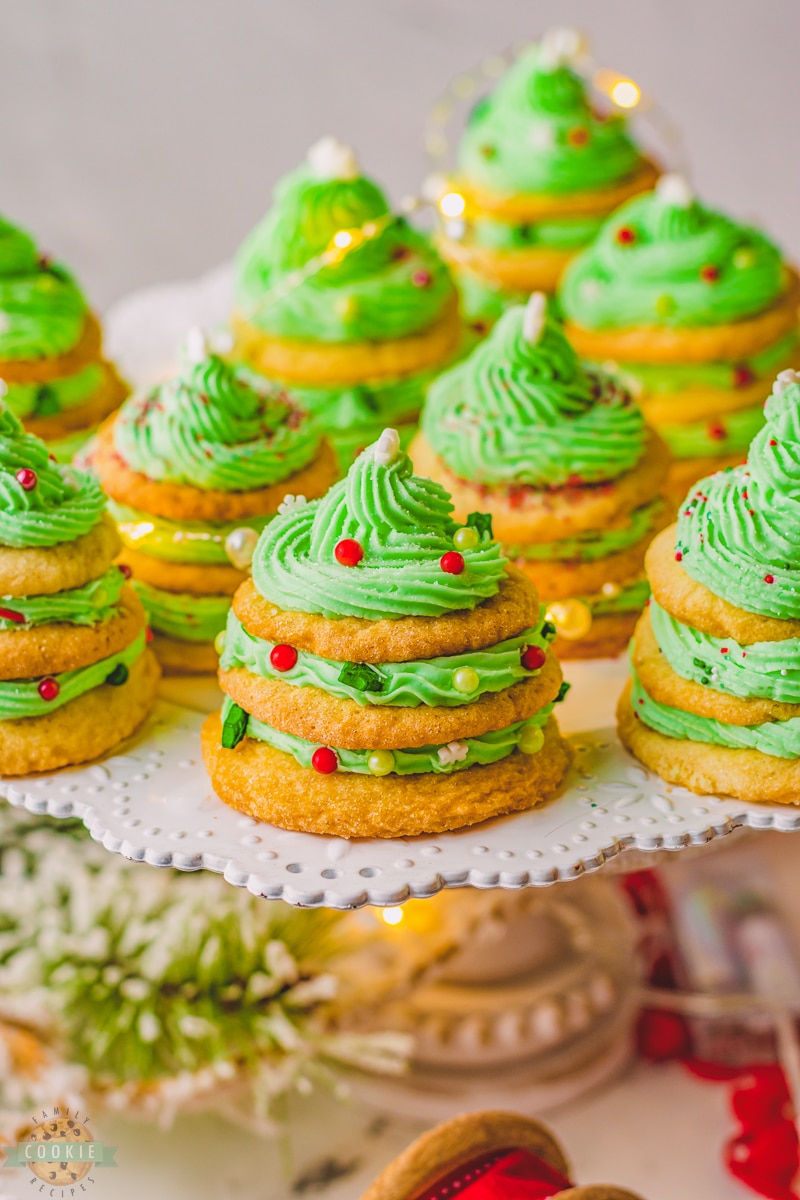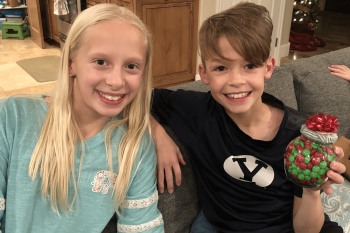 All on her own doing, our oldest daughter organized a homemade gift exchange that we actually held for several years. It was cute & fun. Some family members went all out… others did not. It was a funny tradition for a while. What I loved the most about it was how excited my kids were to GIVE their gift. It really helped them learn how amazing it is to give gifts!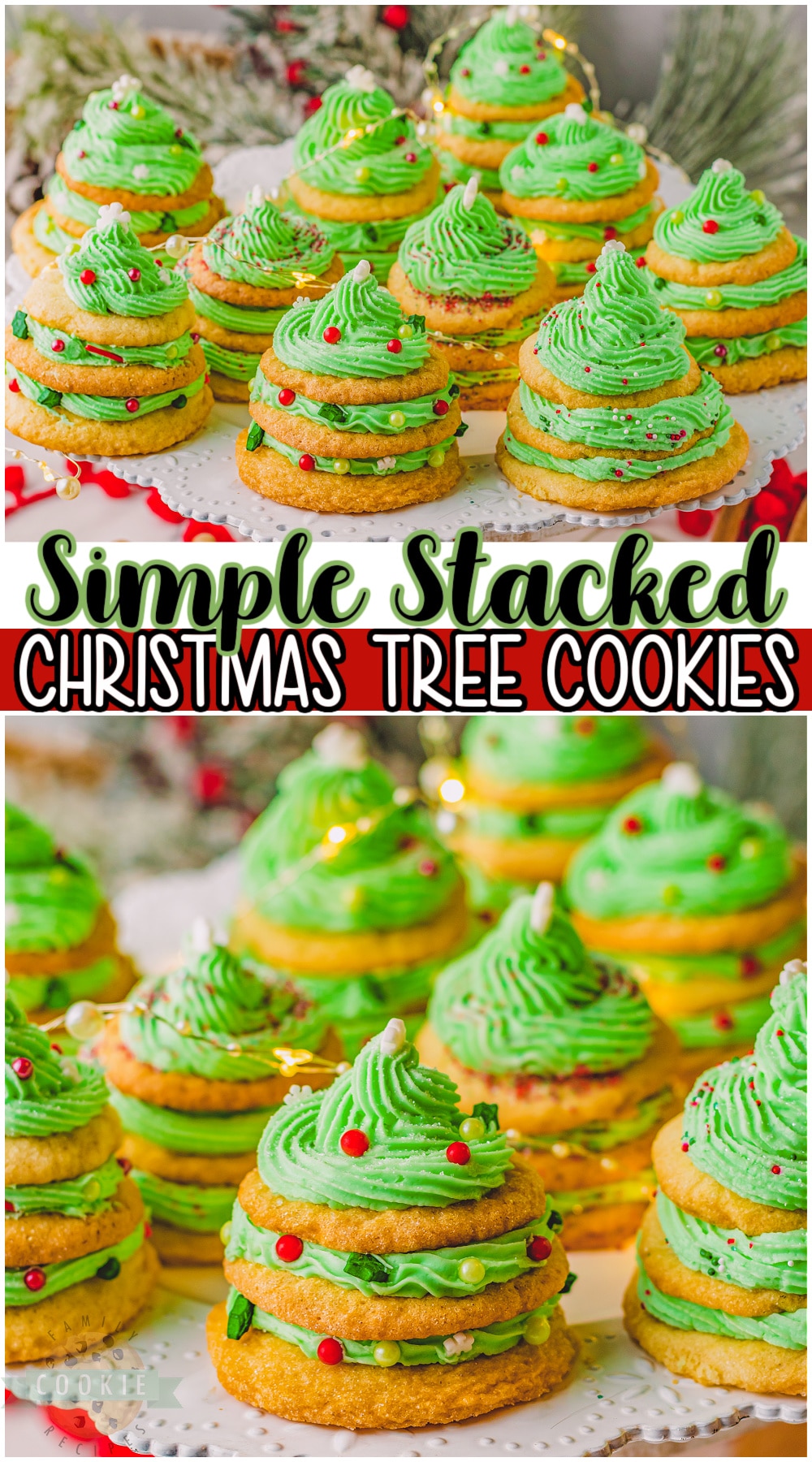 These Christmas tree cookie stacks are a fun and unique way to celebrate the holiday. 3D trees, green icing, and tons of sprinkles will have your tables messy and your hearts full this holiday season.