Holiday Star Cookies are bright, buttery & sparkly. They're perfect for the holidays! Candy coated & sprinkled to holiday perfection, everyone loves these melt-in-your mouth vanilla shortbread cookies.
Be sure to check out our updated collection of BEST CHRISTMAS COOKIE RECIPES here!
How do you make perfect shortbread cookies?
Shortbread cookie dough is a bit sticky, so I like to roll it between sheets of parchment paper. Resist the urge to add more flour to the dough! If you add too much flour, the ratio of wet to dry ingredients is off and the cookies end up dry and crumbly.
Do not melt the butter! The butter needs to be softened (at room temperature), but using melted butter will ruin the cookies.
Spend a little extra time when you mix the butter and sugars. Creaming them together for 2-3 minutes will improve the consistency of your cookies.
Preheat the oven. This will help your cookies turn out right every time!
Use a cookie scoop! If you want all your cookies to be perfectly shaped and have them all be the same size, a cookie scoop is the way to go.
Use parchment paper or a silicone baking mat. Doing this will make it really easy to remove the cookies from your cookie sheet so that you don't have to scrape them off the pan – they will just slide right off in perfect shape!
Make sure not to overbake your cookies.  They may not even look totally done on the tops, but if the bottoms start to brown, I take mine out and they are perfect!

Holiday Star Cookies
1 cup butter, softened (2 sticks)
1/2 cup sugar
2 tsp vanilla extract
2 cups flour
1 tsp baking powder
1/4 tsp salt
1 1/2 cups white melting chocolate*
festive sprinkles- white jimmies, clear and gold sugar sprinkles
With an electric mixer, cream the butter with the sugar until the mixture is light and fluffy. Add in vanilla extract.
Add flour, baking powder and salt. Mix until it forms a dough.
Roll out dough between 2 pieces of parchment paper until 1/4″ thick. Cut star shapes and transfer onto parchment lined baking sheets. Repeat until all dough is cut into star shapes.
Heat the oven to 300°F. Bake the cookies on the top rack of the oven for 22-26 minutes, until just barely browning.
Transfer to wire racks to cool. Combine 1-2 TBSP of each type of sprinkles until desired mixture is achieved. I used slightly more clear sprinkles than either the white or gold ones.
Heat white chocolate in microwave for 1 minute, stir gently and continue heating in 15 second increments until smooth. Paint on each cookie with a silicone brush. Top with sprinkles generously until covered. Let cool to harden.
If you like our Holiday Star Cookies, try a few of our other favorite Christmas Cookies: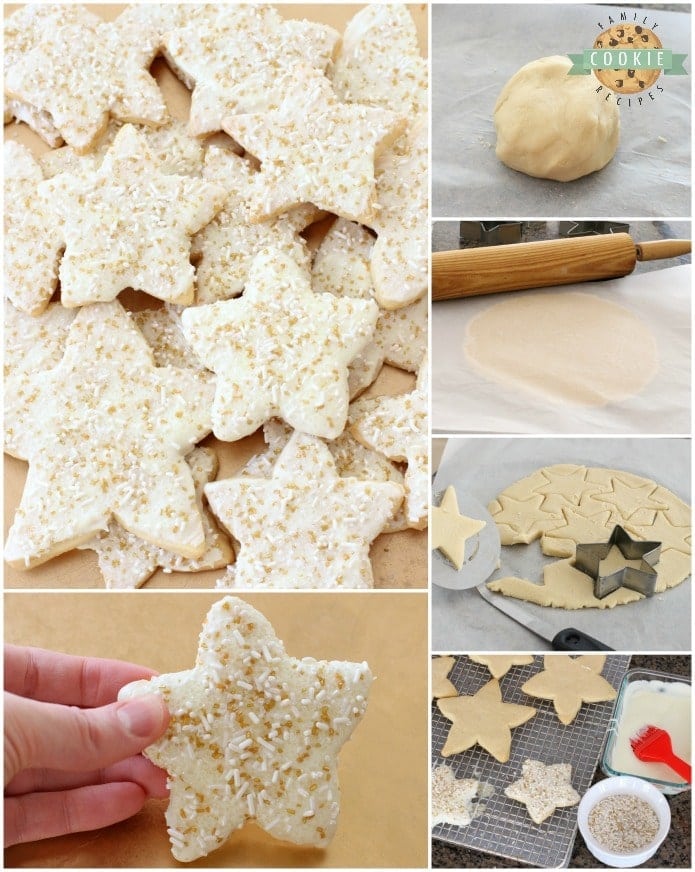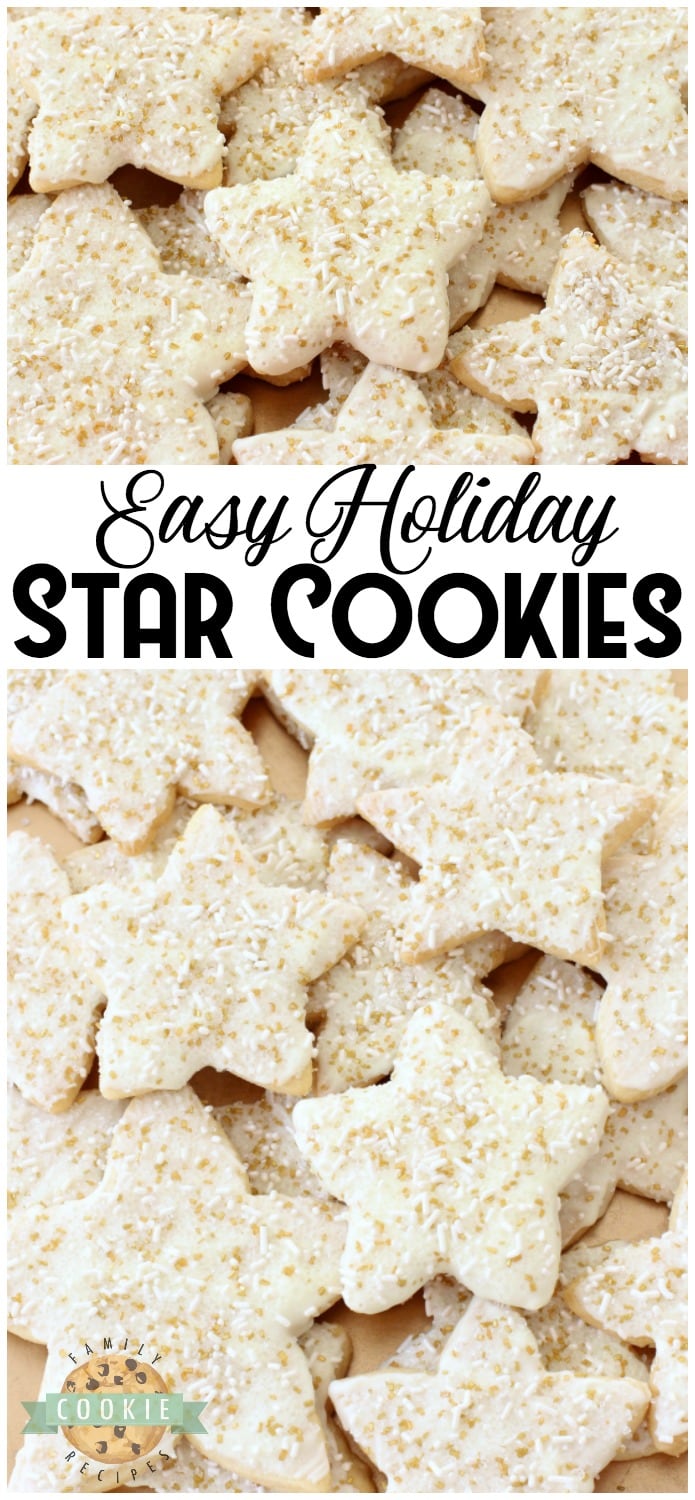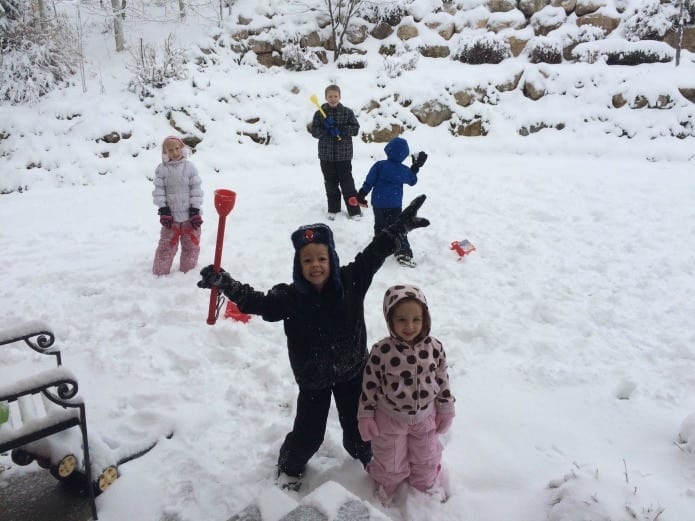 I grew up in an area where snow was a rare occurrence. After my husband and I got married, we moved to a place that got plenty of snow! We've been here over 15 years so we're quite used to it now. Those first few years were a bit challenging, but I have to say, I love it! We've been blessed with very White Christmases the last several years too, which makes the holiday season so fun. The kids play outside sledding and building snowmen and I'm on hot chocolate and cookie duty inside. It works!