Mint Chocolate Chip Cookies are a sensational dessert made with pudding mix, mint extract and chocolate chips. This amazing mint cookie recipe is perfect for those who love mint chip ice cream!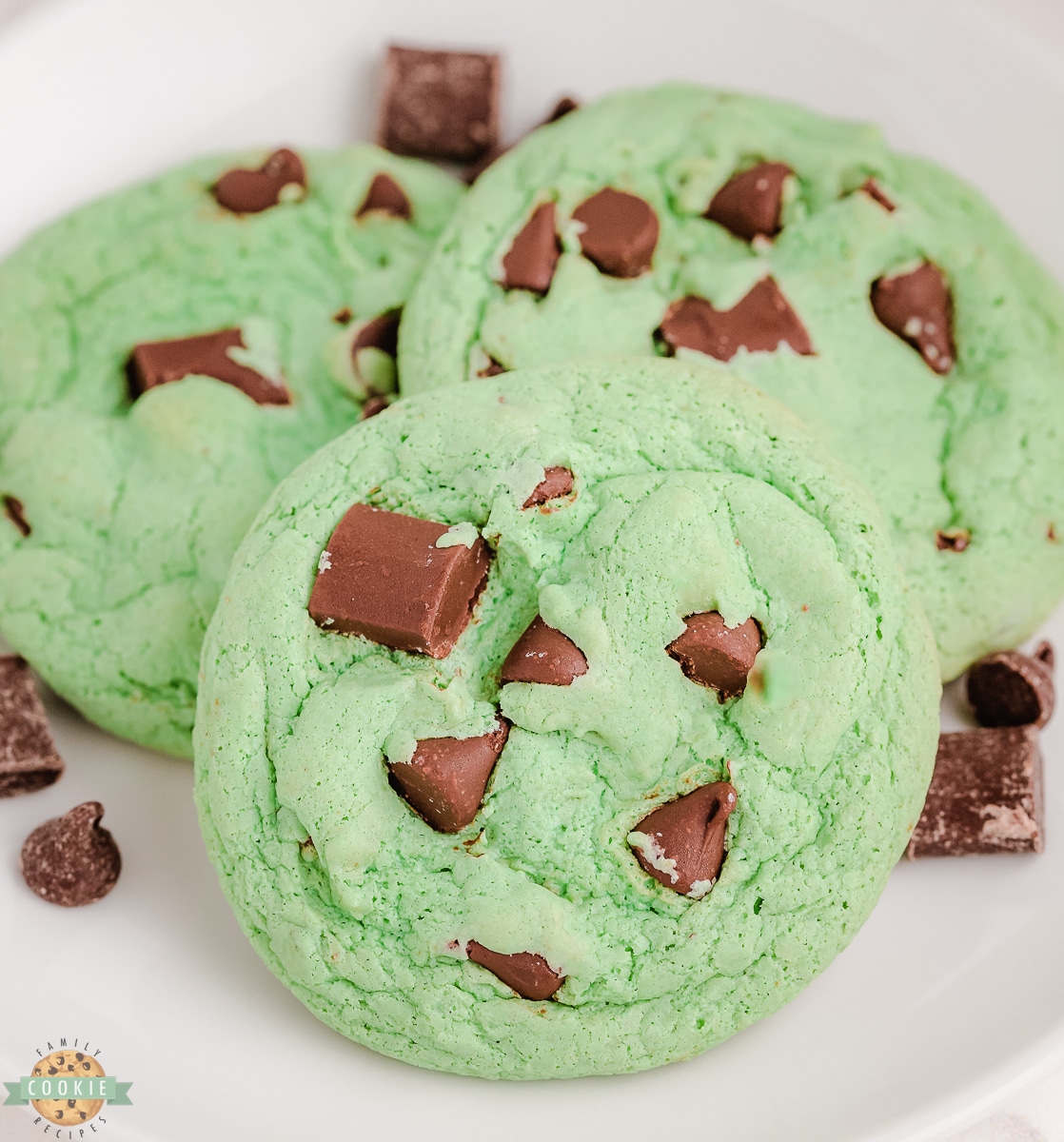 [adthrive-in-post-video-player video-id="9hMXg6AU" upload-date="2017-03-08T13:32:46.000Z" name="Mint Chocolate Chip Cookies" description="Perfect blend of chocolate mint flavors in a soft, sweet homemade cookie. Vanilla pudding adds a wonderful texture to these Mint Chocolate Pudding Cookies." player-type="default" override-embed="default"]
Making this mint chocolate chip cookie recipe is so easy and is great for anyone who love the mint-chocolate combination. The addition of pudding in these mint choco cookies creates a delicate and moist cookie with wonderful texture.
Chocolate Chip Mint Cookies
I am a huge fan of the chocolate and mint combination and any reason to make something with this combo is enough for me. These green cookies are so fantastic for many different holidays, St. Patrick's Day is coming up and this would be a fun treat to serve your friends and family. They are also great for Christmas cookie exchanges too, these festive green cookies are always a hit! The cookie dough comes together quick and easy with some basic ingredients and a little bit of time. The results are a flavorful, fluffy and delicious cookie. The dough really does look just like mint chip ice cream and the flavors meld together into a delightful baked cookie.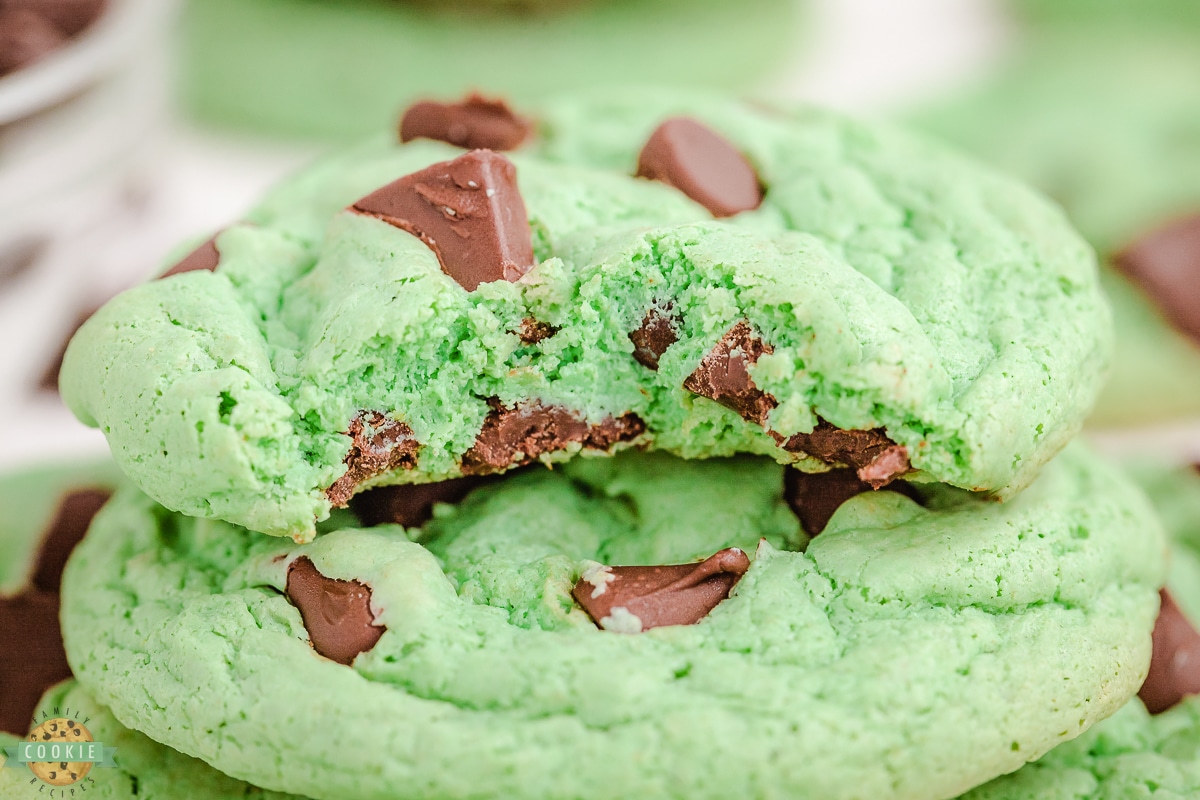 Chocolate Chip Mint Cookie ingredients
Sugar: You will need 1 cup sugar for a wonderfully sweet cookie.
Butter: Using ½ cup butter (1 stick), softened, will give these cookies a lovely and rich taste and texture.
Egg: You only need 1 egg for this recipe to create these delectable treats.
Sour cream: Using ½ cup sour cream (or plain yogurt) will create a nice moist cookie.
Vanilla pudding: You need 1 small box instant vanilla pudding mix (3.4 oz) to help these cookies be fluffy and packed with flavor.
Salt: Use ½ tsp salt to help balance out all the tasty flavors.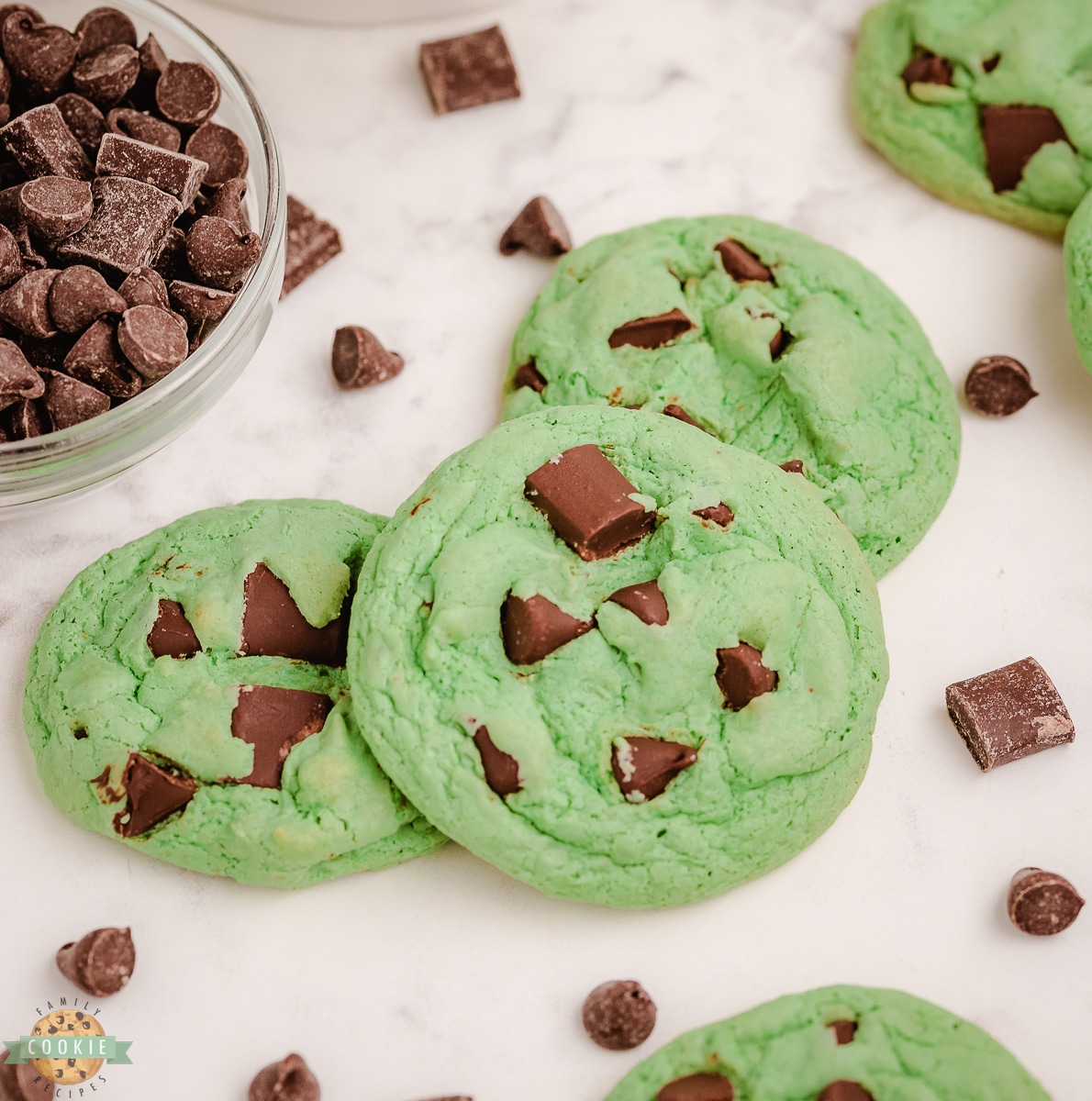 Baking soda: Adding in ½ tsp baking soda will help these cookies rise perfectly while baking.
Flour: You will need 2 cups all-purpose flour for the base of this cookie dough.
Mint extract: Using just 2 tsp mint extract will give these cookies a robust minty flavor.
Food coloring: To give these cookies a wonderful and festive look, use 1 drop blue coloring + 8-10 drops green coloring.
Chocolate chips: For a perfect balance of sweetness, use 1 ½ cups chocolate chips. You can also use Andes Mint chips or chocolate chunks, see instructions below for what I used.
How to make Mint Chocolate Chip Cookies
Prep
Start by preheating the oven to 375 degrees F.
Then, line a baking sheet with parchment paper or spray with non-stick cooking spray, set aside.
Cookie dough
Begin by creaming together the sugar and butter, in a large bowl, until nice and fluffy.
Then, add in the egg, sour cream and dry pudding mix, stir well to combine.
Next, in a separate small bowl, combine the flour, salt and baking soda.
After that, incorporate the flour mixture into the butter and pudding mixture and stir until well combined.
Now, add the mint extract and food coloring until desired color is achieved.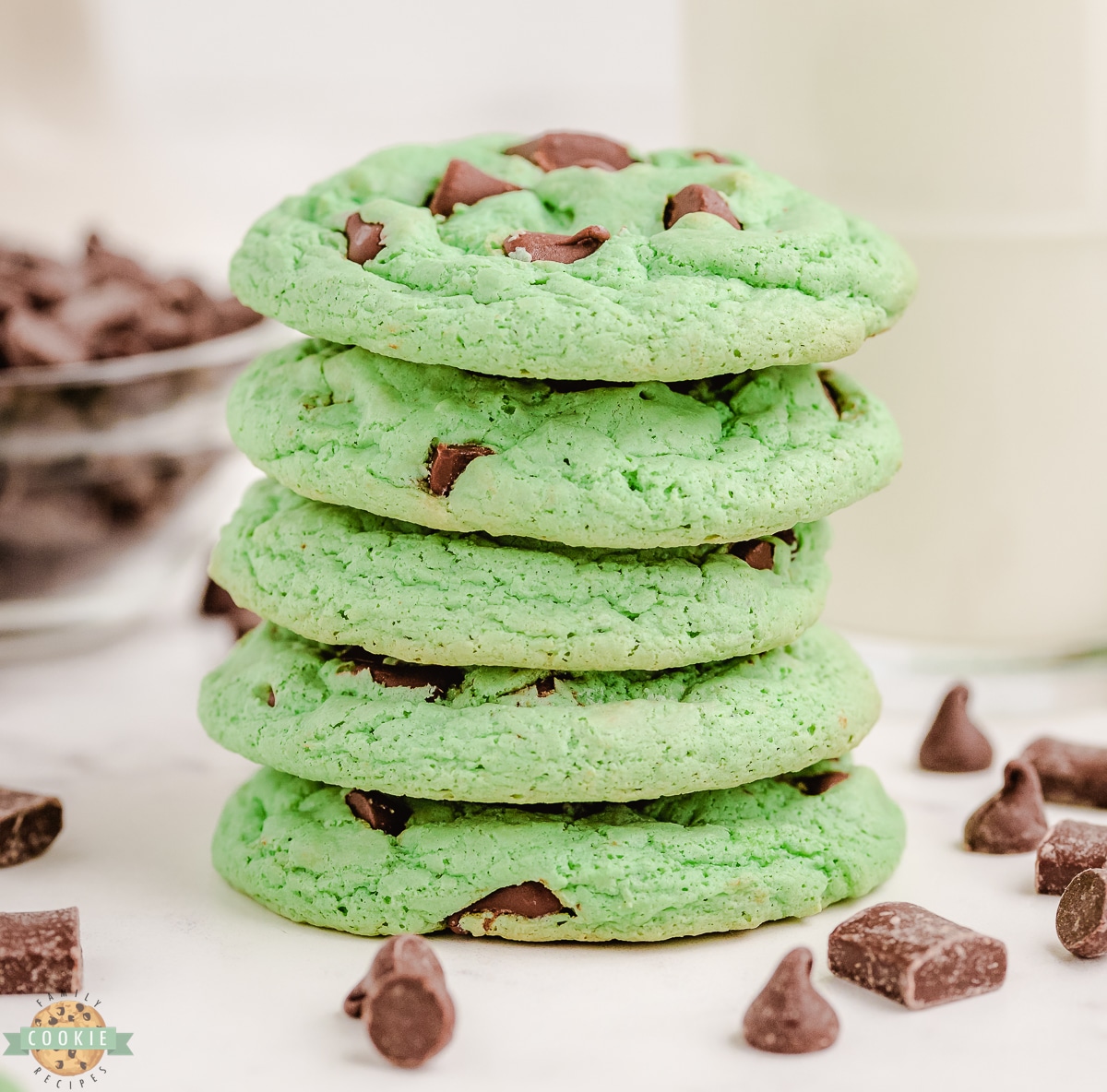 Lastly, add in the chocolate chips. I used 3/4 cup chocolate chunks, 3/4 cup regular chocolate chips and 1/2 cup Andes baking bits. Any combination is wonderful, but note that while the Andes mint baking pieces add an incredible flavor, they kind of disappear in the cookies. So add them in addition to the 1 1/2 cups chocolate chips, if you opt to put them in!
Bake
Start dropping the cookie dough by the rounded tablespoonfuls onto the prepared baking sheet.
Then, bake for 10 minutes.
When done baking, transfer to a cooling rack.
Serve fresh and warm, enjoy!
How do you soften butter?
I like to soften butter by using the defrost function on my microwave. If you need the full 1/2 cup cube of butter, you can leave it in the paper wrapper, otherwise, place the amount of butter you need in a glass or porcelain bowl. I use the lowest defrost setting on my microwave and just let it run for 20 seconds. Check the butter and see how soft it is by pressing it with a rubber scraper. If it is still not soft to the touch, meaning it doesn't indent when you press into it, let it warm for another 5-10 seconds. Watch it closely! Butter softens very quickly.
Can Mint Chocolate Chip Cookies be frozen?
Yes, you can freeze chocolate chip cookies in an airtight container for up to 1 month. Another option is to shape the dough into round balls and then freeze them all on a cookie sheet. Once frozen, toss the dough balls in a ziplock freezer bag and store up to 1 month. That way you can bake them when you would like and enjoy warm cookies!
Tips to get the PERFECT Pudding Cookies:
Three kitchen items make these cookies come together really fast. I actually use these items in nearly every cookie recipe I make, so they're quite versatile. First, I line my cookie sheets with a piece of parchment paper. They are sold in sizes that fit a 12×16 cookie sheet perfectly and enable to cookies to bake well without sticking- and no mess from spraying oil on the cookie sheets!
The second item is a KitchenAid mixer. I love mine! I have a Bosch as well but I find I use my KitchenAid for cookies. There is a cookie paddle that comes with every mixer that you attach to the top of the mixer. They are easy to use and help you mix the ingredients uniformly.
The third item is a cookie scoop! Years ago I used to use 2 spoons to measure and scrape cookie dough onto the pans. It was not a perfect process and I often ended up with oblong cookies in various sizes. A friend of mine brought cookies to a party and I noticed each and every one of her cookies looked PERFECT. Her secret? A cookie scoop! They come in three sizes- 1/2 tablespoon, 1 1/2 tablespoon and 3 tablespoon scoops. I used the middle size- 1 1/2 tablespoon for these, and most other cookies.
If you like our Mint Chocolate Chip Cookies, try a few of our other favorite cookies:
Mint Chocolate Chip Cookies are a scrumptious dessert that is packed with delicious flavors. Whip up a batch today and watch how quickly they disappear!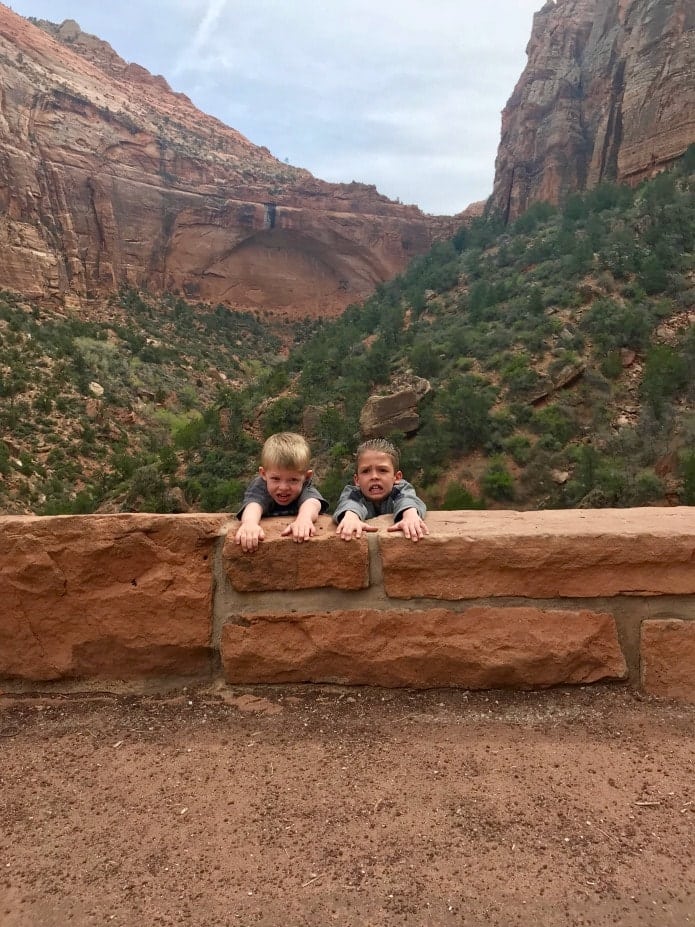 Isn't this fun?! We took this picture on a recent family vacation. We have had kids for almost 15 years now so the plain ole, "stand here and smile" pics are getting a little old. My husband is the master of thinking up fun ways to pose the kids. They thought this one was hilarious.
No, they're not hanging off a ledge. Yes, my Mama heart was still panicking and I was literally standing right outside the shot and grabbed their hands pulling them over right after we pressed the button!