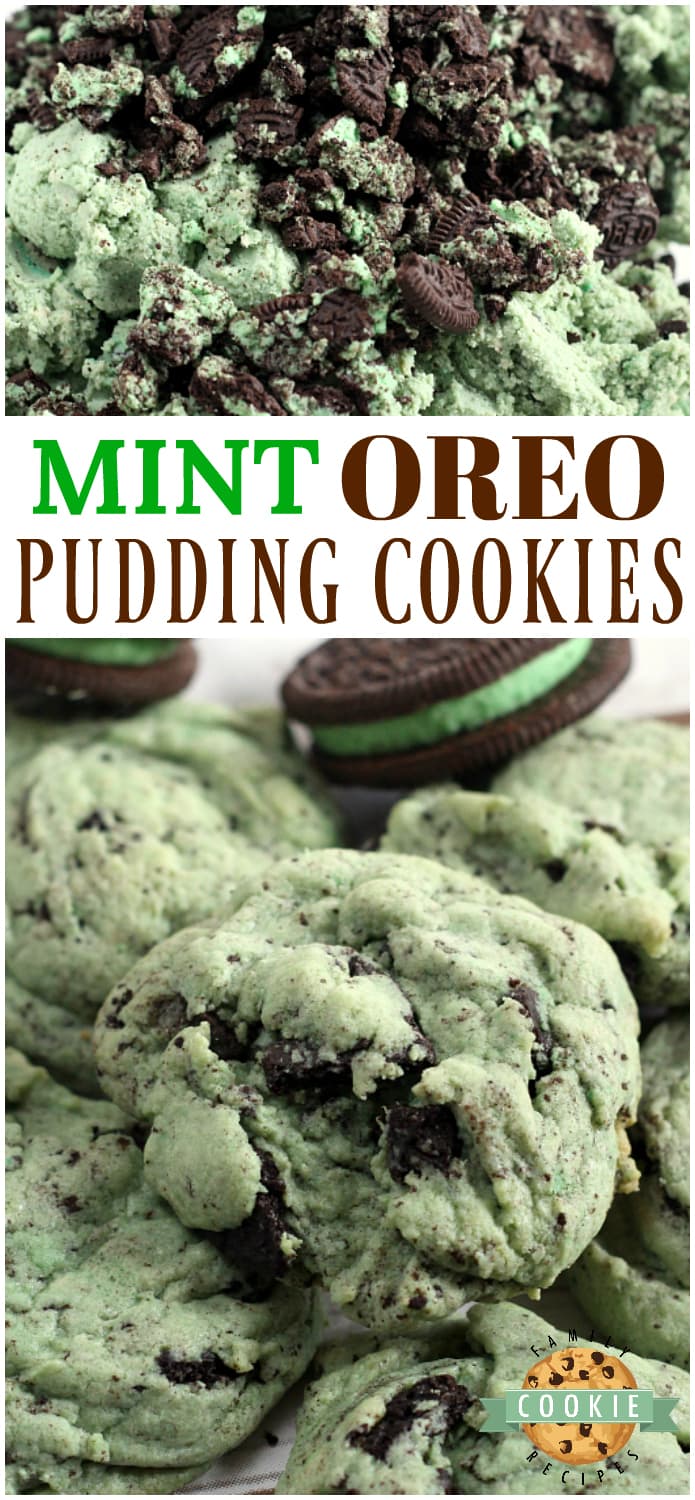 Mint Oreo Pudding Cookies are soft, chewy and full of mint flavor, Oreo pudding mix and crumbled Oreo cookies! The mint and chocolate flavor combination is a winner in these amazing cookies!
Mint Oreo Pudding Cookies are absolutely amazing! Several years ago, I began making these Cookies and Cream Cookies that have Oreo Pudding in the recipe and they have been one of my favorite cookies ever since. I was ready to make them a few days ago and decided to make a mint version since I had some Mint Oreos in the cupboard. Plus, it's getting close to St. Patrick's Day and I'm sure I will need to make a green treat at some point in the near future! I just added a little bit of mint and food coloring to my original recipe and the results did not disappoint at all.
These cookies are absolutely delicious and I love how the pudding adds extra Oreo flavor while making the cookies extremely soft. Most of my favorite cookies have pudding in the dough, but here are some other tips to make sure your cookies end up being soft, chewy and perfect every time!
Do not over mix the dough or use too much flour.
Make sure that the butter is softened, but NOT melted. If you melt the butter, it will completely change the consistency of the cookies and they will be flat and crispy.
Bake cookies the minimum amount of time, even though the center may look slightly underbaked. I have made these cookies so many times and ten minutes seems to be the perfect amount of time for this particular recipe. Let cookies stand on baking sheet for one to three minutes to continue to bake, then remove to cooling rack.
Store soft cookies in an airtight container.
Do not store soft chewy cookies with crisp type cookies.
Use shiny aluminum cookie sheets, not dark colored ones. I have recently begun using silicone baking mats for all of my cookie baking and they are incredible! The cookies come off of the mats so easily and as an added bonus, your cookie sheets stay perfect too!
MINT OREO PUDDING COOKIES
1 cup butter, softened
1/2 cup brown sugar
1/2 cup sugar
1 (4.2 oz) pkg Oreo Cookies & Creme pudding mix
2 eggs
1 tsp vanilla extract
1 tsp mint extract
2 1/4 cups flour
1 tsp baking soda
3 drops blue food coloring, 10-12 drops green food coloring
15 Mint Oreo cookies (or regular Oreos – they work great too!), coarsely crushed (you want big chunks!)
Using a hand mixer, cream the butter and sugars. Add the pudding mix and mix until well blended.
Add the eggs, vanilla and mint extract and mix well.
Add the flour and baking soda and continue mixing.
Add the food coloring and mix until the desired color is reached throughout the dough.
Stir in the Oreo cookie chunks.
Drop cookies by rounded teaspoonfuls (I use a cookie scoop) onto a greased cookie sheet. Bake for 10 minutes at 350. Enjoy!
Once you devour these amazing Mint Oreo Pudding Cookies, try a some of our other favorite pudding cookie recipes: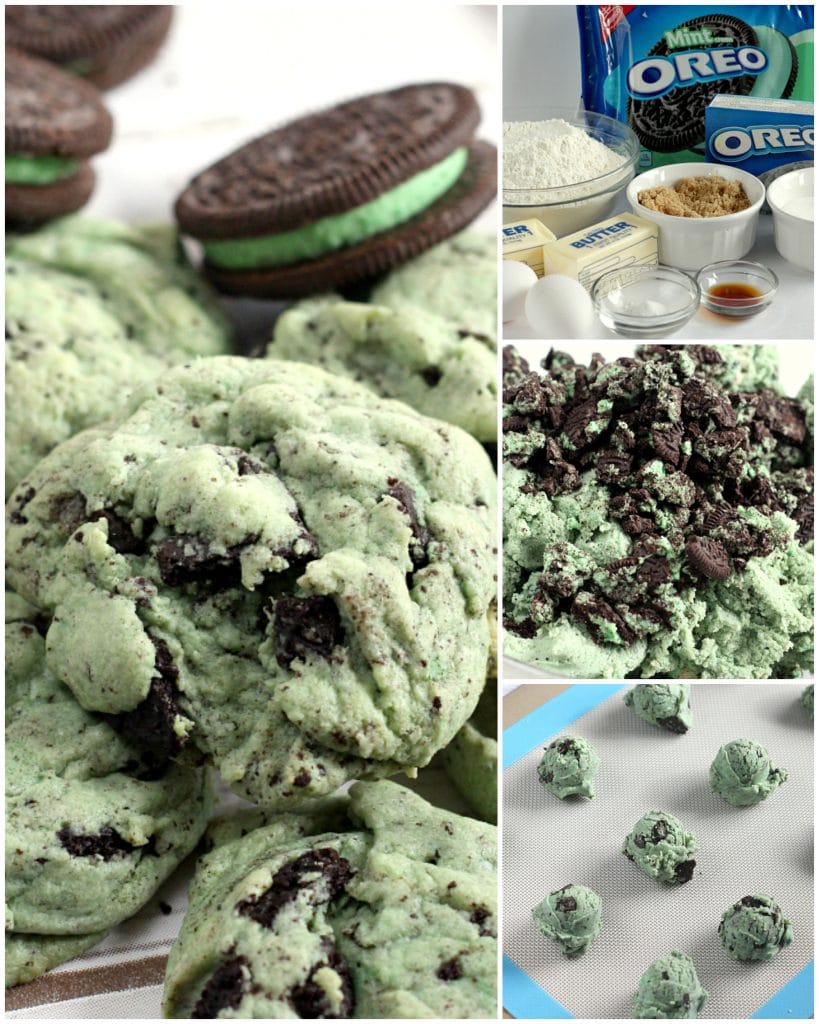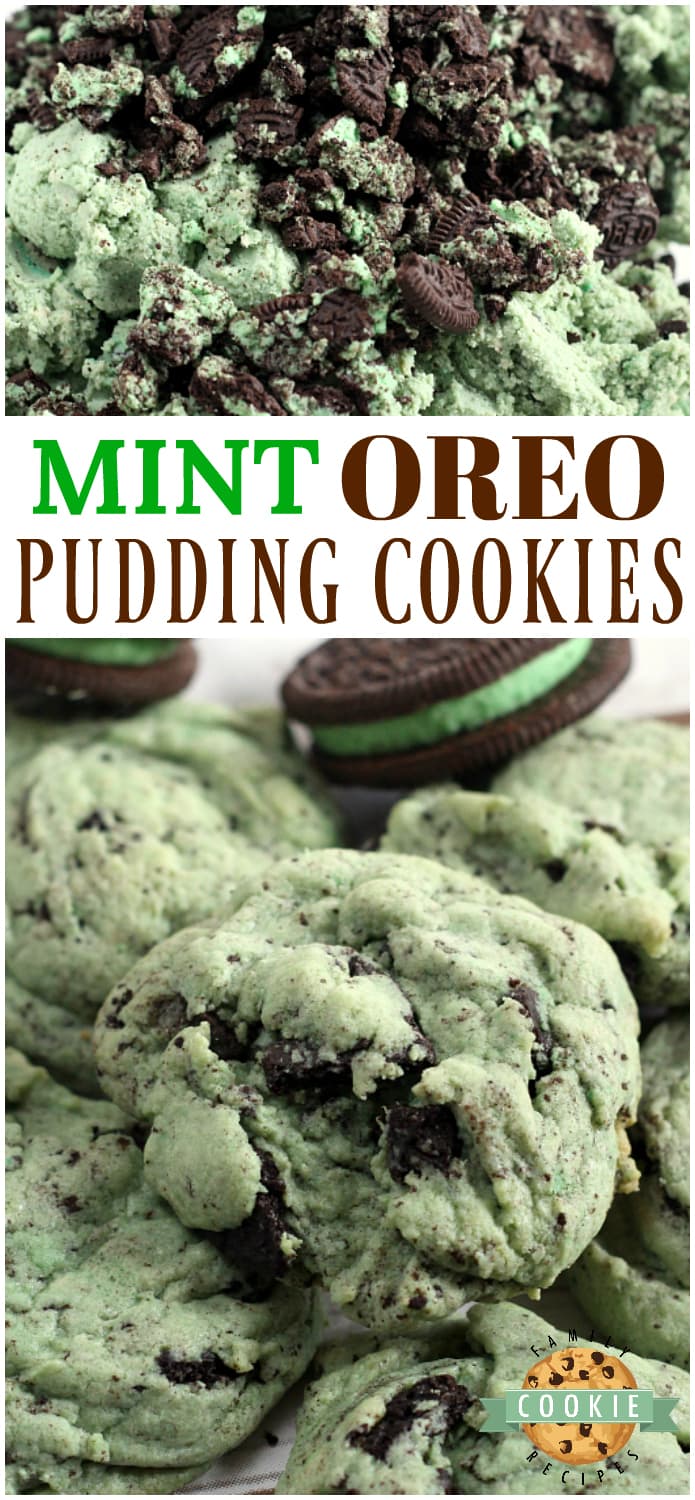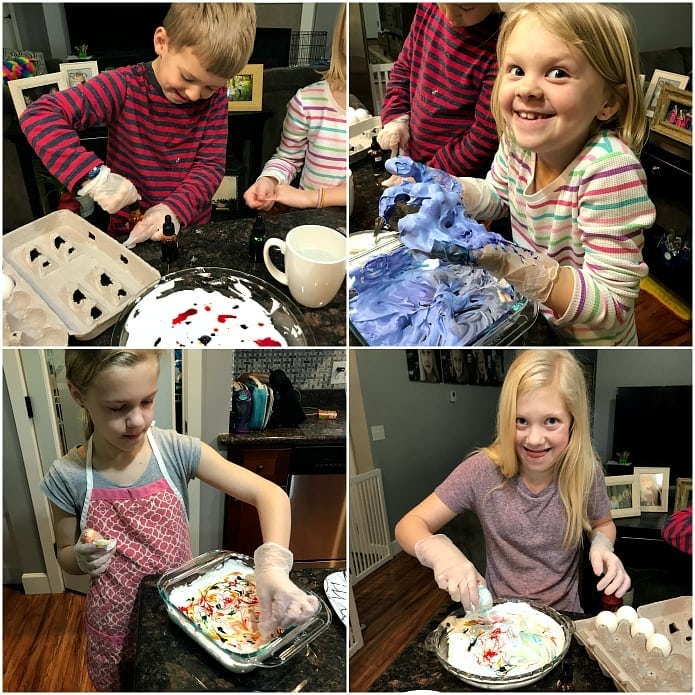 This year we decided to try to dye our Easter eggs with marbled shaving cream since I kept seeing it all over Pinterest. Except we decided we didn't want to eat eggs that had been dipped in shaving cream so we used Cool Whip instead. Not sure the eggs were the most beautiful ones we've ever made, but the kids have never had so much fun dying eggs before and they enjoyed eating some of the Cool Whip when they were done!