Mint Oreo Pudding Cookies are soft, chewy and full of mint flavor, Oreo pudding mix and crumbled Oreo cookies! The mint and chocolate flavor combination is a winner in these amazing cookies!
Mint Oreo Pudding Cookies are absolutely amazing! Several years ago, I began making these Cookies and Cream Cookies that have Oreo Pudding in the recipe and they have been one of my favorite cookies ever since. I was ready to make them a few days ago and decided to make a mint version since I had some Mint Oreos in the cupboard. I just added a little bit of mint and food coloring to my original recipe and the results did not disappoint at all.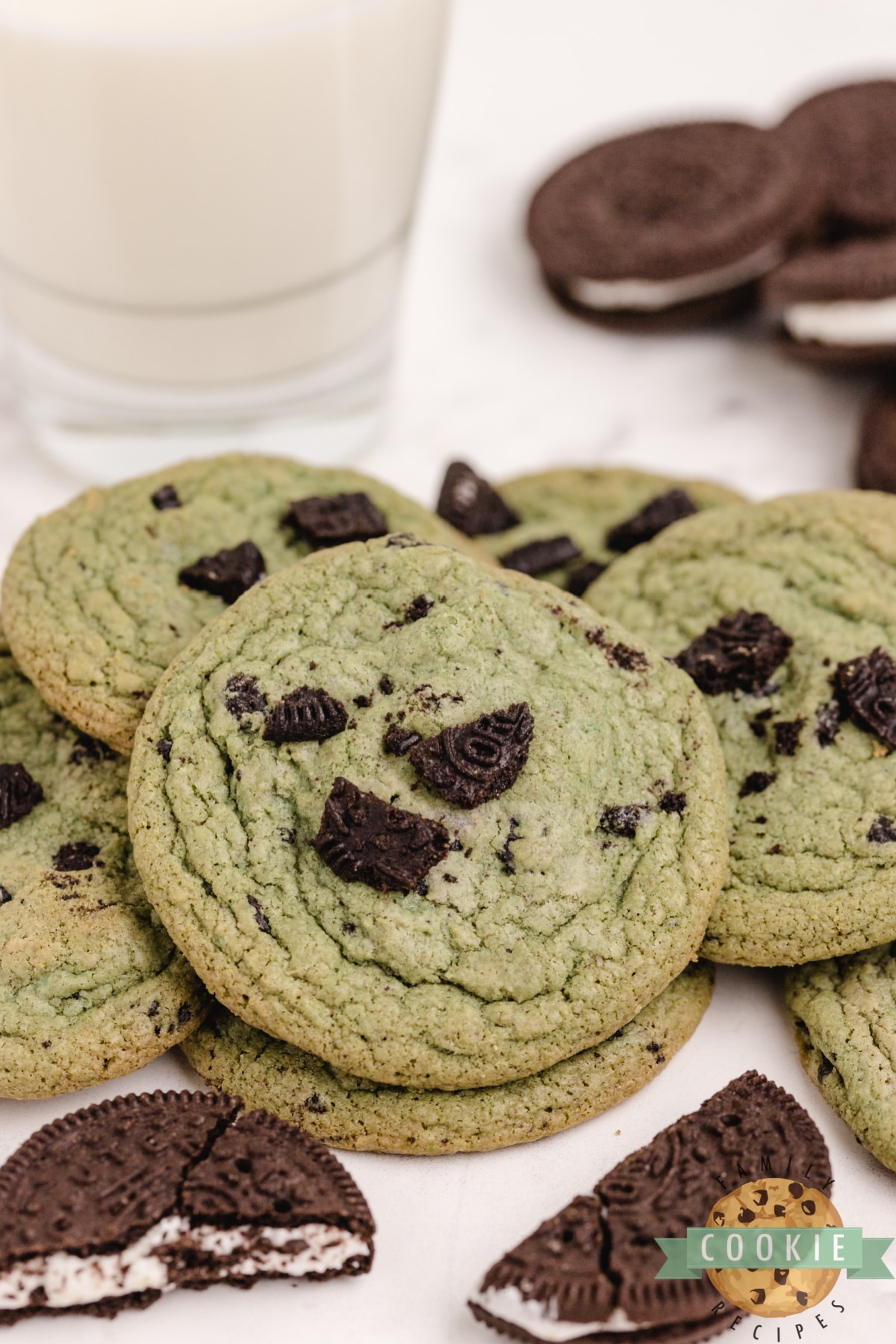 These cookies are absolutely delicious and I love how the pudding adds extra Oreo flavor while making the cookies extremely soft. Most of my favorite cookies have pudding in the dough, but here are some other tips to make sure your cookies end up being soft, chewy and perfect every time!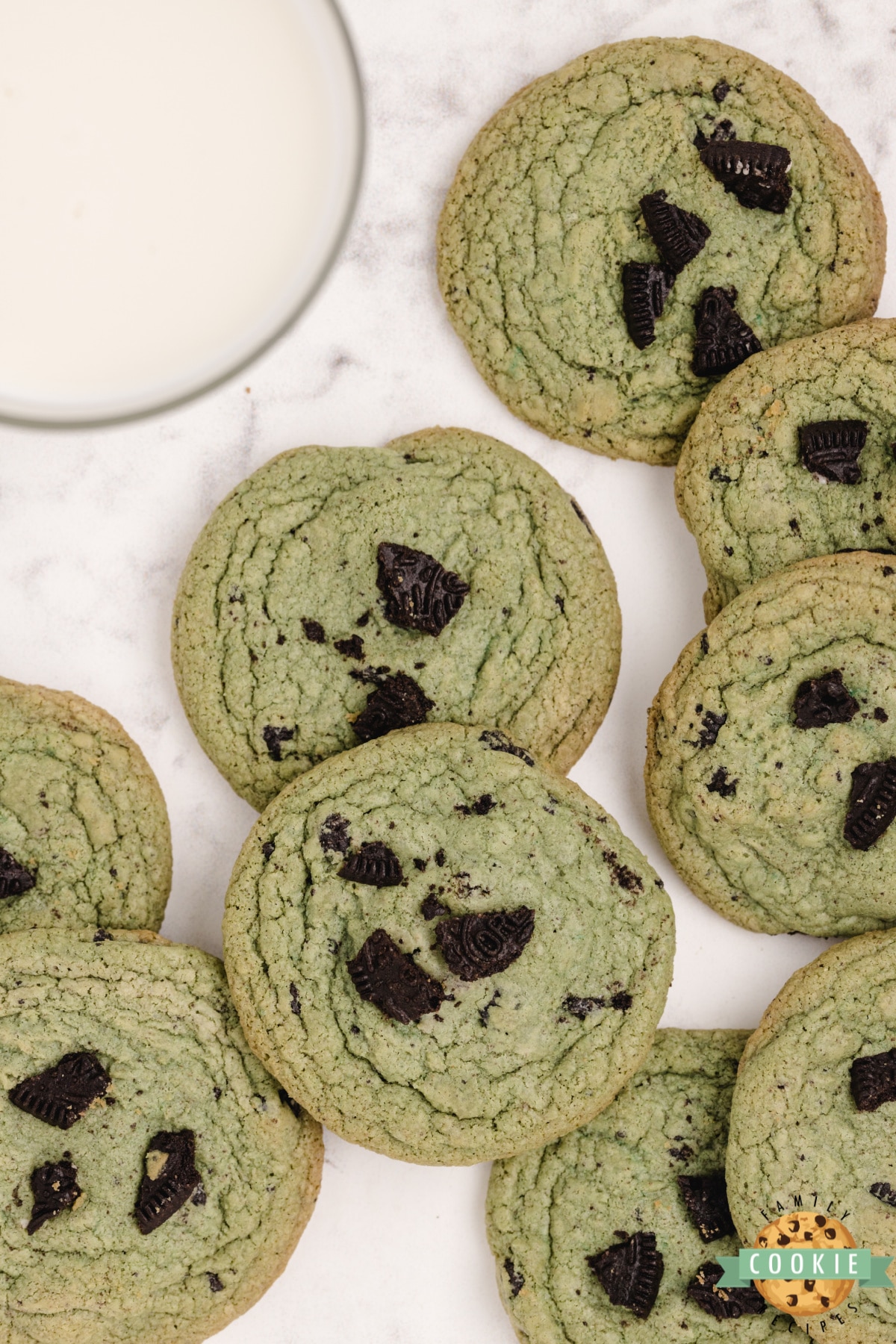 Tips for making the best cookies
Do not over mix the dough or use too much flour.
Make sure that the butter is softened, but NOT melted. If you melt the butter, it will completely change the consistency of the cookies and they will be flat and crispy.
Bake cookies the minimum amount of time, even though the center may look slightly underbaked. I have made these cookies so many times and ten minutes seems to be the perfect amount of time for this particular recipe. Let cookies stand on baking sheet for one to three minutes to continue to bake, then remove to cooling rack.
Store soft cookies in an airtight container.
Do not store soft chewy cookies with crisp type cookies.
Use shiny aluminum cookie sheets, not dark colored ones. I have recently begun using silicone baking mats for all of my cookie baking and they are incredible! The cookies come off of the mats so easily and as an added bonus, your cookie sheets stay perfect too!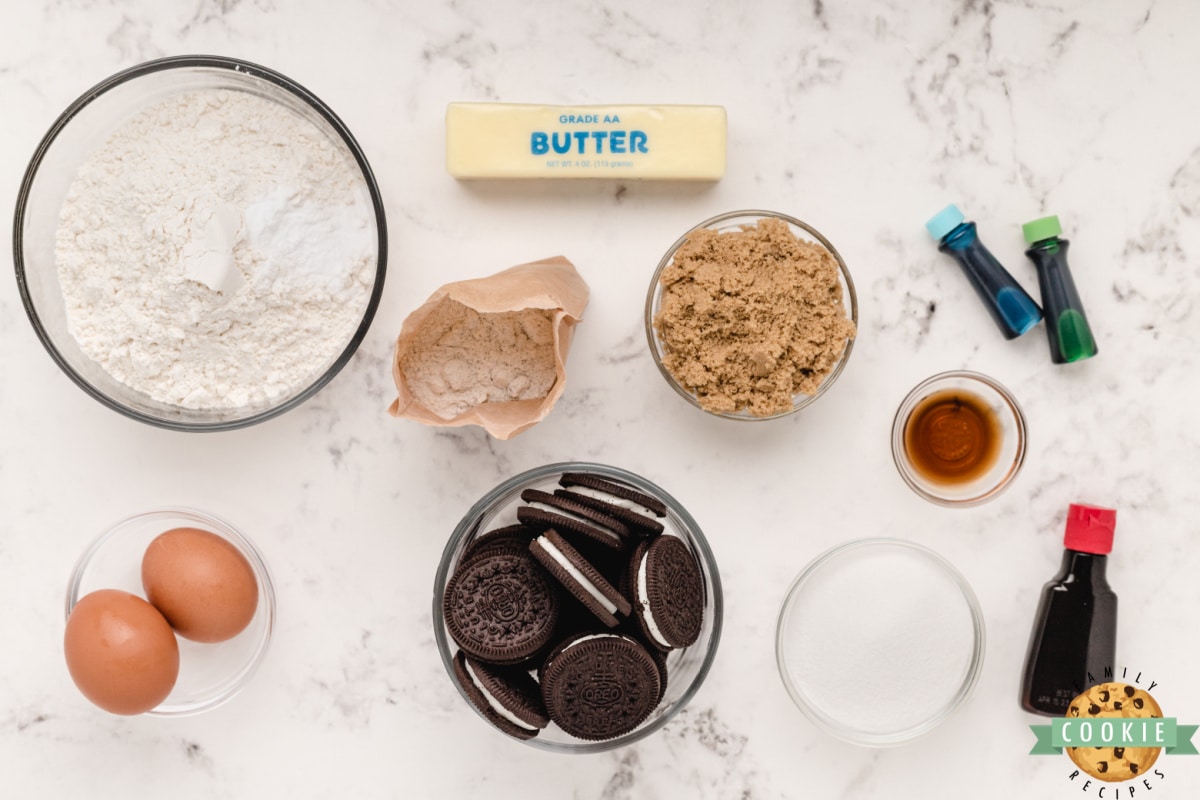 INGREDIENTS IN MINT OREO PUDDING COOKIES
Butter – Make sure the butter is completely softened to room temperature before adding to the cookies.
Brown sugar– I always use light brown sugar in these cookies. Just make sure your brown sugar is soft and fresh because if it is dried out, it will affect your cookies!
Sugar – Regular granulated sugar adds some extra sweetness to the cookie recipe.
Oreo Cookies & Cream instant pudding mix – This is what makes these cookies so soft and delicious! Sometimes certain stores don't carry this, but I've always had good luck finding it at Walmart. If you absolutely can't find the Oreo pudding mix, you can use vanilla instead.
Eggs – You'll need 2 eggs – I always use large eggs in recipes for best results.
Vanilla – I suggest using a good quality vanilla extract or a Vanilla Bean Paste.
Mint extract – A teaspoon of mint extract will give these cookies tons of flavor. Extracts are very strong, so be careful not to add too much! And make sure to use mint, not peppermint. Unless you want peppermint cookies!
Flour – I usually use all purpose flour, but you can use bread flour, or even pastry flour in this recipe.
Baking soda – Leavening agent in the cookies. Make sure your baking soda isn't old or expired for best results.
Food coloring: This is entirely optional, but if you want the cookies to be green, add some food coloring. I use about 3 drops blue food coloring and 10-12 drops green food coloring. Feel free to adjust if necessary. Or use green paste food coloring to intensify the color.
Mint Oreo cookies – Key ingredient in this particular cookie recipe! Feel free to add a few more than what the recipe calls for! Just make sure not to crush them into fine crumbs- you'll want larger chunks of Oreos in your cookies!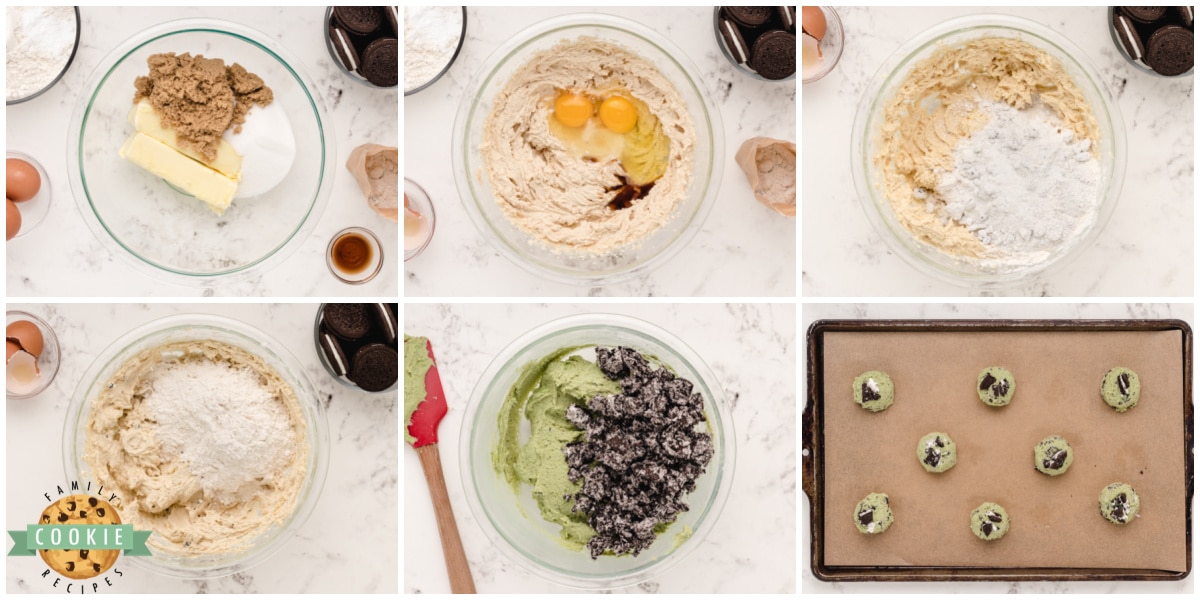 How to make Mint Oreo Pudding Cookies
Preheat oven to 350°.
Using a hand mixer, cream the butter and sugars. Add the pudding mix and mix until well blended.
Add the eggs, vanilla and mint extract and mix well.
Add the flour and baking soda and continue mixing.
Add the food coloring and mix until the desired color is reached throughout the dough.
Stir in the Oreo cookie chunks.
Drop cookies by rounded teaspoonfuls (I use a cookie scoop) onto a greased cookie sheet. Bake for 10 minutes. Don't overbake! Let them cool on the cookie sheet for a few minutes before transferring to wire racks to cool completely.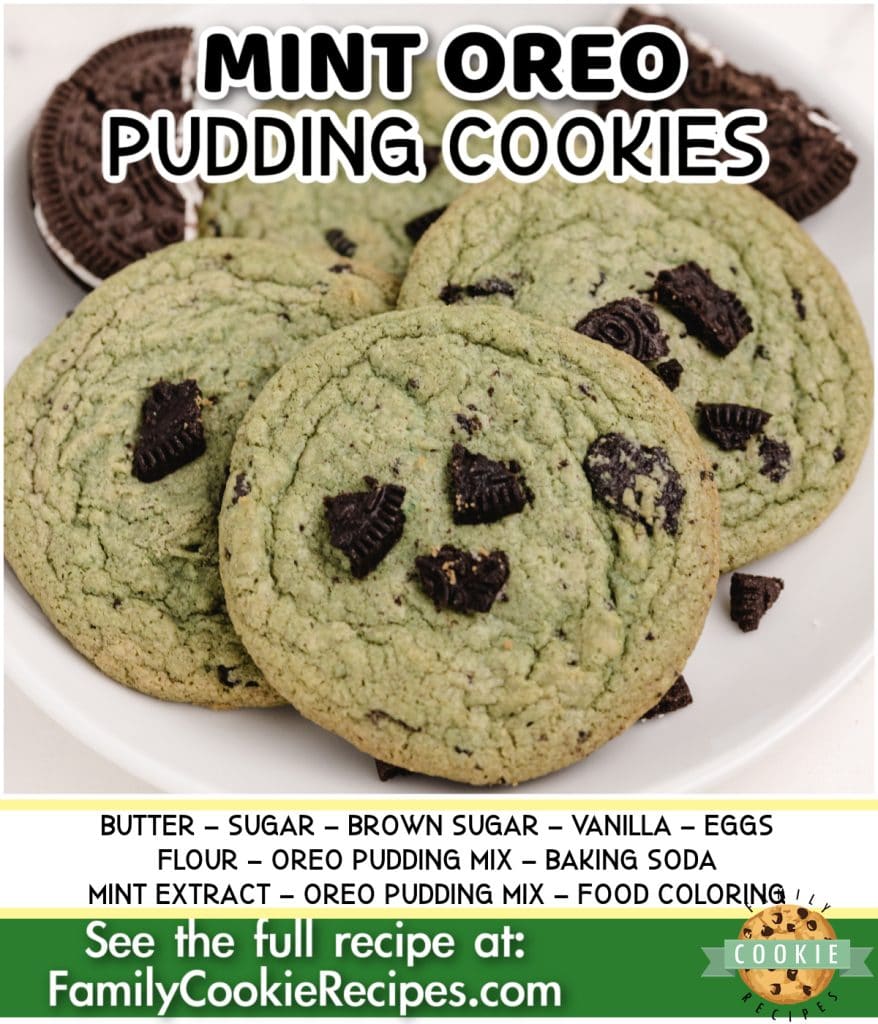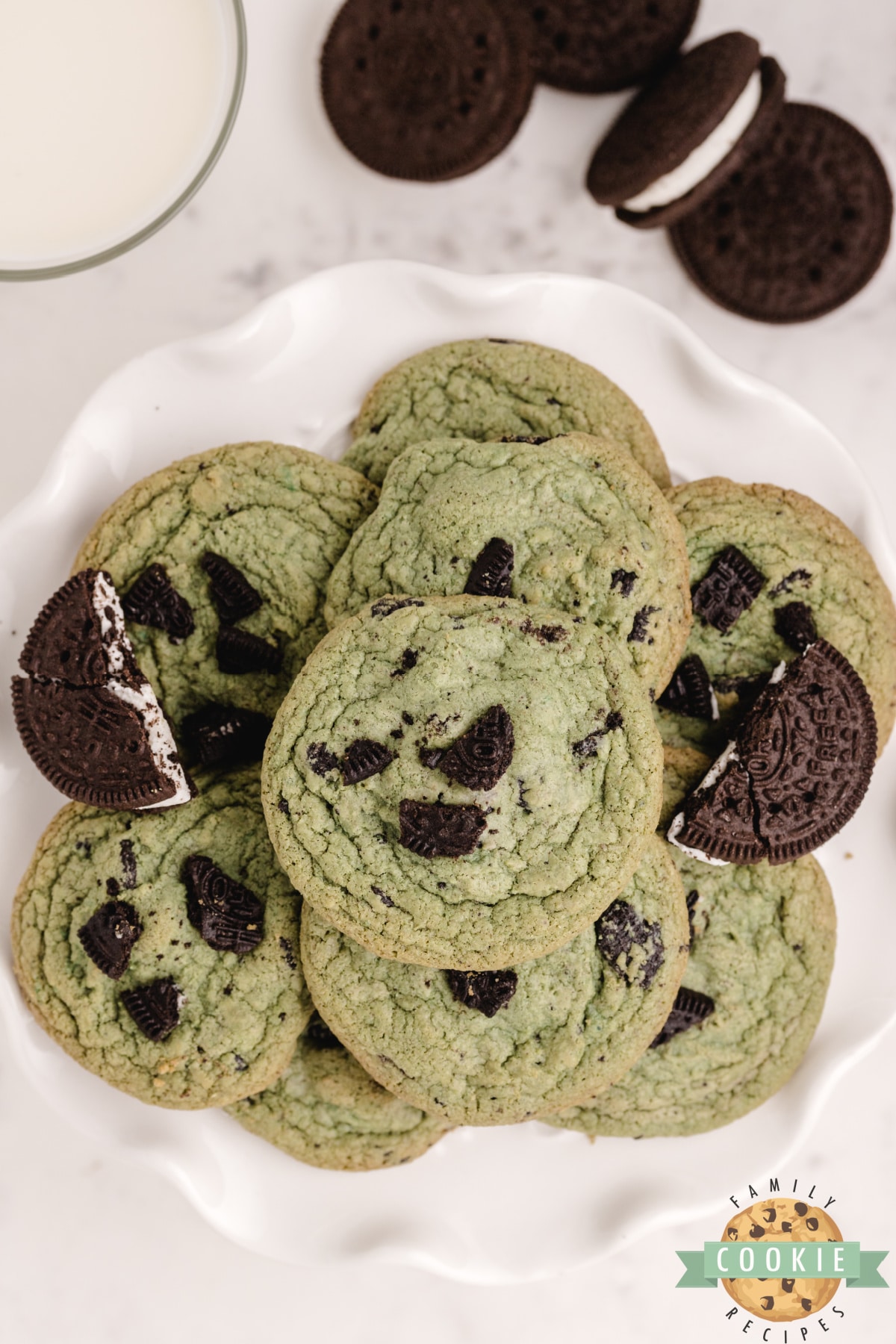 HOW DO YOU CRUSH OREO COOKIES?
The Oreo cookies should not be crushed too much because you want to make sure to have large chunks of Oreos in the cookies. My favorite way to crush the Oreos is by placing them in a Ziplock bag and then smashing them with a meat mallet or a rolling pin. This method gives you more control over how finely the Oreos are crushed.
You can also use a blender or food processor to crush Oreos but make sure to pulse the Oreos for only a quick second at a time to make sure that you don't over blend. This method is wonderful if you want to make fine crumbs for an Oreo crust, but is a little trickier when you want larger pieces of cookie.
WHY ARE MY COOKIES FLAT?
If your cookies are flat and spread out too much while baking, you may need to add a little bit more flour. Start by just adding a few tablespoons of flour to the batter and see if that is enough to help the shape of your cookies. If you are using a recipe with butter, make sure you aren't melting the butter. There are a few cookie recipes that actually call for melted butter, but most of them just require the butter to be softened to room temperature. Which leads to the next question…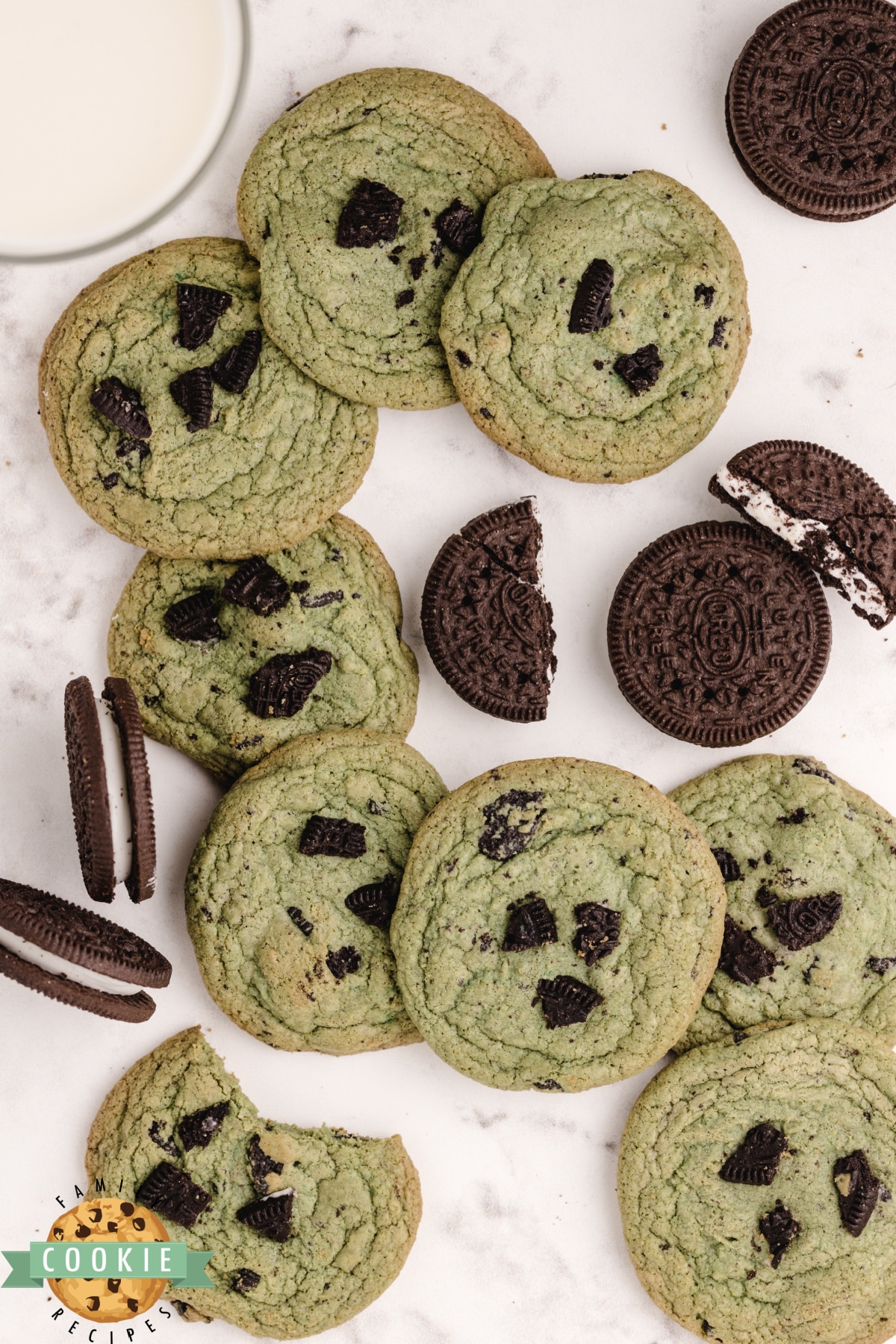 HOW DO YOU SOFTEN BUTTER TO ROOM TEMPERATURE?
The best way to soften butter is to set it out for a few hours before you make your cookies. Since most of us (or maybe just me!) aren't that prepared or don't think that far in advance, there are a few tricks to softening butter perfectly in just a matter of minutes. My favorite way to soften butter is in the microwave. It's definitely fast, but you do have to be very careful not to melt it. Just put the whole stick of butter in the microwave (as long as it isn't wrapped in foil!) and microwave for about 6-7 seconds. If the butter is still really cold, try another 5-7 seconds and check it again. You may need a few intervals, and if the butter is starting to feel soft, you can shorten the final interval to just a few seconds to make sure it doesn't start melting.
I actually prefer to use the defrost setting on my microwave – I don't know exactly what that mode does differently, and it takes a little bit longer (closer to 30 seconds), but it seems to be easier to get the butter to soften without melting.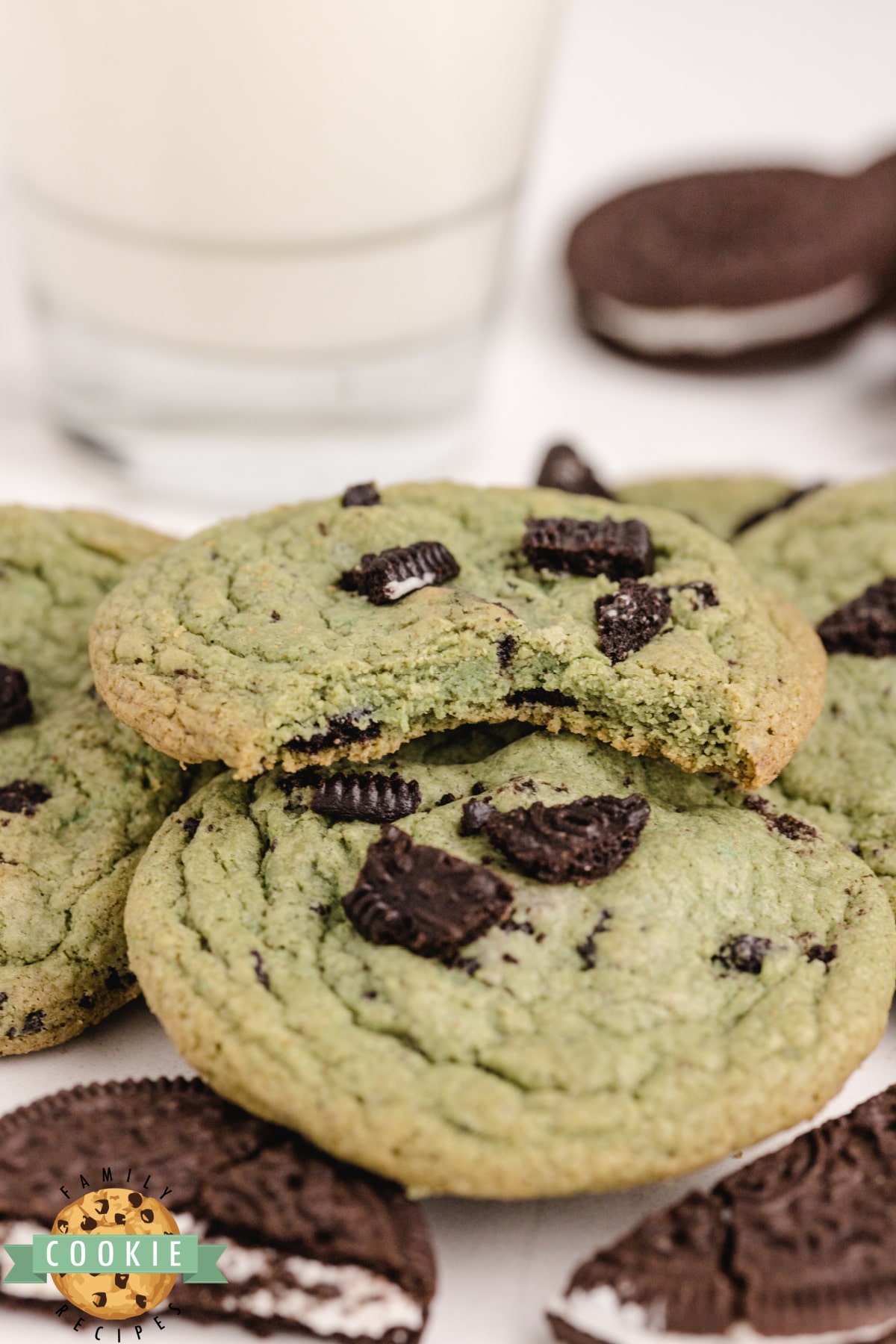 WHY ARE MY COOKIES CRISPY AND HARD?
If your cookies are hard, crunchy or crispy, you probably baked them too long. Cookies will continue to bake for a couple of minutes on the hot cookie sheet even after you remove them from the oven, so you don't want to wait until they are golden brown before taking them out! My husband really likes a few cookies to be a little more well-done so that he can dip them in milk, so I usually make half a tray of cookies for him that get cooked a couple minutes longer.
Most of my cookies are baked until barely done. I don't even wait for the tops to start turning golden brown, but look at the edges on the bottom of the cookies. If the edges look like they are turning a little bit golden brown, they're done! You don't want the centers of the cookies to look doughy, but they shouldn't be even slightly brown on top either.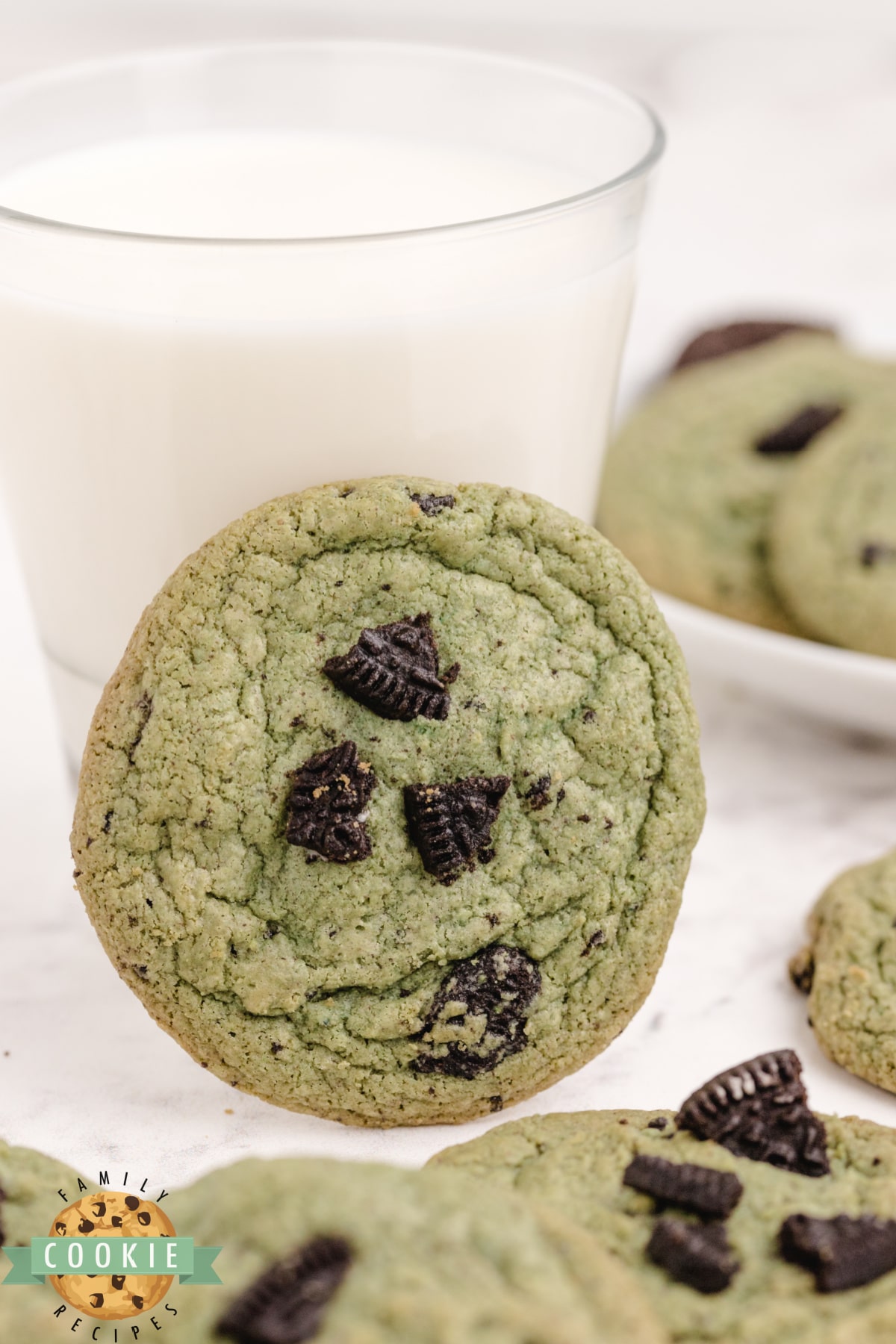 LOVE COOKIES? SO DO WE! HERE ARE SOME OF OUR OTHER FAVORITE COOKIE RECIPES: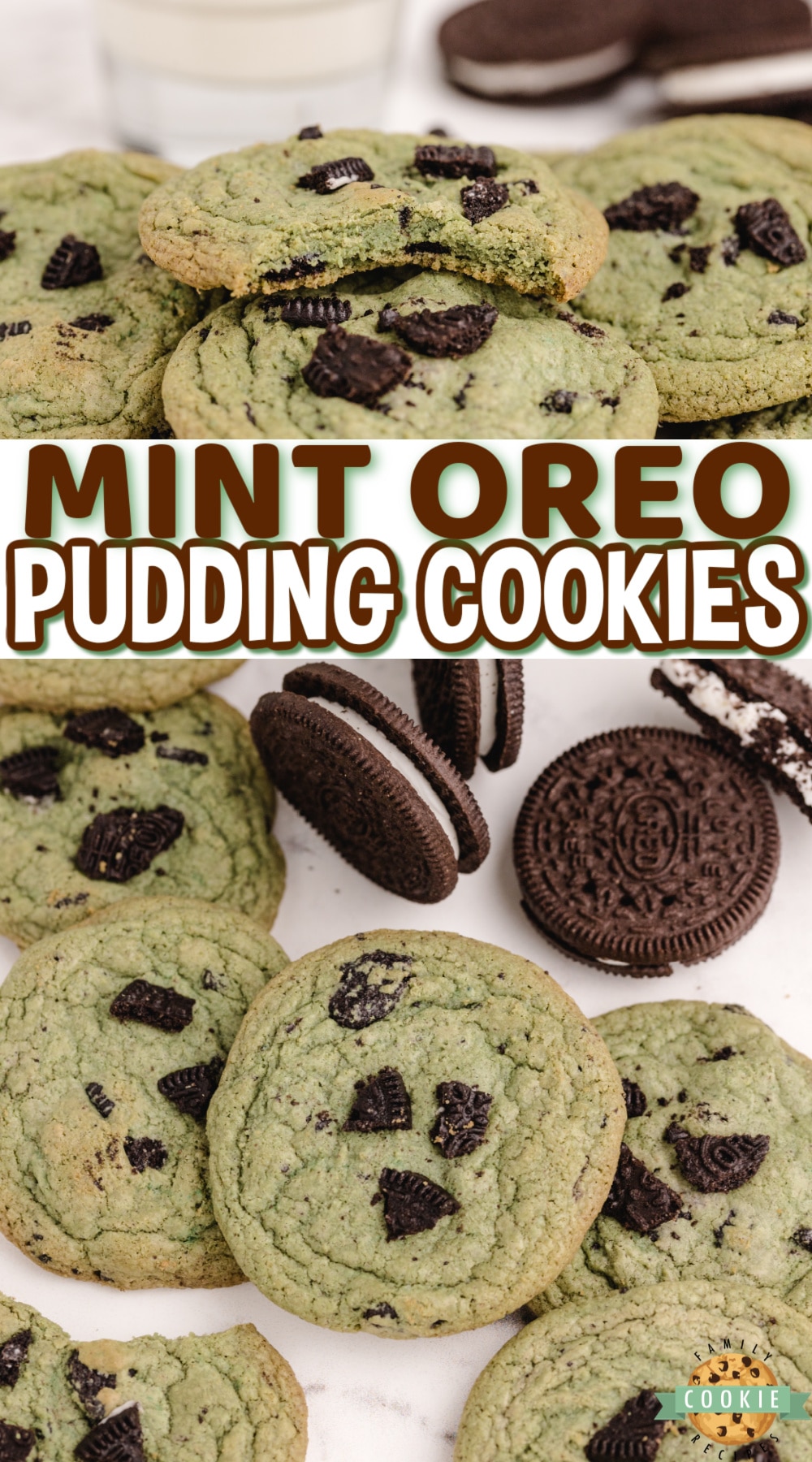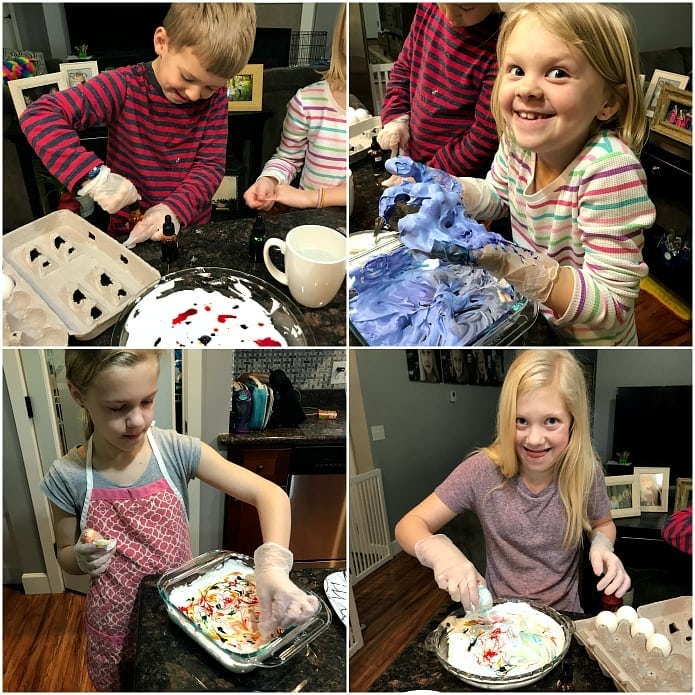 This year we decided to try to dye our Easter eggs with marbled shaving cream since I kept seeing it all over Pinterest. Except we decided we didn't want to eat eggs that had been dipped in shaving cream so we used Cool Whip instead. Not sure the eggs were the most beautiful ones we've ever made, but the kids have never had so much fun dying eggs before and they enjoyed eating some of the Cool Whip when they were done!