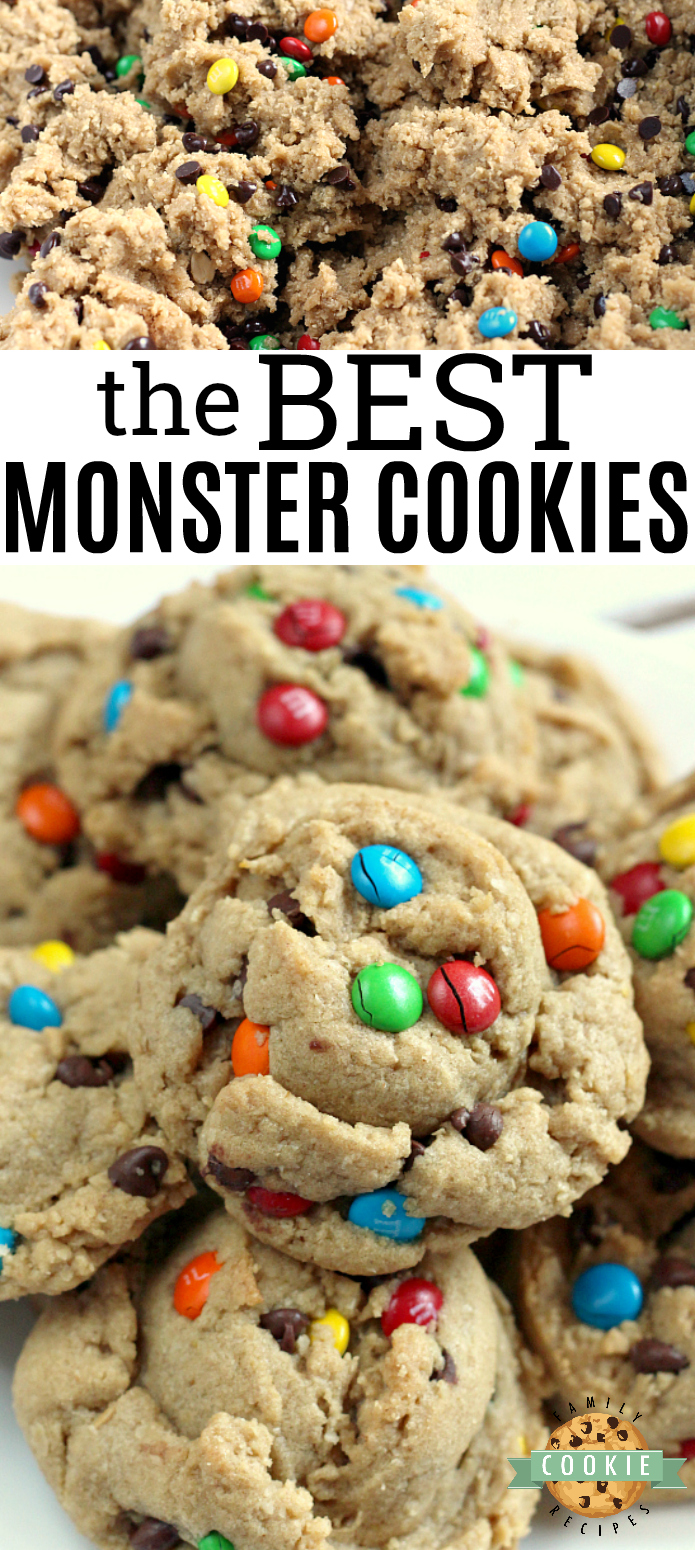 Monster Cookies are made with peanut butter, chocolate chips, M&Ms and oatmeal! All of your favorite cookie flavors combined in one delicious cookie!
I really love Peanut Butter Cookies and I really love Chocolate Chip Cookies, but I also really like Oatmeal Cookies….it's just so hard to make a decision sometimes! Whenever I feel like I can't make a decision, I usually whip up a batch of Monster Cookies since they are like a combination of all of my favorite cookies! Plus M&Ms. Which are always a good idea!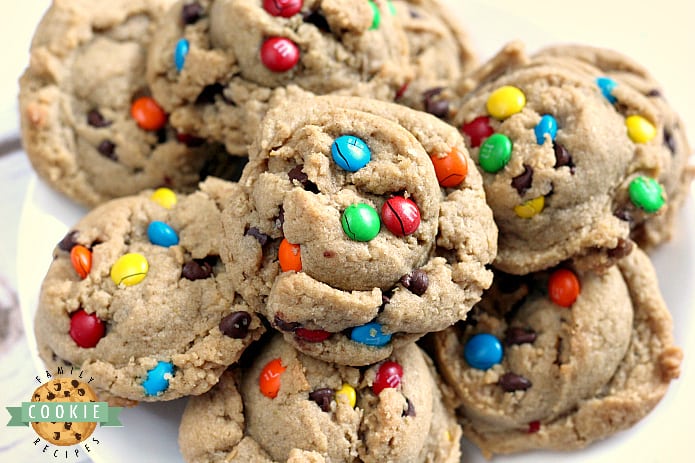 What are Monster Cookies?
Monster Cookies are cookies that have peanut butter, oatmeal, chocolate chips and M&Ms in them. These Monster Cookies are soft, chewy and absolutely delicious!
Some tips for making the Best Monster Cookies:
Make sure your butter is softened, NOT melted! One of the most common errors in cookie making is using butter that is either really cold and hard, or using butter that is too warm and melted. If you have time, just leave butter out on the counter for about 1-2 hours before making your cookies. If you are like me and don't plan your cookie cravings that far in advance, just place the butter in your microwave and soften in 5 second intervals, being very careful to pull it out before it melts. I actually like to use the defrost setting on my microwave to soften butter- I don't know the technical reasons behind it, but it seems to soften the butter more evenly and takes a little bit longer so I'm less likely to start melting it!
Preheat the oven. This will help your cookies turn out right every time!
Use a cookie scoop! If you want all your cookies to be perfectly shaped and have them all be the same size, a cookie scoop is the way to go.
Use parchment paper or a silicone baking mat. Doing this will make it really easy to remove the cookies from your cookie sheet so that you don't have to scrape them off the pan – they will just slide right off in perfect shape!
Don't over bake the cookies – when I take mine out of the oven, they still look slightly under baked but they will continue to bake on the cookie sheet for a couple more minutes so that's ok!
Ingredients in the Best Monster Cookies:
1 1/4 cups brown sugar
1 cup white sugar
1/2 cup (1 stick butter), softened to room temperature
1 1/2 cups creamy peanut butter
3 eggs
1 tsp vanilla
3/4 tsp white corn syrup
2 tsp baking soda
4 1/2 cups oatmeal (measure and then put in a blender until it looks like flour)
1 cup semi-sweet chocolate chips
1 cup mini baking M&Ms
How to make the Best Monster Cookies:
Preheat oven to 350°.
Cream the sugars, butter and peanut butter together for about 2 minutes with an electric mixer.
Add eggs, vanilla and corn syrup and mix well.
Add baking soda and oatmeal and mix until well combined. Stir in the chocolate chips and M&Ms. Feel free to add more chocolate chips and M&Ms if desired!
Use a cookie scoop to scoop out tablespoonfuls of dough and place 2 inches apart on a cookie sheet. Bake for 10 minutes. Let cool on the baking sheet for about 4-5 minutes before moving to a wire rack to cool.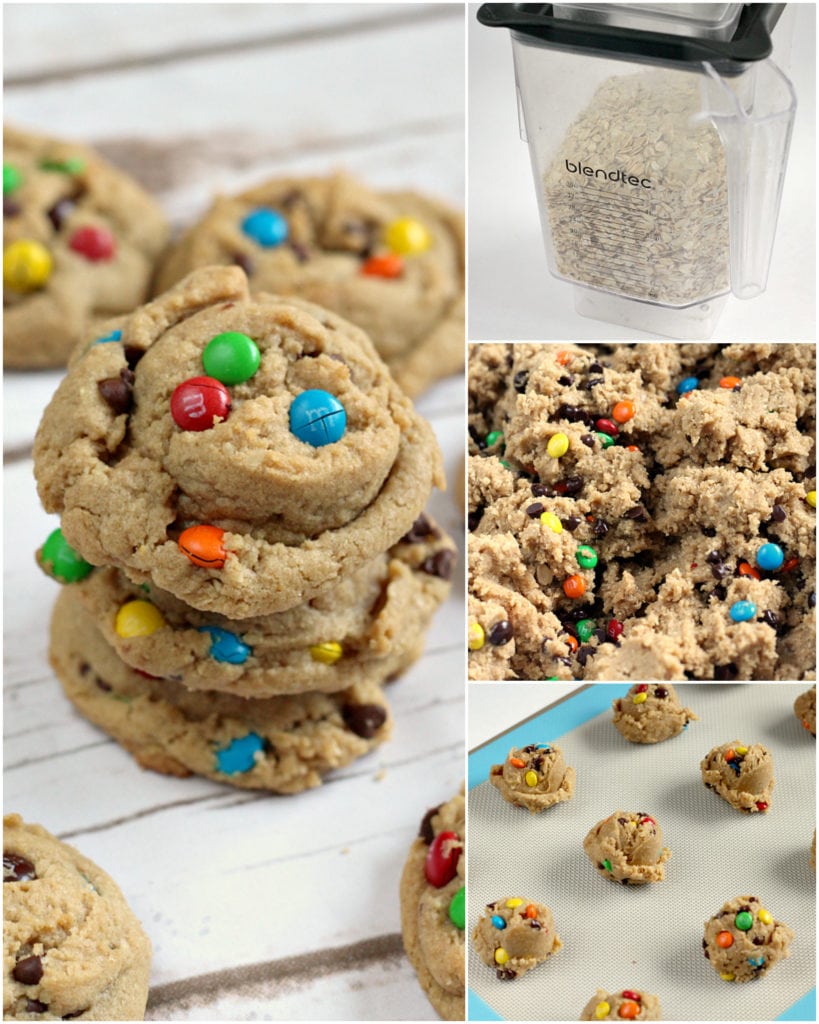 Are Monster Cookies gluten-free?
If you use gluten-free oats in this recipe, these Monster Cookies are completely gluten-free! The oats in this recipe are ground into a flour and no other flours are needed. We aren't gluten-free in my house and I don't have much experience baking with alternate flours. We do have some friends that are gluten-free though and so these Monster Cookies are a delicious treat we can all enjoy without having to make any modifications!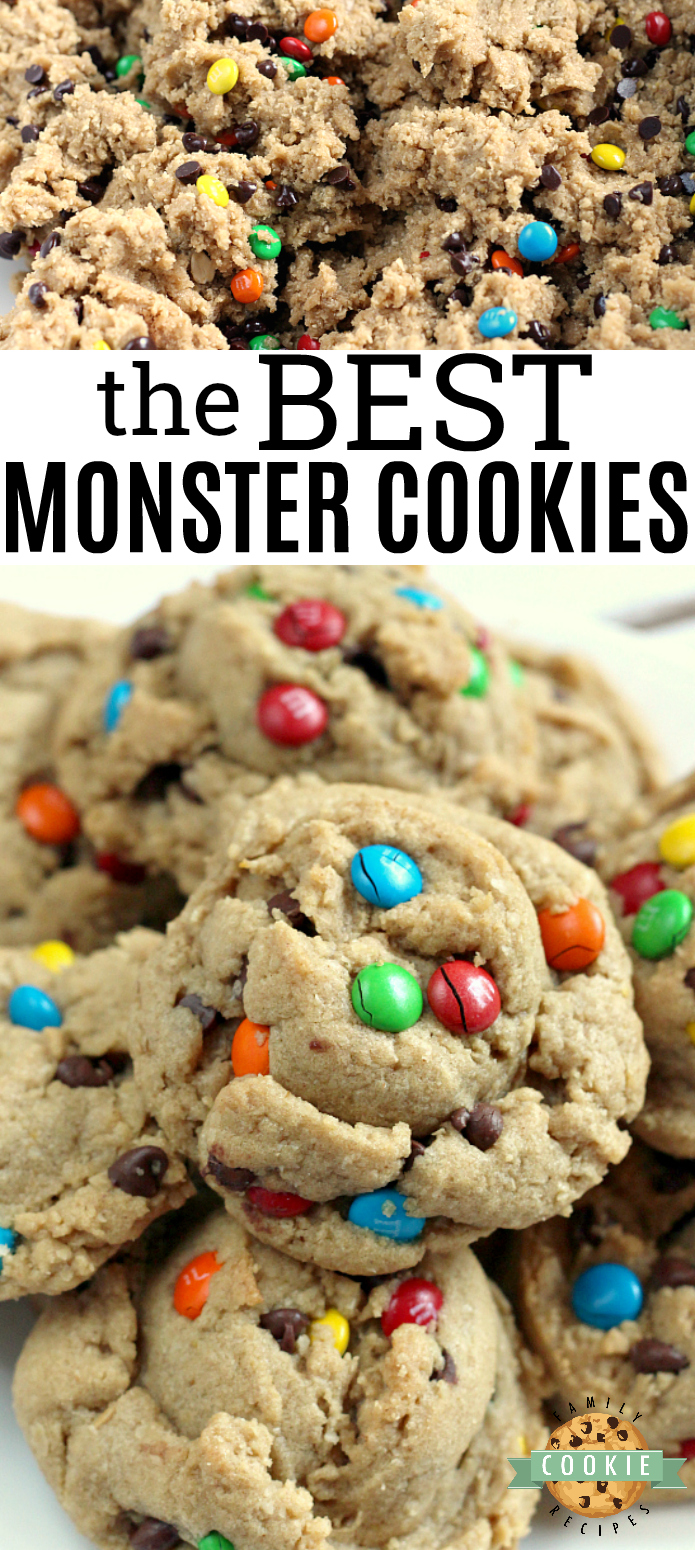 My kids finally started school a couple weeks ago. Up here in WA, they don't start until after Labor Day which feels really late to me! This summer was a great one, but it went by way too fast and here we are trying to get back into a routine. I've got kids at three different schools this year which is a little bit crazy but we are starting to get it figured out!