Chocolate Chip Cookies stuffed with a Reese's Peanut Butter Cup for the ultimate cookie treat! Classic cookies with a fun twist for anyone who loves peanut butter + chocolate!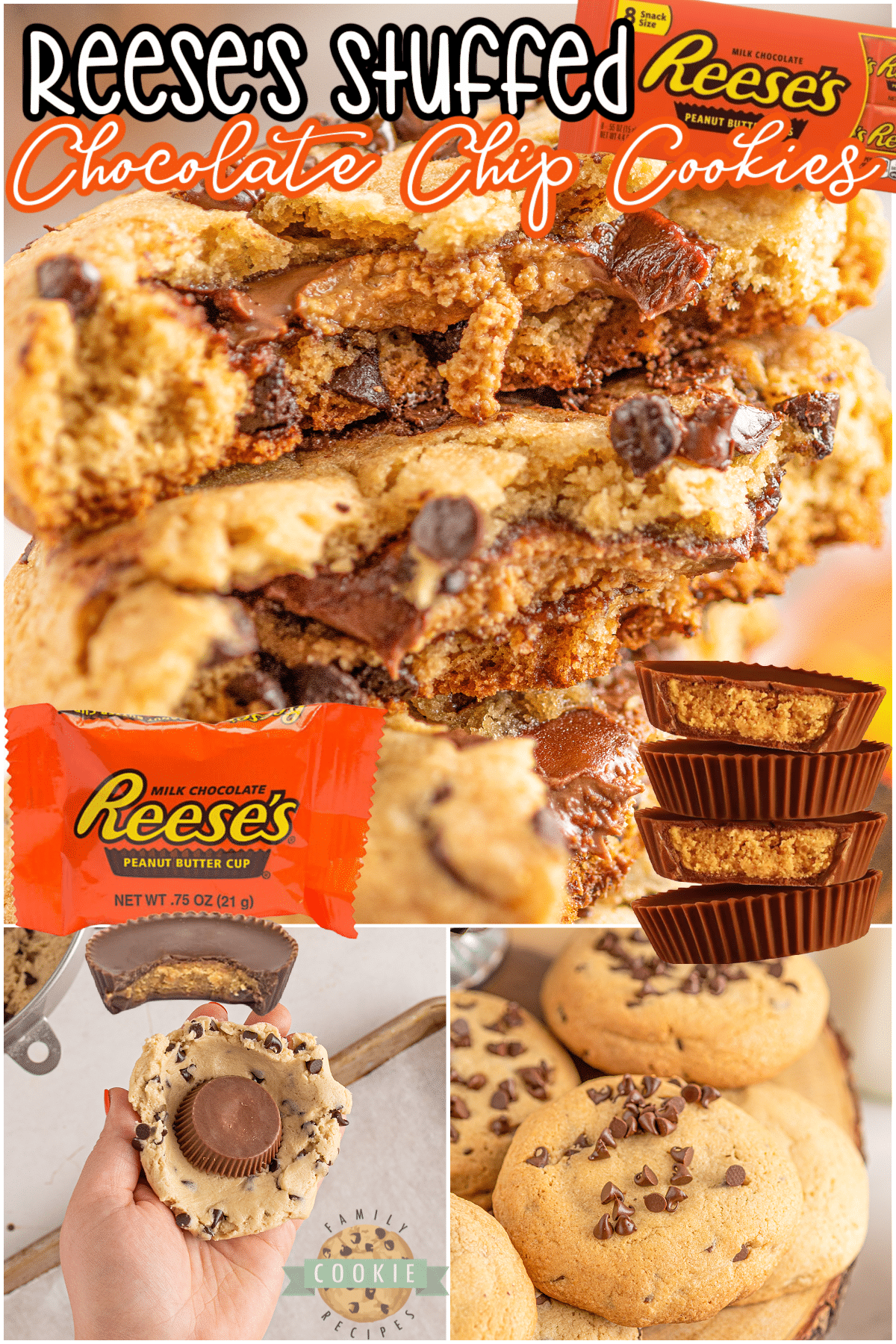 There's no doubt that homemade chocolate chip cookies are great. I mean, they're a classic cookie that's been voted #1 for decades. But, take another fabulous candy like Reese's cups and shove it in the middle, and you've just created something out of this world good.
What are Reese's chocolate chip cookies?
They're a soft and thick chocolate chip cookie surrounding a Reese's peanut butter cup. With the peanut butter surprise in the middle, every bite is an explosion of flavor and fun. Also, the Reese's cup doesn't melt into the cookie as it bakes, so you get a nice peanut butter filling inside every cookie and melted chocolate chips for a win-win that you can't wait to dig into.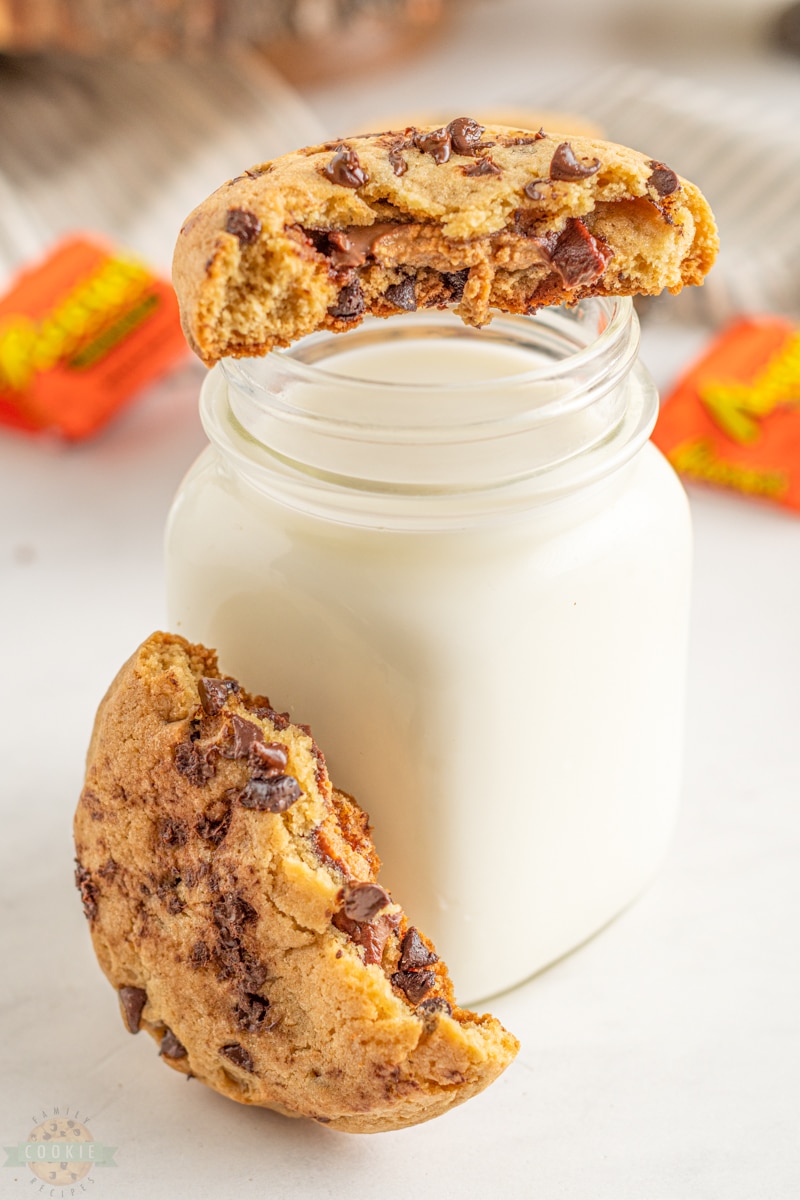 Ingredients for Reese's stuffed cookies
-Brown sugar: You will need ¾ cups of brown sugar to give a good chocolate chip cookie flavor you know and love but if you don't have brown sugar on hand you can just use granulated sugar.
-Granulated sugar: Adding ¾ cups of white granulated sugar into the cookie dough will give it more sweetness and nice cookie edges.
-Butter: Use ½ cup (one stick) of room temperature butter.
-Shortening: Adding in ½ cup of shortening will make our cookies have a fluffier end result and be richer in taste when paired with the butter. But, if you don't have shortening, you can use all butter instead. That said, I do not recommend doing this recipe with all shortening.
-Eggs: Eggs help to bind baked goods together so we want to use 3 eggs in our dough to get our cookies to turn out perfectly.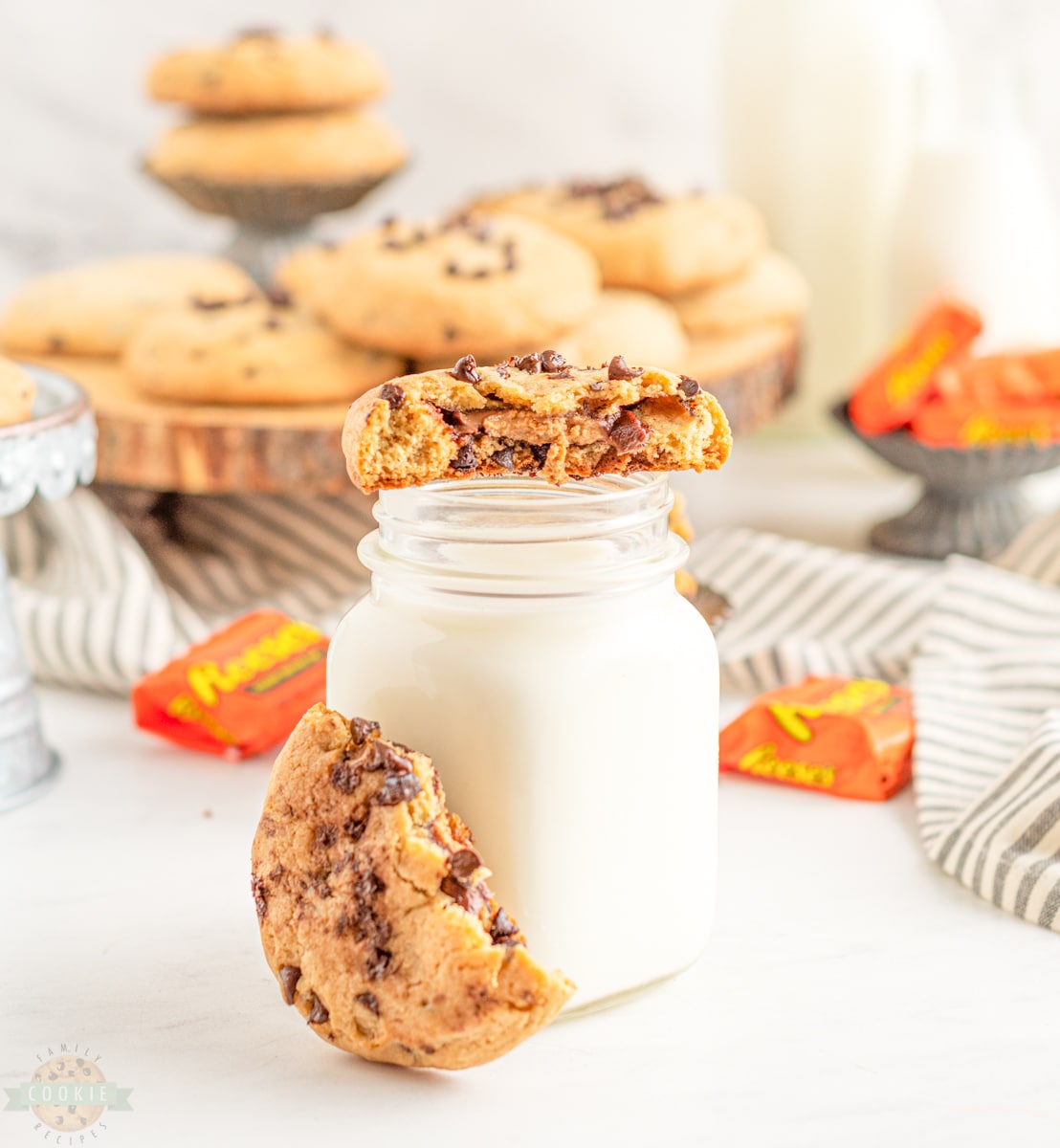 -Vanilla: Adding 2 teaspoons of vanilla will help to enhance some of the wonderful flavors that we have going on.
-Flour: The base of our cookie dough is 3 cups of all-purpose flour.
-Cornstarch: To help our cookies turn out fluffy and be lighter in texture, add in 2 teaspoons of cornstarch. If you don't have cornstarch, you could use arrowroot as a sub.
-Baking soda: Adding 1 teaspoon of baking soda into the dough will get the cookies to puff up nicely while baking.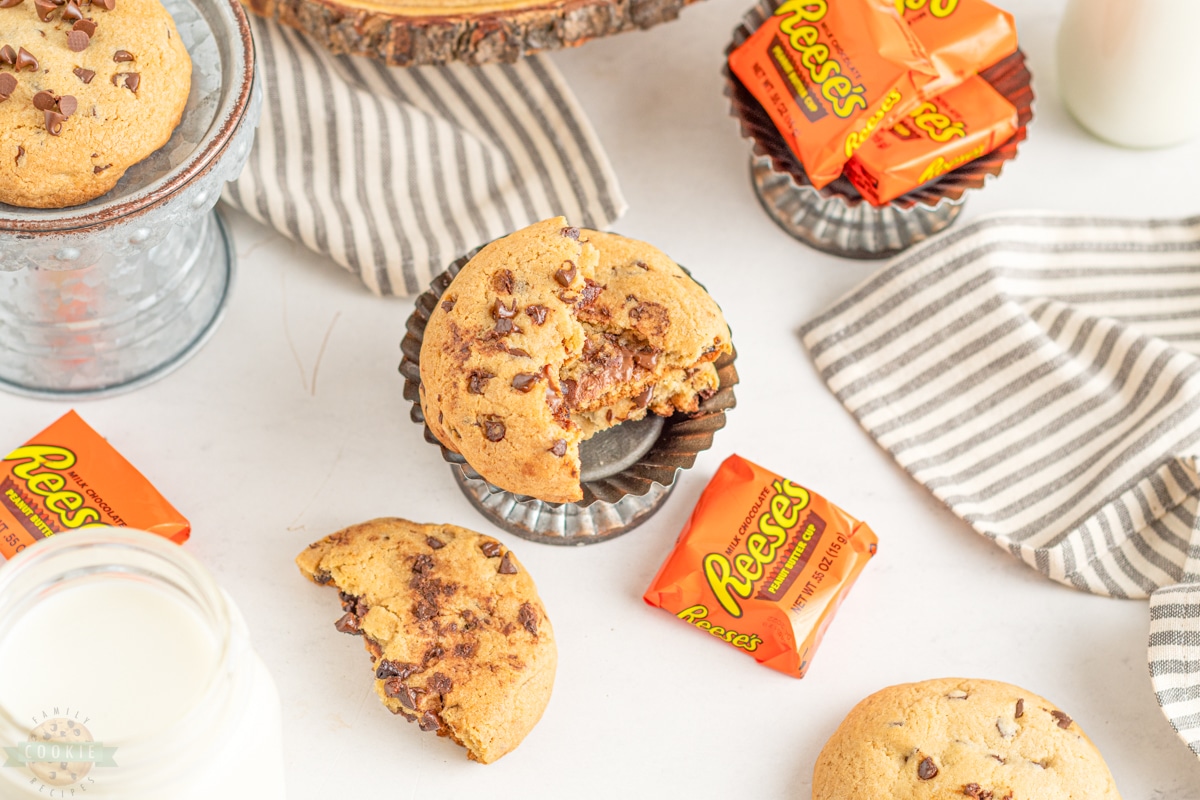 -Salt: This is a natural flavor enhancer so we want to use ½ teaspoon of salt to make our cookies taste great.
-Chocolate chips: We want 1 cup of mini chocolate chips to make sure that there is plenty of chocolate in every bite.
-Reese's cups: We need 16 Reese's cups so that each cookie can have a whole one hidden away in the middle.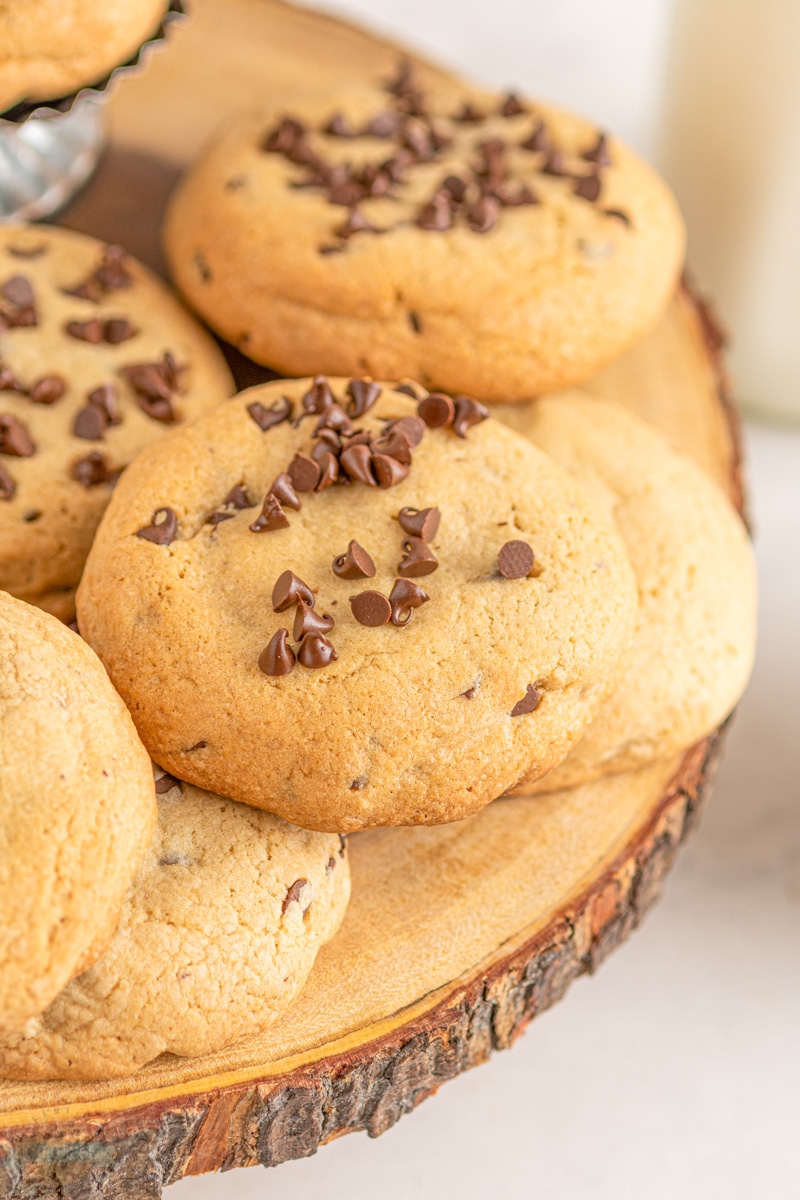 How to make stuffed Reese's cookies
Preheat your oven to 350 degrees F and line a baking sheet with parchment paper or spray well with nonstick cooking spray. Set aside.
In a stand mixer bowl, mix together the brown sugar, granulated sugar, butter, and shortening on medium-high speed for 3 minutes.
Add in the eggs, one at a time, until well mixed.
Add in the vanilla to incorporate.
In another large mixing bowl, whisk together the flour, cornstarch, baking soda, and salt.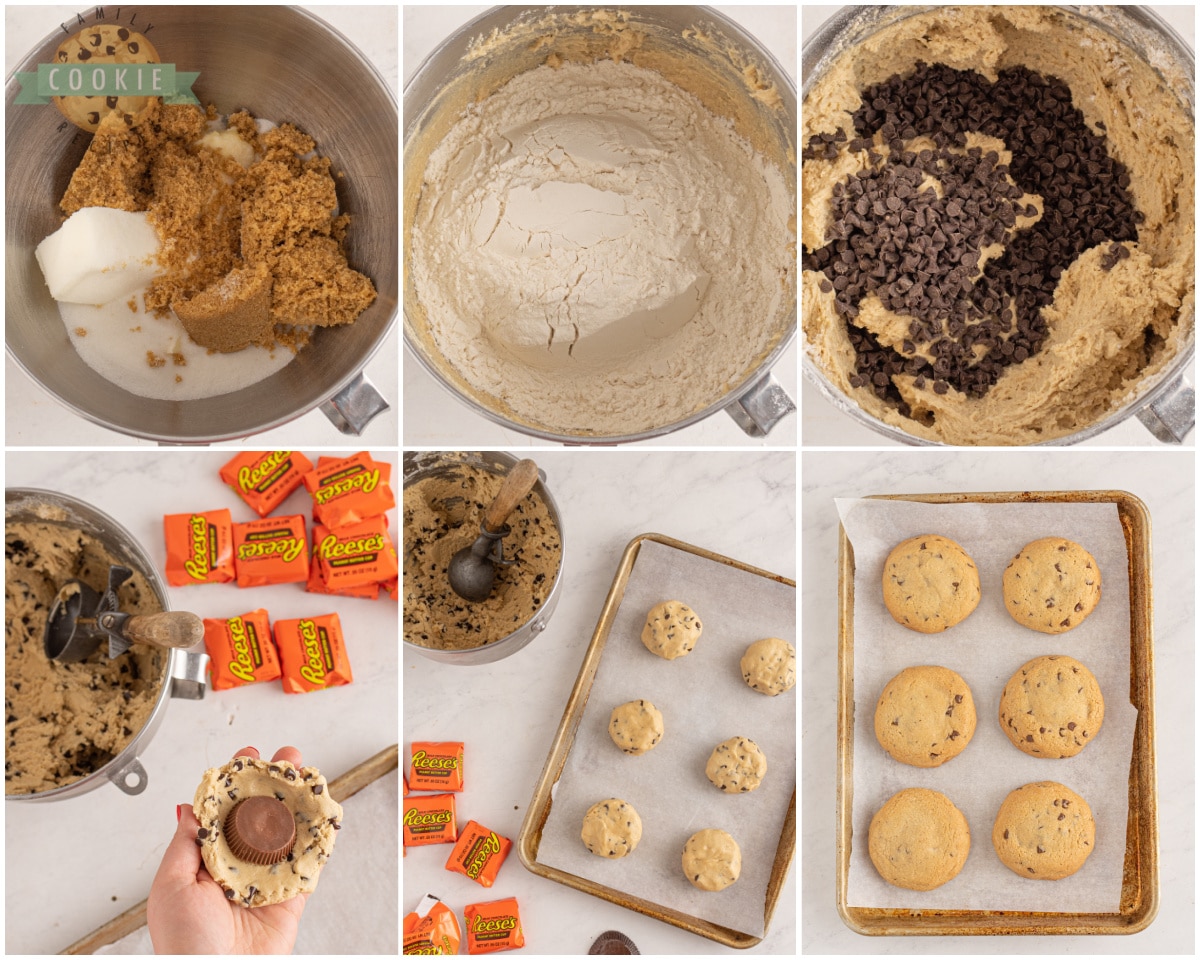 Add the flour mixture to the stand mixer bowl and beat on medium-low speed just until the flour has been mixed and no flour streaks remain.
Fold in the chocolate chips.
Use a cookie scoop to scoop out a ball of dough. Place it in the palm of your hand and shape it into a bowl. Place Reese's cup into the middle of the bowl, face down, and then pinch the dough up and around the Reeses to hide it away.
Place the cookie dough ball on the baking sheet, with the face down. Repeat until all cookies have been rolled and placed. You should be able to fit about 6 cookies per sheet. The cookies will now expand very far as they bake.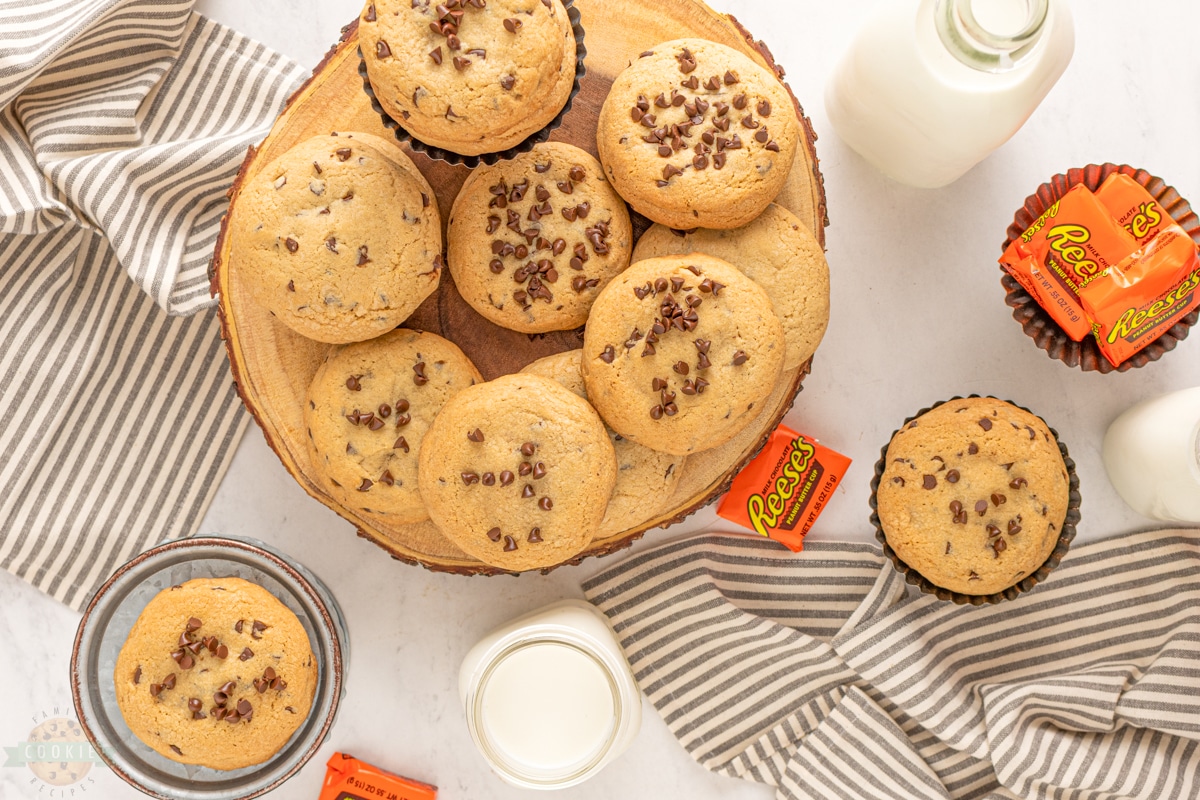 Place the cookies into the oven for 20-22 minutes or until the edges of the cookies are slightly browned and the centers are baked.
Remove the cookies from the oven and let them sit on the sheet for 5 minutes before serving. Enjoy!
Can I freeze Reese's stuffed cookies?
Yes, these cookies can be made in advance and then frozen. Just let the cookies cool completely and then freeze in an airtight container for up to 6 months. Thaw and maybe reheat before eating if you want that warm from the oven taste.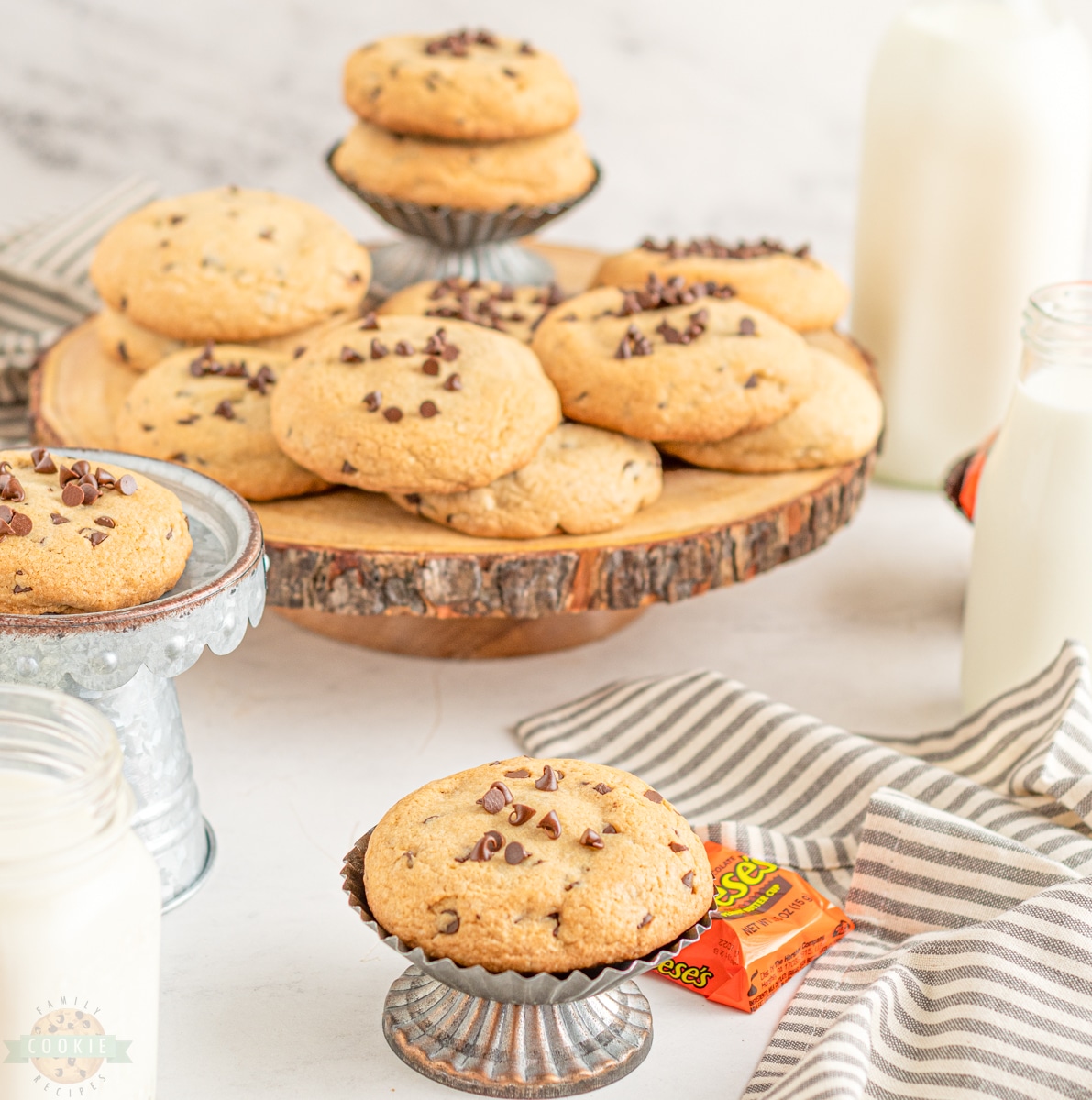 What should I do if my cookie dough is too soft?
Soft dough happens and sometimes it can be a result of just varying weather conditions, surprisingly enough. If you find that your dough is too soft to work with properly, simply cover the bowl of dough with plastic wrap and place it in the fridge to chill for about 30 minutes. Then proceed with the recipe as stated by scooping and hiding a Reese's cup in the middle, before baking. If your dough still seems too soft, add 1/4 cup of flour.


My husband's family likes to get together… a lot. It took me a while to adjust when we got married, ha! Now I'm used to it, so when we had to get 2+ years without seeing our out-of-state family, it was really hard!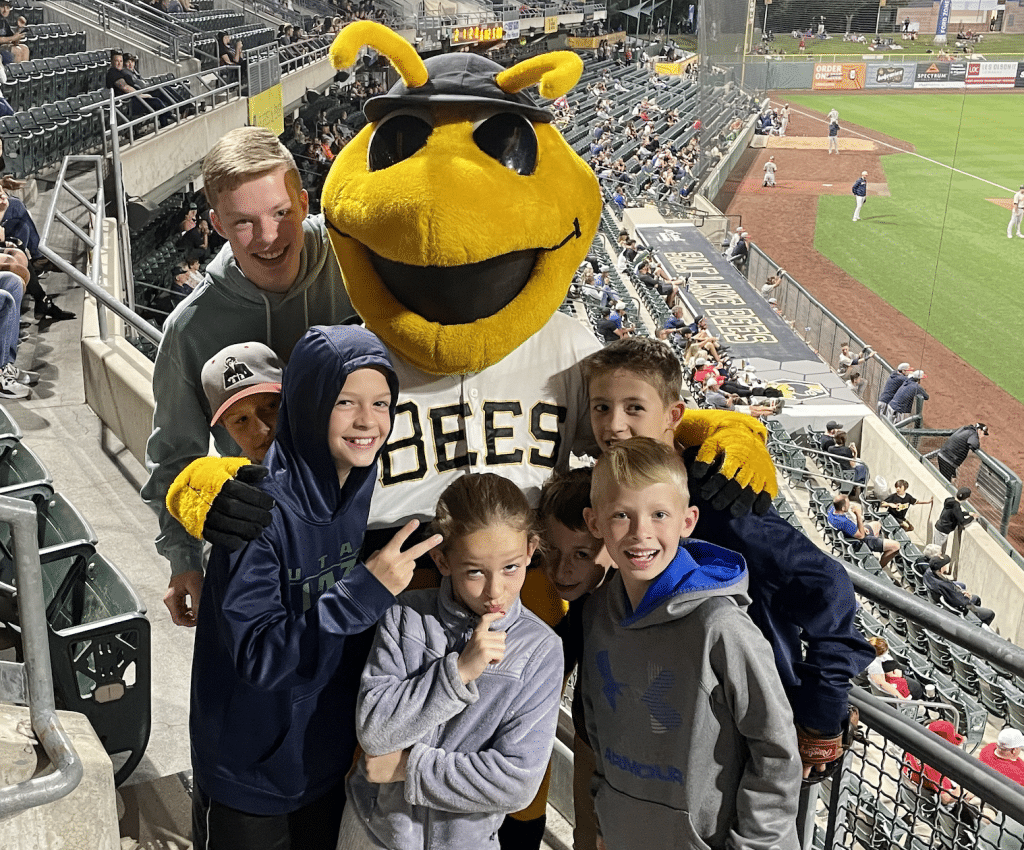 We finally got the chance to hang out together and we all just had so much fun. Our kids played well and enjoyed spending time with each other, and of course, us adults can just talk, talk, talk forever! We went to a minor league baseball game and despite our team losing, we still managed to have the greatest time. Yay for seeing family again!
More chocolate chip cookie recipes: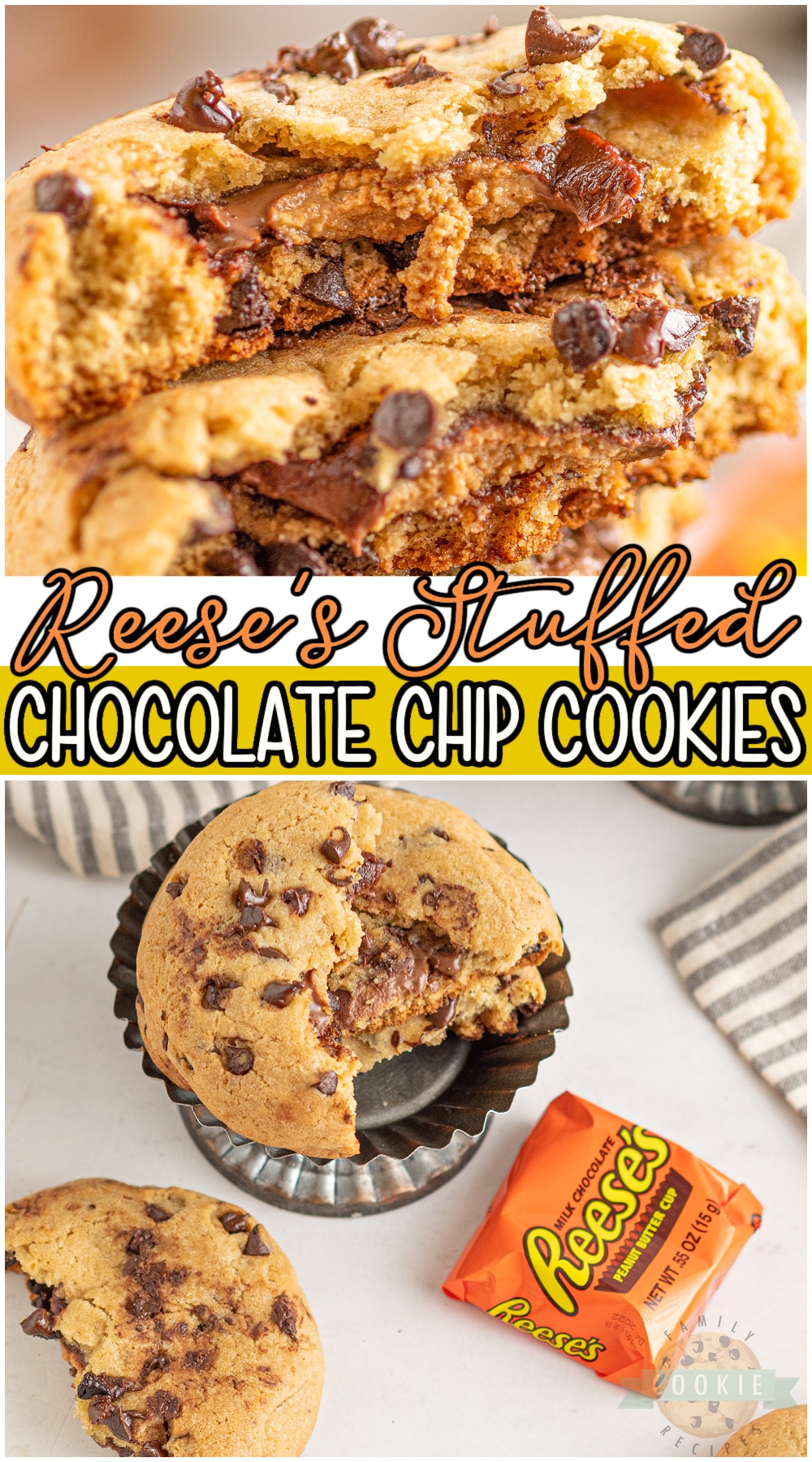 You're going to love this unique and wonderful way to use up Reese's candy (especially after Halloween) when extra candy seems to be begging to get eaten. These Reese's chocolate chip cookies are delicious year-round so don't forget to enjoy them often.