Breakfast chocolate chip cookies are a perfect snack that you can feel good about. Whole wheat flour, applesauce, granola, & dark chocolate combine to make tasty low-calorie & low sugar cookies!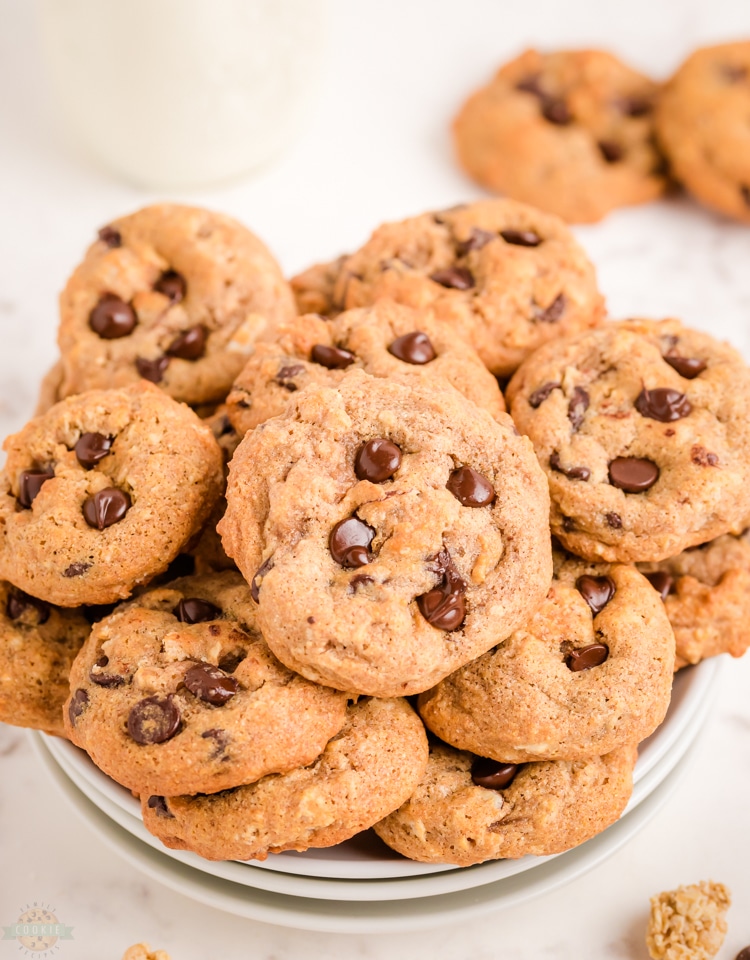 I love eating cookies and let me tell you, not much can top getting to eat cookies for breakfast.  The whole family will enjoy these applesauce chocolate chip cookies and savor every last crumb.
What are breakfast cookies?
These cookies are a treat you can feel good about eating no matter the time of day. Start your morning with a cookie and enjoy the taste of your favorite vanilla granola and dark chocolate in every cookie. Combined with wheat flour, honey, and applesauce every bite is as pleasing to your diet as it is to your tongue.  I mean, who wouldn't want chocolate chip cookies made with applesauce as an early morning treat?
Breakfast cookie ingredients
-Flour: We need 1 1/4 cups of wheat flour for the base of this cookie recipe. Whole wheat has a higher protein amount than regular flour.
-Baking Soda: This is the leavening agent that will give us a puffy cookie.
-Salt: We want 1/4 teaspoon to help enhance the flavors in this recipe.
-Sugar: 1/2 cup of sugar will make our cookies sweeter but you can use a sugar substitute like allulose or erythritol.
-Honey: We want 3 tablespoons of honey to help sweeten our cookies and give them a nicer taste. Raw honey will taste stronger than pasteurized.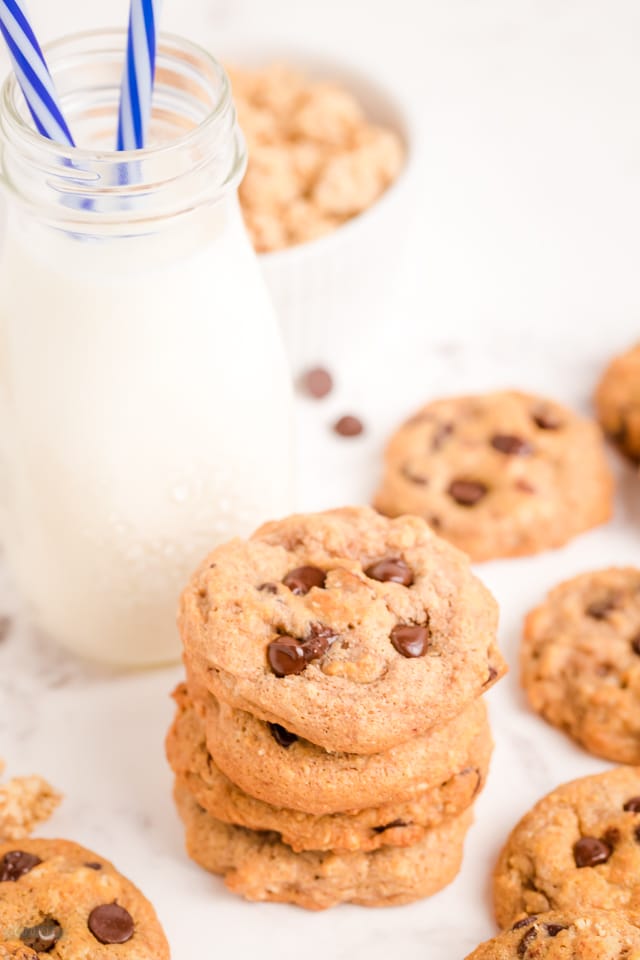 -Butter: 1/3 cup of softened butter will give our cookies richness and fats needed to remain soft and moist.
-Applesauce: We want to add in 1/4 cup of applesauce as it acts as a binder and a moisture adder.
-Egg: One egg will help to add enough of a binder to the cookie dough that these cookies stay together nicely.
-Vanilla: We want 2 teaspoons of vanilla to enhance the flavors in the dough. Use a higher quality vanilla for better results.
-Granola: Adding in 1 1/4 cups of your favorite vanilla granola will help to add fiber and flavor in every bite, plus it just sounds better for breakfast, don't you agree?
-Chocolate Chips: Adding in 1/4 cup of dark chocolate chips makes these cookies wonderfully enhanced. Chocolate makes everything better and darker chocolates are often healthier than other varieties.
How to make breakfast chocolate chip cookies
In a bowl, whisk together the flour, baking soda, and salt, and then set it aside.
In another mixing bowl, combine the sugar, honey, and butter, mixing until smooth.
Add in the applesauce, egg, and vanilla.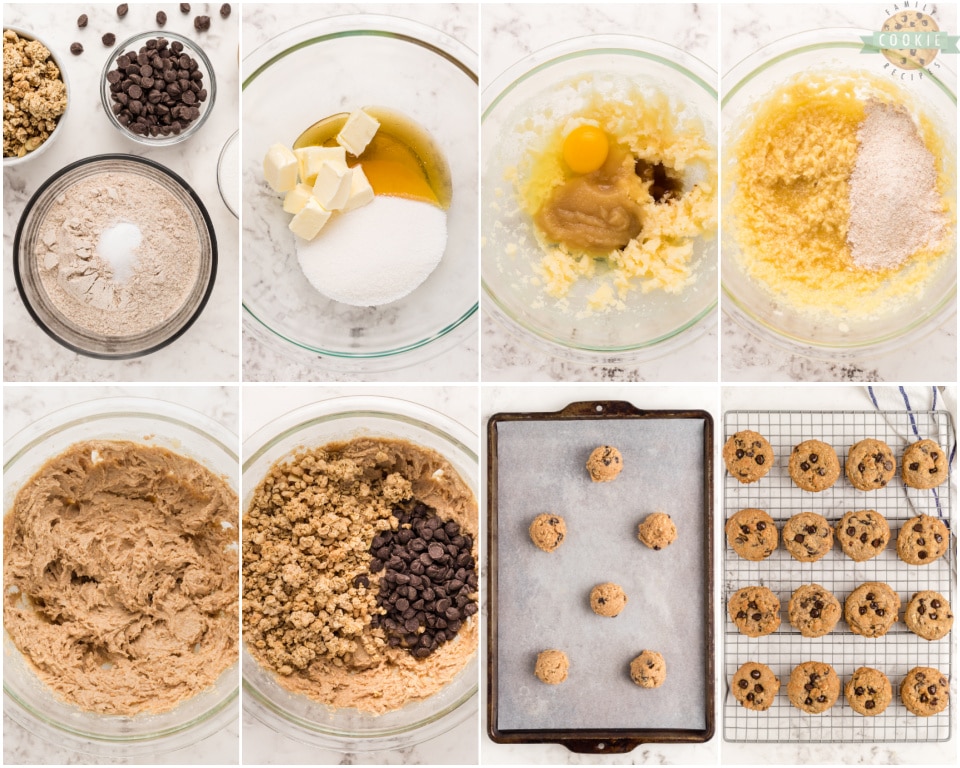 Add your dry ingredients to the wet ones in 3 batches, mixing between each.
Mix in the granola and chocolate chips.
Drop the dough by the 1.5 tablespoonfuls onto a parchment paper-lined baking sheet.
Bake at 375 degrees F for 10-12 minutes.
Let the cookies cool on the baking sheet for 10 minutes before transferring to a wire rack. Enjoy!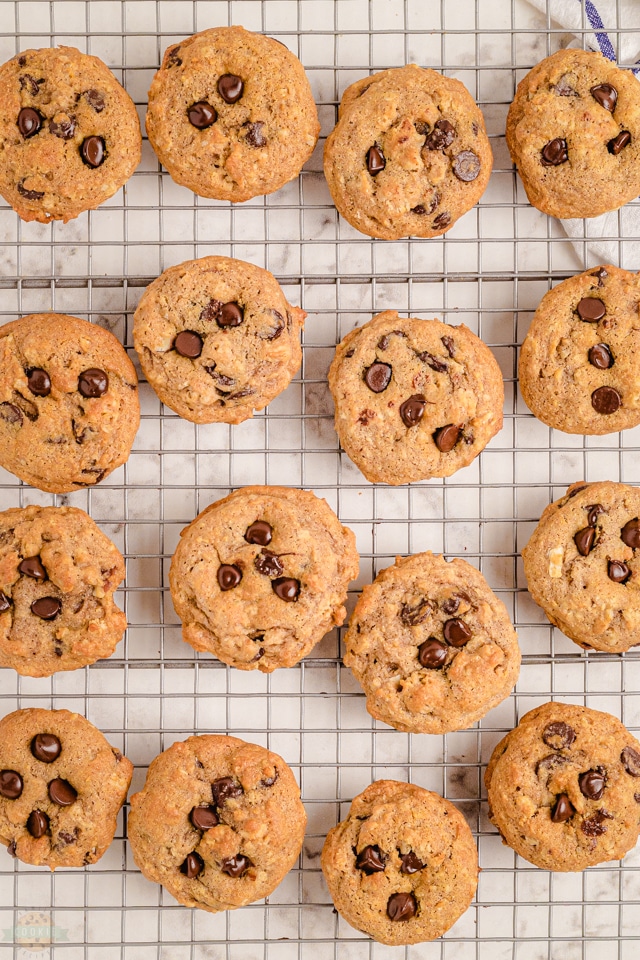 What kind of granola or applesauce should I use?
You can use plain, unsweetened, or even cinnamon applesauce depending on what you have on hand or want to use. Each one will change the cookie slightly by adding tanginess, spice, or sweetness and you may find you like one variation than the other.
For granola, you can use vanilla flavored, honey-flavored, or if you have another kind you truly enjoy, then you can even try that as well. Just note that the end results will change with the type of granola you use.
How long are breakfast cookies good for?
These cookies should be good for up to a week if properly stored in an airtight container. I recommend eating them while they are fresher as that's when the textures and flavors are going to be incredible.
More Cookie Recipes You'll Enjoy!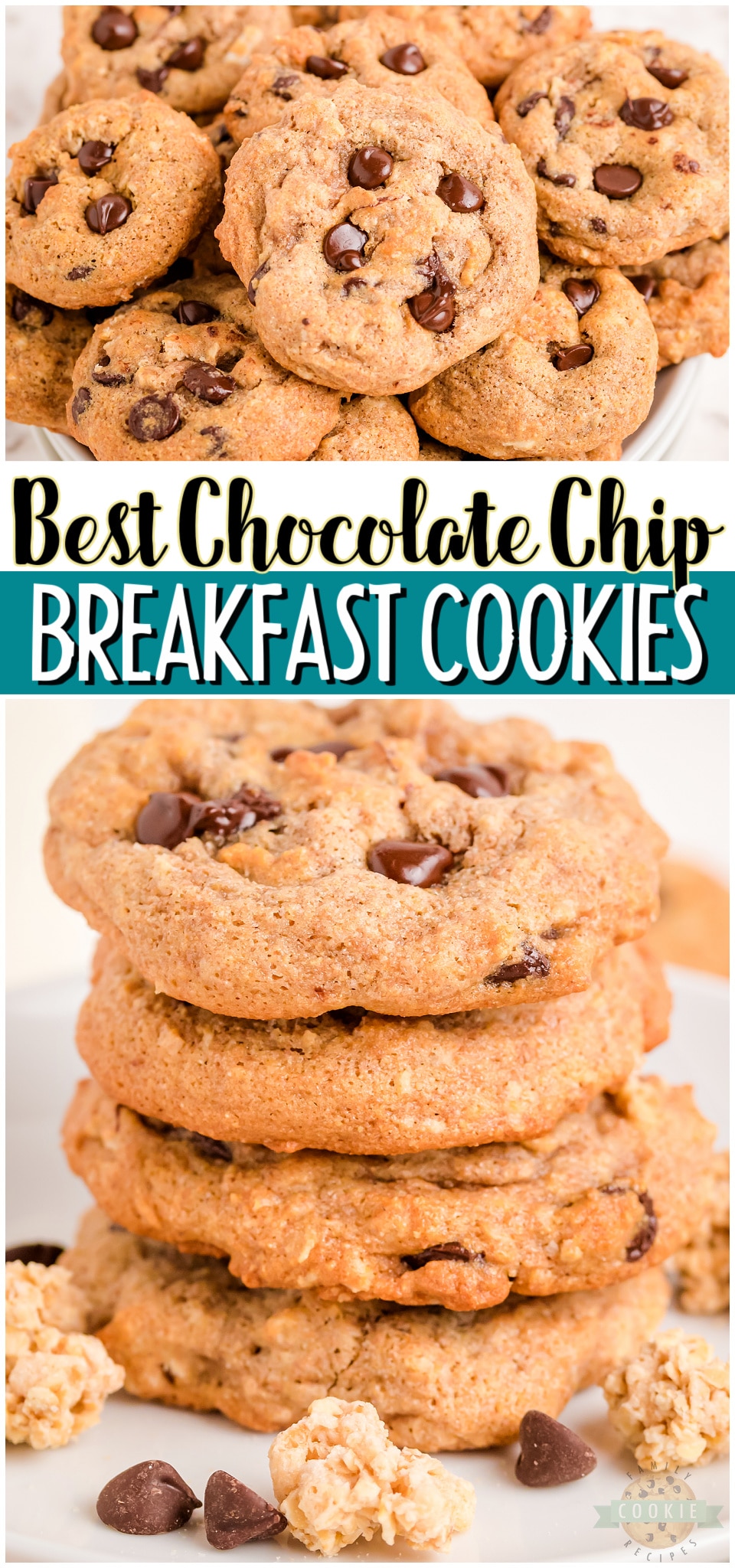 Applesauce, chocolate, and granola combine to make the best breakfast cookie with this simple and easy-to-follow recipe. You're going to love making fun healthy choices with your day thanks to this sweet recipe.
Breakfast chocolate chip cookies are a perfect snack that you can feel good about. Whole wheat flour, applesauce, granola, & dark chocolate combine to make tasty low-calorie & low sugar cookies!