Giant raspberry cheesecake cookies are rich & indulgent cookies made with cream cheese, white chocolate & raspberries! Jumbo sized cheesecake cookies with bright raspberry flavor that everyone loves!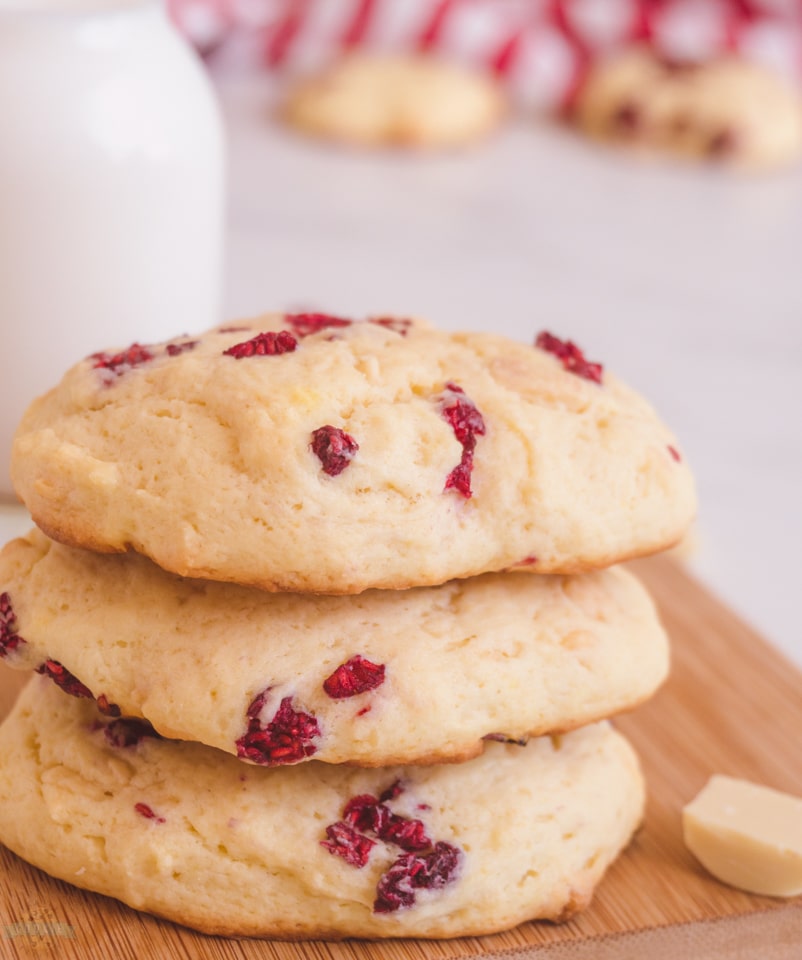 It's no secret that we love cookies, but raspberry cheesecake cookies are at the top of the list. I can't even go to Subway without grabbing one or two..or three for the road because I know they won't last long after I walk out that door. Thankfully these copycat Subway raspberry cheesecake cookies are enough to satisfy my cravings and then some.
What are raspberry cheesecake cookies?
These are soft and chewy white chocolate chip raspberry cheesecake cookies made with cream cheese, dried raspberries, and basic cookie dough. Together, the flavors combine and create a sweet, tangy, rich, and flavorful cookie that's bursting with flavor, smells incredible, and tastes like a million bucks. You're going to love this luxurious cookie recipe any time of the year.
Raspberry Cheesecake Cookie Ingredients
-Butter: We need 1/2 cup (1 whole stick) plus 3 TBSP of butter to make our cookies rich and flavorful.
-Cream cheese: With 8 ounces (one brick) of cream cheese we can add in a cream cheese flavor and make the cookies soft and flavorful.
-Sugar: We need 1 cup of granulated sugars to make our cookies the perfect chewy texture and sweet in every bite.
-Eggs: 2 eggs will act as the binder, holding the cookies together wonderfully.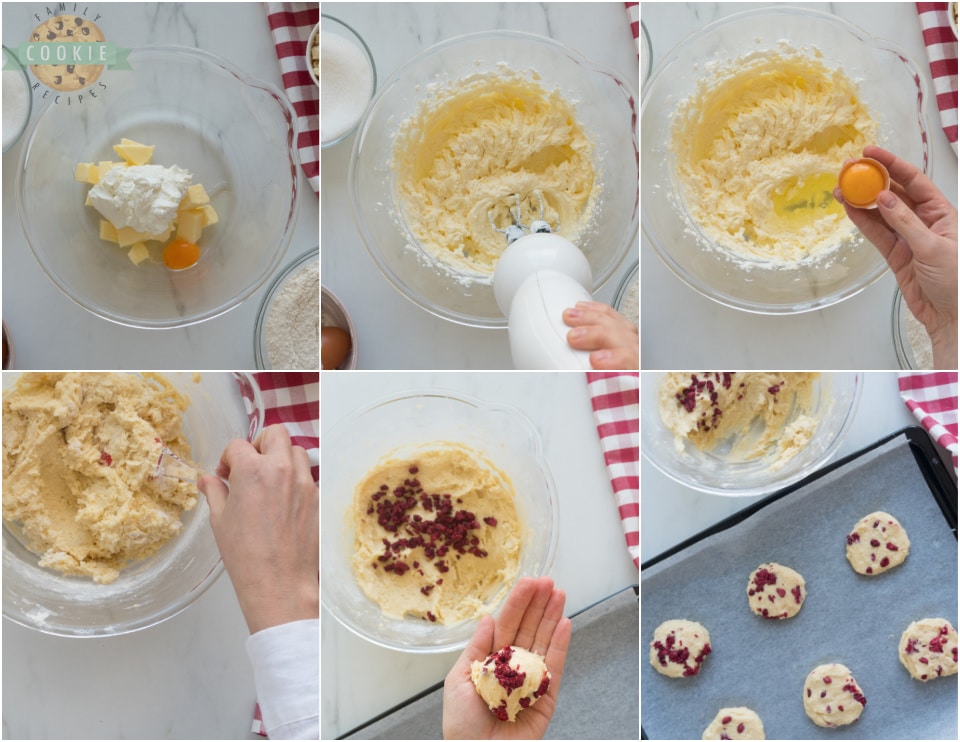 -Flour: The base of our cookie dough recipe is 2 1.4 cups of all-purpose flour.
-Vanilla: One tablespoon of vanilla will make sure our cookies taste fabulous and carry a strong vanilla presence to pair with the rest of the flavors.
-Sea salt: With just a pinch of sea salt we can enhance the flavors in this cookie dough recipe that makes it taste great.
-Baking powder: We need 1 teaspoon of baking powder to help with the leavening in these cookies and make them puff up while baking.
-White chocolate chips: One cup of white chocolate chips will be scattered throughout the dough.
–Dehydrated raspberry: We will need 1/2 cup of dried raspberries. You can usually find these in health sections of stores or in camping sections with other freeze-dried foods.
How to make Big raspberry cookies
Preheat the oven to 350 F degrees. Line a cookie sheet with parchment & set aside.
Combine the butter and cream cheese. Mix well until smooth.
Add sugar and eggs & mix well to combine.
In a separate bowl combine flour, vanilla, sea salt and baking powder. Whisk dry ingredients together.
Add dry ingredients to the butter mixture a bit at a time, mixing in between additions, until all is incorporated. Fold in the white chocolate chips and raspberry.
Use a large cookie scoop to make 3 TBSP sized balls of dough. Arrange 6 on a cookie sheet, then bake in a 350°F oven for 12-14 minutes.
Let cool on the sheet for 5 minutes, then transfer to a cooling rack. Enjoy!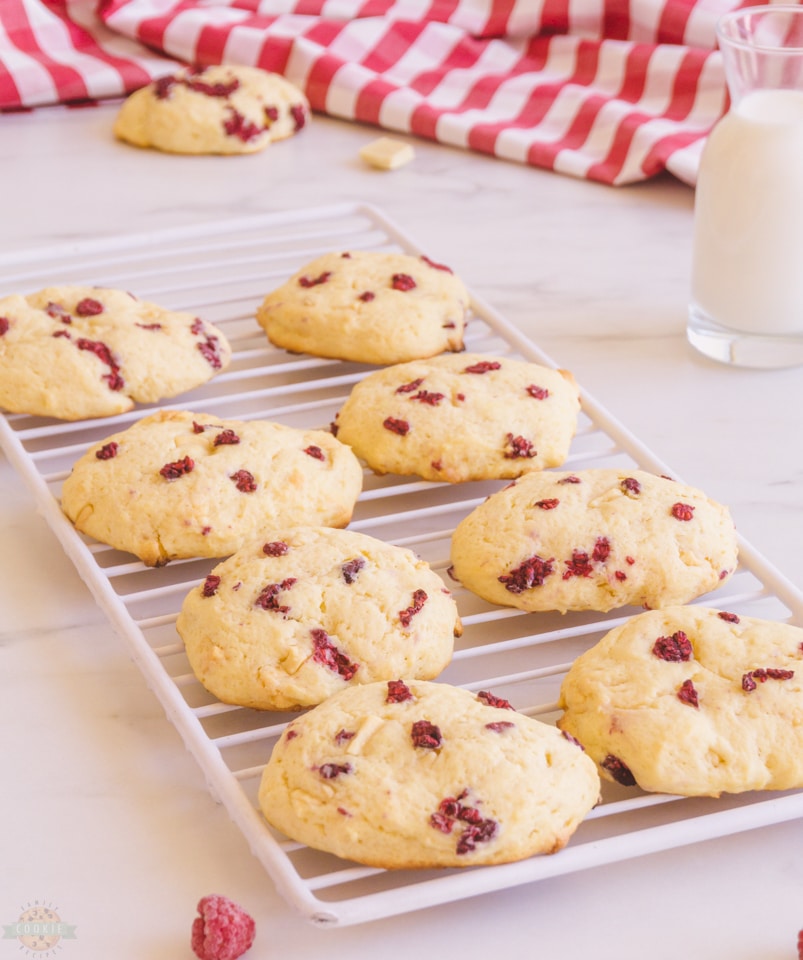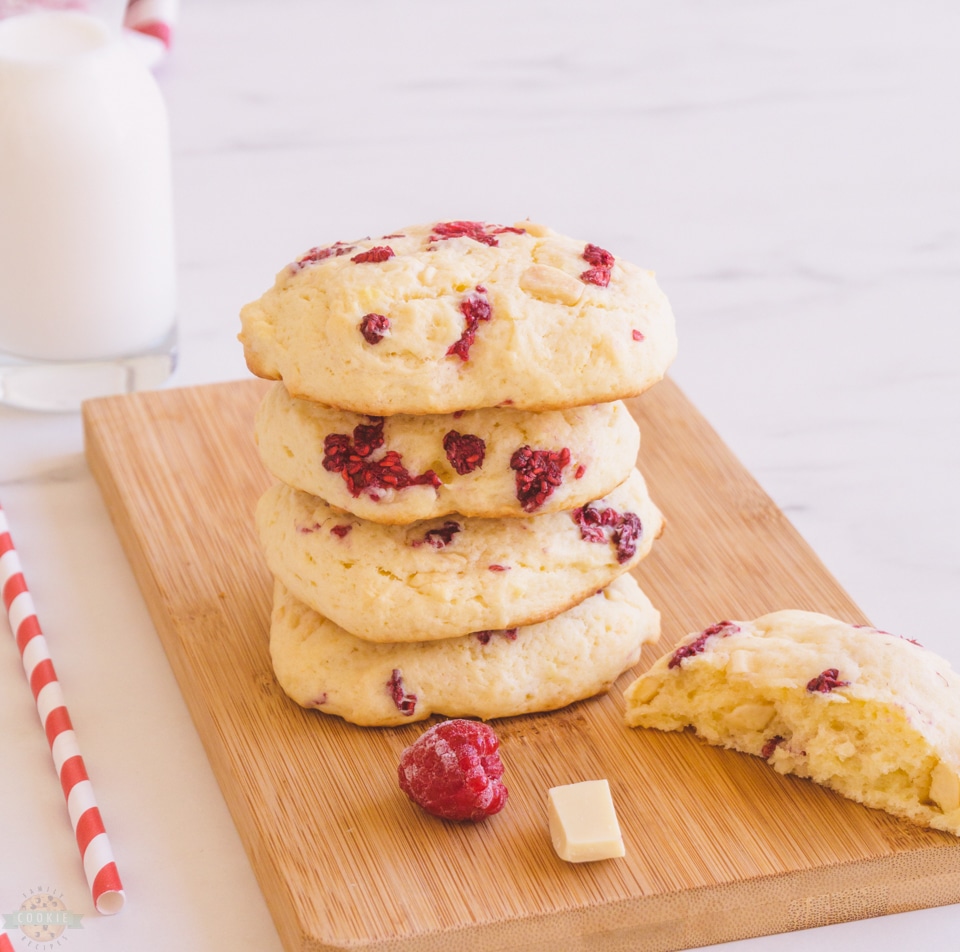 How long are raspberry cheesecake cookies good for?
If stored in an airtight container at room temperature, you can expect these cookies to last up to 5 days and still taste great. For best results, eat sooner rather than later.
Can I freeze raspberry cheesecake cookies?
These cookies can be frozen after cooling down completely. I recommend storing them in an airtight container with a parchment paper layer between cookies to prevent sticking. You could also freeze unbaked dough balls and bring them to room temperature before baking as directed.
More fabulous cookie recipes to try soon


We're nearly done with yet another basketball season and I have to tell you, it's not going well. Ha! Truly though, my son's team has lost most of their games. This new league is TOUGH. But you know what? Sometimes as a mom, I think the losing seasons are more beneficial than the winning ones. There's so many things you learn about being a good teammate, having a positive mental outlook & a good attitude.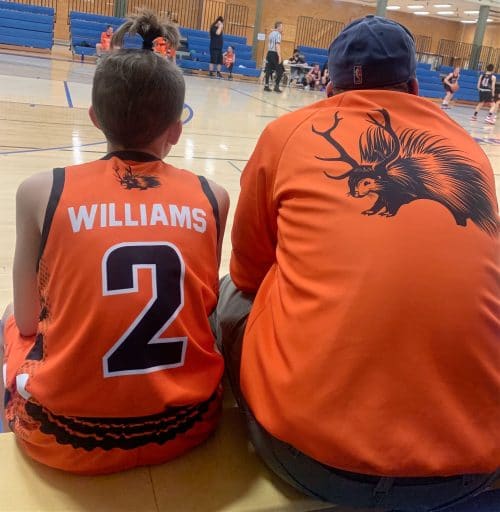 All these things are EASY when you're winning, you know? But when you're losing? You've got to dig deep! I'm so proud of my cute son for doing just that. It hasn't been easy, but I'm so pleased with the season he's having. Another mom snapped this cute picture and sent it to me. I LOVE IT. Father & Son, together.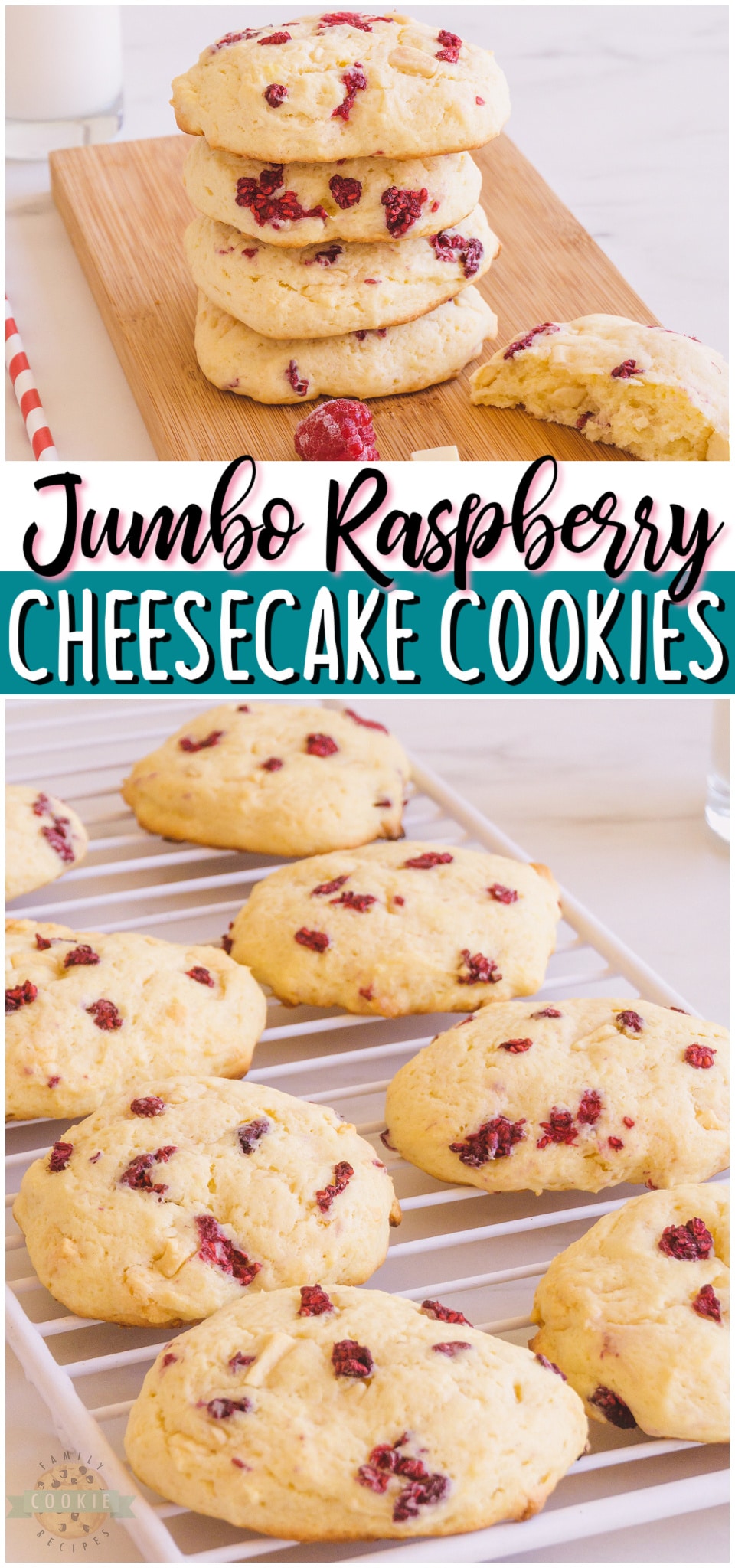 You're going to love these giant raspberry cheesecake cookies. With a soft and flavorful cookie in every bite, they're almost too good to share. Giant raspberry cheesecake cookies are rich & indulgent cookies made with cream cheese, white chocolate & raspberries! Jumbo sized cheesecake cookies with bright raspberry flavor that everyone loves!