Chocolate Turtle Cookies are double chocolate chip cookies stuffed with caramel & pecans! Decadent Turtle Cookie recipe that everyone loves!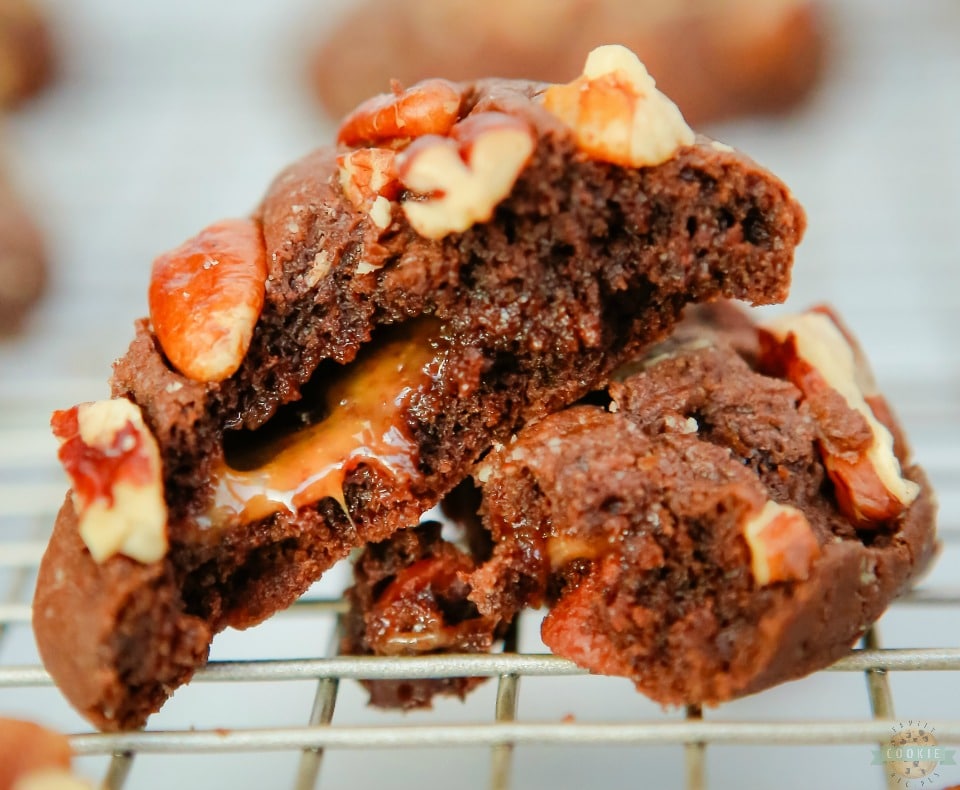 Making caramel filled turtle cookies is easy and straightforward. With this chocolate cookie dough, there is minimal chilling but maximum results. You're going to love how much fun it is to make these unique cookies and how much fun it is to bite into every caramel filled surprise.
What are turtle cookies?
Turtles candy is a combination of pecans, caramel, and chocolate. Inspired by the turtle's candy, these cookies are a chocolate cookie dough with chocolate chips, surrounding a piece of caramel and then rolled in chopped pecans to create a cookie experience that is truly unique.
Chocolate turtle cookies ingredients
-Flour: We need 1 1/3 cups of all purpose flour to create the gluten-filled base of our cookie dough.
-Cocoa powder: Using 1/3 cup of unsweetened cocoa powder we can get a good chocolate flavor throughout the cookie dough.
-Kosher salt: We just need 1/4 teaspoon of salt to help enhance the flavors in this cookie dough and make it taste even better.
-Baking soda: Using 1/2 teaspoon of baking soda as the leavening agent will help these cookies to puff up slightly while baking so that they're fluffy and delicious.
-Butter: We will need to use 1/2 cup (one stick) of room temperature unsalted butter.
-Sugars: We need 1/2 cup each of granulated sugar and brown sugar to get a sweet cookie dough that adds a little caramelization and chewiness to every bite.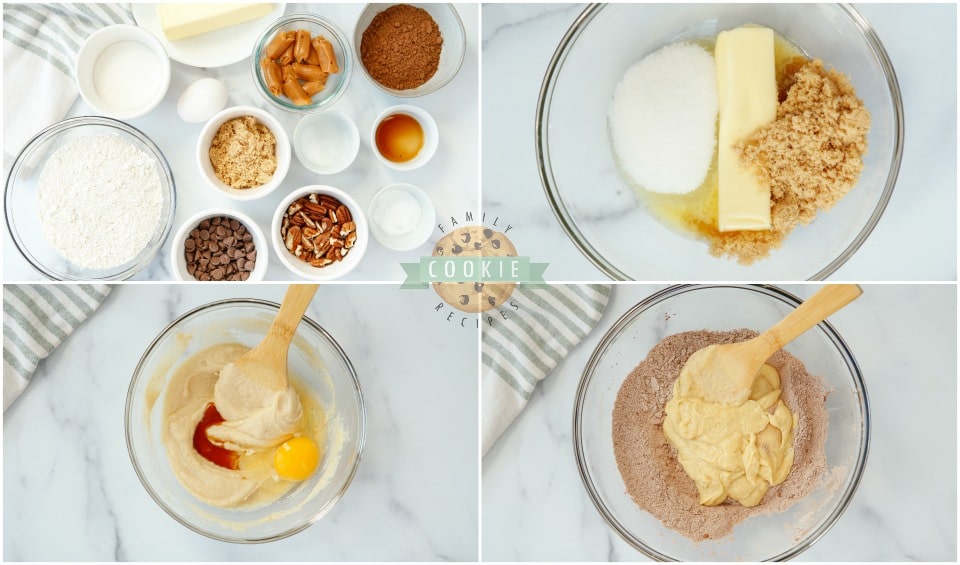 -Egg: One room temperature egg will help to bind the cookie dough together. You can warm eggs quickly by soaking them in a bowl of warm water for 10 minutes.
-Vanilla: 1 1/2 teaspoons of vanilla extract will help to flavor the cookie dough so that it tastes even better. use higher quality vanilla (like I do) for better flavor results.
-Chocolate chips: We need 1 cup of semi sweet chocolate chips to scatter throughout the cookie dough and add another depth of chocolatey goodness. You can never have too much chocolate.
-Caramels: We need 6 unwrapped soft caramel candies that have been sliced in half.
-Pecans: We need 1 cup of chopped pecans. You can buy them pre-chopped or buy them whole and chop them yourselves.
How to make caramel filled turtle cookies
In a large bowl, mix together the flour, baking soda, salt, and cocoa powder until well combined.
In a separate large bowl, cream together the butter and both sugars, until smooth.
Stir in the vanilla and the egg until just combined.
Add the dry ingredients to the wet ones, 1/2 cup at a time, until well mixed.
Fold in the chocolate chips.
Cover the bowl of cookie dough with plastic wrap and then place it in the fridge for 25 minutes.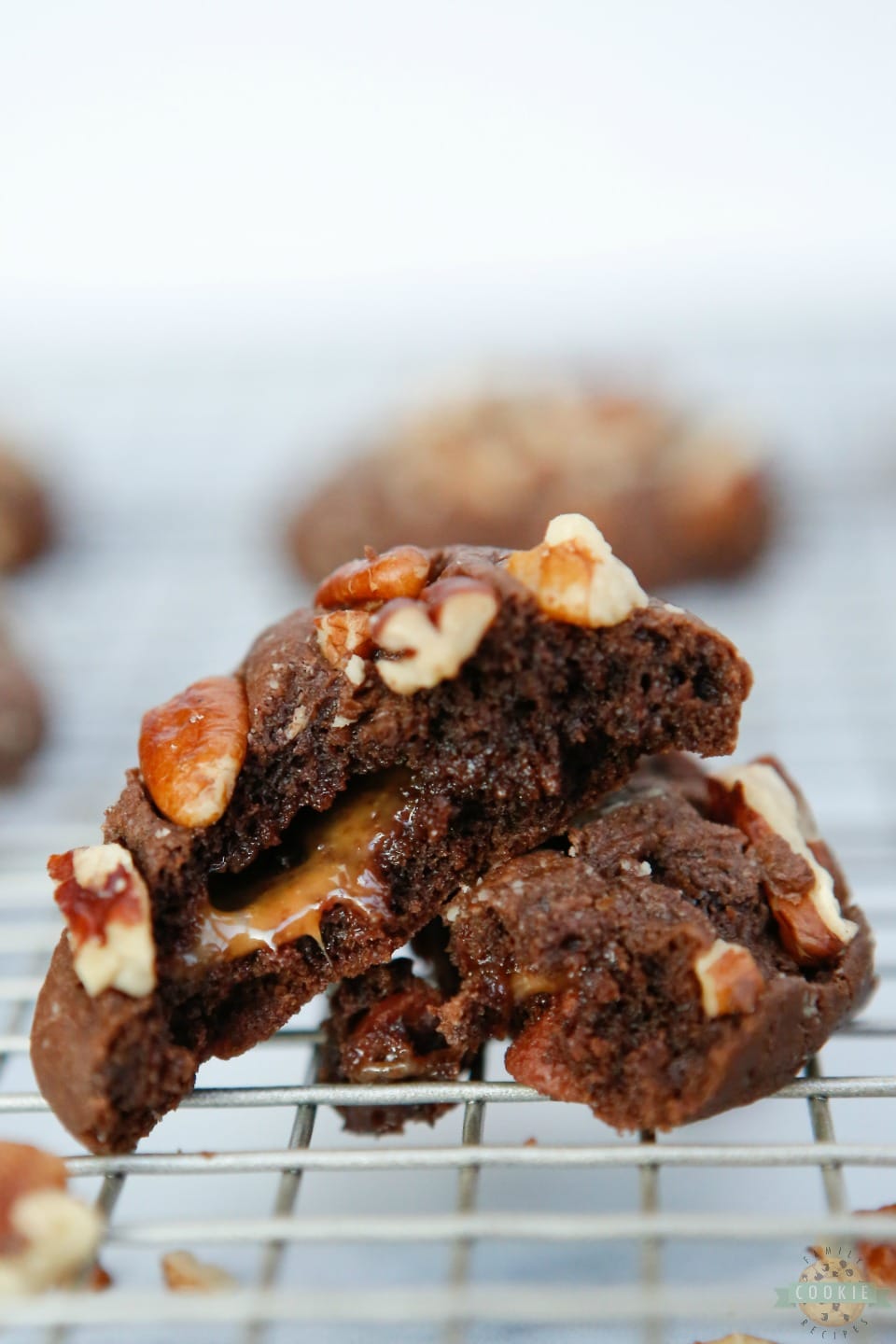 When you're ready to bake, preheat your oven to 350 degrees F and line a baking sheet with parchment paper.
Form your cookie dough into balls that are about 2 1/2 tablespoons in size.
Roll them into balls, flatten into a disc and then top with a halved piece of caramel.
Roll the dough back into a ball, covering the caramel completely.
Roll your cookie dough balls into the chopped pecans and then place them back onto the baking sheet.
Bake the cookies in the oven for 10 minutes, or until they have been cooked through.
Once the turtles have finished cooking, transfer the cookies to a wire cooling rack. Enjoy!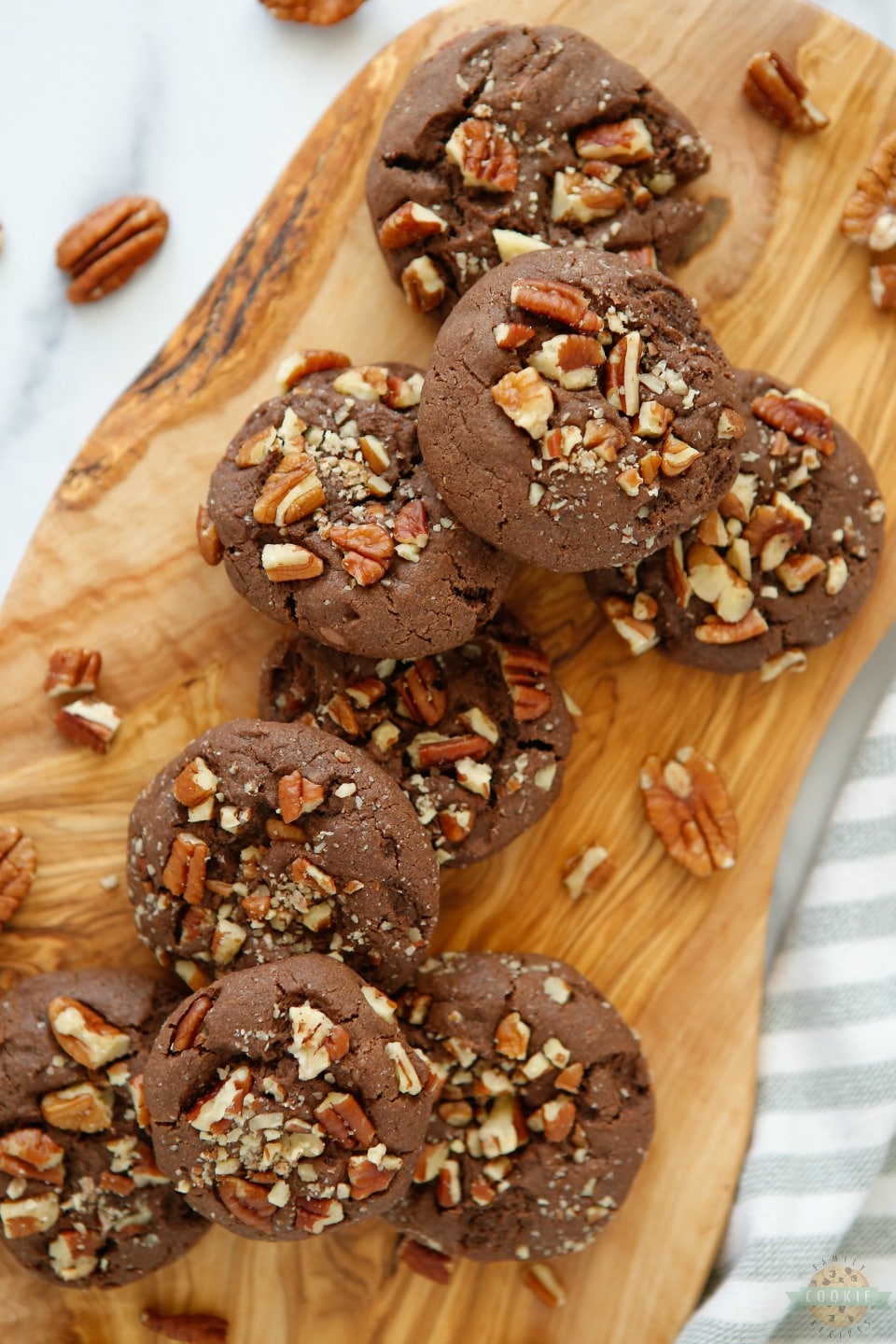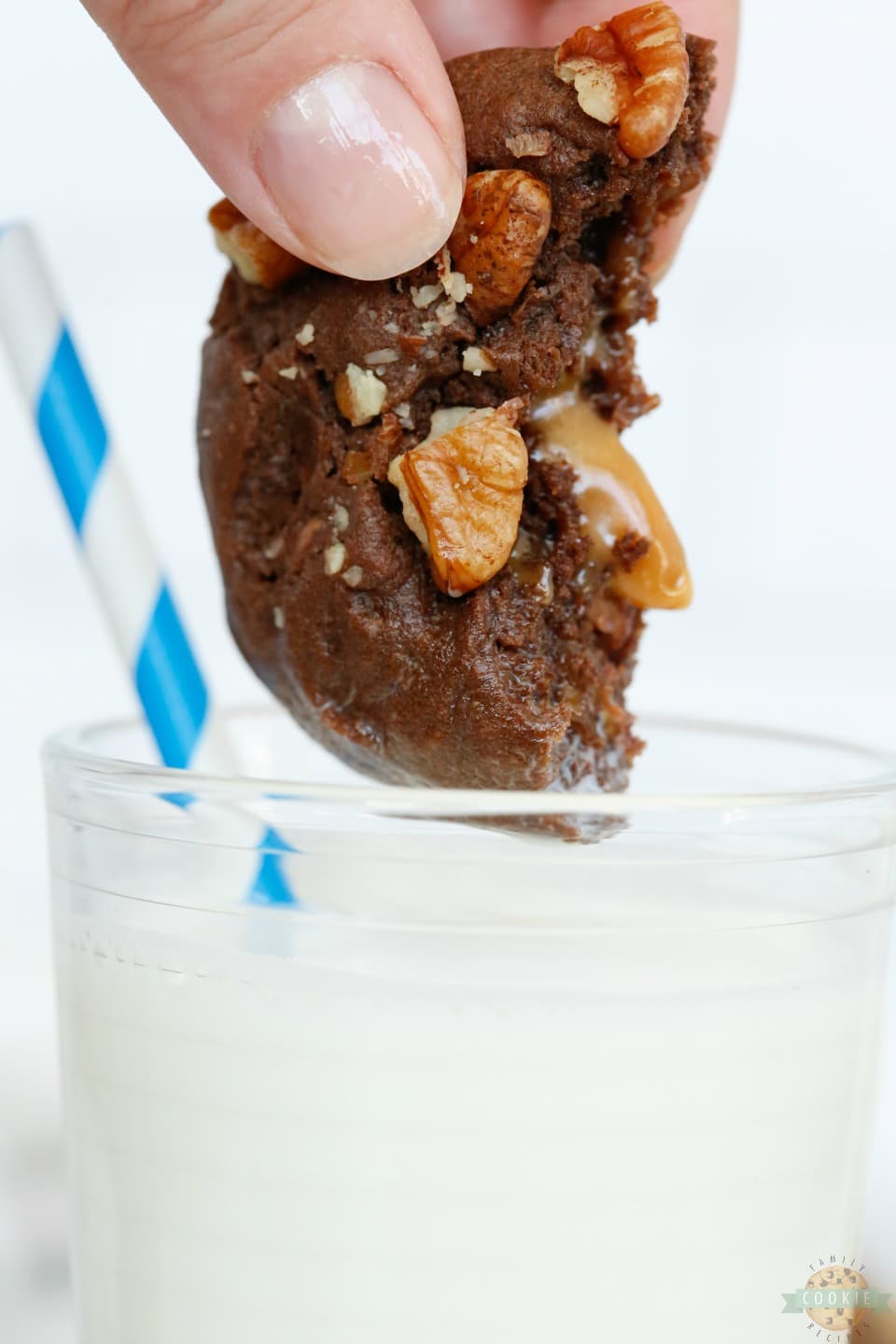 Can I make turtle cookies in advance?
You can make the dough for these cookies in advance by prepping them up to the chill point and leaving them covered, in the fridge overnight.
How to store turtle cookies
Keep these cookies stored in an airtight container at room temperature for up to a week. For best results, eat them while fresh.
Can I freeze chocolate turtle cookies?
You can make these cookies and freeze them for later if desired. Simply store them in an airtight container in the freezer for p to 3 months. Let them fully thaw at room temperature before eating so that the caramel is soft enough to bite into.
More Fun Cookie Recipes: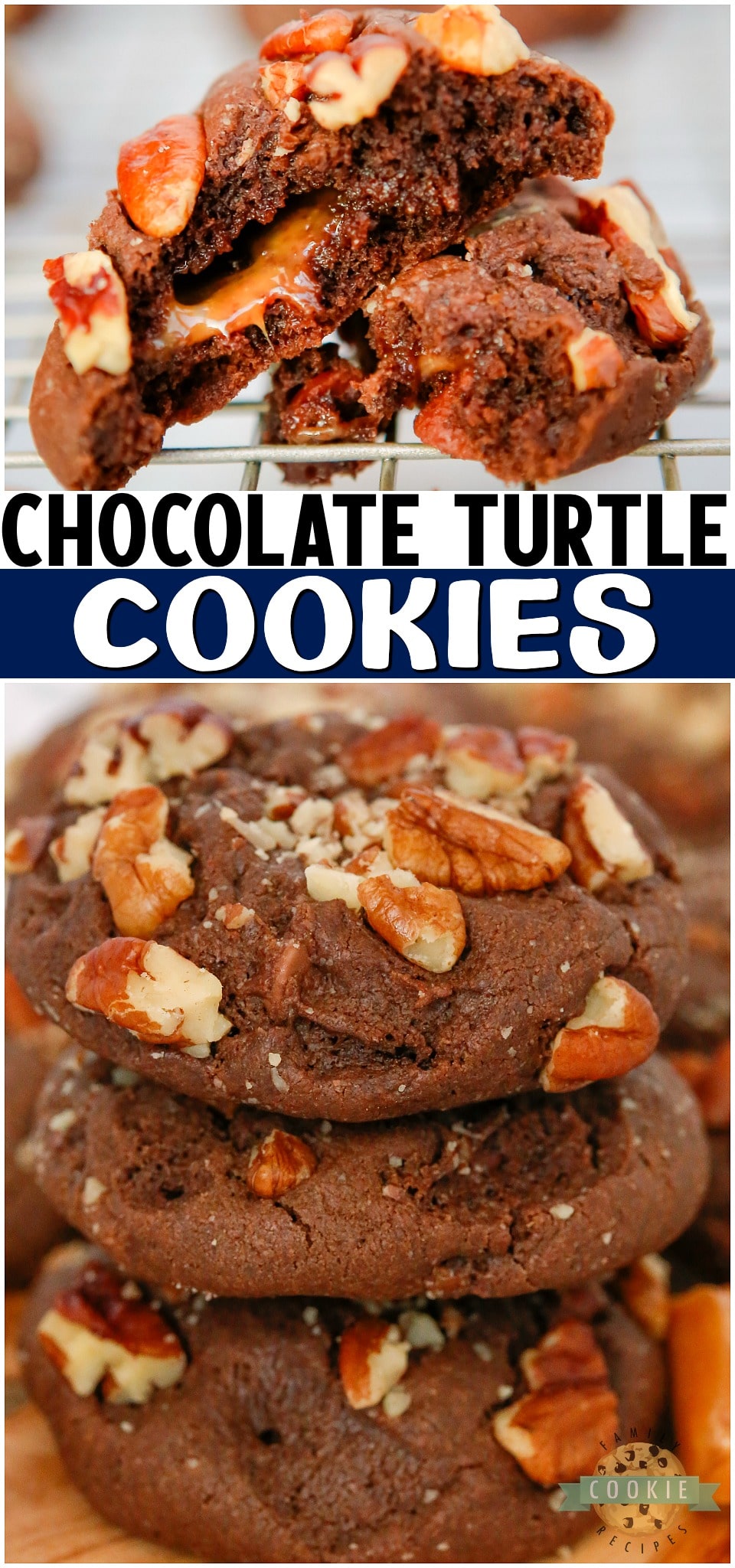 Chocolate Turtle Cookies are double chocolate chip cookies stuffed with caramel & pecans! Decadent Turtle Cookie recipe that everyone loves!