Caramel chocolate crinkle cookies are soft & chewy cookies with a salted caramel filling. Traditional Chocolate Crinkle Cookies with caramel filling that everyone loves!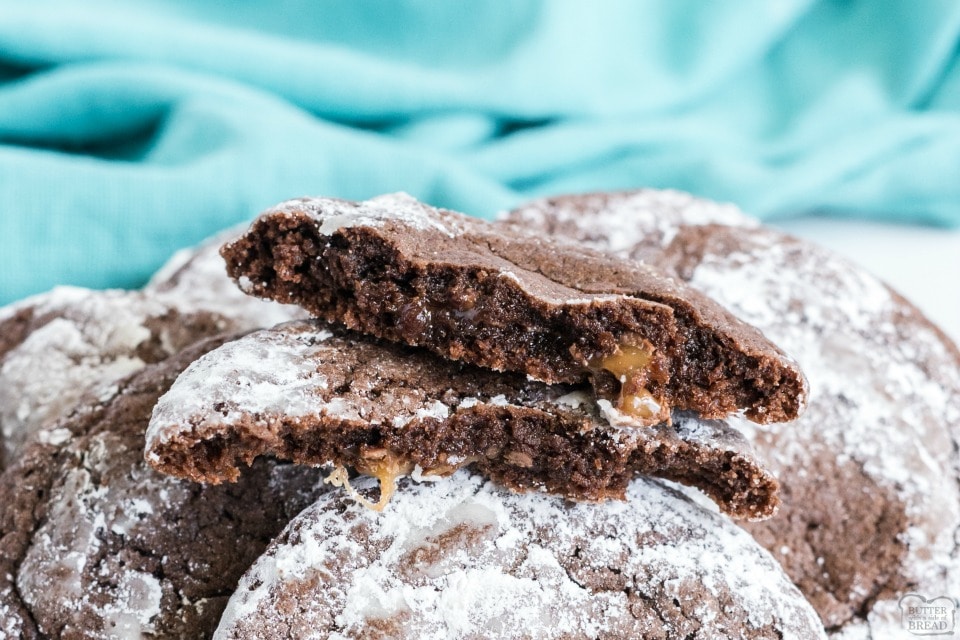 With a soft and sweet cookie filled with gooey caramel, there's really no way you can go wrong. These caramel stuffed cookies are easy to make and always fun to eat! Chocolate crinkle cookies stuffed with caramel is a great way to enjoy a sweet treat throughout the year!
What are caramel chocolate crinkle cookies?
Crinkle cookies get their name from the way they look after they've been baked. These cookie dough balls are baked and as they flatten, they spread out and crack, leaving a unique design on each cookie masterpiece. Each one is then dusted in powdered sugar to really highlight the new appearance.
What makes these cookies even better though is that we shoved a little piece of caramel inside- which melts into a soft gooey bite of heaven in the center.
Salted Caramel Stuffed Chocolate Crinkles Ingredients
-Flour: We will need 1 1/2 cups of all-purpose flour for the gluten base of these cookies.
-Cocoa powder: We will need 1/2 cup of cocoa powder plus an additional 2 tablespoons of it to get that rich chocolate flavor we want.
-Baking powder: This is our leavening agent in this recipe, giving us nice and puffy cookies. We need 1 ½ teaspoons of baking powder for the perfect cookie texture.
-Salt: This works as a flavor enhancer, but we only need ¼ teaspoons of salt to make the other flavors in this cookie dough recipe stand out.
-Butter: We need 10 whole tablespoons of softened butter to get a great texture and flavorful richness in every bite.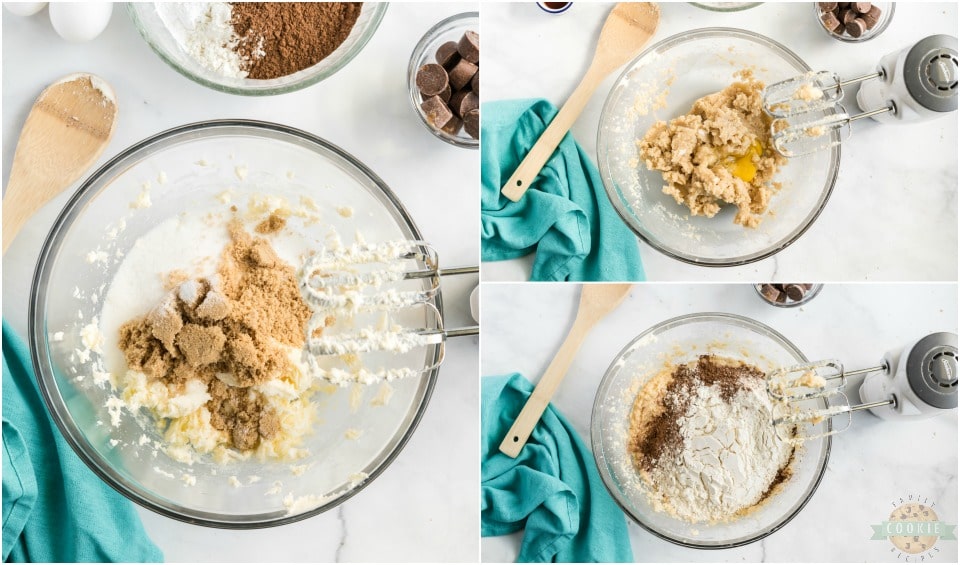 -Sugars: We need an entire cup of granulated sugar and ½ cup of packed light brown sugar to get the correct depth of flavor, color, and sweetness.
-Eggs: We will need 2 large eggs to help act as the binder and hold these cookies together.
-Vanilla: We will need 1 ½ teaspoons of vanilla extract to enhance and flavor this dough. I like to use high qualtiy vanilla, but use what you have on hand.
-Caramels: You can use unwrapped caramel pieces, leftover caramel apple sheets or 2 dozen Rolos depending on which one you think you'd like best or have on hand. Tip: This is a great way to use up leftover Rolos after Halloween.
-Coarse salt: This salt will help to add a little "something extra" inside our stuffed cookies giving us a sweet and salty caramel bite in the center. Yum!
-Powdered sugar: We only need about 1 cup of powdered sugar to help us coat the cookies after they've finished baking.
How to Make Caramel Stuffed Chocolate Crinkle Cookies
Preheat your oven to 350 degrees F and prepare a baking sheet with nonstick cooking spray or parchment paper.
Cream the butter and sugars together in a medium sized bowl with an electric mixer on medium speed until the mixture is pale and fluffy. This should take about 4 minutes.
Add in the eggs, one at a time, beating well after each addition.
Add in the vanilla and mix again.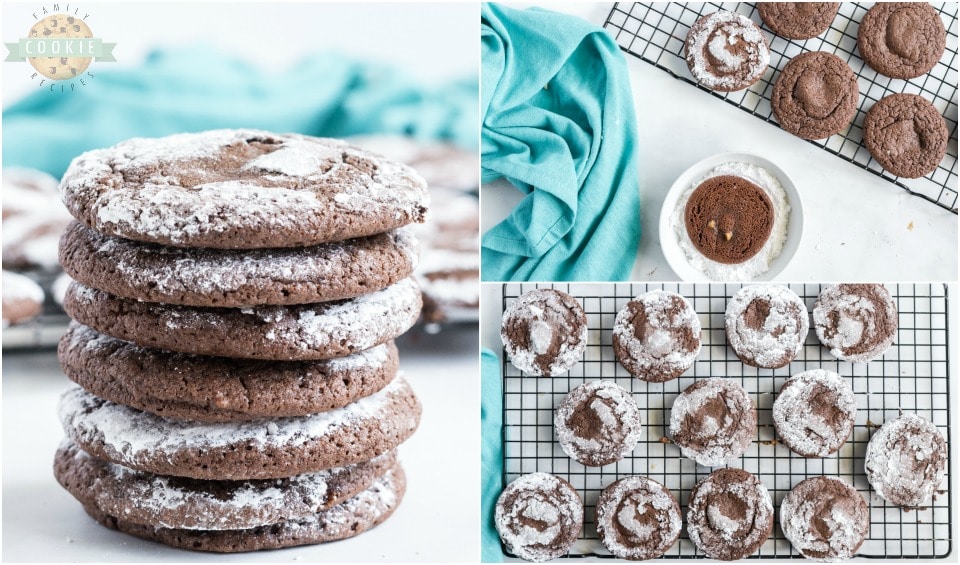 Add in the dry ingredients and mix until combined.
Scoop out the dough into 2 tablespoon sized scoops and roll it into a ball with floured hands.
Press a caramel or Rolo candy into the center of the dough and pinch the dough around it to keep it covered, roll back into a ball. Roll gently in powdered sugar.
Line the cookies on the baking sheet leaving room for them to expand.
Bake in the oven for 11-13 minutes. Allow the cookies to cool on the sheet for 5 minutes before rolling in powdered sugar again, if desired. Enjoy!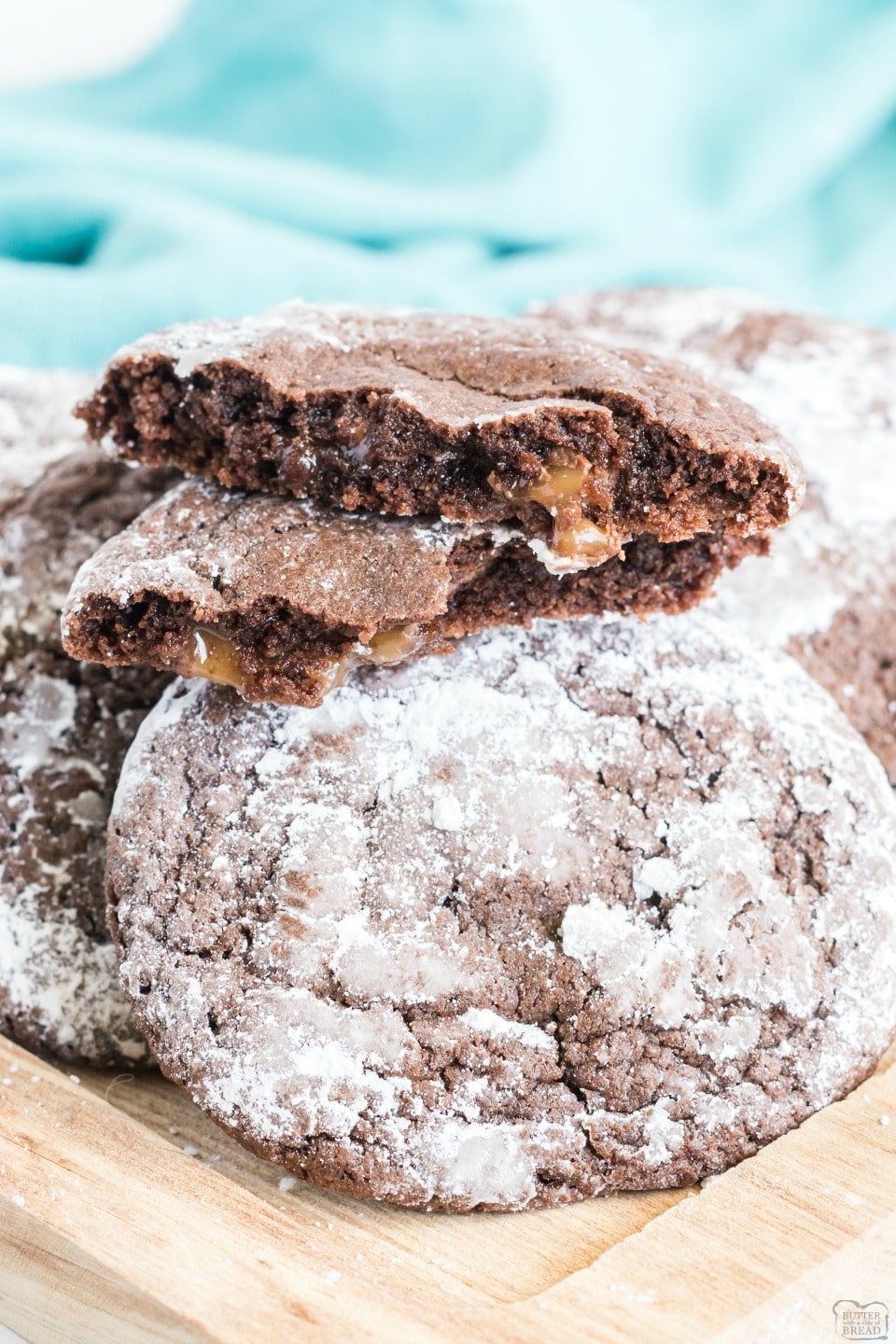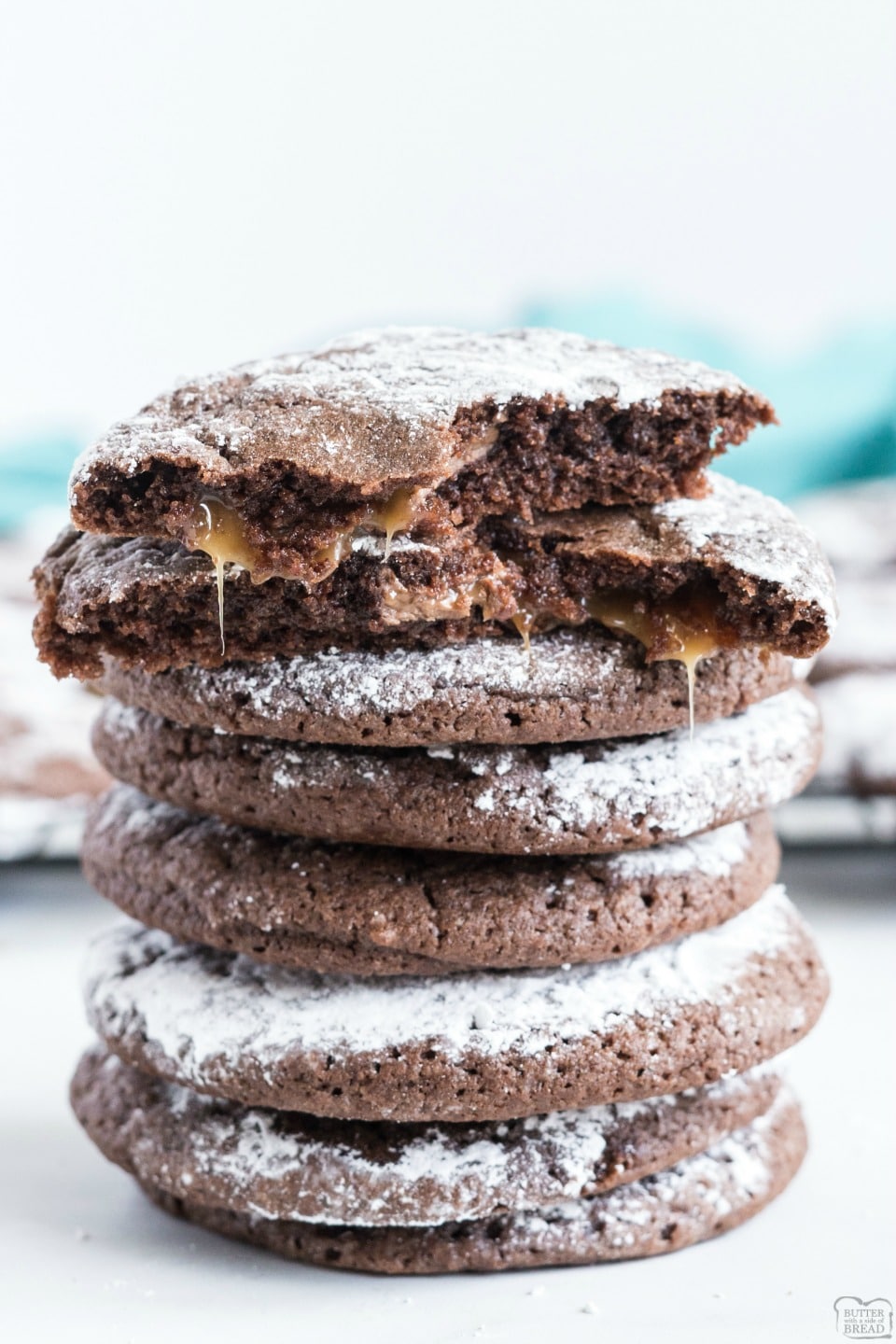 Can you freeze chocolate crinkle cookies after baking?
Absolutely! These cookies freeze very well. Simply keep them stored in an airtight container for up to a few weeks and when you want to eat them, let them thaw and give a fresh coat of powdered sugar and they'll taste as good as fresh.
How do I keep the dough from sticking to my hands?
The dough can be rather sticky, so keeping your hands well-floured is a great way to avoid that. Also, remove any finger jewelry like rings if you don't want to clean dough out of the tiny nooks and crannies later.
How long do homemade cookies last?
These cookies will last up to a few days if stored in an airtight container at room temperature.



Halloween is usually a pretty big deal in our house! The kids get super excited about choosing costumes, trying them on a million times, etc. This year is quite different! It's nearly 1/3 of the way thru October and I haven't heard a peep about Halloween. I guess we all realize Covid Halloween will be different. My daughter and I were at Walmart not too long ago and saw these super fun puppy costumes. We HAD to get them. We now have a cute little taco and a bacon & eggs. Scout & Penny don't look so sure about them, ha!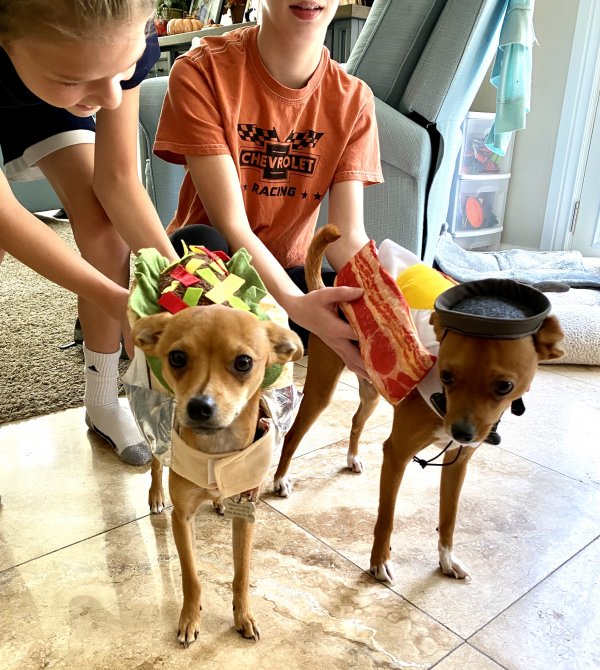 More delicious cookie recipes you'll want to try soon!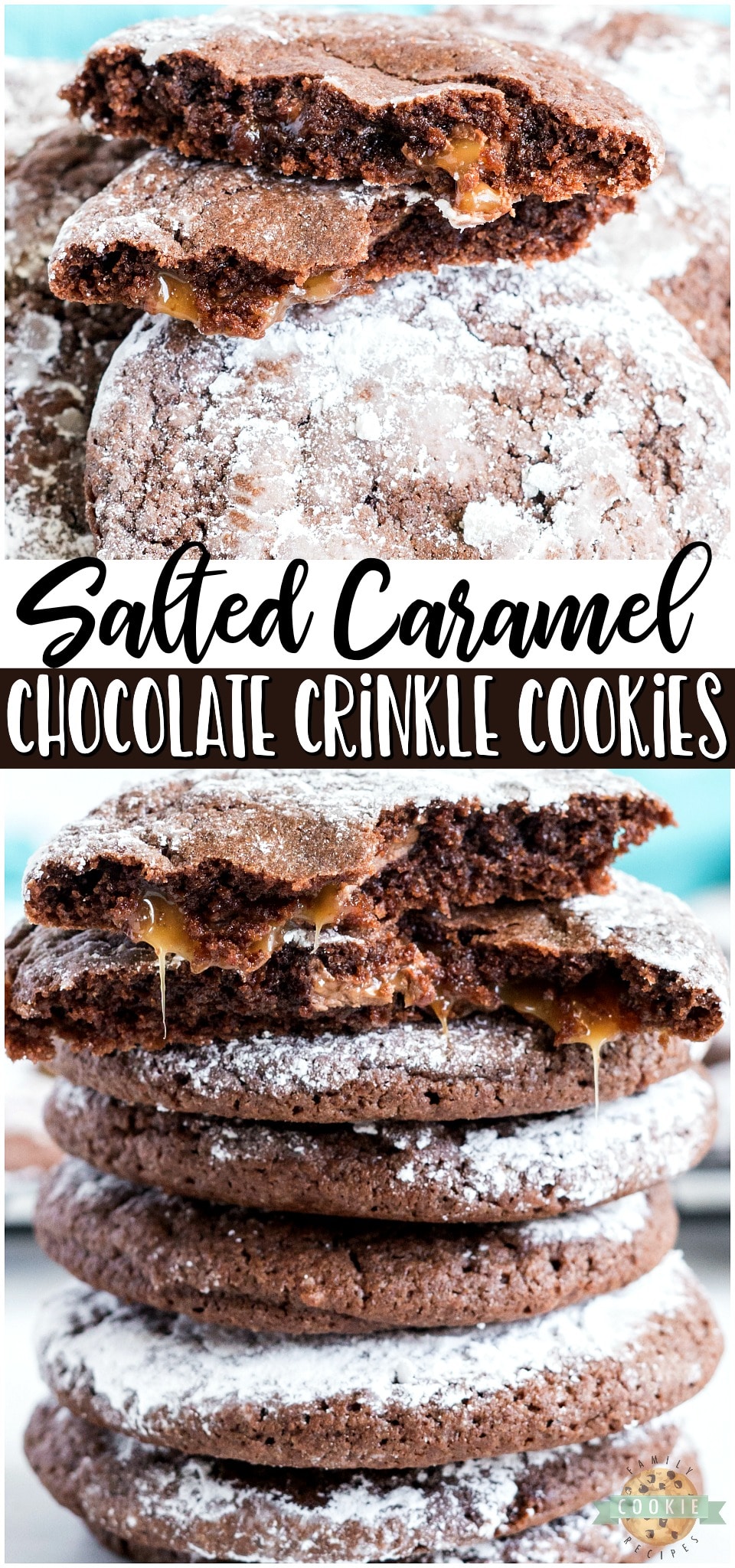 Caramel chocolate crinkle cookies are soft & chewy cookies with a salted caramel filling. Traditional Chocolate Crinkle Cookies with caramel filling that everyone loves!