Birthday Cake Cookies are soft vanilla cookies with lots of sprinkles! This simple cookie recipe tastes like your favorite birthday cake in cookie form.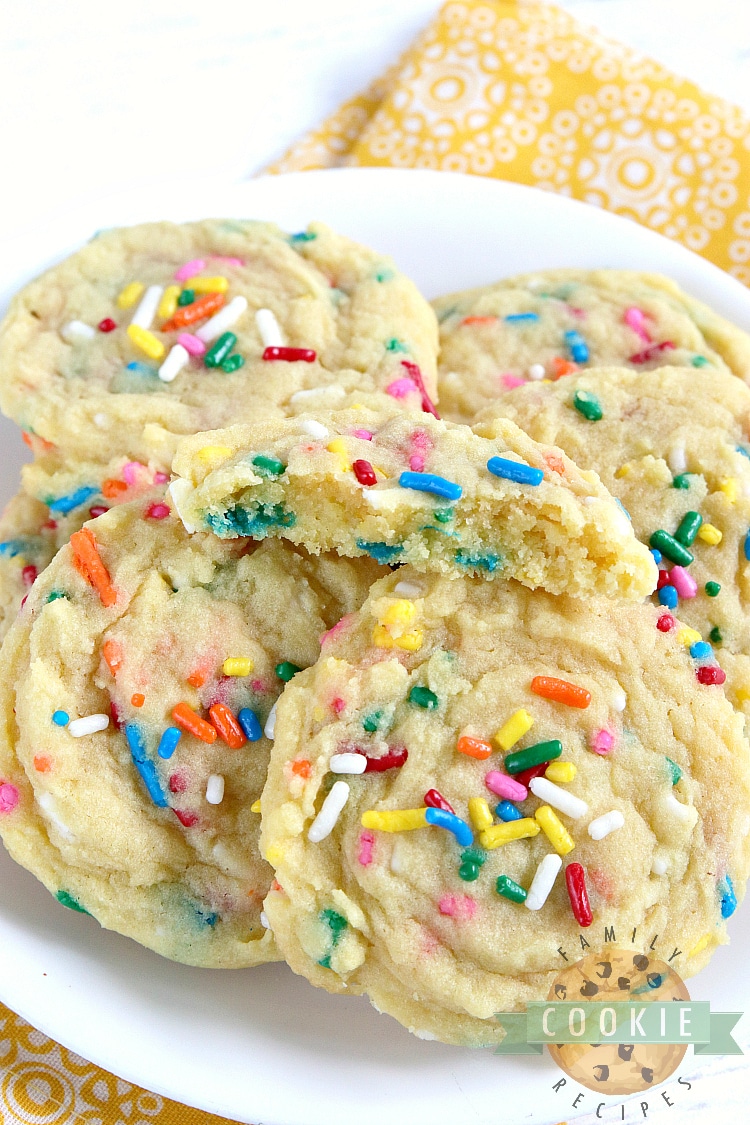 Birthday Cake Cookies are so much fun – no birthdays necessary. You can eat them anytime you want. These cookies are actually amazing even without the sprinkles, or you can use seasonal sprinkles to make them work for whatever holiday or special occasion you are celebrating. Using vanilla pudding mix in the recipe makes the cookies so soft and it adds a lot of vanilla flavor too.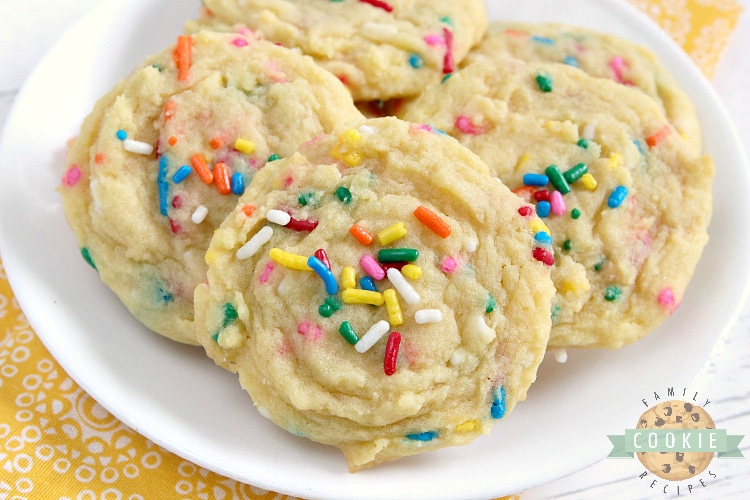 Cookie recipes that include pudding always help create the soft texture we all love, but below you'll find a few other tips for making soft cookies!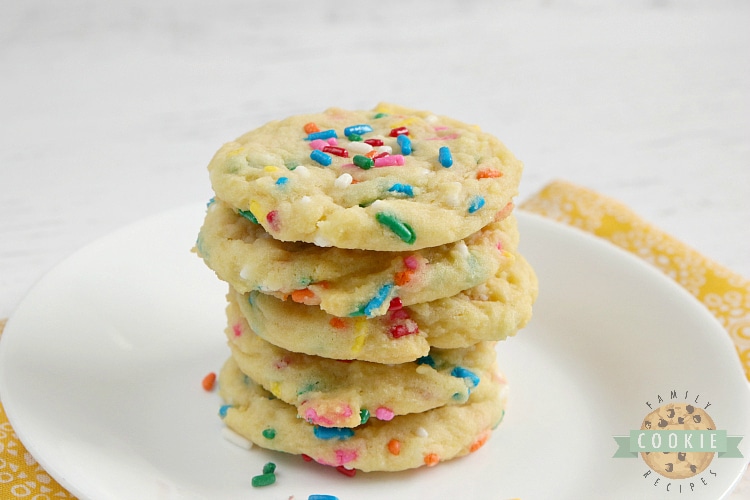 SOME TIPS FOR MAKING COOKIES THAT STAY SOFT AND CHEWY:
Make sure that you have enough flour in the dough. If the dough is too sticky, you may need to add a little bit of flour.
Make sure you use softened butter – DON'T melt it! One of the most common errors in cookie making is using butter that is either really cold and hard, or using butter that is too warm and melted. If you have time, just leave butter out on the counter for about 1-2 hours before making your cookies. If you are like me and don't plan your cookie cravings that far in advance, just place the butter in your microwave and soften in 5 second intervals, being very careful to pull it out before it melts. I actually like to use the defrost setting on my microwave to soften butter- I don't know the technical reasons behind it, but it seems to soften the butter more evenly and takes a little bit longer so I'm less likely to start melting it! 
Spend a little extra time when you mix the butter and sugars. Creaming them together for 2-3 minutes will improve the consistency of your cookies.
Preheat the oven. This will help your cookies turn out right every time!
Use a cookie scoop! If you want all your cookies to be perfectly shaped and have them all be the same size, a cookie scoop is the way to go.
Use parchment paper or a silicone baking mat. Doing this will make it really easy to remove the cookies from your cookie sheet so that you don't have to scrape them off the pan – they will just slide right off in perfect shape!
Don't over bake the cookies – when I take mine out of the oven, they still look slightly under baked but they will continue to bake on the cookie sheet for a couple more minutes so that's ok!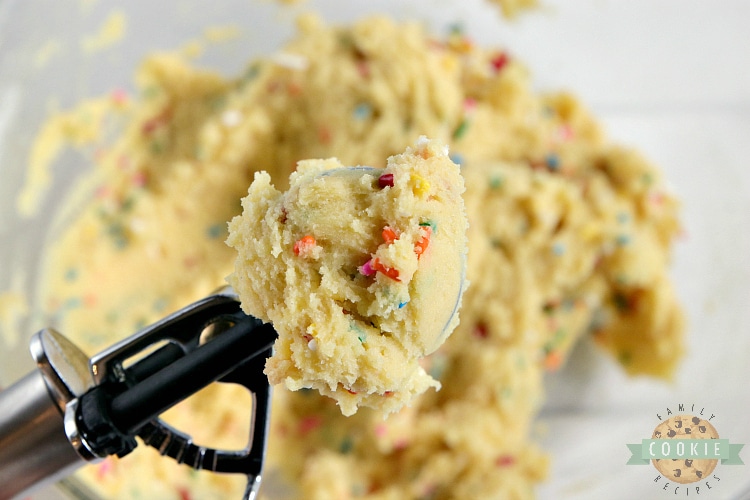 INGREDIENTS IN BIRTHDAY CAKE COOKIES
1 cup butter, softened
1 cup sugar
1 (3.4 oz) pkg instant vanilla pudding mix
2 eggs
1 tsp vanilla extract
2 1/4 cups flour
1 tsp baking soda
1/3-1/2 cup sprinkles
HOW TO MAKE BIRTHDAY CAKE COOKIES
Using a hand mixer, cream the butter and sugars.  Add the pudding mix and mix until well blended.
Add the eggs and vanilla and mix well.
Add the flour and baking soda and continue mixing.
Stir in the sprinkles.
Drop cookies by rounded teaspoonfuls (I use a cookie scoop) onto a greased cookie sheet. Bake for 10 minutes at 350°.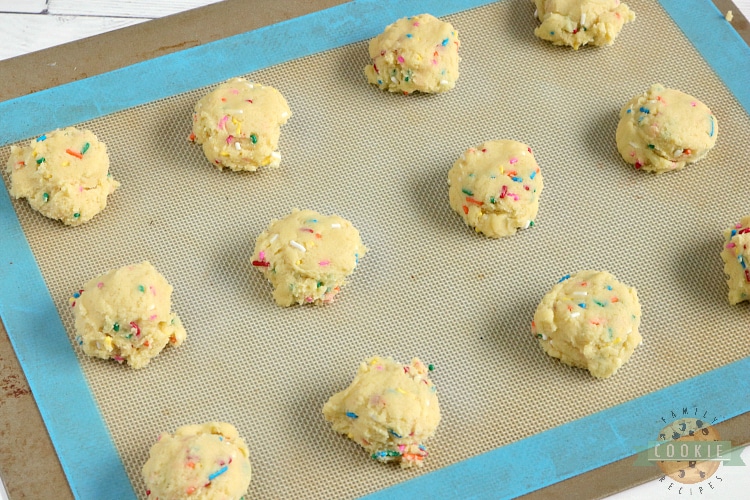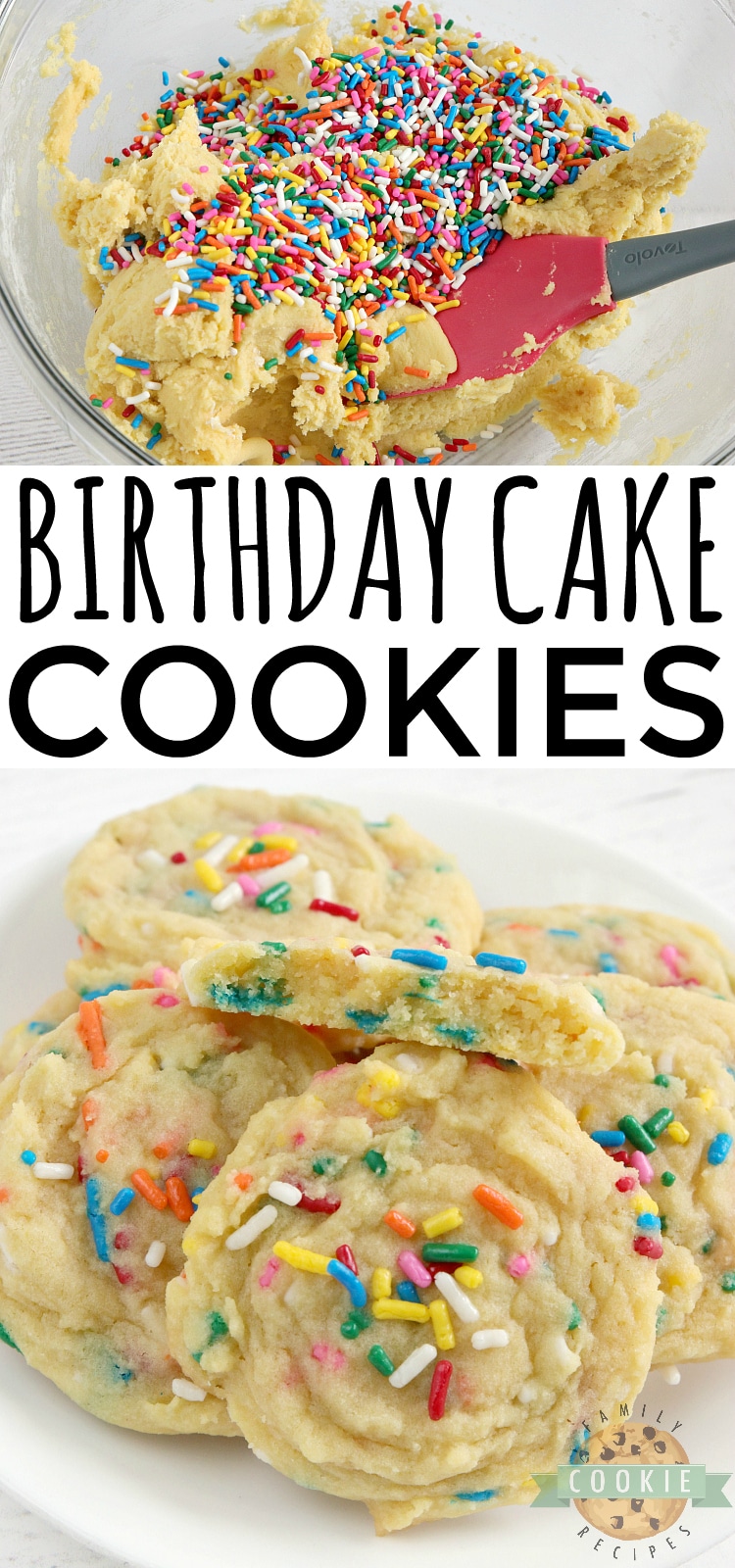 LOVE MAKING COOKIES WITH PUDDING MIX IN THEM? HERE ARE SOME OF OUR FAVORITES!
Birthday Cake Cookies are soft vanilla cookies with lots of sprinkles! This simple cookie recipe tastes like your favorite birthday cake in cookie form.


This little one is already 18 months old! How?! She has gotten a little bit pickier with food, but she still loves her guacamole! She goes to the refrigerator and says "GUAC" until we find some for her and she will dip anything and everything as long as she can dip it in guacamole. And after she eats, we usually have to take a bath…she takes a lot of baths these days!