Pumpkin Pudding Cookies are packed with incredible spiced pumpkin flavor! These pumpkin white chocolate chip cookies are soft & chewy thanks to the pudding mix!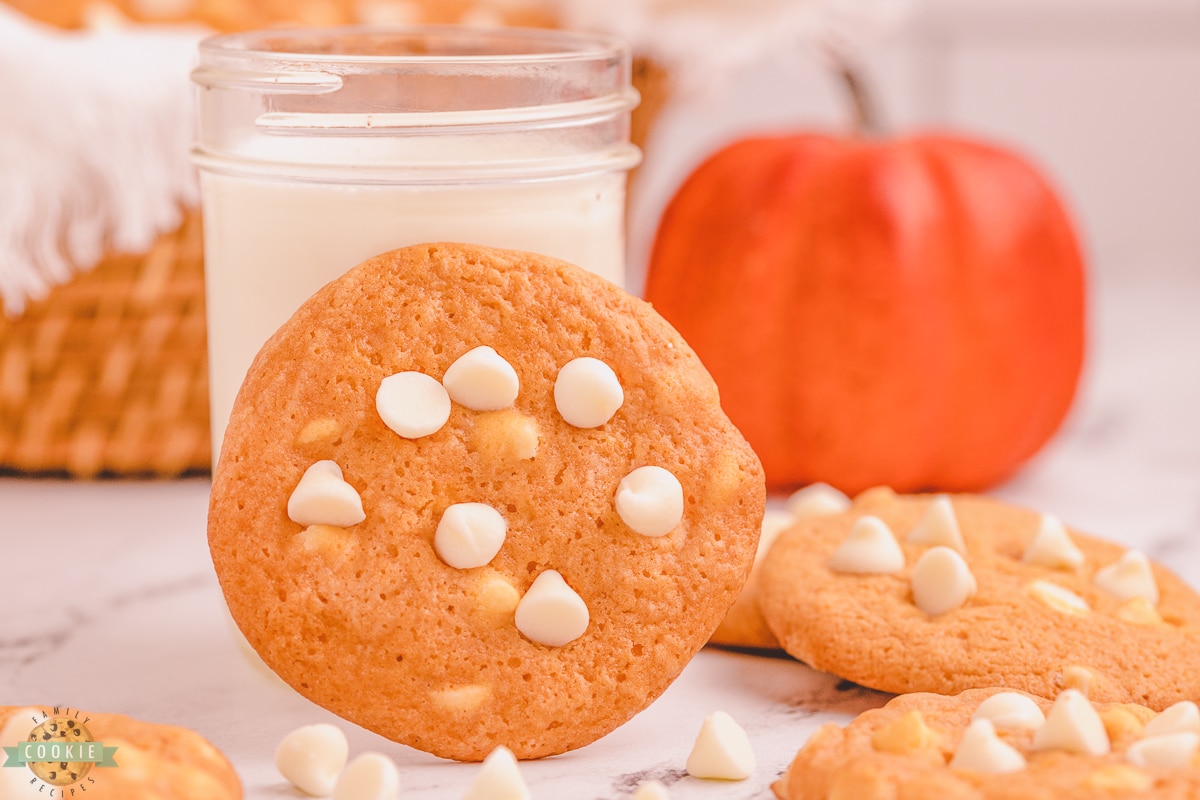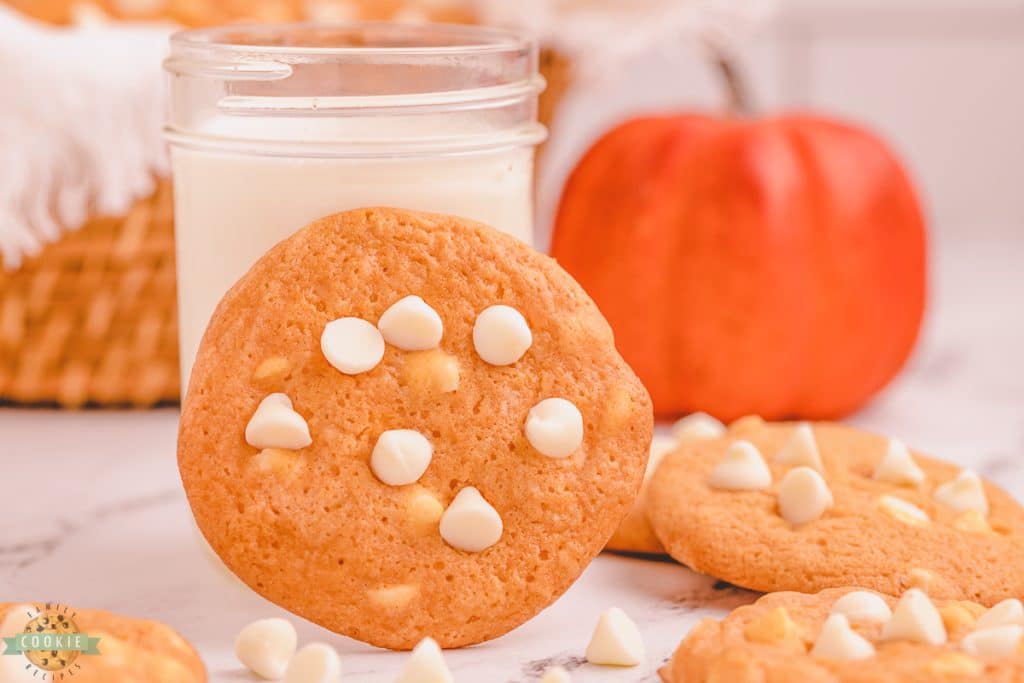 Pumpkin spice pudding cookies are a fun variation on a traditional pudding cookie, made with the warm pumpkin spice fall favorite flavor. Chocolate chip pumpkin cookies are so easy to make, a batch comes together quickly and is sure to be a huge hit with your family and friends.
PUMPKIN COOKIES WITH PUDDING
I absolutely love adding dry pudding mix to cookie recipes because it adds incredible flavor and gives them a soft, pillowy texture. I just love how the pumpkin spice pudding mix tastes too, it is one of my all time favorite flavors. These cookies a fantastic fall cookie that would be great served at any Halloween event. For this recipe I added white chocolate chips, but I think they would be tasty and really fun made with semi sweet chocolate chips too, or even a combination of both. The pudding lends an orange color to the cookies so semi sweet chocolate chips would make them perfectly festive for Halloween.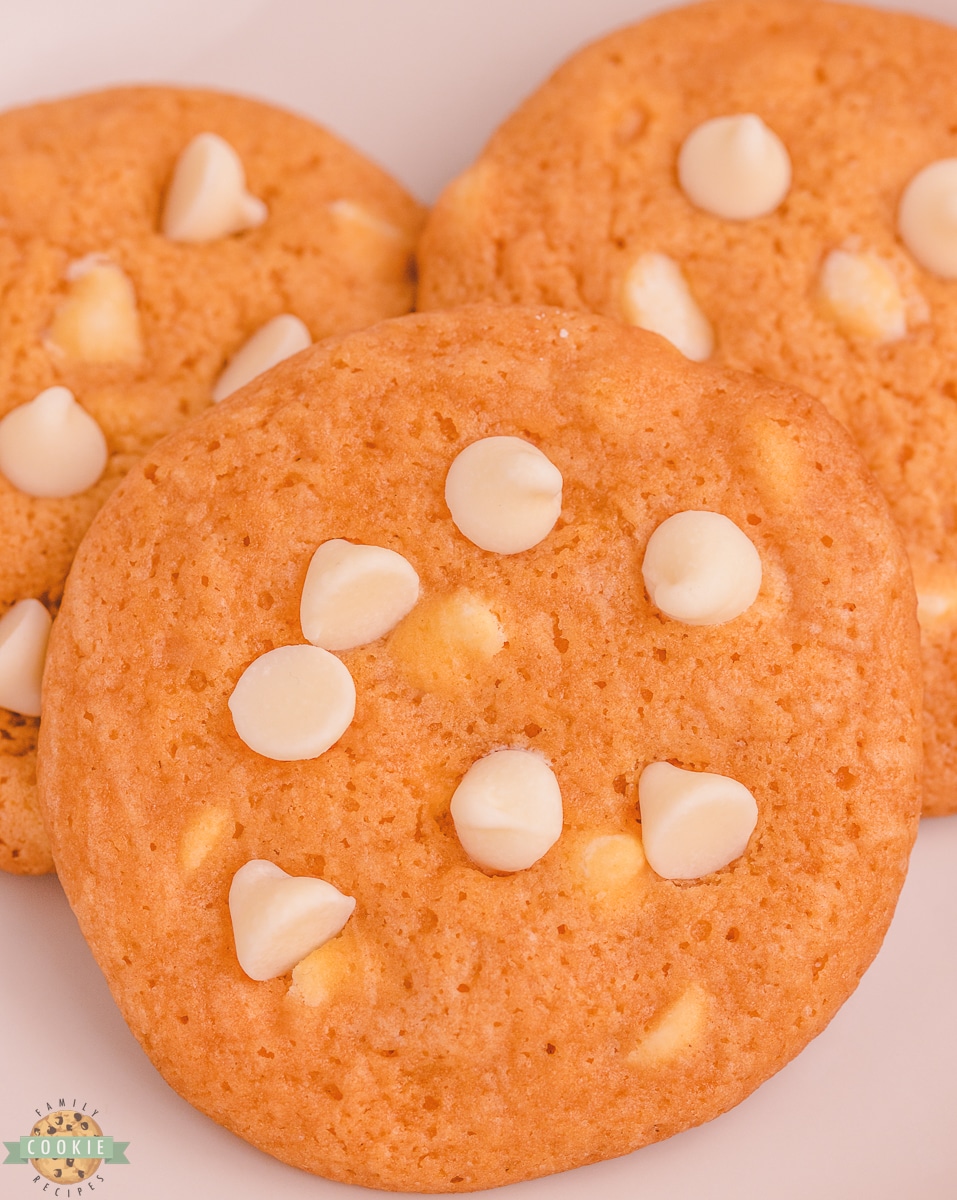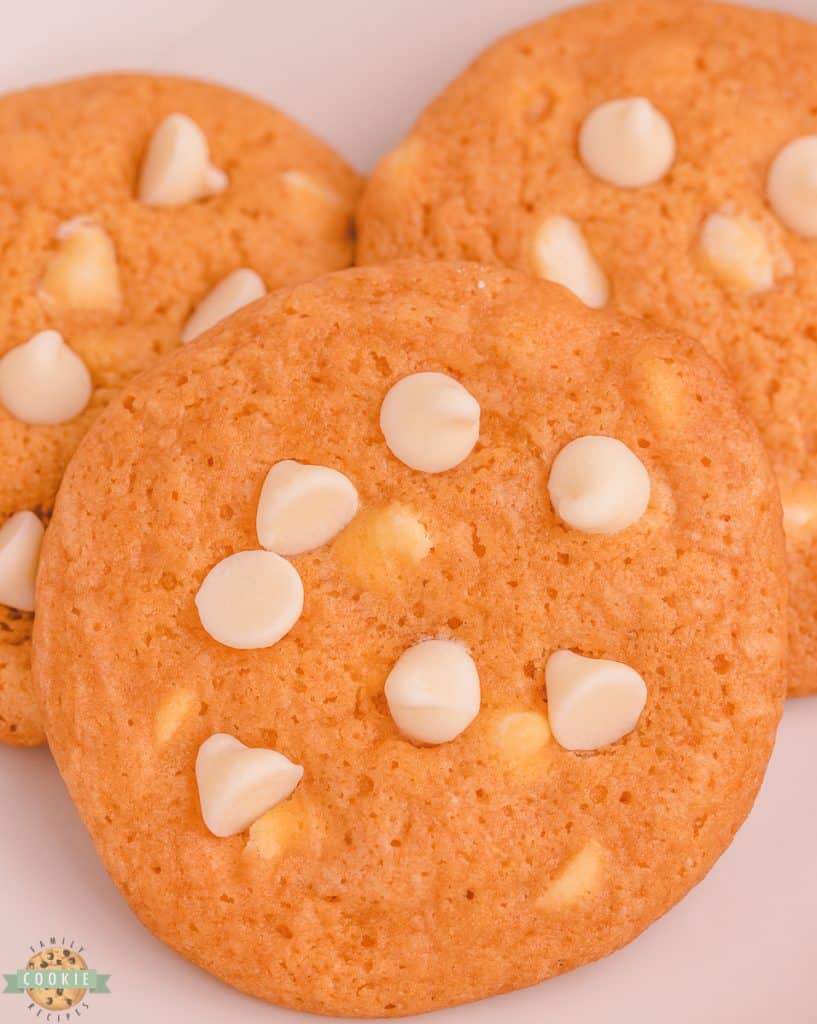 WHY WE THINK YOU WILL LOVE THESE PUMPKIN COOKIES!
If you were not already gathering the simple ingredients to make these cookies, here are a few reasons why we think you should.
Quick and easy. To make these sensational pudding pumpkin cookies you need less than 10 minutes of prep time, then only 10 minutes of baking. You can create an amazing treat in a short amount of time, who doesn't love that?
Classic fall flavor. If you are like me and adore fall flavors, you will love this easy cookie recipe. Pumpkin spice is a traditional fall flavor and these pumpkin cookies deliver the perfect taste.
Simple ingredients. What I love about this recipe is that most of the ingredients are most likely already in your kitchen. You can whip up a batch without having to buy a bunch of extra ingredients.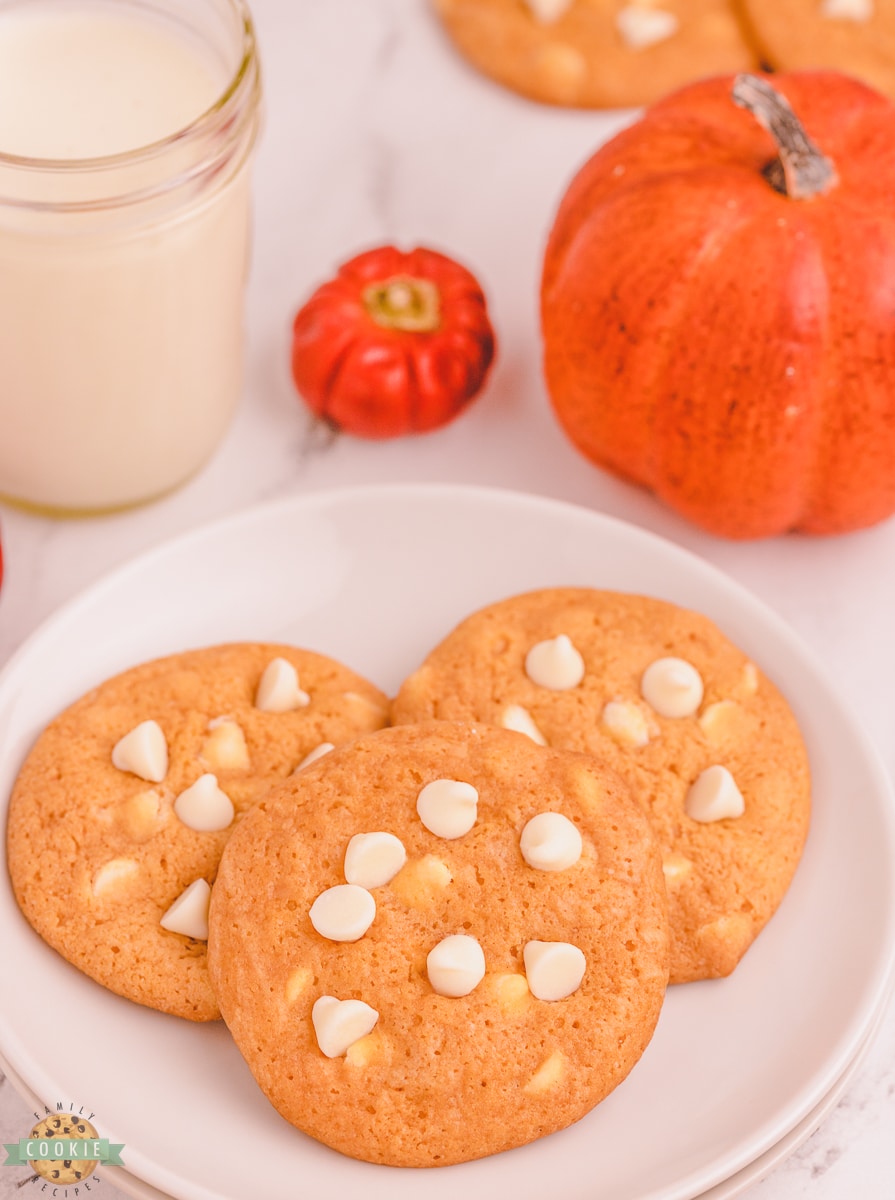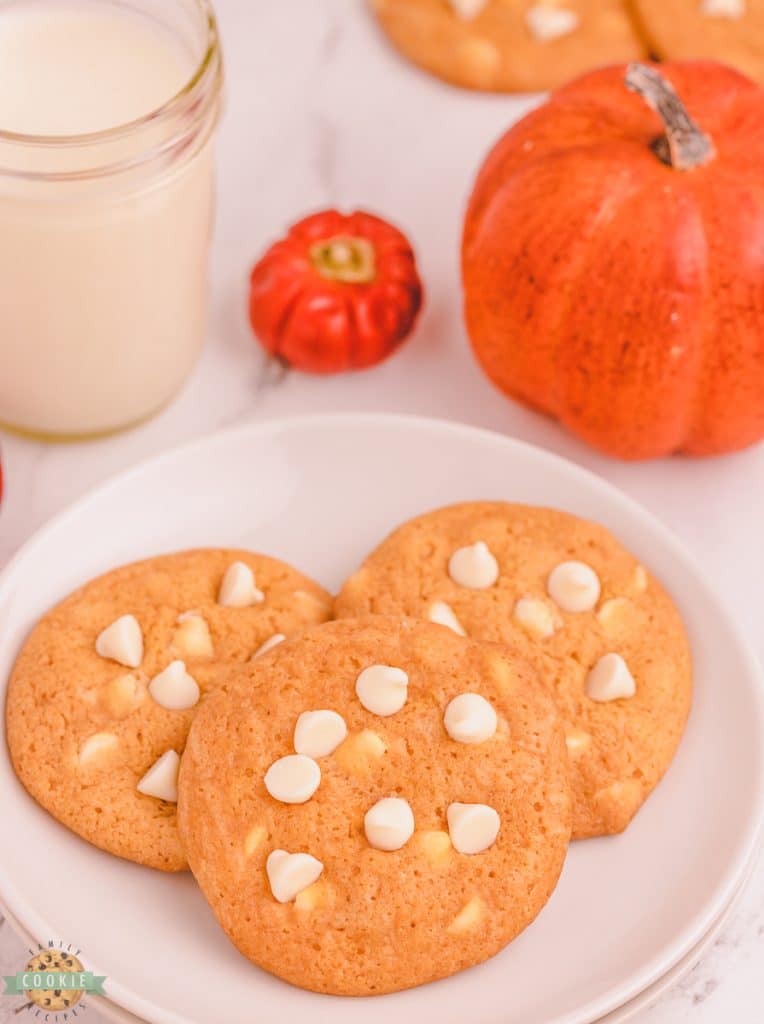 Pumpkin Pudding Cookie Ingredients
Sugar: You will need 1 cup of sugar to give these cookies just the right amount of sweetness.
Butter: Adding in ½ cup of softened butter will help create wonderful texture and flavor.
Egg: Use 1 egg to help bind the cookie dough together.
Yogurt: For amazing cookie texture and taste, add in ½ cup of vanilla yogurt.
Milk: Use 2 tablespoons of milk to give the dough great consistency.
Pudding mix: You need 1 small 3.4 ounce box of pumpkin spice pudding mix to great the most perfect cookie ever.
Salt: Add in ½ teaspoon of salt to balance all the incredible flavors in this recipe.
Baking soda: To help the cookies rise as they bake, add ½ teaspoon of baking soda.
Flour: Use 2 cups of flour for the base of this cookie dough.
Chocolate chips: Adding in 1 12-ounce bag of white chocolate chips give each bite of these tasty treats even more amazing flavor.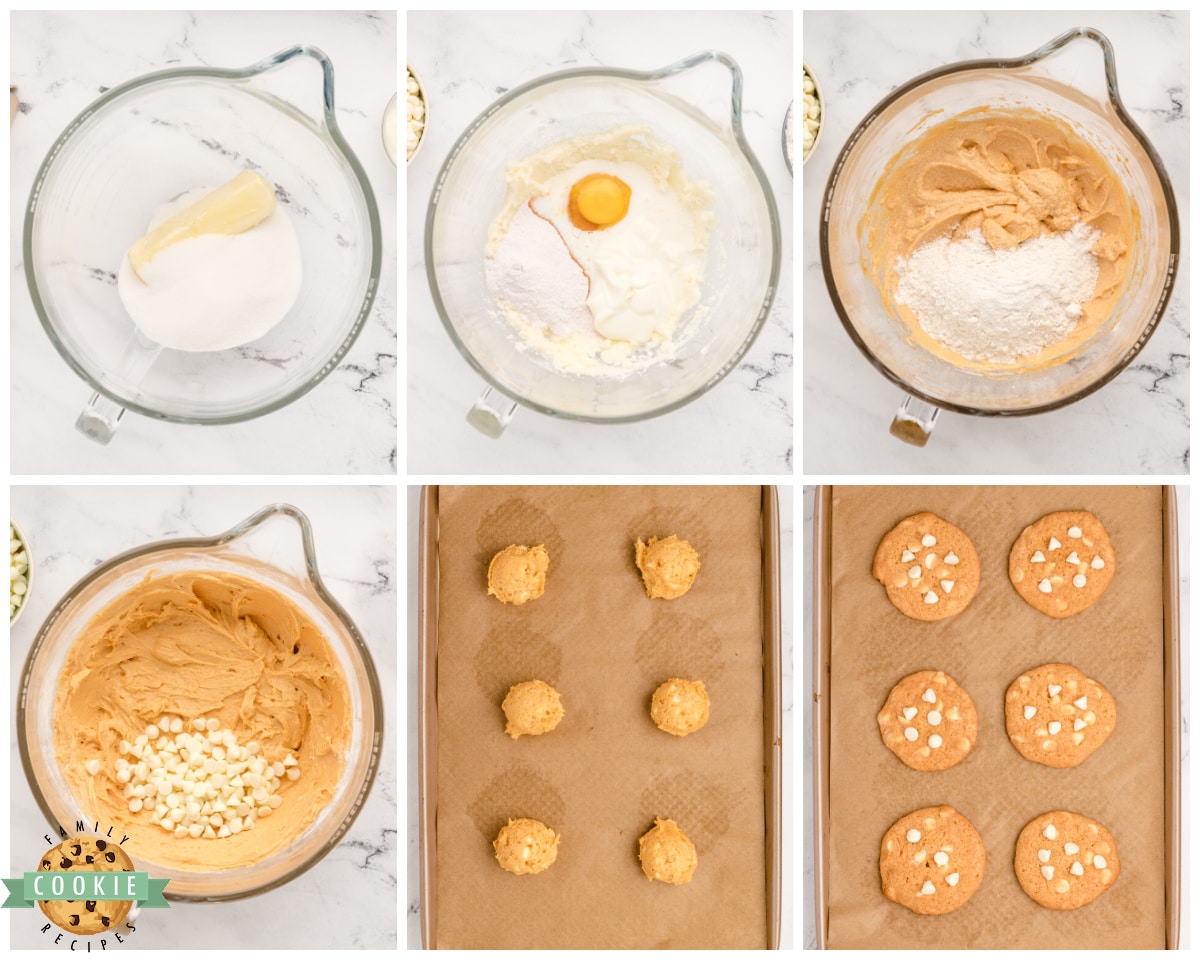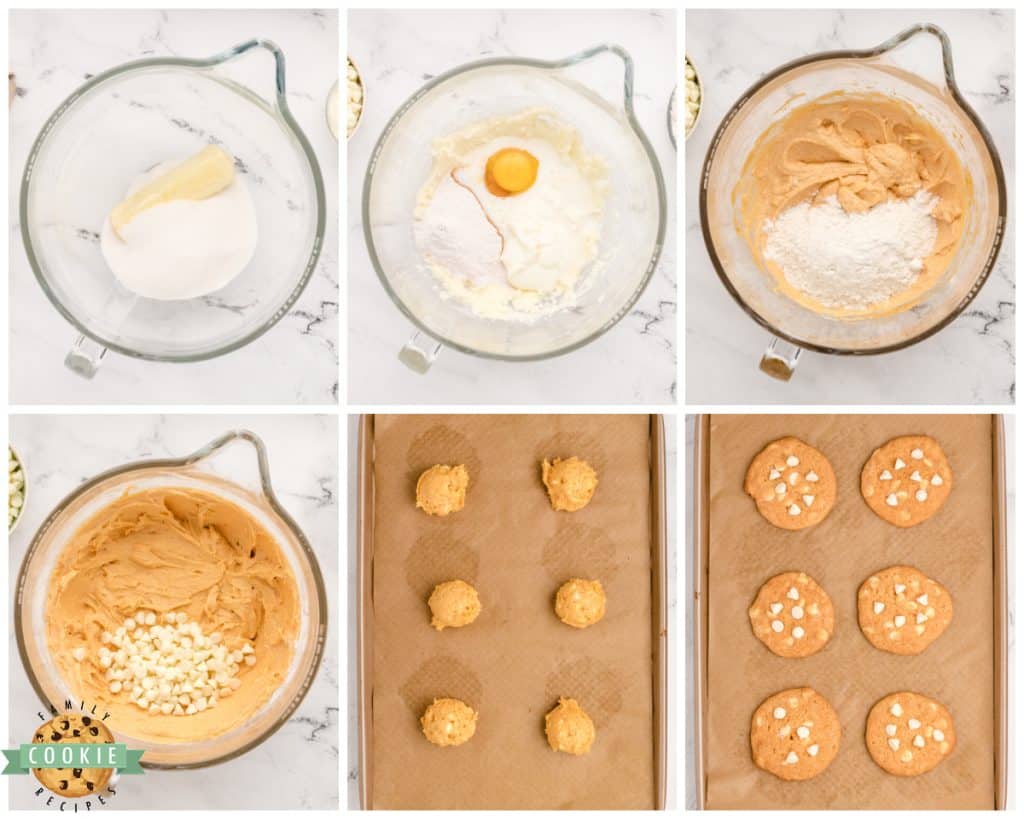 How to make Pumpkin Pudding Cookies
Prep
Begin by preheating the oven to 375 degrees F. Then, line a cookie sheet with parchment paper or spray with non-stick cooking spray and set aside.
Dough
Next, cream together the sugar and the softened butter. Then, add in the egg, vanilla yogurt, milk and the dry pudding mix, stir until just combined.
After that, add the flour, salt and baking soda, mixing ingredients until nice and smooth.
Lastly, fold in the white chocolate chips.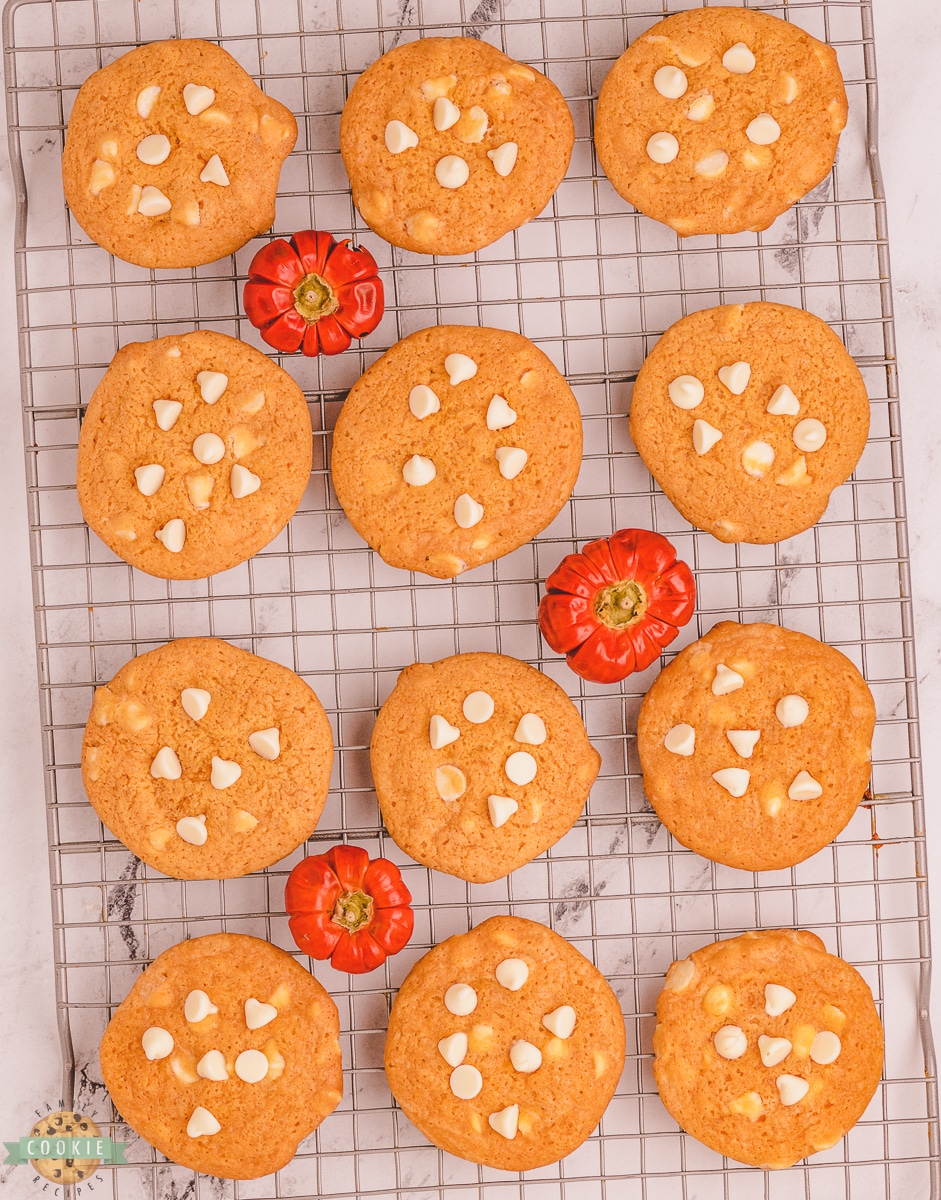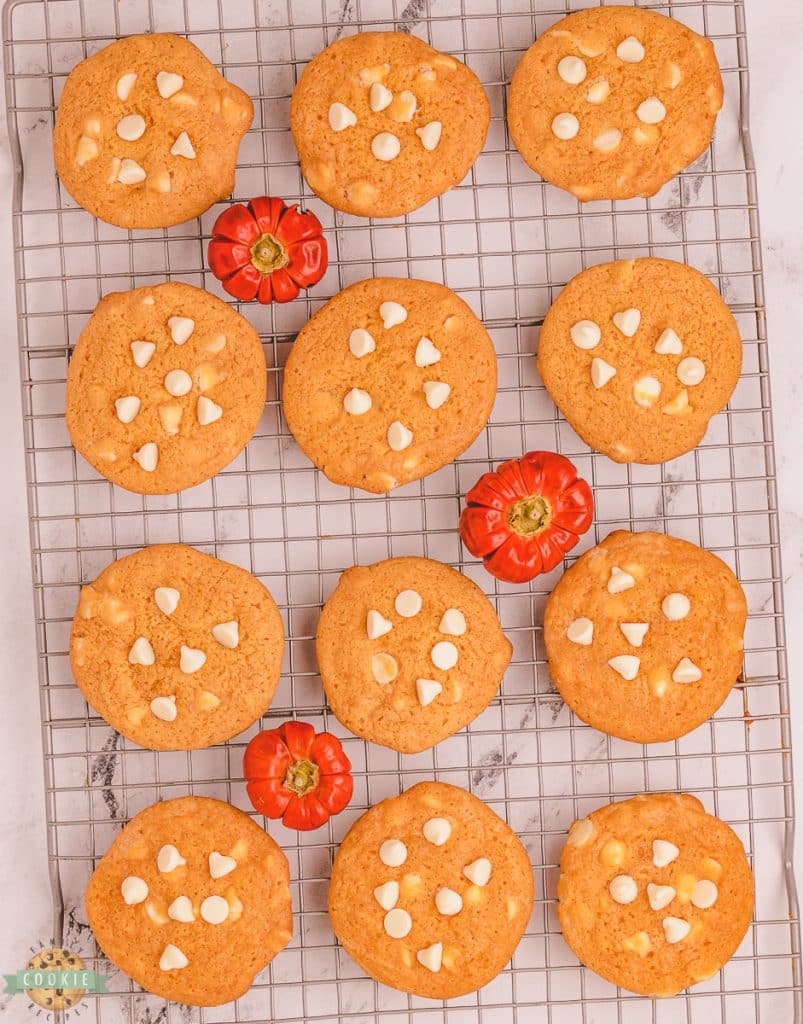 Bake
Proceed to drop the cookie dough by rounded tablespoons onto the prepared baking sheet.
Place the cookies in the preheated oven and bake for 10 minutes. Let cool for about 5 minutes on the baking sheet, then transfer to a cooling rack to cool completely.
Serve fresh and warm, enjoy!

CAN YOU FREEZE PUMPKIN PUDDING COOKIES?
Yes you can. After the cookies have cooled completely, transfer them into an airtight container and freeze for up to 3 months. When you are ready to enjoy them, put them on the counter at room temperature for an hour or so and enjoy.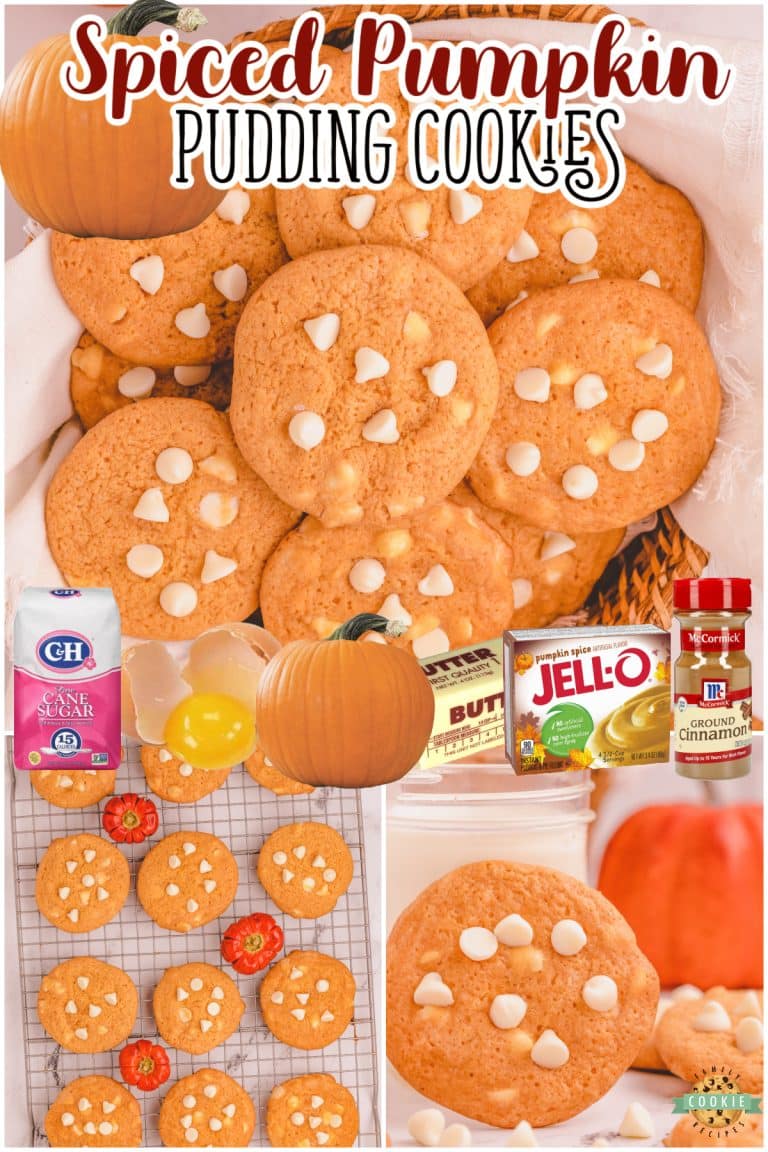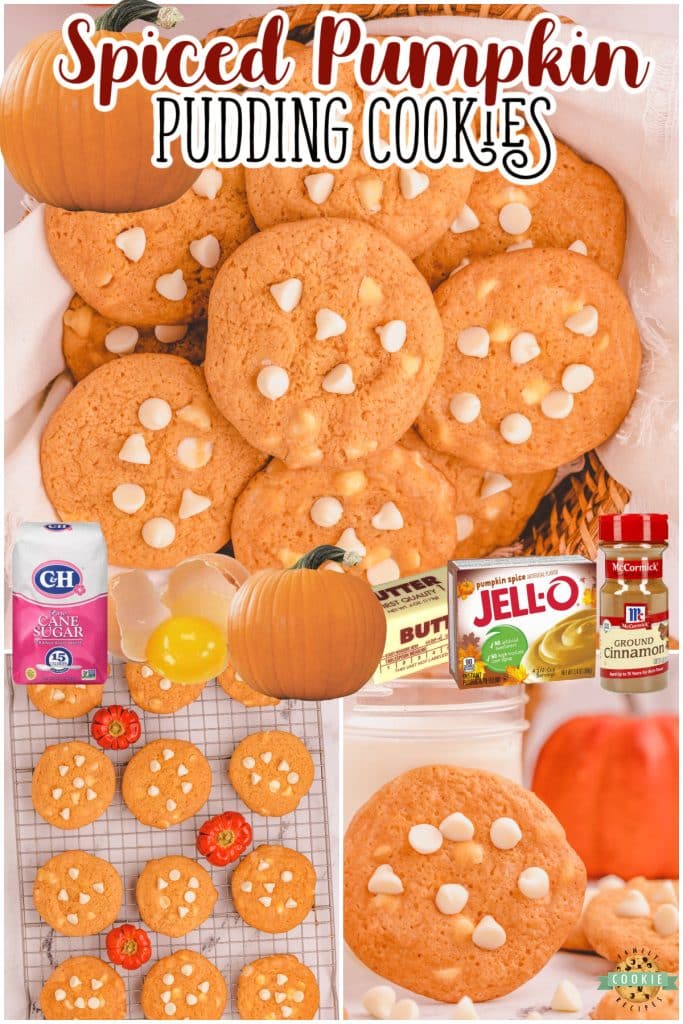 HOW LONG ARE PUMPKIN COOKIES GOOD FOR?
These delicious cookies will be good for 5-7 days, stored in an airtight container at room temperature. You have plenty of days to enjoy these amazing treats, if they last that long that is.
How to soften butter?
When you want softened or room temperature butter (65 degrees F) and don't have any on hand, follow these simple tips for warming it up quickly without overheating and melting the butter. Softened butter is needed to incorporate with the dough for a seamless smooth consistency so getting your butter to the proper temp is important.
Here are some ways to warm up your cold stick of butter:
Let it sit on the counter for 1 hour prior to making your cookie recipe.
Slice the butter into tablespoon sized pieces and place into a warmed glass for 10-15 minutes. A glass right out of the dishwasher or a measuring glass warmed with water in the microwave (before disposing of the water) are both great options.
Warm a small clean kitchen towel and wrap your sticks of butter (in the wrappers) for a few minutes.
I like to use a warmed tall drinking glass and place the wrapped sticks of butter in the cup before turning it over on the counter for several minutes.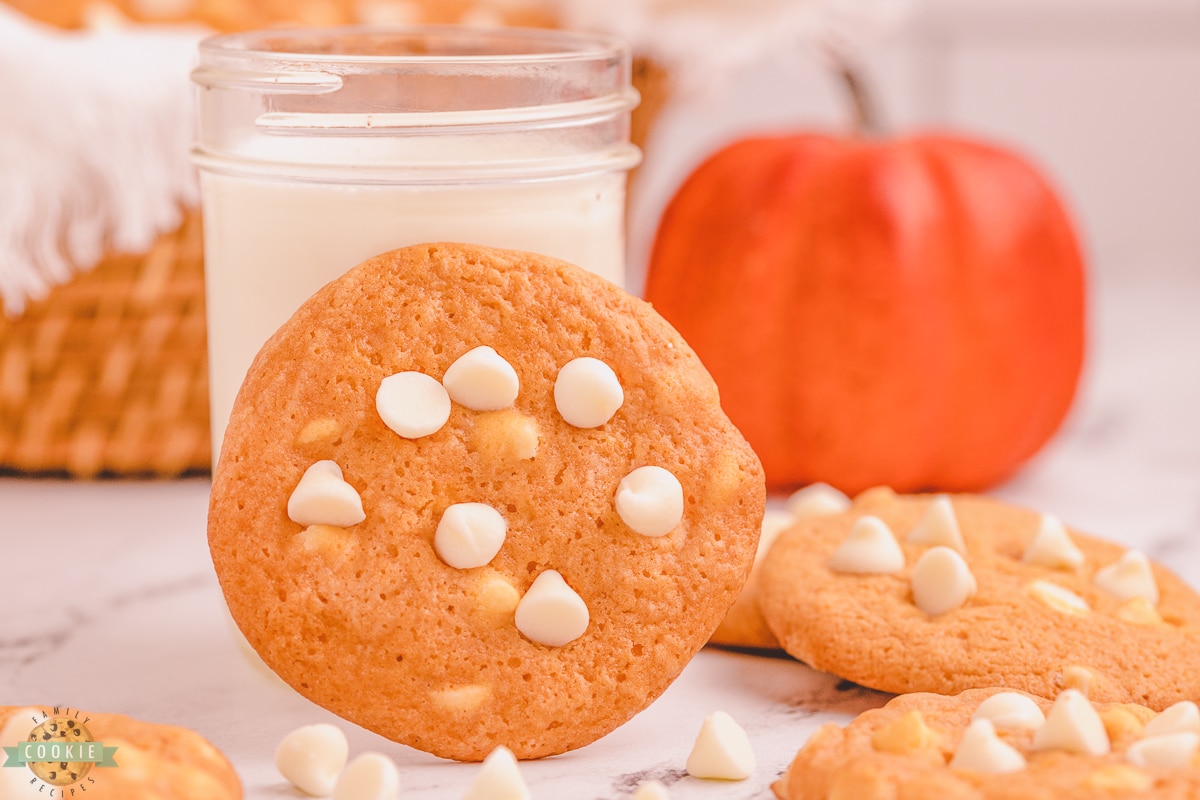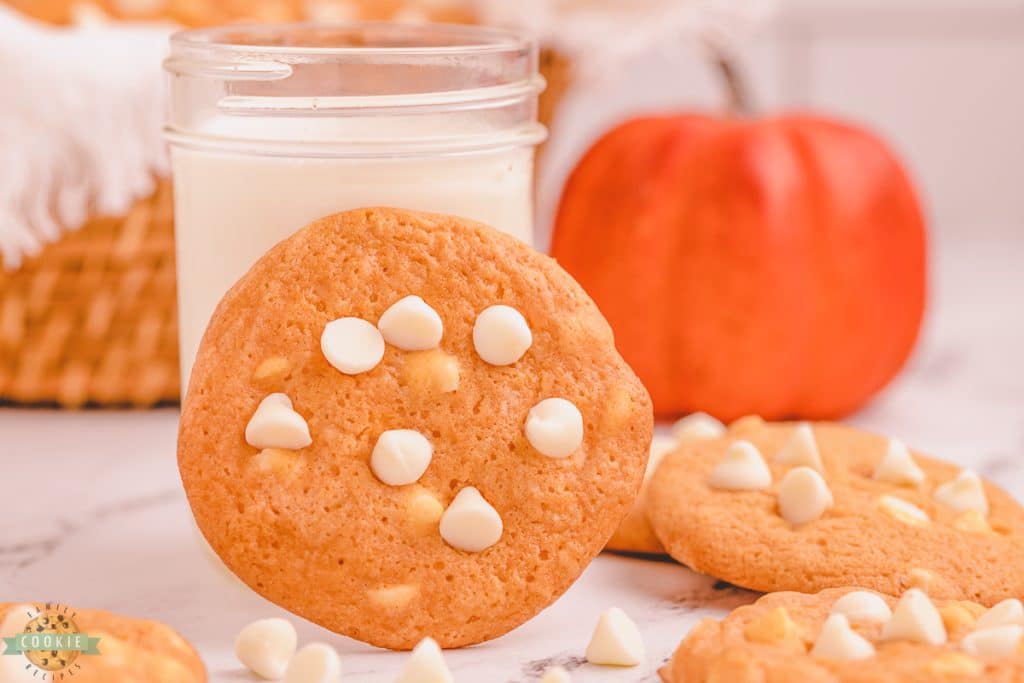 Try a few of our other favorite Fall cookie recipes:
Pumpkin Pudding Cookies are soft sweet treat, loaded with incredible spiced pumpkin flavor! These pumpkin white chocolate chip cookies are easy to make, the addition of the dry pudding mix gives these cookies the best taste and texture.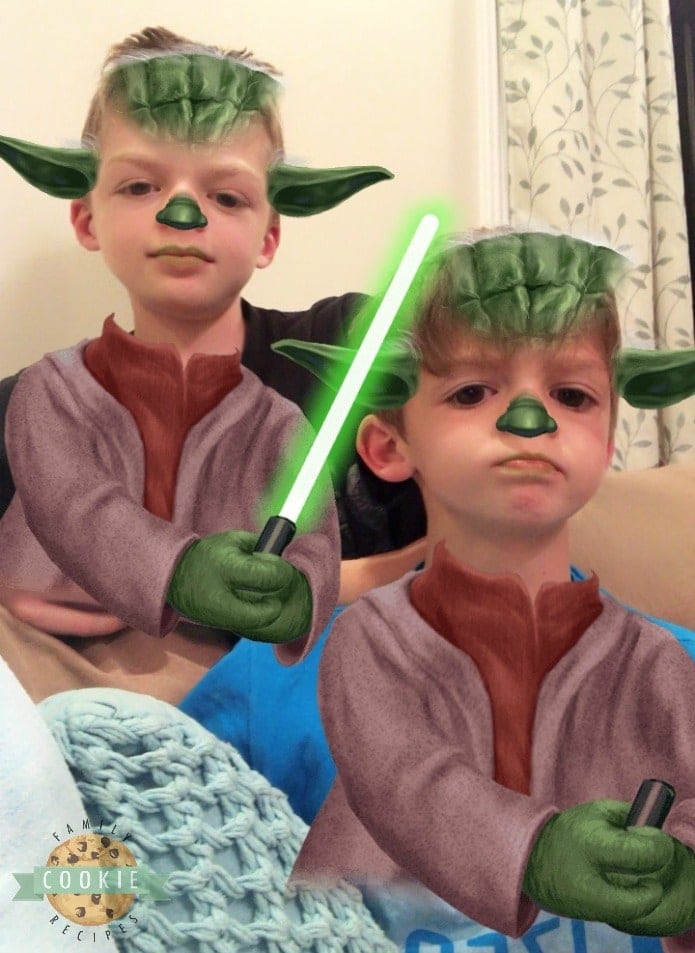 Does this picture really need an explanation? Probably not. We were having fun, enough said!