Pistachio Pudding Cookies are made by adding pistachio pudding mix to a buttery, homemade cookie dough and then adding white chocolate chips and plenty of chopped pistachios! Soft, sweet pistachio flavored pudding cookies with amazing flavor and texture.

Chewy Pistachio Pudding Cookies are a wonderful cookie recipe for anyone who loves pistachios! I adore the flavor of pistachios as well as the mild crunch they add to these cookies. I love the pale green color they bake to as well.
A Festive Green Cookie
I love making my Mint Chocolate Pudding Cookies, but these Chewy Pistachio Pudding Cookies are a great alternative for when you need a festive, green cookie. They're perfect for the holidays as well as St. Patrick's Day!
Why This Cookie Recipe Works
Simple ingredients. This recipe uses very simple and easy to find ingredients. You may even find that most of the ingredients for these cookies are already in your home and pantry.
Easy to follow steps. None of the steps in this recipe are too complicated or difficult so even novice cookie bakers should have a pretty easy time whipping the dough together. Just grab a mixing bowl and electric mixer and you're good to go!
No chilling is required. Within minutes you can have a warm cookie in your mouth. No chilling means no added wait times so the faster you start measuring your ingredients, the faster you can get a green treat.
Pistachio Pudding Cookies Ingredients
Sugar: You will need 1 cup of granulated white sugar to make thesse cookies nice and sweet.
Butter: Adding in 1/2 cup (one stick) of softened butter will make the cookies taste richer.
Egg: Use 1 egg to help bind the dough together well.
Sour cream: By adding in 1/2 cup of sour cream to the cookie dough you will make them much richer and lighter in taste.
Milk: Use 1/4 cup of milk to help moisten the dough to the right consistency.
Pudding mix: You will need one small 3.4 ounce sized box of pistachio flavored instant pudding mix to give these cookeis that great flavor and green color.
Salt: Add in 1/2 teaspoon of salt to help enahcne the flavors in the cookies and really make them shine.
Baking soda: You will need 1/2 teaspoon of baking soda to make the cookies pff up nicely as they bake.
Flour: Use 2 cups all-purpose flour for the base of these cookies.
White chocolate chips: Adding in 2 cups of white chocoalte chips will add a nice creamy richness in every bite to pair nicely with the pistachios.
Pistachios: For added crunch and flavor add in 1/2 cup of chopped shelled pistachios.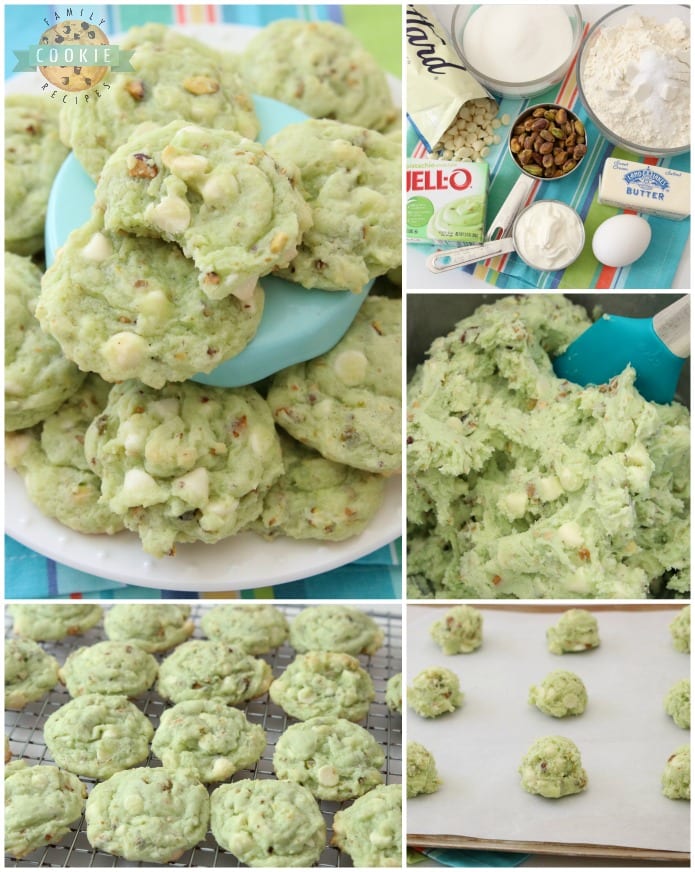 How to Make Pistachio Pudding Cookies
Mix wets
Cream together sugar and butter. Add egg, sour cream, milk and pudding mix.
Mix drys
In a separate bowl, combine flour, salt & baking soda.
Mix together
Incorporate flour mixture into the pudding mixture and mix until well combined.
Add in white chocolate chips and chopped pistachios. Mix until combined.
Bake
Drop by rounded tablespoonfuls onto greased cookie sheet.
Bake at 375 for 10 minutes.
Let cool on the cookie sheet for 5 minutes, then transfer to a cooling rack and enjoy!
Tips to get the PERFECT Pistachio Pudding Cookies:
Three kitchen items make these cookies come together really fast. I actually use these items in nearly every cookie recipe I make, so they're quite versatile. First, I line my cookie sheets with a piece of parchment paper. They're sold in sizes that fit a 12×16 cookie sheet perfectly and enable to cookies to bake well without sticking- and no mess from spraying oil on the cookie sheets!
The second item is a KitchenAid mixer. I love mine! I have a Bosch as well but I find I use my KitchenAid for cookies. There is a cookie paddle that comes with every mixer that you attach to the top of the mixer. They're easy to use and help you mix the ingredients uniformly. I also use the metal whisk attachment in this recipe to make the frosting. It whips it up super fast! Add this to your wish list because it's one of my all-time used small appliances ever!
The third item is a cookie scoop! Years and years ago I used to use 2 spoons to measure and scrape cookie dough onto the pans. It wasn't a perfect process and I often ended up with oblong cookies in various sizes. A friend of mine brought cookies to a party and I noticed each and every one of her cookies looked PERFECT. Her secret? A cookie scoop! They come in three sizes- 1/2 tablespoon, 1.5 tablespoon and 3 tablespoon scoops. I used the middle size- 1.5 tablespoon for these, and most other cookies. (Although when I'm serving a large crowd, I use the small cookie scoop. People love having a smaller cookie, especially at an event with several other desserts.)
How long are pistachio pudding cookies good for?
These cookies can be stored in an airtight container at room temperature for up to a week. I recommend storing them only after they have set and cooled completly so that they don't get stuck to one another in the container. For best tasting results eat within 2 or 3 days.
Can you Freeze Cookies?
I love freezing cookies! There are 2 ways I prefer to freeze them. The first is by freezing the unbaked cookie dough balls. I scoop & shape the balls round with my hands, then freeze them in 1 layer on a cookie sheet. You can position them as close together as possible without touching. Freeze, then once solid, transfer them to a ziplock freezer bag. Then you can pull them out and bake them whenever you want! You'll want to either let them thaw on a cookie sheet while preheating the oven, or add a couple minutes to the bake time to compensate for frozen cookie dough.
The second way is to just freeze the baked cookies. My mother in law does this ALL the time. They turn out pretty well, albeit a tiny bit drier and more crumbly once thawed. Oh and you've got to make sure you thaw them. Frozen cookies are pretty hard to eat. Thankfully, they only take about 20 minutes or so to thaw out.
How to Get a Perfectly Round Cookie Shape
Want to know a neat little trick? After your cookies have been baked, while they are still hot and cooling on the pan, take a medium-sized round cookie cutter or a round glass/drinking mug and place it over the top of the cookie. The round shape should be slightly bigger than the cookie for this trick to work.
Swirl the round cutter/object around the cookie, knocking it into the sides a bit as you go. The more you swirl, the smaller and thicker the cookie will become. Then let the cookies cool. This is how you can get homemade cookies to look perfectly rounded. This trick won't work with cutout cookies, but it works fine with drop cookies and rolled cookies.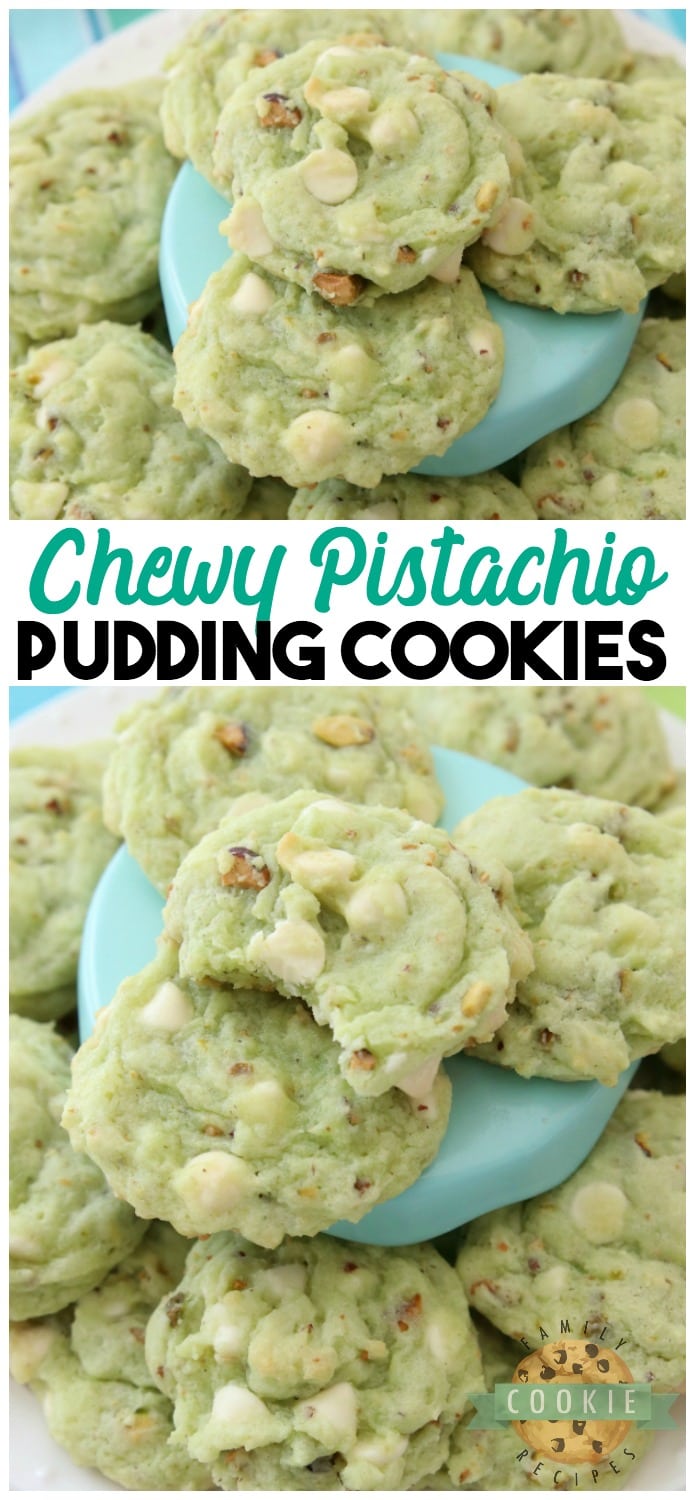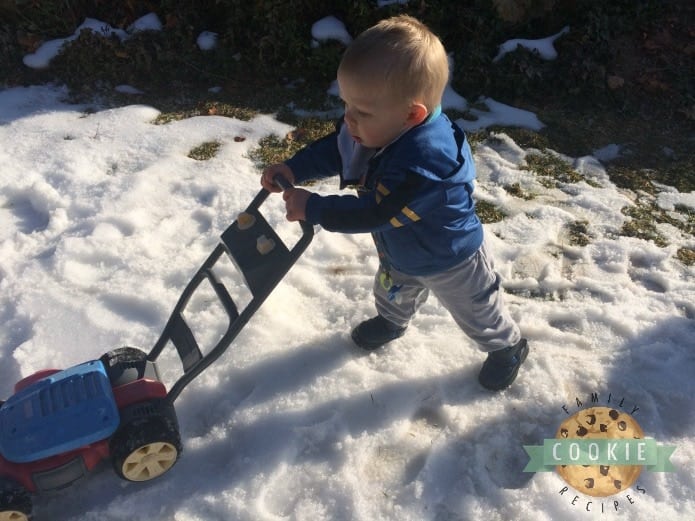 It often snows where we live well into the Spring months, so when it happens, you have to improvise with outdoor play. A is perfectly happy mowing more snow that grass. Too bad it doesn't really work that way though, dang it!
If you enjoyed these Pistachio Pudding Cookies, try some of our other pudding cookie recipes: