Funfetti Cookies are made with vanilla pudding, white chocolate chips and sprinkles. Delicious funfetti cookie recipe that tastes just like birthday cake!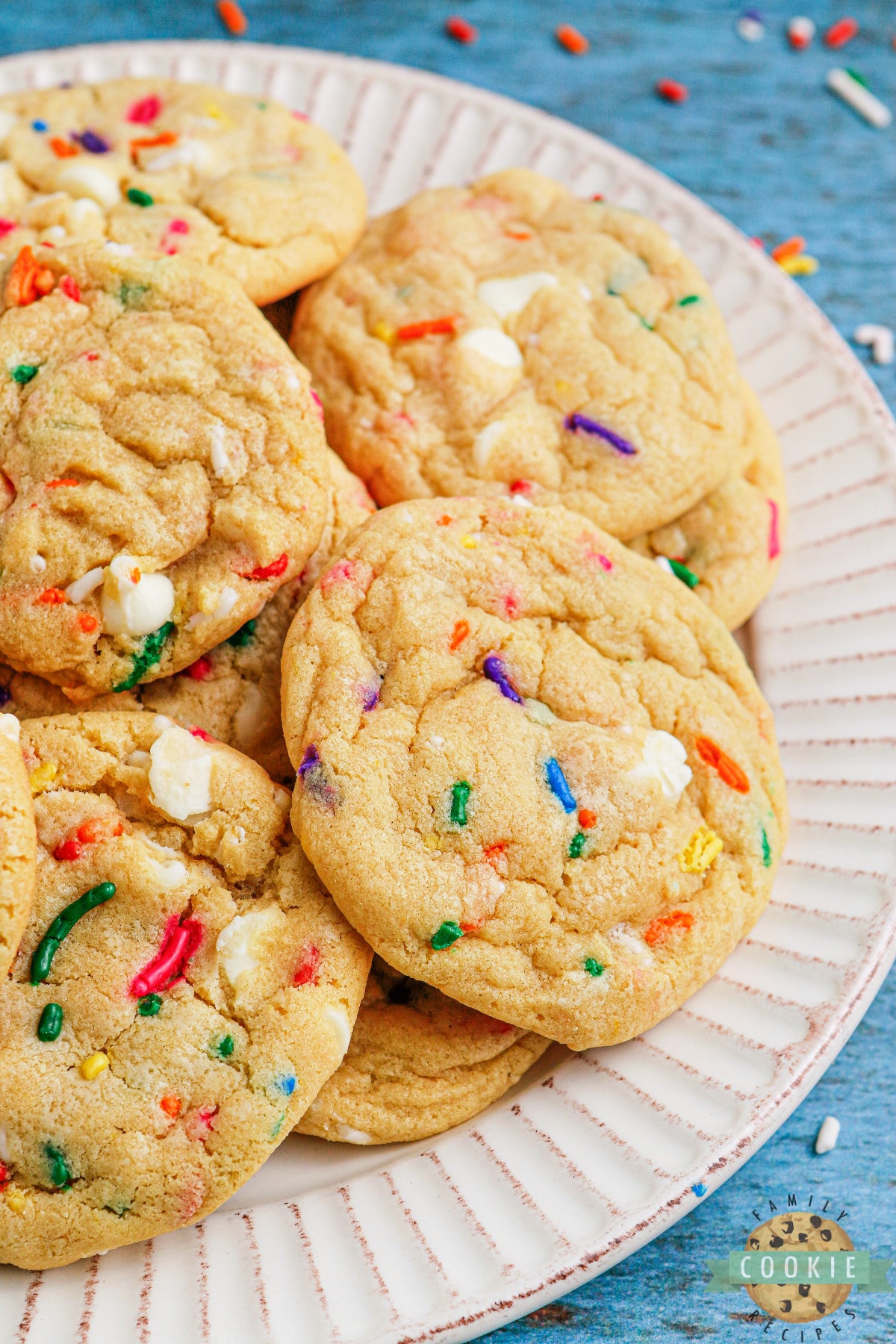 Everyone loves Funfetti cake because of the sprinkles. This recipe is the cookie form of the popular cake we all love. The pudding mix in the cookies makes them so soft and chewy and the flavor is spot on. You can use the traditional rainbow sprinkles, or use any type of sprinkles to coordinate with the holiday or any other special occasion.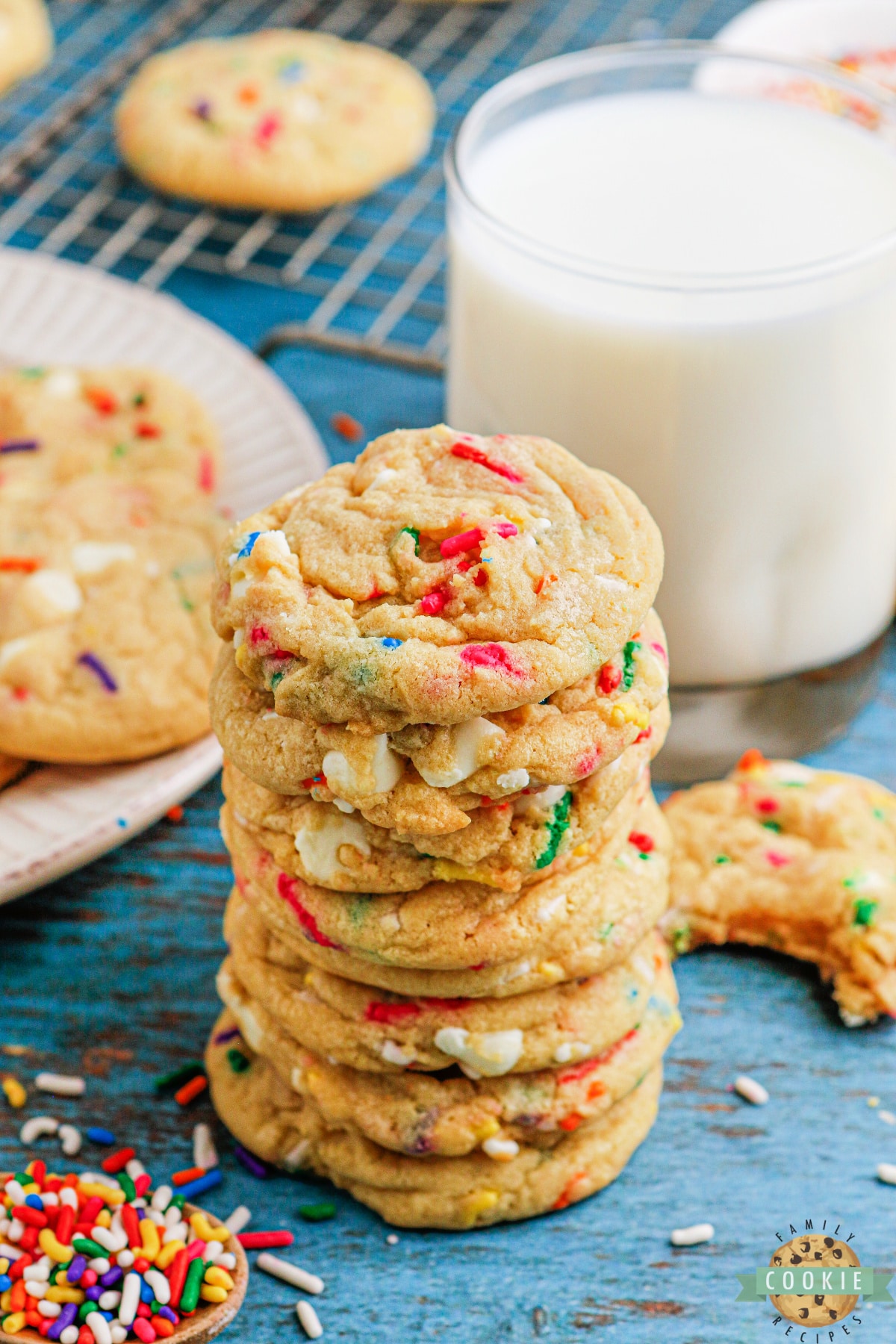 FUNFETTI COOKIES
Funfetti Cookies are made with classic ingredients like butter, sugars, eggs, etc. Adding vanilla pudding mix improves the texture, but also adds a more intense vanilla flavor to the cookies. Adding white chocolate chips and rainbow sprinkles makes these cookies perfect for birthday parties and holidays!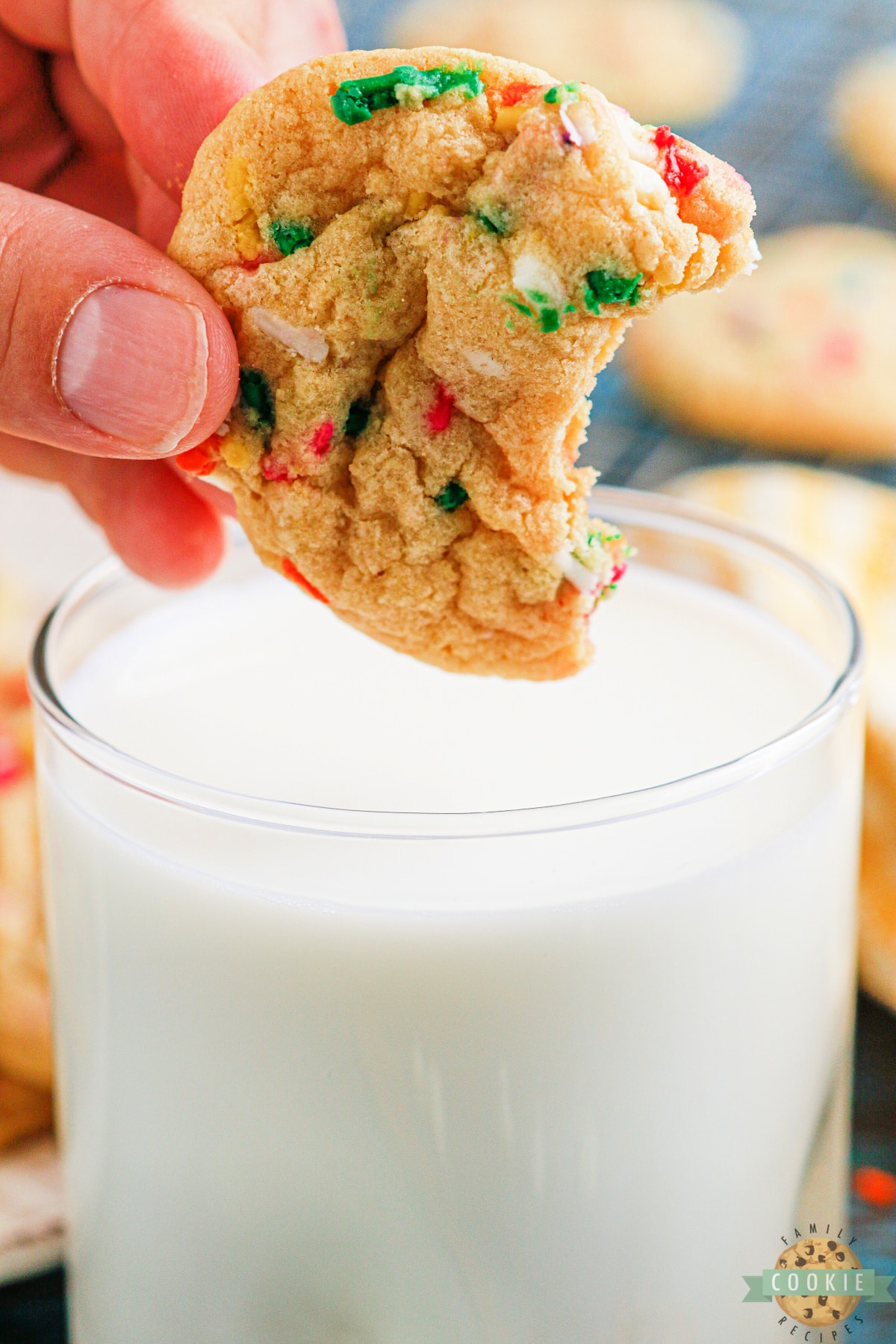 HOW DO YOU MAKE PERFECT FUNFETTI COOKIES?
Make sure that the butter is softened, NOT melted.
Make sure that you have enough flour in the dough. If the dough is too sticky, you may need to add a little bit of flour.
Take more time to mix the butter and sugars. Creaming them together for 2-3 minutes will improve the consistency of your cookies.
Preheat the oven. This will help your cookies turn out right every time!
Use a cookie scoop! If you want all your cookies to be perfectly shaped and have them all be the same size, a cookie scoop is the way to go.
Use parchment paper or a silicone baking mat. Doing this will make it really easy to remove the cookies from your cookie sheet so that you don't have to scrape them off the pan – they will just slide right off in perfect shape!
Don't over bake the cookies – when I take mine out of the oven, they still look slightly under baked but they will continue to bake on the cookie sheet for a couple more minutes so that's ok!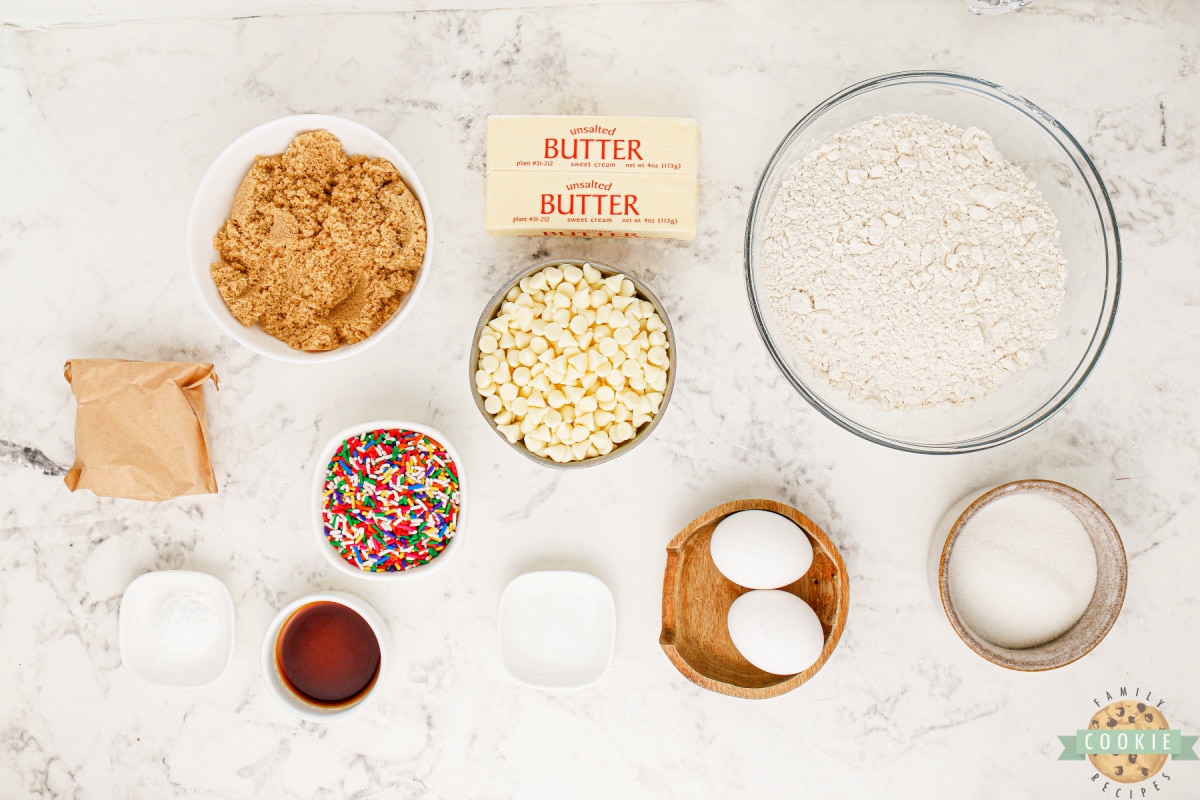 INGREDIENTS IN FUNFETTI COOKIES
Flour: The structural base of this cookie dough is 2 ½ cups of flour.
Vanilla pudding mix: One small (3.4 ounce) box of instant vanilla pudding mix makes these cookies so soft and adds a ton of flavor also! Just add the dry pudding mix to the other dry ingredients.
Baking soda: This is the leavening agent in the cookies, so for best results make sure it isn't expired!
Salt: Just a little bit of salt will help all of the other flavors to pop!
Butter: You will need to make sure the butter is softened to room temperature before adding to the cookies. For best results, use real butter!
Sugars: You will need both brown and granulated sugar in this recipe. For best results, make sure your brown sugar is soft and fresh.
Vanilla extract: Using 1 tsp of vanilla extract will help enhance all the wonderful flavors in this cookie dough.
Egg + egg yolk: You will need 1 whole egg and another additional egg yolk.
Sprinkles: The sprinkles are the star ingredient in funfetti cookies, so don't leave them out! You can use any color of variety of sprinkles that you want!
White chocolate chips: I love the additional flavor and texture that comes from the white chocolate chips, but you can easily leave them out if desired.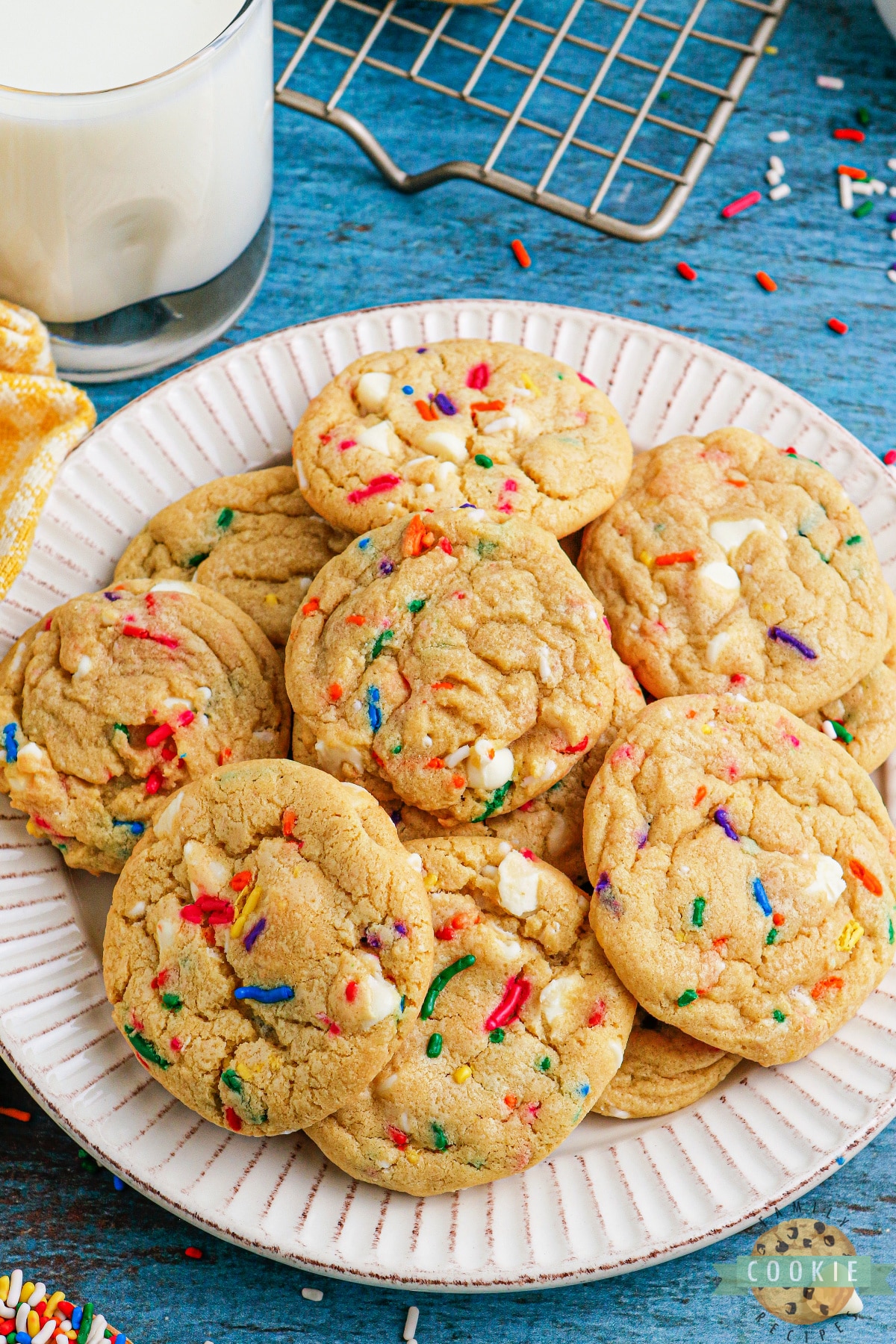 HOW TO MAKE FUNFETTI COOKIES
Preheat oven to 350° and grease a large baking sheet or line with parchment paper.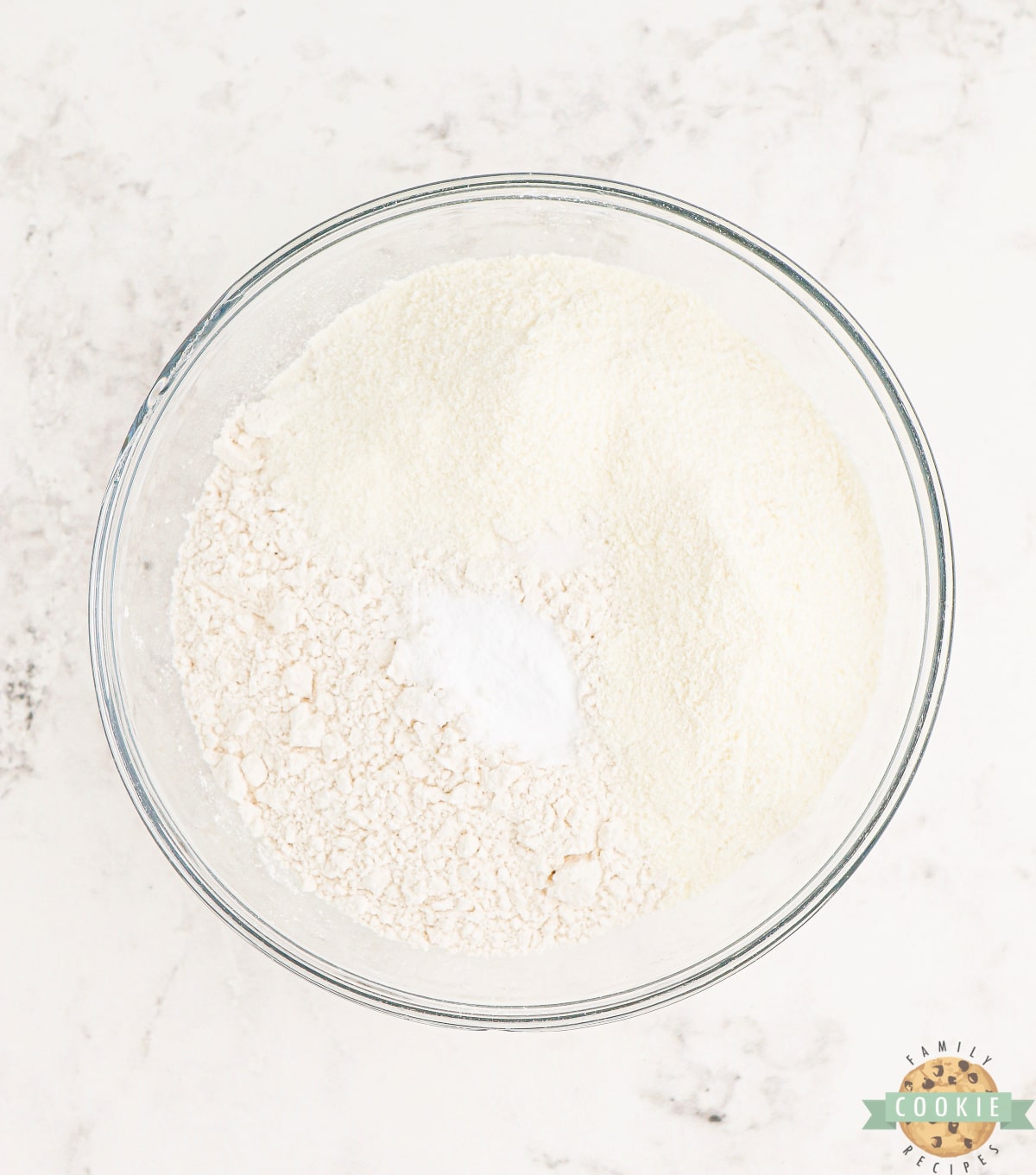 MIX DRY INGREDIENTS
Mix together the flour, dry vanilla pudding mix, baking soda and salt in a medium sized bowl and set aside.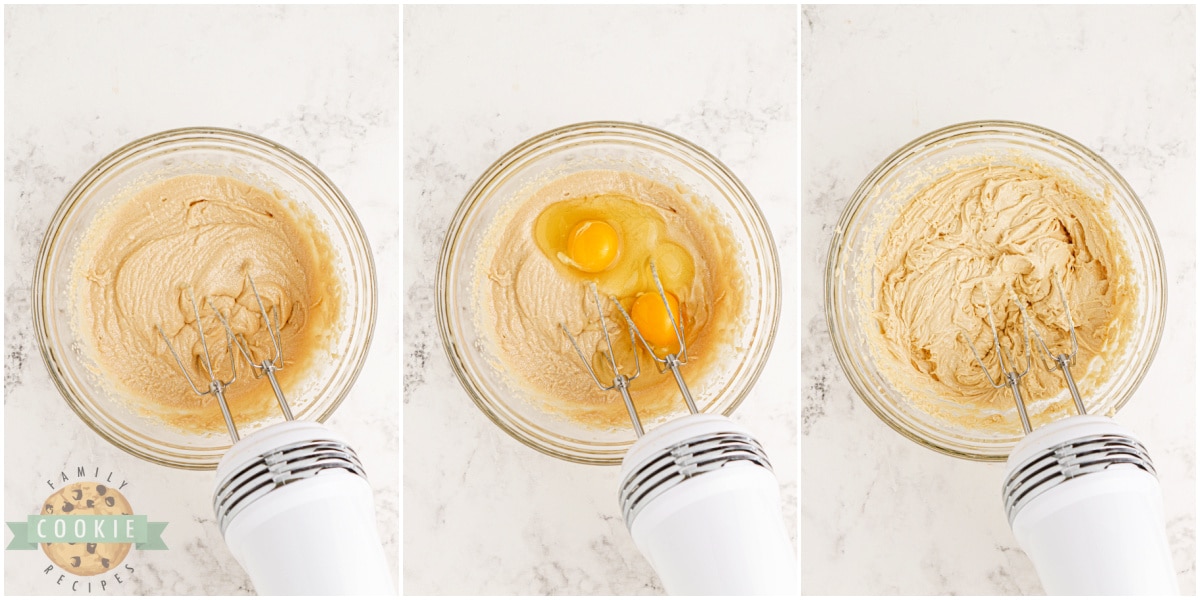 WET INGREDIENTS
Beat together the softened butter, brown sugar, granulated sugar and vanilla for 2-3 minutes.
Add the eggs into the butter mixture and beat for another 2-3 minutes until light and fluffy.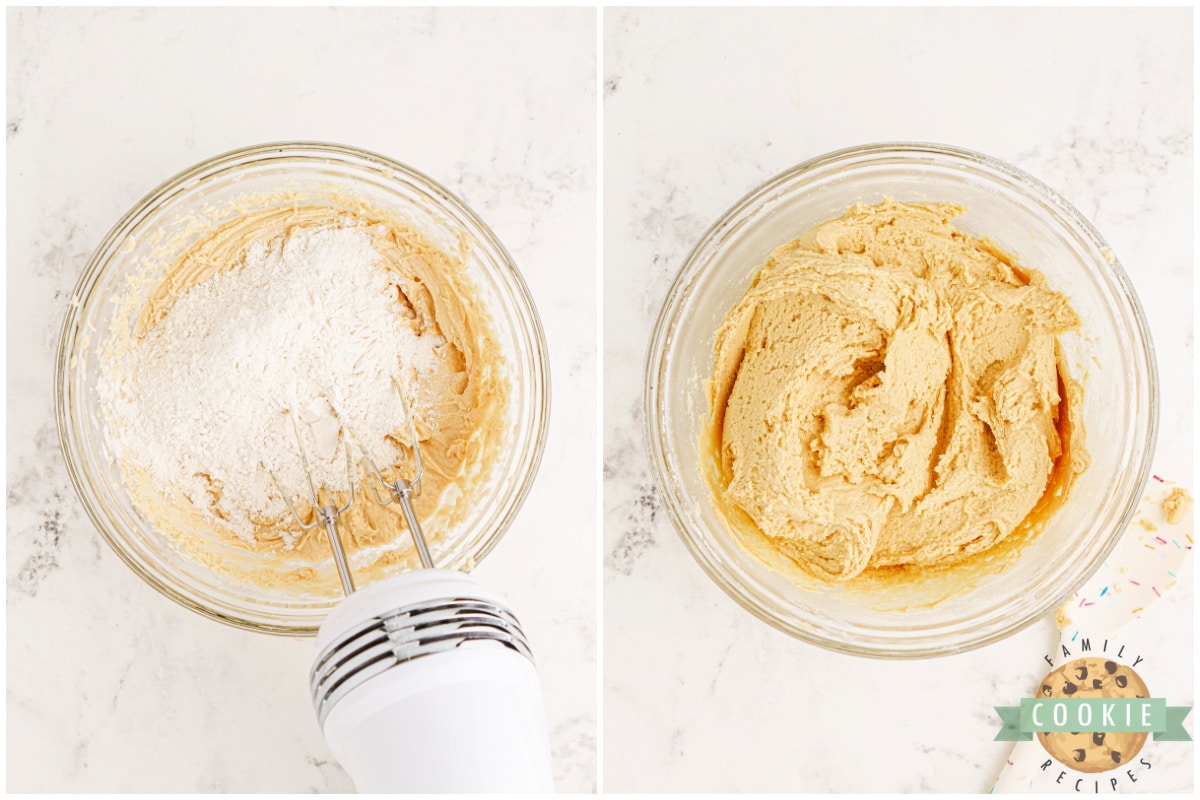 COMBINE BOTH MIXTURES
Stir the flour mixture slowly into the butter mixture and mix just until combined.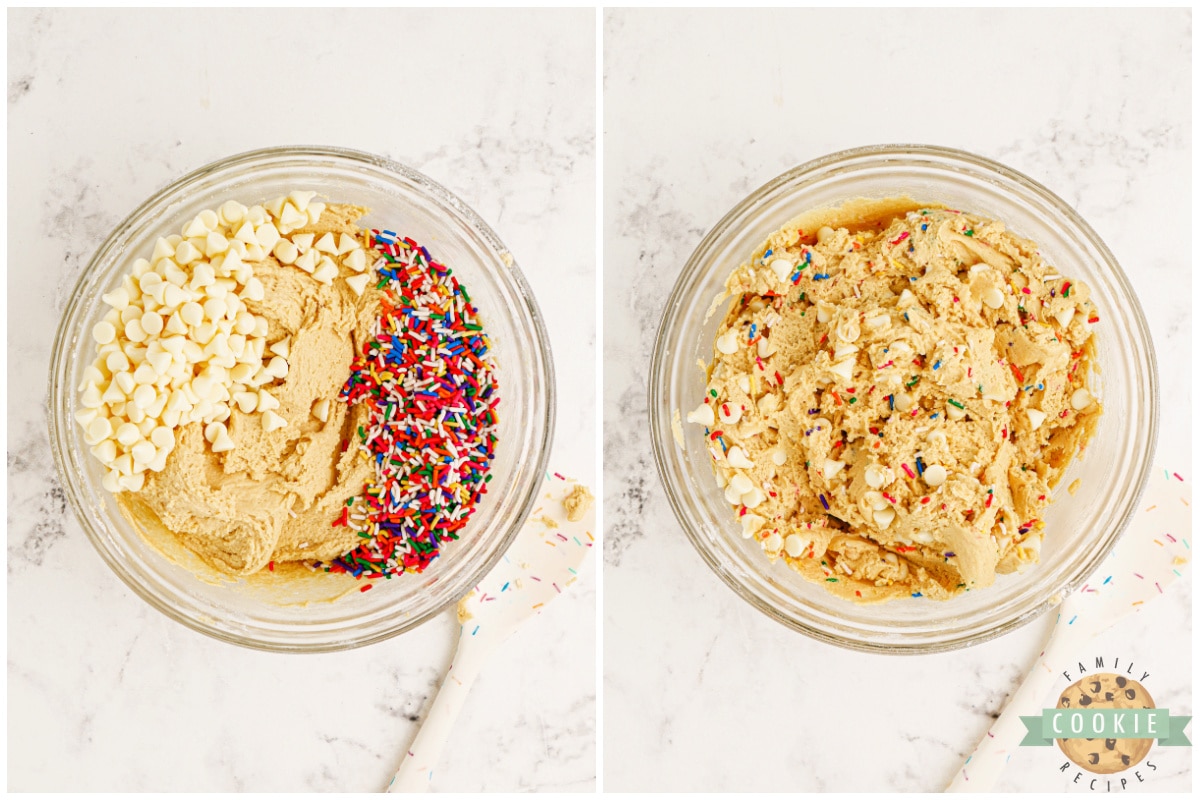 ADD THE SPRINKLES
Fold the sprinkles and white chocolate chips into the mixture.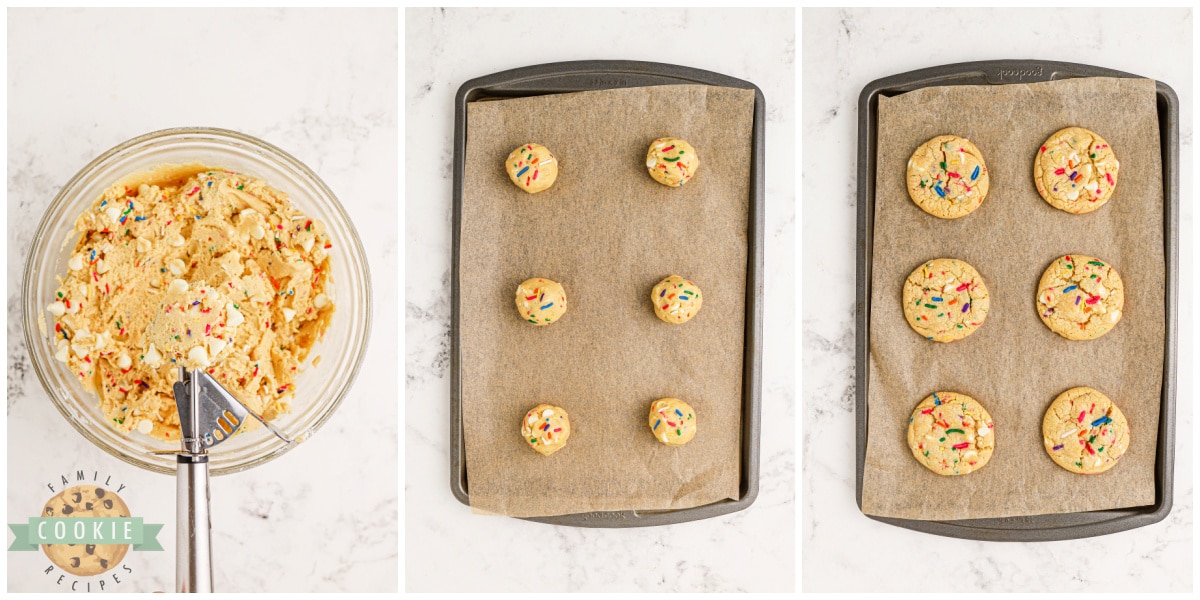 BAKE THE COOKIES
Use a cookie scoop to drop rounded tablespoons of the batter onto the prepared baking sheet.
Bake in the oven for 10-12 minutes or until the cookies are a light golden brown. Don't overbake!
Let the cookies cool for about 5 minutes on the baking sheets before transferring cookies to a wire rack to cool.
Serve immediately or store in an airtight container until ready to serve.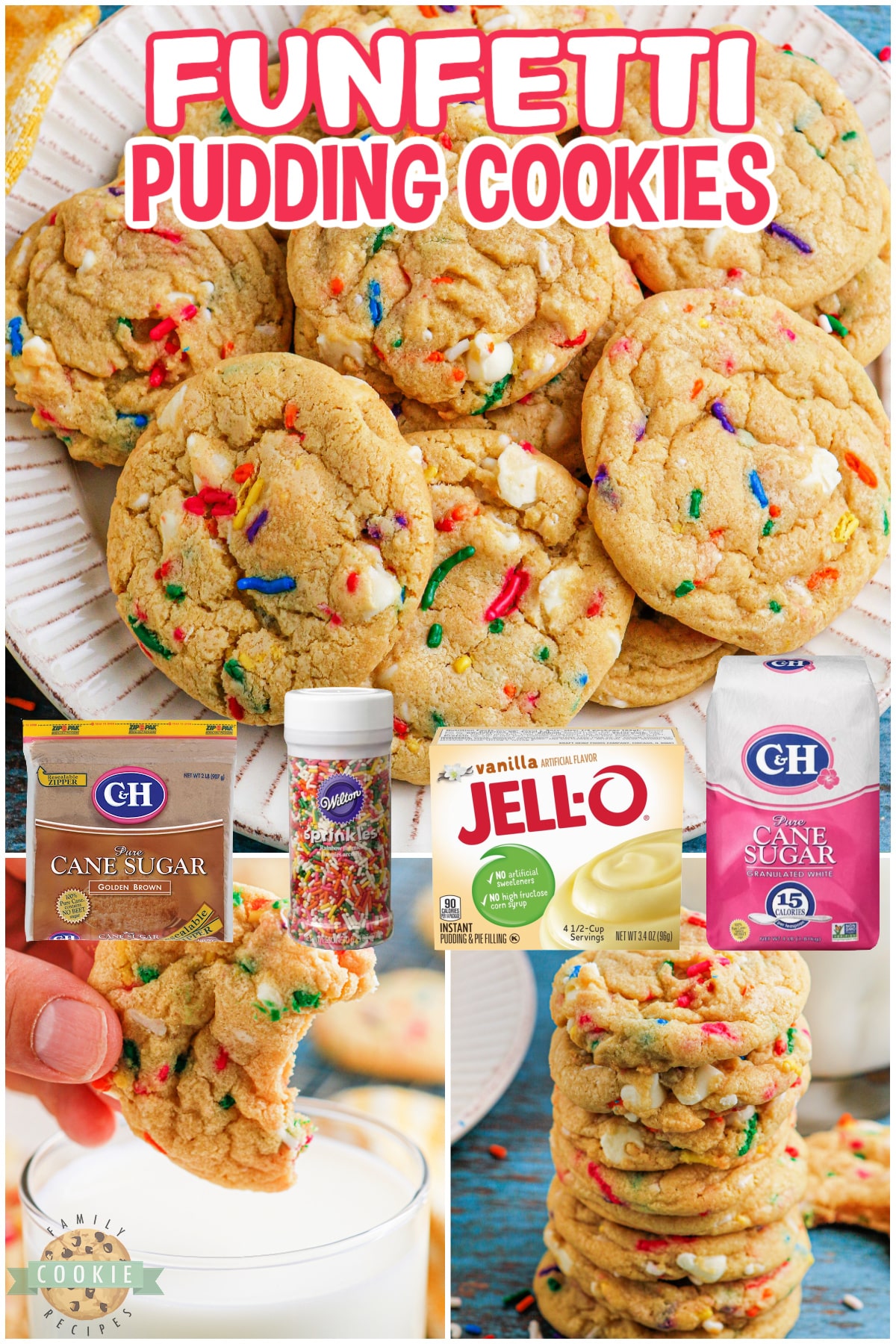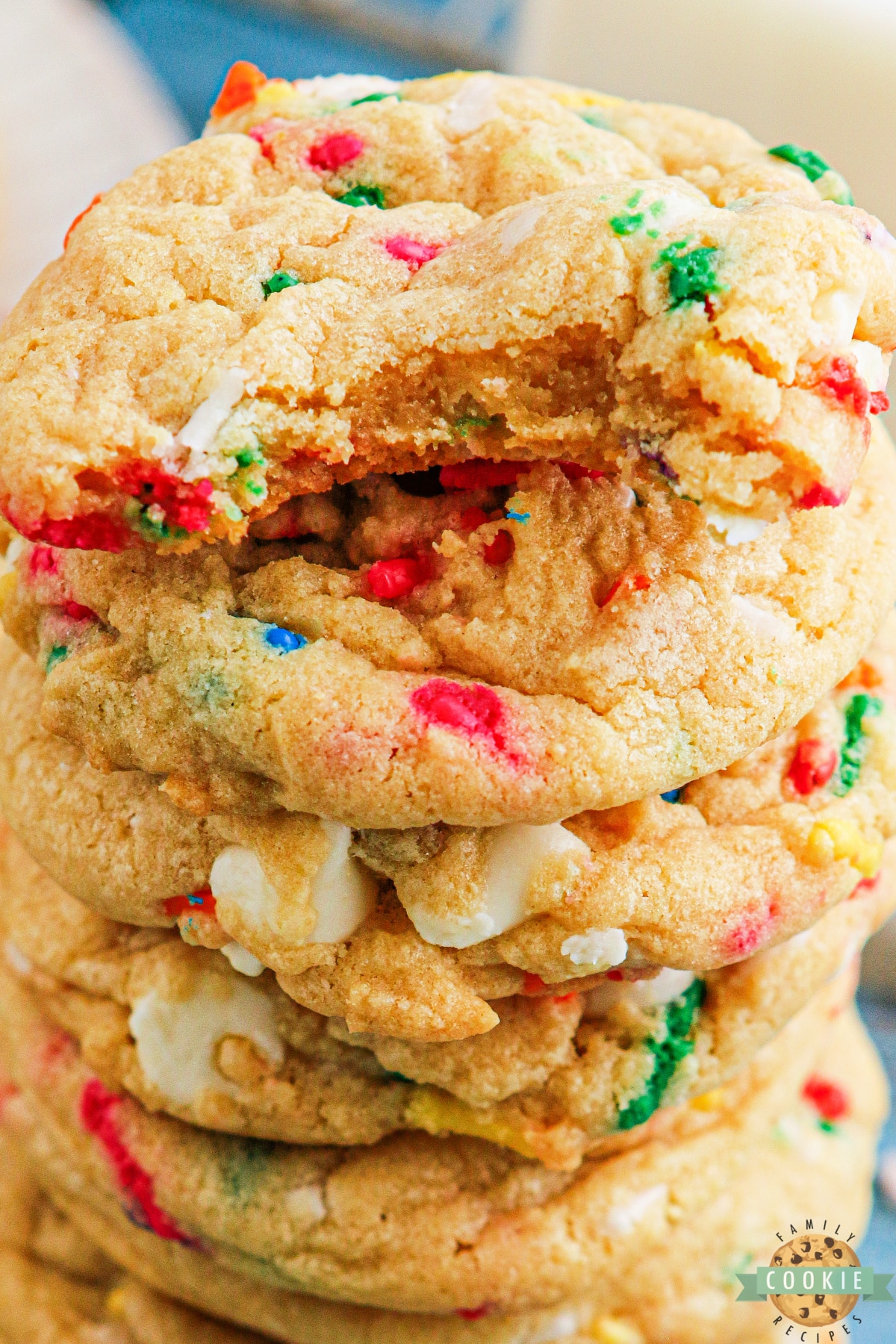 COOKIE TROUBLESHOOTING TIPS
Over the years, I have had many cookie failures along with all of my successes and I have learned a few things along the way! You may have a favorite chocolate chip cookie recipe that you love, but they don't always turn out perfectly. Why?! Here are some helpful tips for some common cookie problems!
WHY ARE MY COOKIES FLAT?
If your cookies are flat and spread out too much while baking, you may need to add a little bit more flour. Start by just adding a few tablespoons of flour to the batter and see if that is enough to help the shape of your cookies. If you are using a recipe with butter, make sure you aren't melting the butter. There are a few cookie recipes that actually call for melted butter, but most of them just require the butter to be softened to room temperature. Which leads to the next question…
HOW DO YOU SOFTEN BUTTER TO ROOM TEMPERATURE?
The best way to soften butter is to set it out for a few hours before you make your cookies. Since most of us (or maybe just me!) aren't that prepared or don't think that far in advance, there are a few tricks to softening butter perfectly in just a matter of minutes.
My favorite way to soften butter is in the microwave. It's definitely fast, but you do have to be very careful not to melt it. Just put the whole stick of butter in the microwave (as long as it isn't wrapped in foil!) and microwave for about 6-7 seconds. If the butter is still really cold, try another 5-7 seconds and check it again. You may need a few intervals, and if the butter is starting to feel soft, you can shorten the final interval to just a few seconds to make sure it doesn't start melting. I actually prefer to use the defrost setting on my microwave – I don't know exactly what that mode does differently, and it takes a little bit longer (closer to 30 seconds), but it seems to be easier to get the butter to soften without melting.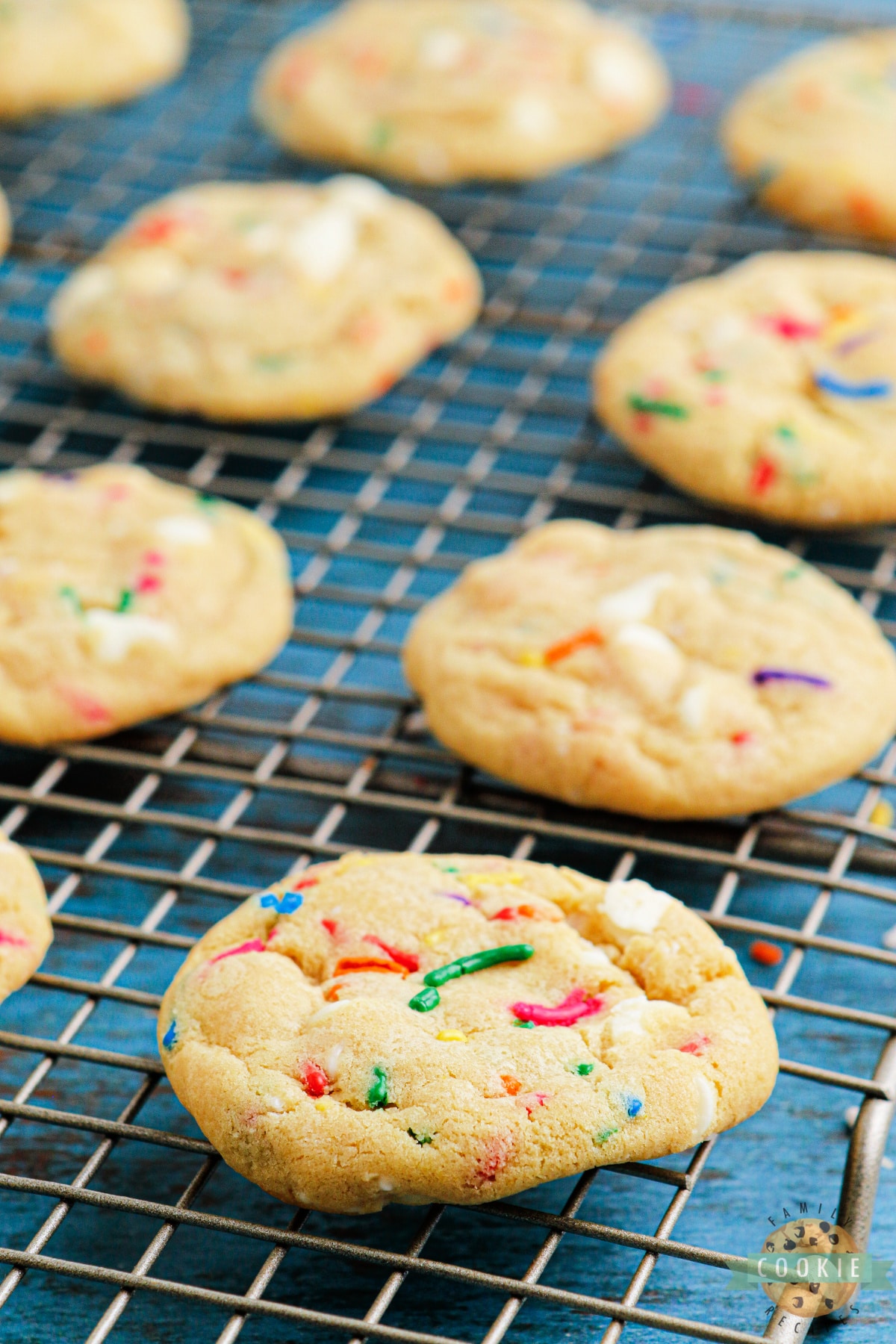 WHY ARE MY COOKIES CRISPY AND HARD?
If your cookies are hard, crunchy or crispy, you probably baked them too long. Cookies will continue to bake for a couple of minutes on the hot cookie sheet even after you remove them from the oven, so you don't want to wait until they are golden brown before taking them out!
Most of my cookies are baked until barely done. I don't even wait for the tops to start turning golden brown, but look at the edges on the bottom of the cookies. If the edges look like they are turning a little bit golden brown, they're done! You don't want the centers of the cookies to look doughy, but they shouldn't be even slightly brown on top either.
WHY DO MY COOKIES BURN ON THE BOTTOM BUT AREN'T DONE IN THE MIDDLE?
If your cookies are always burning on the bottom, it is probably a cookie sheet issue! If you are using really dark cookie sheets, the bottoms of your baked goods will tend to burn before they are actually cooked all the way through. If you use a lot of cooking spray, the same result can happen. I prefer to use lighter colored non-stick pans so that I don't have to use cooking spray at all. As mentioned above, I have been converted to silicone baking mats over the last couple of years and I love how easy it is for cookies to come off the tray – no sticking ever!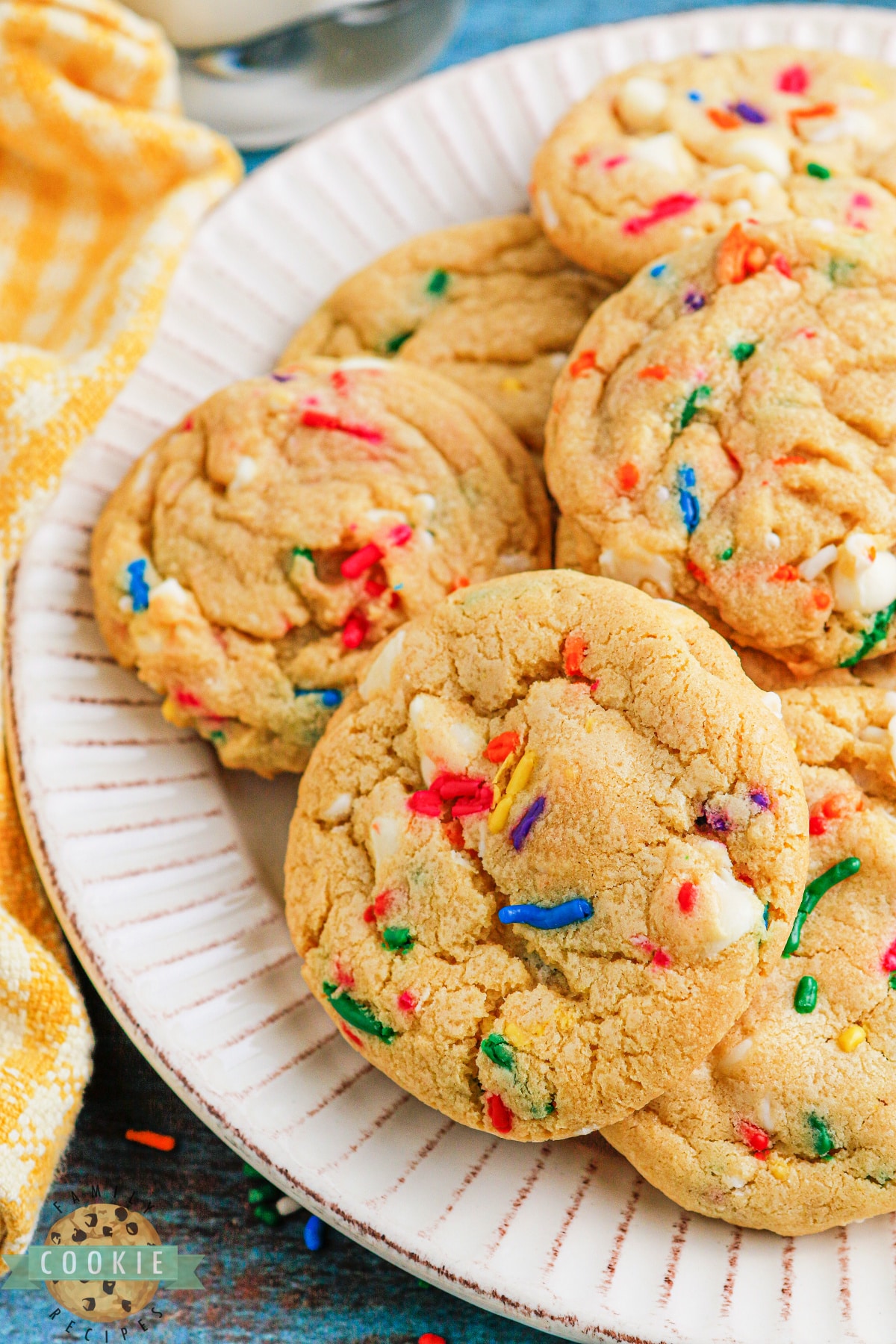 More of our favorite cookie recipes: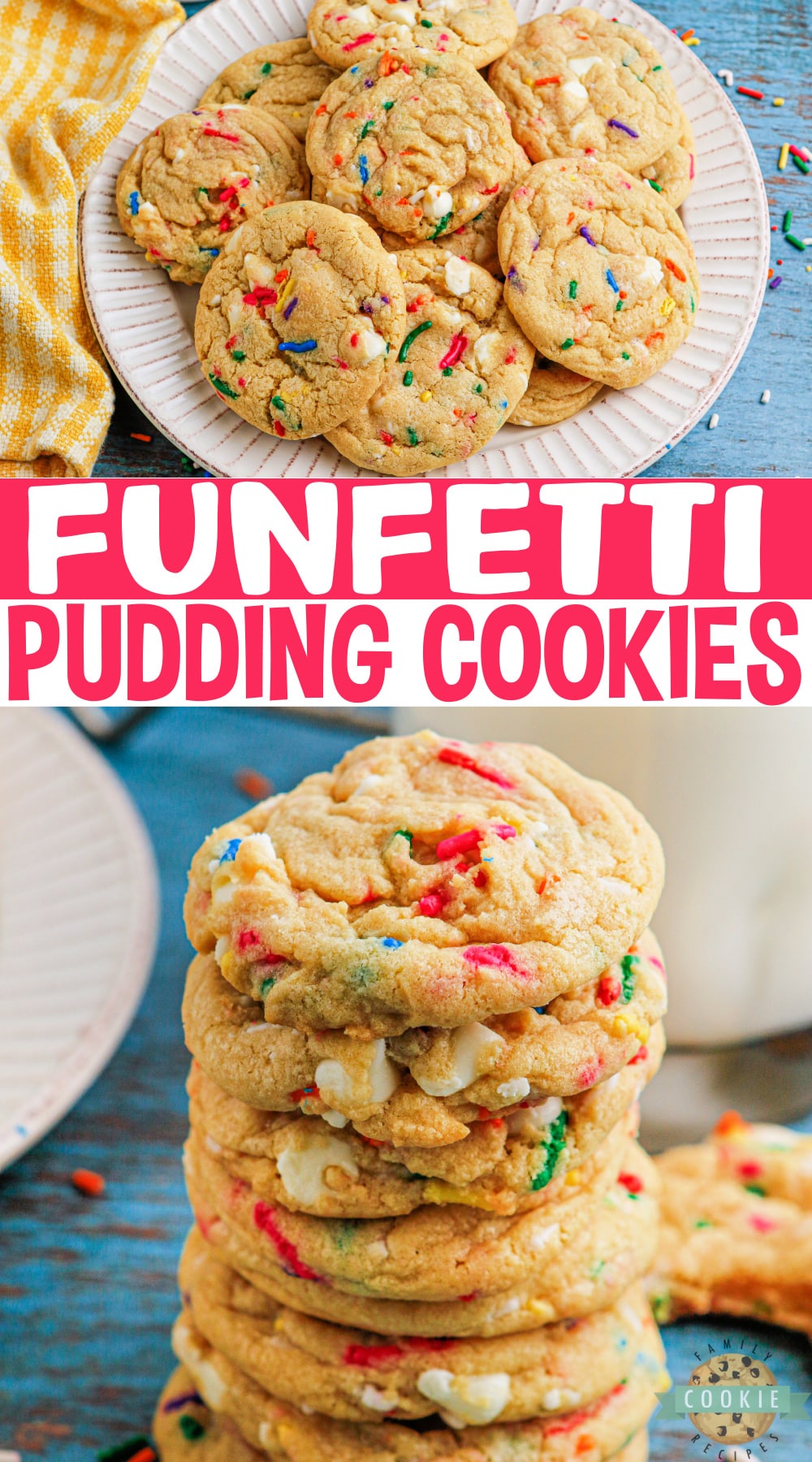 Funfetti Cookies are made with vanilla pudding, white chocolate chips and sprinkles. Delicious funfetti cookie recipe that tastes just like birthday cake!