Super Soft Sugar Cookies are the best sugar cookies you've ever had! Made with classic ingredients, this sugar cookie recipe will become your new favorite!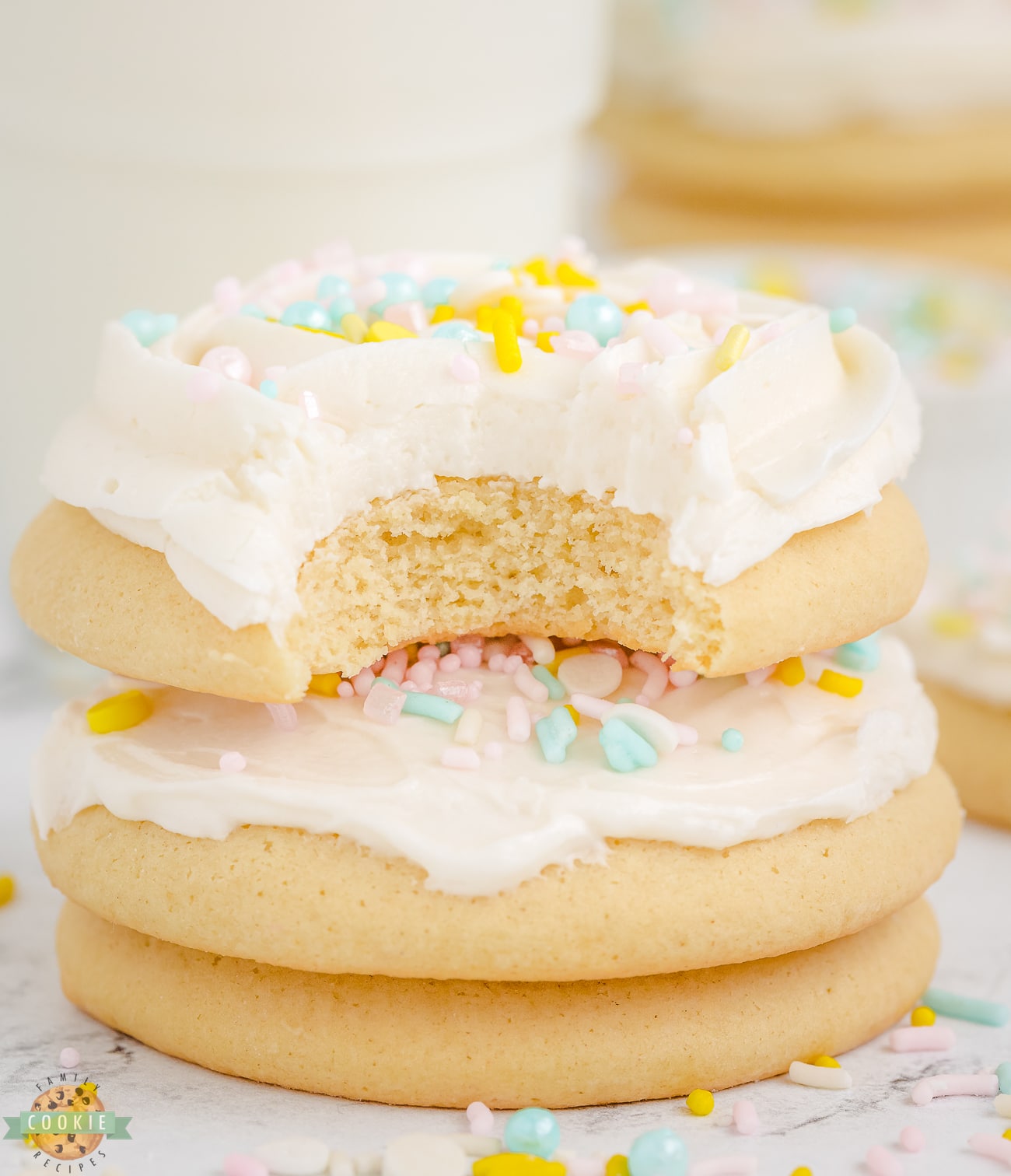 Don't forget to check out our updated collection of SOFT AND SWEET SUGAR COOKIES here!
This is the only soft sugar cookie recipe you'll ever need, the simple ingredients speak for themselves. We've also included an amazing buttercream icing recipe that is heavenly, give these cookies a try today!
Softest Sugar Cookies EVER!
I've tried many, many sugar cookie recipes and this one is my favorite by far. It's a classic sugar cookie recipe but the ratio of dry ingredients to wet ingredients is perfect and results in the most soft sugar cookies, that taste absolutely wonderful. If you like Lofthouse Sugar Cookies, these are so much better. Not too thick and no mouth full of flour. The buttercream frosting recipe we included is delicious too!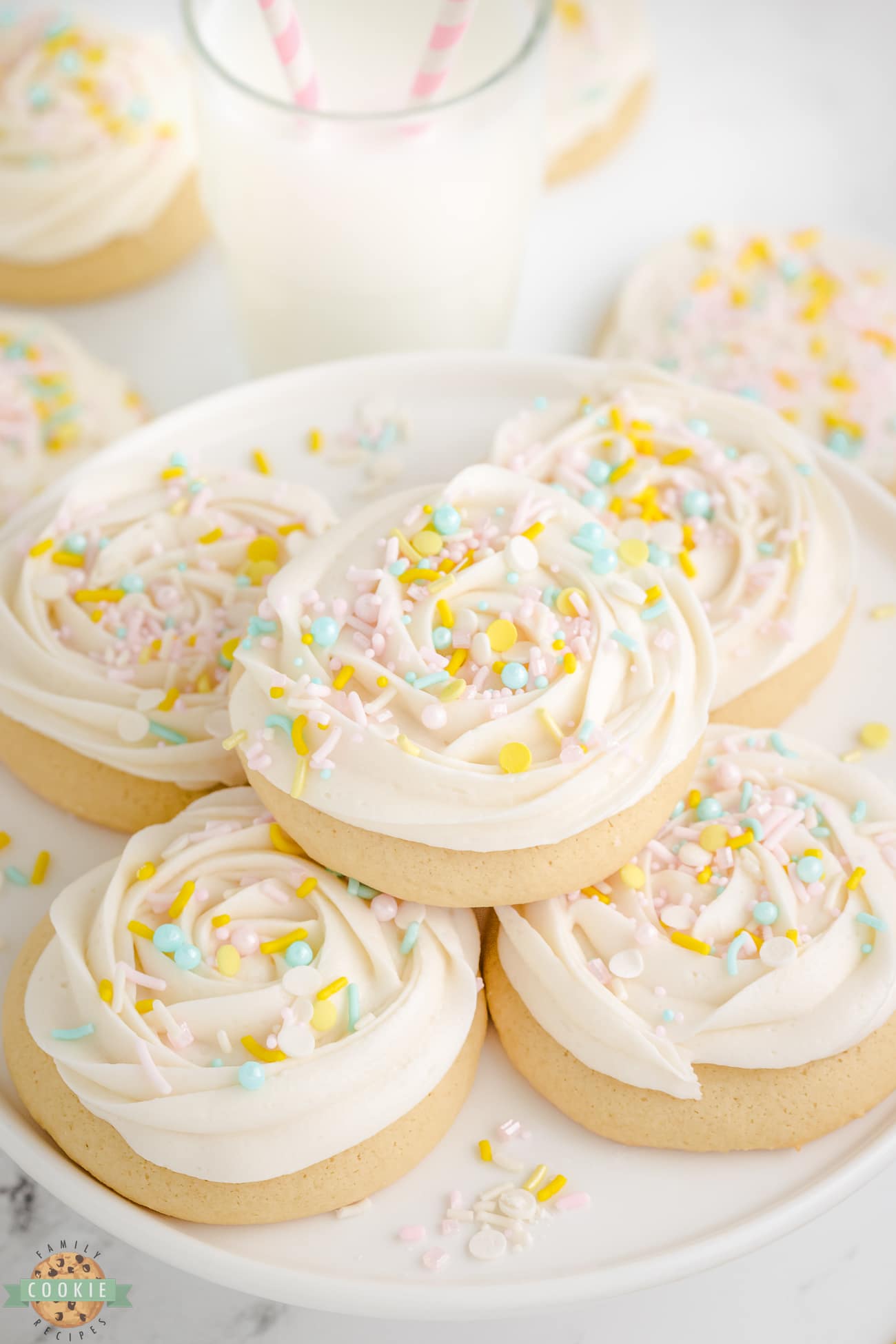 How do you make perfect sugar cookies every time?
Sugar cookie dough is sticky, but once it's sufficiently chilled, it's much more workable. Resist the urge to add more flour to the dough before chilling. If you add too much flour, the ratio of wet to dry ingredients is off and the cookies end up drier and more crumbly.
Do not melt the butter. The butter needs to be softened (at room temperature), but using melted butter will ruin the cookies.
Spend a little extra time when you mix the butter and sugars. Creaming them together for 2-3 minutes will improve the consistency of your cookies.
Preheat the oven. This will help your cookies turn out right every time!
Use a cookie scoop! If you want all your cookies to be perfectly shaped and have them all be the same size, a cookie scoop is the way to go.
Use parchment paper or a silicone baking mat. Doing this will make it really easy to remove the cookies from your cookie sheet so that you don't have to scrape them off the pan – they will just slide right off in perfect shape!
Make sure not to overbake your cookies.  They may not even look totally done on the tops, but if the bottoms start to brown, I take mine out and they are perfect!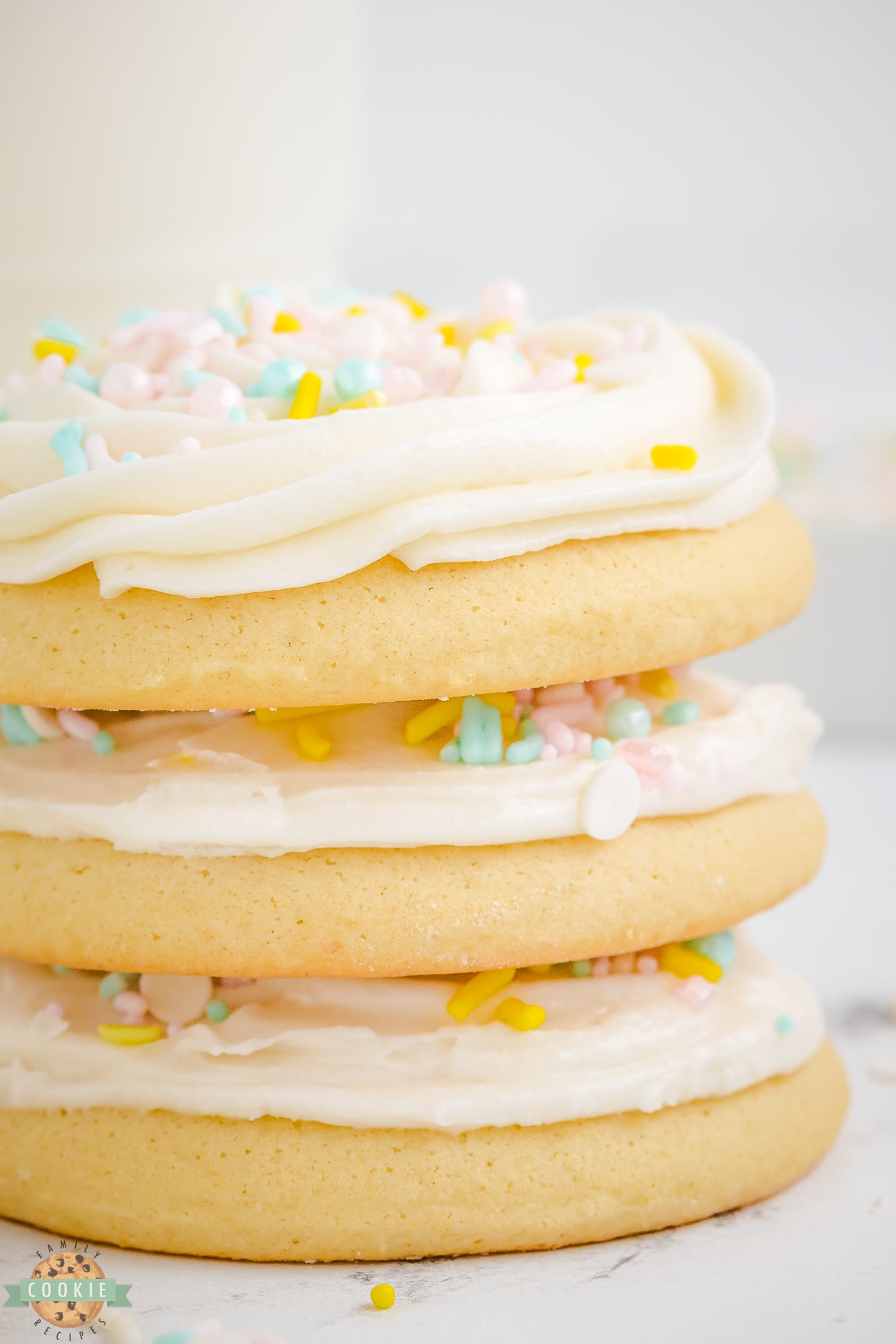 Super Soft Sugar Cookie Ingredients
Sugar: For perfectly chewy and sweet cookies, you will need 1 cup of sugar.
Butter: Use ½ cup of butter, softened, for nice rich tasting cookies.
Egg: Adding 1 egg to this cookie dough will help create the most incredible texture.
Vanilla extract: You need 1 teaspoon of vanilla extract to enhance all the great flavors in this cookie dough.
Sour cream: Adding in ⅓ cup of sour cream will create the most soft and tender cookies you've ever tasted.
Salt: To balance the sweetness of these cookies, use ½ teaspoon of salt.
Baking soda: For the leavening agent in this recipe, use ½ teaspoon of baking soda.
Flour: Use 2 cups of flour for the base of this cookie dough recipe.
Buttercream frosting
Butter: To create a lovely, rich frosting, use ½ cup of butter, softened.
Powder sugar: Adding in 4 cups of powdered sugar will make the frosting perfectly sweet.
Milk: You need ¼ cup of milk to make the frosting nice and creamy.
Vanilla extract: Give the frosting delicious flavor by adding in 2 teaspoons of vanilla extract.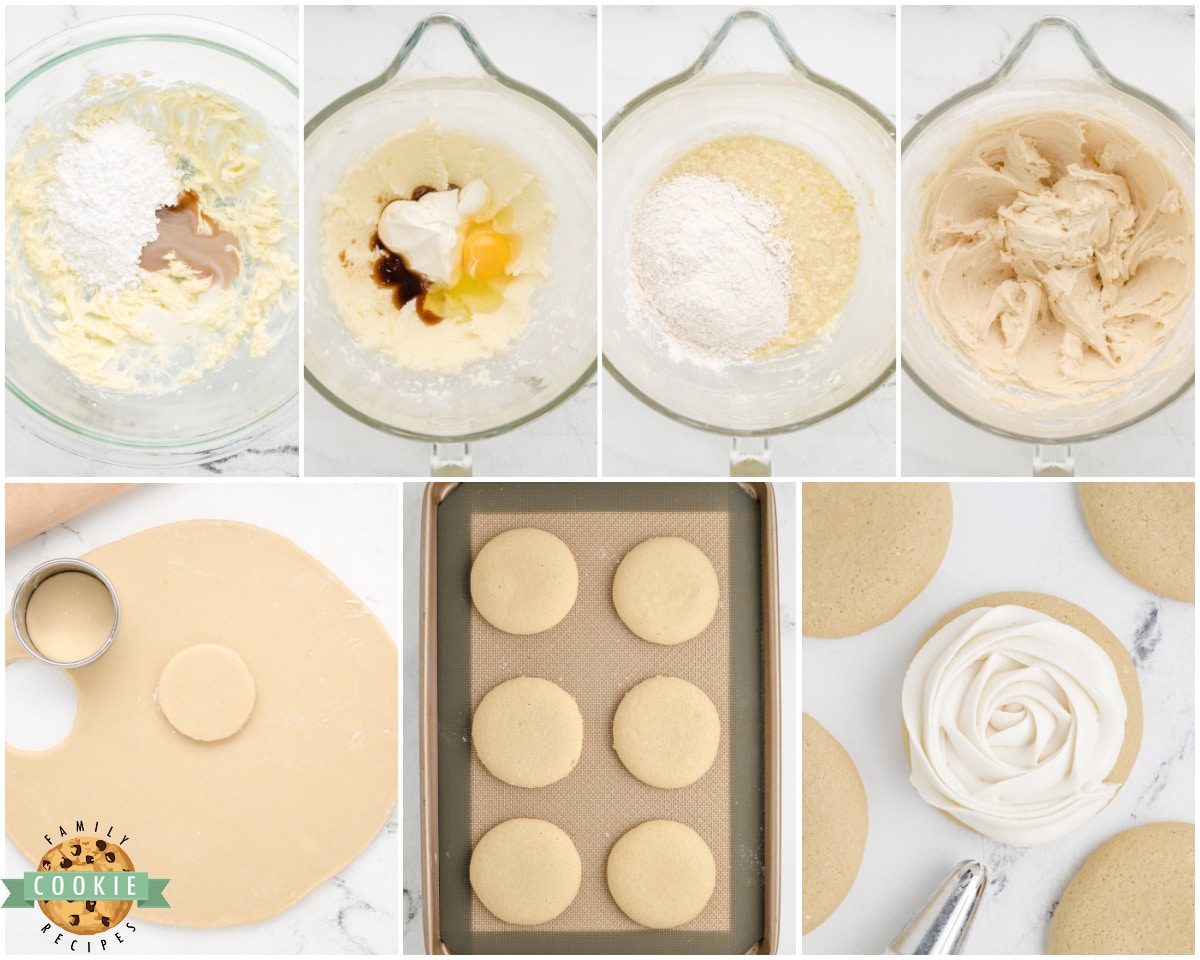 How to make the softest Sugar Cookies
Dough
In a large bowl, begin by creaming together the sugar and butter, with an electric mixer, for 2-3 minutes. Then add the egg, vanilla extract, and sour cream. Mix again to combine well.
Next, in a separate small bowl, combine the flour, salt and baking soda. Proceed to add the dry ingredients to the wet mixture and beat again until smooth.
Place a towel or plastic wrap over the bowl and place in the refrigerator to chill the dough for several hours, at least 2 hours for best results.
Bake
When you are ready to bake the cookies, proceed to roll the dough out and cut with shaped cutters. Placed in the preheated oven and bake at 375 degrees F for 10 minutes. Let cool on the baking sheet for a few minutes, then transfer to a wire rack to finish cooling.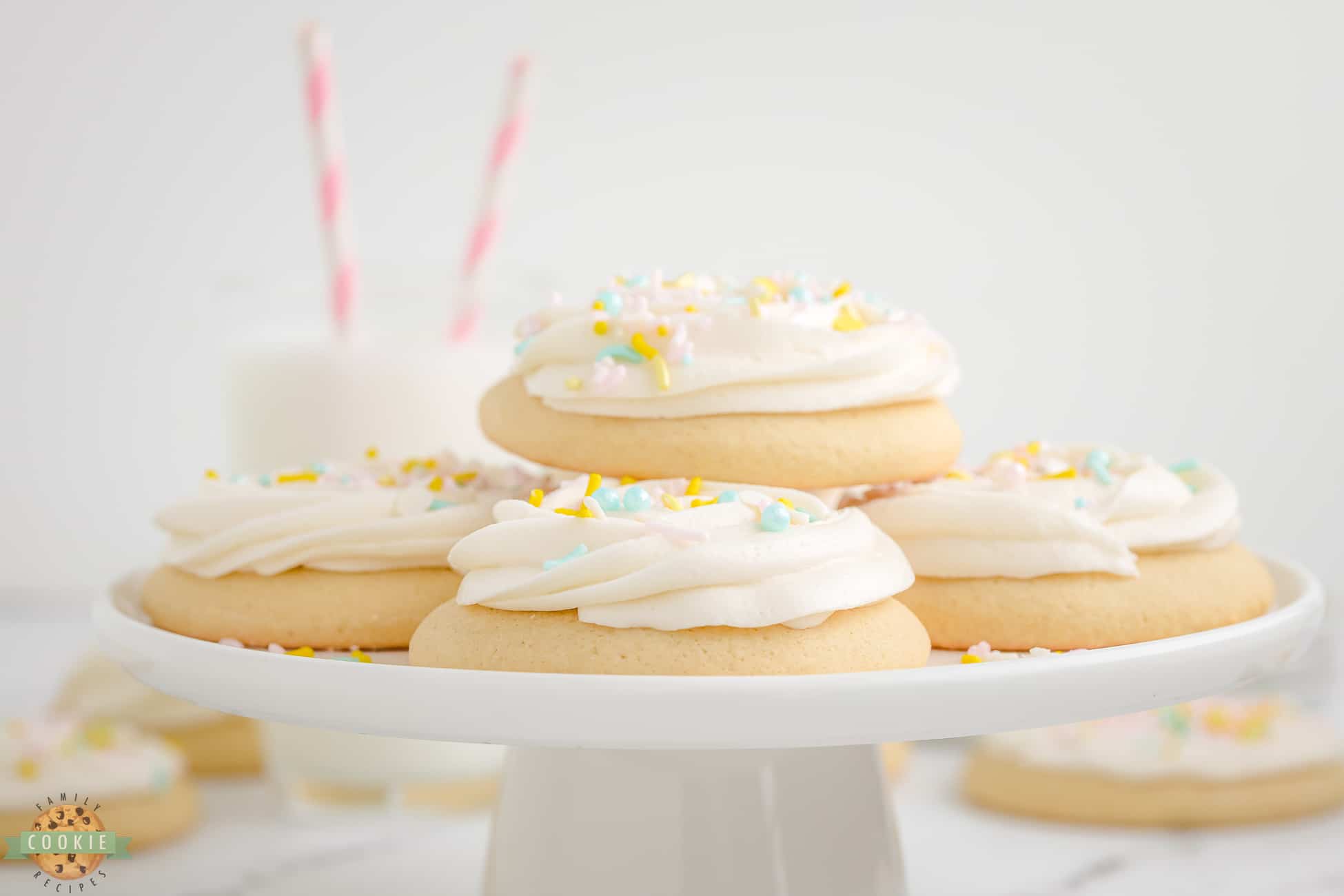 Frosting
In a medium bowl, using an electric mixer, beat the butter, powder sugar, milk, and vanilla extract until well combined and smooth. If needed, add additional milk to achieve the desired consistency.
Once the cookies have cooled, spread on some frosting, and decorate them however you want. Add some fun sprinkles for a colorful and fun addition!
Serve immediately and enjoy!

Can you use salted butter for sugar cookies?
You can absolutely use salted butter for sugar cookies! I'm a big fan of using what you have and I only buy salted butter. Some people aren't fans of salted butter because they want complete control over how much salt is in the recipe. I'm one of those people who constantly has to add salt to everything though, so I like there to be enough! When making cookies, I feel like the cookies taste better when they have a good salt to sweet ratio.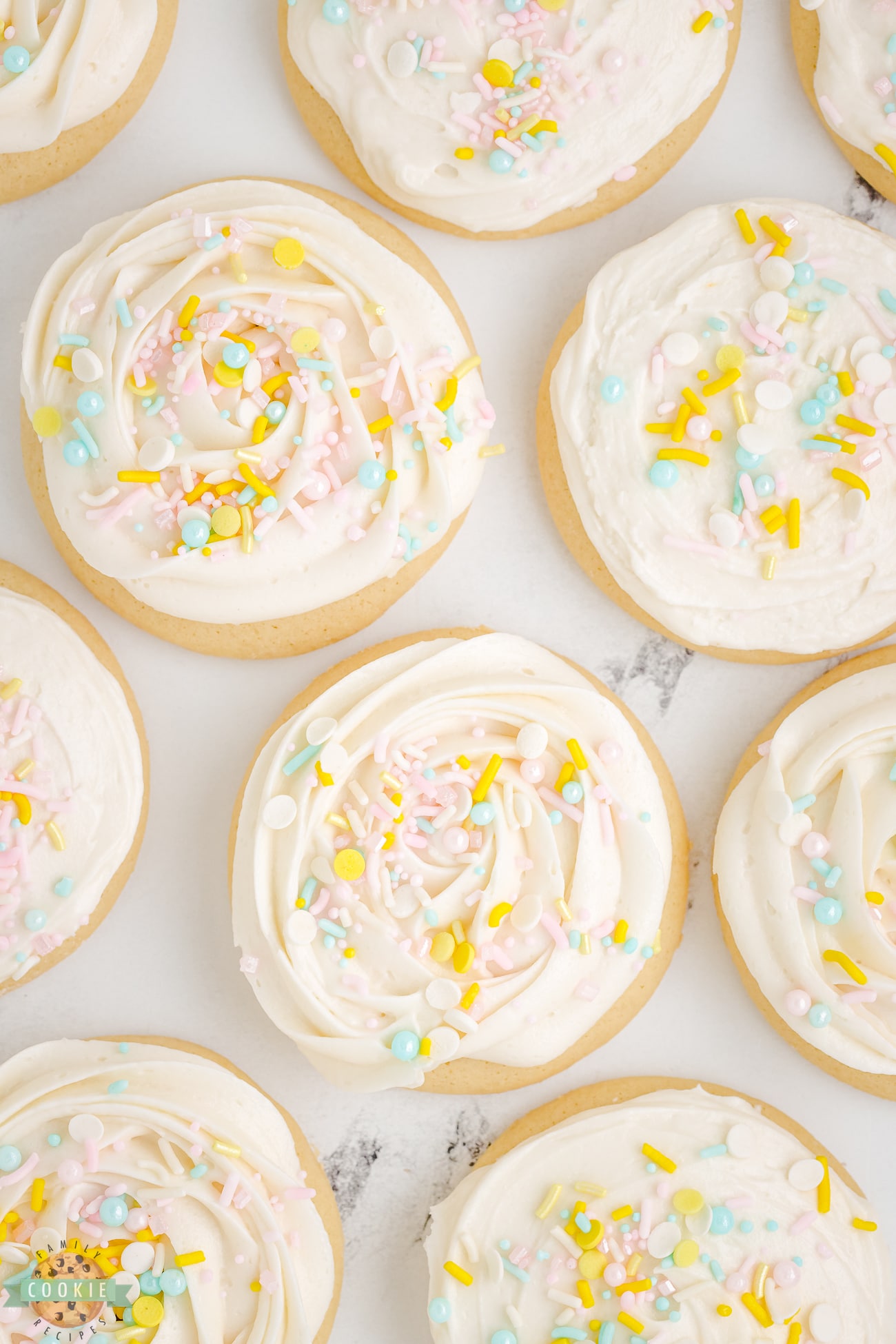 HOW DO YOU KEEP SUGAR COOKIES SOFT?
This is another reason to love these cookies, thanks to the sour cream in the dough- they stay softer for longer! After the cookies have cooled, simply place them in an airtight container to keep them fresh for as long as possible. It also helps to make sure that when you roll out the cookie dough that you do it to the right thickness so that they don't become brittle when baking.
CAN I FREEZE DECORATED SUGAR COOKIES?
Yes. After frosting has been applied, allow them to set at room temperature for about an hour so that the frosting can firm up a bit. Then place the cookies in a single layer on a baking sheet and flash freeze until solid (about 1-2 hours). After that, transfer to an airtight container. I recommend laying a sheet of parchment paper between the cookie layers, just in case. Then simply remove and thaw to eat.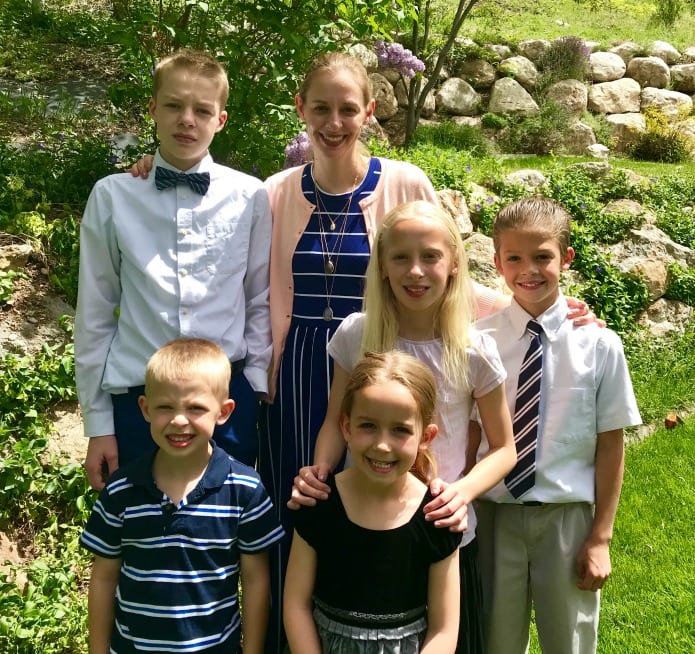 This photo is of my 5 kids and I on the most recent Mother's Day. Since I'm usually the one taking the pictures, I'm in a lot less than anyone else. I have to make a conscious effect to hand someone else the camera and ask them if they'd take my photo. Why is that so hard? I don't know, but it is. I've tried to get a photo of my kids and I each Mother's Day. It's crazy to see how much they grow each year! I'm certain by next years' photo my oldest son will be much taller than me. He's in full teenage mode here… hungry most likely. Aren't kids fun?!
How long should I let these cookies cool?
Cookies are best left to cool on the baking sheet they're cooked on for 3-4 minutes, then you can transfer them to a cooling rack to cool further. This way, they don't fall apart as cookies are pretty soft still when they're pulled out of the oven. After a couple minutes on a cooling rack, cooking are usually cool enough to eat! Warm cookies are the best!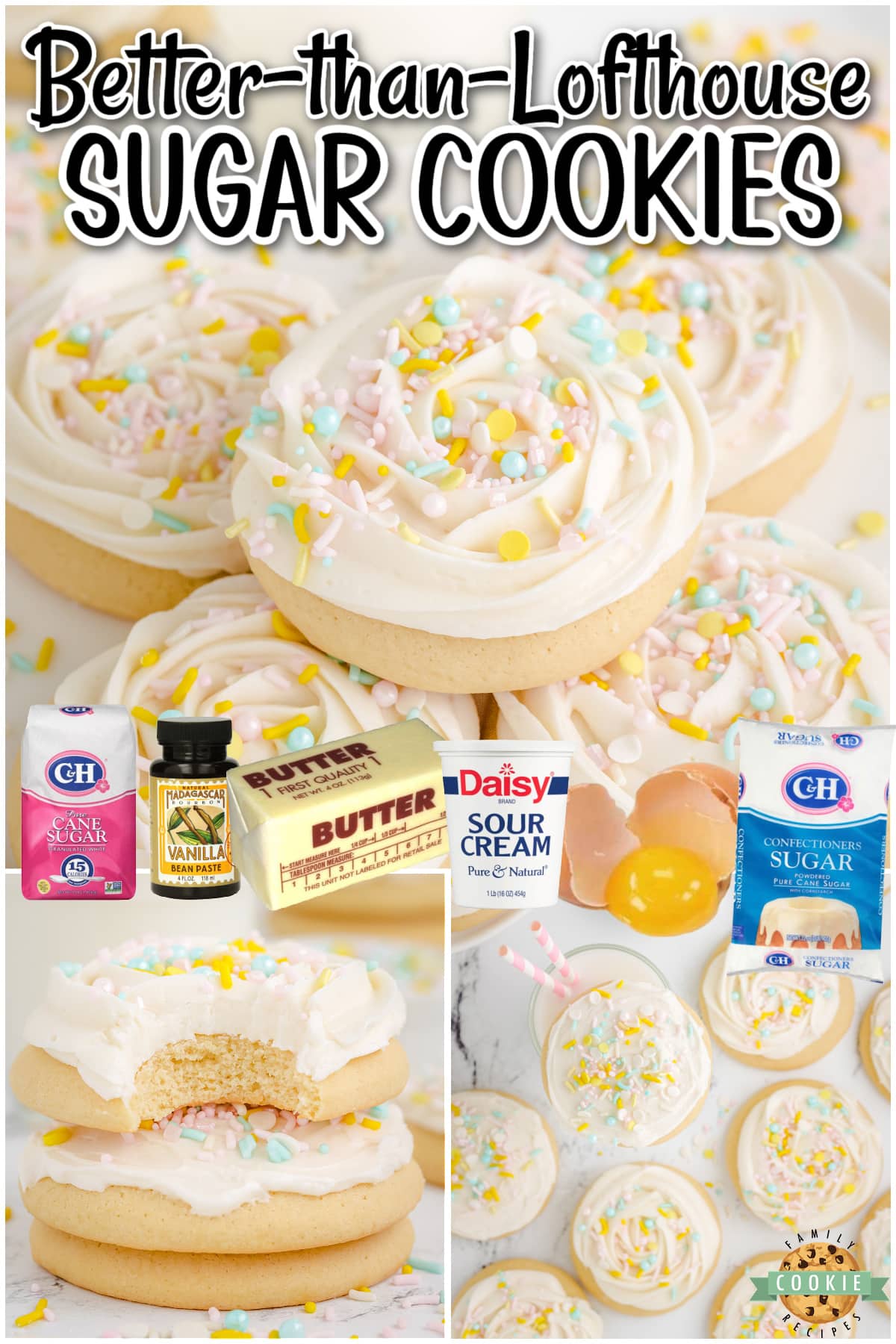 Why did my cookies spread?
If your cookies spread too much while baking, it was most likely a direct result of the dough being too warm. If it's hot in the kitchen or your butter is too soft, your dough will become warm fairly quickly. You can fix this easily by just popping the dough into the freezer for about 30 minutes to an hour or so before you continue to bake the cookies as directed.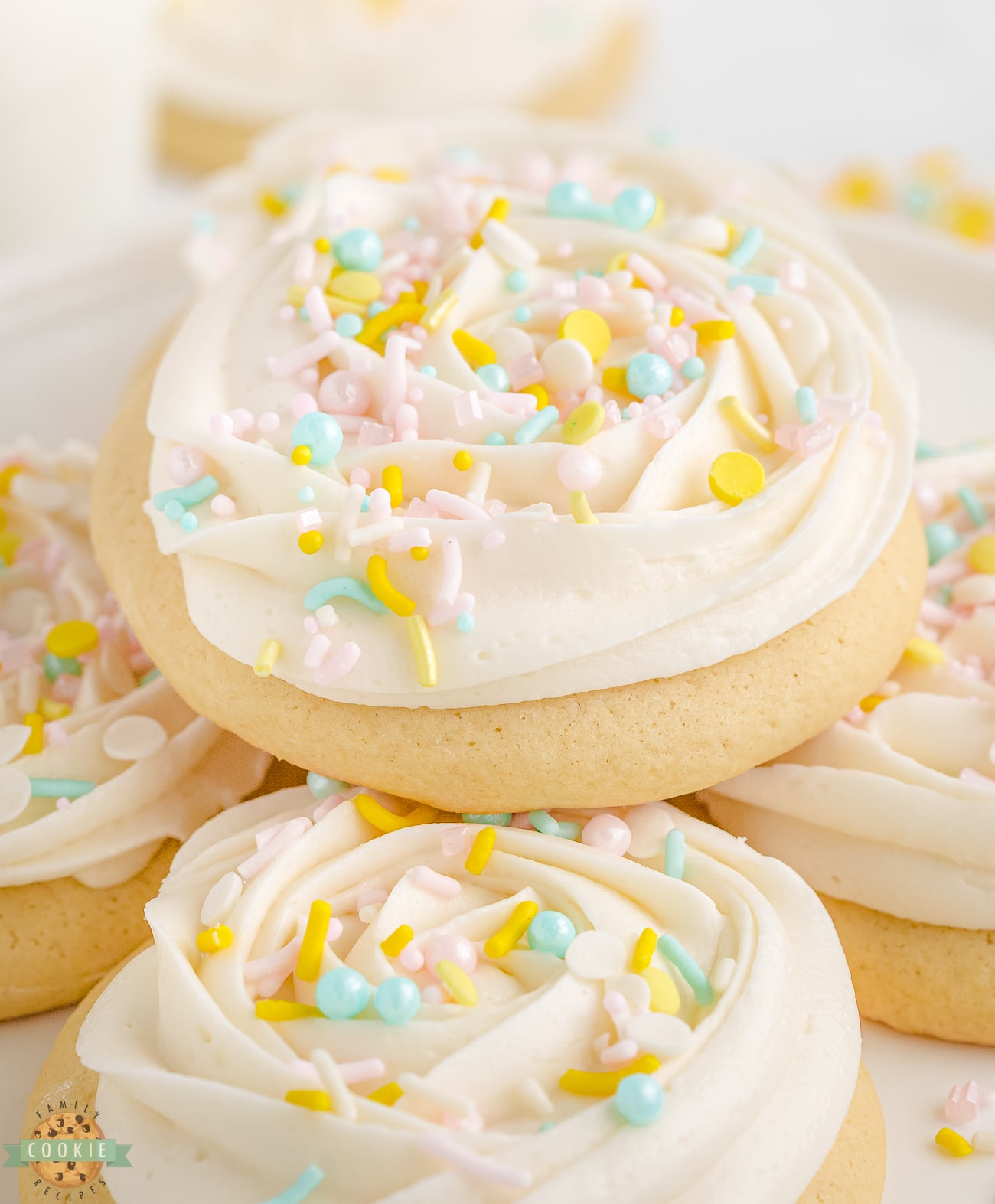 Try a few of our other favorite sugar cookie recipes here:
These amazing Soft Sugar Cookies are the most tender and perfect cookies you've ever had! Made with basic pantry ingredients, this sugar cookie recipe has amazing flavor and texture.