Christmas Sugar Cookies are soft and light sugar cookies dipped in vibrant frosting and topped with crushed mints. Easy holiday sugar cookie recipe that is perfect for parties and goody platters. No chilling, rolling out the dough or cutting out any cookies!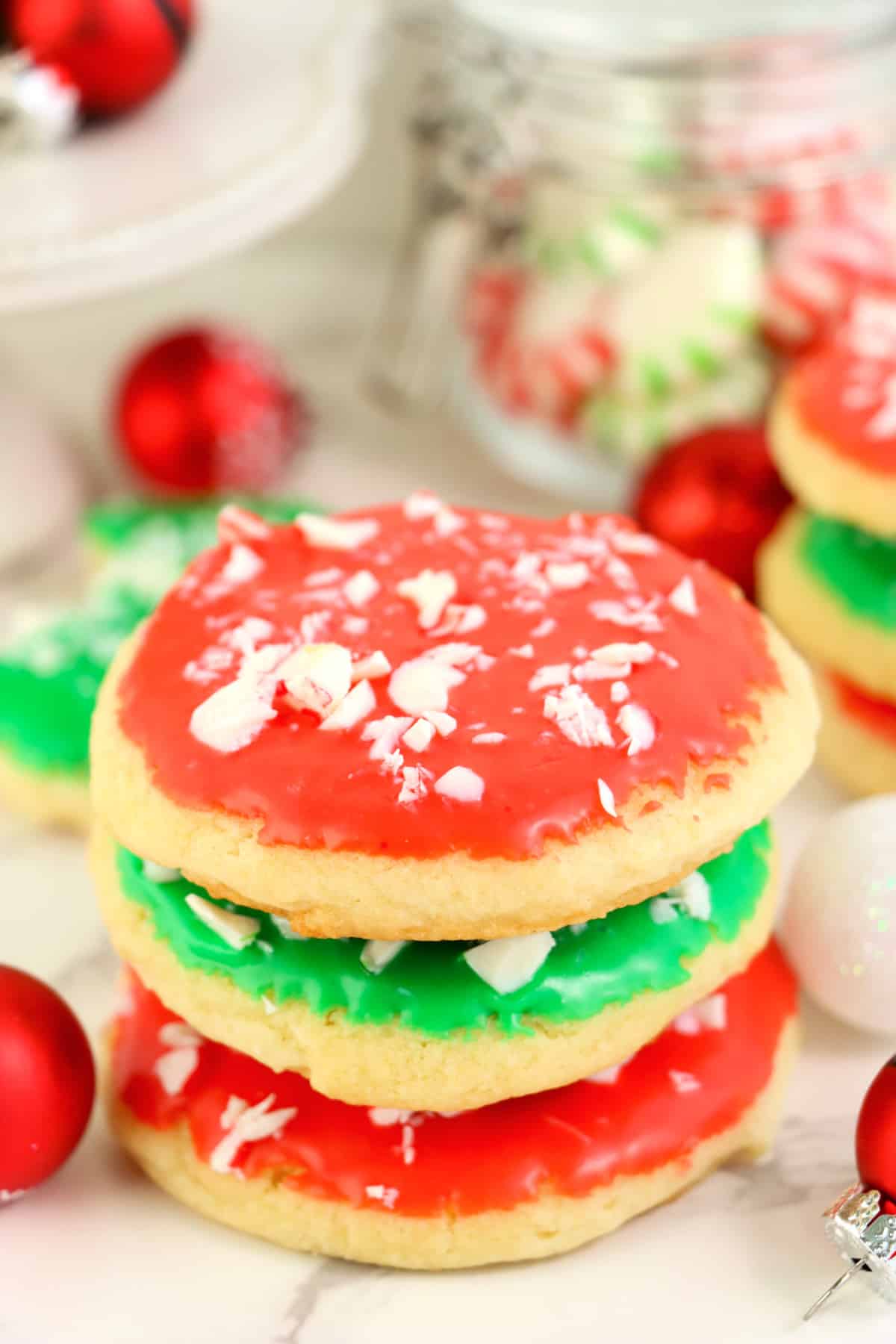 I love making treats for the holidays and it has become a tradition to make up all kinds of goodies to gift to friends and neighbors each year. I love making these cookies because they are so easy and the bright red and green colors make them so festive and pretty on the plate! These cookies take way less time than traditional cut-out sugar cookies and you don't have to wait for the dough to chill either!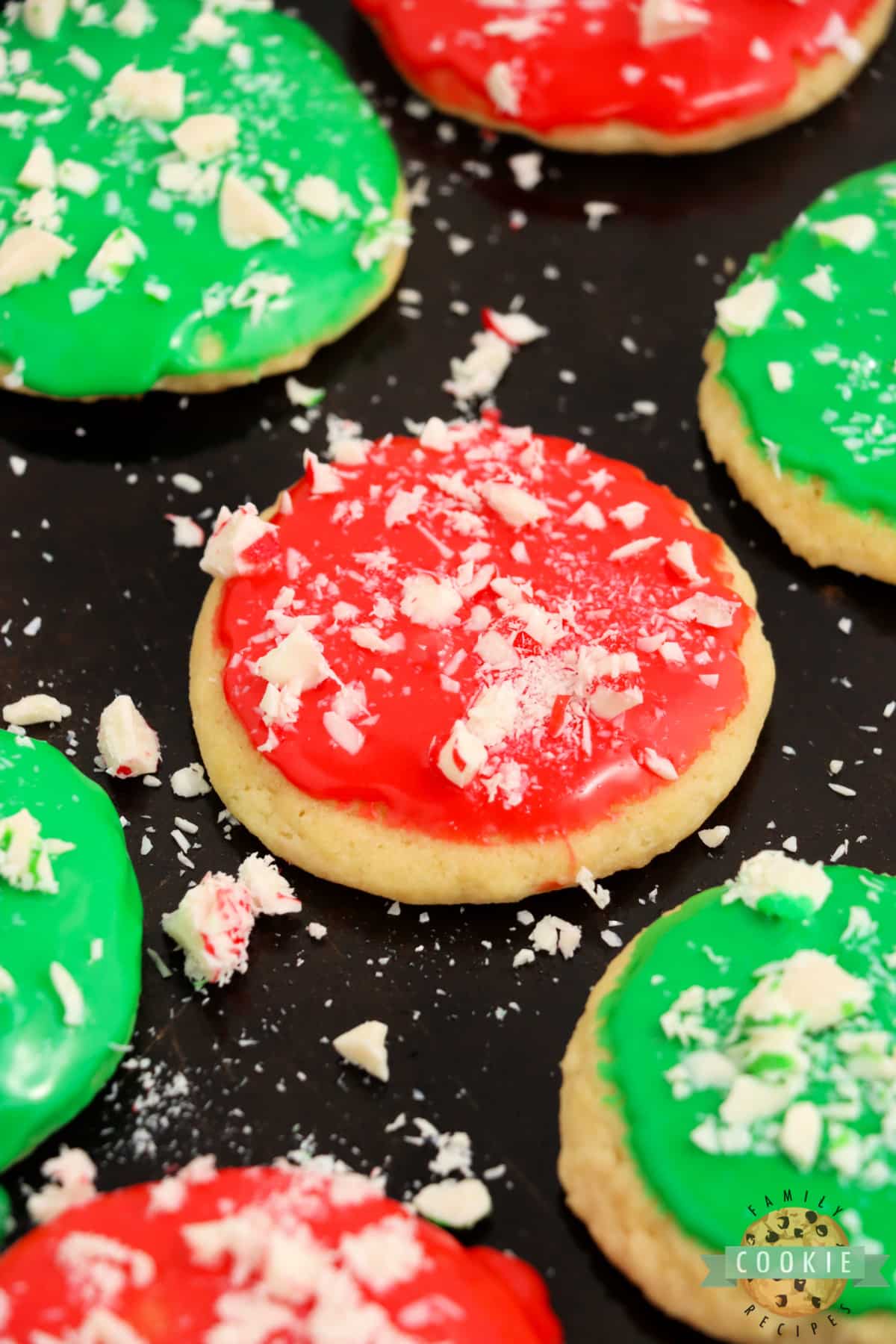 CHRISTMAS SUGAR COOKIES
This Christmas Sugar Cookie recipe is made with basic ingredients, but is so much easier than traditional cut-out sugar cookie recipes. You don't have to chill the dough and you don't have to roll it out or cut it into shapes either! You just scoop the dough into balls and slightly flatten each of them with the bottom of a glass before baking. Once the cookies are cooled, you just dip the tops into the icing – it only takes seconds this way! Sprinkle some crushed mints on top and the cookies are beautiful without taking a lot of time or effort.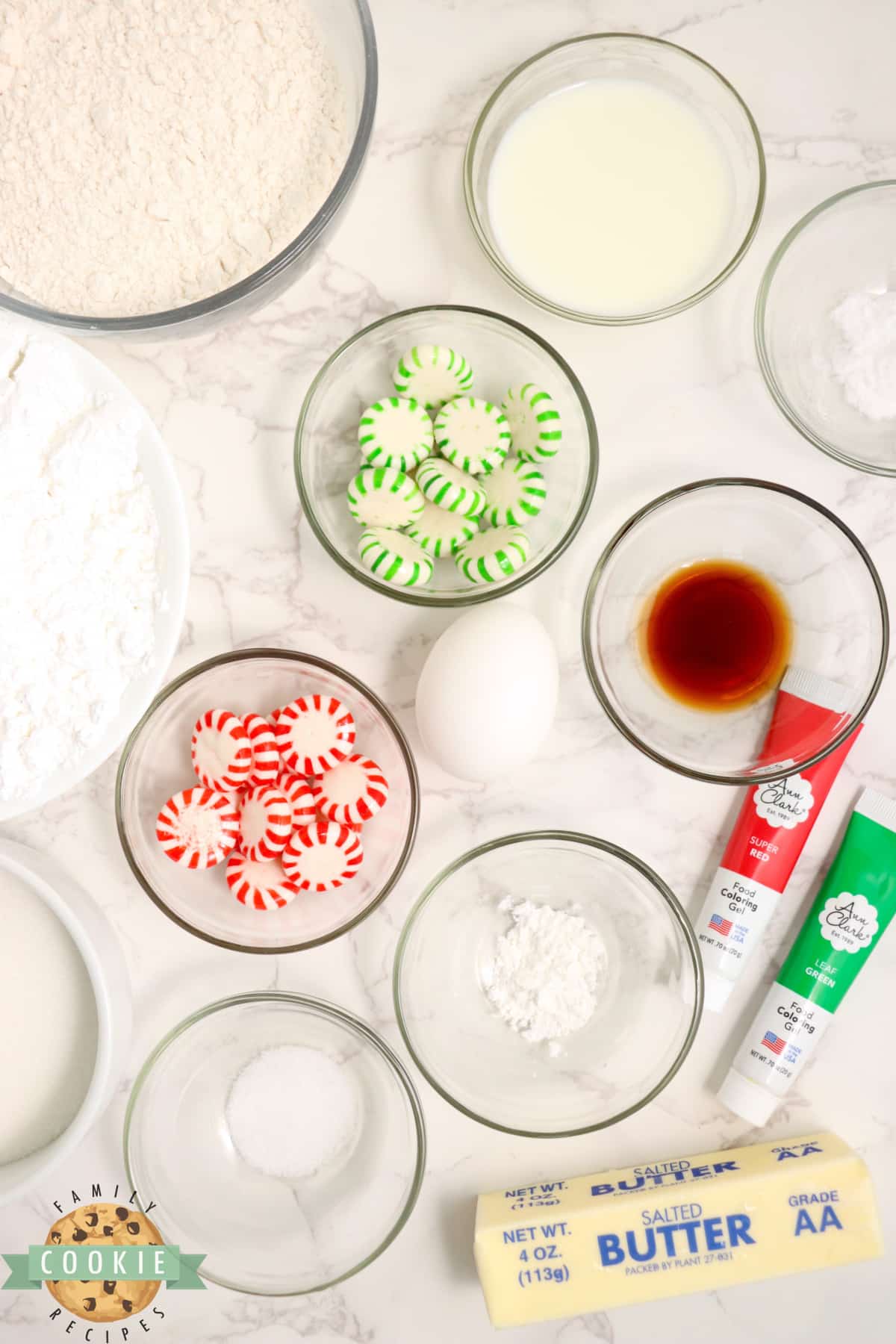 INGREDIENTS IN CHRISTMAS SUGAR COOKIES
Butter: I use salted butter, but you can use unsalted if you prefer. No margarine! Make sure the butter is softened, but not melted before adding to the recipe.
Sugar: Can't leave this one out – kind of an important ingredient in sugar cookies!
Vanilla extract: I suggest using a good quality vanilla extract or a Vanilla Bean Paste. The higher the quality of the vanilla, the better.
Egg: You only need 1 egg to help bind the dough together so that the cookies cook properly and don't crumble.
Flour: I usually use all purpose flour, but you can use bread flour, or even pastry flour in this recipe.
Baking powder and baking soda: These are the leavening agents in the cookies. For best results, make sure your baking powder and baking soda aren't old or expired.
Salt: Just a little bit of salt helps to bring out all of the other flavors in the cookies.
SUGAR COOKIE ICING INGREDIENTS
Powdered sugar: Gives us that thick frosting texture packed with sweetness and smooth creamy results. Yum!
Milk: You can use almond milk, coconut milk or cashew milk in place of cow's milk. You can make the frosting a little thicker or thinner based on how much milk you add.
Vanilla extract: Again, the higher the quality of the vanilla, the better.
Food coloring: If you want to make these festive for Christmas, you will need red and green food coloring. If you use regular food coloring, you will end up with pastel colors for the icing. I like to use a gel or paste food coloring to get the bright red and green colors that are perfect for the holidays.
Mints: The recipe calls for about 6 round red mints, crushed and 6 round green mints, crushed. You can use miniature candy canes if you'd like – they are a little easier to break. You want sizeable chunks, not a fine powder so don't crush them too much.
HOW TO MAKE CHRISTMAS SUGAR COOKIES
MAKE THE COOKIES
Preheat oven to 400ºF.
In a large mixing bowl, beat butter, sugar, and vanilla until smooth (about 2-3 minutes). Add egg and beat again for another 2-3 minutes.
Add flour, baking soda, baking powder, and salt. Mix just until dough is uniform throughout.
Using a cookie scoop, palace scoops of dough on a greased cookie sheet.
Spray the bottom of a glass with cooking spray and press each cookie until it is about ½ inch thick.
Bake for 7-8 minutes or until centers are set. Allow cookies to cool completely before icing them.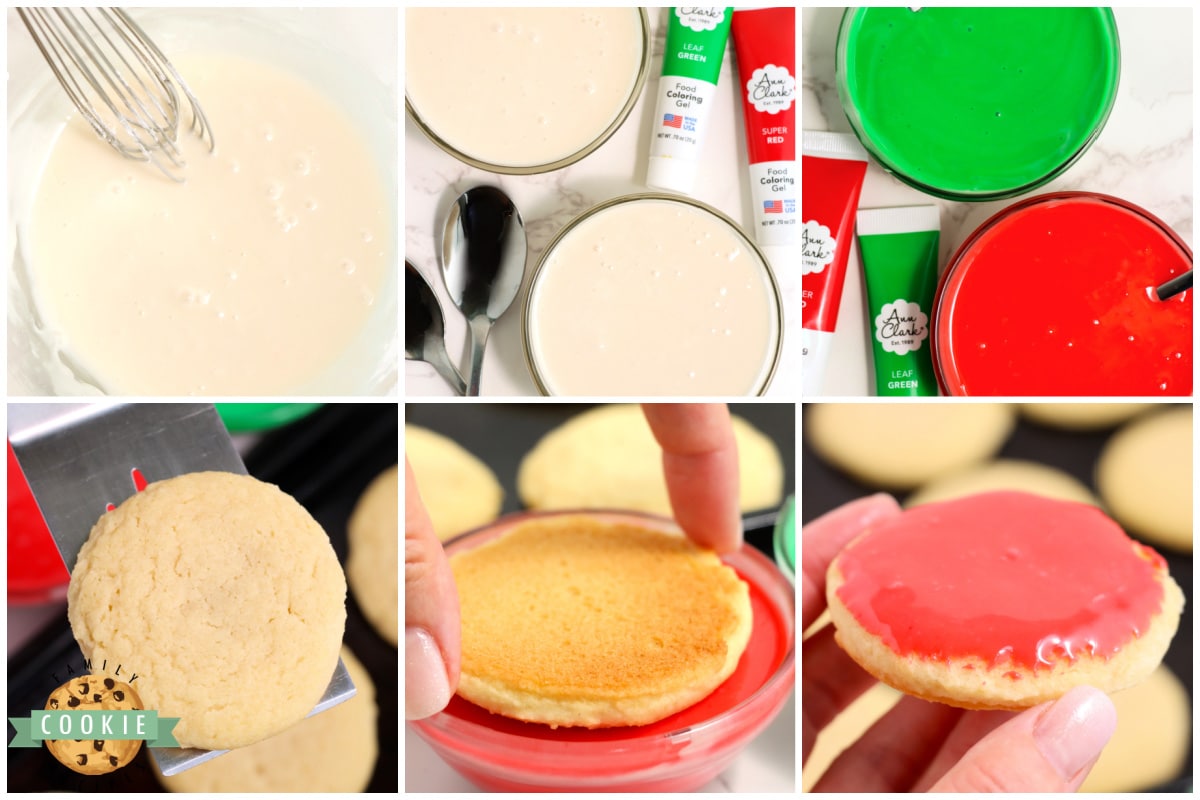 MAKE THE ICING
To prepare icing, whisk powdered sugar, milk, and vanilla together. If icing is too thick, add a bit
more milk. If icing is too thin, add a bit more powdered sugar.
Split icing into two small bowls. Add green food gel to one and red food gel to the other. Mix well
until desired color is reached. The amount needed will depend on the type of food gel you are
using.
FROST THE COOKIES
Dip cooled cookies into prepared icing. Allow excess icing to drip off.
Before the icing hardens, sprinkle crushed red mints onto the cookies iced in red. Sprinkle
crushed green mints onto the cookies iced in green.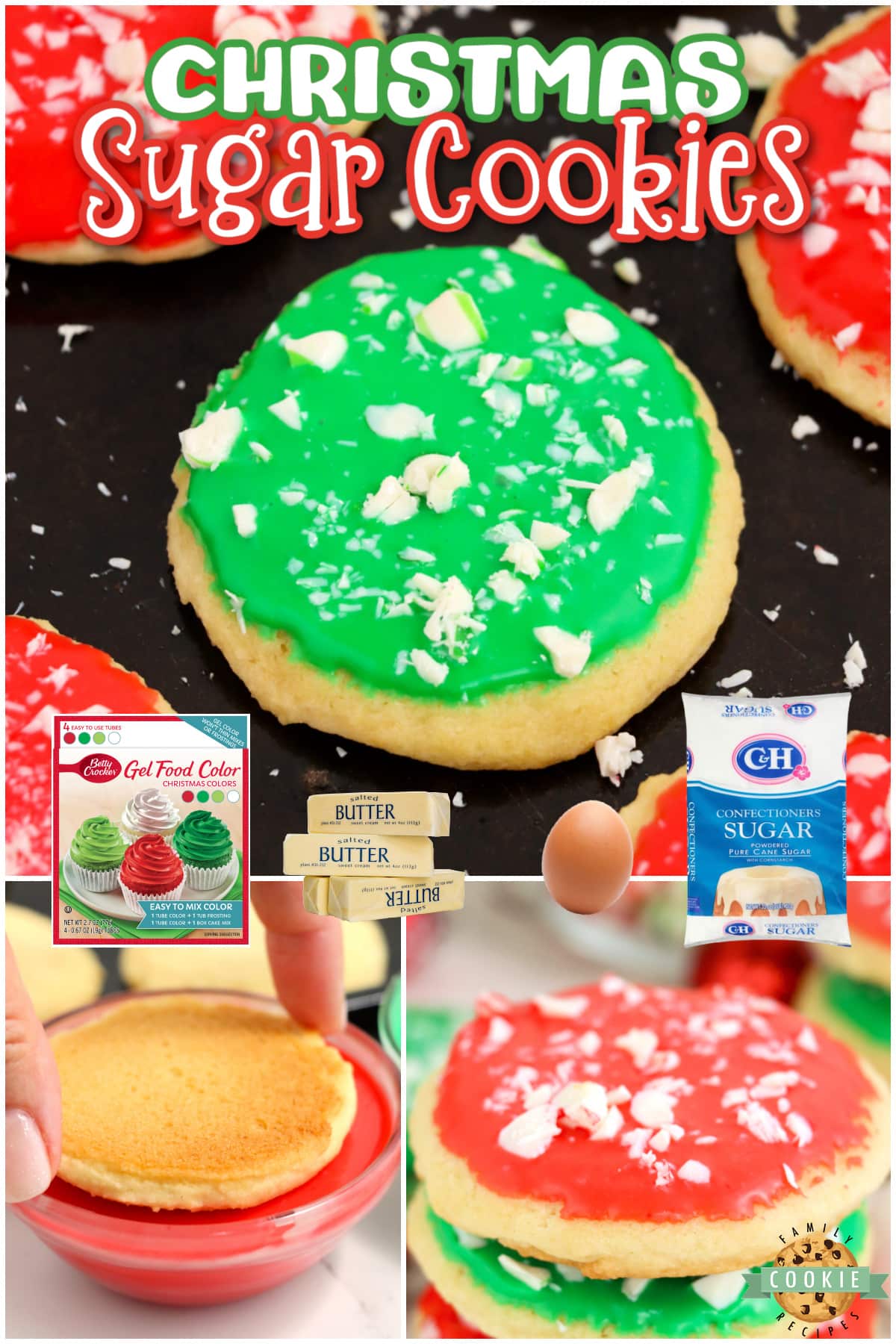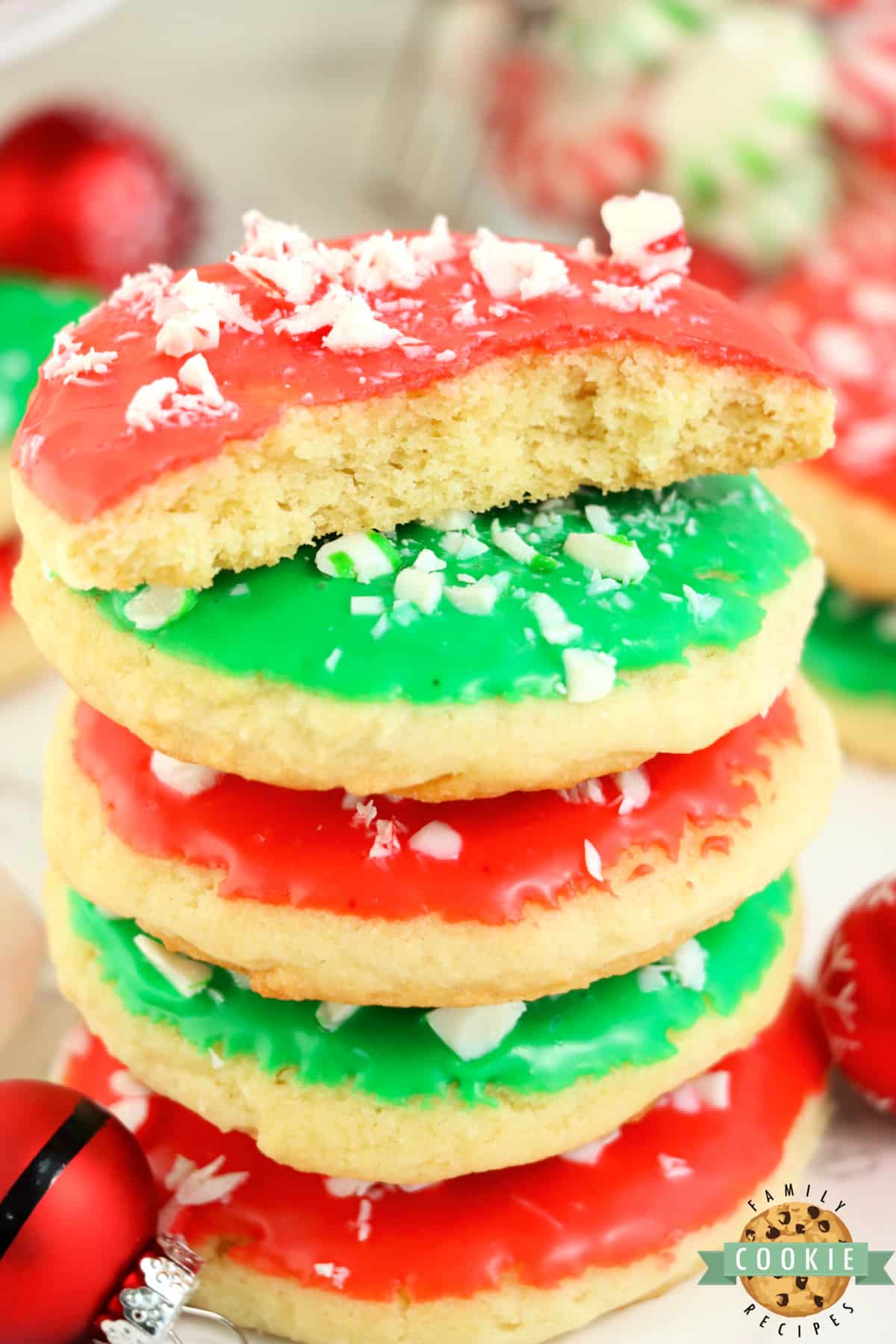 TIPS FOR MAKING THE BEST SUGAR COOKIES
Do not melt the butter! The butter needs to be softened (at room temperature). Using melted butter will ruin the cookies. If you have time, just leave butter out on the counter for about 1-2 hours before making your cookies. If you are like me and don't plan your cookie cravings that far in advance, just place the butter in your microwave and soften in 5 second intervals, being very careful to pull it out before it melts. I actually like to use the defrost setting on my microwave to soften butter- I don't know the technical reasons behind it, but it seems to soften the butter more evenly and takes a little bit longer so I'm less likely to start melting it! 
Spend a little extra time when you mix the butter and sugars. Creaming them together for 2-3 minutes will improve the consistency of your cookies.
Preheat the oven. This will help your cookies turn out right every time!
Use parchment paper or a silicone baking mat. Doing this will make it really easy to remove the cookies from your cookie sheet so that you don't have to scrape them off the pan. They will just slide right off in perfect shape!
Make sure that you don't press the dough too thin. your sugar cookies out. You want the dough to be about 1/2″ thick after pressing it down.
Make sure not to over bake your cookies. They may not even look totally done on the tops, but if the bottoms barely start to brown, I take mine out and they are perfect!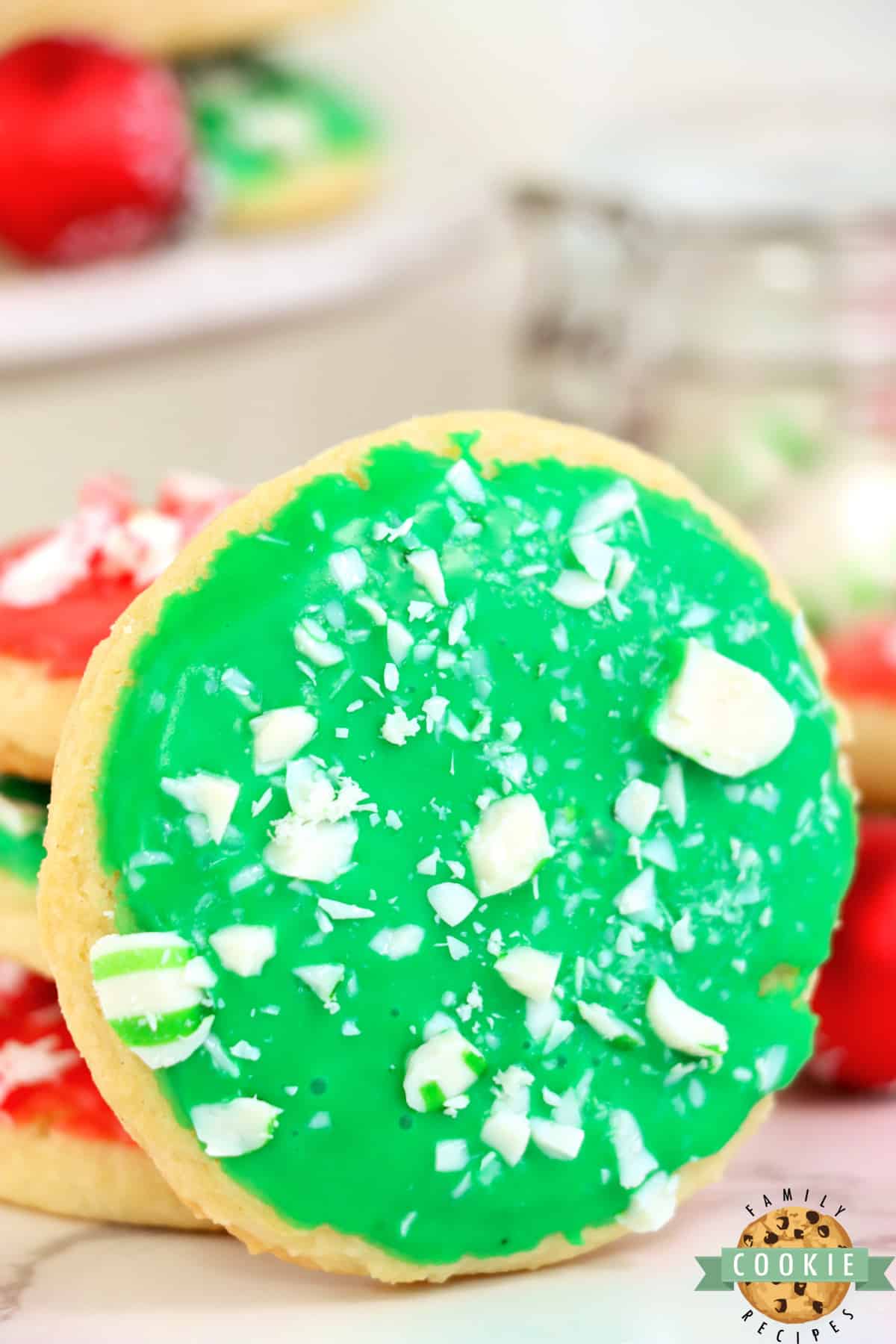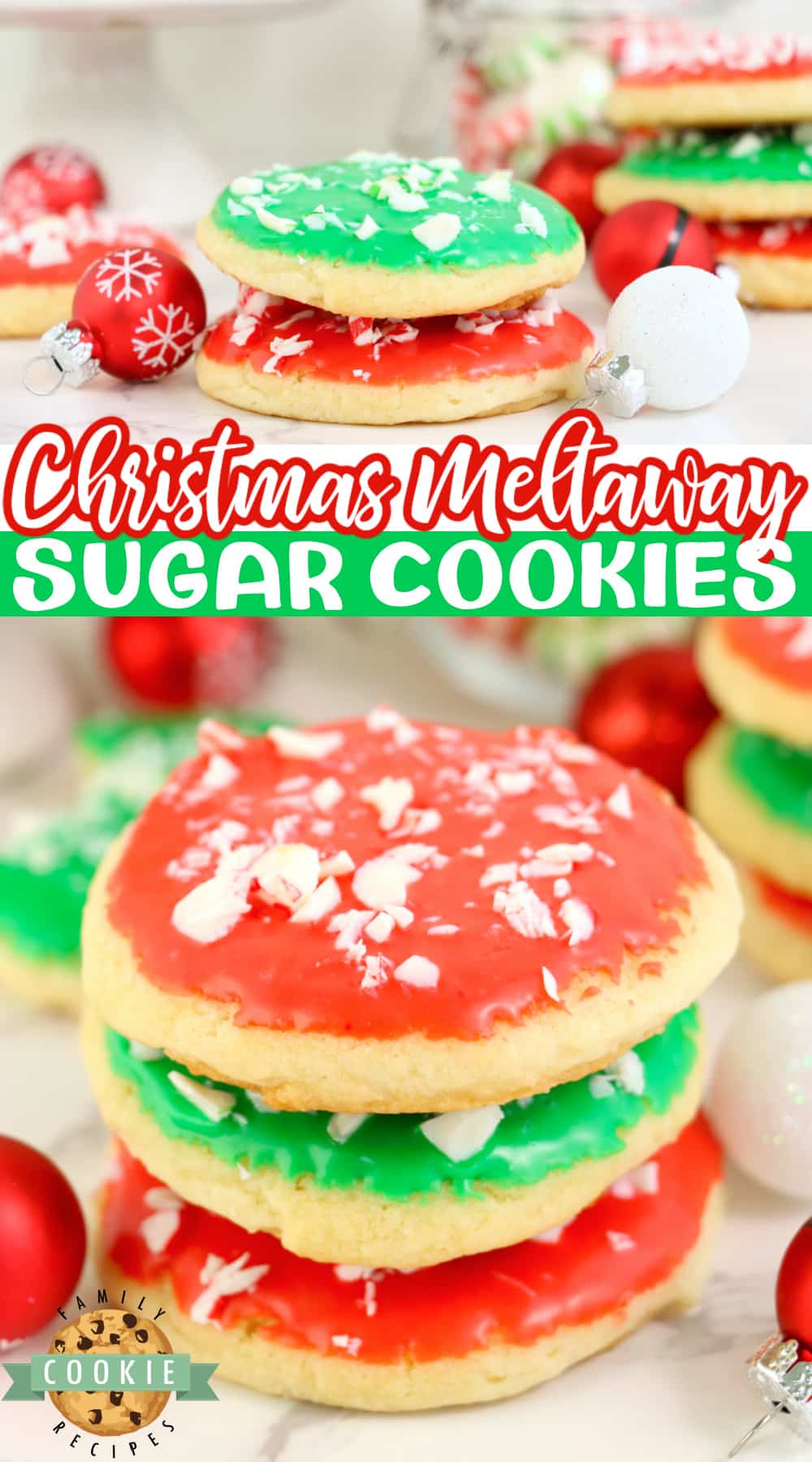 Christmas Sugar Cookies are soft and light sugar cookies dipped in vibrant frosting and topped with crushed mints. Easy holiday sugar cookie recipe that is perfect for parties and goody platters!



Annual family picture day is definitely not my favorite day of the year. There is a lot of stress involved trying to find the perfect photographer, figuring out the perfect location, trying to control the weather and the amount of leaves left on the trees, planning out everyone's outfits so that everyone matches and then trying to make sure everyone is clean and happy and ready when it's actually time to take the pictures. With 5 kids, this process is not for the faint of heart. Every year I dread it. And sometimes even skip it. But every time I get all the pictures back, I remember why I do this. The pictures are absolutely priceless and I absolutely love them. Even the ones that aren't perfect.
Got my pictures back a couple of weeks ago and there are dozens and dozens of photos that I am obsessed with. Like this one. Captures this little one perfectly. Isn't she the cutest thing you've ever seen?