Strawberry Thumbprint Cookies are a soft, buttery melt-in-your-mouth cookie topped with sweet strawberry jam! Classic thumbprint cookies with jam are made easy with pantry ingredients & taste delicious!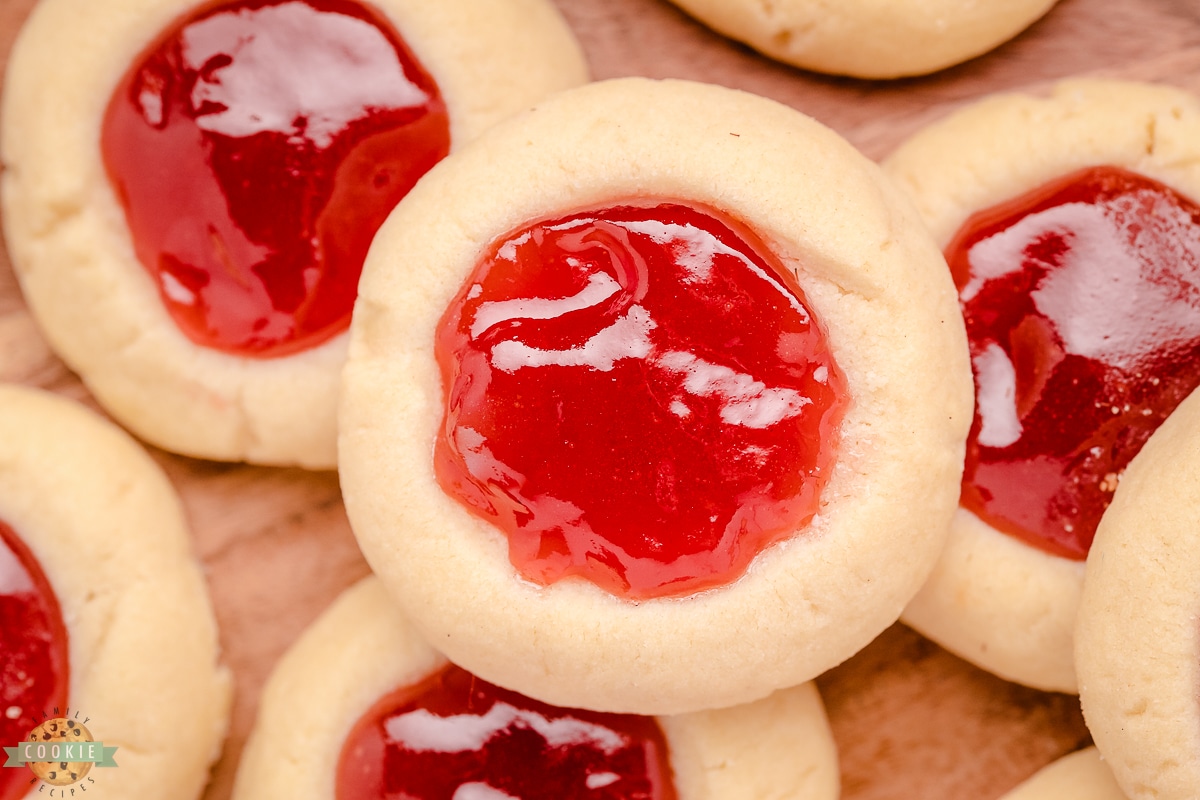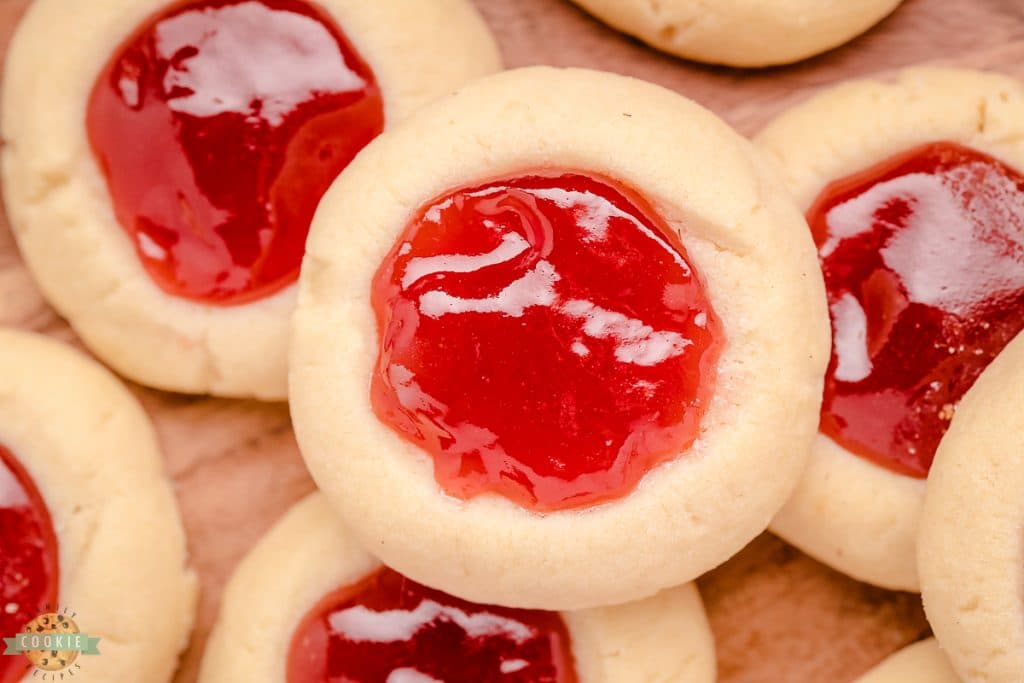 Everything about these strawberry jam cookies are simply delightful and perfect for any occasion or no occasion at all. Make these easy thumbprint cookies for parties or serve them up on the weekend when you just want something sweet and homemade.
Strawberry Jam Thumbprint Cookies
This type of cookie is super popular around the holidays, it is a staple for many cookie trays and cookie exchanges. The simple shortbread cookie base with the sweet jam center makes for a sensational dessert to share with family and friends.
We fill these shortbread cookies with strawberry flavored jam, but you can use any of jam flavor you desire. Strawberry is just one of our favorites because it looks and tastes incredible. Do not underestimate the deliciousness of this simple cookie recipe, give it a try today and see just what we mean!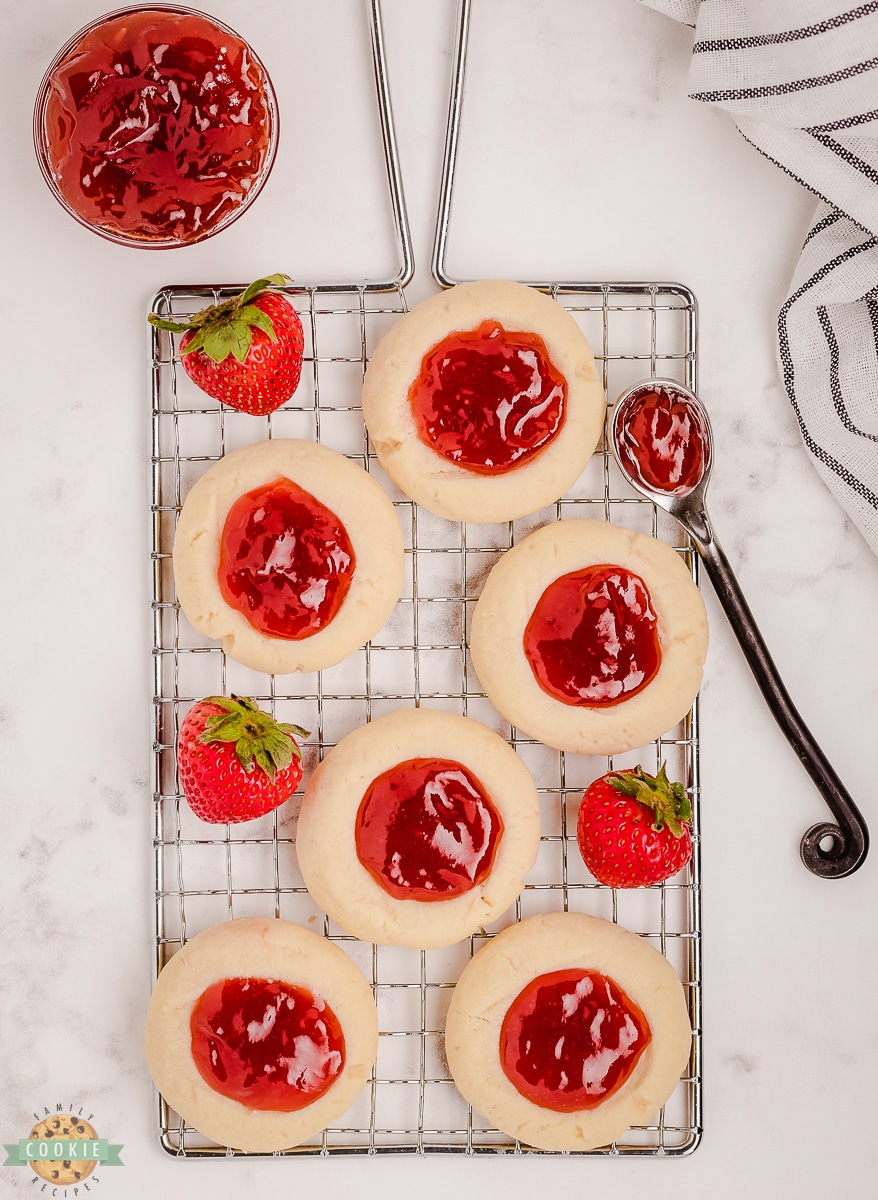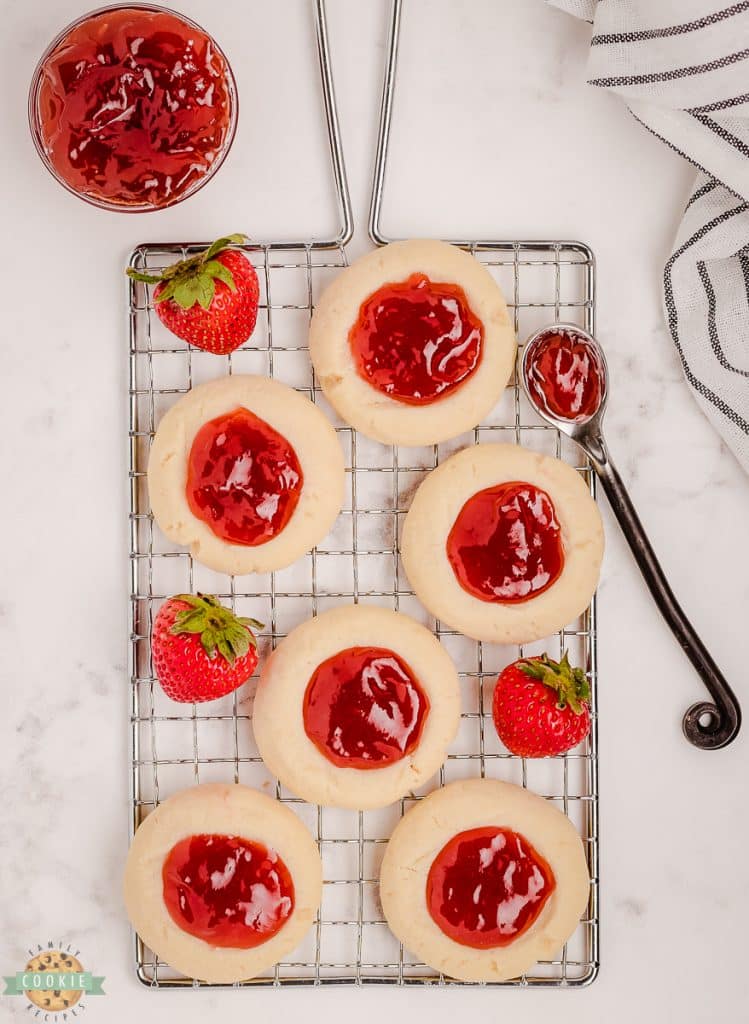 Why we think you will LOVE this easy cookie recipe
No rolling pin is needed! These cookies are as simple as mixing and rolling into balls with your hands. There is no need for a rolling pin to spread out the dough and no need for large amounts of counter space either.
Minimal ingredients. You will only need a small handful of ingredients to make this

strawberry jam cookie recipe

and none of them are leavening agents like baking powder or baking soda!
Chilling is optional! If you do not feel like waiting for cookies, you don't have to. With this thumbprint cookie recipe, the chilling is optional so you can take a break and let the dough sit or you can get them baking now so they can be finished sooner.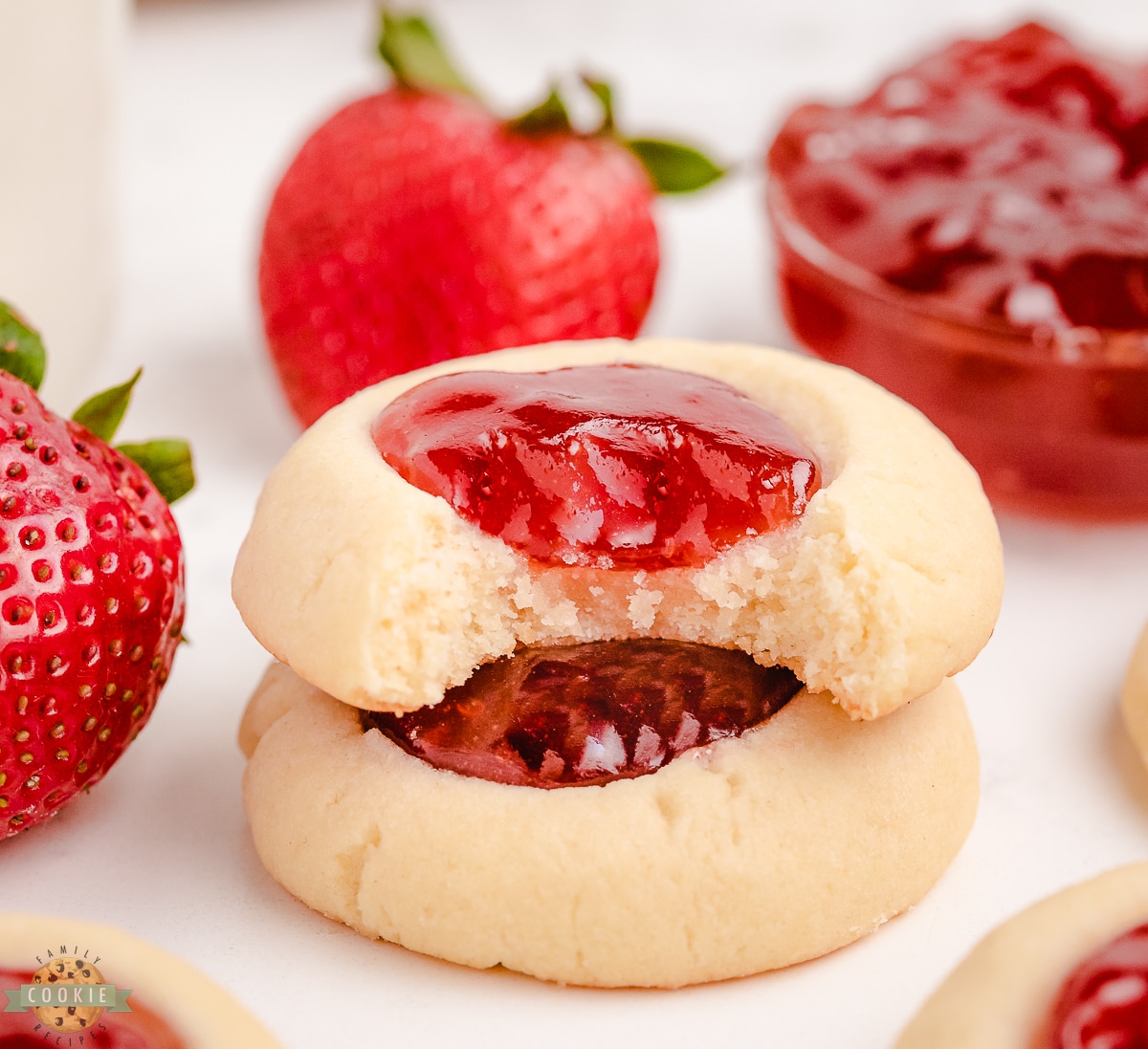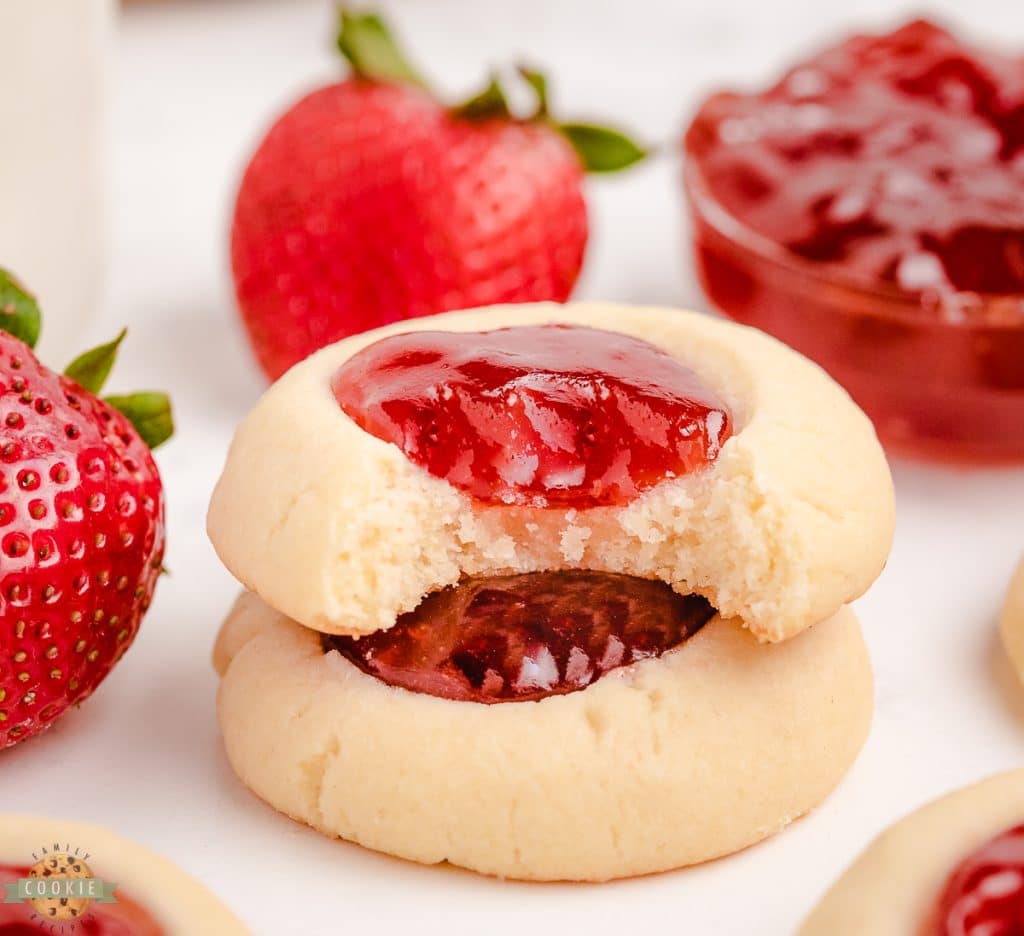 Strawberry Jelly Shortbread Cookie Ingredients
Butter: You will need 1 cup of room temperature butter, this is two sticks, to create a nice rich tasting cookie.
Sugar: Using ⅔ cups of granulated sugar will help to make the cookies sweet and chewy.
Eggs: To bind the cookies together and add a little richness, add 2 egg yolks.
Vanilla extract: Adding 1 teaspoon of vanilla extract will flavor the cookies well.
Flour: The base of the cookie recipe is 2 cups of all-purpose flour.
Salt: You will want to use ½ teaspoon of salt to enhance the flavors in the cookie so that they taste incredible.
Jam: ⅓ cup of strawberry jam will be the filling in the middle of your cookies.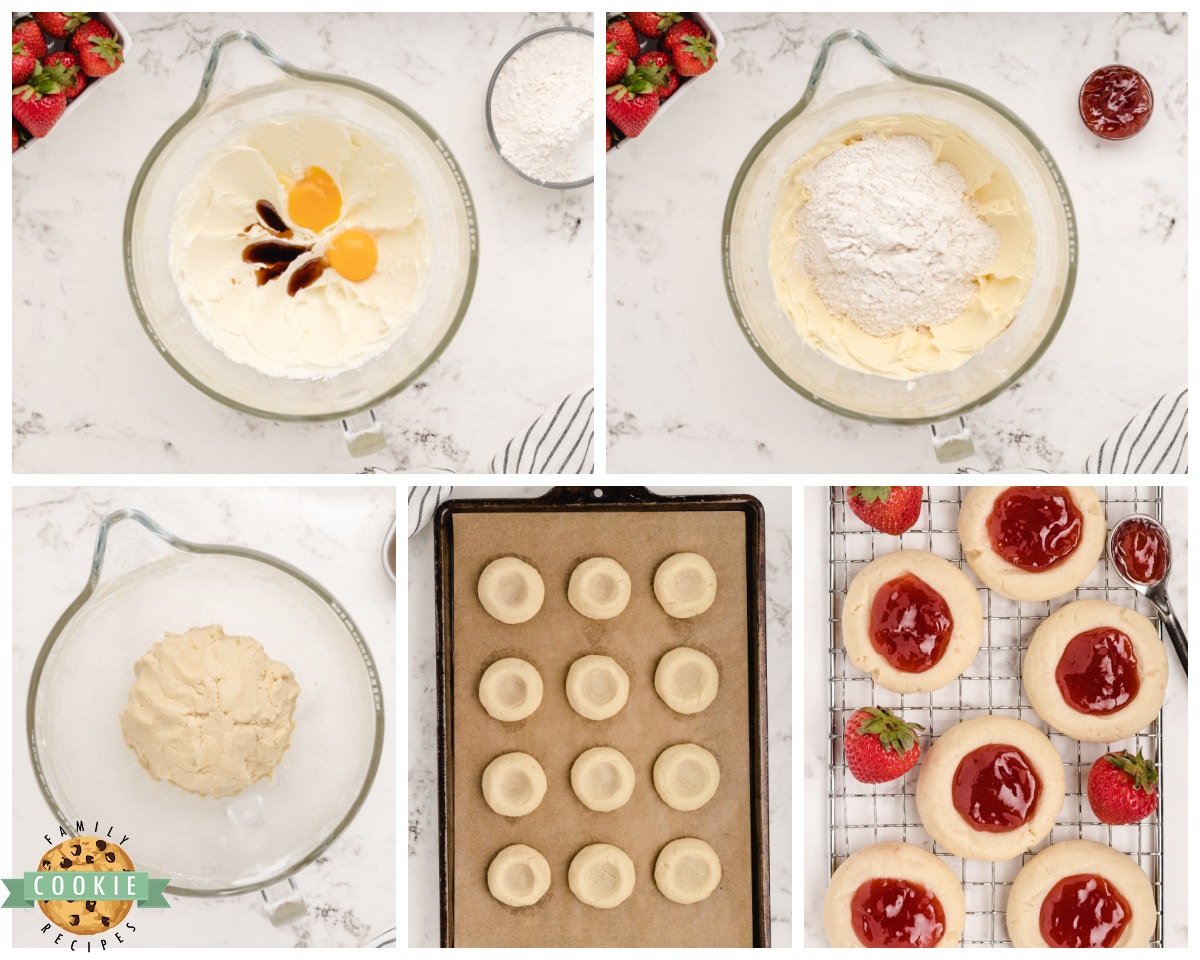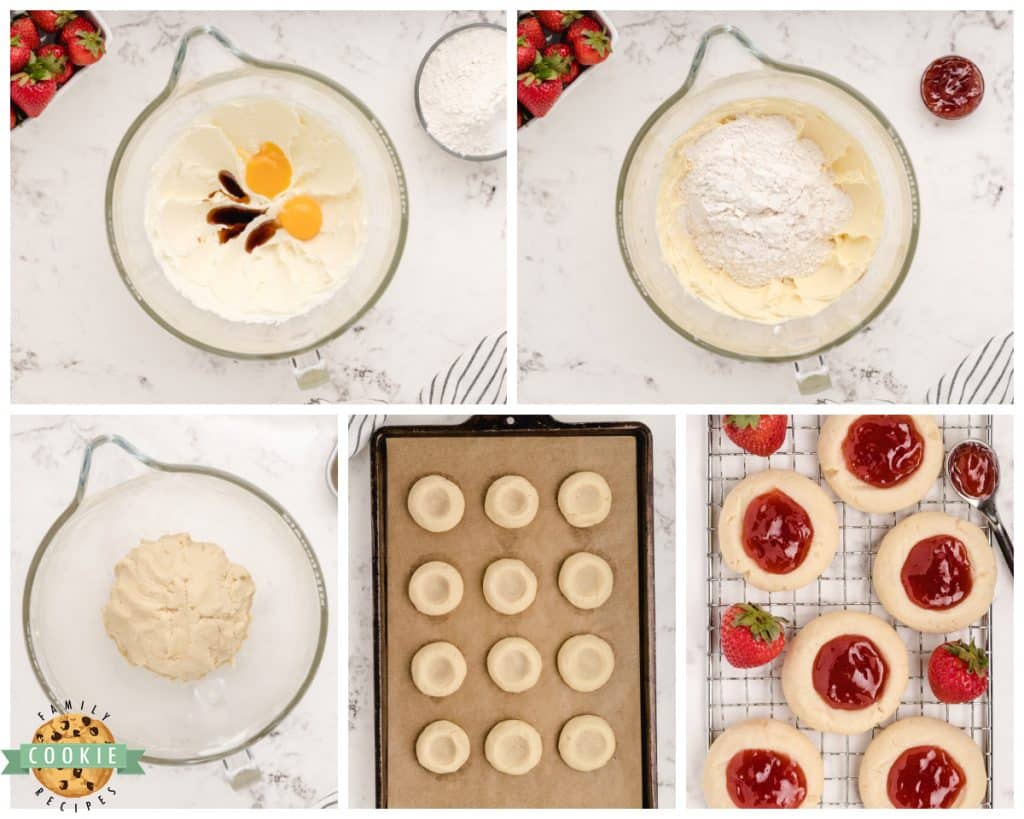 How to make Strawberry Thumbprint Cookies
Prep
Preheat your oven to 375 degrees F. Then, line a baking sheet with parchment paper and set aside.
Cookie Dough
In a large mixing bowl, cream together the butter and sugar on medium-high speed with an electric mixer until light and fluffy. This should take about 2-3 minutes.
Then, add in and beat the egg yolks and the vanilla extract.
Next, add the flour and salt. Mix together until incorporated and the dough comes together into a ball.
If desired, chill the dough in the refrigerator for 30 minutes (this is optional).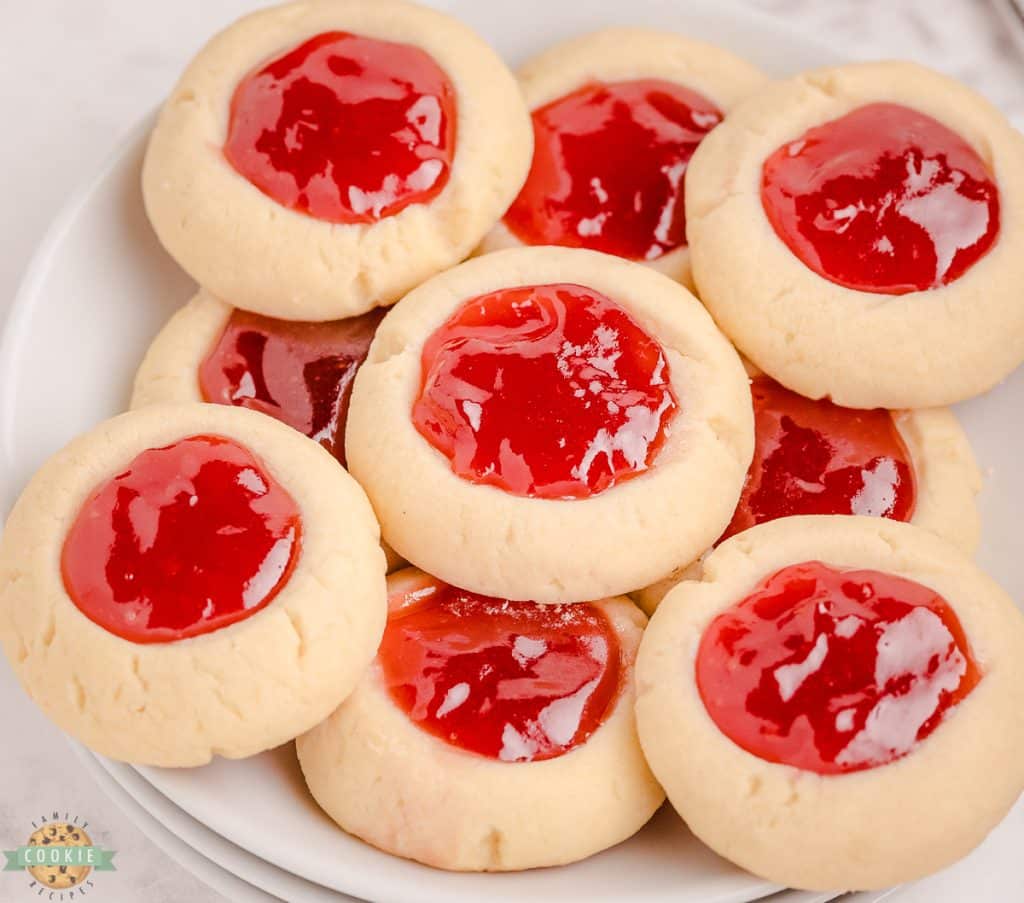 Shaping
Proceed to form the dough into 1-inch-sized balls that are perfectly round and then place them onto the prepared baking sheet.
Using the backside of a ½ teaspoon measuring spoon, press an indent into the center of the cookies to create a crater.
Bake & Filling
Place the cookie sheet into the preheated oven and bake for 8-10 minutes.
Remove the baking sheet from the oven and if the indents look shallow, press them in again.
Then, fill each indentation with a spoon full of strawberry jam.
Continue to bake in the oven for an additional 3-4 minutes or until the jam has melted slightly and the edges of the cookies are lightly golden in color.
Let the cookies cool on the baking sheet for 5 minutes, then transfer to a cooling rack to cool completely.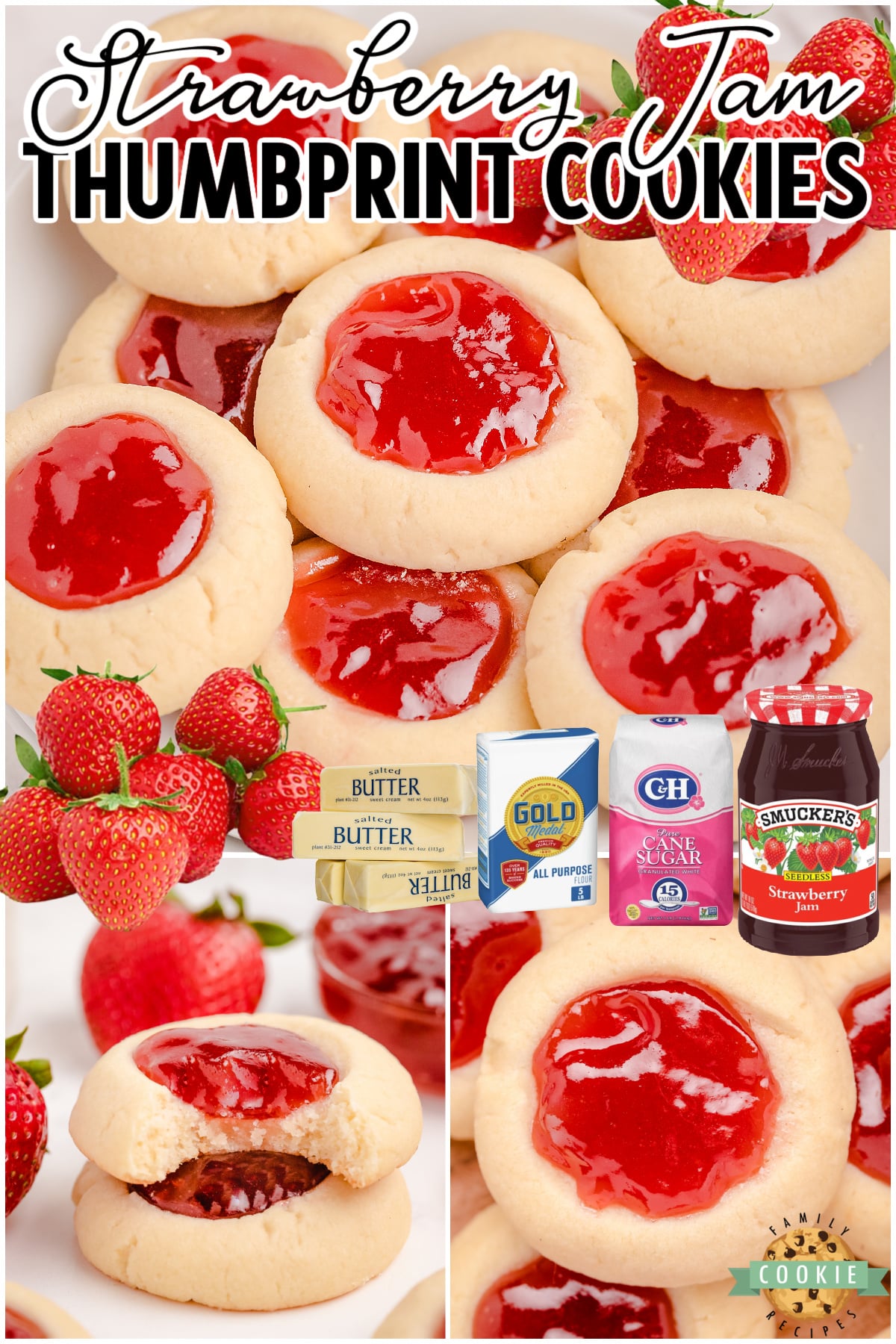 Alternate ideas for Thumbprint Cookies
The great thing about thumbprint cookies is they are SO versatile. You can switch up the center filling and create wonderful new desserts each time! An easy change is the flavor of the jam, you can use whatever you have in your kitchen or whatever your favorite flavor is. A delicious blackberry, raspberry, or peach would taste absolutely amazing. You can also sprinkle the tops of the cookies with powder sugar to create a pretty appearance to the cookie too. If you wanted to change the texture up a bit, add caramel to the center of the cookie instead of jam, YUM!
How long are thumbprint cookies good for?
You should keep the cookies in a single-layer air-tight container at room temperature for up to 1 week. Use a piece of parchment paper between layers of cookies, if needed, to prevent bottoms of cookies sticking to the jam of other cookies. For best results, I recommend eating them within about 3 or 4 days.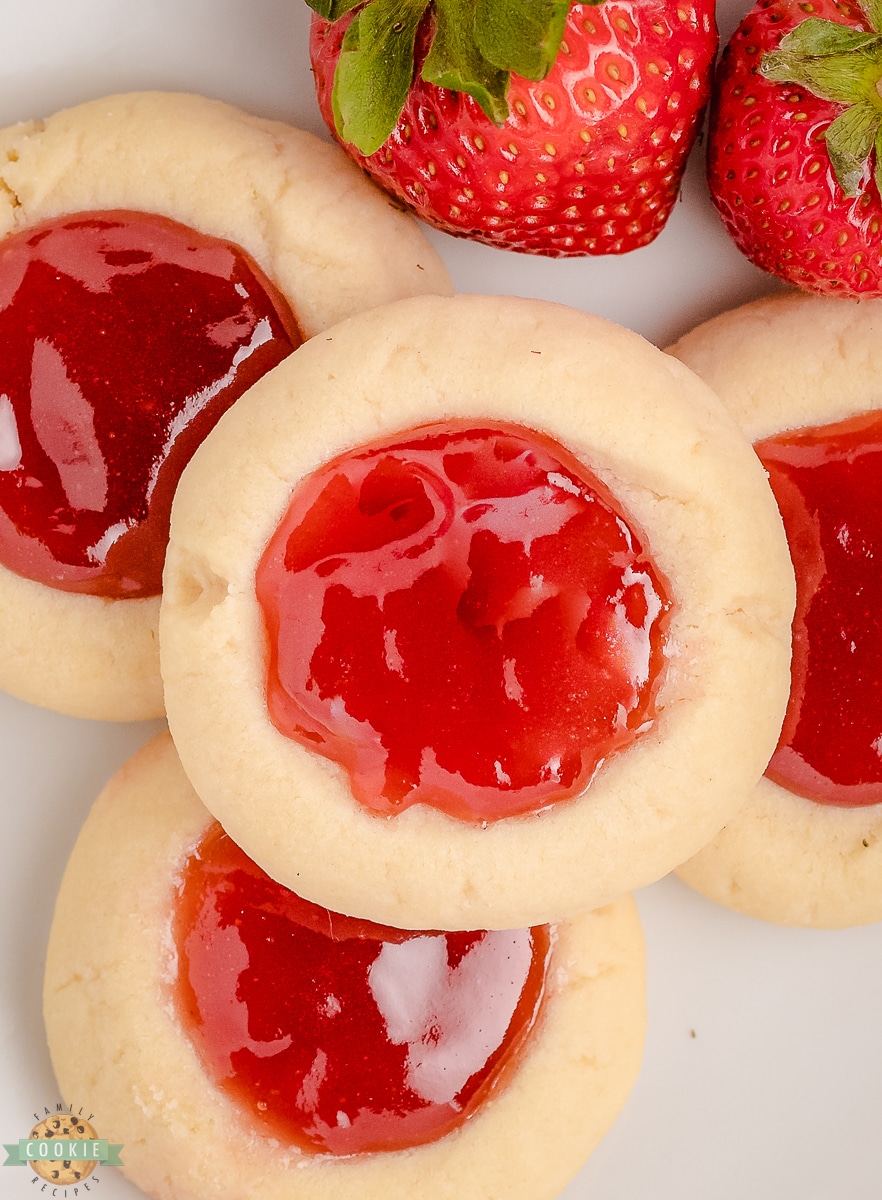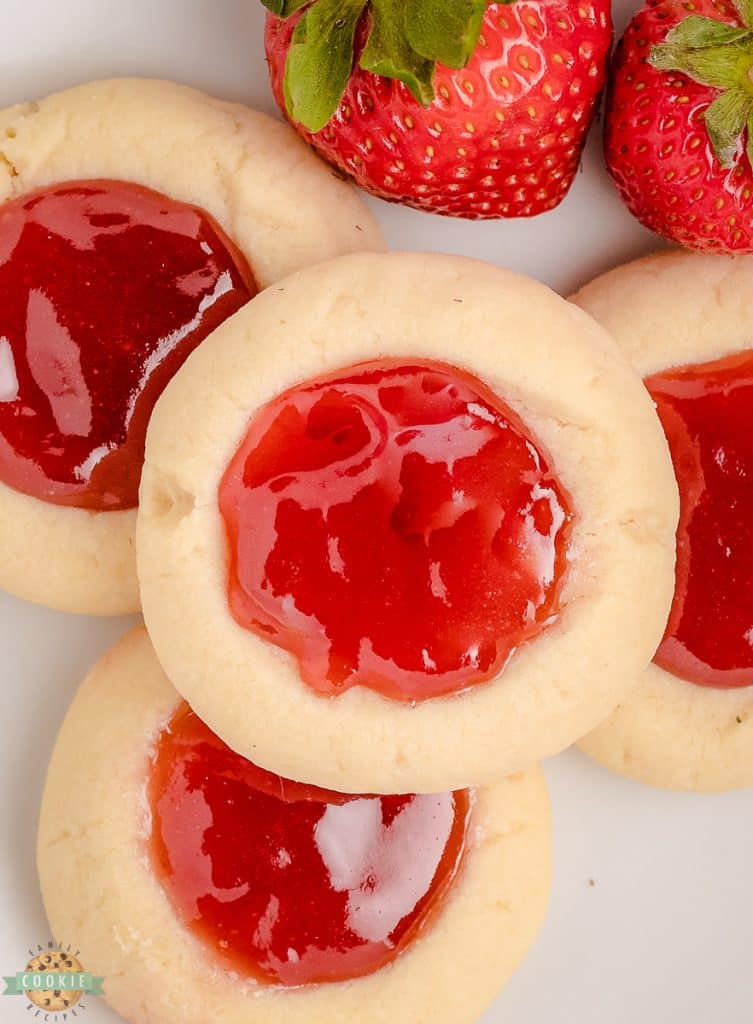 Why did my cookies spread?
If your cookies spread too much while baking, it was most likely a direct result of the dough being too warm. If it's hot in the kitchen or your butter is too soft, your dough will become warm fairly quickly. You can fix this easily by just popping the dough into the freezer for about 30 minutes to an hour or so before you continue to bake the cookies as directed.
Can I make the cookie dough in advance?
Yes, you can make the dough and keep it in a well-covered bowl in the fridge for up to a day in advance. So make the dough one day and bake it the next. Perfect for parties and occasions where you want fresh cookies but without being in the kitchen for too long.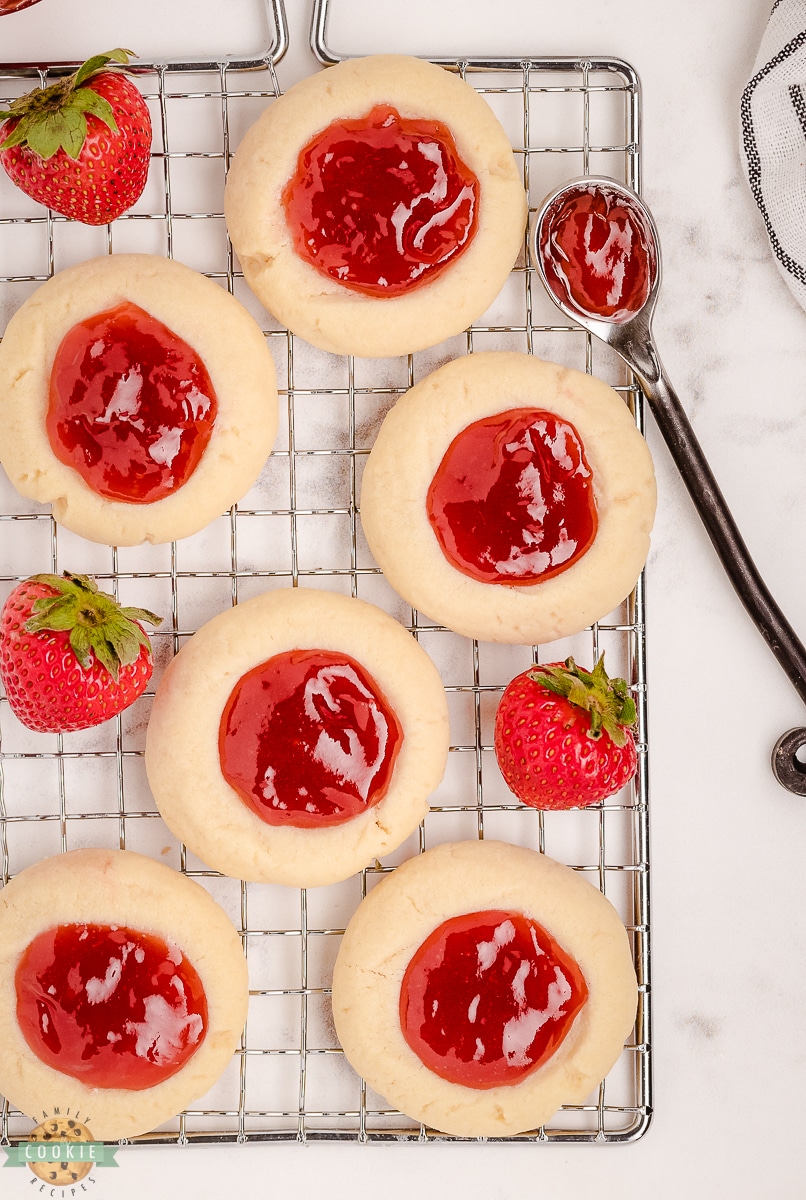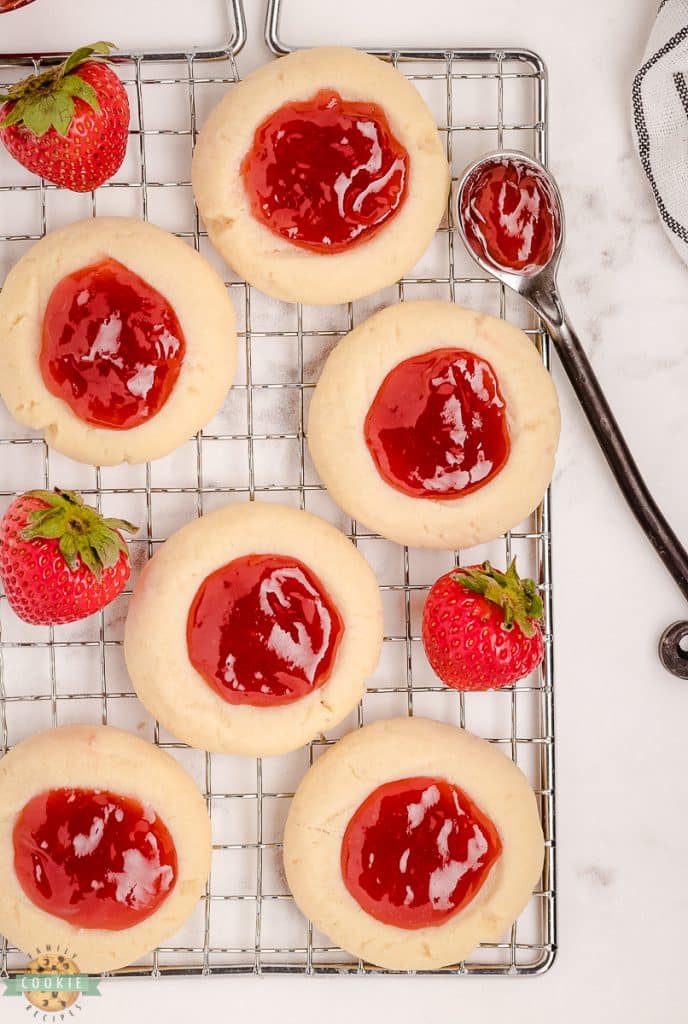 Do I have to chill the cookie dough?
When recipes request that you chill your cookie dough it is usually for a good reason. That reason is that the flavor gets a bit more time to develop and the cookies taste even more incredible. But the biggest reason is because of the butter/fats in the dough. By chilling the dough we allow the fats to solidify which means your cookies will not spread out as much while baking, so the texture turns out perfectly. This is especially important on warmer days or when your butter is warm or softened.


My husband and his Dad enjoy restoring old cars together! They've worked on a Chevelle, a '66 red Mustang and just recently added this beautiful '66 Corvette to the mix! It's small but soooo fast and has a loud engine, so the kids LOVE it. And the red car goes perfectly with the strawberry red cookies, right?!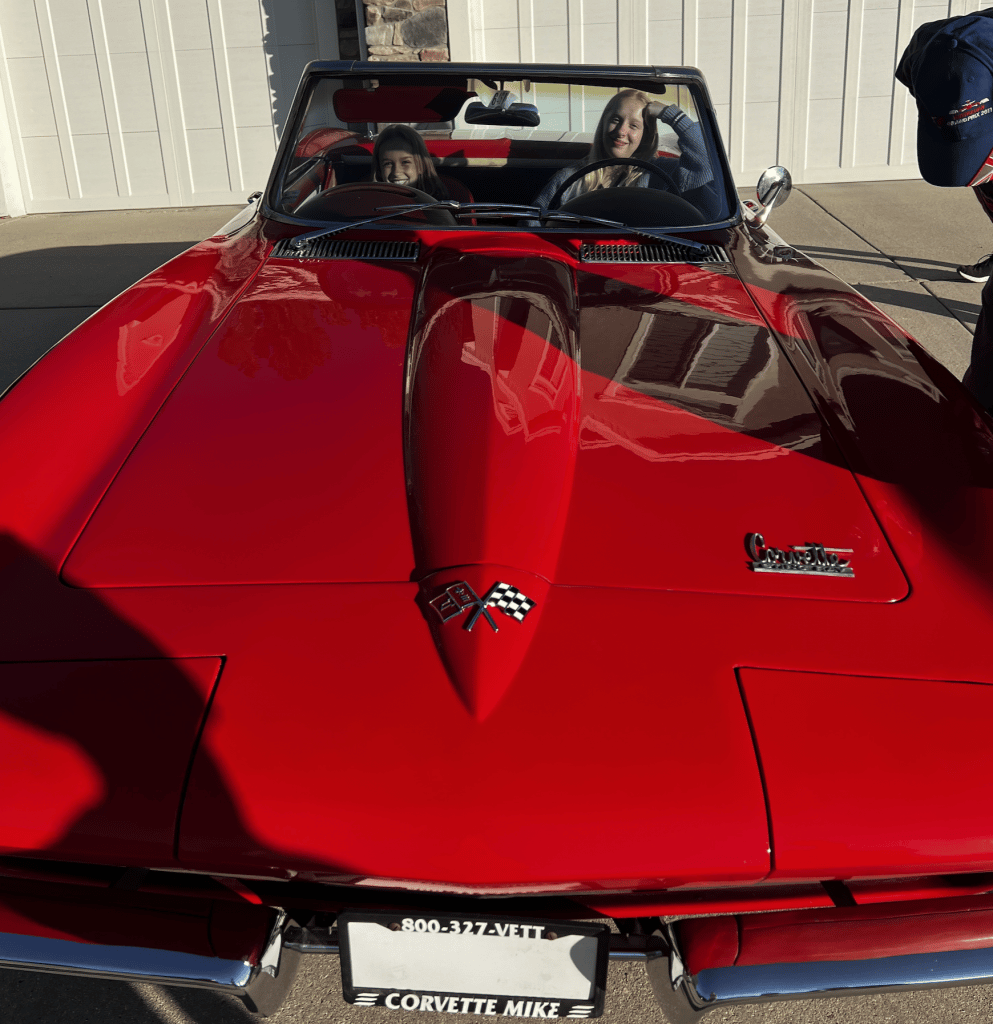 Here are some more thumbprint cookie recipes that you may be interested in trying
Strawberry Thumbprint Cookies are a fluffy and buttery melt-in-your-mouth shortbread dessert. These thumbprint cookies with jam are made with just a few simple ingredients, they come together fast and are absolutely incredible!