Chocolate Strawberry Thumbprint Cookies made with a buttery cookie & topped with chocolate fudge & strawberry jam! It's a chocolate covered strawberry in cookie form!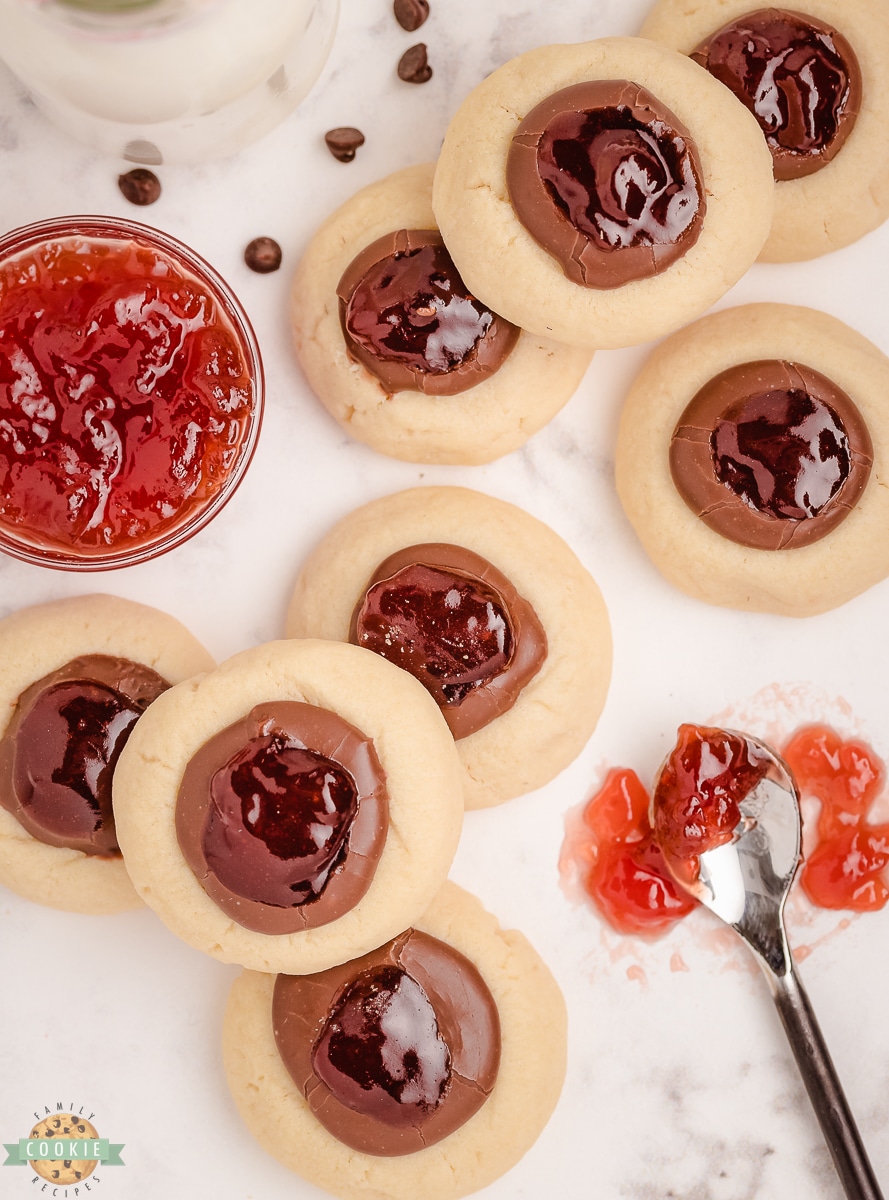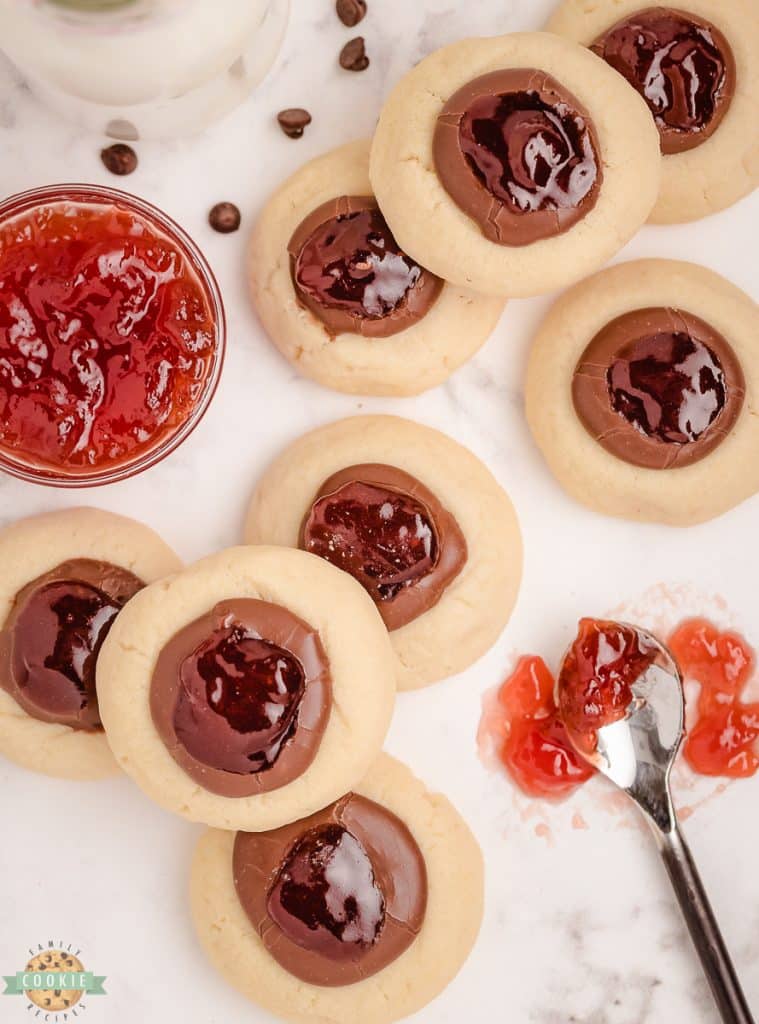 Making these chocolate ganache thumbprint cookies is an easy yet delicious way to enjoy a special treat. Packed with so much flavor in every bite, you will wonder why you haven't tried these strawberry thumbprint cookies sooner.
Chocolate Ganache Thumbprint Cookies
These cookies are a perfect pairing of fruit and chocolate, the combination works so great together. Made with a rich chocolate taste and sweet strawberry jam in every bite, these cookies are a great treat for any occasion. Serve them up for the holidays, Valentine's Day, and any day in between. They are sure to become a fast favorite in your household as they have in mine.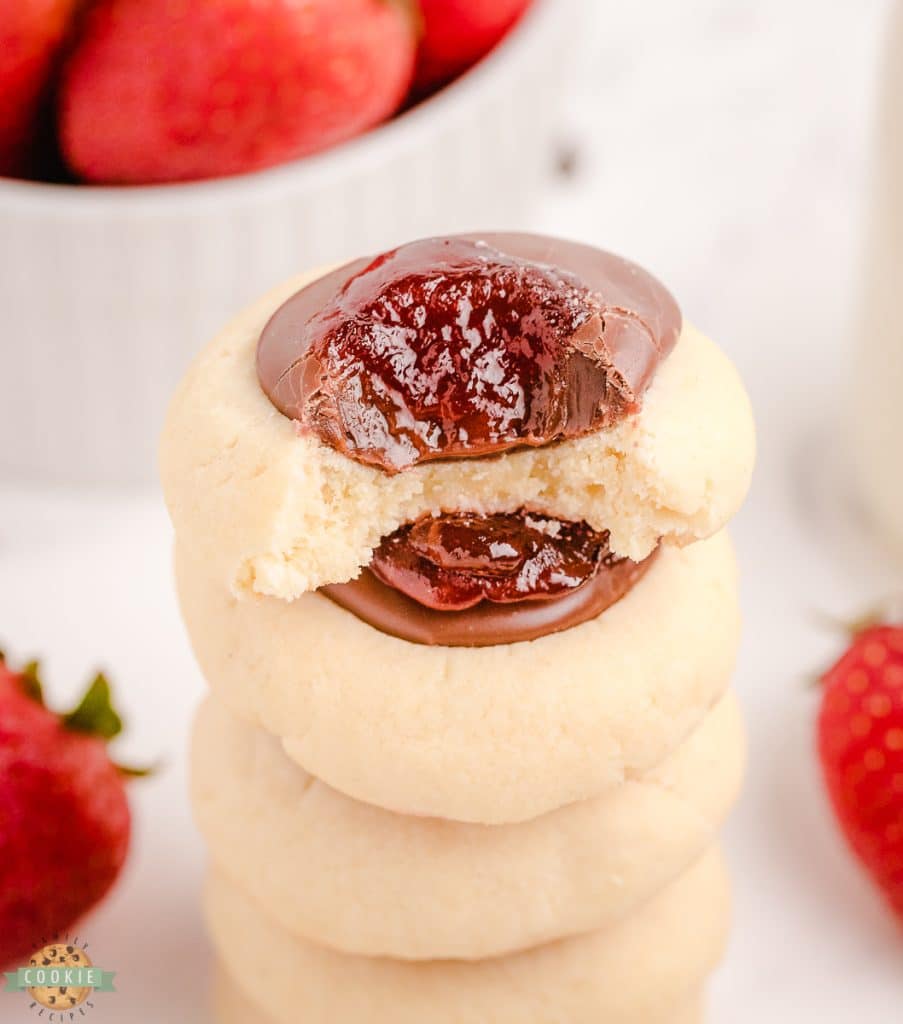 Why we think you will love this recipe!
This is a terrific recipe for so many reasons, but here are three reasons why we think these chocolate jam thumbprint cookies are worth making soon.
Simple ingredients. There are no "fancy" ingredients needed for this cookie recipe. We keep it simple with ingredients such as flour, eggs, chocolate chips, and jam. This means you most likely have ingredients on hand already and should have no trouble locating the ingredients you will need to buy.
Minimal steps. This recipe is super easy to throw together because the steps are basic and quick. This is a great recipe for novice bakers and experienced cookie makers alike. This is a fun recipe to get your kids involved in too, let them in on the baking fun!
No chilling is required. Patience while waiting for cookies can be difficult but this recipe does not require any chilling (although you could chill the dough if desired). This means that you can enjoy a batch of warm cookies much more quickly.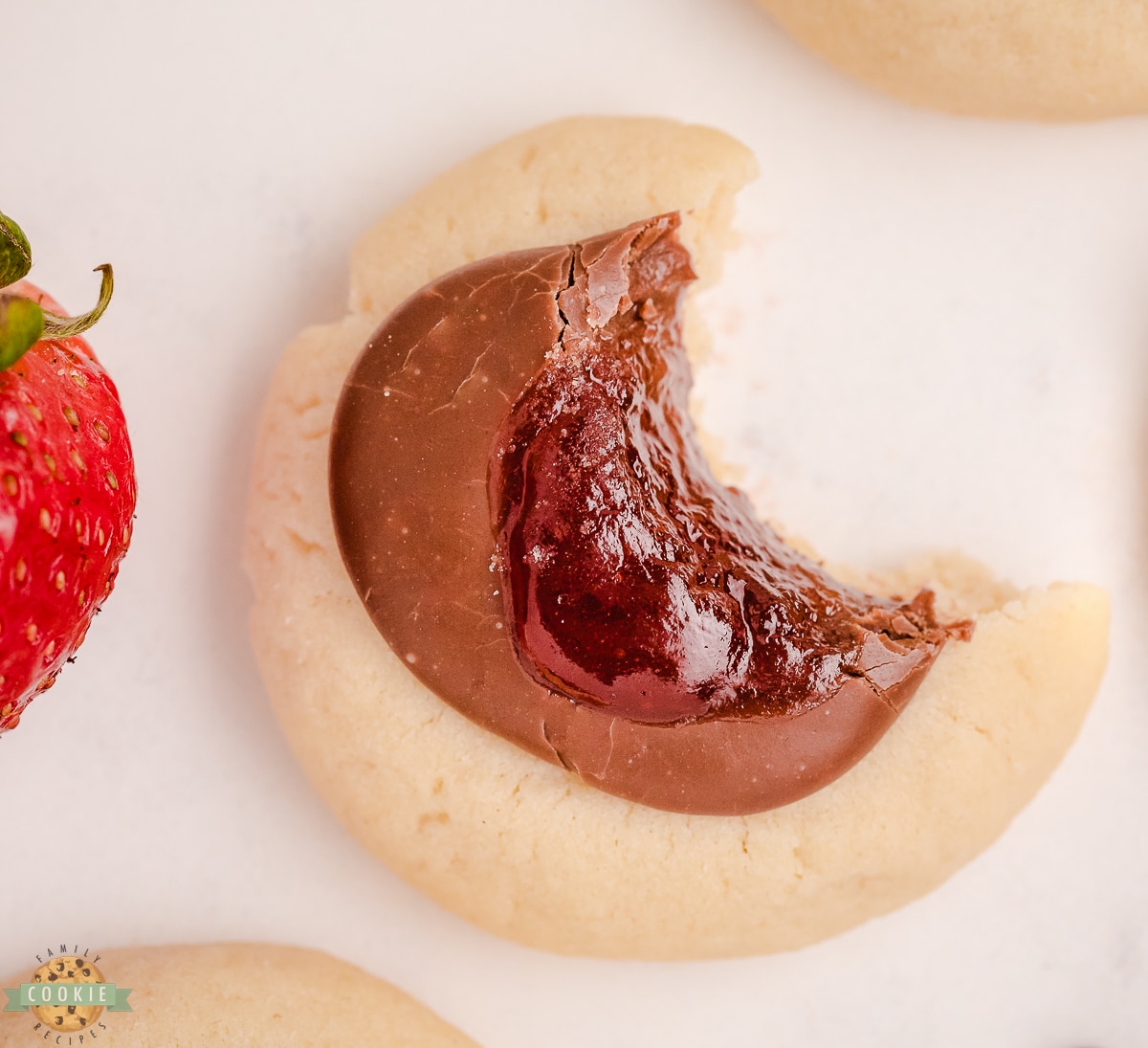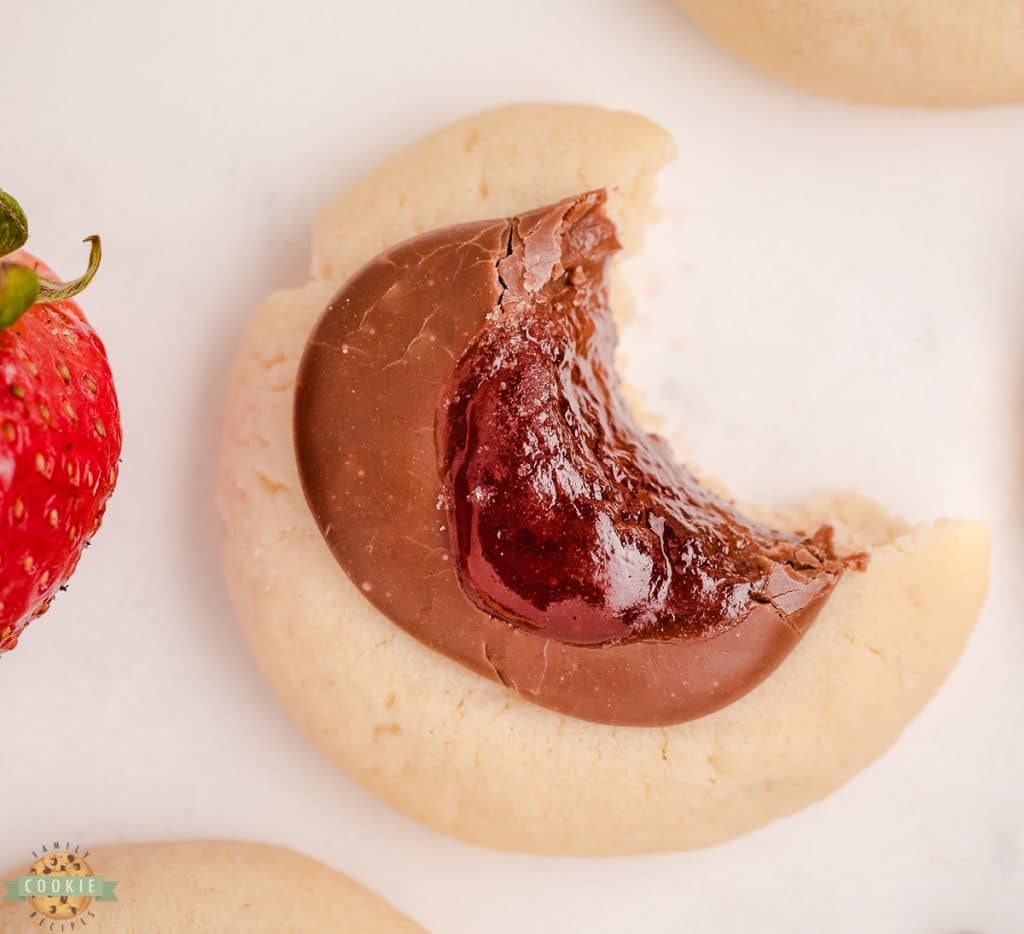 Chocolate Thumbprint Cookies Ingredients
Butter: You will need 1 cup (2 sticks) of room temperature butter to make these cookies rich and tasty.
Sugar: Adding in ⅔ cup of granulated sugar to make the cookies sweet and chewy.
Eggs: Adding 2 egg yolks will help to bind the dough together and make the cookies taste even richer.
Vanilla extract: Use 1 teaspoon of vanilla extract to enhance the flavors in the cookie dough.
Flour: The base of the cookie dough is 2 cups of all-purpose flour.
Salt: Use ½ teaspoon of salt to help bring out all the wonderful flavors in the cookie recipe.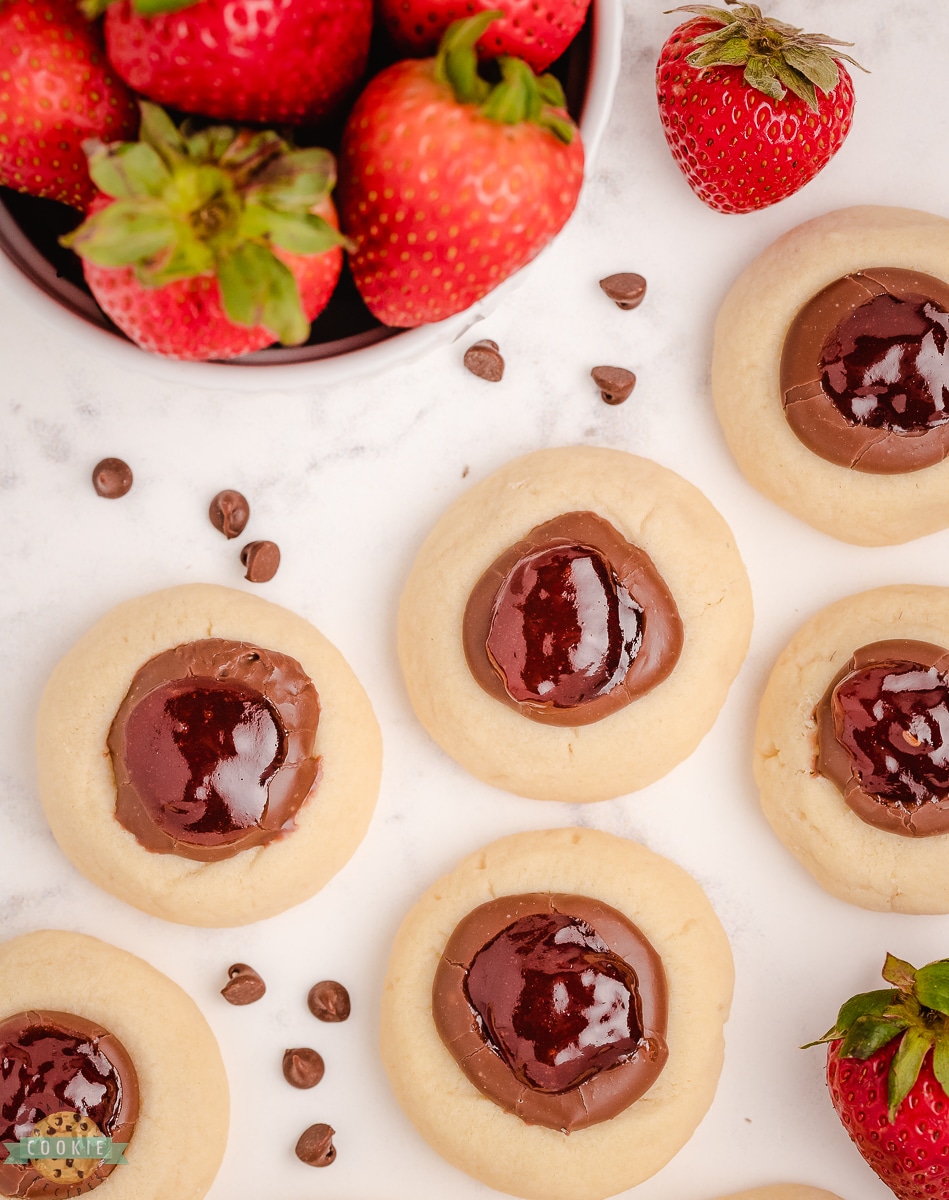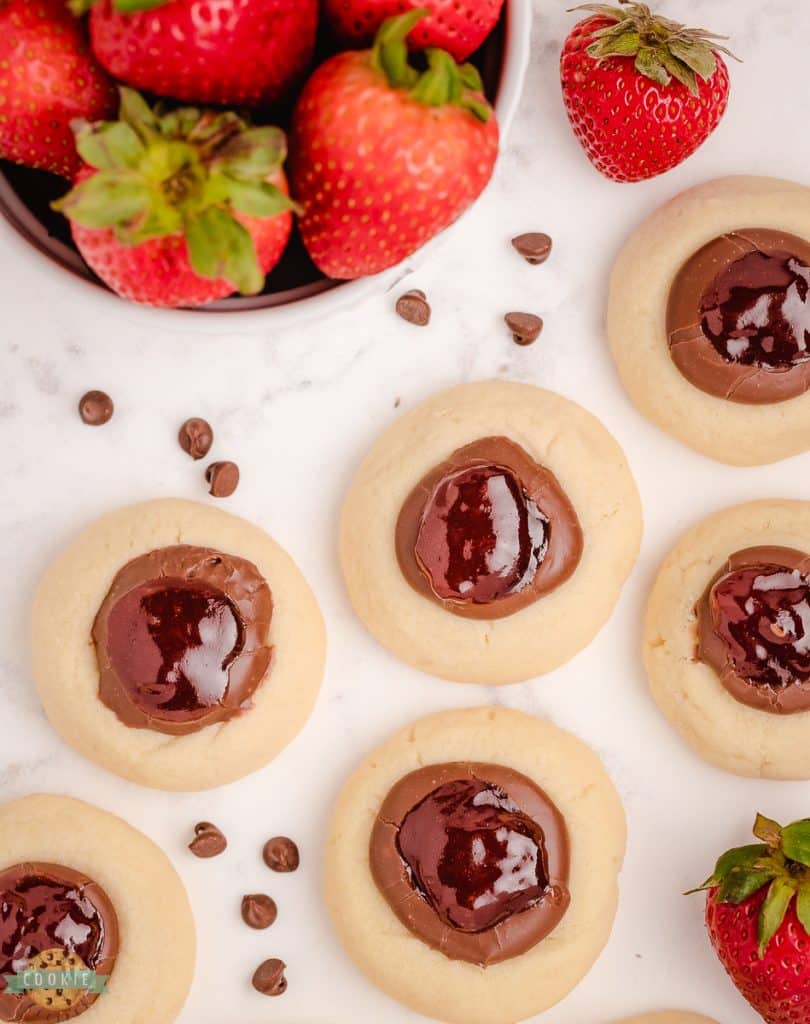 Fudge Topping:
Chocolate chips: Use 1 cup of semi-sweet chocolate chips to make the fudge topping extra delicious.
Condensed milk: Using 1 14-ounce sized can of sweetened condensed milk will make the fudge topping thicker and sweeter.
Almond extract: Use ½ teaspoon of almond extract to make the fudge richer in taste.
Jam: You will want some strawberry jam for filling in these cookies, the total amount needed will vary.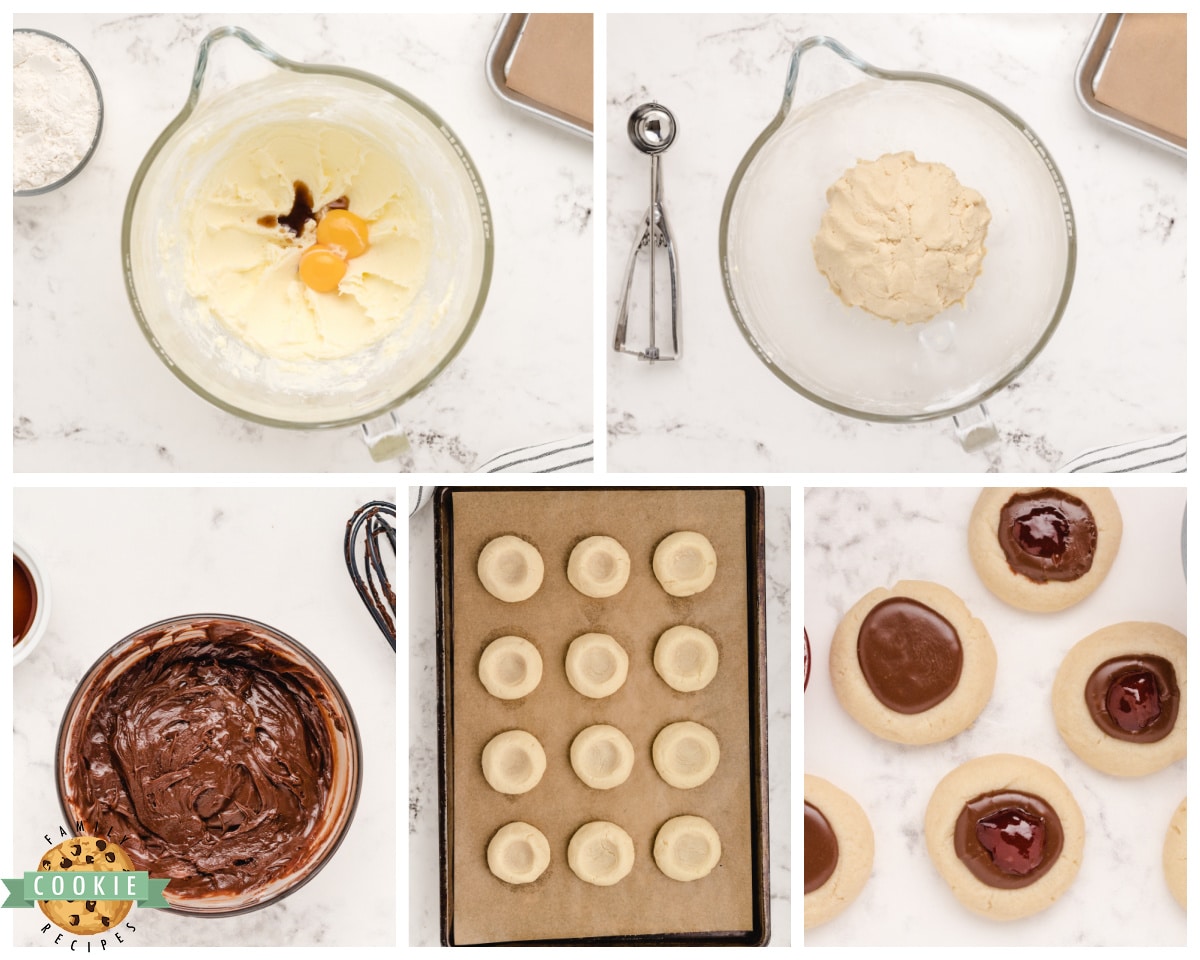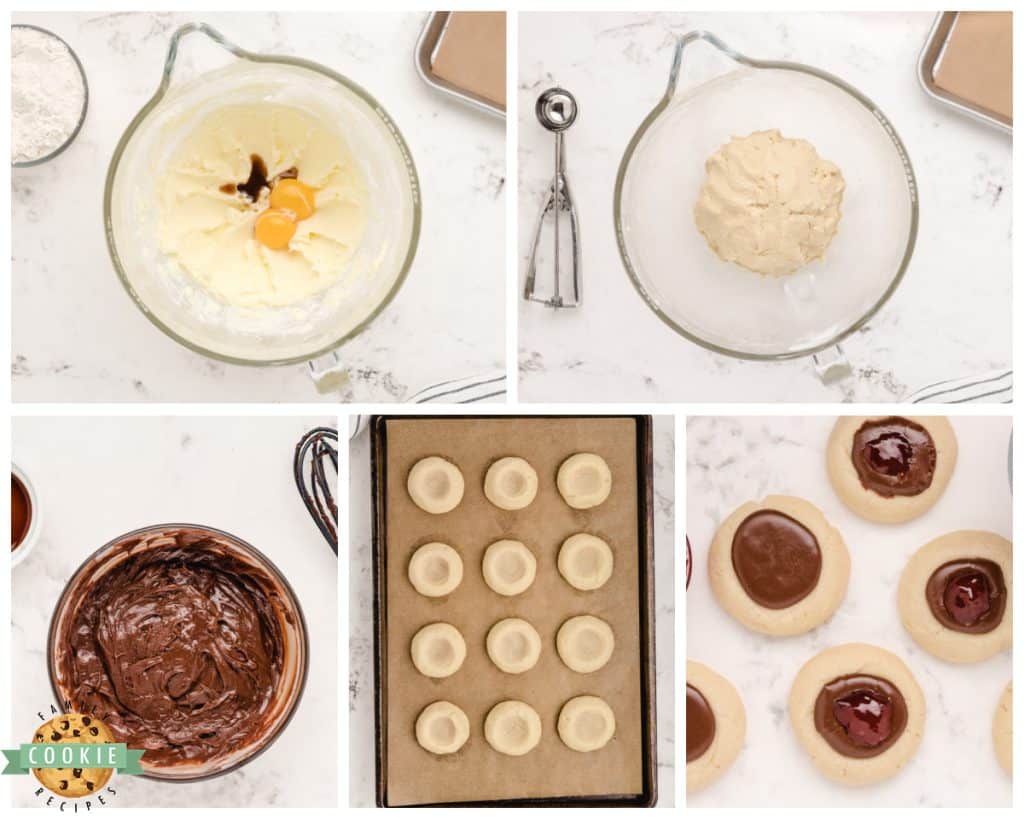 How to make Chocolate Strawberry Thumbprint Cookies
Prep
Preheat the oven to 375 degrees F.
Line a baking sheet with parchment paper or a silicon baking mat and set it aside.
Cookie Dough
In a large mixing bowl, cream together the butter and sugar using an electric mixer on medium-high speed. Continue for about 2-3 minutes until the butter mixture is light and fluffy.
Next, mix in the egg yolks and the vanilla extract.
Then, add in the flour and salt and mix until the dough comes together.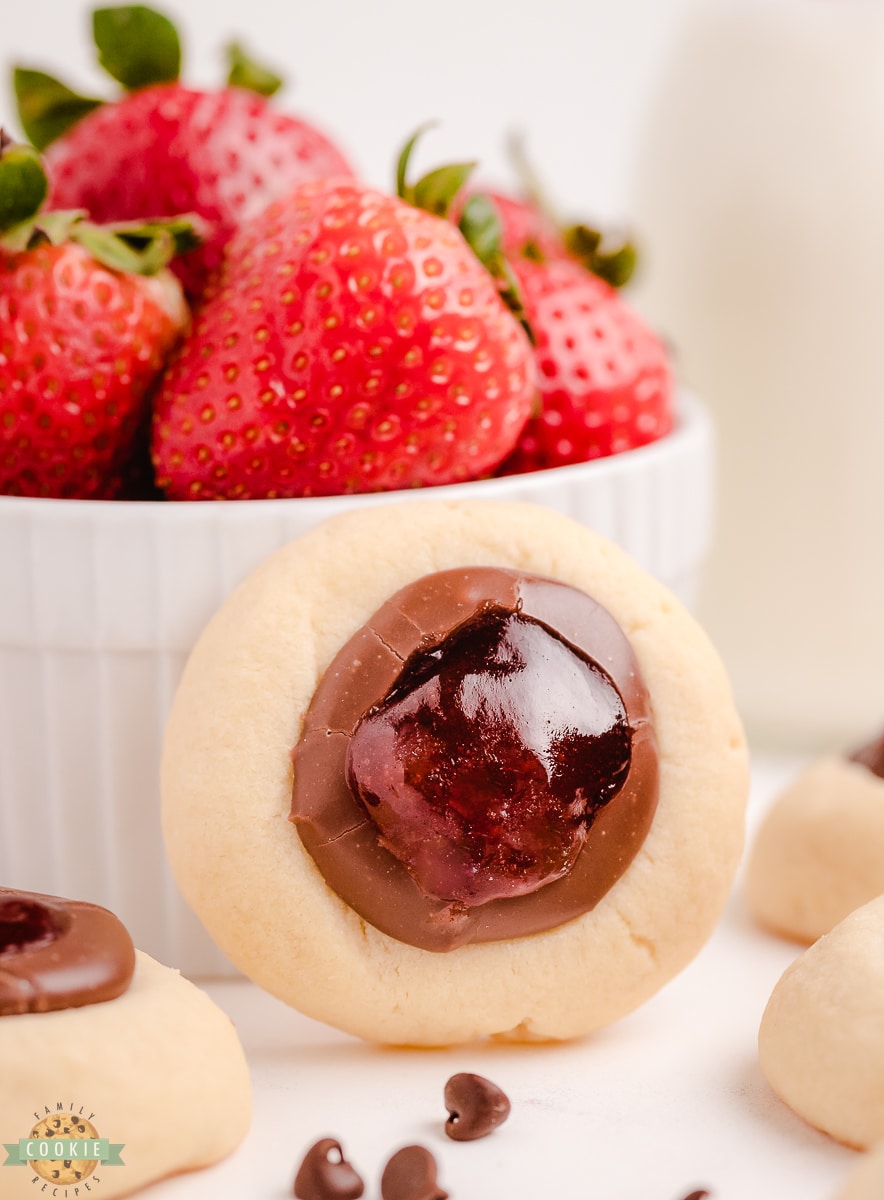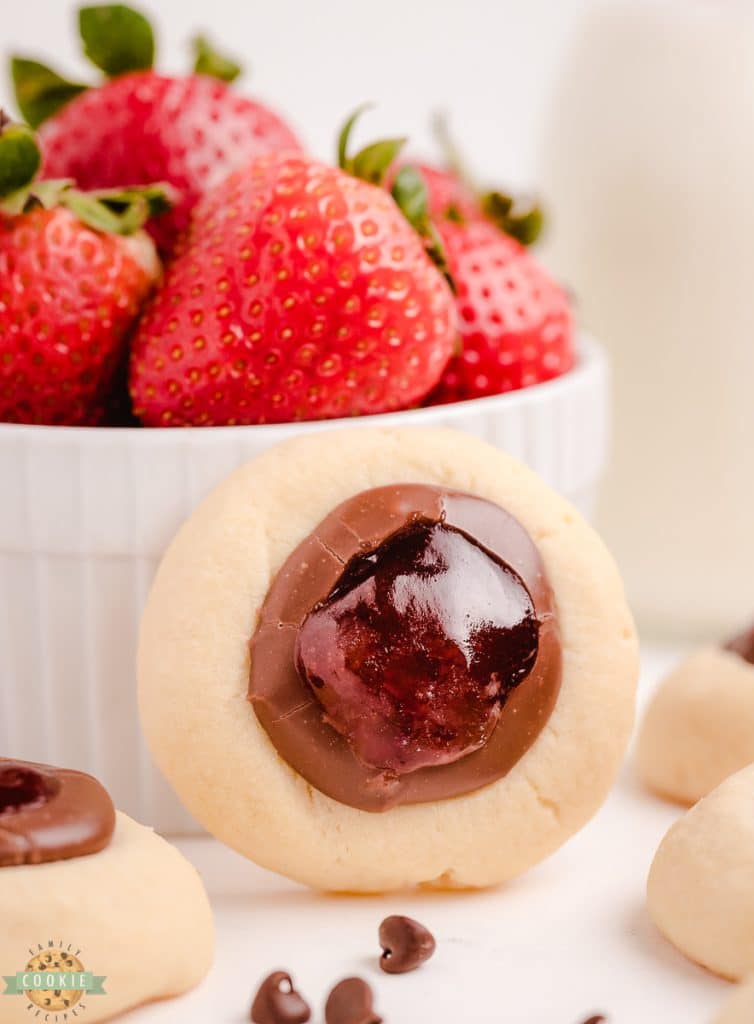 If desired you can chill the cookie dough for 30 minutes, but you can skip this step and head straight to baking them.
Scoop the dough into 1-inch-sized balls and roll them with your hands so that they are perfectly round.
Arrange the dough balls onto the prepared cookie sheet.
Use a ½ teaspoon measuring spoon to create a circular crater in the center of the cookie dough balls.
Bake
Proceed to bake the cookies for 8-10 minutes.
Remove them from the oven and if the indents look shallow, press the measuring spoon to further define them again.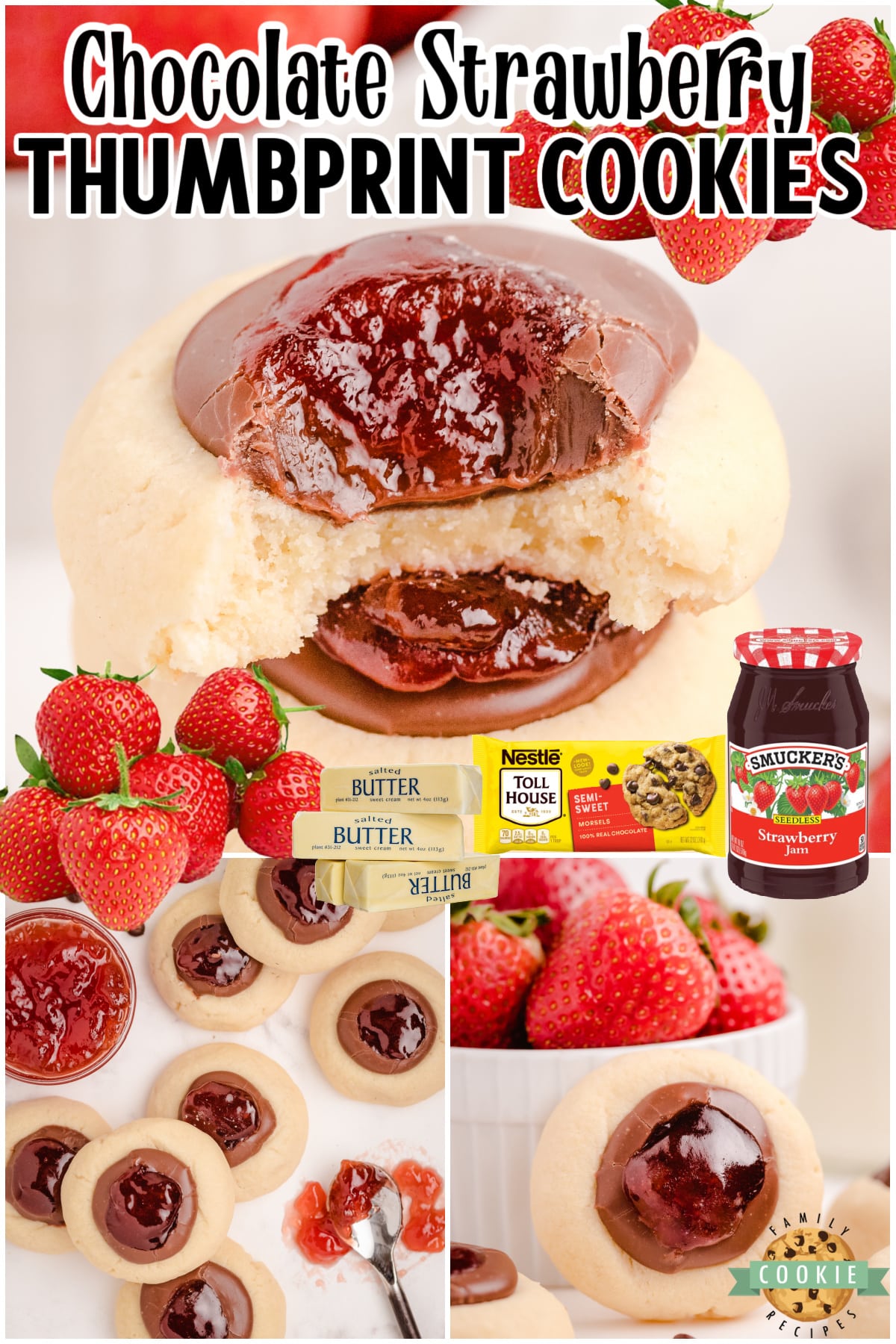 Fudge topping
Melt the chocolate chips, condensed milk, and almond extract in a small pot over low heat until melted.
Continue stirring over low heat for 3-4 minutes or until the mixture has thickened.
Chocolate Strawberry Thumbprint Cookies Assembly
Spoon about 1 teaspoon of fudge onto each cookie. Let cool until set for about 5 minutes.
Take ½ teaspoon measuring spoon again and slightly press an indent into the chocolate.
Then, fill the indent with strawberry jam over the chocolate fudge topping.
Serve immediately and enjoy.
What are thumbprint cookies?
We call cookies like thumbprint cookies because the indentation in the center of the cookie is about the size of your thumb. Some people actually prefer to use their thumb to make the holes too, but that can be troubling if the cookies are too warm. Thumbprint cookies are usually made with a shortbread cookie base and are then filled with various toppings such as fudge, caramel, jams, and more.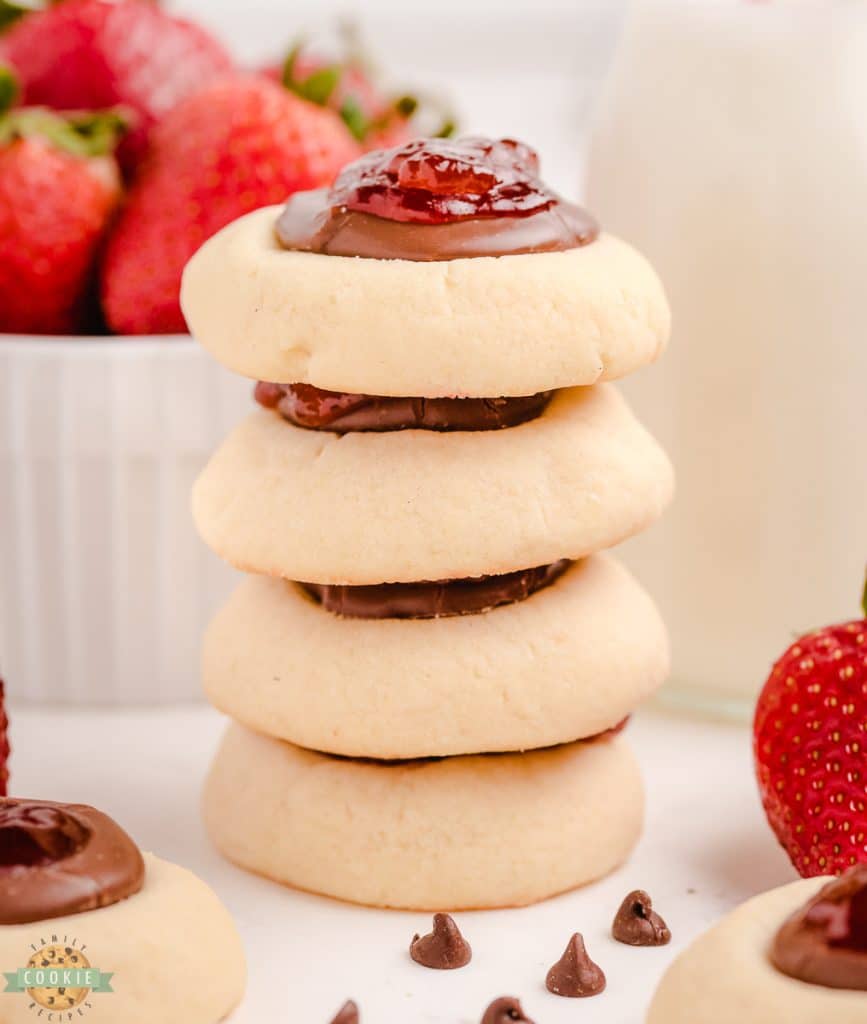 How long do thumbprint cookies last?
If stored in an airtight container you can get these cookies to last up to 1 week.
Can you freeze chocolate thumbprint cookies?
These cookies freeze very well. To do this place the cookies onto a baking sheet after they have been assembled and then freeze for 3 hours until solid. Then transfer to an airtight container with parchment paper-lined between the layers to prevent sticking. When you want a cookie, let it thaw and come to room temperature before serving.


I don't sing praises for my hubby as often as I should! Here he is on Father's Day being celebrated. 2 weeks later, for his birthday, the kids and I made this VERY elaborate scavenger hunt with all of his presents. I videoed the whole thing! It took about 25 minutes to get through it and he opened his gifts throughout. It was SO FUN! We love and appreciate him so much!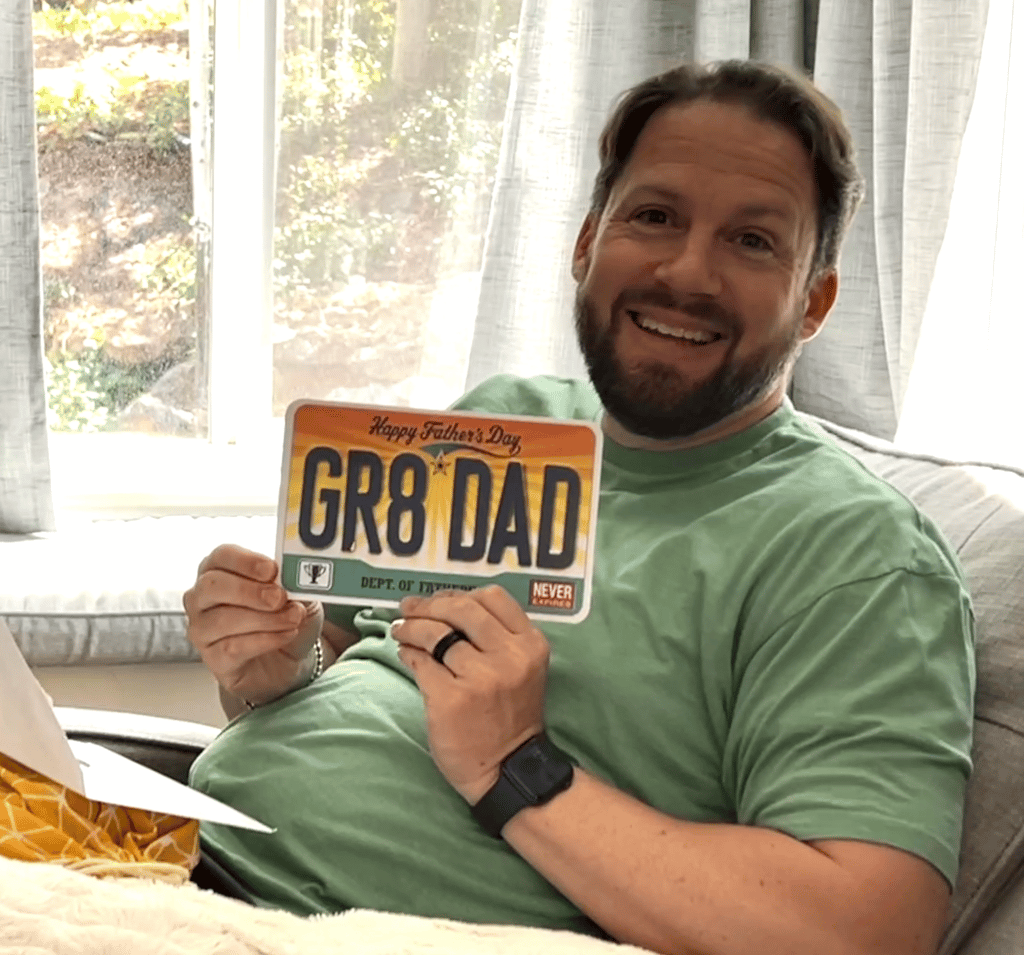 Here are some more great thumbprint cookies you'll love
Chocolate Strawberry Thumbprint Cookies are a soft, sweet and heavenly treat! Made with a soft chocolate cookie, filled with chocolate fudge and strawberry jam these thumb print cookies are a fabulous dessert.