Caramel Thumbprint Cookies are a classic shortbread cookie rolled in pecans, baked & filled with warm caramel. Buttery Christmas cookies that everyone loves seeing at holiday cookie exchanges!
Classic thumbprint cookies filled with jam are wonderful, but my family absolutely LOVES it when I make these Caramel Thumbprint Cookies instead! The crunchy pecans coating the outside of the cookie, paired with the buttery cookies and sweet caramel make these truly amazing.

What are the ingredients in Caramel Thumbprint Cookies?
Here are the ingredients you'll need to make my recipe for thumbprint cookies:
–butter and shortening: Butter gives cookies a great flavor but shortening provides a light, more delicate texture, so I absolutely love using a combination of both in cookies!
–brown sugar
–eggs
–vanilla extract
–all purpose flour
–salt
–pecans: You can use halves or chopped because you'll actually need to chop them more fine than the chopped pecans come when you buy them from a store anyways! You can see my favorite tool for chopping nuts here.
–caramel: You'll want a caramel that sets somewhat firm. I like to use homemade caramel or melted caramel bits.

How do you make Caramel Pecan Thumbprint Cookies?
Caramel Thumbprint Cookies are amazing! To make, first preheat the oven to 350º and line a cookie sheet with parchment paper. I used an 11×17 jelly roll pan.
Gather all the ingredients together, making sure your butter is softened and that your egg yolks are separated from the egg whites. Use an electric mixer to mix the butter, shortening, egg yolks and vanilla together. Combine the flour and salt together and then combine the wet and dry ingredients and mix in your electric mixer.
Place the egg whites in one bowl and the chopped pecans in another.  Using a small cookie scoop, make dough balls out of 2 teaspoon sized portions of dough.  Then you'll dip the cookie dough ball in the egg whites and then roll it in the nuts. This is how you get that nutty outer layer! Put the ball on the parchment lined cookie sheet, setting the cookies 1 inch away from each other. Use a 1/2 teaspoon measuring spoon to indent each cookie. Don't worry if the indents don't look perfect or if the cookies crack a bit- just press the sides back together! You'll actually "fix" the indents again after the cookies bake.
Bake the cookies for about 10 to 12 minutes.  Let the cookies cool a few minutes, then use that same 1/2 teaspoon to re-indent each cookie, pressing sides back together to make them more rounded, if needed. Fill each cookies with warm caramel and then let them fully cool to set. The caramel will take about 2-3 hours before it sets enough where you can stack the cookies.
If you use a package of Caramel Bits: pour the caramel bits into a microwave-safe dish and add 2 TBSP milk. Microwave for about 1 minute 20 seconds. Bits won't necessarily look melted, but once you begin stirring them, they'll run smooth. If they don't, put back in the microwave for another 10 seconds.

Pecan Caramel Thumbprint Cookie Recipe ingredients:
1/2 cup butter
1/2 cup shortening
1/2 cup brown sugar, packed
2 eggs, yolks separated from whites
1 tsp vanilla extract
2 cups all purpose flour
1/2 tsp salt
1 1/2 cups chopped pecans
1/2 cup warm caramel
How to make Caramel Thumbprint Cookies:
Preheat oven 350º F. Line a baking sheet with parchment paper or a silicone baking mat.
Mix butter, shortening, brown sugar, egg yolks, and vanilla thoroughly with an electric mixer.
Whisk flour and salt together in a separate bowl. Combine dry ingredients with butter mixture and mix until combined.
Beat egg white with fork. Scoop 2 teaspoon sized portions of dough and roll into balls. Dip dough balls into egg whites. Transfer to chopped pecans and coat thoroughly.
Place 1 inch apart on prepared cookie sheet. Use a 1/2 tsp measuring spoon to indent the middle of each cookie dough ball.
Bake 10 – 12 minutes. Once you remove the tray of cookies from the oven, use the 1/2 tsp measuring spoon and indent each cookie again, pressing sides back together when needed, if cookies cracked.
Fill each cookie with warm caramel. Let cool to set.
If you use a package of Caramel Bits: pour the caramel bits into a microwave-safe dish and add 2 TBSP milk. Microwave for about 1 minute 20 seconds. Bits won't necessarily look melted, but once you begin stirring them, they'll run smooth. If they don't, put back in the microwave for another 10 seconds.
Makes 3.5- 4 dozen thumbprint cookies.

Like our Caramel Pecan Thumbprint Cookies? Check out more Christmas cookies here:
–Mint Chocolate Christmas Cookies
–Holiday Star Shortbread Cookies
Peppermint Vanilla Shortbread Cookies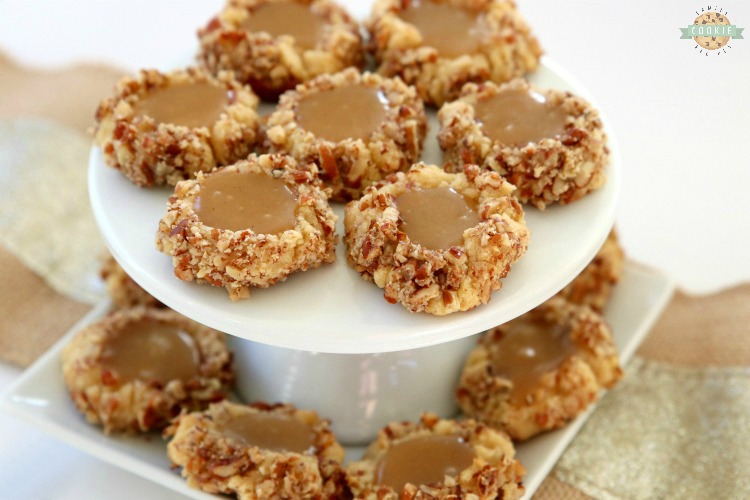 How do you soften butter?
I like to soften butter by using the defrost function on my microwave. If you need the full 1/2 cup cube of butter, you can leave it in the paper wrapper, otherwise, place the amount of butter you need in a glass or porcelain bowl. I use the lowest defrost setting on my microwave and just let it run for 20 seconds. Check the butter and see how soft it is by pressing it with a rubber scraper. If it is still not soft to the touch, meaning it doesn't indent when you press into it, let it warm for another 5-10 seconds. Watch it closely! Butter softens very quickly.
Can you freeze Thumbprint Cookies?
Yes, you can freeze Jam Thumbprint Cookies in an airtight container for up to 1 month. Make sure you first let them sit on the countertop for 2-3 hours before stacking them in the airtight container, so that the jam has enough time to set. Store each layer with a piece of parchment paper in between so that the cookies will not stick together and maintain their prettiness when defrosted.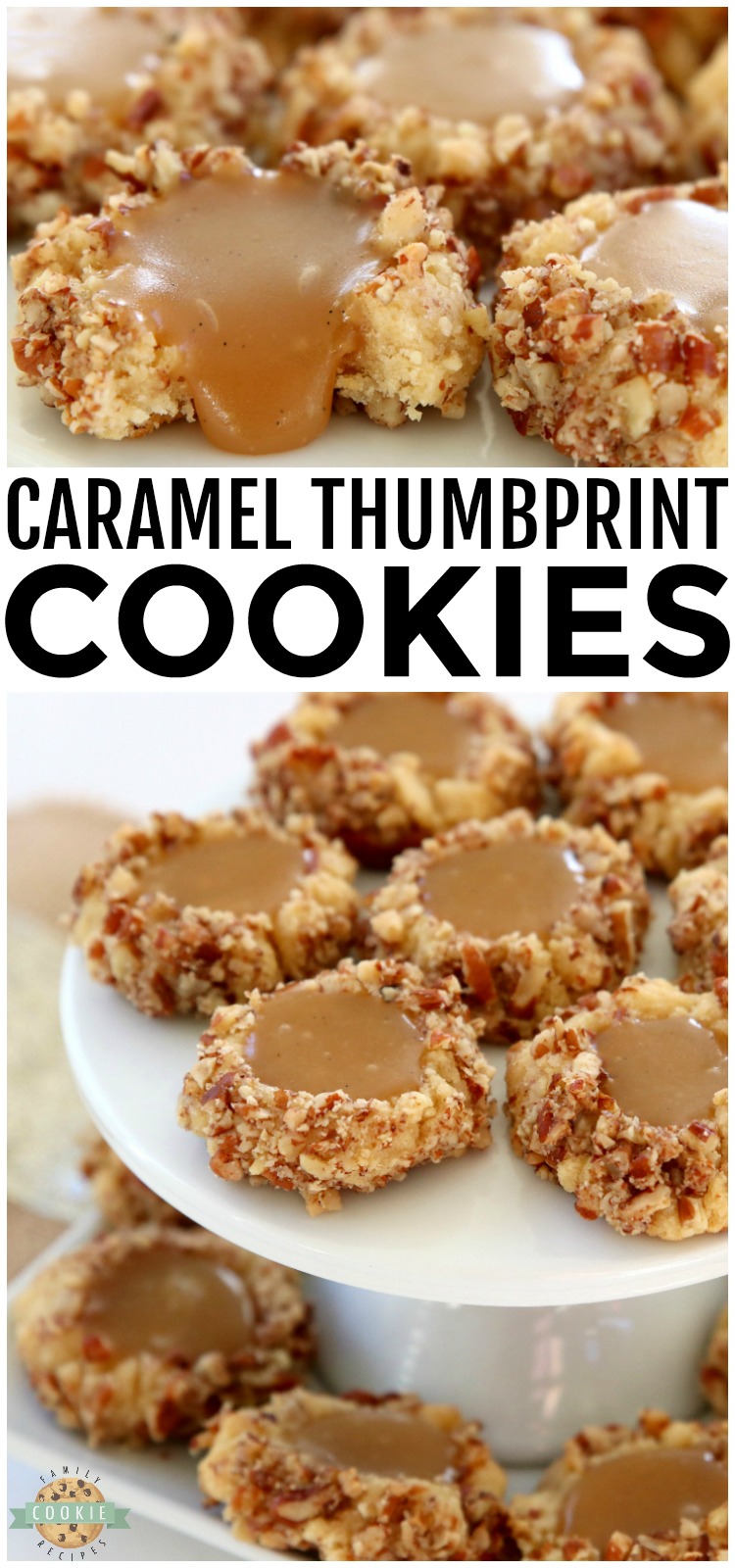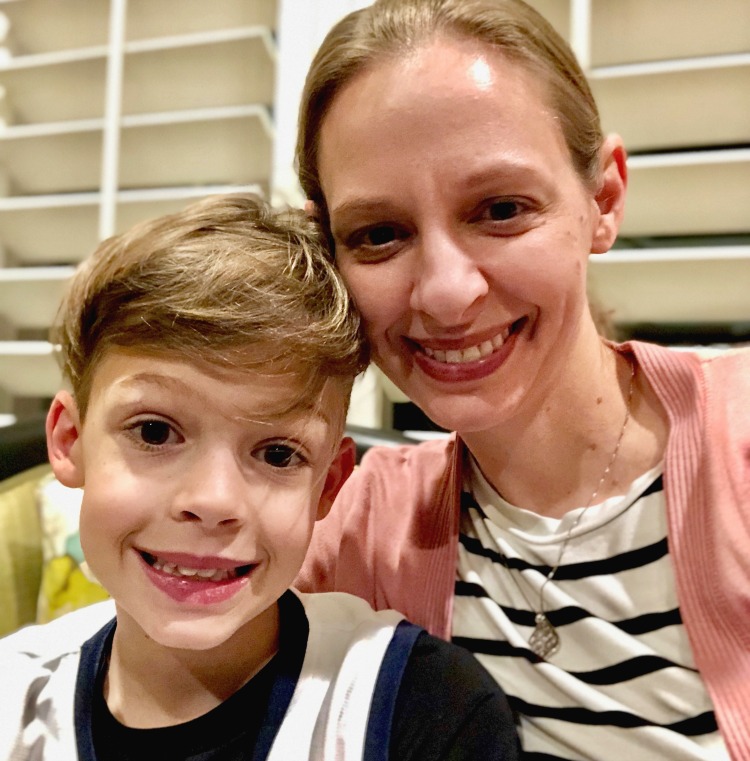 Sometimes middle children can feel a bit forgotten, so I find myself often giving C, my middle boy AND middle child, a little extra attention. He's at the age where huge from Mom are still okay, so I take full advantage. Over the last year he's grown his hair out on top and it really suits him. He's the life of the party, super athletic and incredibly talented in so many areas. He plays the piano and I absolutely adore hearing him play. I had a proud mama moment recently when he had his very first piano recital. He performed against several other kids older (and much taller, ha!) than him but he blew everyone away when he performed the most complicated piece of music virtually flawlessly. Middle kids rock!