Christmas Sugar Cookies are a necessary holiday tradition at our house! This simple sugar cookie recipe produces soft, chewy and delicious cut-out cookies that can be decorated with a simple 4-ingredient buttercream frosting.
Be sure to check out our updated collection of BEST CHRISTMAS COOKIE RECIPES here!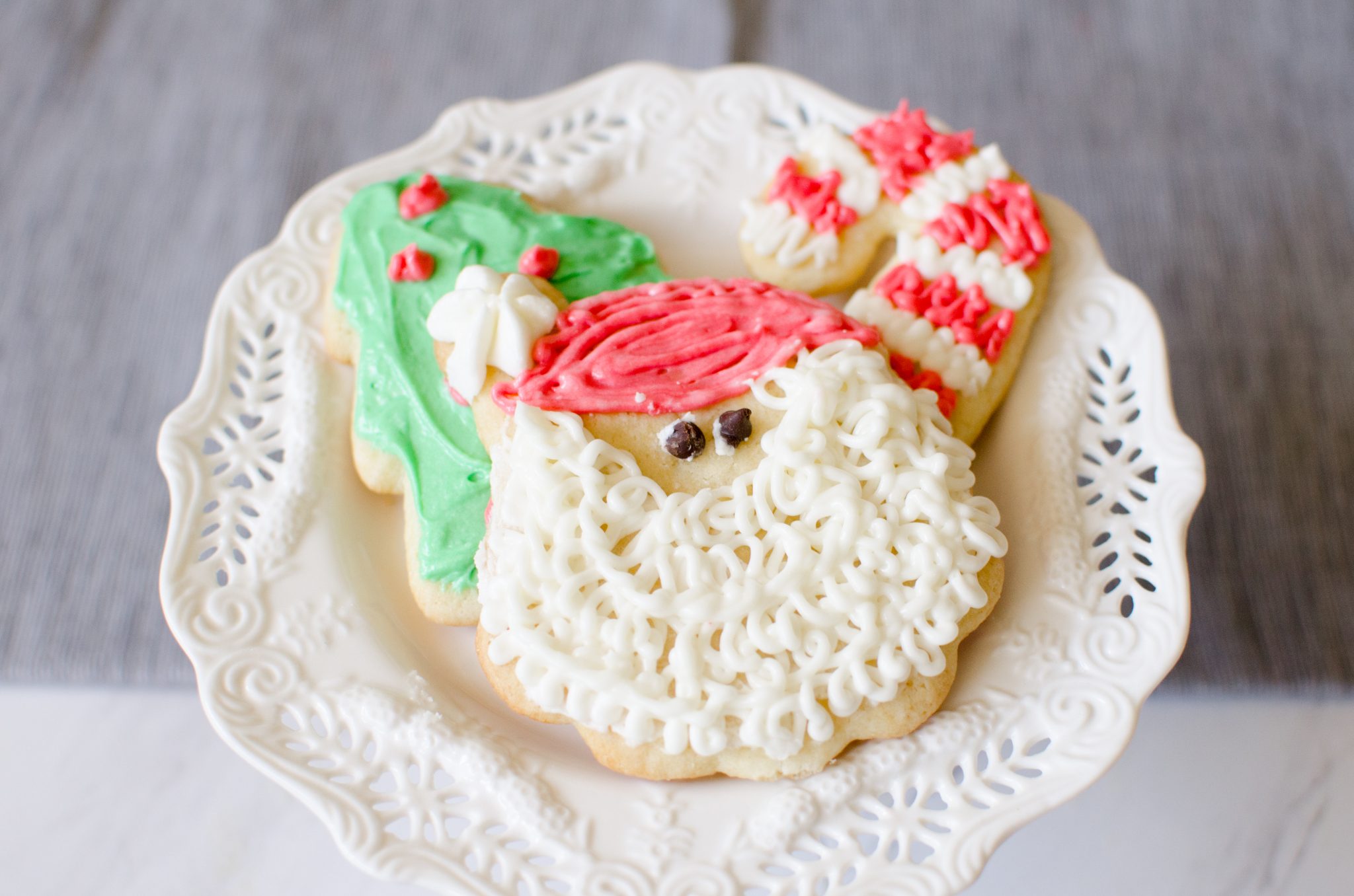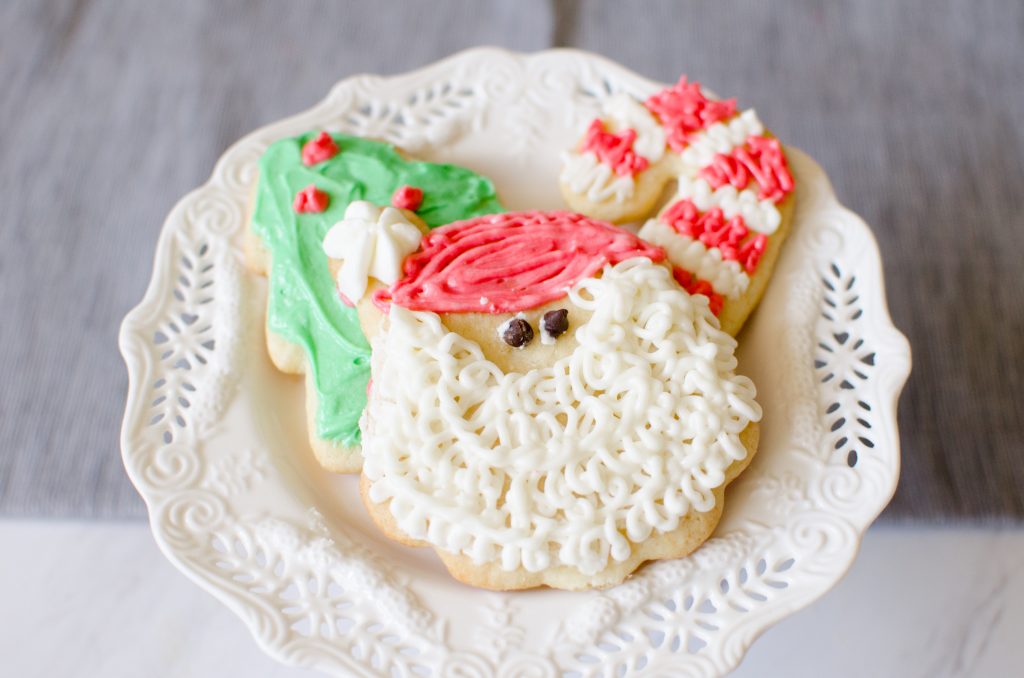 I have tried many sugar cookie recipes over the years before deciding that this one is the best sugar cookie recipe out there! The ingredients are simple, and I think that the inclusion of sour cream in the recipe is what makes the consistency perfect every time. The sour cream in this sugar cookie recipe ensures moist, soft sugar cookies every time!
Every year, my kids love to help roll out the dough and cut out the shapes. Of course, their favorite part is decorating the Christmas Sugar Cookies and it's amazing how creative they can get with just a little bit of frosting and some sprinkles! Making cookies is such a simple thing, but it's one of our favorite holiday traditions and something my kids look forward to every single year! And Christmas Sugar Cookies make great gifts too!
How do you make the best Christmas Sugar Cookies?
Sugar cookie dough is sticky, but once it's sufficiently chilled, it's much more workable. Resist the urge to add more flour to the dough before chilling! If you add too much flour, the ratio of wet to dry ingredients is off and the cookies end up drier and more crumbly.
Do not melt the butter! The butter needs to be softened (at room temperature), but using melted butter will ruin the cookies.
Spend a little extra time when you mix the butter and sugars. Creaming them together for 2-3 minutes will improve the consistency of your cookies.
Preheat the oven. This will help your cookies turn out right every time!
Use parchment paper or a silicone baking mat. Doing this will make it really easy to remove the cookies from your cookie sheet so that you don't have to scrape them off the pan – they will just slide right off in perfect shape!
Make sure that you don't roll out the dough too thin before cutting your sugar cookies out. You want the dough to be about 1/4″ thick. If the dough is too thin, your cookies will be crispy and hard and easily breakable, but if the dough is too thick, the cookies may not bake all the way through the middle.
Make sure not to over bake your cookies.  They may not even look totally done on the tops, but if the bottoms start to brown, I take mine out and they are perfect!
Can you use salted butter for sugar cookies?
You can absolutely use salted butter for sugar cookies! I'm a big fan of using what you have and I only buy salted butter. I used to use unsalted butter in baking, but I honestly couldn't tell much of a difference and it is easier for me to just stock up on one type of butter for all of my baking and cooking needs!
Some people aren't fans of salted butter because they want complete control over how much salt is in the recipe. I'm one of those people who constantly has to add salt to everything though, so I like there to be enough! When making cookies, I feel like the cookies taste better when they have a good salt to sweet ratio. I've served my sugar cookies to many, many people and no one has ever complained about there being too much salt!
What are the ingredients in Christmas Sugar Cookies?
1 cup sugar
1/2 cup softened butter
1 egg
1 tsp. vanilla
1/3 cup sour cream
1/2 tsp salt
1/2 tsp baking soda
2 cups flour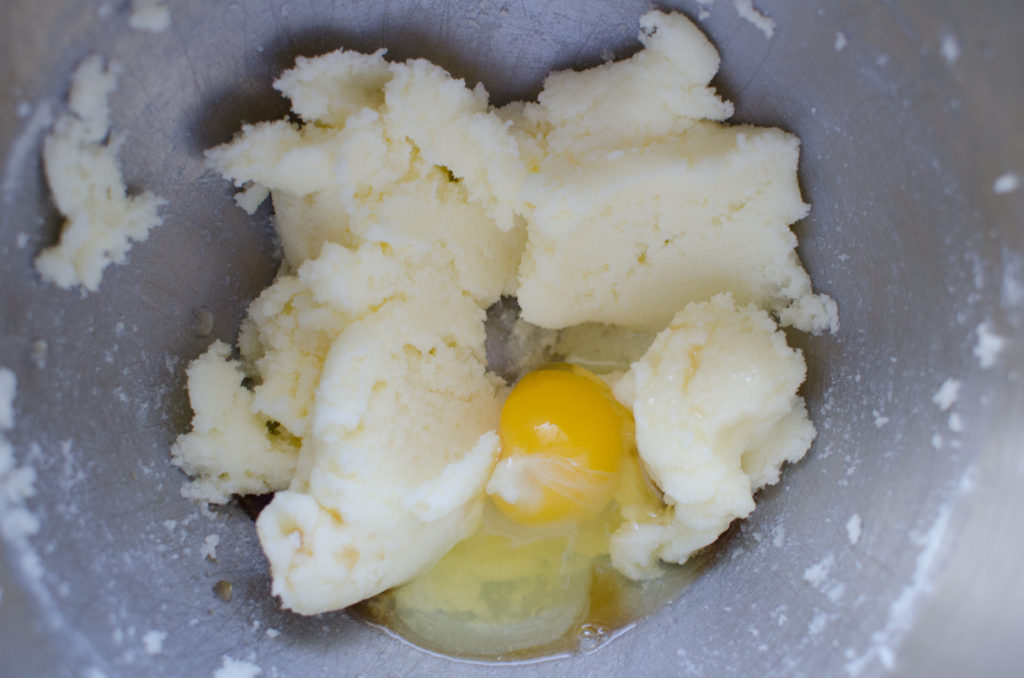 How to make Christmas Sugar Cookies:
Preheat oven to 375 degrees F.
Cream together sugar and butter for 2-3 minutes.  Add egg, vanilla and sour cream.
In separate bowl, combine flour, salt and baking soda. Add dry ingredients to butter mixture, beat until smooth.
Place the sugar cookie dough in a bowl and cover. Chill the dough for at least 2 hours in the refrigerator. (Sometimes I make the dough the day before and it is totally fine to leave in the refrigerator overnight.)
Roll and cut with shaped cutters. Make sure to spread flour out on the counter where you are rolling out the dough so that the dough doesn't stick to your counter! I also like to coat the cutting edge of the cookie cutters and the rolling pin too just to make sure that nothing sticks!
Bake at 375 for 10 minutes. Let the cookies cool on the baking sheet for about 5-7 minutes before moving to a wire rack to finish cooling.
Cool completely and frost as you'd like! (See my favorite Buttercream Sugar Cookie Frosting recipe below!)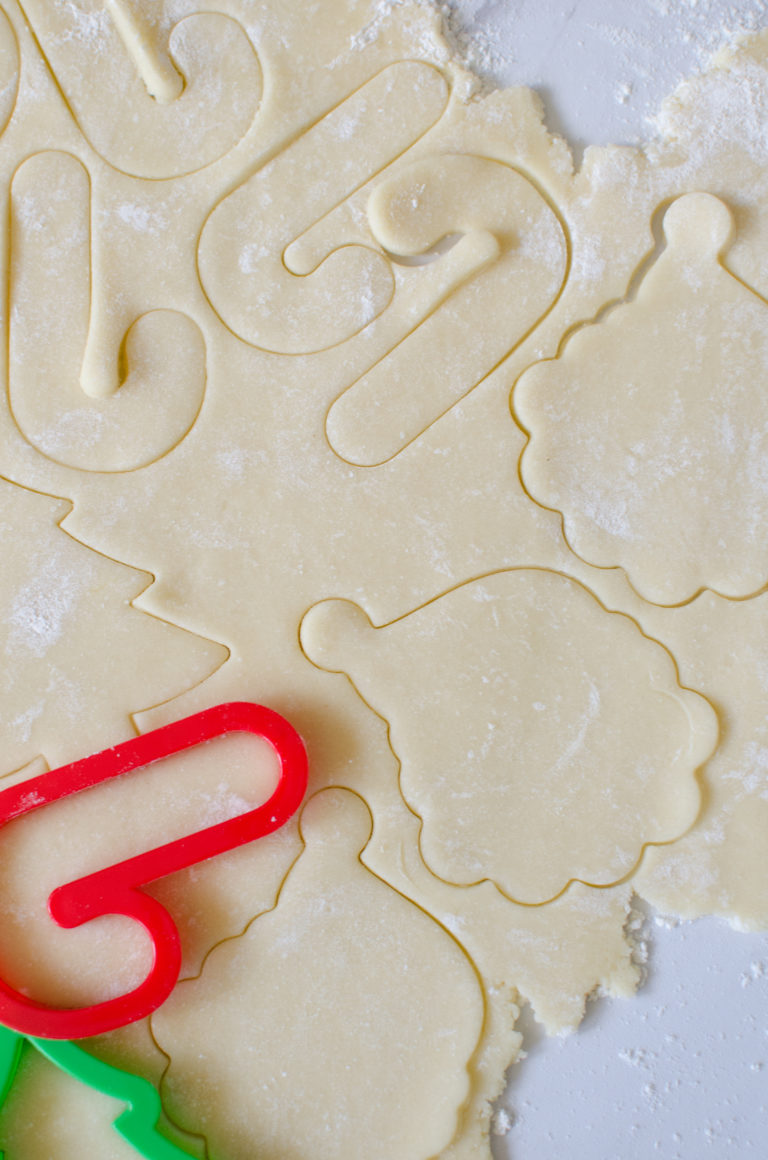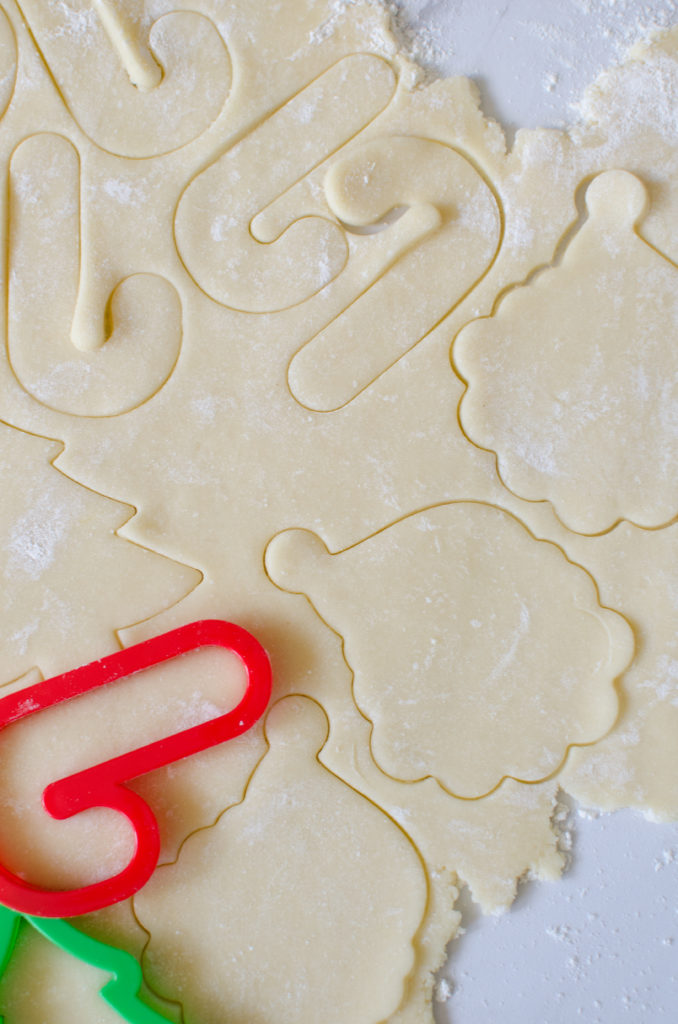 After the cookies are cooled, decorate them however you want!  Many times sugar cookies are frosted with a sugar cookie icing that usually includes corn syrup, powdered sugar and milk but I prefer the taste of this sugar cookie frosting that has real butter in it!
What are the ingredients in Buttercream Sugar Cookie Frosting?
1/2 cup soft butter
4 cups powdered sugar
1/4 cup milk
2 tsp. vanilla
How to make the sugar cookie frosting:
Beat butter until smooth.  Beat in remaining ingredients until smooth, about 2 minutes. Add additional milk a little at a time if thinner consistency is desired.
Add food coloring if desired. Decorate cooled cookies – this is the part that my kids love the most!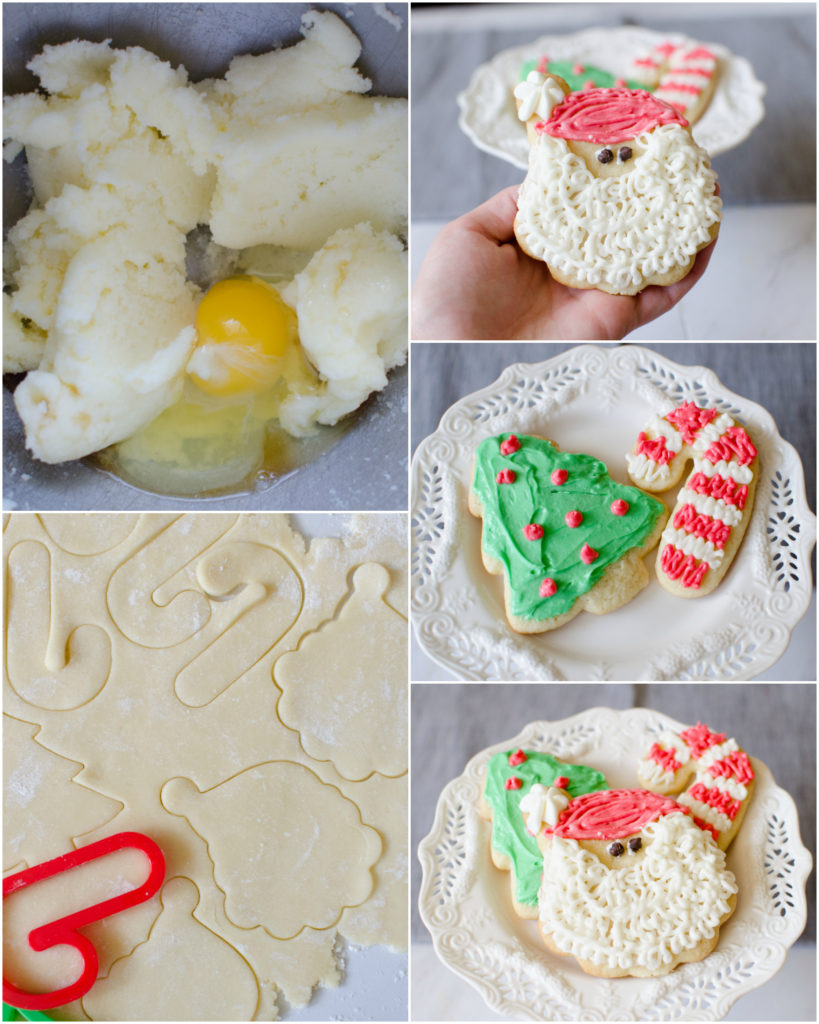 Can you freeze sugar cookies?
Sugar cookies can be frozen in an airtight container for 2-3 months. Just make sure to fully cool the cookies before freezing them and make sure to wrap them tightly with plastic wrap before placing in a Ziplock freezer bag or airtight container. As soon as the sugar cookies are thawed, you can make the frosting and decorate them!
How long will sugar cookies stay fresh?
Sugar cookies will stay fresh at room temperature for 1-2 weeks as long as they are properly stored in an airtight container. Once they are decorated, the sugar cookies should probably be eaten with a week. Keep in mind that the buttercream frosting is delicious, but does not harden at all like some other frosting so you will not be able to stack the cookies or store them in layers once they are decorated.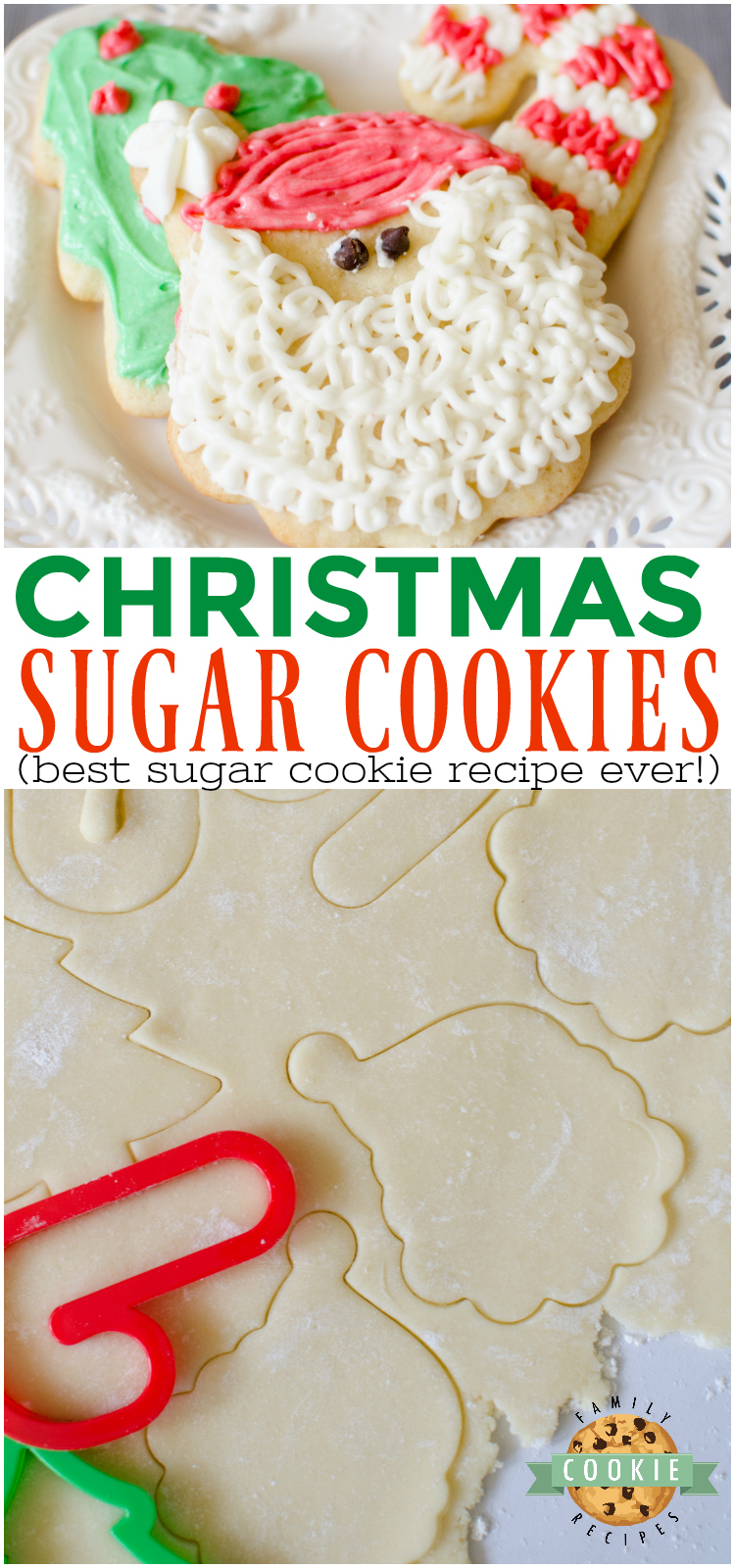 Does everyone else have to get the traditional "kids on the stairs" pic on Christmas morning? Or is that just a tradition in our family?! Before all the kids can go and open their presents, they have to stop on the stairs and smile. This picture is from a few years ago (it's crazy how fast these kids grow!), and as you can tell, we were having a hard time getting a "normal" picture. I have about 15 photos from this shoot and this is the only one that my son wasn't a complete blur in!