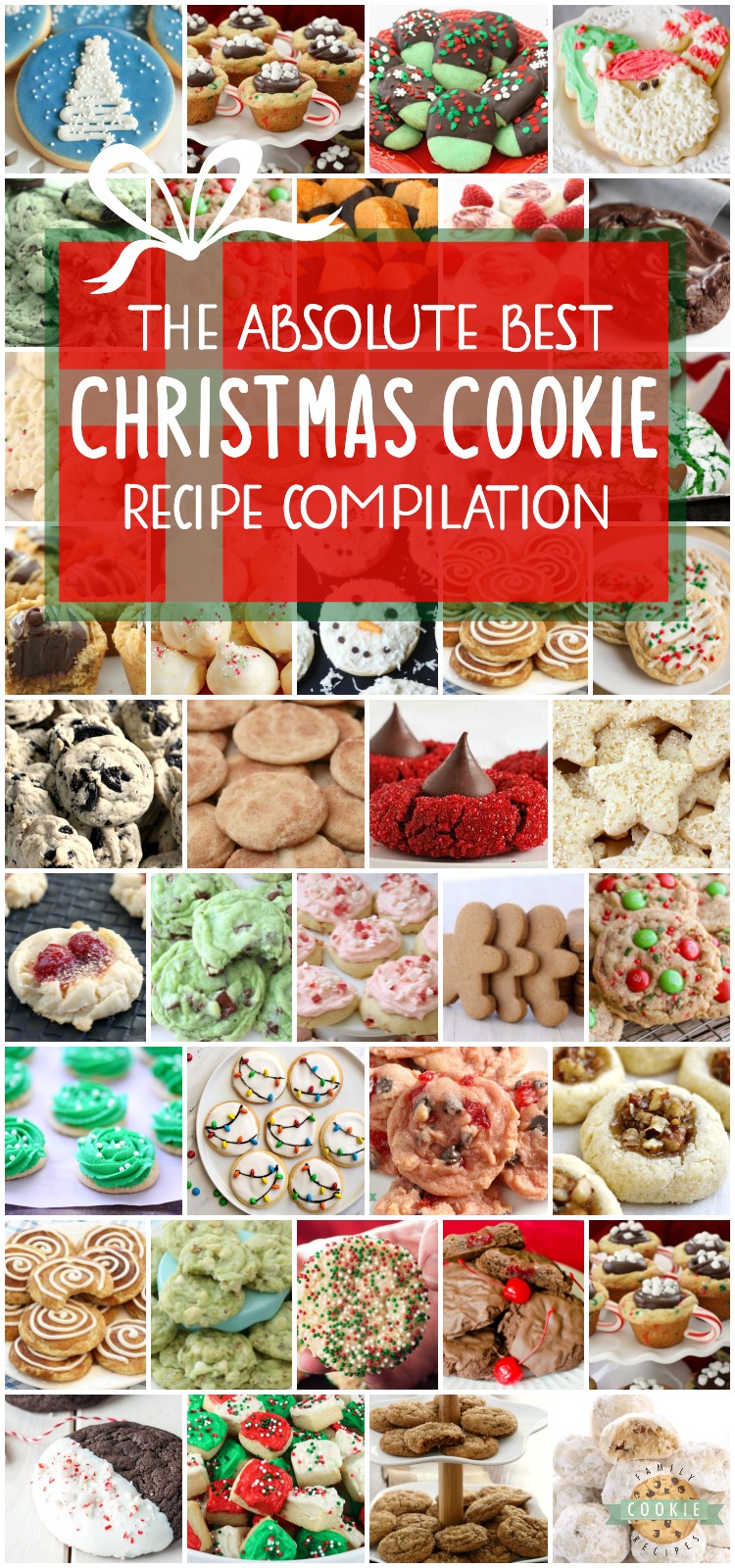 Best collection of easy Christmas Cookies ever- they're even approved for Santa himself! Our Christmas cookies are perfect for holiday parties, cookie exchanges and neighbor goodie plates!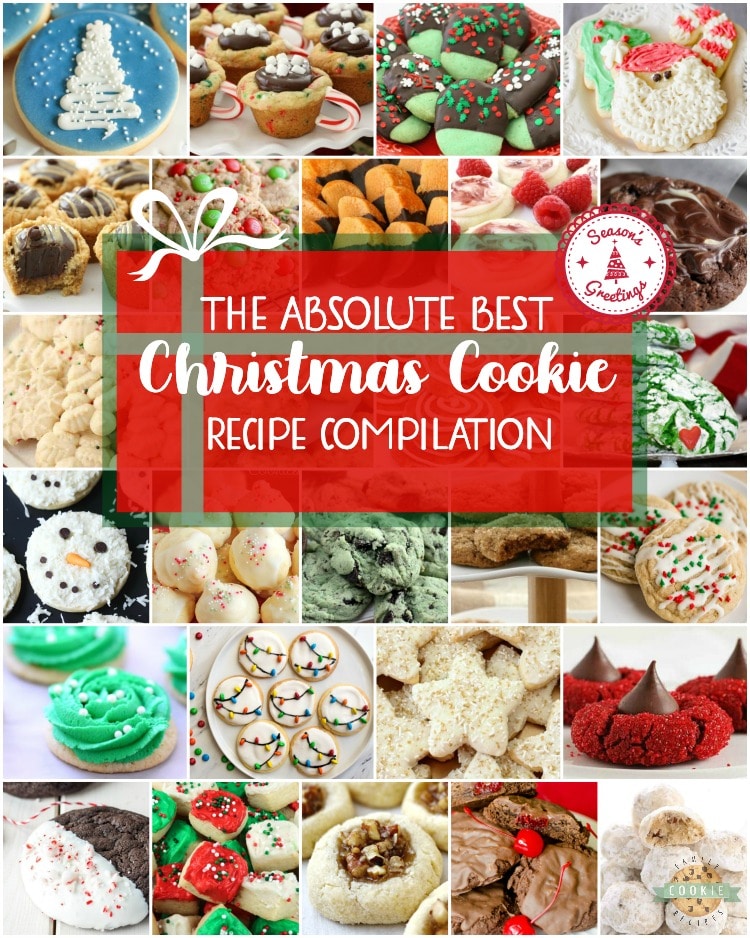 It's the most wonderful time of the year! Nothing is better than preparing for Christmas – spending time with family, setting up decorations, and making cookies to enjoy at all the holiday parties and to leave out for Santa himself! Our Christmas cookie collection gives you a ton of ideas for fun and delicious Christmas cookies that are sure to be a hit!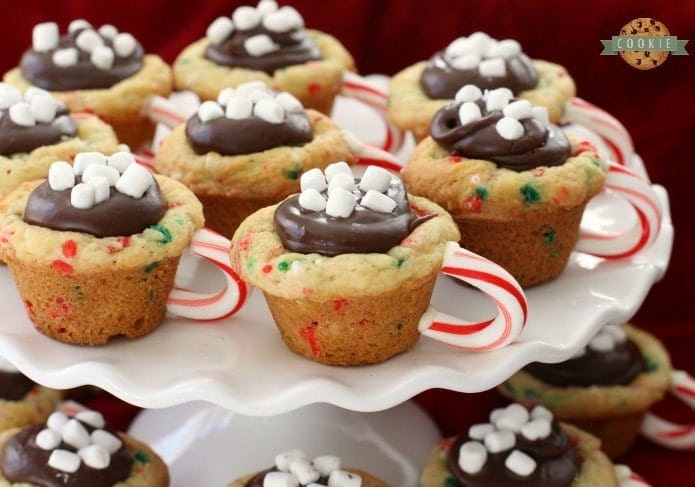 Hot Chocolate Cookie Cups are festive Christmas cookies! Sugar cookie cups filled with fudge, mini marshmallows & sprinkles. Love the candy cane handle! Easy to make and they taste as great as they look. Fun at parties & as neighbor gifts! Hot Chocolate Cookie Cups are my favorite Christmas cookie ever! They're super cute, so festive and absolutely delicious. Enjoy!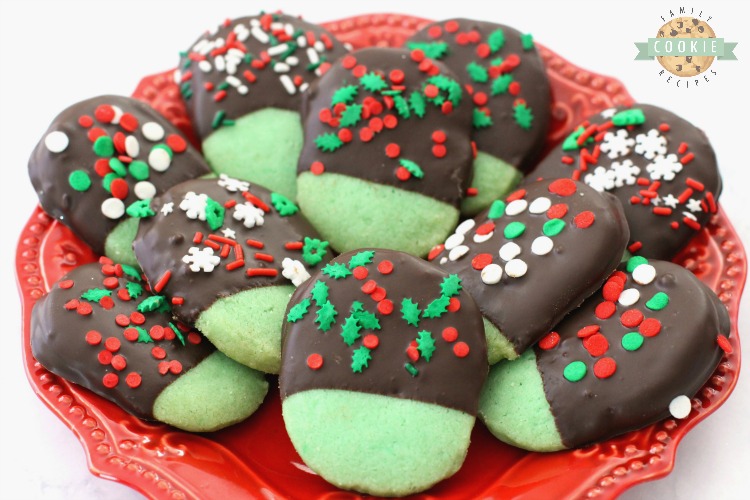 Mint Christmas Cookies made from a buttery shortbread cookie dipped in chocolate & topped with holiday sprinkles. Mint flavored Christmas Cookies perfect for cookie exchanges and gift plates!
Mint Christmas Cookies
are one of my favorite Christmas cookies ever. If you like Mint Milanos, you'll love these because they taste very similar! The mint-chocolate combination is a favorite of ours and really, who can resist any treat that's got holiday sprinkles?! Not me! The recipe makes about 4 dozen too, so they're perfect for cookie exchange parties this time of year.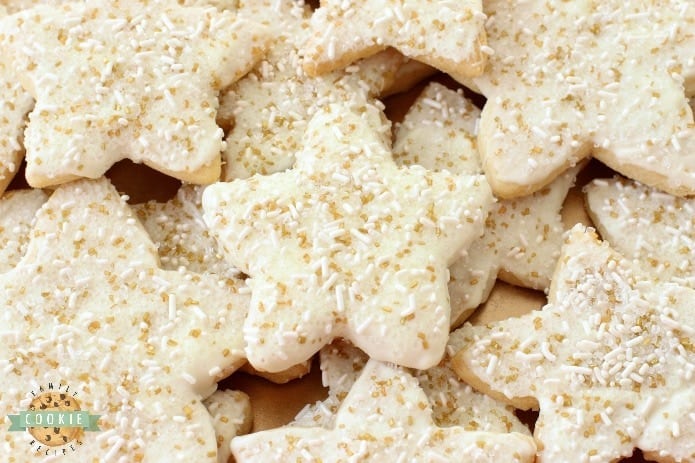 Holiday Star Cookies are bright, buttery & sparkly. They're perfect for the holidays! Candy coated & sprinkled to holiday perfection, everyone loves these melt-in-your mouth vanilla shortbread cookies.
Christmas Sugar Cookies are a necessary holiday tradition at our house! This simple sugar cookie recipe produces soft, chewy and delicious cut-out cookies that can be decorated with a simple 4-ingredient buttercream frosting.
I have tried many sugar cookie recipes over the years before deciding that this one is the best sugar cookie recipe out there! The ingredients are simple, and I think that the inclusion of sour cream in the recipe is what makes the consistency perfect every time. The sour cream in this sugar cookie recipe ensures moist, soft sugar cookies every time!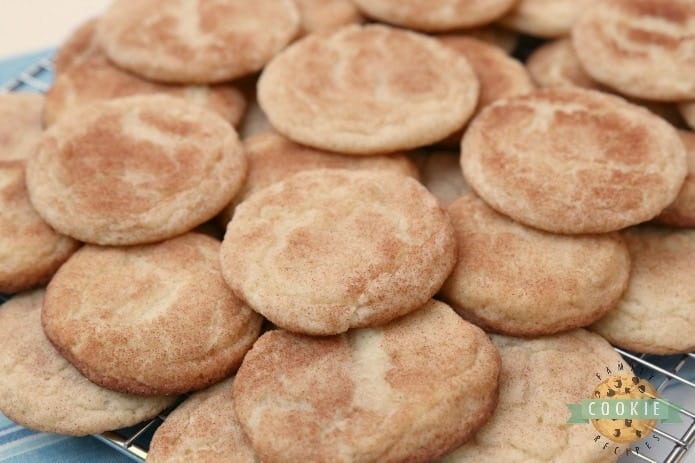 Classic Snickerdoodle recipe for the best Snickerdoodle Cookies ever! Soft & chewy with great cinnamon sugar flavor and that traditional snickerdoodle texture.
My oldest son adores Snickerdoodles so I make them often. I've used the same recipe for years- if it 'aint broke and all that. It's easy and my kids love spooning the sugar over the dough. I adore the simple flavor of Snickerdoodle cookies, so really, everyone wins!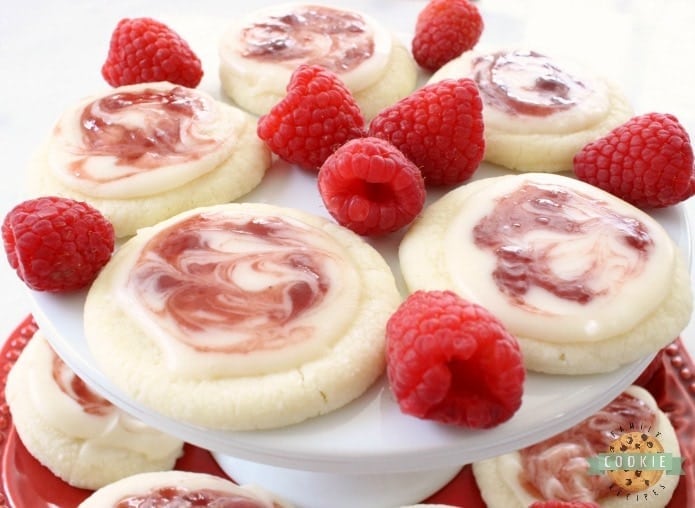 Raspberry Meltaway Cookies just melt in your mouth! Soft dough made with cornstarch and powdered sugar compliments these raspberry cookies beautifully. Perfect topped with a simple almond glaze swirled with raspberry jam.
If you've never had a meltaway cookie, you've absolutely got to try these! They have a wonderful buttery flavor and they just melt in your mouth. I topped these with a vanilla glaze swirled with raspberry jam. LOVE them!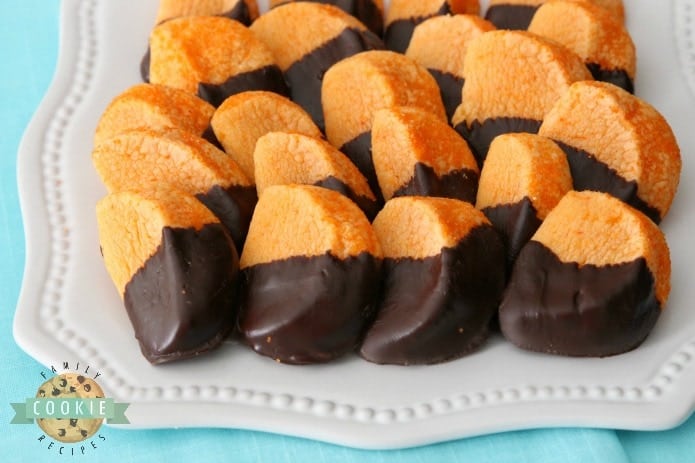 Chocolate Orange Slice Cookies mimic orange slices dipped in chocolate. Bright, tangy citrusy flavor comes from orange Kool-Aid mix baked into the cookies! Perfect cookie recipe for cookie exchanges and during the holidays.
Chocolate Orange Cookies are a fun, unique cookie recipe that everyone loved! Orange Kool-Aid is baked into a traditional cookie recipe, providing a bright orange flavor. Instead of scooping out the dough, roll into large balls, dip in orange sugar and cut wedges. You can bake the cute cookies and enjoy them, but I dipped them partially in chocolate for a special treat.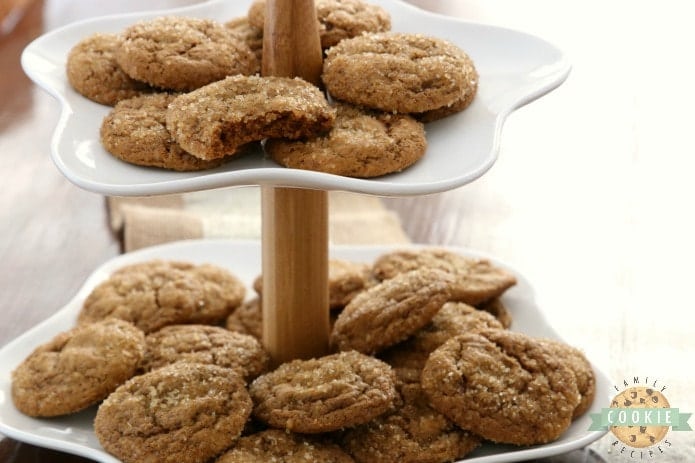 Soft Pumpkin Gingersnap Cookies are soft, perfectly spiced gingersnap cookies made with pumpkin! Classic cookie recipe with a twist perfect for holiday baking. I love, love, love Gingersnap Cookies. They just taste like the holidays to me. My husband isn't super fond of them, but it's more because of the crisp-chewy texture of most gingersnaps. He took one bite of these Pumpkin Gingersnap Cookies– where the added pumpkin really changes the texture and he was sold. They're all the flavor of a traditional gingersnap but with a lovely soft texture. They're our new favorite holiday cookie! Enjoy.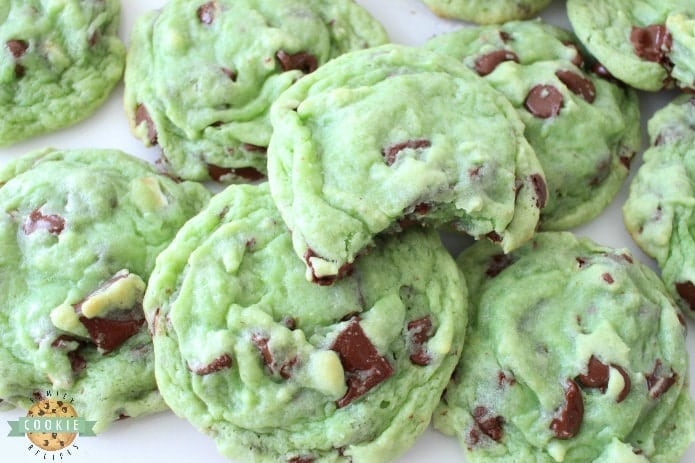 Mint Chocolate Chip Cookies made by adding mint extract & chocolate chips to a delicious pudding cookie dough. This chocolate chip cookie recipe is perfect for those who love mint chip ice cream. Our Mint Chocolate Chip Cookies are great for holiday baking!
Mint Chocolate Chip Cookies are great for anyone who love the mint-chocolate combination. The addition of pudding yields a soft cookie with wonderful texture. Perfect for the holiday Christmas cookie exchanges! The dough really does look just like mint chip ice cream and the flavors meld together into a delightful baked cookie.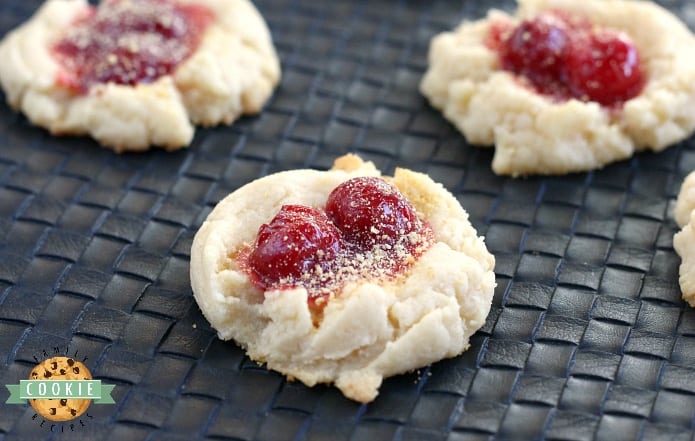 Cherry Cheesecake Cookies have cream cheese and cheesecake pudding in them, are topped with a little bit of cherry pie filling and then sprinkled with graham cracker crumbs! They actually taste so much like cheesecake – you won't believe it! I have been wanting to try a recipe that I have for Cream Cheese Chocolate Chip cookies for a while and then when I started making the dough, I had the idea to add some cheesecake pudding and turn them into a cheesecake inspired cookie instead! The dough is absolutely amazing (and it doesn't even require an egg, so if you are like me and enjoy the dough more than the actual cookies, you can eat as much as you want)! The dough is kind of like sugar cookie dough, but you can definitely taste the cheesecake flavor from the pudding and cream cheese.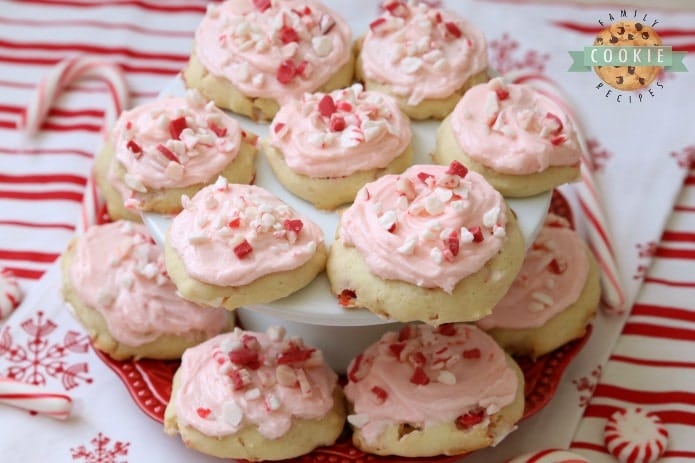 Frosted Peppermint Cookies are soft, pillowy cookies baked with peppermint candy and topped with peppermint vanilla buttercream and candy cane pieces.
The holidays are upon us and there's nothing I love more than to bake Christmas cookies with my kids. This recipe for Frosted Peppermint Cookies is one of my favorites. The cookies are soft, have great flavor and the peppermint vanilla buttercream is amazing. My kids love to help every step of the way from mixing the dough, scooping onto cookie sheets, frosting, and of course, sprinkling with crushed peppermint pieces.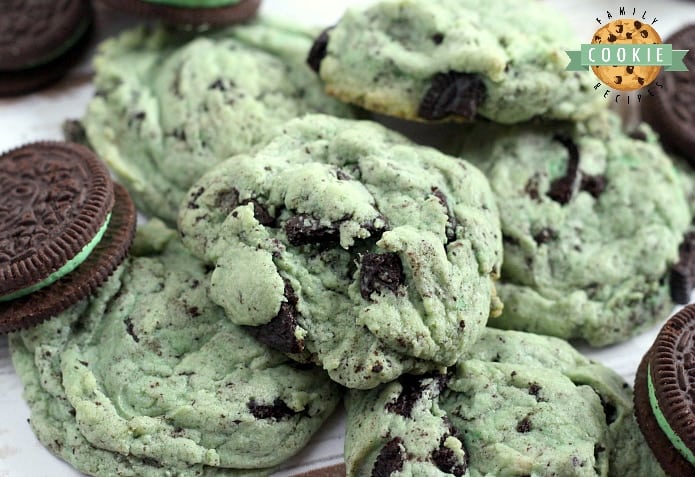 Mint Oreo Pudding Cookies are absolutely amazing! Several years ago, I began making these Cookies and Cream Cookies that have Oreo Pudding in the recipe and they have been one of my favorite cookies ever since. I was ready to make them a few days ago and decided to make a mint version since I had some Mint Oreos in the cupboard. Plus, it's getting close to St. Patrick's Day and I'm sure I will need to make a green treat at some point in the near future! I just added a little bit of mint and food coloring to my original recipe and the results did not disappoint at all.
These cookies are absolutely delicious and I love how the pudding adds extra Oreo flavor while making the cookies extremely soft.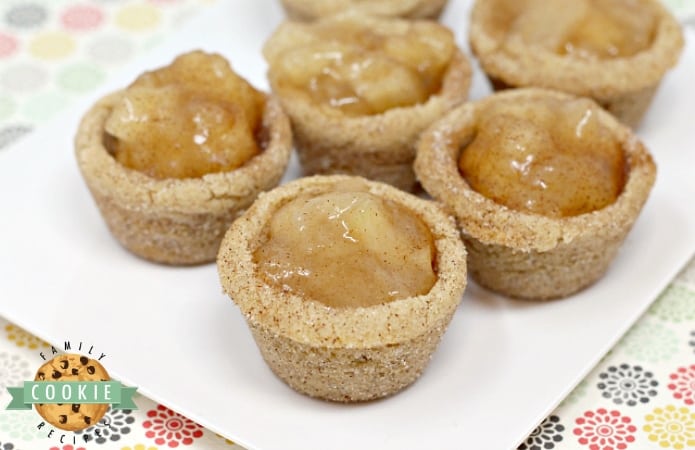 Snickerdoodle Apple Pie Cookie Cups combine two favorite desserts in a bite sized treat that is full of cinnamon and apple pie filling!
Snickerdoodle Apple Pie Cookie Cups are one of my absolute favorite fall desserts. Actually, who am I kidding? This is actually one of my favorite desserts all year long! Call them cookies, or call them pies? Either way, they are absolutely delicious and they come together so easily too! Apple Pie is such a classic dessert but I just don't really love pie crust so I decided to try something different for the "crust" of these little pies. Apples and cinnamon just go together so wonderfully so I decided to use my favorite Snickerdoodle cookie recipe as the base.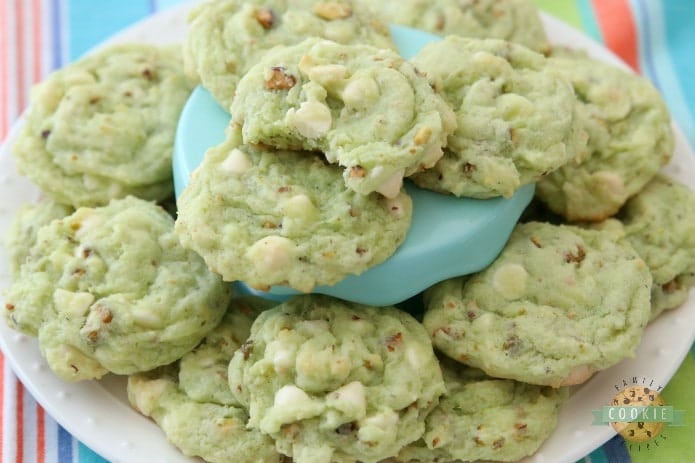 Pistachio Pudding Cookies are made by adding pistachio pudding mix to a buttery, homemade cookie dough and then adding white chocolate chips and plenty of chopped pistachios! Soft, sweet pistachio flavored pudding cookies with amazing flavor and texture.
Chewy Pistachio Pudding Cookies are a wonderful cookie recipe for anyone who loves pistachios! I adore the flavor of pistachios as well as the mild crunch they add to these cookies. I love the pale green color they bake to as well. I love making my Mint Chocolate Pudding Cookies, but these Chewy Pistachio Pudding Cookies are a great alternative for when you need a festive, green cookie. They're perfect for the holidays as well as St. Patrick's Day!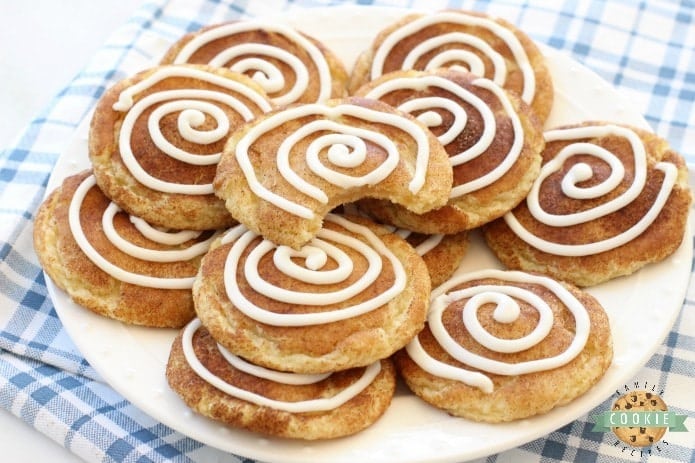 Cinnamon Roll Snickerdoodles are your favorite snickerdoodle cookies with the addition of a sweet vanilla swirl on top! A fun variation on a Snickerdoodle recipe for anyone who loves Cinnamon Rolls!
Snickerdoodle cookies are a huge favorite at our house! I tweaked my best recipe just slightly and made this cinnamon roll version and everyone went crazy. They're SO delicious!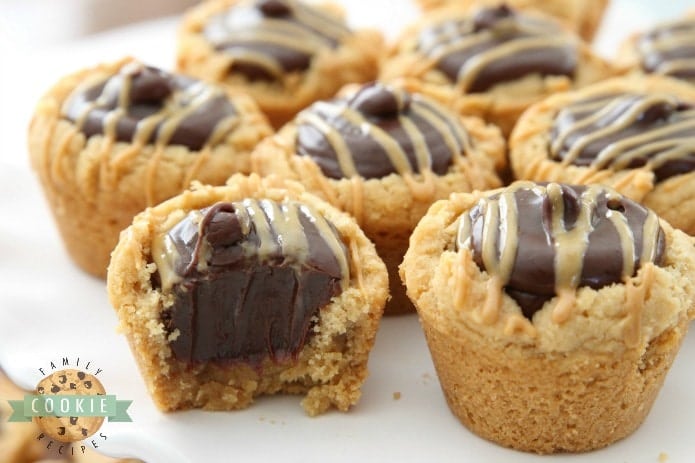 Fudge Peanut Butter Cookie Cups are peanut butter cookies baked in a mini muffin pan and filled with a simple chocolate fudge! Delicious flavor combination in these amazing treats.
Fudge Peanut Butter Cookie Cups are a treat I decided to bring to a big family dinner last time, and boy were they a hit! Everyone loved them. The good thing is too they were super easy to make, so the recipe is a keeper.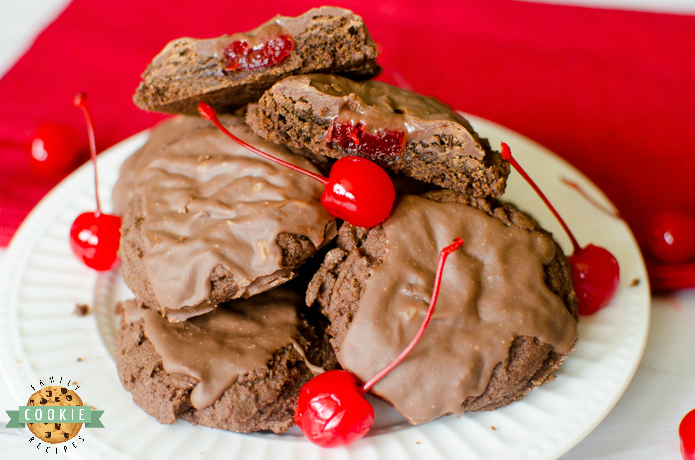 Double Chocolate Cherry Cookies are thick and chewy, complete with a cherry in middle and a delicious fudge topping on top!
I absolutely love the flavor combination of chocolate and cherries and this recipe is the perfect blend of these two. The cookies are thick and fudgy – almost like brownies. And the fudge topping on the top? It's absolutely decadent – and you only need three basic ingredients to make it. I love that the frosting includes a little bit of almond extract which adds to the cherry flavor of the cookies.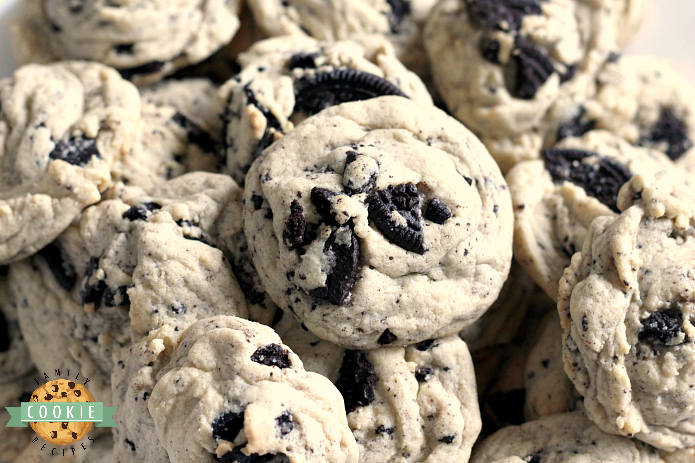 Cookies & Cream Cookies are made with pudding mix and Oreo cookies for a perfectly soft and chewy cookie that is sure to be a favorite!
Cookies & Cream Cookies have become a regular treat around my house because they are just so yummy! I discovered this recipe several years ago (thanks to my sister!) and it has been a favorite of mine ever since! With Oreo pudding mix and crushed Oreo cookies, these cookies are amazing!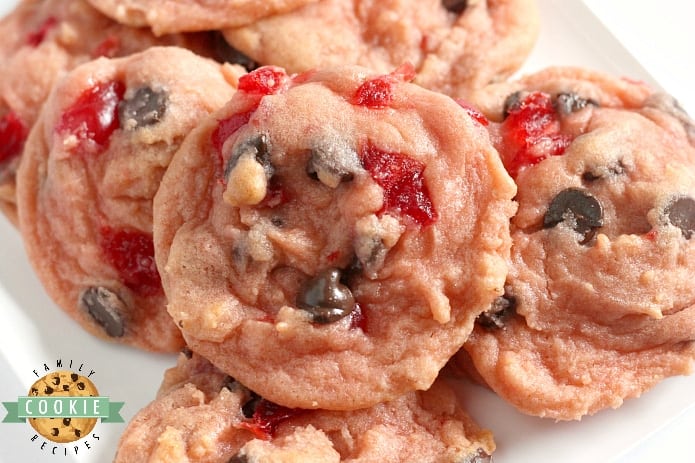 Cherry Chocolate Chip Cookies are soft, chewy and packed with cherry flavor, bits of maraschino cherries and chocolate chips! A fun and flavorful twist on traditional chocolate chip cookies!
I have always loved anything cherry and of course, chocolate isn't bad either so I've always loved the two paired together. I absolutely love the little pieces of maraschino cherries in these cookies and the cherry extract in the dough adds just the right amount of cherry flavor to perfectly complement the chocolate chips.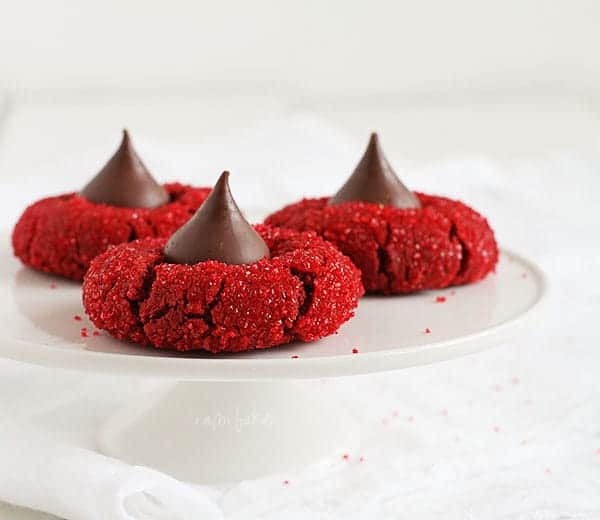 Red Velvet Peanut Butter Blossoms from I Am Baker
Peanut Butter Blossoms with a twist! I think what makes these cookies so special is not only the extra cocoa richness, but the red sanding sugar. It really makes the cookies sparkle and shine and my kids couldn't stop talking about them!
I found the red sanding sugar at my local grocery store, but McCormick has a recipe if you want to make your own. See the recipe for Red Velvet Peanut Butter Blossoms here.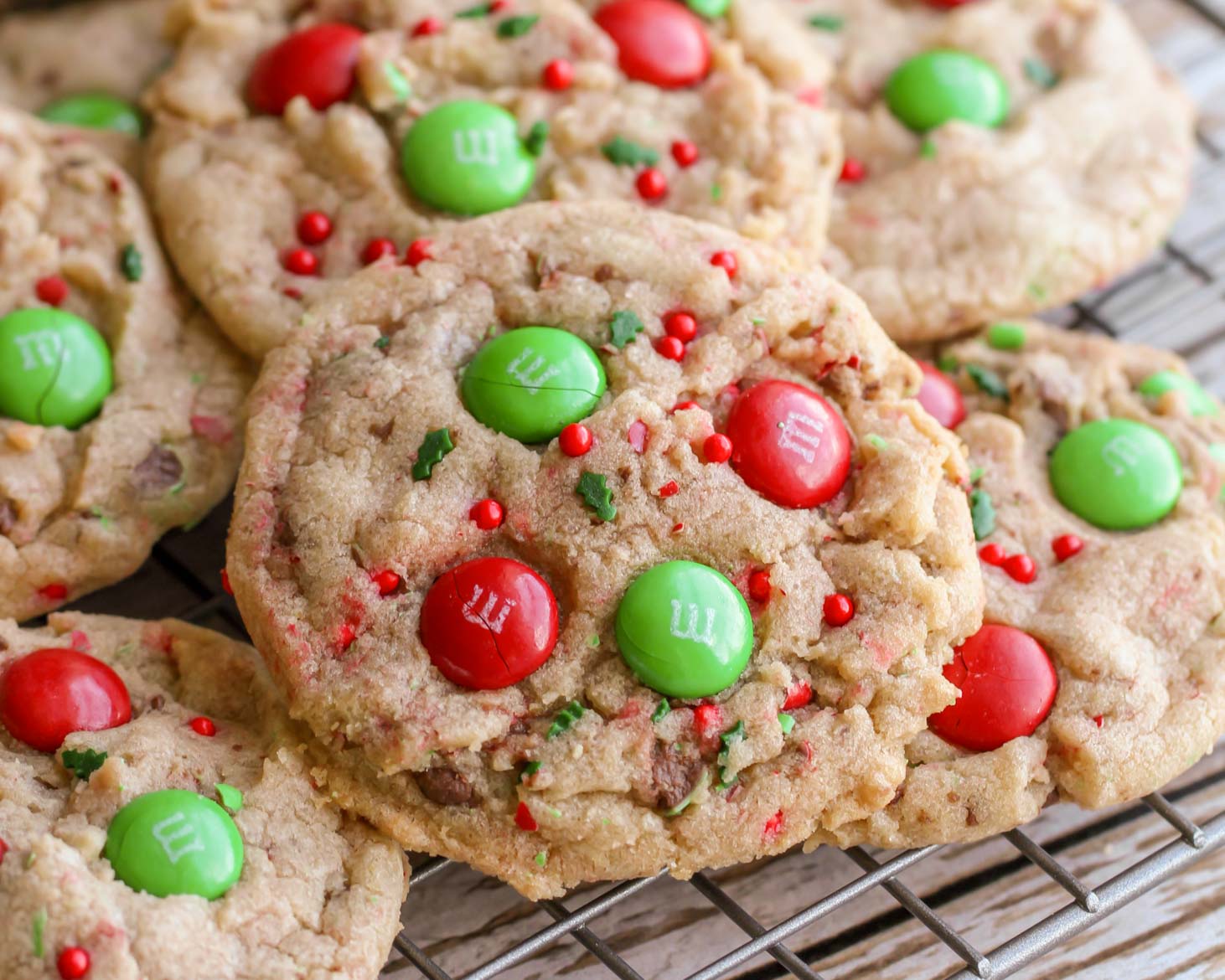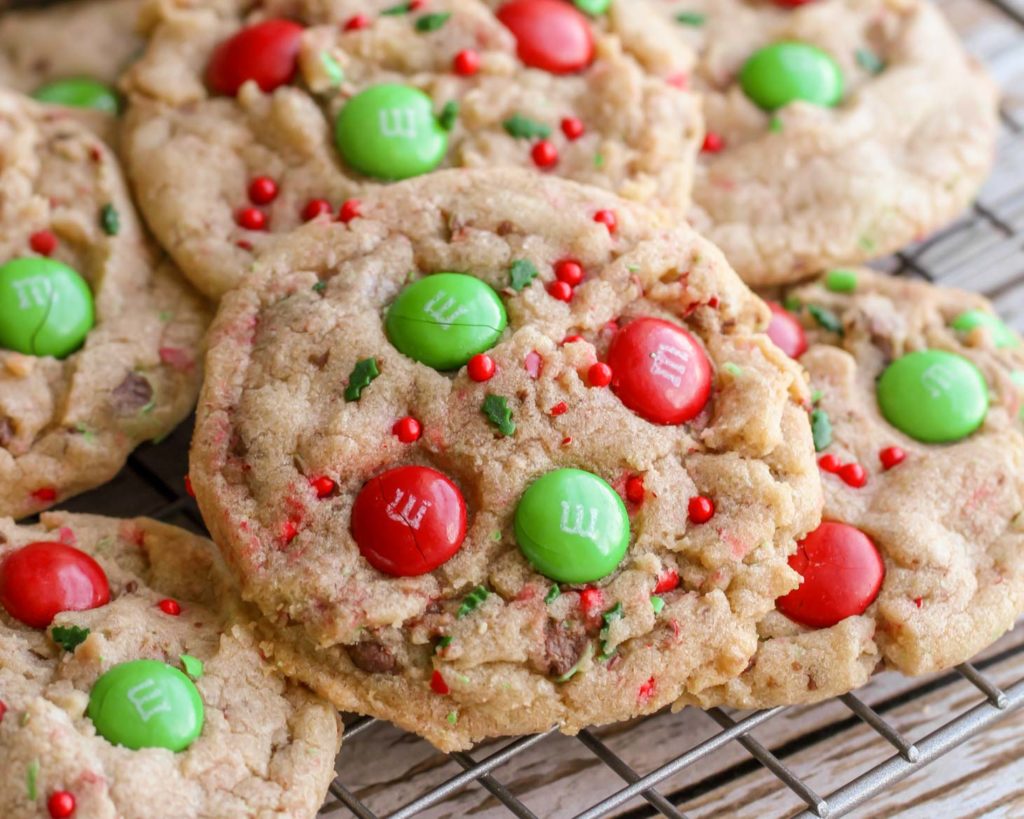 Easy Christmas Cookies from Lil' Luna
One of our all-time favorite things to do this time of year is bake cookies!! It's something we do all year long but something we especially look forward to during the holidays. Making treats and assembling plates for neighbors, friends and church members is a common occurrence and a tradition we look forward to each year. That is why I'm sharing this Christmas Cookies recipe today, since it's our favorite holiday treat to make and give this time of year.
These Christmas Cookies are filled with M&Ms and sprinkles and are so easy to make. I enjoy making them especially since it's an easy recipe to involve the little ones. They love to add the ingredients and especially to top off each cookie with M&Ms.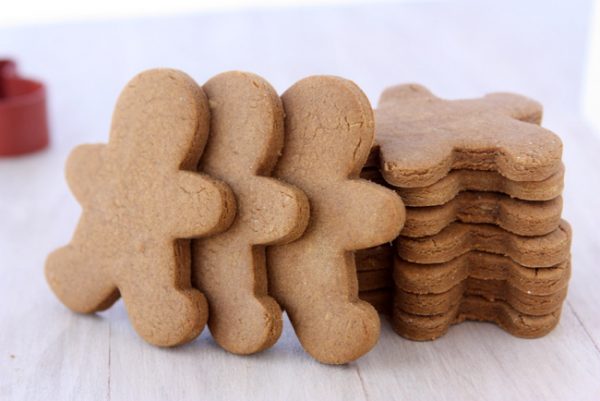 Looking for the perfect gingerbread cookie recipe? Here you go! These cookies keep their shape, and won't spread during baking! Pick up a gingerbread cookie cutter here, and get baking! See the recipe for Gingerbread Cookies here.
Kitchen hack for holiday baking: make four Christmas cookies from one basic dough with this recipe. Prepare the dough ahead of time, freeze and bake later!
You can use this recipe to make four kinds of Christmas cookies from one basic dough. And the best part is that you prepare the dough ahead of time, freeze the dough and it is ready to bake whenever you want it.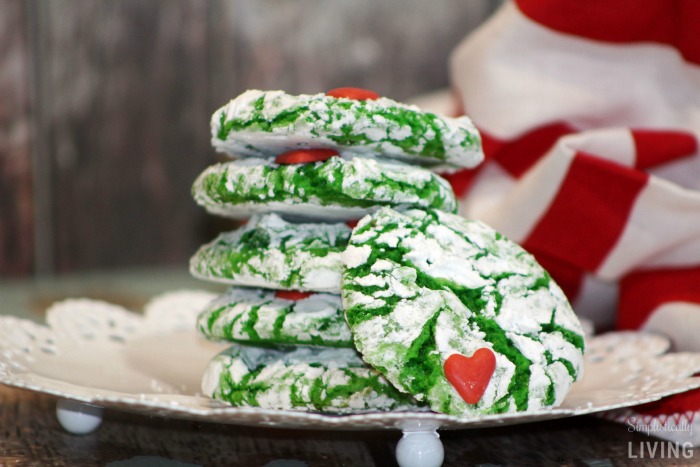 Let's whip up a batch of Crinkly, Cranky, Grinch Cookies in The Grinch's honor and devour them! Sound good? I think so too! See the recipe for Grinch Cookies here!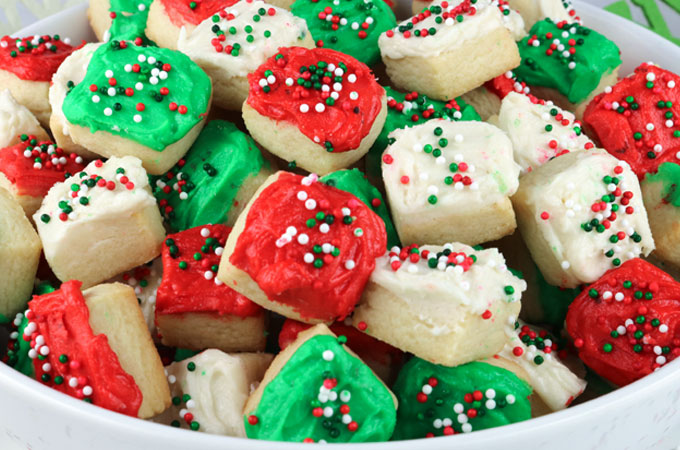 Our Christmas Sugar Cookie Bites are a bite-sized version of the classic Christmas sugar cookies with buttercream frosting. So yummy and so easy to make!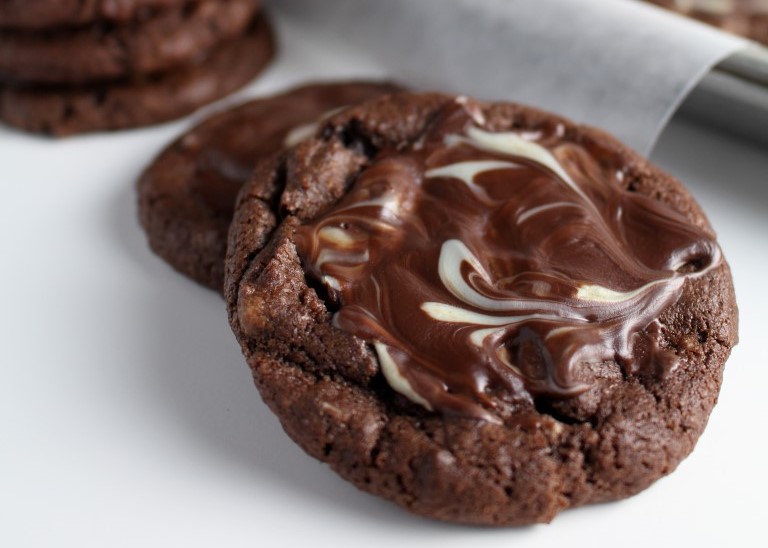 Andes Mint Cookies are a soft-baked chocolate cookie loaded with Andes Mint pieces and spread with an extra layer of mint goodness. They're amazing straight from the oven.
Its a straight forward cookie recipe with one little extra step for a fantastic minty cookie. Right after you take them out of the oven, place a mint on top of the cookie, let it melt and gently spread it around. They're great when they have cooled, but my favorite way to eat them is when they're still warm, and melted.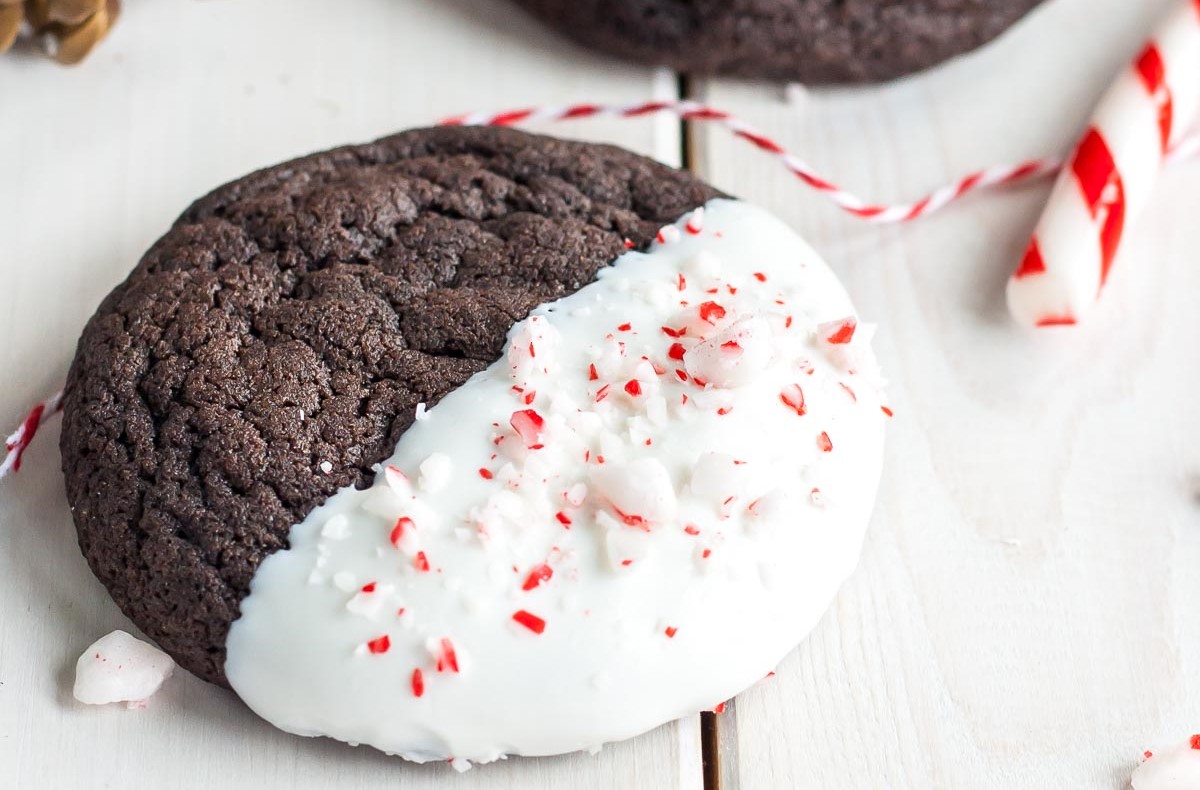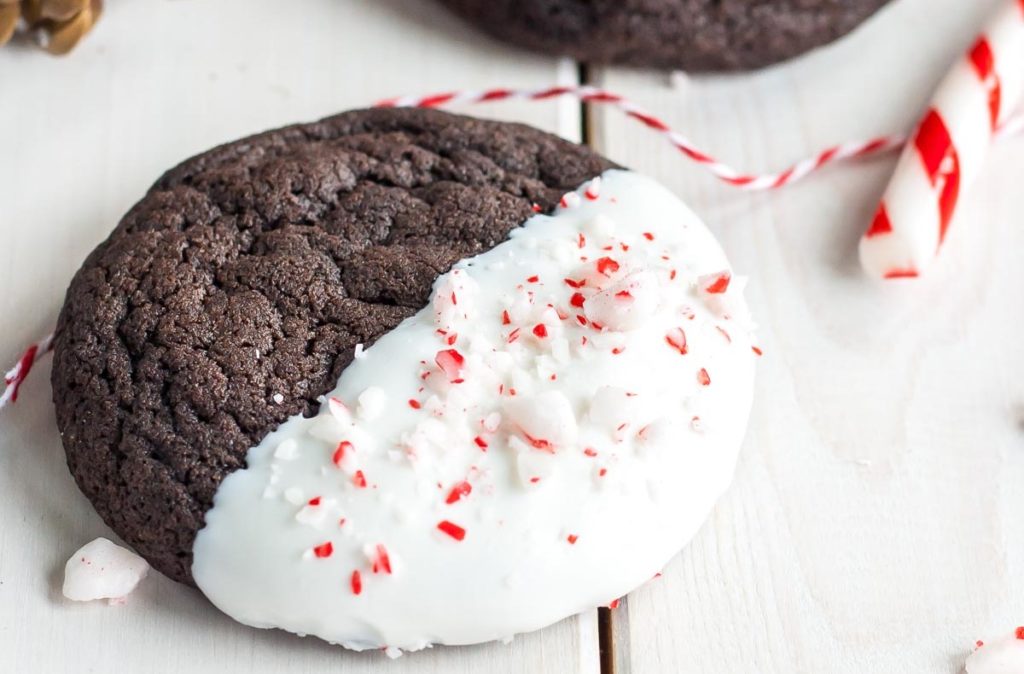 Dark Chocolate Candy Cane Cookies from Liv For Cake
The classic combination of chocolate and peppermint make these dark chocolate candy cane cookies the perfect treat for the holidays!
These Dark Chocolate Candy Cane Cookies are super simple to make. It's a fairly standard cookie though, with the exception of one unique ingredient: black cocoa powder.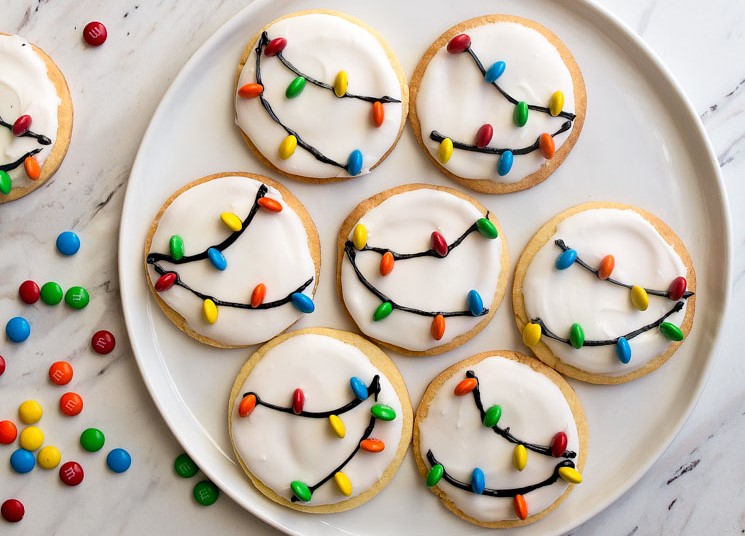 Christmas Lights Cookies with a small batch of royal icing and mini M&Ms as Christmas Lights. See the recipe for Christmas Lights Cookies here.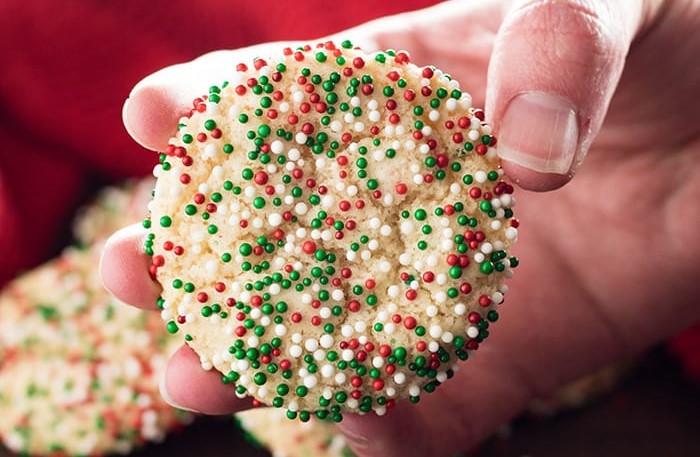 Soft Batch Christmas Sprinkle Cookies from The Salty Marshmallow
Soft Batch Christmas Sprinkle Cookies are a super easy holiday sugar cookie – no rolling the dough required! Packed with red and green sprinkles, perfect for the holidays! These sprinkle sugar cookies are the best, easiest, Christmas cookies around! See the recipe for Soft Batch Christmas Sprinkle Cookies here.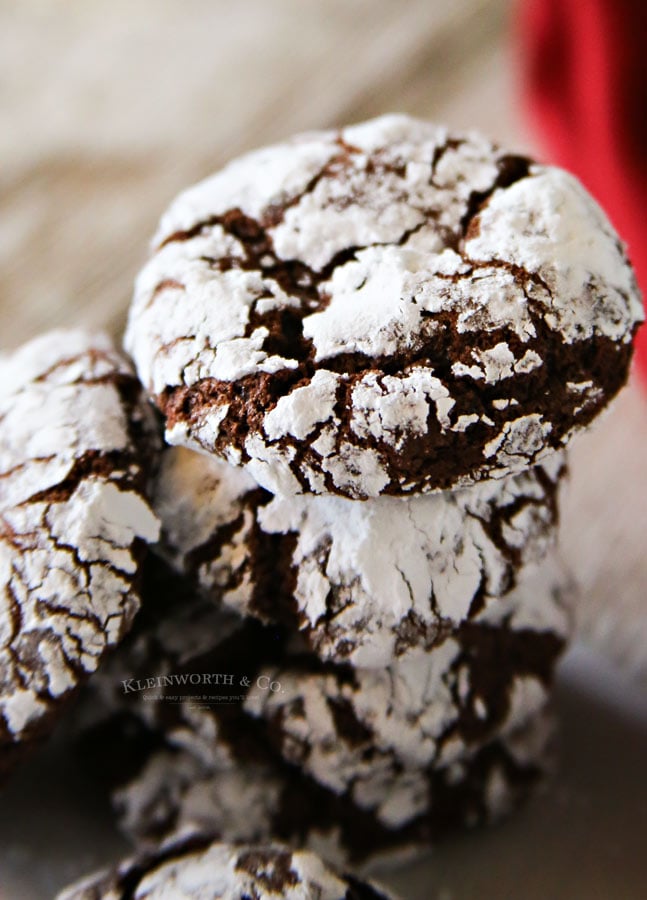 Easy Chocolate Crinkle Cookies by Kleinworth & Co.
Easy Chocolate Crinkle Cookies are an easy & nostalgic Christmas cookie recipe that makes a great gift for neighbors, holiday parties & friends! Delish! Try the Easy Chocolate Crinkle Cookies recipe here.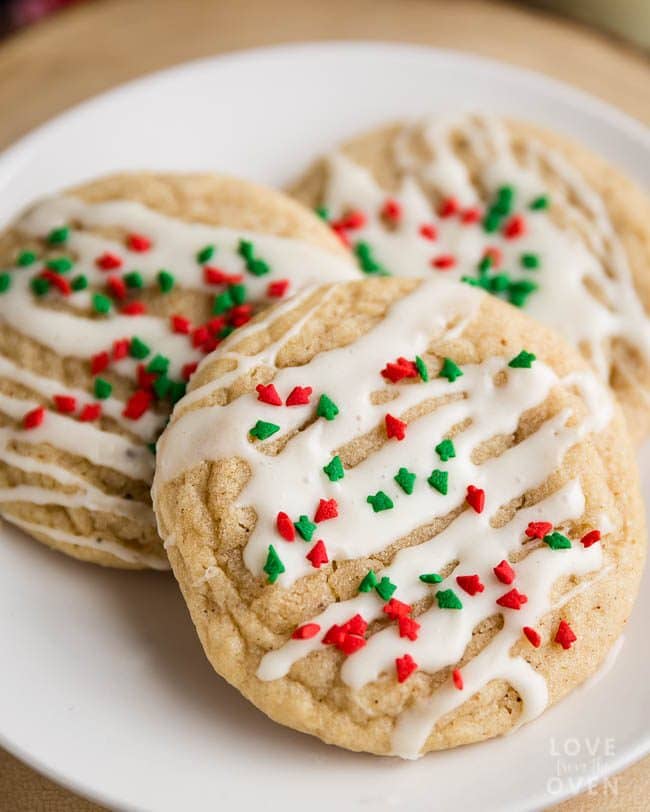 Delicious and easy Eggnog Cookies are perfect for the holidays. This great Christmas cookie recipe is ideal for taking to cookie exchanges or holiday parties. See the Eggnog Cookies recipe here.
Shortbread cookies are simple and classic buttery Christmas cookies that melt in your mouth. These easy cookies are made using a cookie press to create perfect holiday bites. See the Easy Shortbread Cookies recipe here.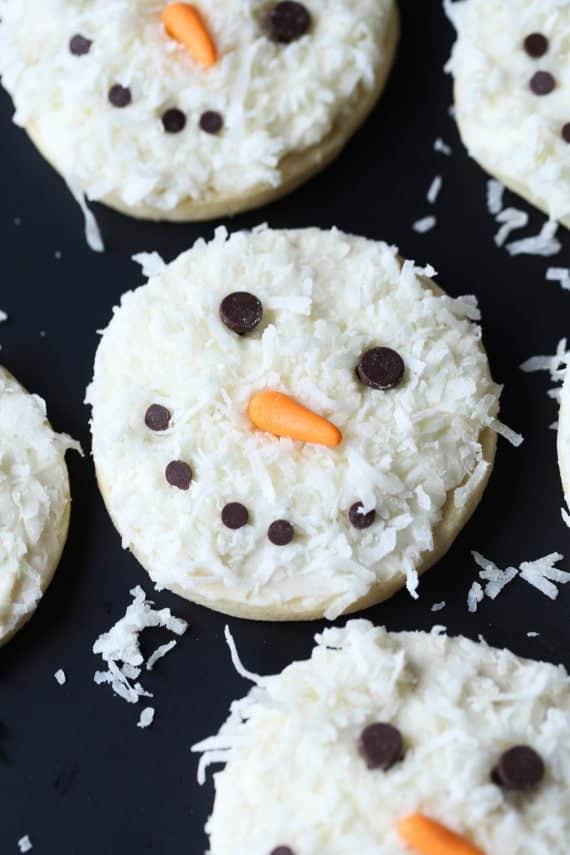 Snowman Cookies are as cute as they are delicious! A buttery cookie, topped with buttercream frosting, and coconut…perfect for chilly days and a cup of hot chocolate! See the Coconut Snowman Cookie recipe here.
Pecan Thumbprint Cookies from Scrappy Geek
There's just something about the flavor of pecan that's great around the holidays, or any time of year for that matter. That's why we're making pecan thumbprint sugar cookies! See the Pecan Thumbprint Cookies recipe here.
Buttery shortbread cookies filled with pecans and rolled in powdered sugar. These Snowball Cookies are a perfect easy dessert for the holidays! Find the Snowball Cookies recipe here.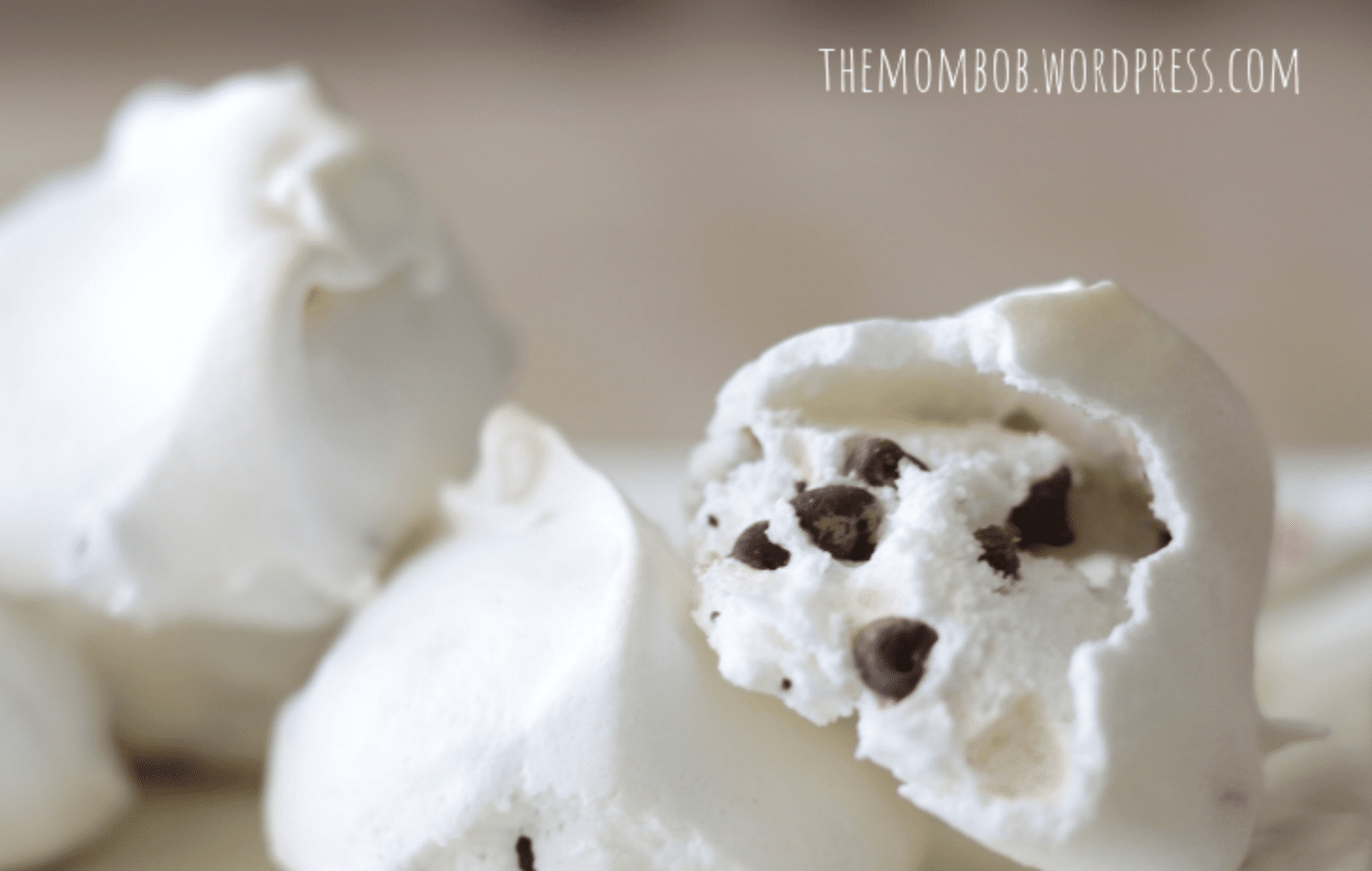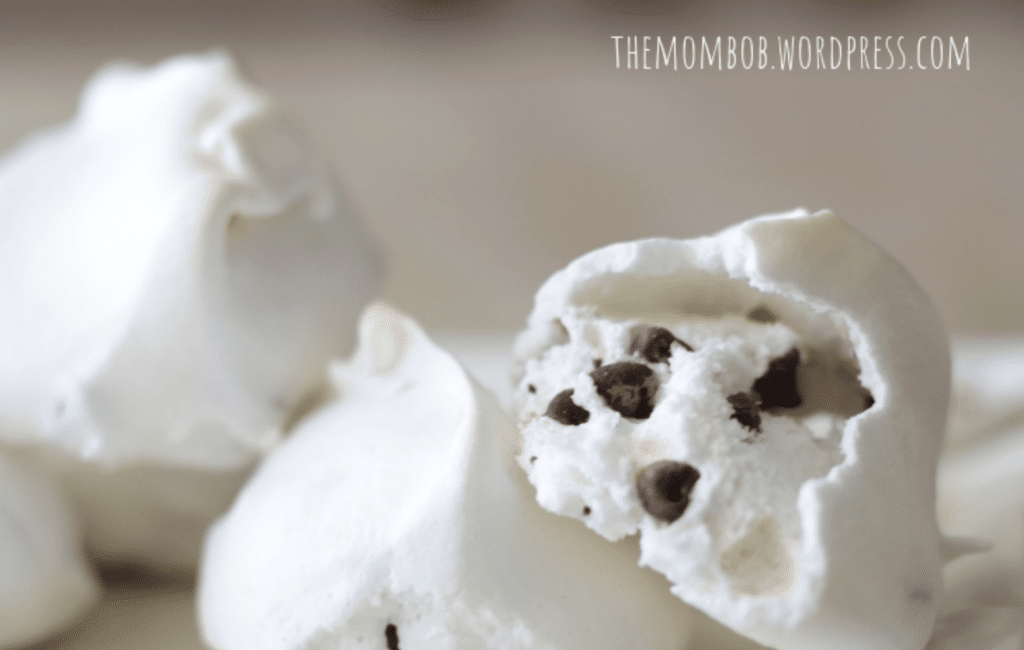 Christmas Forgotten Cookies from The Mom Bob
Christmas Forgotten Cookies are some of my husband's favorite cookies from when he was a boy! They're the perfect addition to your Christmas cookie plates, and they're sure to be a family favorite! See the Christmas Forgotten Cookies recipe here.
I couldn't help but get into the holiday spirit the moment I dusted these Christmas Madeleines with powdered sugar. It made me feel so festive and excited for the next few weeks. See the Christmas Madeleines recipe here.

Italian Christmas Cookies from Cakes Cottage
These Italian Christmas cookies have become a favorite Christmas recipe at our house. Try them and see for yourself how delicious they are! See the Italian Christmas cookies recipe here.
How do I soften butter?
The easiest way to soften butter is to remove a cold stick from the refrigerator and let it stand at room temperature for 30 to 60 minutes until it becomes room temperature or until just spreadable.
The timing will vary depending on the room temperature and how cold the butter is to start with. If the butter starts getting quite soft but is not yet melted, place it back in the refrigerator for a few minutes to keep it from melting before you are ready to use it.
Other ways include: Cut up the butter as smaller pieces will soften faster, Microwave the butter. To microwave, place the butter in a microwave-safe dish and microwave on 30 percent power (defrost) for 15 seconds. Check the consistency of the butter and repeat, if necessary. Note, do not soften butter at full power, that too often results in a melted butter mess all over the microwave. The defrost setting is much safer.
How do I keep my cookies from going flat?
There are lots of reasons a cookie could go flat, too little flour, to little baking soda, too much butter, too much sugar, etc. Some ways to fix this are: Use half butter and half shortening, or reduce sugar amount. Check oven temperature accuracy, bake a few minutes more, or increase temperature by 25 degrees. Chill dough before using. Place dough on cooled, clean pans to prevent early spread of cookies. Hopefully these tips help!