Mini gingerbread cookies made from scratch & ready for your Christmas party! Perfect 2-bite cookies made easy without scooping any cookie dough. Easy method yields over 6 dozen cookies baked in record time!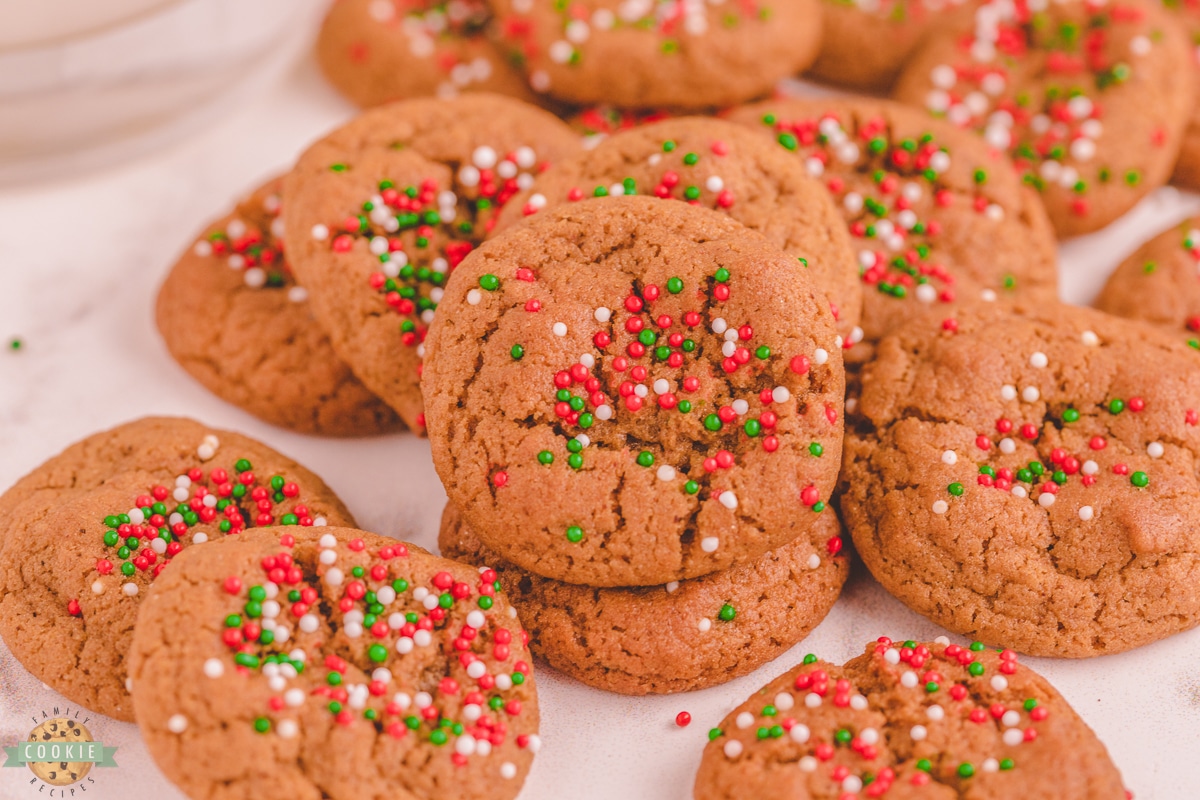 This mini gingerbread recipe is one everyone can enjoy, especially you -the baker. Made with a simple and easy cookie dough that requires no scooping or rolling these round gingerbread cookies are a perfect no-hassle recipe for the holidays.
Small Gingerbread Cookies
This mini gingerbread cookies recipe was created as a spin-off of my Christmas gingerbread bites. Truth be told, this mini gingerbread recipe started out as an accident when making the cookie bites. I used the wrong size pan and the rest was history. These cookies go onto the baking sheet as cubes but bake into small 2 inch round cookies. Each batch makes about 80- of these small cookies, so there's always plenty to share!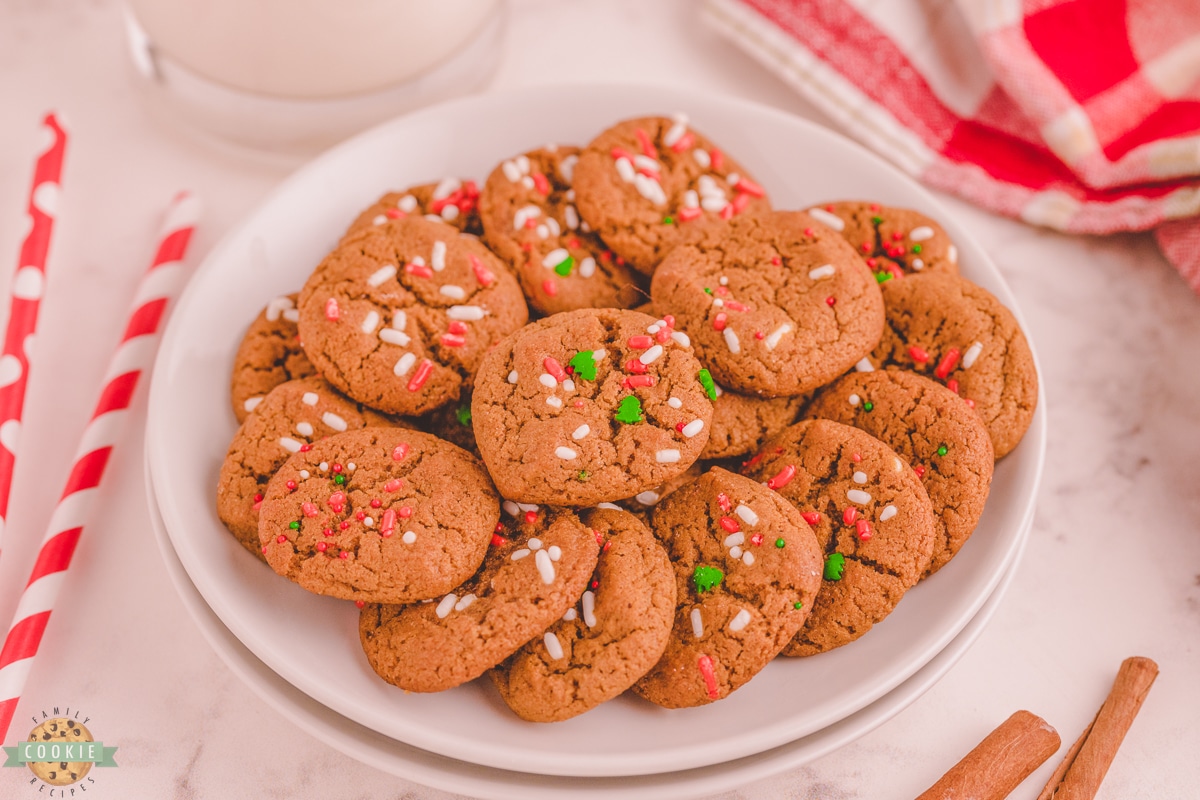 Mini Gingerbread Cookies Ingredients
-Flour: You will need 3 cups of all-purpose flour for these cookies.
-Leavening agents: To help the cookies puff up a bit as they bake use 1 teaspoon of baking powder and 3/4 teaspoon of baking soda.
-Salt: Add in ¼ teaspoon of salt to help enhance the flavors in these cookies.
-Spices: Season the cookies well using 1 tablespoon of ground ginger, 2 teaspoons of ground cinnamon, and 1/2 teaspoon of ground cloves.
-Shortening: You will need to use 4 tablespoons of shortening to help give the cookies a better texture.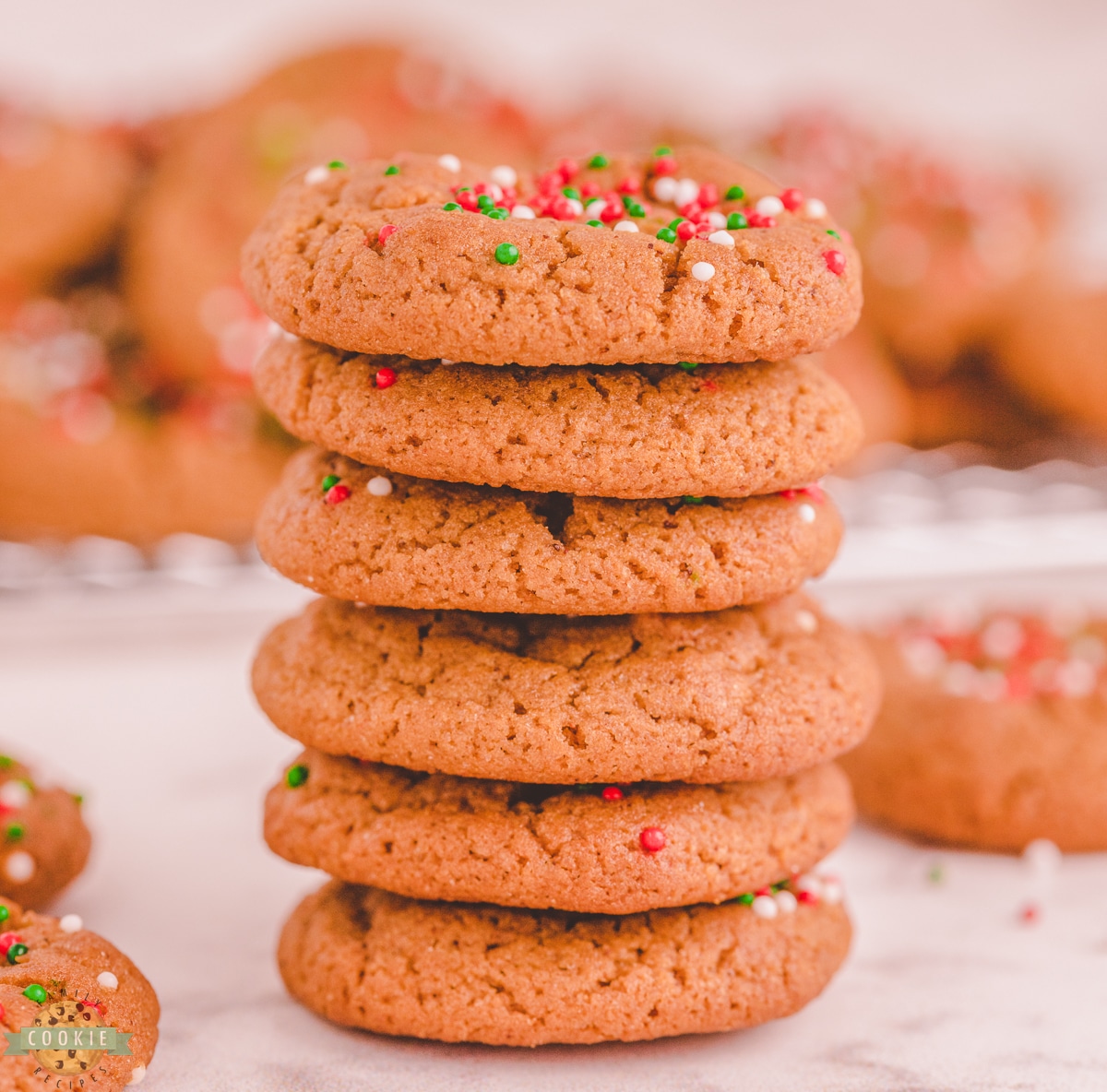 -Butter: Use ½ cup (one stick) of unsalted butter to make these cookies taste even richer.
-Dark brown sugar: Use 1 cup of dark brown sugar to make the cookies sweet and chewy while adding in a nice depth of flavor.
-Egg: Use 1 large egg to bind the dough together.
-Molasses: You will need to use ½ cup of molasses to flavor the dough and make it taste like traditional gingerbread.
-Vanilla: Add in 2 teaspoons of vanilla extract to make the dough taste even better.
-Sprinkles: Use 2-3 tablespoons of holiday-colored nonpareil sprinkles for a festive touch to every small cookie.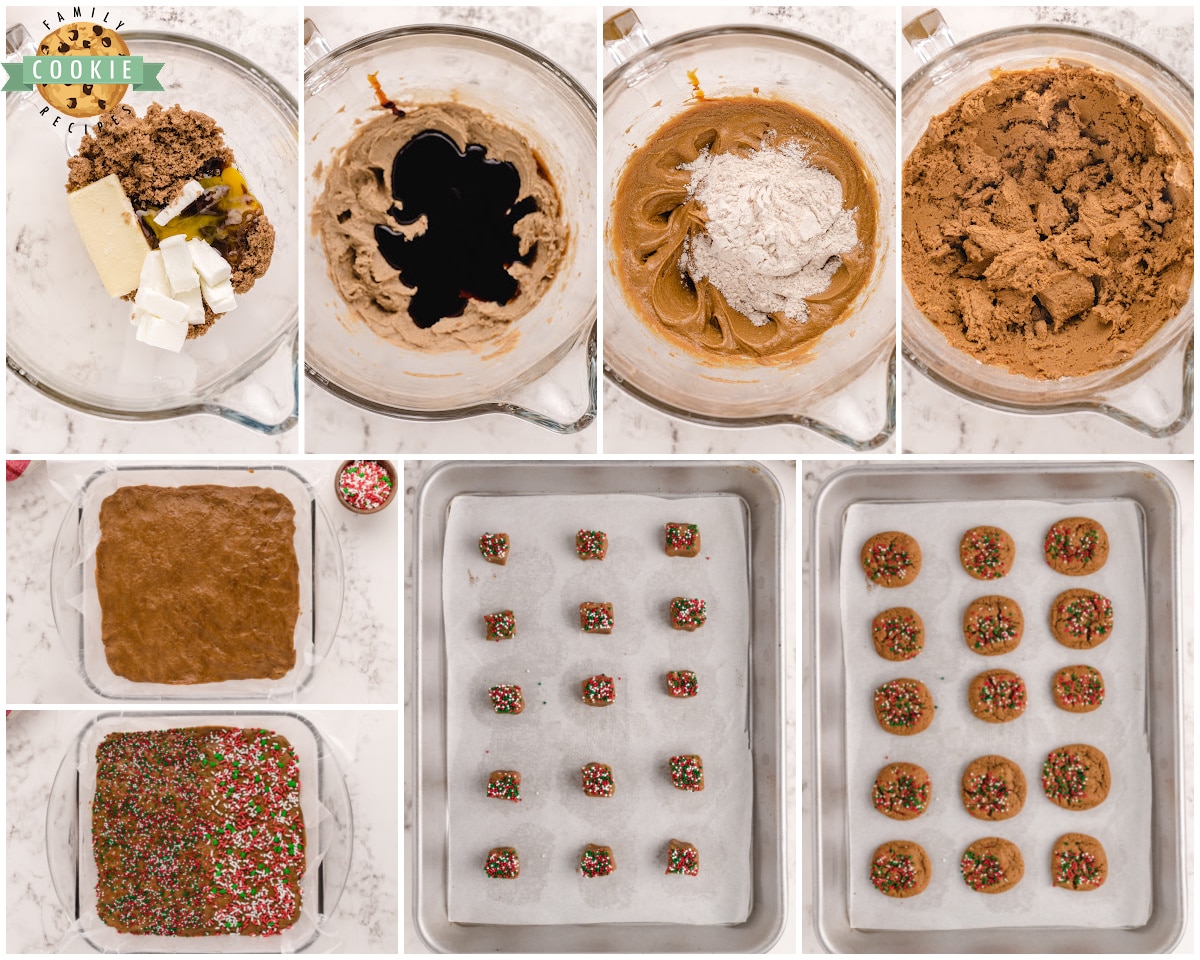 How to Make Mini Gingerbread Cookies
In a small bowl, whisk the flour, baking powder, salt, and spices until well blended.
In a large bowl or in the bowl of your stand mixer, cream together the butter, shortening, brown sugar, and egg on medium speed until blended.
Add in the molasses and vanilla and then mix again until well blended.
Gradually stir in the dry ingredients and mix until smooth.
Press your dough into the bottom of an 8×8 baking dish that has been lined with parchment paper. The dough should look flat and even.
Sprinkle the top of the dough with a thick layer of holiday sprinkles and use your hand to press them into the top of the dough so that the entire surface is covered.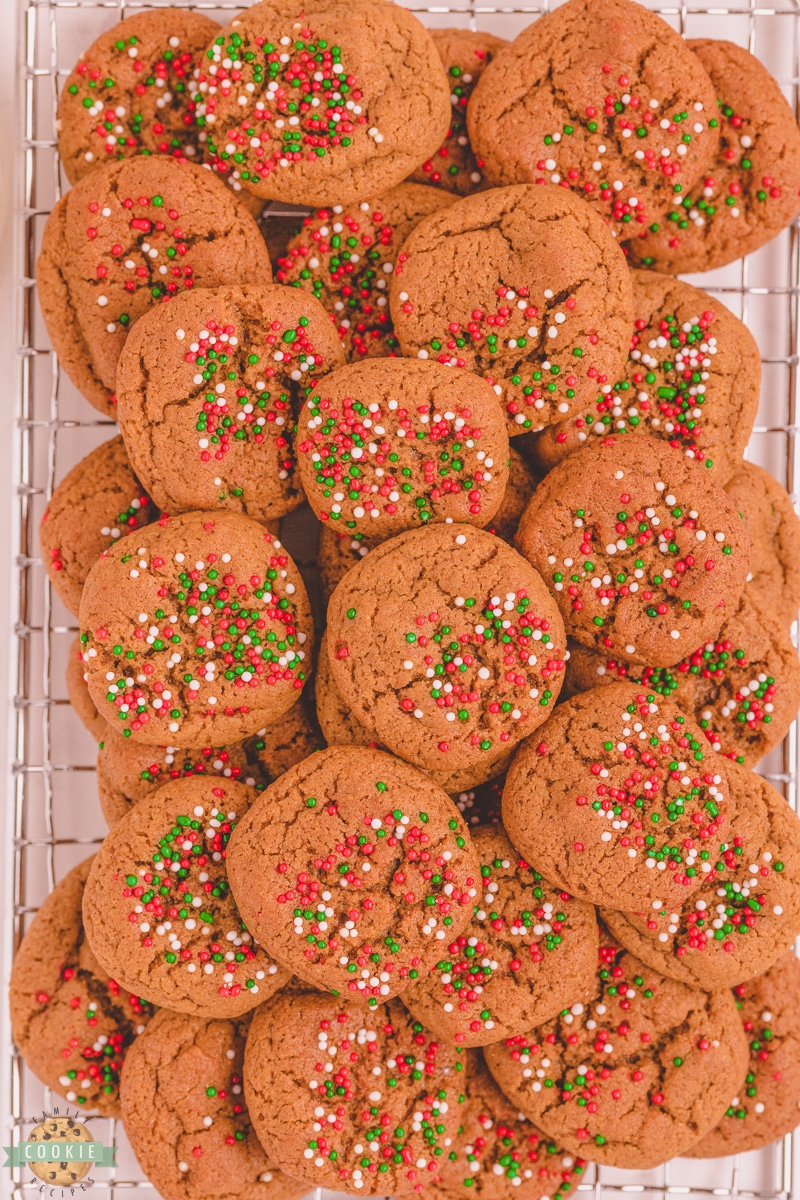 Chill in the fridge for at least 2 hours, but up to 8 hours.
Preheat your oven to 375 degrees F.
Prepare your baking sheets by lining them with parchment paper. Set aside.
Remove the dough from the baking dish and set it on the counter. Lay a ruler at the top and cut the dough into ½ inch cubes by making 10-11 rows in one direction and repeating in the other direction. This should make about 100 cubes.
Transfer the cubes to your prepared baking sheets and leave 1 inch of space between each. You should be able to fit about 15 per sheet. Don't worry, the cubes will settle into discs and look perfect once they've been baked.
Bake the cookies one sheet at a time for 7-8 minutes. Allow the cookies to cool on the sheet for another 5 minutes before transferring them to a cooling rack. Enjoy!
Can you freeze gingerbread cookies?
Yes, after these cookies have cooled completely place them into an airtight container in the freezer for up to 3 months. Then, whenever you want a cookie (or more) simply place them on the counter to thaw for a few minutes before biting into them.
How to store gingerbread cookies
These cookies should be kept stored in an airtight container at room temperature for up to a week. They taste best when enjoyed fresh from the oven or within 3 days so make sure to eat them sooner rather than later for best tasting results.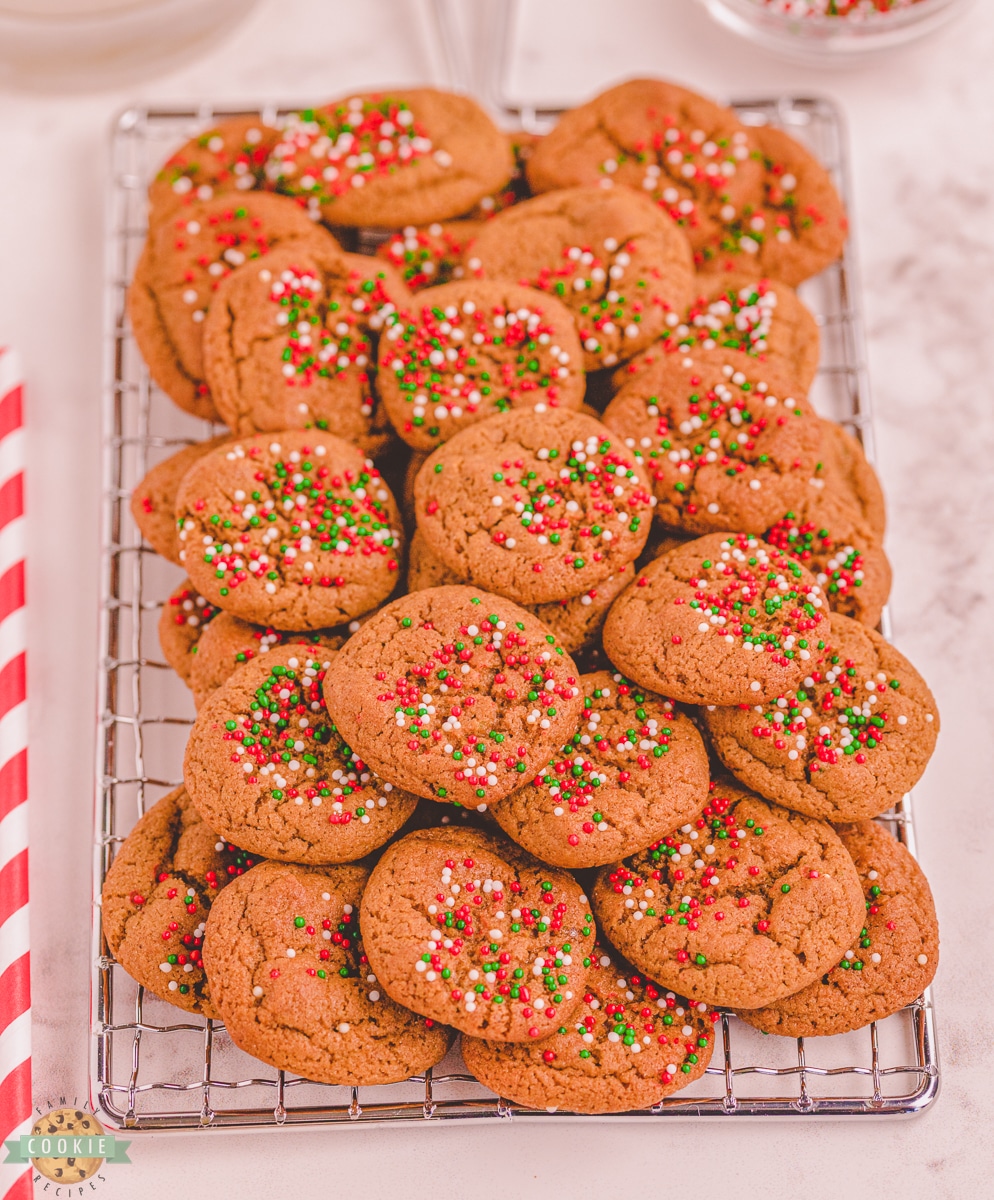 Want more holiday cookie ideas? Check out these yummy cookie recipes!

Here is one of the two furry members of our family, Penny! She's a MinPin/ chihuahua mix and we just love her to pieces. You know what she loves to pieces? Sunshine. Warm weather. Heat. And in the wintertime? Our fireplace! We didn't use our fireplace for years because it was old, slightly broken and really inefficient. We replaced it a couple years ago and OMG, it's for us… but it's really for Penny. She lays there so long our kids like to say, she begins to melt. Her bones dissolve and when we pick her up, she's more cat than dog. Ha! Here she is enjoying the heat just a little too much.