Soft Gingerbread Sandwich Cookies made with classic ingredients like molasses & cinnamon, then filled with a vanilla cream cheese buttercream! Fantastic holiday cookies!
Santa will make a special stop at your house this year for a taste of these great cookies. Made with a chewy gingerbread crinkle cookie and then filled with a sweet cream cheese frosting, every bite is worthy of the nice list. Enjoy these ginger sandwich cookies with cream cheese filling all season long to stay in the holiday spirit.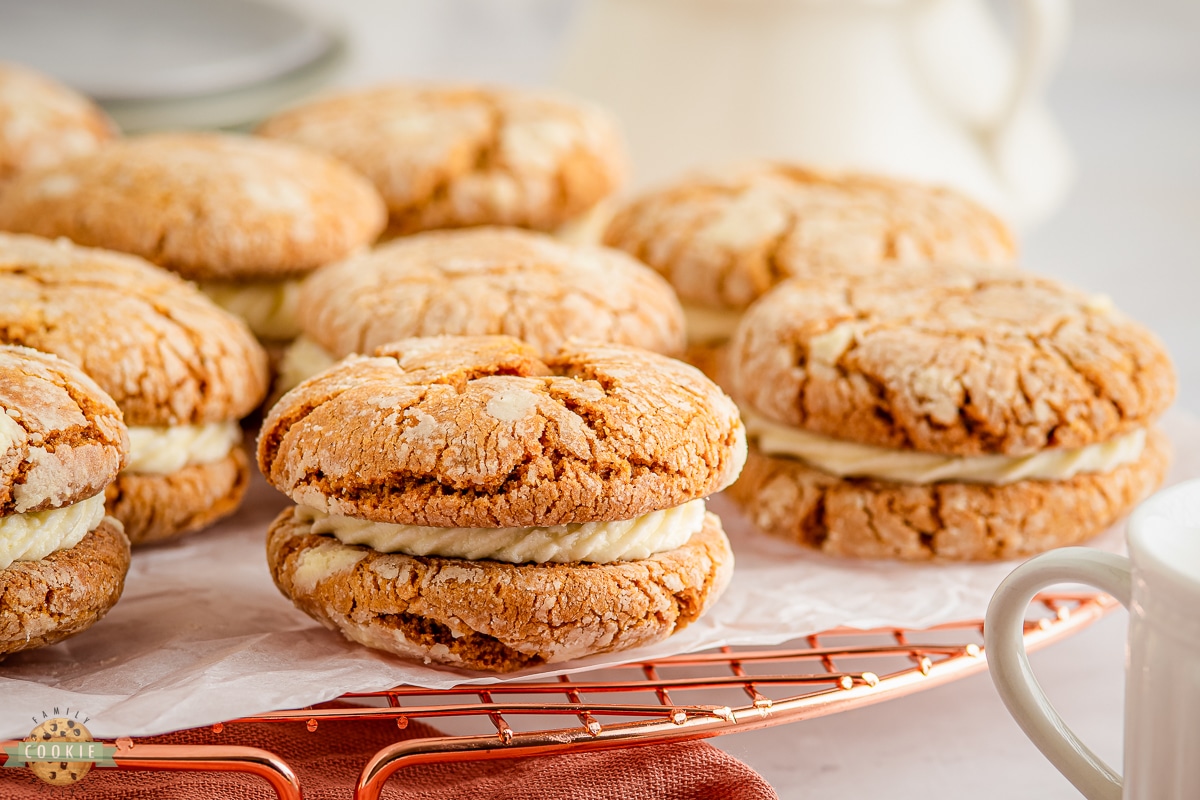 Ginger molasses sandwich cookies
Gingerbread is the term given to recipes that have molasses and spices (usually ginger) together. This is what makes those iconic gingerbread cookies taste so good, but today we're using them as a gingerbread sandwich by taking two crinkle cookies and filling them with frosting, and stacking them together (like a sandwich).
Gingerbread sandwich cookie ingredients
For the cookies, you will need:
-Flour: You will need 2 ½ cups of all-purpose flour for the base of this cookie dough.
-Cinnamon: Use 2 teaspoons of ground cinnamon to help flavor and spice these cookies up well.
-Leavening agents: You will need 1 teaspoon of baking powder and ½ teaspoon of baking soda for these cookies to puff up nicely as they bake.
-Salt: Adding in ½ teaspoon of salt will give the cookies a stronger flavor profile.
-Spices: Use ½ teaspoon of fresh nutmeg, and ¼ teaspoon each of ground cloves, and cardamon.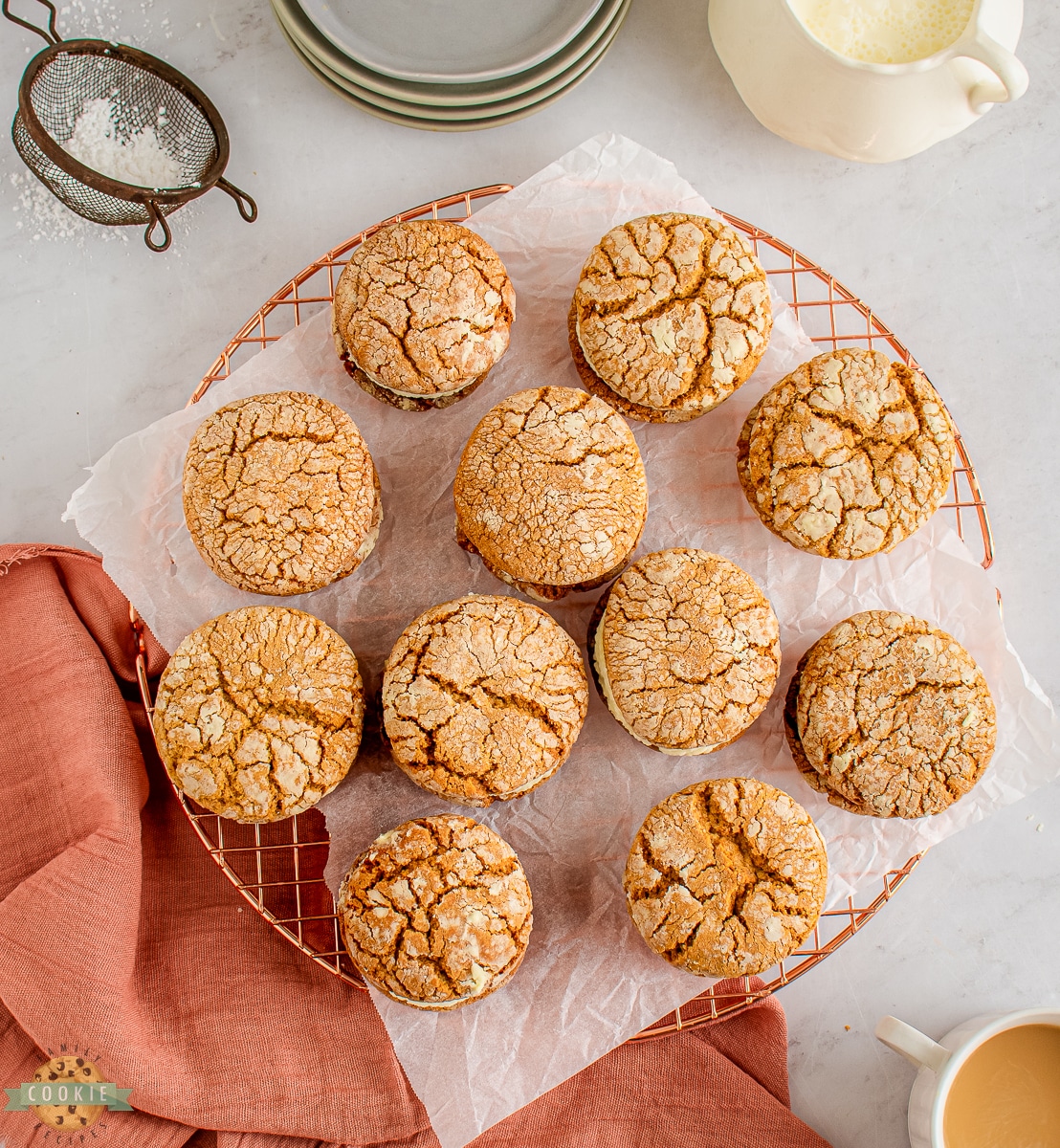 -Butter: Use 1 cup of room temperature butter (this is 2 sticks)
-Sugars: You will need ⅔ cups of granulated sugar and ½ cup of brown sugar to make these cookies chewy and sweet.
-Egg: You will need 1 large egg to help bind the dough together well.
-Molasses: Adding in 2 ½ tablespoons of molasses will give these cookies the iconic flavor we're looking for.
-Vanilla: Use 1 teaspoon of vanilla extract to make the cookies taste great.
-Powdered sugar: You will need powdered sugar for rolling the cookie dough balls in as this is what gives your cookies their crinkle-like appearance.
For the frosting, you will need:
-Cream cheese: You will need 8 ounces of softened cream cheese, this is one brick.
-Powdered sugar: Adding 1 cup of powdered sugar to the frosting will help to make it sweeter while keeping it nice and smooth.
-Butter: Add 6 tablespoons of room temperature butter to the frosting to make them taste richer.
-Vanilla: Use ½ teaspoon of vanilla extract to help enhance the flavors in the frosting.
-Salt: Using ½ teaspoon of salt will help to make the frosting taste even better as it will bring out more flavor from the other ingredients.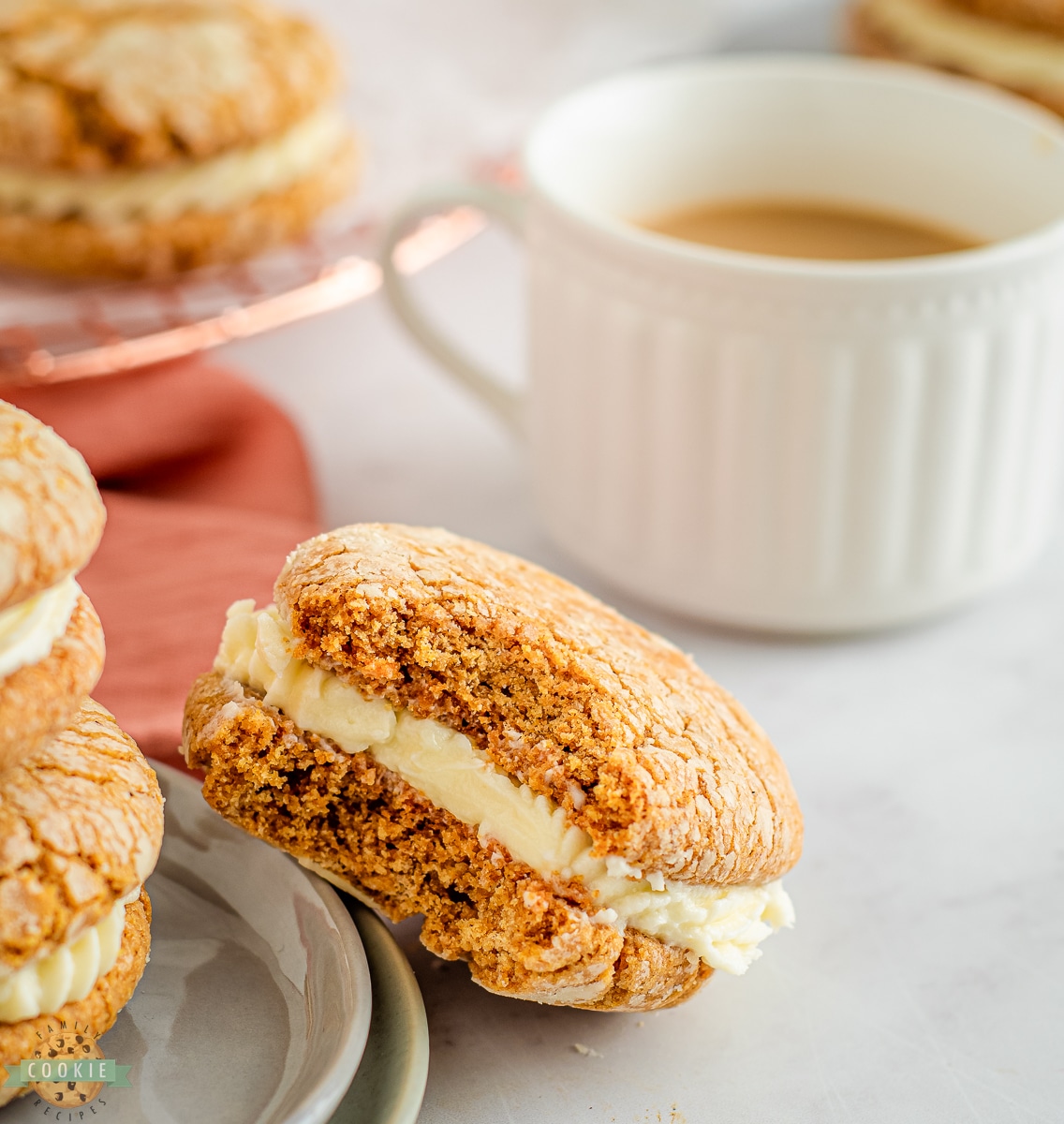 How to make gingerbread sandwich cookies
Here's how to make these lovely holiday cookies:
Make the Cookie Dough
Whisk together the flour, cinnamon, baking powder, baking soda, salt, nutmeg, cloves, and cardamom in a large bowl. Set aside.
In another bowl, beat together the butter and sugars until creamy and smooth.
Add the egg and then mix again until incorporated.
Add in the molasses and vanilla and then mix again to combine.
Now add in the flour mixture and mix again until fully incorporated.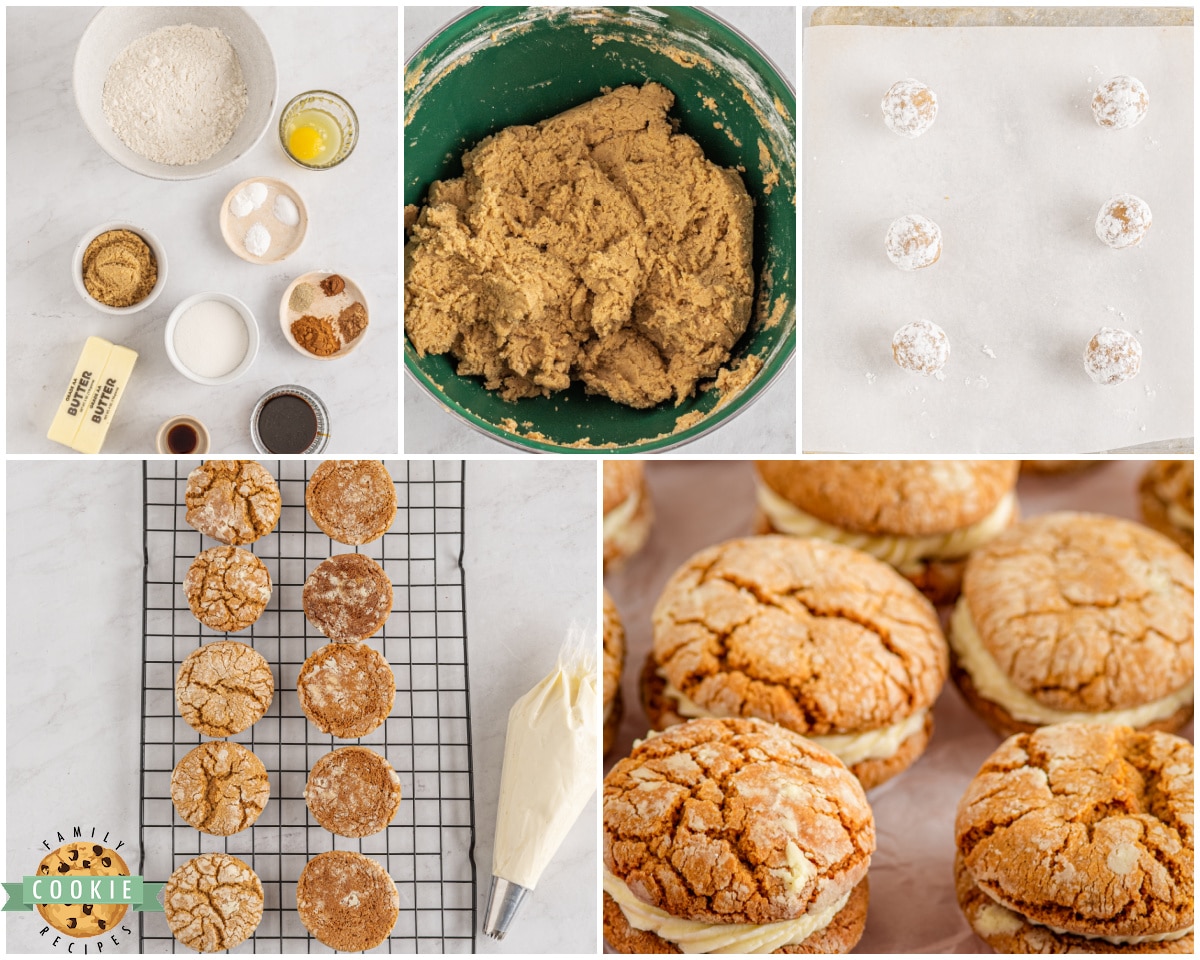 Chill & Shape the Cookie Dough
Cover the bowl and place it into the fridge for 1 hour, the dough will be hard to shape when it comes straight out of the fridge so let it sit for a few minutes before shaping.
Preheat the oven to 350 degrees F.
Break the dough into chunks and roll the dough into balls in the palm of your hands. You want them to be 1 ½-2 tablespoon in size.
Roll the dough balls into the powdered sugar to coat. This is what gives them that crackle exterior.
Place them onto a parchment-lined baking sheet and leave at least 2 inches of space between each cookie.
Bake the Gingerbread Cookies
Bake in the oven for 15-18 minutes or until the cookies have become a beautiful golden color and are fully baked. For a slightly flatter cookie and more crackly exterior, bang the cookie tray down for 2 minutes before removing them from the oven. This will slightly deflate them giving the extra crackle.
Remove from oven and place onto a cooling rack immediately.
Make the cream cheese frosting by adding all of the ingredients together in the bowl of a stand mixer fitted with a paddle attachment.
Beat on low speed for 1 minute to allow the powdered sugar to become incorporated and then increase the speed to high and beat together for an additional 2 minutes until creamy and fluffy.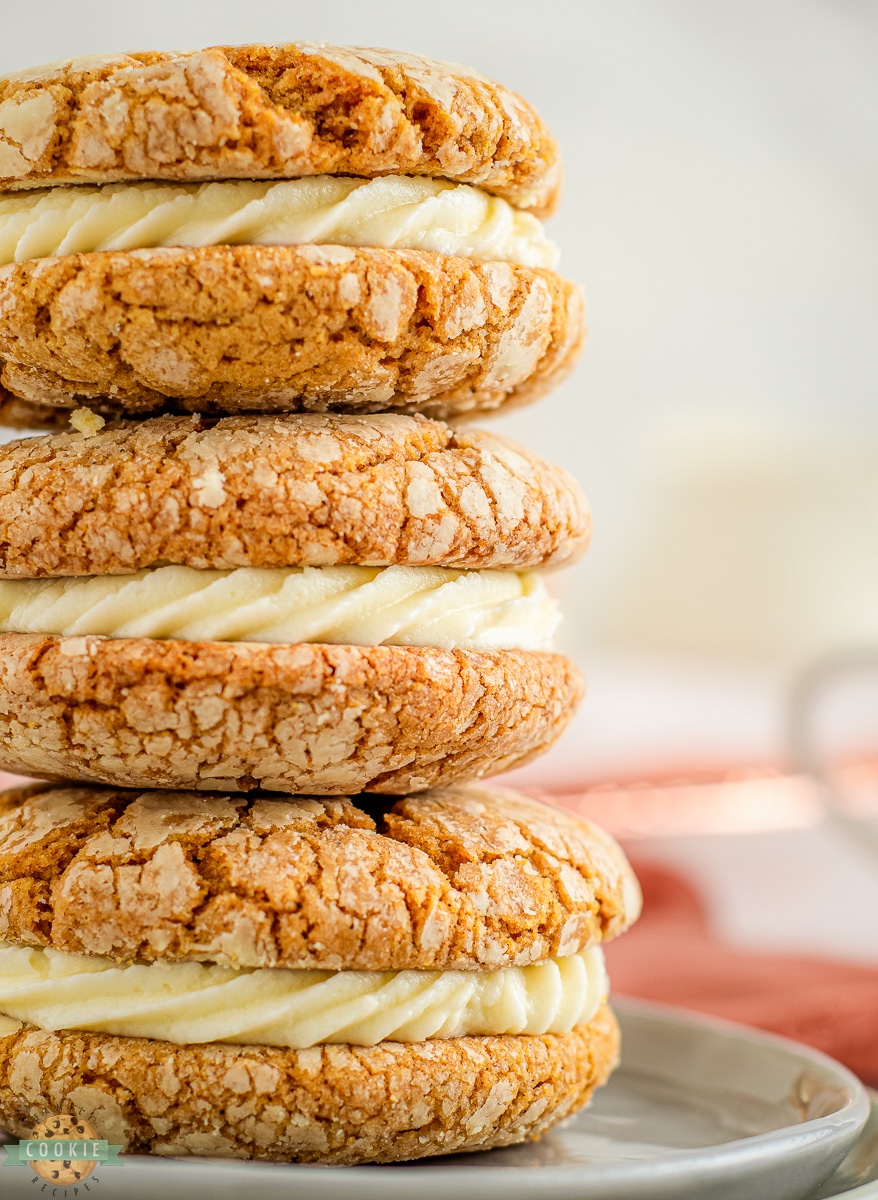 Add the Cream Cheese Buttercream Frosting & Make Sandwiches
Spoon the cream cheese frosting into a piping bag fitted with a star tip.
Pipe a layer of frosting onto the bottom of 11 cookies.
Place another cookie (unfrosted) onto the frosting, bottom side down so now they are a sandwich of cookies with the tops facing outwards and the frosting in the center.
Repeat until all of the cookies have been completed. Enjoy!
How to store gingerbread sandwich cookies
Keep these cookies stored in the fridge for up to 3 days once they have been filled with the cream cheese frosting. They can last up to 3 days this way. If you do not wish to add the filling, you can keep the cookies safely stored in an airtight container for up to 5 days.
Leftover cream cheese frosting?
If you're wondering what to do with leftover cream cheese frosting there are numerous ways you can use it. Topping brownies, more cookies, cupcakes, and you can even mix it with cooked and crumbled cake to make cake pops and truffles. If none of these suggestions appeal to you, you can also store the leftover frosting in an airtight container in the fridge for 4 days or in the freezer for 3 months before thawing and using. This should give you plenty of time to think up great ideas.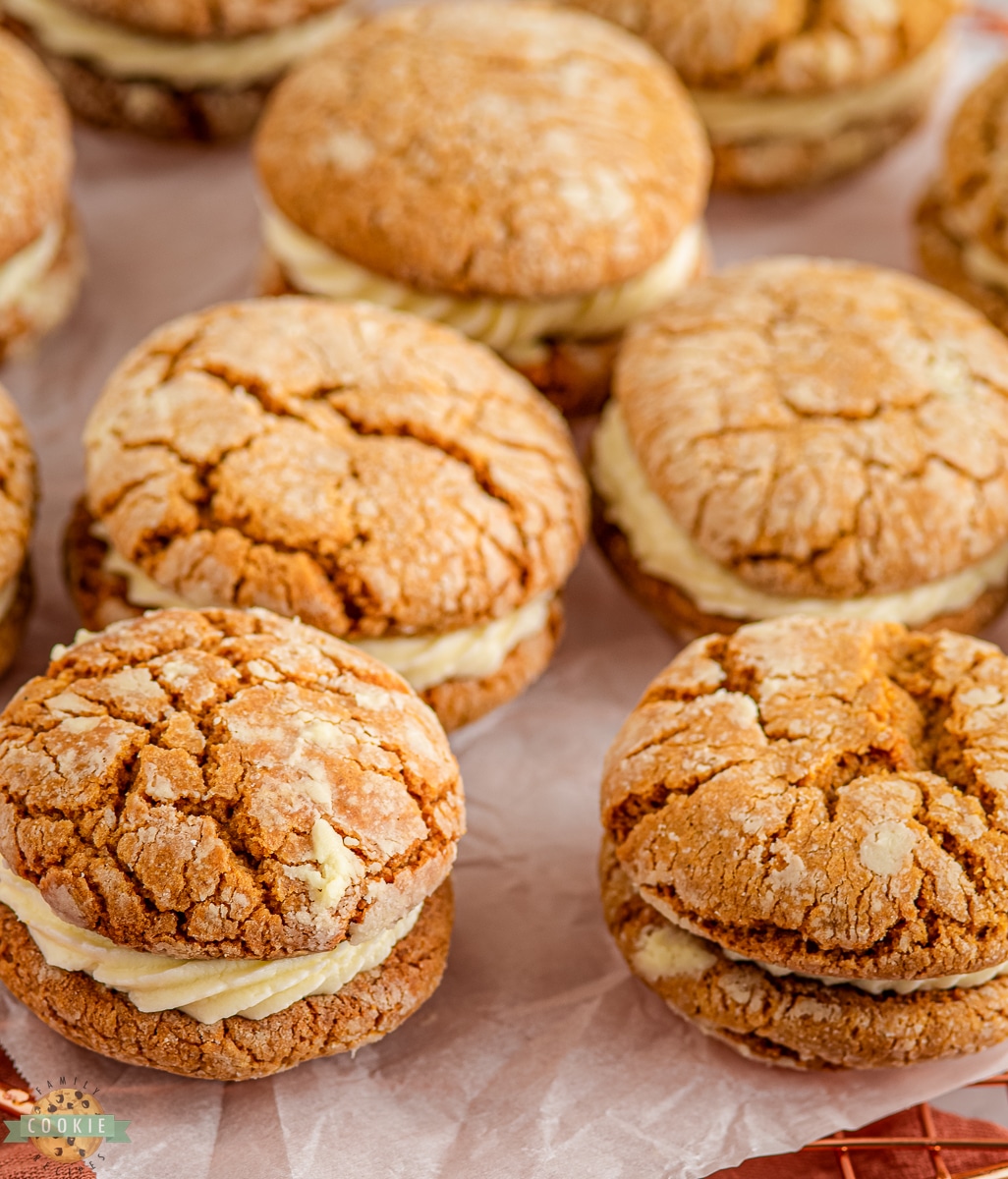 More fabulous Holiday cookie recipes to try soon

I came across this darling photo session recently- I don't even remember taking these photos! But OMG how cute is she?! And in pigtails! And braces. I just love it! This cute girl is a teenage now and is studying to take her drivers permit test. HOW DID THAT HAPPEN?!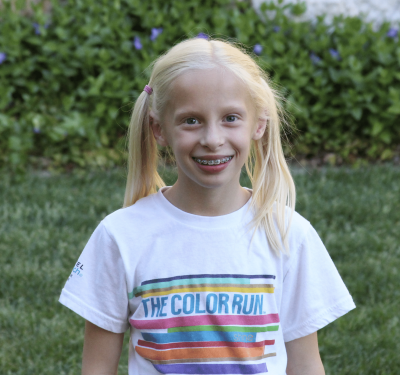 Gingerbread sandwich cookies are deliciously spiced, soft cookies baked to a beautiful golden color. They have a crispy, crackling crust and are filled with sweet cream cheese frosting.